Here's a list of my favorite 6 best restaurants on Kos that are great options if you love to experience authentic Greek cuisine and hospitality.
One of the reasons I love getting back to Greece is because of the traditional and delicious Greek cuisine. Kos is one of my favorite Greek islands that offers plenty of local Greek tavernas, bars, and beach restaurants. To help you discover where to eat and what to eat, I will share my favorite best restaurants in Kos, recommended by locals. These listed Greek taverns offer excellent quality and hospitality where you can taste fish, meat, or traditional Greek meze, according to your preferences.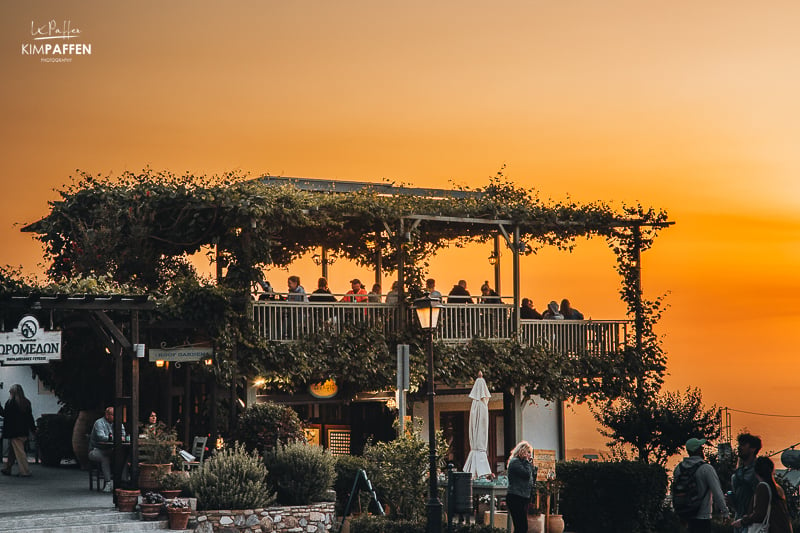 The Kos restaurants are located in varied locations on the island of Kos, like the bustling Kos town, in the middle of a vineyard in Tigaki, or on the beach in Lambi or Mastichari. The above image is restaurant Oromedon, from where you can watch a beautiful sunset in Zia. Our Kos travel tip: rent a car, explore all the things to do and the delicious Greek cuisine on Kos Island in Greece. Wondering where to stay? Check out these accommodations in Kos.
Here's a list of our favorite restaurants on Kos Island:
1. Patriko (Kos Town)
Patriko (Παραδοσιακό Μεζεδοπωλείο Πατρικό) is my newest discovery and definitely one of the best restaurants in Kos. This fabulous and cozy family restaurant offers high-quality food, outstanding service, and very reasonable prices. During my last 7-day stay in Kos, I've been there twice, and next time I will go back for sure. I got this recommendation from Anja, from Eva Boat in Kos and I'm extremely happy we followed her advise.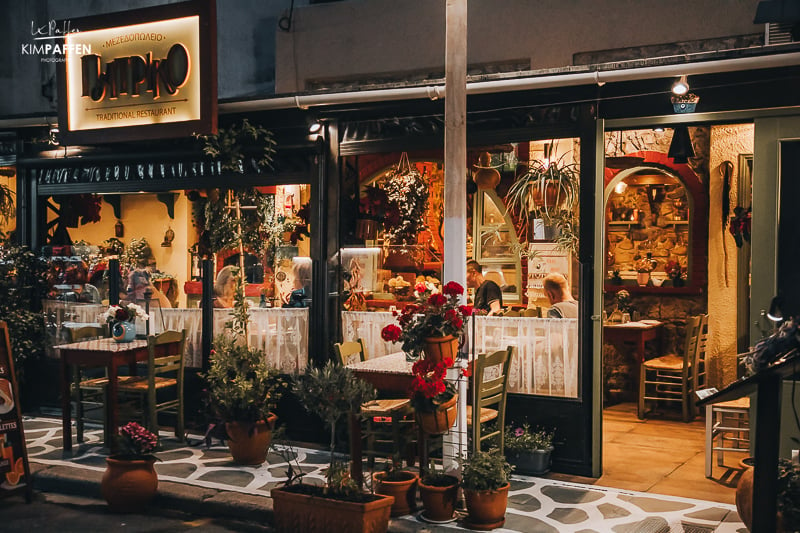 This authentic Greek taverna called Patriko is located in a side street at Alikarnassou street, about 250 meters from Dolphin square in Kos Town. You can eat indoor and outdoor. I love their assortment of traditional Greek mezes, accompanied by wine. As a starter, we received a combination of Kalamata olives, feta spread, and toast on the house.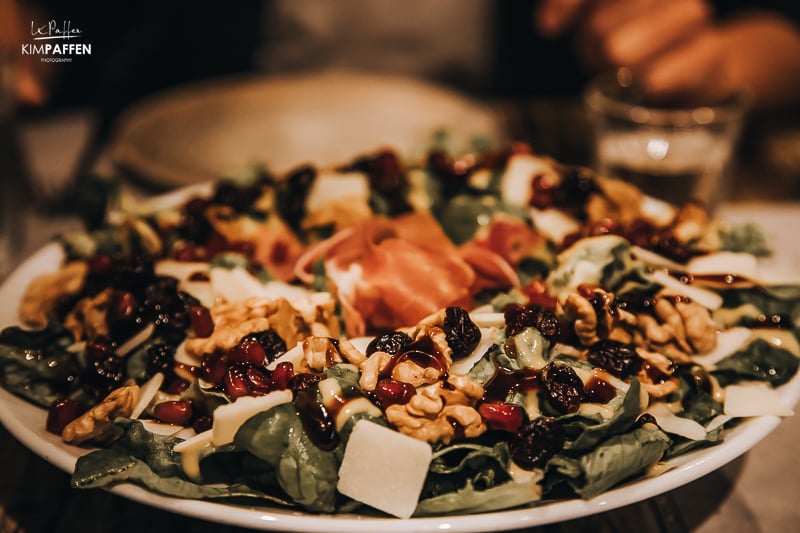 We ordered several dishes to share, like a traditional chicken dish, baked feta with honey, and the lovely Patriko Salad with dried berries, pomegranate seeds, walnuts, and prosciutto. As icing on the cake, we were treated to a delicious home-made dessert from the house. Patriko has very good value for money!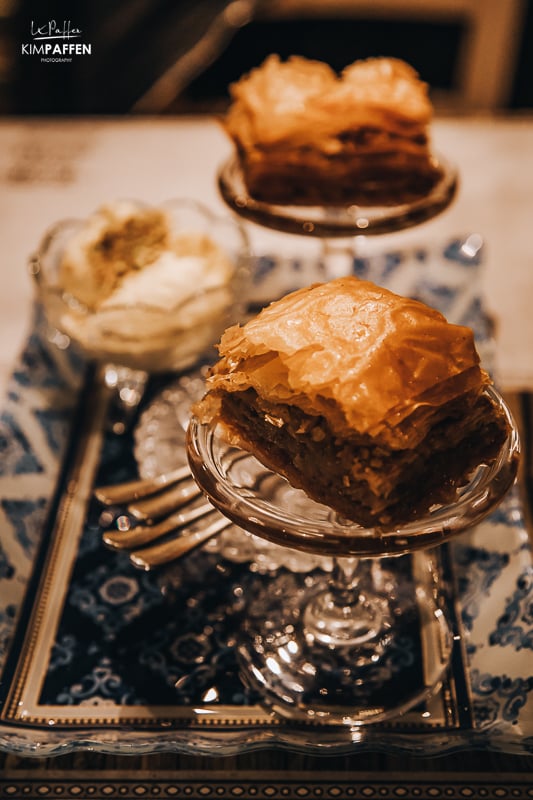 2. Taverna Evdokia Mummy's cooking (Kos Town)
Taverna Evdokia Mummy's cooking is the perfect example of local Greek hospitality combined with high-quality traditional and fresh food. This Greek tavern is located on Bouboulinas Street, 150 meters from the Dolphins Square in the center of Kos Town. On arrival, you receive a warm welcome from Elias, who will advise you on what to eat based on your wishes. Elias is a very charming, passionate, and experienced host. His mother, Evdokia, is the driving force of this outstanding restaurant in Kos. She is the one preparing all the delicious dishes.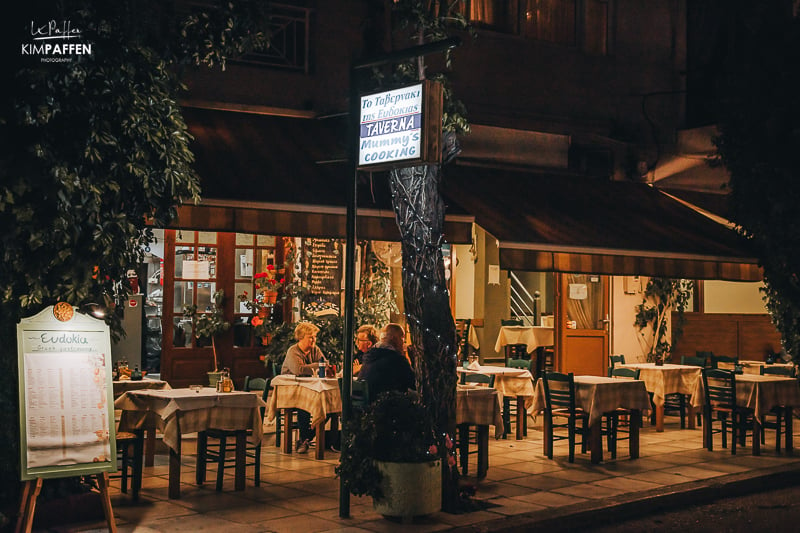 Mummy's cooking is the place to be if you want to immerse yourself in a complete Greek experience with a relaxed atmosphere. I would highly recommend trying the eggplant (aubergine) spread, the feta stuffed peppers, and fresh fish.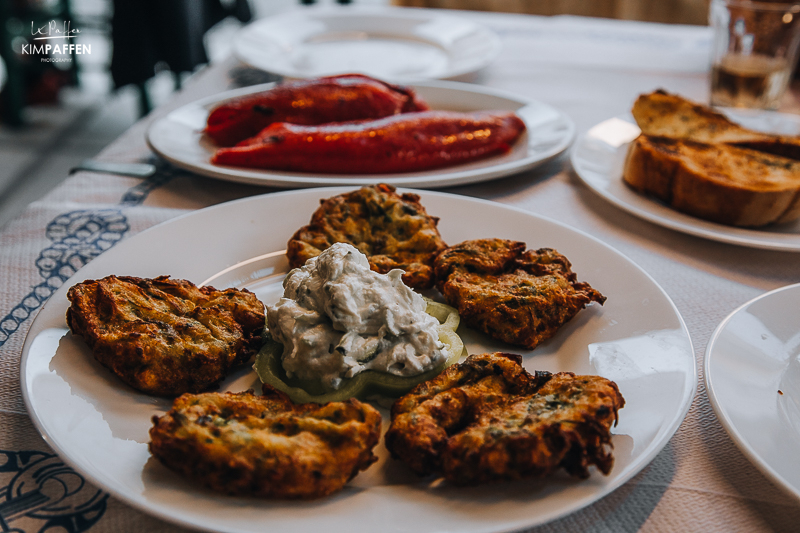 I've been to Kos many times. Since I had dinner at Taverna Evdokia Mummy's cooking, I keep going back. Without a doubt, it's one of the top restaurants in Kos Greece. In the high season, it's recommended to make a reservation to secure a spot.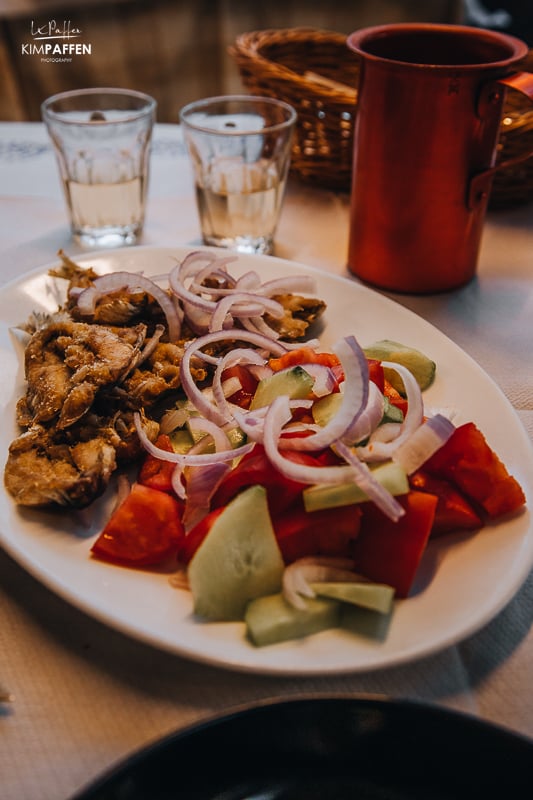 RELATED: 13 best things to do in Kos, Greece
3. Angelica's beach Taverna (Lambi beach)
If you are looking for a nice place to eat after sunbathing on Lambi Beach, the closest beach to Kos Town, you might like Angelica's Beach Taverna. It's my favorite beach taverna in Kos for lunch, located right at the beach.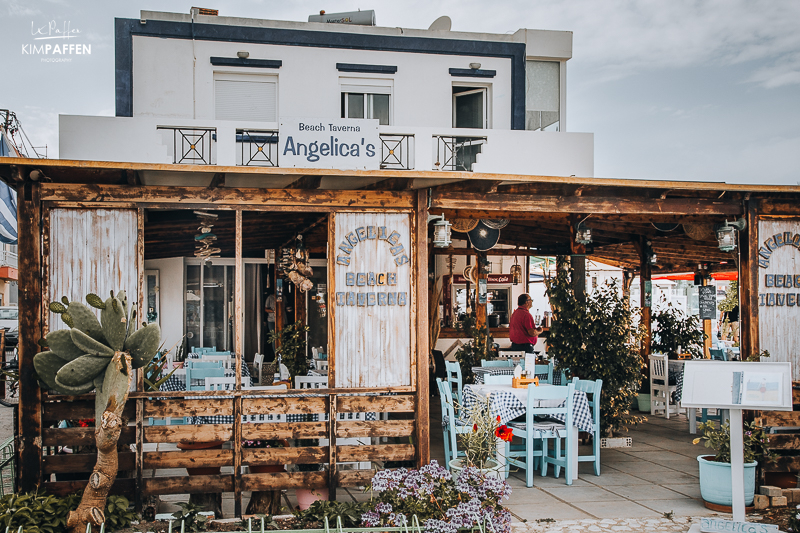 Angelica's is an authentic Greek family tavern that offers breakfast, lunch, and dinner. For years, it was run by a Dutch woman, called Linda, and her Greek partner Dimitri. However, it now has a new owner called Jorgos; an enthusiastic, professional and young Greek man. They still serve a good menu during the day and Greek fine dining in the evening. You can expect a relaxed atmosphere, and good food for a good price.
You can sit on their spacious terrace, and if you want to, with your feet in the sand. They also offer free sun loungers with umbrella on the beach and a couple of comfortable couches to relax.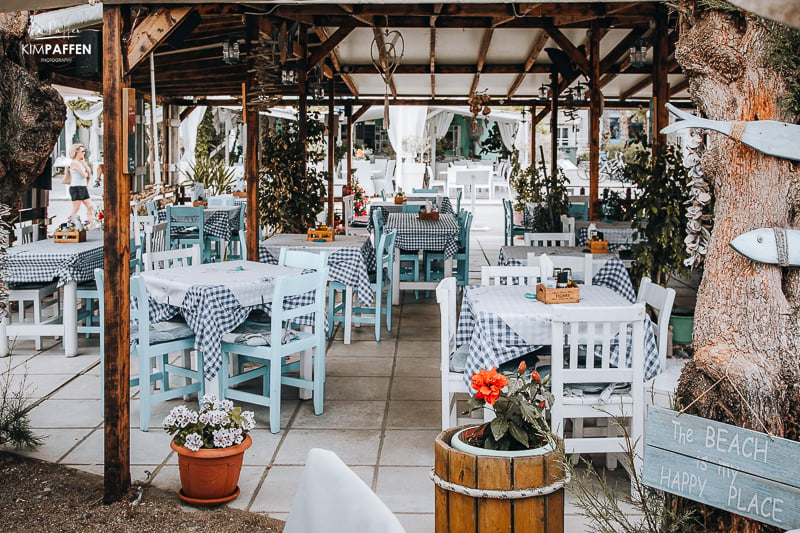 There's a lot of choice on the menu, including vegetarian dishes and English breakfast, but I always love to taste something from their Greek menu. My favorite dishes at Angelica's are calamari, the meze platter including dolmades and kolokithokeftedes (fried zuchinni balls) and Greek Bouyourdi (grilled feta).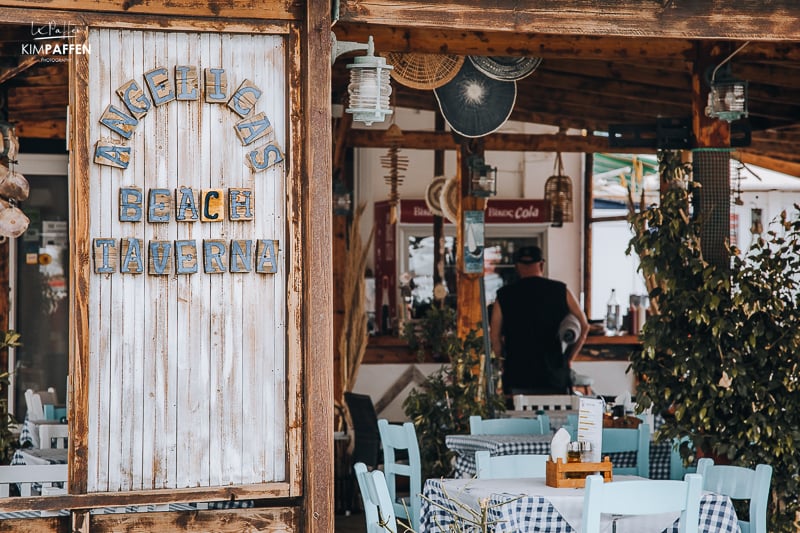 Where to stay in Kos near Lambi beach? Find your accommodation in Kos
4. Ampeli (Tigaki)
Ampeli is a traditional Greek taverna situated in a vineyard in Tigaki Kos. It's located on a small road adjacent to the main road from Kos to Tigaki. Because of its hidden location in Tigaki, chances are high that you will pass this amazing Greek taverna unnoticed. That would be too bad because Ampeli is a hidden gem in Kos Greece.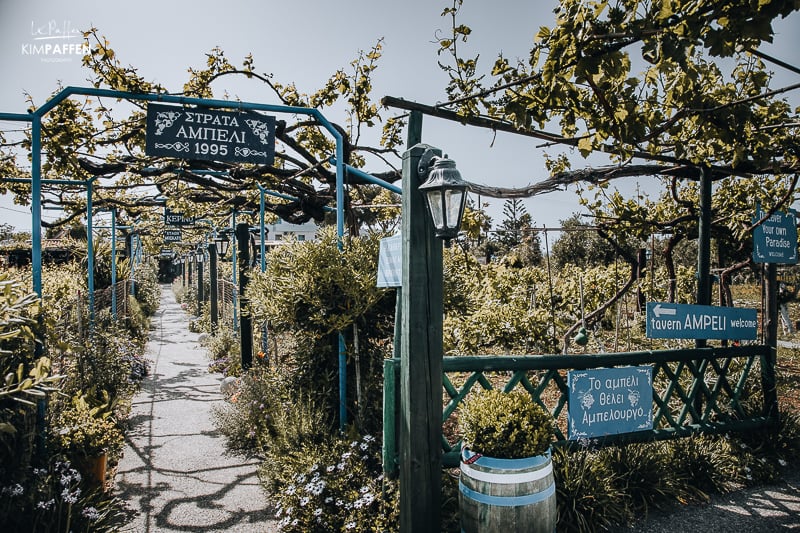 The food is very good, but the atmosphere and the location within a vineyard make it outstanding. For that reason, it had to be listed in the top 6 best restaurants in Kos. You will be surrounded by juicy grapes and leaves that provide shade and an idyllic atmosphere. It's a special, and cozy setting to have lunch or dinner. All meals are made with fresh vegetables from their own garden, and they serve wine from the tap. Last but not least, the prices are very reasonable.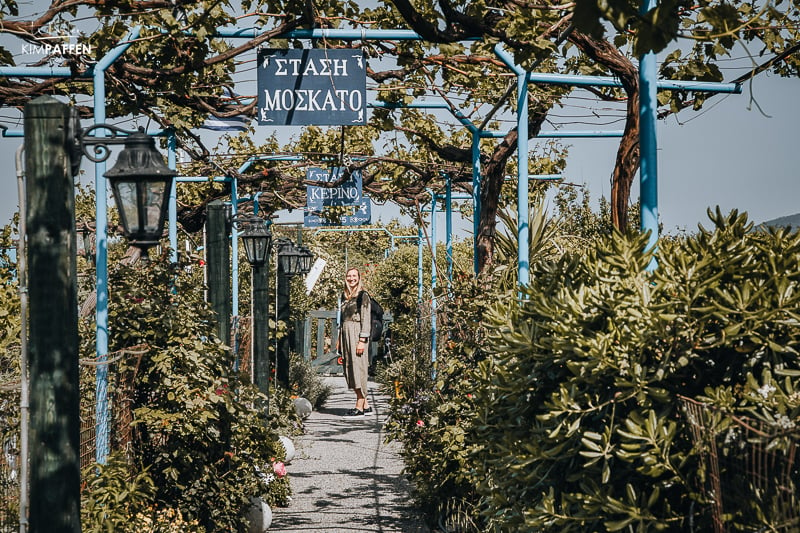 5. Jenny Camel Restaurant (Camel Beach, Kefalos)
If you love to eat traditional Greek food with a stunning sea view, Jenny's restaurant at Camel Beach is the place to be. We met Jenny at the Plaka forest, where she handed out a few of her self-made dishes to try. First, I was a bit skeptical about the 'commercial' approach, but the food was delicious. We chose to drive towards Jenny Camel Restaurant at Camel Beach after spending some time in the Plaka Forest, photographing the beautiful peacocks. This happened to be the best choice of the day!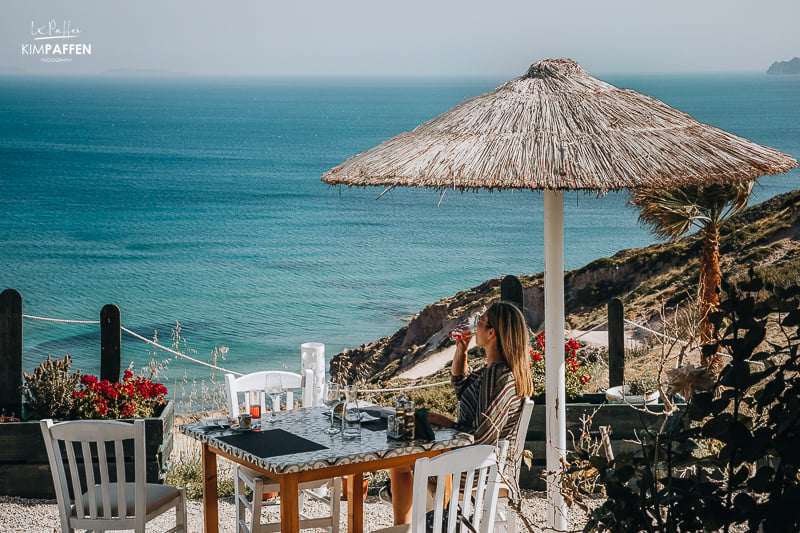 When we arrived, Jenny welcomed us personally. We sat outside, overlooking the rocks and cliffs at Camel Beach. We ordered a few meze dishes to share, and we got a starter, dessert, and a special drink for free. Our intention was to go for a light lunch, but we ended up with a full belly. They definitely serve one of the bigger portions of food I had in Kos.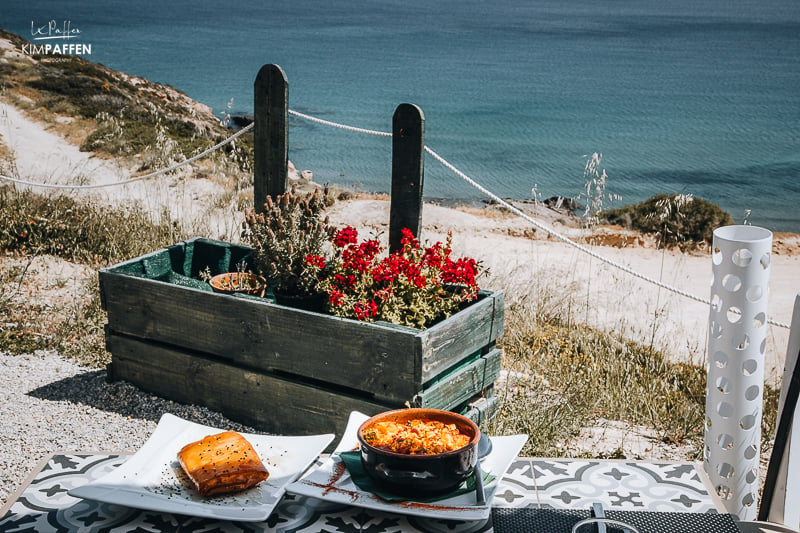 All dishes were delicious and home made with organic and local products. The menu also offers several vegan and vegetarian options. Jenny is happy to advise you with choosing what to eat, a great example of Greek hospitality. The service was fast and we were also pleasantly surprised with the prices at this spot.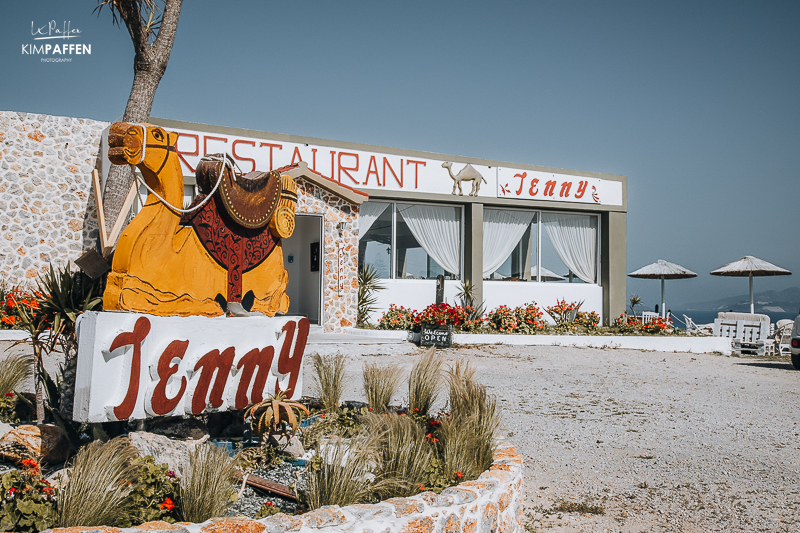 When we go back to Kos, I would love to go back to Jenny Camel Restaurant, and I'll recommend it to all of you.
6. TamTam Beach Taverna and Restaurant (Mastichari)
My favorite beach spot on Kos is TamTam Beach in Mastichari, located on the north coast of Kos, 16 kilometers from Kos Town. It's a great place to eat, drink, meet with friends and an enjoyable place to relax. Next to the restaurant, you can find a small playground for children and a cozy shop where you can buy some souvenirs, clothes and beach accessories.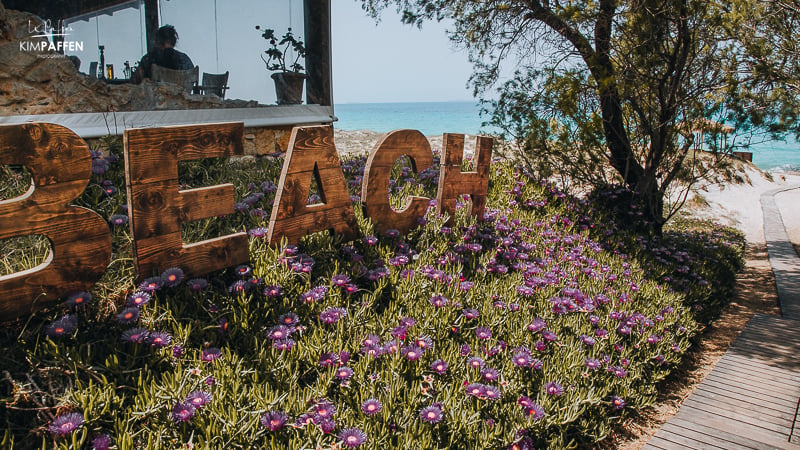 The TamTam restaurant offers a variety of Greek and European dishes, including several vegetarian options. I love the calamari, their Greek stuffed peppers with feta cheese, Tzatziki and dates with bacon.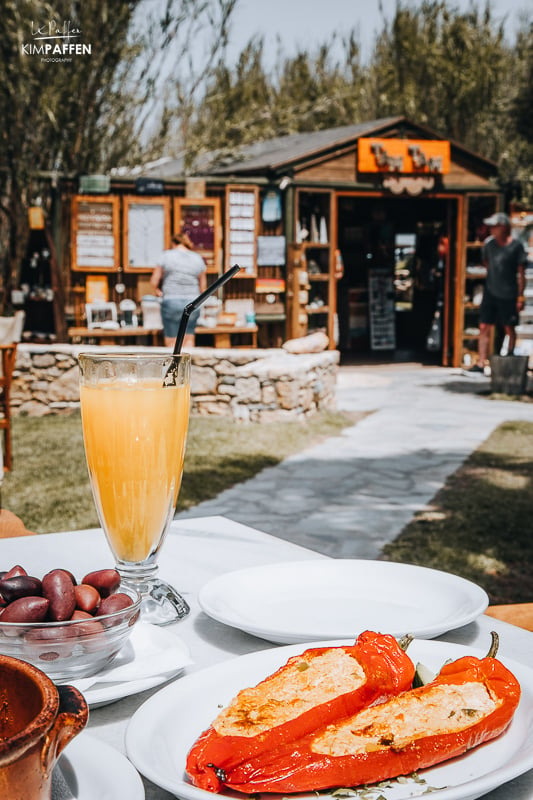 The staff is very friendly and the atmosphere is peaceful and relaxed. From the restaurant you have a wonderful view of the turquoise blue sea and the sandy beach with small sand dunes. The walk towards the sea from the restaurant is only a minute. For a small fair price, you can use their sun loungers with an umbrella and windscreen.
I highly suggest visiting TamTam Taverna and combining it with a sandy beach day on TamTam Beach.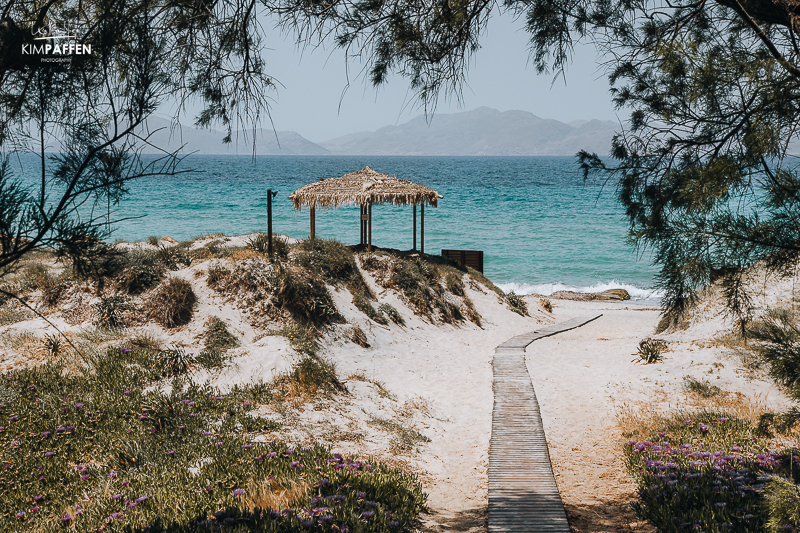 Where to stay close to TamTam Beach in Marmari, Kos? Check out a selection of accommodations in Kos, including Marmari.
What food is Kos famous for?
Kos has rich Mediterranean roots and these best restaurants in Kos will show you. Seafood and vegetables play a significant role in the local dishes, as well as olive oil, feta, and potatoes.
Popular main dishes in Kos are traditional Greek food like Moussaka, Souvlaki, or fresh fish of the day like octopus, lobster, squid, or codfish. As you might know, Greek cuisine is famous for the Greek meze; a variety of small plates designed for sharing. If you love to taste several Greek dishes, meze is your solution!
What is Meze?
The word meze (or mezze) means a taste or a bite (appetizer). It is used to describe small varieties of plates with dishes that are enjoyed like tapas. There are many different types of mezethes, and the menu varies according to locale. The small dishes of Greek appetizers can be served as appetizers or as big Greek meal. Meze platters can be vegetarian only, but also with meats and seafood.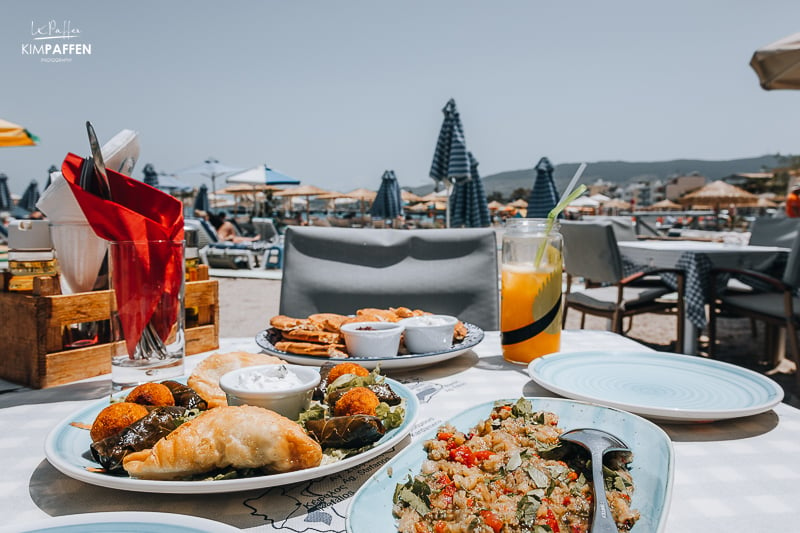 Popular Meze dishes
Popular meze dishes to share are fried calamari, grilled octopus, feta saganaki, dolmades, and pita with spreads or dips like tzatziki, Greek eggplant (aubergine) dip (one of my faves), Greek Fava (yellow split pea dip) or Taramasalata (Greek roe dip). Meat lovers in Greece go crazy for Gyros, Souvlaki, or a Mixed Grill platter. Other favorites are artichoke hearts, marinated Kalamata olives, peppers, and Spanakopita Triangles.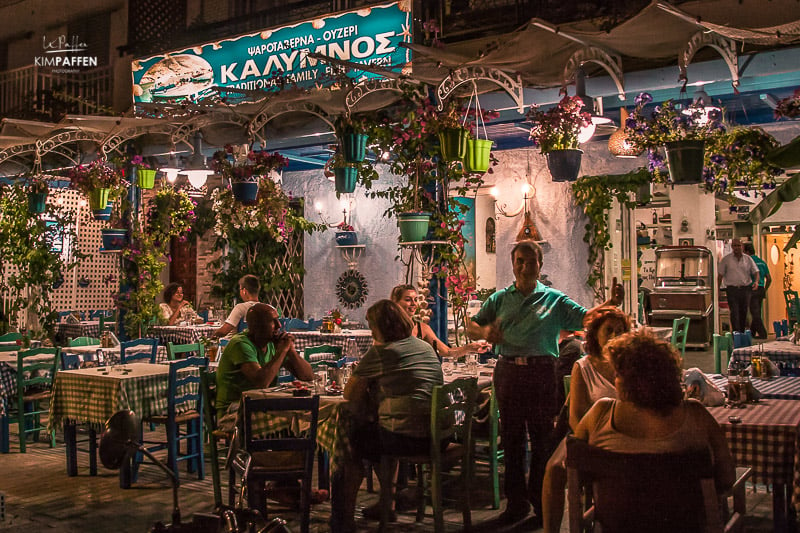 Average prices of restaurants in Kos Greece
To give you an idea of the costs of going for dinner in restaurants in Kos, I will share average prices based on my last visit in 2022. Since everything got more expensive, the food and restaurant prices are most likely higher if you travel to Kos in 2023.
The prices of restaurants in Kos are generally a bit cheaper than other Greek islands, and especially cheaper than other Europe travel destinations.
An average lunch for two people including three or four meze dishes and half a liter of house wine costs about 20-30 euros (10-15 euros per person). The average price for dinner in Kos is around 30-40 euros based on two people including drinks. Many traditional Greek restaurants will offer a drink, starter, or small dessert on the house. If you order a fresh fish meal, the price can be a bit more expensive, but still very affordable in relation to the quality.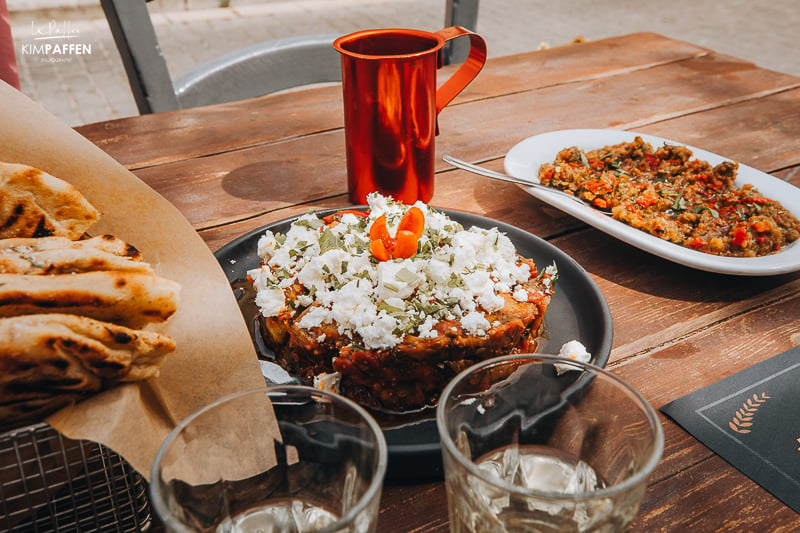 Below are examples of prices for the most popular dishes and drinks:
Food
Fresh fish: 15.00 euro
Gyros: 10.00 euro
Souvlaki: 12.00 euro
Moussaka: 8.00 euro
Spreads: 4.00 euro
Pita: 1.50 euro
Baklava: 5.00 euro
Drinks:
Coffee: 2.50 euro
Double espresso: 4.00 euro
Frappé: 2.50 euro
House wine: 3.50 euro (glass), 7.00 euro (carafe 0,5 L)
Beer: 4.00 euro
Fresh orange juice: 3.50 - 4.00 euro
Soda: 2.00 euro
Water: 1.00 euro (0,5 L)
Ouzo: 4.50 euro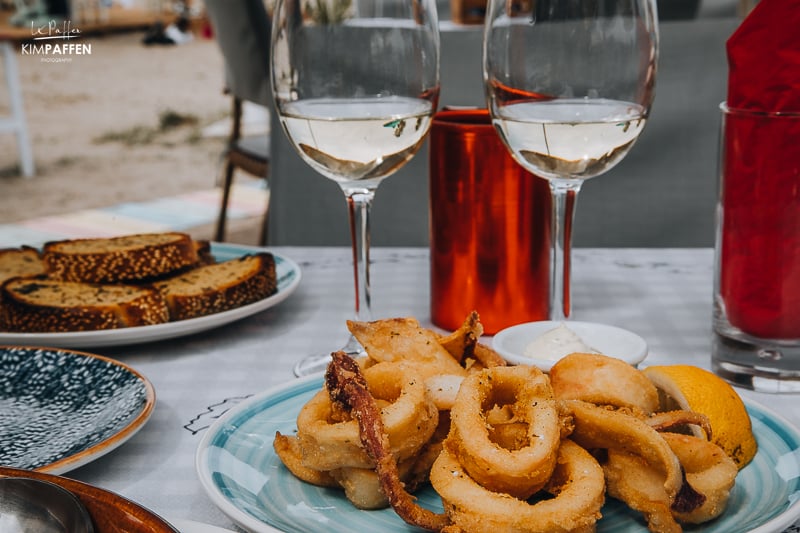 Top 6 Favorite Restaurants in Kos Greece, a summary
Taverna Evdokia Mummy's Cooking - Authentic Greek Meze in Kos Town
Angelica's Beach Taverna - Perfect lunch spot at Lambi Beach Kos
Patriko - Traditional Greek cuisine in Kos Town
Jenny Camel Restaurant - Traditional Greek food with stunning view at Camel Beach
Ampeli - Greek and Eastern Mediterranean food in Tigaki located in a vineyard
TamTam Beach Restaurant - Greek Taverna and beach bar in Mastichari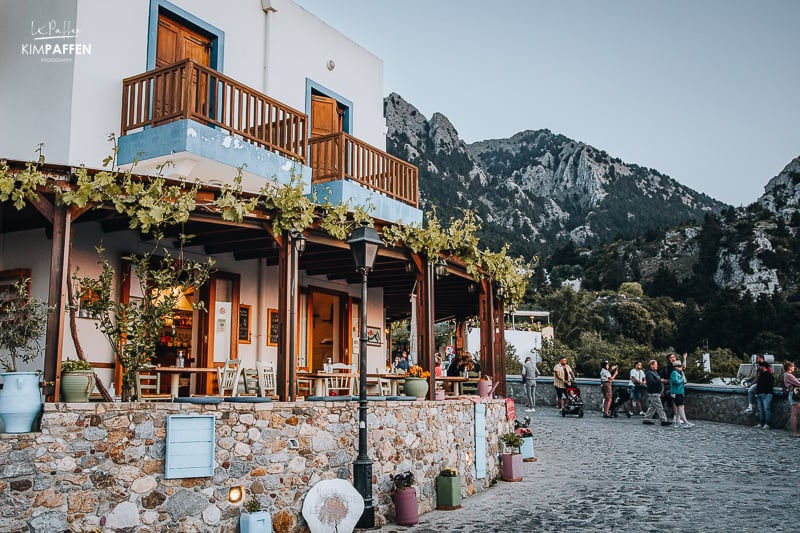 I'm sure you will enjoy a lovely meal if you visit these 6 restaurants in Kos (Greece). I also visited other good restaurants like Barbouni (Kos Town), Elia (Old Town Kos), Olympia Roof Garden (Zia) and Oromedon (to watch the sunset in Zia). Oromedon is also one of the romantic restaurants in Kos where couples often get engaged while watching a romantic sunset.
Do you have other recommendations for Greek restaurants on Kos Island? Feel free to share typical Greek restaurants I should try when visiting Kos again. If you are interested in traveling to Kos, you might also like to read:
I hope these tips for traditional Greek restaurants in Kos are useful for you. If so, I would highly appreciate it if you LIKE, SHARE, and COMMENT to support my work ♥️