Searching for the best things to do in Kos? Look no further. The island of Kos in Greece is worth visiting and is one of my favorite travel destinations in Europe as a place to relax, exhale, and reboot. I traveled to Kos many times and there are lots of things to do on this beautiful Greek island of the Dodecanese island group. The wide sandy beaches, crystal-clear waters, rich history, archeological sites, delicious Greek food, outstanding hospitality, and the lively center of Kos Town make Kos Island one of the best Greek travel destinations for all types of travelers. In this Kos travel guide, I will share my hand-picked experiences that resulted in the 13 best things to do in Kos, Greece.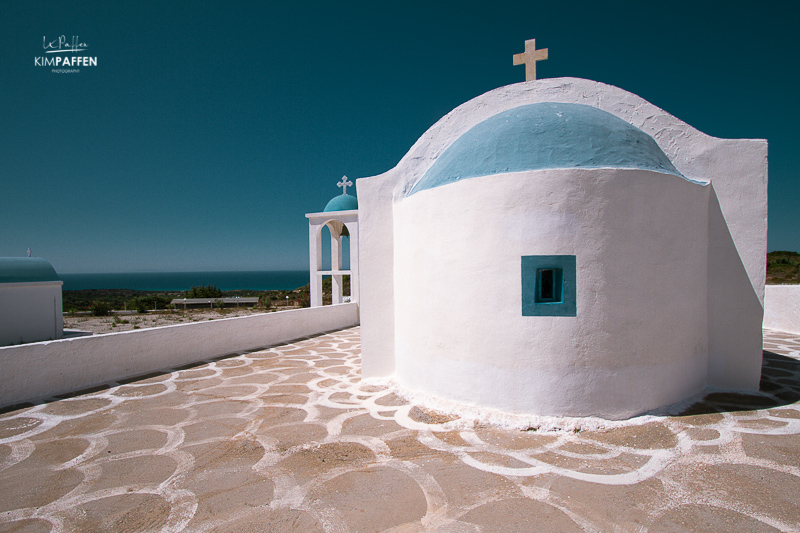 1. Enjoy Beach Life in Kos
With a stunning coastline of 112 kilometers (70 miles), there are plenty of beautiful beaches in Kos to have relaxing days on the beach, enjoying the sounds of the sea. Most of the best beaches in Kos are sandy and offer tourist facilities like bathrooms, sunbeds, umbrellas, bars, restaurants, and water sports activities, which are fun activities in Kos. Now, what are the best beaches in Kos? I will share a few of my favorite beaches:
Paradise Beach in Kefalos
One of the most popular beaches in Kos is Paradise Beach, east of Kefalos, situated in the southwest of the Island, approximately 33 km from Kos Town. Paradise Beach is well known because of the pale sand and shallow clear seawater. On this side of the island, the sea is pretty calm and less windy. There are also several watersports activities like banana boating or jetski.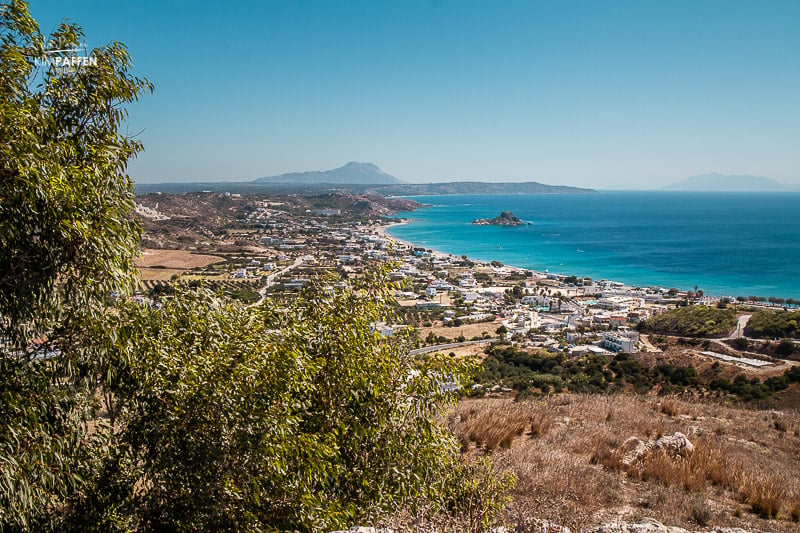 Lambi beach near Kos Town
Lambi beach is a long sandy beach located just outside Kos Town, easily accessible by bike or a short walk. It's not the most beautiful and quiet beach, but definitely, a very convenient location if you're staying near Kos Town.
The beaches around Lambi are well-organized but quite busy with lots of sunbeds and there's a lively atmosphere with music from the beach bars, located along Lambi beach. This part of Kos can be a bit touristy, but not overcrowded.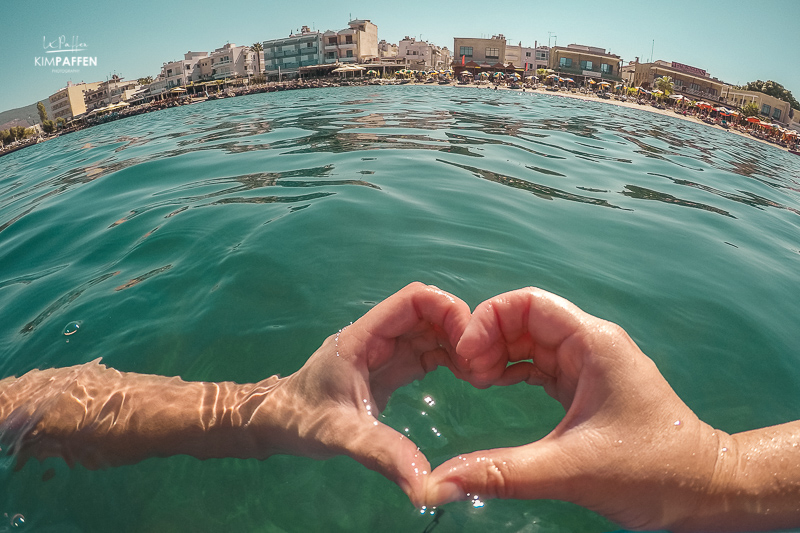 I mostly went to Papa's Beach Bar and Jackson's Beach Bar to chill on their sunbeds, have a drink, and enjoy their music. A great Kos travel tip for lunch at Lambi Beach is Angelicas Beach Taverna; their seafood is great!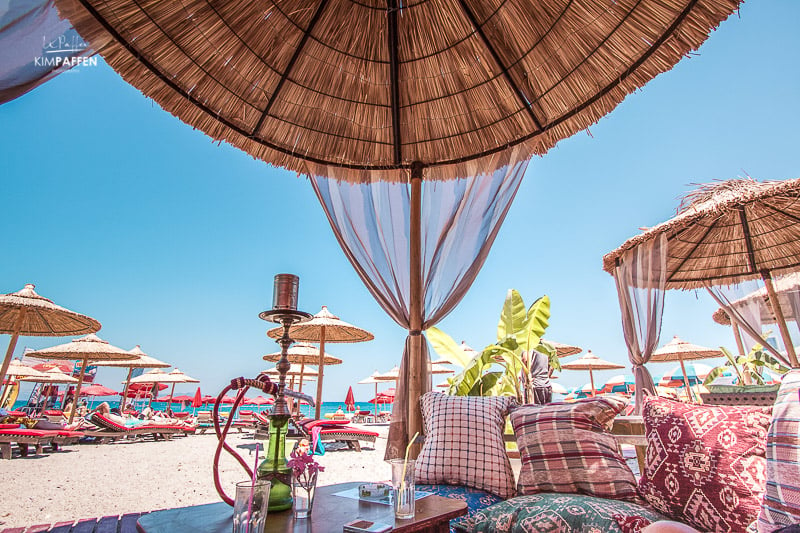 TamTam Beach near Marmari
My personal favorite beach in Kos Greece is Tam Tam Beach, located 16 km from Kos Town near Mastihari, opposite Lido Water Park. TamTam Beach is a hidden gem in Kos; a small, safe, and less crowded beach with small sand dunes. When you're walking down through the dunes you can use sunbeds, umbrellas, and windscreens for a fair price, which also includes a ticket for a free (soft) drink at the taverna of Tam Tam Beach. There's also a small children's playground and a nice shop with fair-trade products.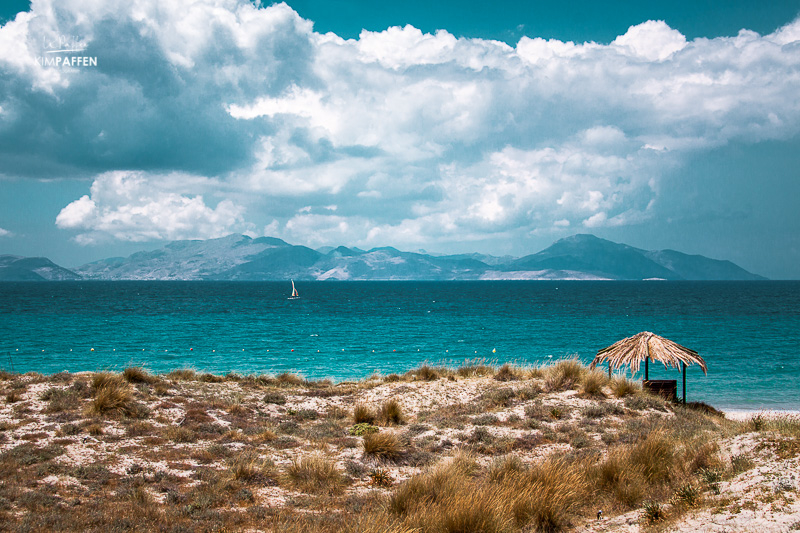 Tam Tam Beach is part of the endless sandy beach of Marmari. At this amazing beach, you can enjoy the enchanted dune landscape, the soft white sand underneath your feet, the turquoise blue sea, and several water sports facilities.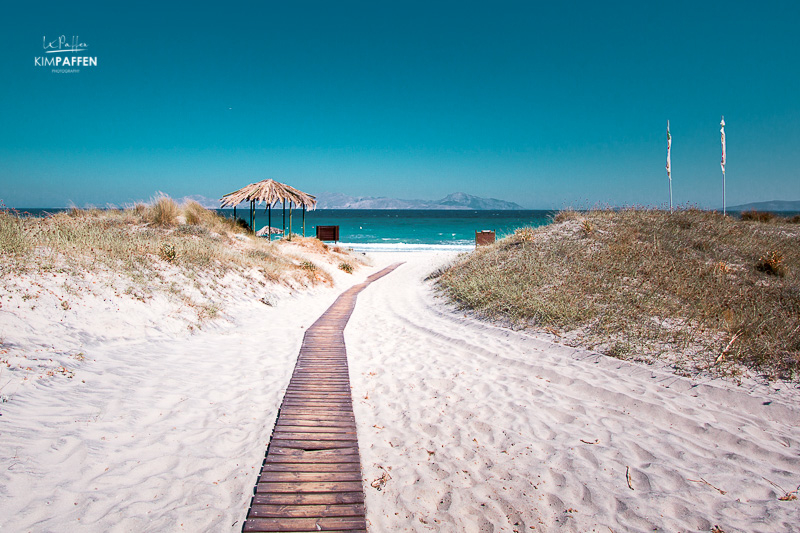 I highly recommend visiting Tam Tam Beach. Don't forget to go for lunch in their Taverna overlooking the dunes and turquoise blue sea; one of my best travel tips if you travel to Kos. The views are stunning, just like their food!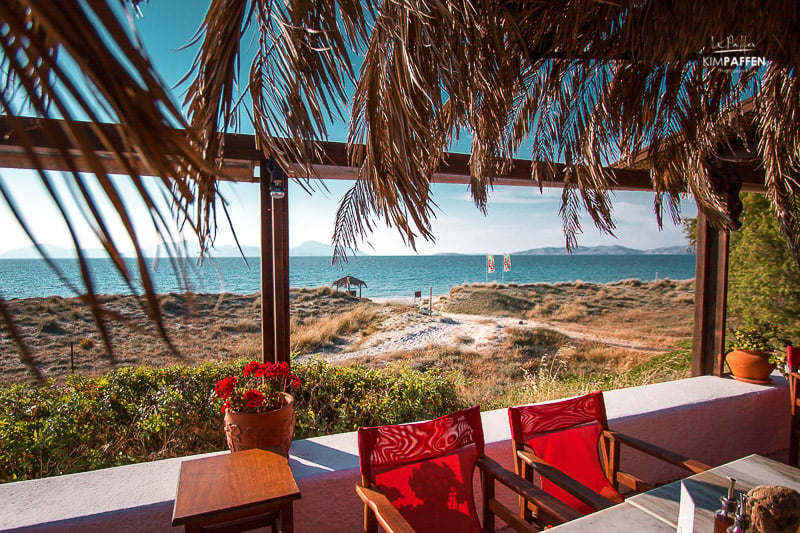 Agios Stefanos Beach
Agios Stefanos Beach is one of the best beaches in Kos to visit because of its diversity. The beach offers both white sand and pebbles including beautiful crystal clear turquoise water and perfect views of the picturesque islet of Kastri, crested by a tall rock. With a pedal boat, you're able to peddle to Kastri island and admire the church of Agios Nicolaos. On Agios Stefanos Beach you can also find ruins of two basilicas.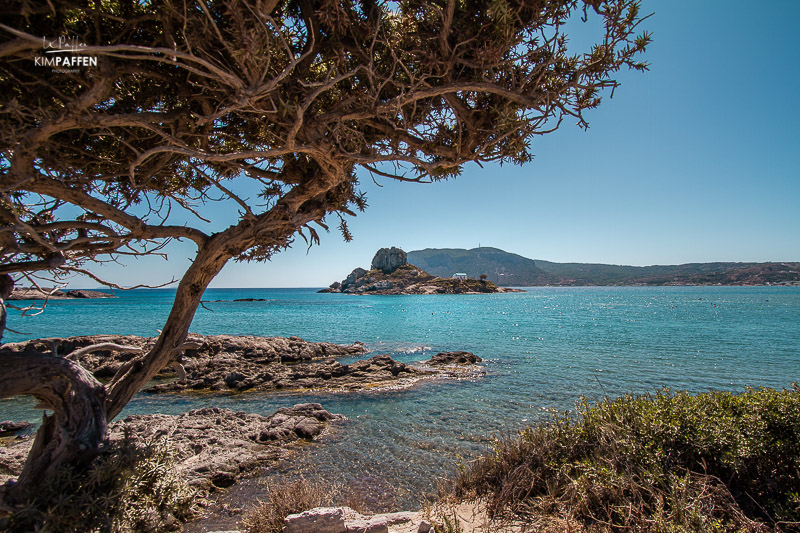 Mastichari Beach on Kos Island
The town of Mastichari offers a white sandy beach with plenty of accommodations, restaurants, and shops. Mastichari Beach has a laid-back vibe. It also has a little port from where you can go to Kalymnos by boat.
Other top beaches on Kos Island in Greece are Camel Beach, Mylos Beach, Psalidi Beach, Kefalos Beach, Kardamena Beach, Marmari Beach, and Tigaki Beach. Exploring the different paradise beaches is one of the most popular things to do in Kos.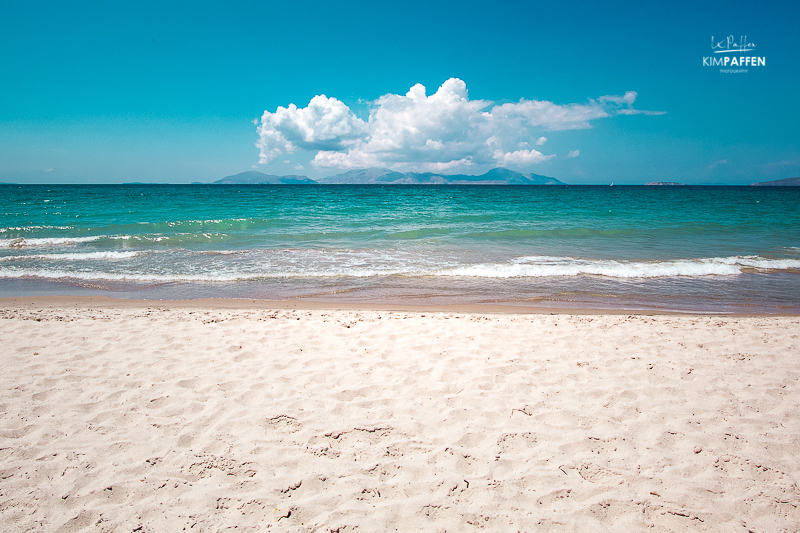 2. Eat local!
Visit local Kos restaurants in Kos and taste delicious Greek food. Searching for Kos restaurant tips? Greece is a foodie's dream come true. Kos Island offers many restaurants, varying from trendy, international (and touristic) restaurants with a sea view at the waterfront to authentic Greek Taverns in the smaller (back)streets, serving delicious, local Kos food. Two of my favorite local restaurants in Kos Town are Mummy's Cooking (Ευδοκία-Eudokia) and Astakos Fish Taverne.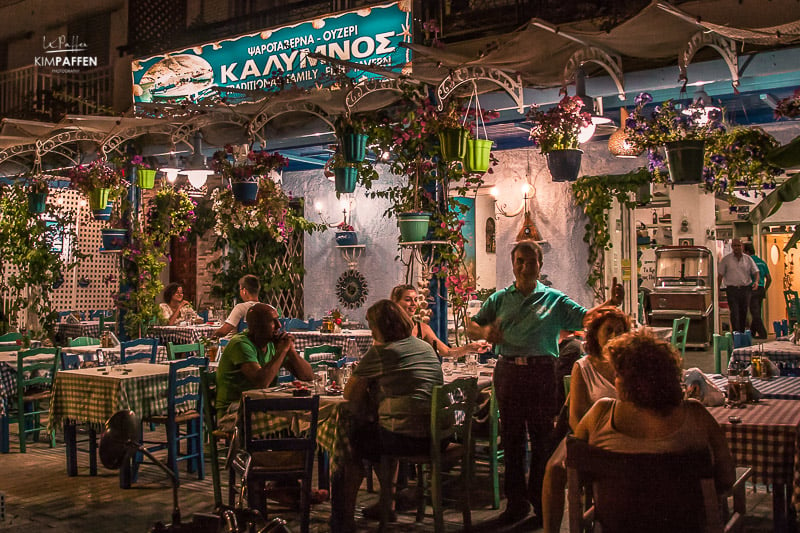 I love the genuine Greek cuisine, nothing can beat those delicious traditional dishes like olives and their olive oil, fresh seafood like fish and octopus, feta cheese, gemista, dolmades, papoutsakia, taramasalata, and of course desserts like kataifi and baklava. Therefore, I recommend visiting a few local Kos restaurants, to support the locals in Kos and to enjoy these Greek delights.
  Kos Restaurant Tip! Curious about the best restaurants in Kos? Read about our favorite Greek Taverns on Kos Island in Greece
3. Boat tour with Eva Boat
Planning to travel to Kos? One of the best things to do in Kos is a two-island boat excursion to nearby Greek islands. Depending on the Kos boat trip of your choice, you will most likely discover the shores of Kalymnos, Pserimos, and Plati. During the boat trip, there's plenty of time to relax or snorkel in the crystal clear waters. A perfect way to enjoy the beautiful turquoise waters from the Aegean Sea. Most of the boats in the harbor offer a two or three-island boat tour. Prices, as well as the number of people allowed on a boat, vary per tour operator.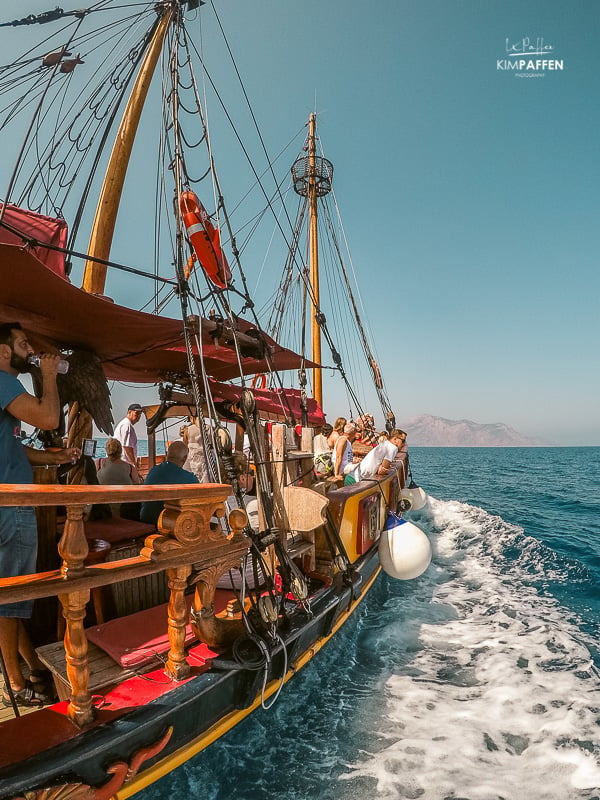 Two-island boat tour with Eva Boat Kos
I've visited Kos multiple times and one of my best Kos travel tips is to book your boat tour with Eva Boat in the port of Kos. I absolutely love their hospitality. It's the smallest and most cozy boat in the harbor of Kos Town, which means there will be fewer people on the boat. Apart from that, Eva Boat has the option of sailing on the waters around Kos (depending on the wind) and they serve a delicious rich BBQ and fresh fruits. Tour starts at 10.00 and ends at 17.30.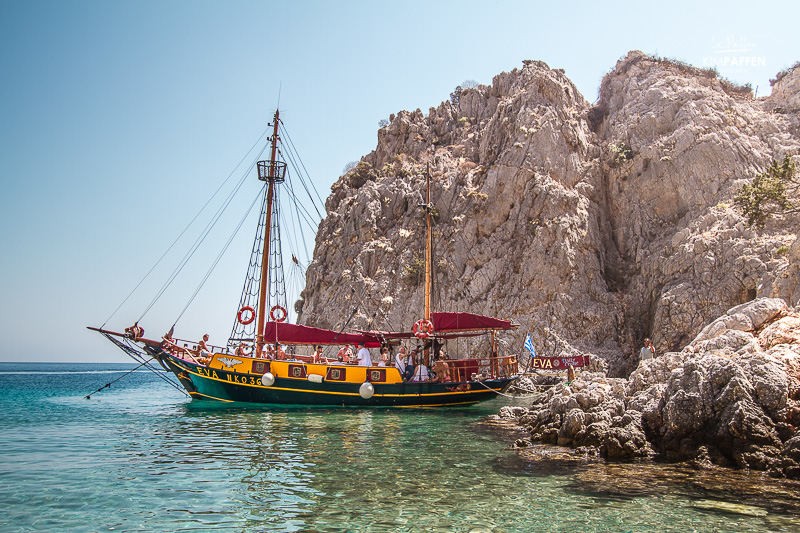 Delicious Barbecue in a secret bay of Kalymnos
Eva Boat offers an amazing Greek BBQ in a secret bay of Kalymnos Island with a small private (pebble stone) beach and crystal clear turquoise waters with no other boats or tourists. I love this stop because it's away from the crowds. While the captain is preparing the barbecue, you will have the possibility to snorkel or relax on a secret beach in Kalymnos.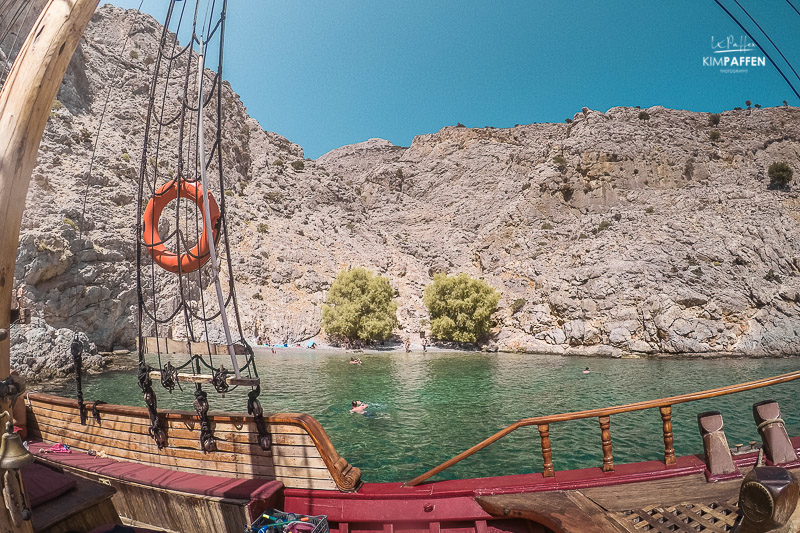 Once the captain is finished preparing the food, you will have lunch on the boat. Expect a great variety of meat, seafood, fresh vegetables, lettuce, and delicious fruits including wine. They ask for a small fee for beer and soft drinks. There's enough for everybody.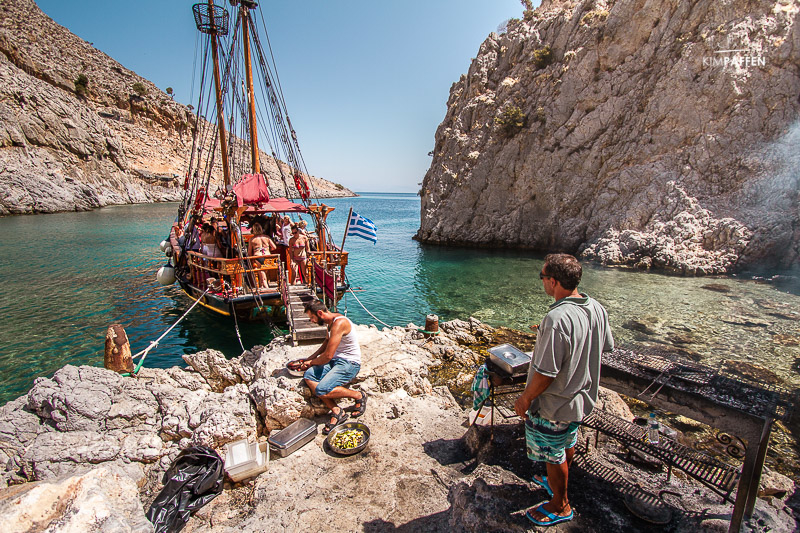 Did you know that Kalymnos is famous, all over the world, for its natural sea-sponge harvest? Sponge diving is a common occupation on Kalymnos. It's the main source of income. I love these sponges. It's also a great souvenir to take back home. Kalymnos is also very popular among scuba divers.
The island offers unique diving experiences like underwater caves, reefs, but also cape slopes, and shipwrecks. For a real scuba diving experience, it's best to stay in Kalymnos for a few nights. Optionally you can take some lessons at one of the two diving centers in Kalymnos. Kalymnos is also a great place for climbers. The island offers a rugged mountain landscape that attracts climbers from all over the world.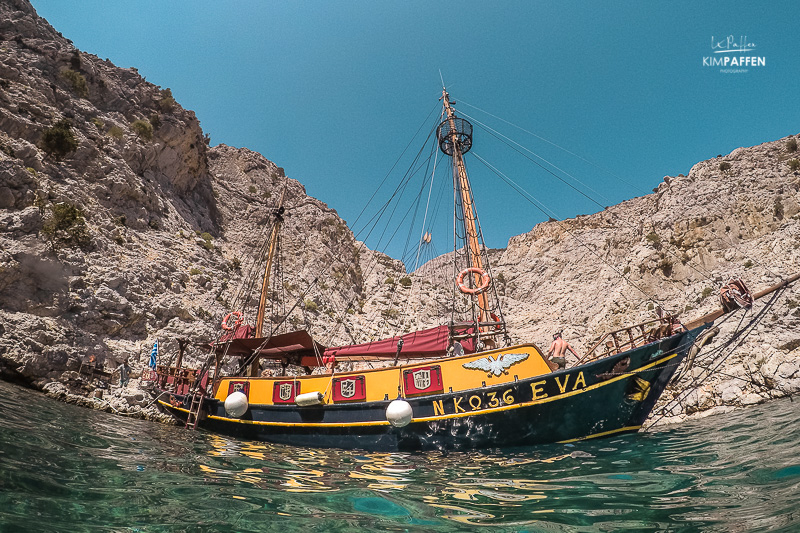 Relax on the white sandy remote beach of Pserimos
The small fisher village of Pserimos is only a short boat ride from Kos Island and Kalymnos Island. This remote island has a small number of inhabitants and heavily relies on tourism. It offers crystal clear waters, unharmed landscapes, and a peaceful laid back atmosphere. There are a few ruins on the island, shipwrecks, and taverns, all located around the harbor.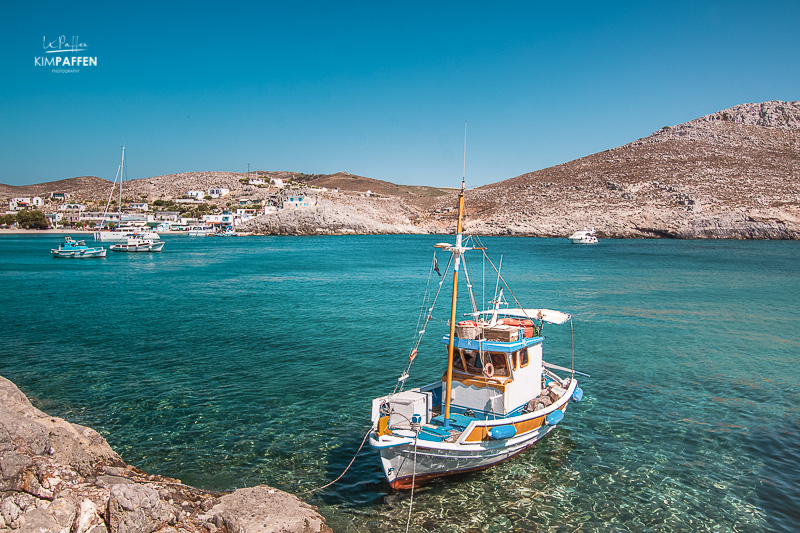 There's not much to do on Pserimos Island, but I love the laid-back atmosphere. There are a few restaurants and taverns on the beach where you can have a cold beer or a milkshake. On the Island, you have time to relax for a bit. After boarding the boat you will be treated with fresh fruits, like melon, oranges, grapes.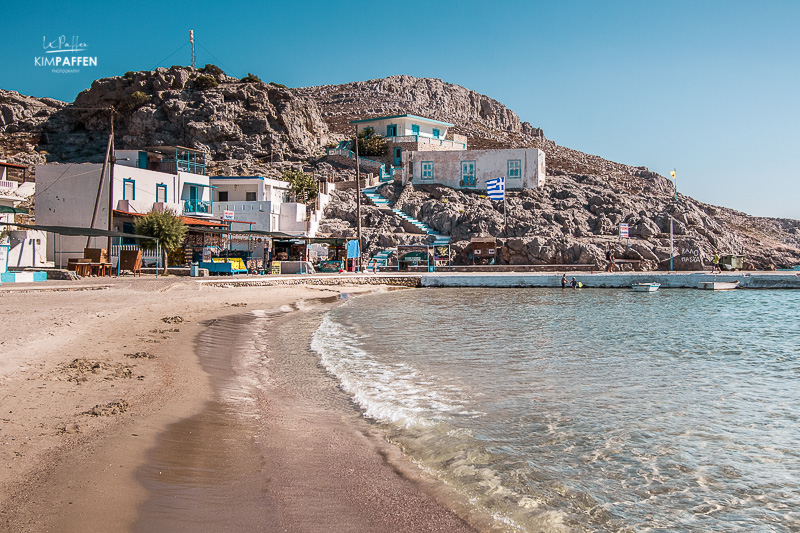 Plati and its iconic Greek chapel
Plati is a tiny island with no inhabitants, located between Kalymnos and Kos Island. The island has an iconic Greek chapel and is supposed to have the cleanest water in the Dodecanese. Because of Kos' strong winds, it sometimes isn't possible to get into the bay of Pserimos. If the winds are too strong, they usually switch to Plati.
Spot wild dolphins in Kos
Can you spot dolphins on Kos Island? If you're lucky,  you will spot dolphins jumping out of the water or swimming right next to the boat; a great experience. On your way back to Kos Island, the boat usually approaches nearby fish farms on the water that attract wild dolphins because of the smell of fish. Therefore, there's a fair chance of seeing dolphins on your Kos boat trip.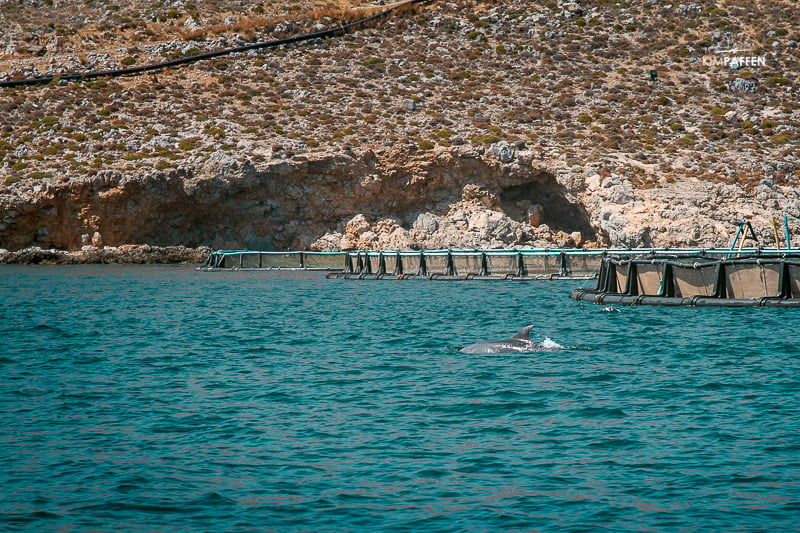 Full-day boat cruise from Kos Harbor
All of the boat trips in Kos are full-day cruises that depart from the main port in Kos Town. The time of departure is usually around 10.00-11.00 o'clock in the morning and you will return around 17.00-18.00 o'clock.
If you're planning to do a boat tour in Kos, I highly recommend booking with Eva Boat. I already gave this Kos travel tip to many of my friends, and they sure agreed it is one of the best things to do in Kos!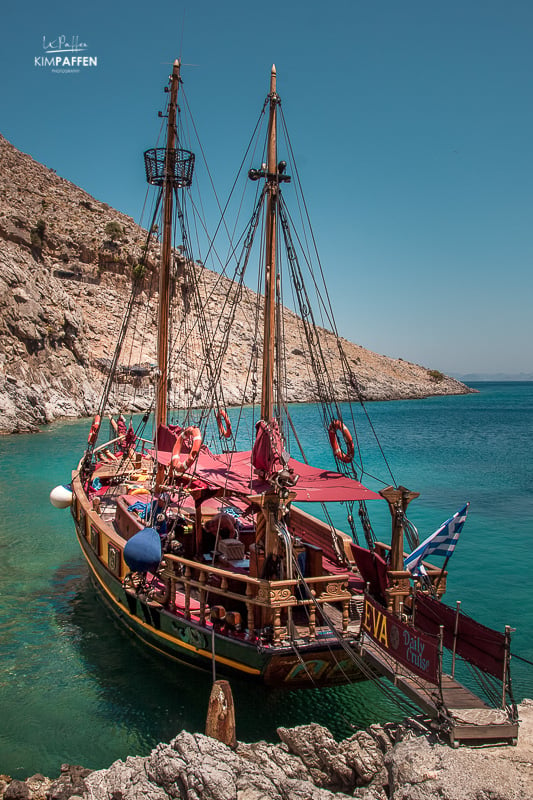 4. Watch sunset in Zia
Mount Zia is known as the best place to watch the sunset in Kos. For that same reason, it's also one of the major tourist attractions and most visited places in Kos, Greece. Zia is to Kos what Oia is to Santorini: the famous spot where people gather for a spectacular sundowner. The mountain village of Zia has several traditional tavernas with great views over Kos Island and its coastline. Try to look for the islands of Pserimos and Kalymnos or the Turkish coast.
You can also find narrow roads with small souvenir shops selling local products and crafts. It's also nice to have a short walk through the village and climb up to the church from where you will have great views as well. The panorama in Zia is simply magnificent.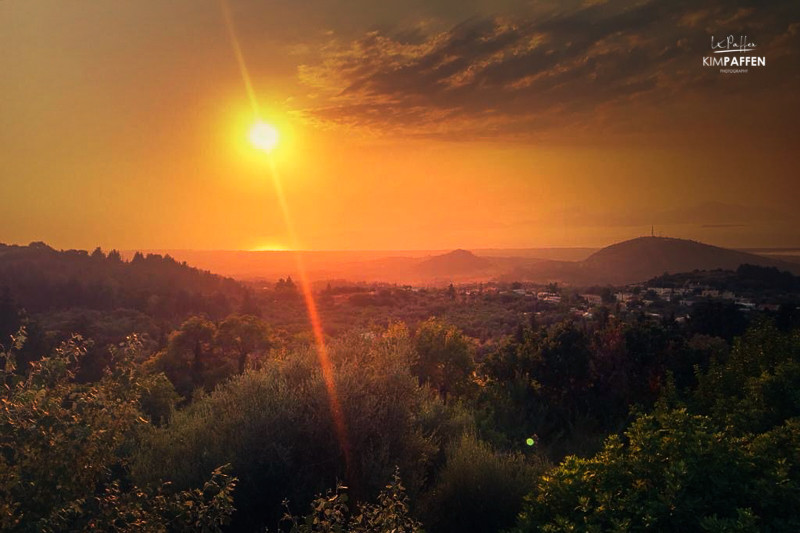 Although Zia is a bit crowded, there's a relaxing atmosphere with great views and therefore a must-visit when you travel to Kos! My best Zia travel tip is to arrive in time to secure a parking spot and even more importantly, a good spot in one of the restaurants in Zia to watch the sunset. You can also ask the hotel reception or your host to make a reservation in advance.
How to get to Zia?
The best way to get to Zia is by car, taxi or to book an arranged sunset trip to Zia. Local travel agents often arrange the transport to Zia, including dinner with a view and your return trip. During the day, the cheapest way to get to Zia is by bus, but these local busses won't drive in the evening. The easiest option is to hire a car and drive by yourself. This is also my personal favorite way to visit Zia.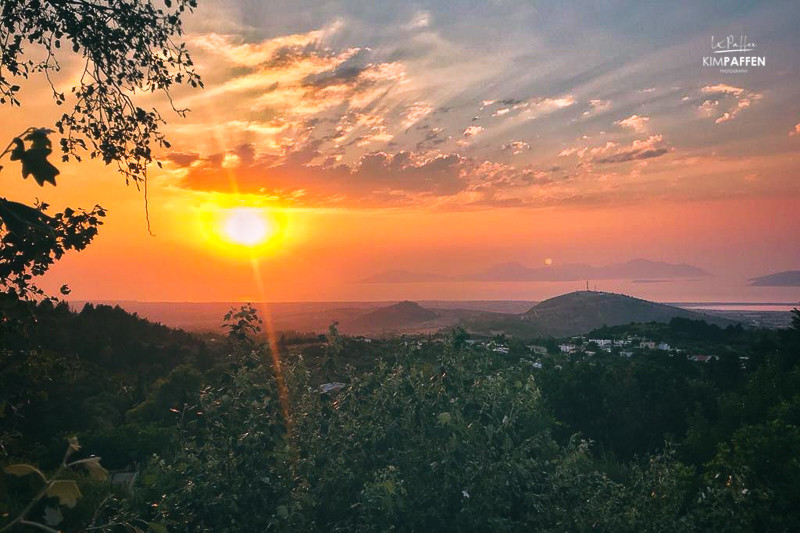 Hire a car to get to Zia and explore the rest of the Island
One of the best things to do in Kos is to hire a car to drive around Kos Island and end your day in Zia for the best sunset viewing. Is it possible to drive around Kos in a day? Yes, you can cover most of the Island in a day, but I would suggest renting a car for a minimum of two-three days, so you have more time to really explore the different places of Kos Island.
5. Therma hot springs in Agios Fokas
About 12 kilometers from Kos Town, you can find the naturally heated sea-pool springs of Embros Therme, in short Therma. These healing hot springs in Kos have a temperature of 30 to 60 degrees Celsius (140 F). Take a healthy bath in this hot spring and enjoy the beautiful scenery. The scenery is characterized by a wild beauty of deep gulches, rocks, and black pebbles. This natural spa of Embros is even considered to have healing features because the water is rich in potassium, calcium, magnesium, sulfur, and sodium.
The disadvantage of this place is that it can be quite touristic and crowded during the day. Apart from that, you have to love the smell of gas emissions, because of the volcanic activity. Nevertheless, it's definitely one of the most healthy and sustainable activities to do in Kos.
How to get to the Embros Therme in Kos?
The Therma is located in Agios Fokas. The best way to get to Therma Beach is by car. It's not possible to drive all the way to the hot springs, so you need to park your car in the parking area along the road and walk down for about 10 minutes. Next to this car park, there's also a bus stop. You can take the local bus 5 from the port in town up to Agios Fokas for 2 euros if you buy your ticket onboard the bus.
To reach the Thermae, you'll face a bit of a steep walk that leads you to the small Therma Beach. At this beach, you will find a small café. There's another café located at the top, near the parking place. During the day they offer donkey rides up and down the Therma but this is something I don't recommend at all! Just be sportive and have a walk, instead of riding on these animals.
What is the best time to visit Therma Hot Springs in Kos?
If you travel to Kos in the early spring months or at the end of the seasons (October) the Therma is already less crowded. Off-season there's a high chance of having the Therma to yourself, or you will share a healing bath with a few locals. Overall, the best time to visit Embros Therma is in the early morning or in the evening. Visiting Embros Therme in Kos is free of charge, and accessible the whole day (and night).
6. Hammam & Spa Tigaki
Like a Turkish bath, a hammam is a steam bath that revitalizes the body and mind. This spa tradition has its origins in ancient Greek and Roman times. A traditional hammam experience often involves a wet steam bath (sauna) and your body will be rinsed, exfoliated (scrubbed to remove dead skin), and massaged with foam. This process will detox your body, clear your skin, soften your muscles, and strengthen your immune system. It's a very peaceful and relaxing experience! It's also possible to book an extra massage, a facial treatment, or just take your time sunbathing.
The Island of Kos has only one traditional Hamam: Artemis Hamam and Spa. It was established in 2012 and is located in Tigaki, around 10 km from Kos Town. They offer a shuttle service and it's easily accessible by car or bus. So, if you really want to relax, this is one of the best things to do in Kos.
7. Archaeological ruins of Kos Island
Kos is a Greek island with a rich history and plenty of ancient Greek archaeological sites and monuments to visit. Asklepion is the most popular archaeological site. It's known as the center of Hippocrates' Medical School, an ancient Greek physician, regarded as the father of medicine. It's close to Platani in the South of Kos Town and one of the best things to do in Kos Old Town if you want to explore the Island's long history.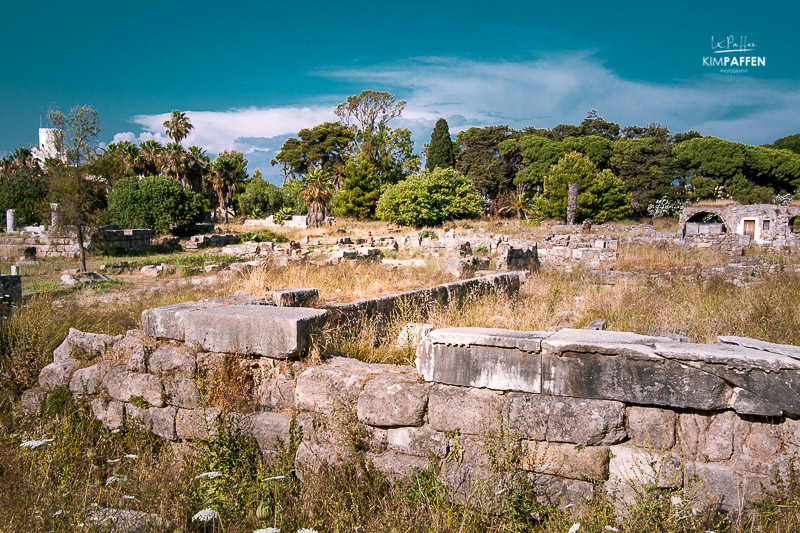 Other popular archaeological sites in Kos are the ruins of Palio Pyli (Old Pyli), the ancient Agora, which is the largest archaeological site in Kos Town, Hippocrates Tree, the Castle of the Knights of Saint John, the Roman Odeon (theater), and the Venetian Castle of Antimachia.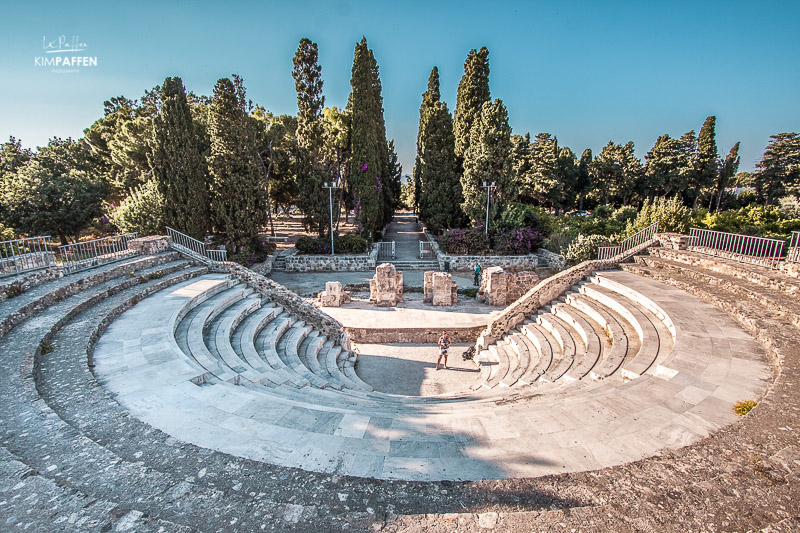 You will find many historical highlights, spread over the entire island. Exploring all these archaeological sites is a must-do when you visit Kos because it is part of ancient Greek history.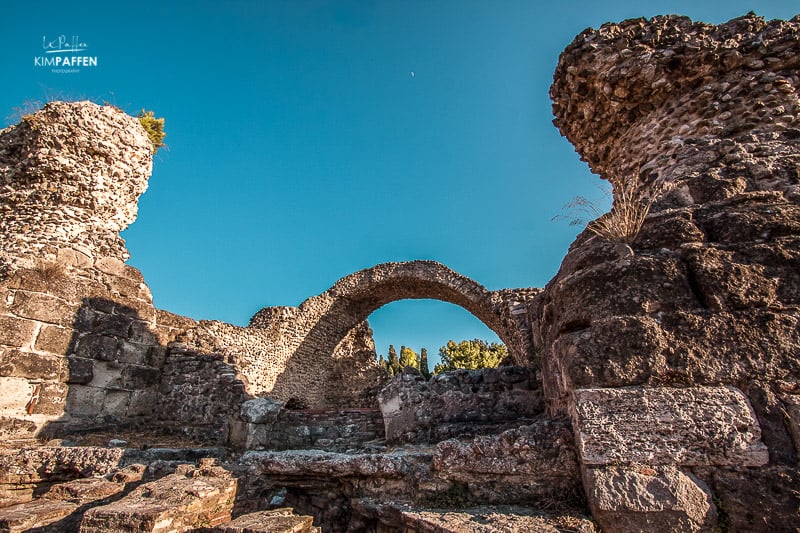 8. Kos nightlife on Bar Street
One of the things Kos is famous for is its bustling nightlife! Because of the lively Kos nightlife, the island of Kos is one of the most visited islands of the entire Dodecanese group. Personally, I don't think Kos is a party island, but if you're a party animal, the nightlife in Kos can certainly be one of the reasons to visit Kos with Bar Street as one of the main hotspots in Kos.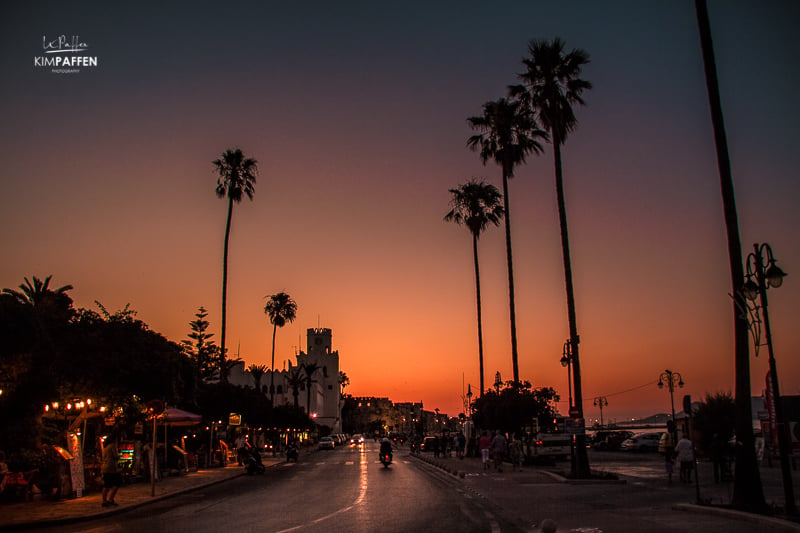 Kardamena's Nightlife
Kardamena is one of the best places to stay if you travel to Kos for its nightlife. The small fisherman village of Kardamena is located on the Eastern coast and offers several popular bars like the Neon Bar, Crossroads Bar, Jam Bar, and Bar 1960.
Bar Street Kos Town
The nightlife in Kos Town is based around two famous streets located in the heart of the town. They are called Diakon and Nafklirou. This lively area is full of bars and clubs where you can party all night long. During the day these streets are very calm, but at night it gets very busy. This area is also referred to as Bar Street in Kos Town. If partying and dancing is the reason you travel to Kos, one of the best things to do is to visit Bar Street. Tigaki is another popular place for nightlife. Agios Stefanos, Psalidi, and Lambi also offer a few amusing bars.
9. Kos Island Waterparks
If you're on a family holiday in Kos with kids, you might want to consider one of the two waterparks in Kos: Lido Waterpark in Mastichari and Aquatica Waterpark in Kardamena. Both waterparks offer unique aquatic entertainment with various attractions like pools, a river for tubing, and slides. Both parks are easily accessible by bus or car. Pack your sunscreen and swimsuit and enjoy a fun day out full of water activities; one of the most fun things to do in Kos with family and kids or as friends who love waterslides!
10. Ferry Kos to Bodrum (Turkey)
If you want to collect another passport stamp while on holiday in Kos, one of the best things to do is to book a 50-minute ferry ride to Bodrum in Turkey from the harbor of Kos Town. Discover Bodrum and the castle of the ancient city of Halicarnassus, which is the birthplace of the father of history: Herodotus. Stroll through the Turkish Bazaars, enjoy the local kitchen, and drink a Turkish coffee or tea.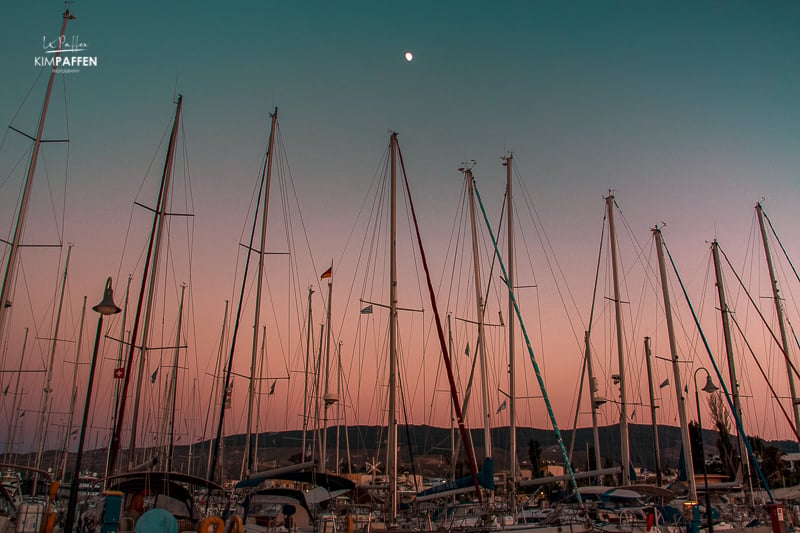 11. Flamingos in the Alyki wetlands
If you travel to Kos between October and March, one of the best things to do is spot flamingos in the protected area of the Aliki (Salt Lake), near Tigaki. I always love to watch these pink-feathered birds; which are great models for my photos. Apart from watching flamingos, it's also the most popular spot for bird watching in Kos, so don't forget your binoculars. You can also spot Pelicans. The Aliki wetlands used to be a salt flat where they produced cooking salt. Nowadays it's a beautiful piece of nature and one of the top tourist attractions in Kos.
12. Explore Kos by Bike
Did you know that this Greek Island of the Dodecanese is a great place to get around by bike? Kos is also called a cycling island! Many locals use their bicycles to get to work and the Greek island offers many bike rental stores for tourists. One of the best travel tips is to hire a bike to explore the stunning Greek island of Kos; a sporty and healthy activity.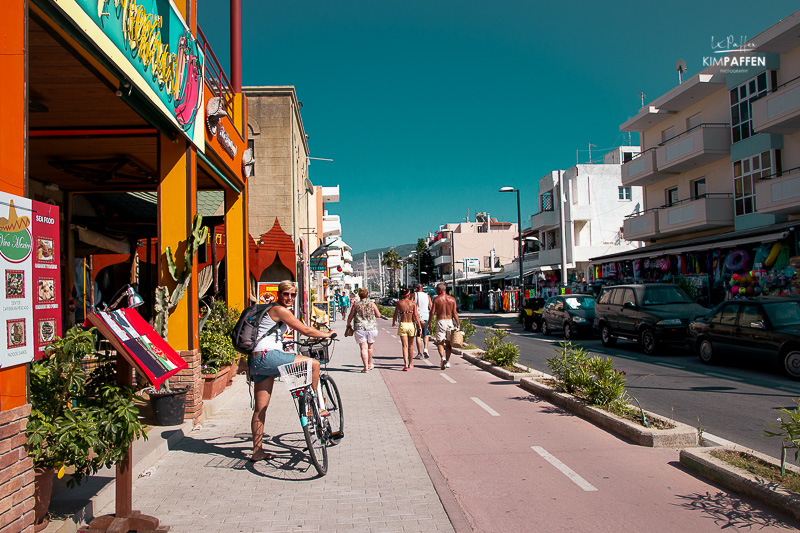 Kos Island in Greece offers a beautiful 13km-long bicycle road along the coast of Kos from Psalidi to Faros Beach. I also love the route from the town through Tigaki to the beaches of Marmari. I once cycled this route on one of the hottest summer days, but it's an amazing route. If you're getting too hot; just have a quick dip in the sea. The more advanced bikers will love the steep hills and biking through the mountains in Kos. Exploring Kos by bike is definitely one of the best things to do!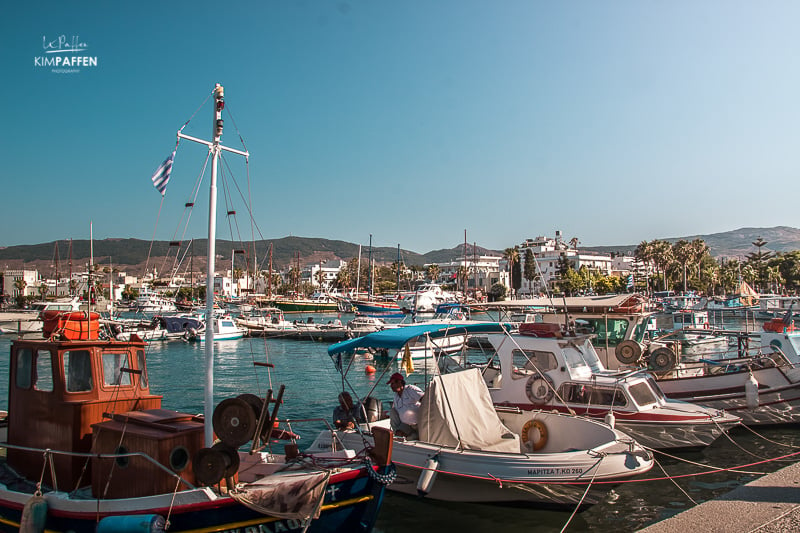 13. Windsurfing in Kos or learn to kitesurf
Due to the winds in the summer months, Kos is a windsurfer's paradise and a popular sport on several beaches of this beautiful Greek Island of the Dodecanese. The most popular spots for windsurfers in Kos are Lambi, Psalidi, Mastihari, Kefalos, and Agios Stefanos. In these places, you can also find windsurfing centers where you can hire equipment. Kitesurfing is another popular activity in Kos; there are a few spots where you can learn how to kitesurf; one of the best things to do if you like a bit of (water) adventure.
Other outdoor activities in Kos you might want to consider are a 4X4 jeep tour, parasailing, Jet-skiing, quad-biking safari, scuba-diving, and horse-back riding.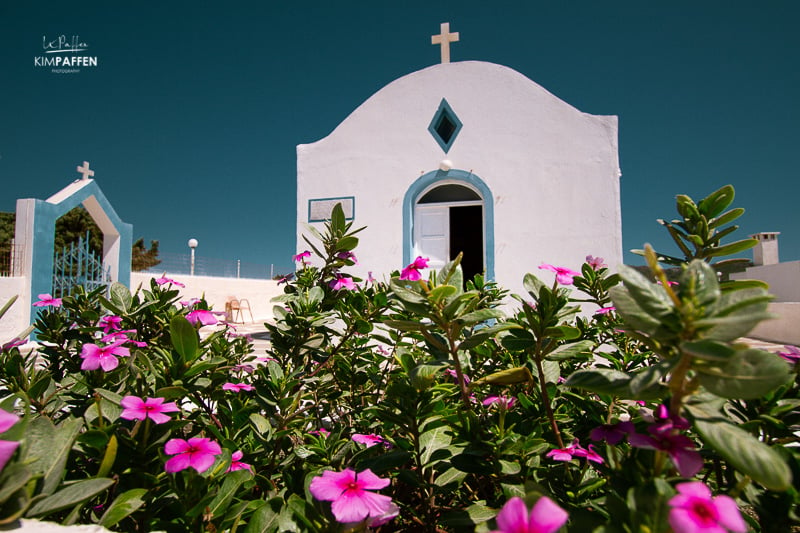 Where to stay in Kos
The best place to stay in Kos is in one of the main villages of the island like Kos Town, Psalidi, Kardamena, Kefalos, Tigaki, Mastihari, or Marmari. Kos Town is by far the most popular place to stay, especially for first-time visitors. A nice promenade, good nightlife, many hotels or Airbnb's, restaurants, a cozy port with small fishing boats, and of course the archeological sites. Apart from that, the town is easily accessible and it's the base for public transportation to other places to visit in Kos or boat trips to other islands.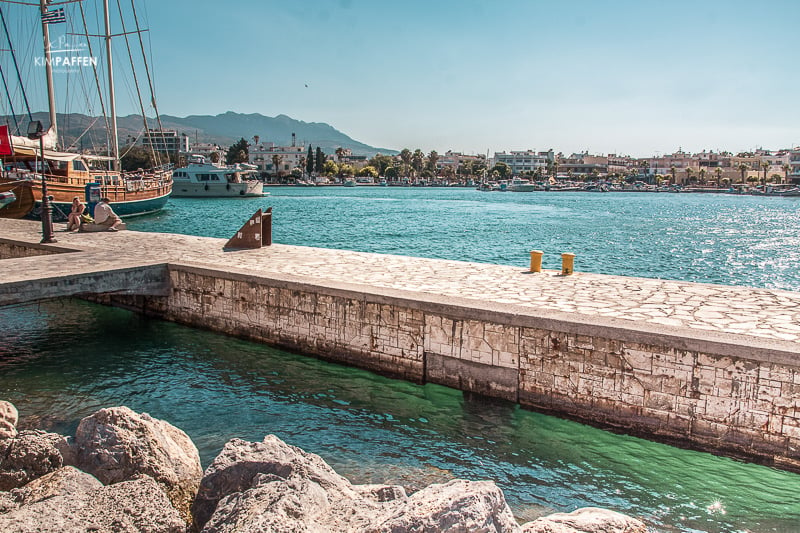 For the best beach experiences on Kos Island, you might want to choose a hotel in Kefalos, Tigaki, or Marmari. These places offer huge beaches, with a lot of all-inclusive resorts. Families often choose Tigaki, Marmari, and Mastichari as their base. These areas offer a lot of activities like horse riding, beach sports, and a karting track. Older couples may choose Kefalos if Kos Town is too busy for them, although the hills in this area could be a bit challenging. No matter which one of the best places to visit in Kos you'll choose, you will have a wonderful time!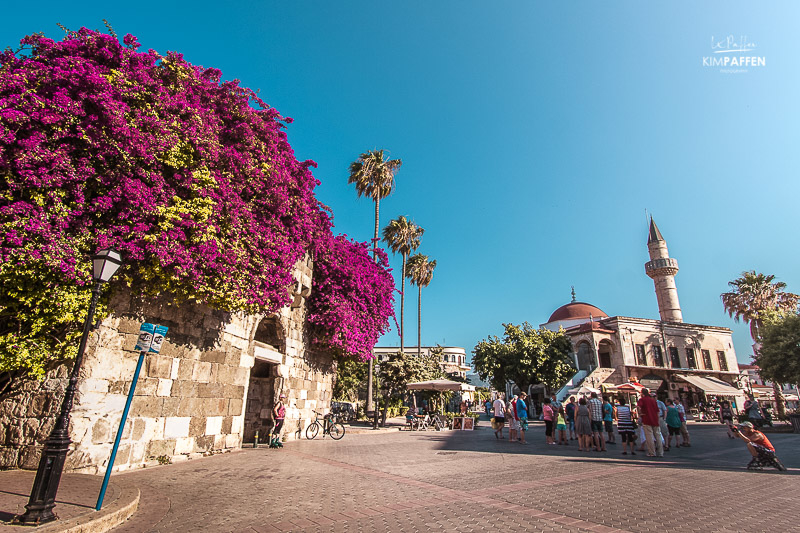 Where I stay when I travel to Kos
When I travel to Kos, I personally love to stay around Kos Town (including Lambi and Psalidi) because these places are very centrally located. I'm not a fan of eating in a hotel, so I'd rather stay close (or within biking distance) to several local Kos restaurants.
I've visited Kos Greece many times and I stayed for example in the family-owned and cozy Denise Apartments in Psalidi (book through Corendon or Olympic), in Astron Suites & Apartments at the port in Kos Town, and in a nice AirBnB where we got treated with freshly baked cake and a Greek BBQ. I've also stayed with friends whom I met on one of my first visits to Kos. I always felt safe in Kos and I find it a safe Greek Island to visit for singles, friends, and families with children.
Looking for hotels or all inclusive resorts in Kos? I made a selection of accommodations in Kos (from hotels and apartments, to villas and adult only all-inclusive resorts).
13 best things to do in Kos
Enjoy Kos Beachlife
Eat local!
Boat tour Kos Island
Sunset in Zia
Embros Therme
Traditional Hammam in Tigaki
Archeological sites of Kos Island
Kos nightlife on Bar Street
Waterparks in Kos
Kos to Bodrum Ferry
Flamingos Alyki wetlands
Kos by bike
Windsurfing in Kos
I hope this Kos Travel Guide - including many useful Kos travel tips and travel photos - answered your most important questions about what to do in Kos, what Kos is like, and how to make the most out of your time on this stunning Greek Island in the Aegean Sea.
To me, Kos Island is one of the best destinations for a summer vacation in Greece and there are plenty of reasons why Kos is worth visiting. Also check out my article about our favorite restaurants on Kos!
Curious about other beautiful islands or places to visit in Greece? Check out my Greece Travel Guide.
Reach out if you have any questions about things to do in Kos or travel to Kos Island and Greece in general as I've also visited places like Athens, Meteora, and Santorini. I'm happy to help. In return, you could help me, by sharing this blog on your social media channels. Every share on Facebook, Tweet on Twitter, or Pin on Pinterest is very much appreciated and will help me to continue what I love doing.