Zambia Travel Guide
Zambia is one of the safest countries in the world to visit and has some of the best safari experiences on our planet, renowned for its award-winning safari guides. 30% of the country is given to its wildlife (national parks and reserves). No wonder Zambia is sometimes called Africa's best-kept secret, as it's still quite unexplored with a lack of crowds. Apart from the abundant wildlife and extraordinary birdlife, Zambia is also one of the most water-rich countries in Africa. The country has 17 waterfalls, 3 major rivers like the wild Zambezi River, wetlands, and lakes.
With the purity of Zambia's natural wonders and the welcoming and friendly people, Zambia is an exceptional country in Southern Africa to explore its remote and mesmerizing wilderness, full of wildlife - including the Big Five. Zambia is also the birthplace of walking safaris, which allows you to get close to the wildlife on foot, hearing the sounds of the bush while taking time to observe the diverse and unspoiled nature where animals wander through unfenced areas and camps.
There are 20 national parks and over 30 game management areas in the country of which South Luangwa, Kafue, and Lower Zambezi are some of the most popular and finest national parks in Africa! The best things to do in Zambia include a guided walking safari and night drives in South Luangwa, bird watching in Victoria Falls' Mosi-Oa-Tunya National Park, game drives in Kafue NP, and a canoe-safari on the Lower Zambezi paddling along hippos and crocodiles. Unleash your adventurous side at the Victoria Falls by swimming on the edge of the Falls in Devil's Pool!
Table of contents Zambia Travel Guide:
Interesting Facts Zambia
  Flag of Zambia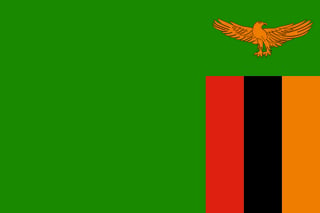 Zambia's National Animal
African Fish Eagle
  Zambia National Dish
Nshima (porridge) served with 'relish' (stew and vegetables)

  Currency in Zambia
Zambian Kwacha (ZMK or ZMW)
  Zambia Time Zone
Central Africa Time Zone or EAT (GMT+2 hours)