Planning a safari in Zambia? This is your guide to the best accommodations in the heart of Africa. With the thundering Victoria Falls, the enchanting Lower Zambezi National Park, the untouched Kafue and the untamed wilderness of South Luangwa National Park and the remote North Luangwa, Zambia is one of the most inspiring and beautiful countries for a safari in Africa.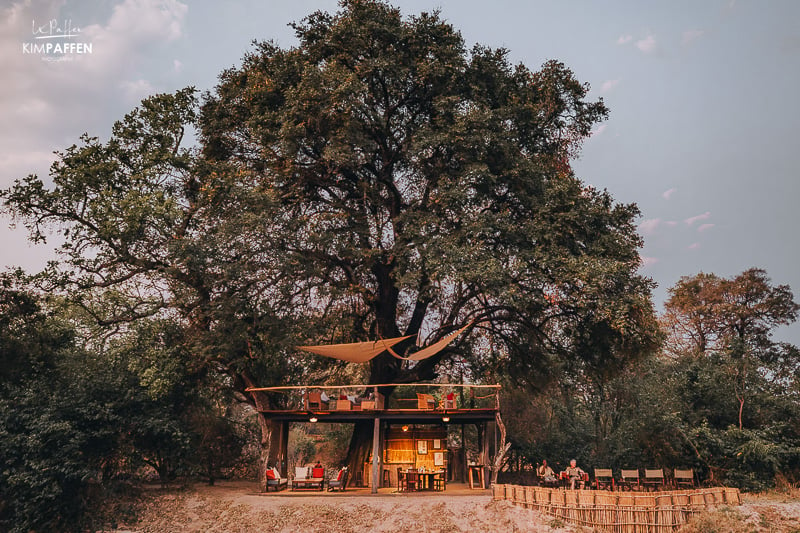 The places you choose to stay can make or break your safari trip in Zambia. In this guide, I share my hand-picked accommodations across Zambia, ensuring that you will leave Zambia in awe with lasting memories of some of the best safari experiences in Africa.
Find the best places to stay for Safari in Zambia here:
Wild Dogs Lodge in Lusaka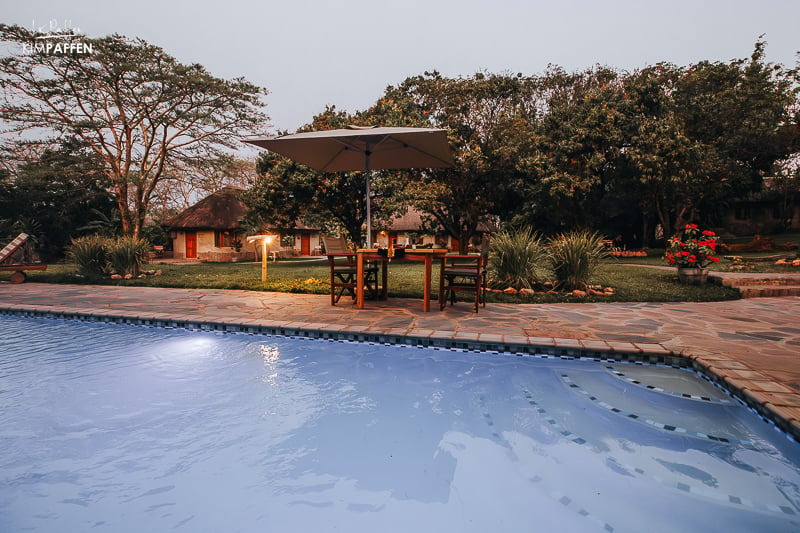 After a short 2-hour flight with Proflight Zambia from Johannesburg to Lusaka Airport, you can reach Wild Dogs Lodge in Lusaka within 15-20 minutes. The lodge offers an airport-transfer at 20 USD per vehicle. Roads in Lusaka are pretty good, but the last 8 minutes over a dirt road you will get the 'African massage'.
The first word that came into my mind when entering Wild Dogs Lodge was peaceful. It's a peace of the African bush in the middle of Lusaka city and therefore a great start for your safari in Zambia.
Family-owned African-style Lodge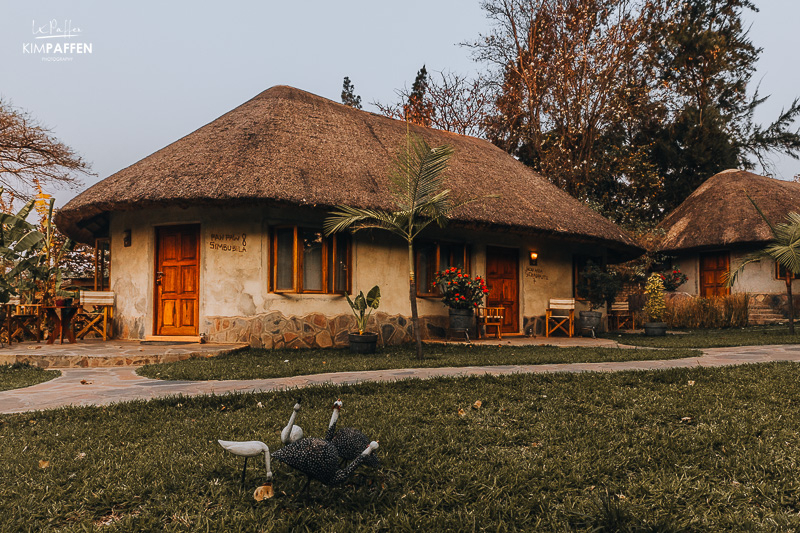 It's an intimate (german-owned) lodge with only 10 African-style rooms under 4 thatched chalets hosting up to a maximum of 20 people.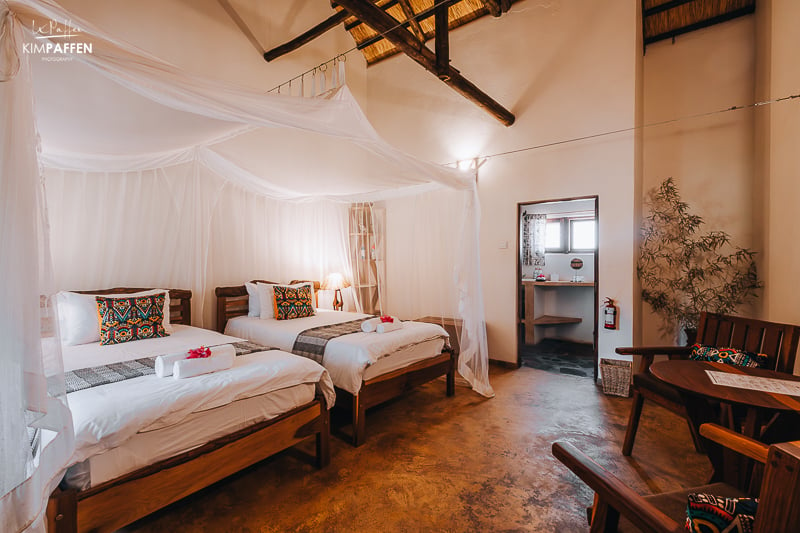 All cottages - that have fruit names like Mango, Pawpaw, and Guava - face the peaceful garden and the swimming pool with a few sun loungers. The 18-meter long pool is perfect to cool off on a hot day and to swim a few laps.
Beautiful shady bird-rich garden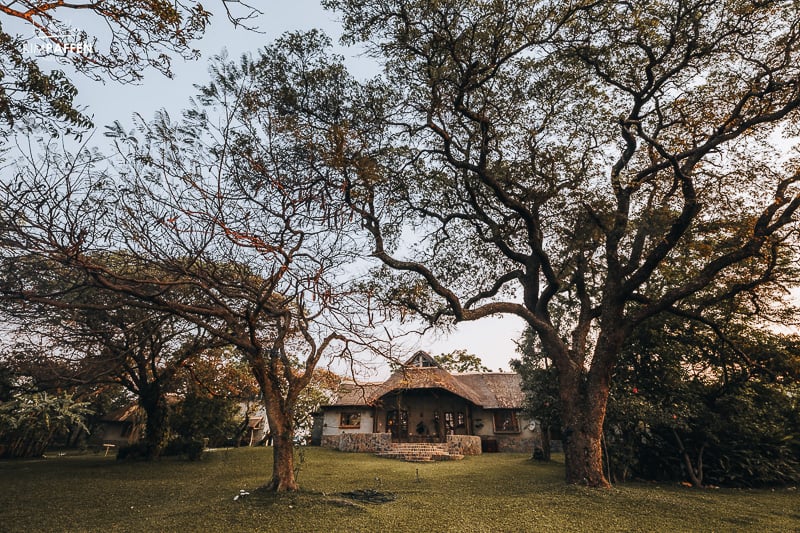 The cottages are in a beautifully decorated green garden with amazing Lozi & Jacaranda trees offering enough shady spots. Ernest, the gardener, loves to show you around in the garden where you can find several Mango & Avocado trees.
Birds also favor Wild Dog's garden, for example, the Blue Waxbill, Woodpecker, Woodland Kingfisher and the always present BulBul. Waking up, hearing the sounds of these birds, is a very peaceful feeling.
Delicious food with fruits and veggies from their own garden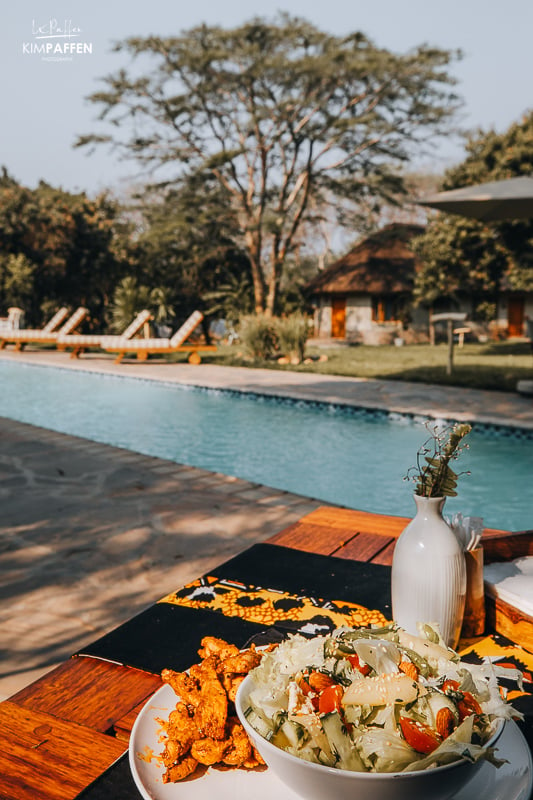 Breakfast, lunch, and dinner are on the terrace surrounding the pool. They have a 24-hour coffee/tea station available for guests and the food was good. For breakfast, you can choose eggs of your choice. I loved their light lunch; a salad with chicken strips. For dinner, I had their delicious beef filet in garlic, onion and champignons with various vegetables.
Wild Dogs Lodge also has their own vegetable garden where they grow green pepper, lettuce, spinach, eggplant, and so forth.
Best place to stay in Lusaka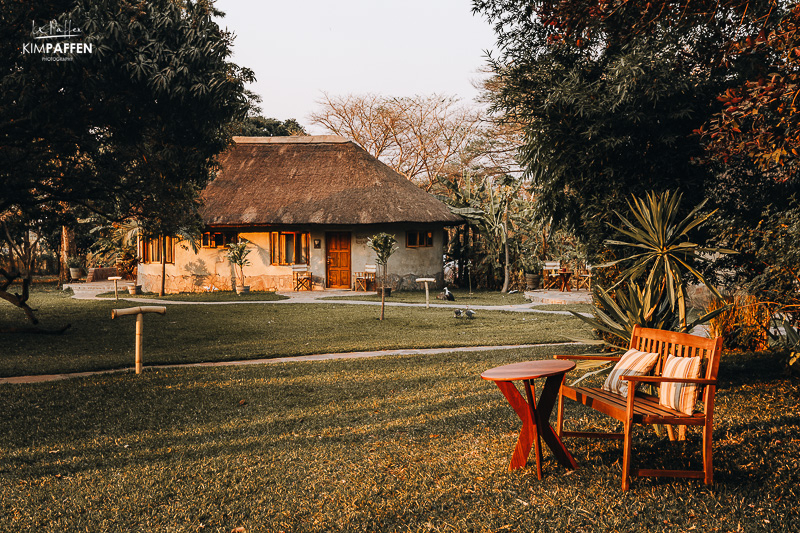 In summary, I couldn't think of a better green place to stay in Lusaka. An excellent location in a wonderfully decorated garden with good healthy food options and the friendliest professional team; the best place to start your safari in Zambia. Wild Dogs Lodge also offers a two-deck conference area. Book your stay at Wild Dogs Lodge.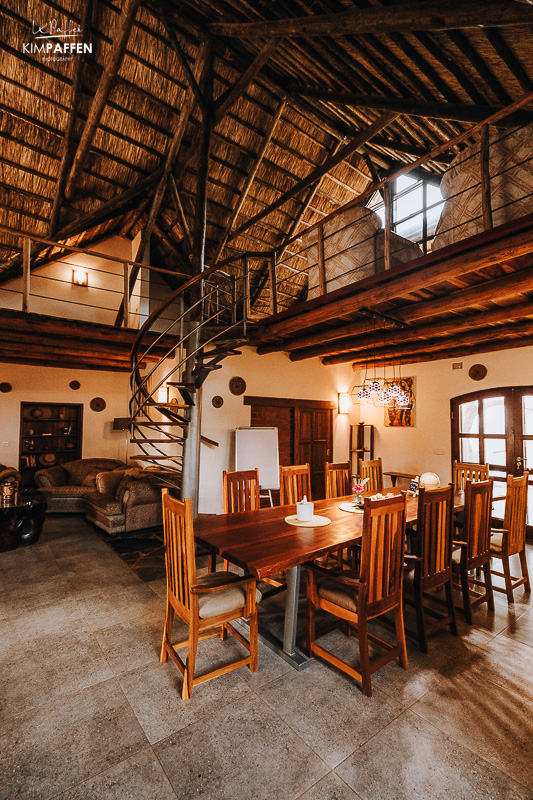 Pioneer Camp in Lusaka
If you're a bit more on a budget, check out Wild Dogs Lodge's rustic sister camp, named Pioneer Camp with accommodation ranging from a camping place, basic thatched tents to higher standard safari and miombo chalets with ensuite bathrooms. It's also a great place for birding!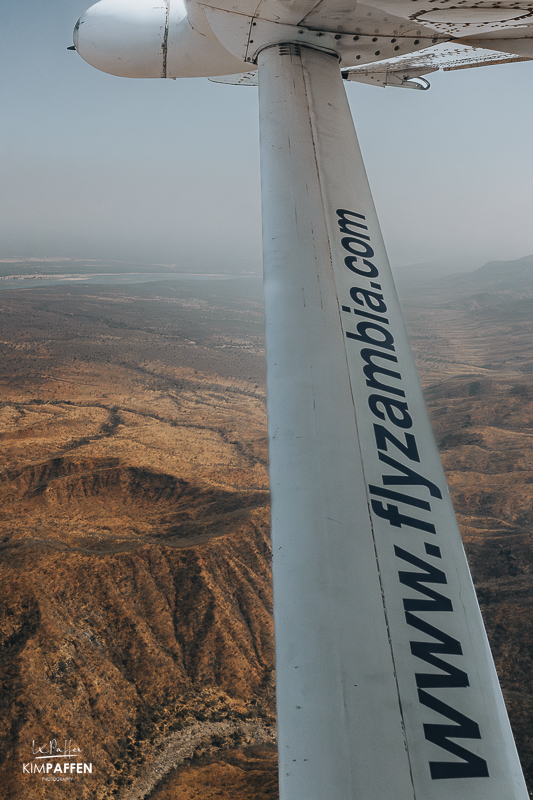 The most convenient and fastest way to get from Lusaka to the best places for a safari in Zambia is by airplane. Proflight Zambia offers scenic flights to most safari destinations in Zambia like Kafue National Park, Lower Zambezi National Park, South Luangwa and North Luangwa.
Mukambi Safari Lodge in Kafue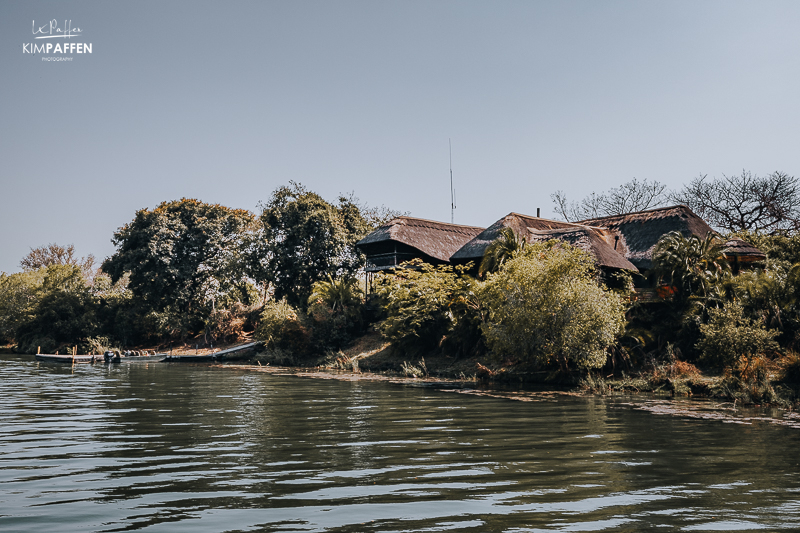 A 4 to 5-hour drive from Lusaka takes you to Mukambi Safari Lodge, on the doorstep of Kafue National Park. Driving down to Kafue, also known as Zambia's untouched treasure, you don't see any souvenir stalls or small markets which shows that the masses did not yet discover the park. You only see a few rural villages and a few vegetable and fruit stalls.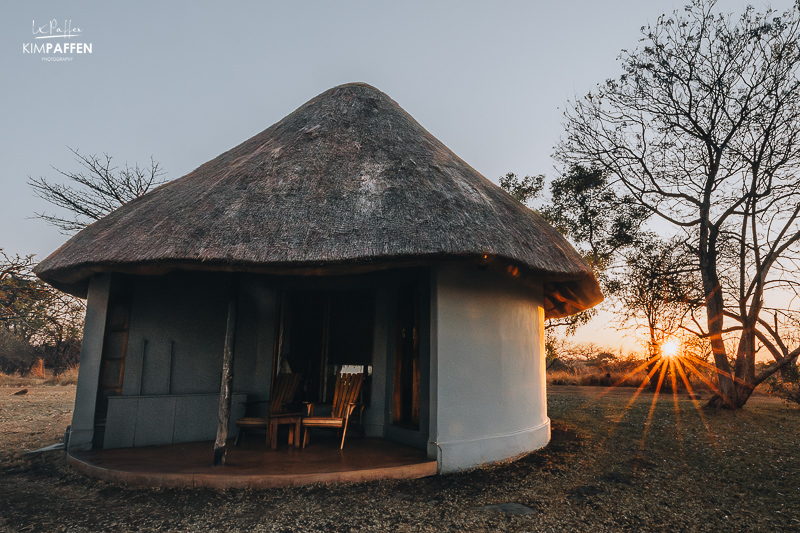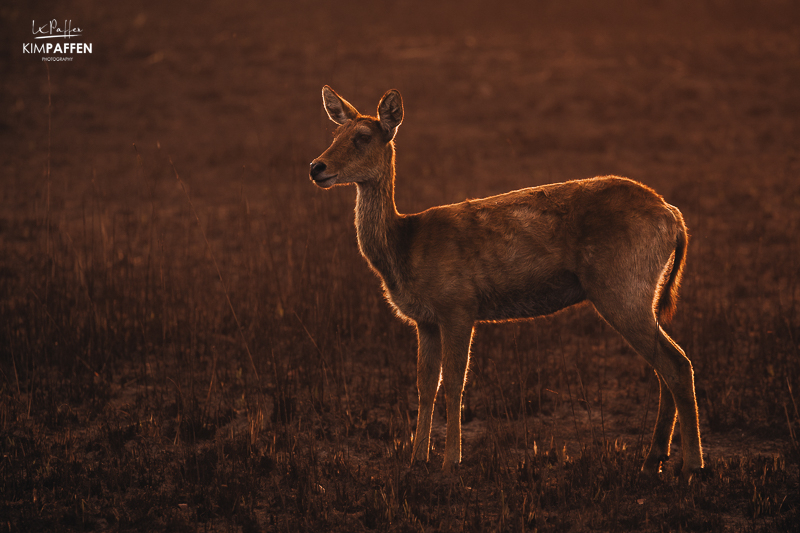 The closer you get to Kafue, the more ever-beautiful and picturesque Baobab trees are showing up in the landscape. The last few kilometers, the landscape is turning into a more densely vegetated area and once you turn off from the main road, you will most likely see the first antelopes, like Impala or Puku.
Enchanting viewing deck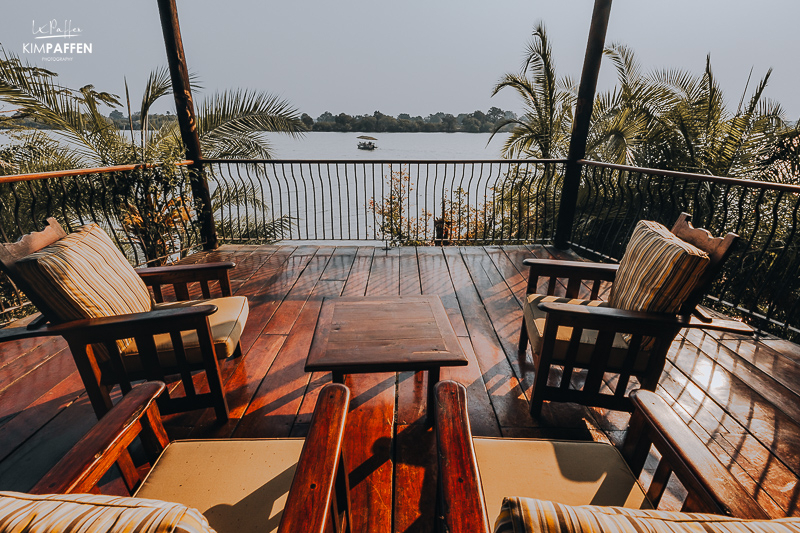 The first thing you notice when entering Mukambi Lodge is that this wonderful place is located right on the banks of the Kafue River with an upper and lower viewing deck to watch hippos and an occasional crocodile. The surrounding plants also attract many birds. If you close your eyes, the only thing you hear is the sound of a shrike or a bulbul and the flowing water of the river.
Room with a view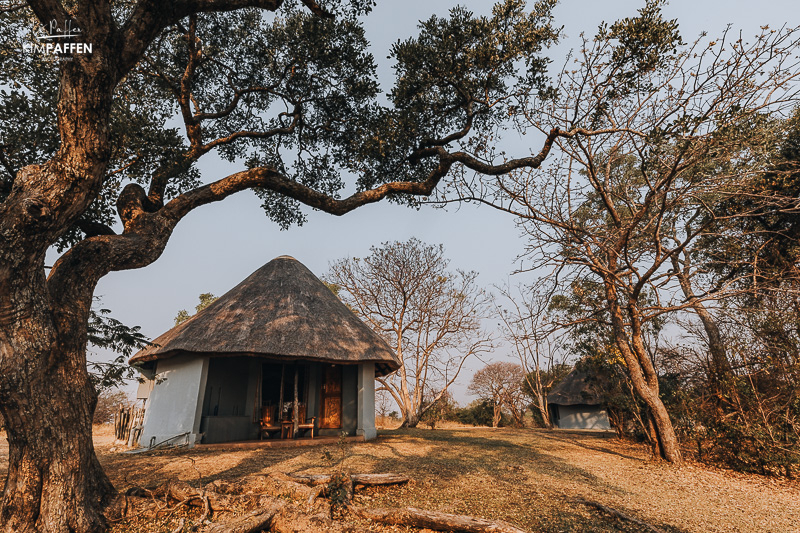 Mukambi Lodge has 10 rounded en-suite chalets (rondavels) and 4 luxury tents overlooking the Kafue River. They are a few meters apart from each other to ensure privacy.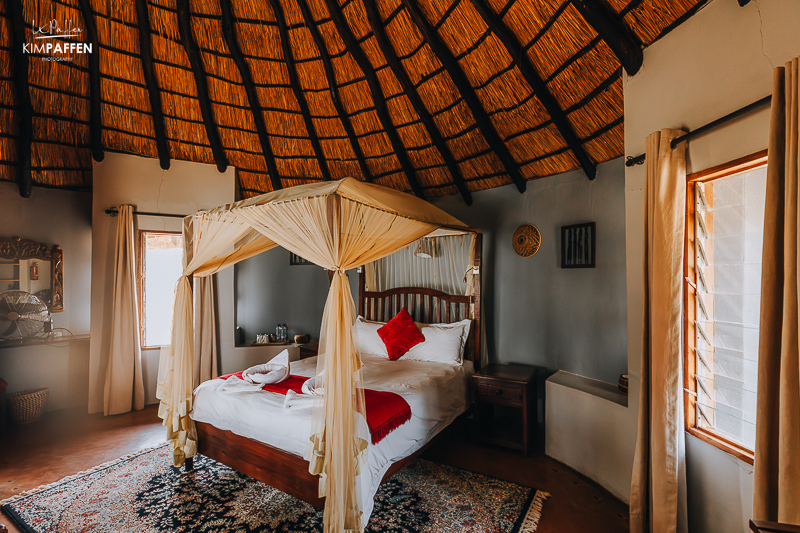 The beds are very comfortable, and you will definitely enjoy the view of the river from your private terrace while local wildlife passes by your rondavel, including puku, impala, baboons, and monkeys. And not to forget about the birds singing their songs. After having a resident hippo that unfortunately died, Mukambi Lodge also has a resident wild cat!
Activities Mukambi Safari Lodge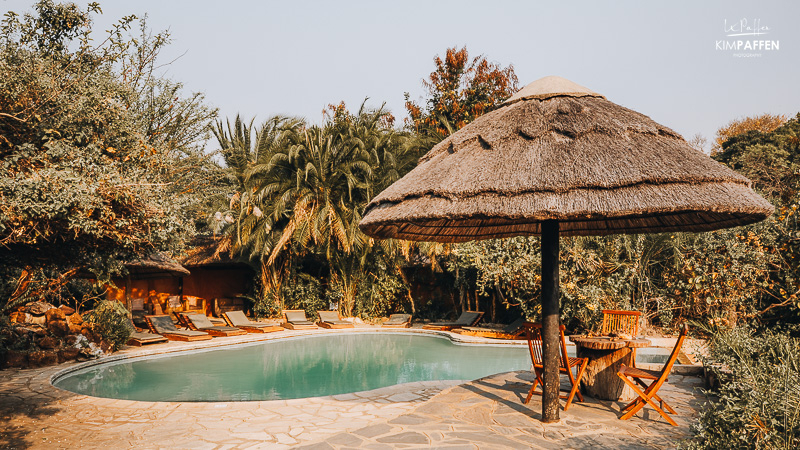 Apart from game drives and walking safaris, you can also opt for a fishing trip or a sunset boat cruise on the Kafue River.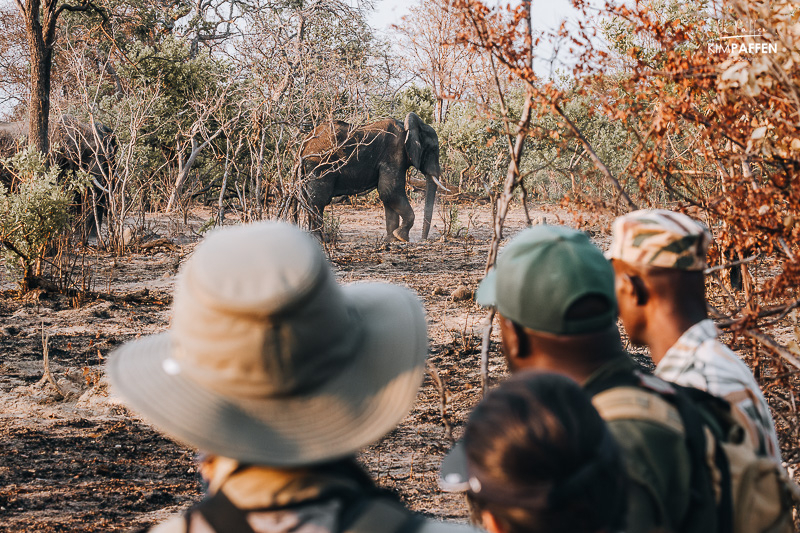 We opted for a walking safari and a game drive in Kafue National Park. Our first walk in Zambia treated us with a bachelor herd of 3 elephants. We watched them from a safe distance to not interfere with their daily lives.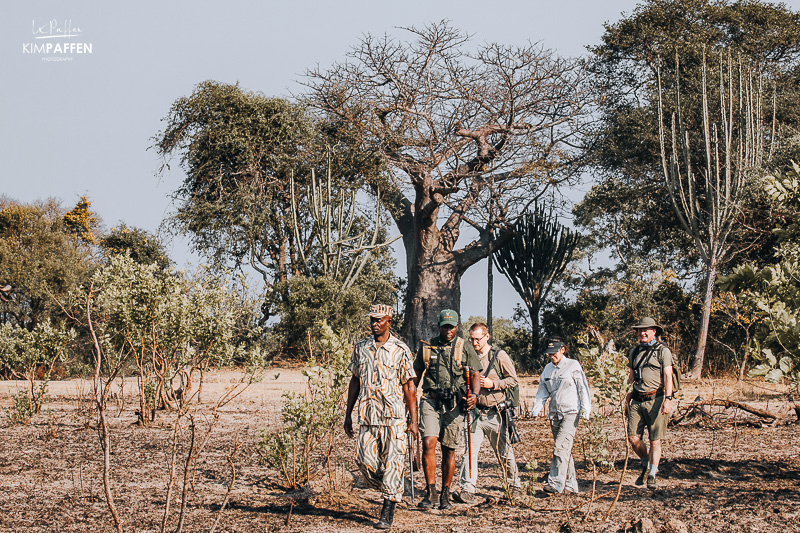 The Kafue area is beautiful with various shrubs and trees, including beautiful Baobab trees and Lala palm trees.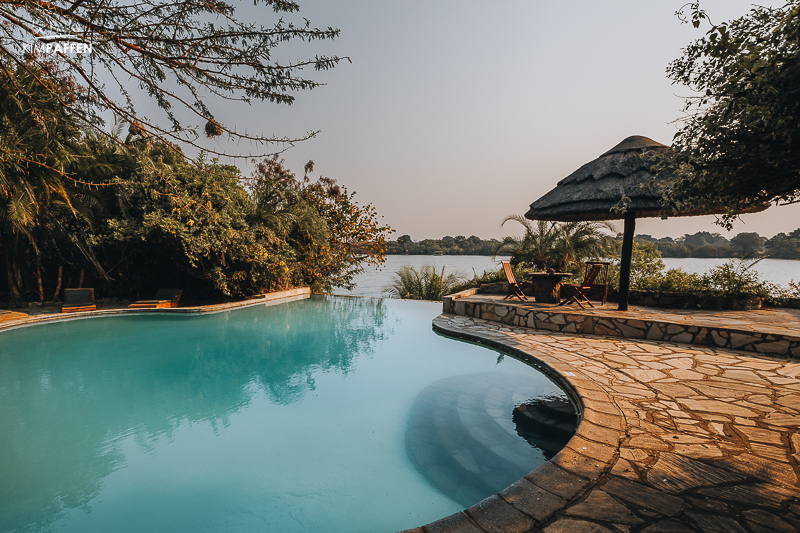 After your morning safari in Kafue National Park, the infinity pool is the perfect place to relax and cool off or treat yourself to a relaxing massage.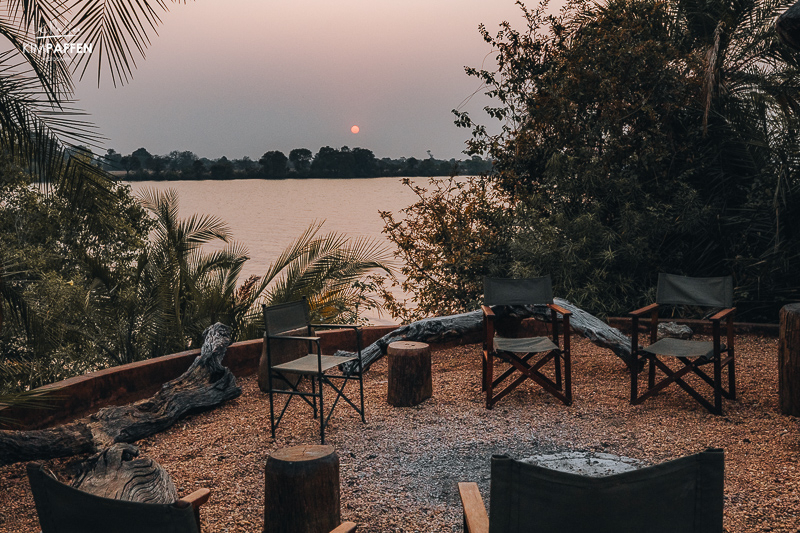 When coming back from your sundowner safari in the afternoon, join the campfire to gaze into the fire and see the milky way unfold. A perfect ending of a day spent in the African bush.
Safari Tour Kafue National Park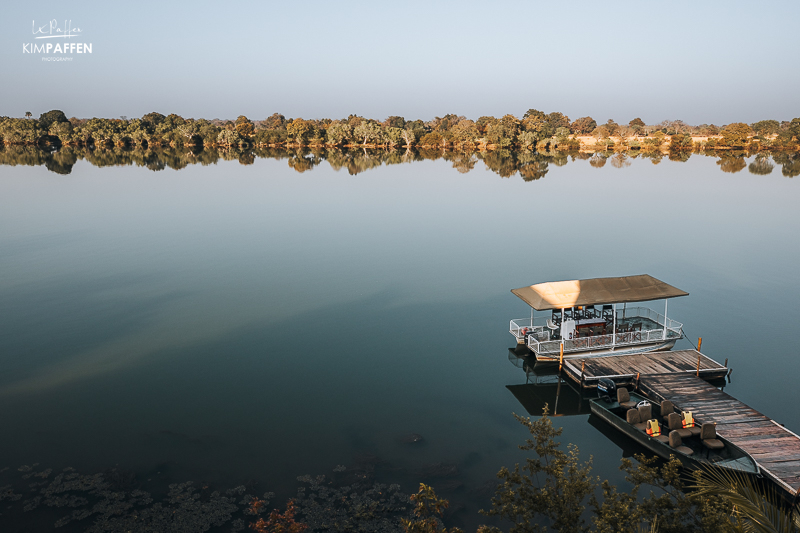 Mukambi Lodge is the perfect gateway to Kafue National Park with several areas worth exploring. If you have enough time, plan a minimum of 2 to 3 nights in each of the camps that are part of Mukambi Safaris: Busanga Plains Camp (July to October), Fig Tree Bush Camp (May to November) and Mukambi Safari Lodge (All year round). This way, you will have the best experience of all that Zambia's untouched gem offers.
Book a 6-day safari tour in Kafue National Park or the 8-day (shared) Full Kafue Experience that includes all the camps of Mukambi Safaris and experience the best Kafue has to offer. Another option is a 12-day safari tour Best of Kafue National Park and South Luangwa.
Wonderful team and knowledgeable guides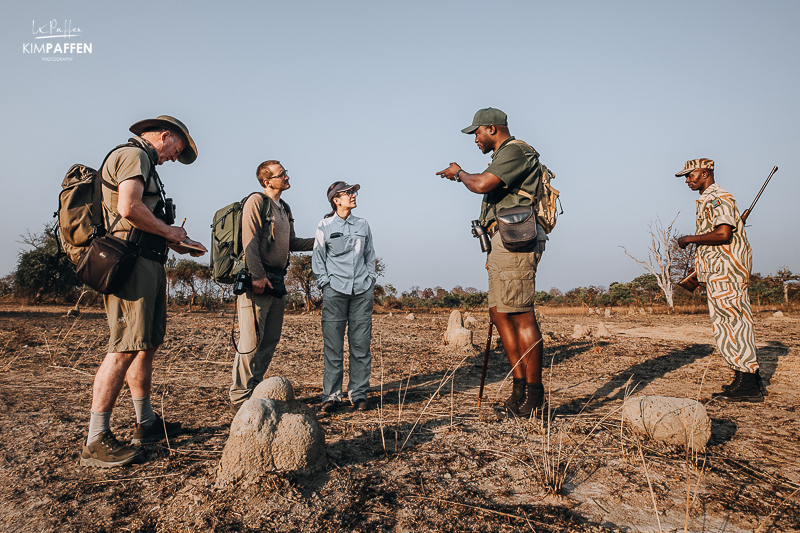 Mukambi Safaris is a Dutch family-owned business since 2002. Mukambi's knowledgeable guides rotate in all the camps and Busanga Plains is among their favorite areas to guide because it's known for special wildlife sightings.
The team at Mukambi is lovely. I forgot my Apple Mouse at the lodge and they did everything in their power to transfer it from Kafue to South Luangwa. Just perfect. Zikomo Robyn and staff! I will definitely be back to explore more of Kafue National Park.
Chiawa Camp in Lower Zambezi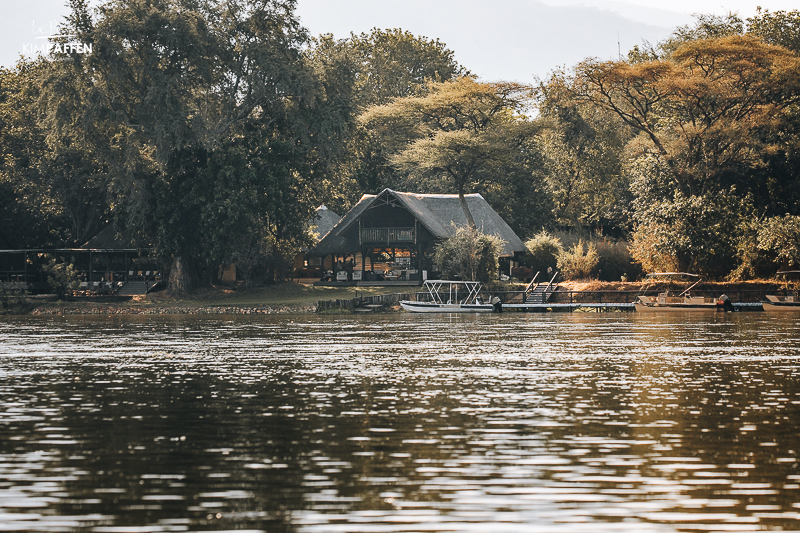 After a 35-minute scenic flight with Proflight from Lusaka to Jeki Airstrip it's another hour to the family owned multi-award-winning Chiawa Camp, but a surprising scenic ride! First, you hop on a short game drive through the Jeki area welcomed by many Lilac Breasted Rollers, baboons and various antelopes.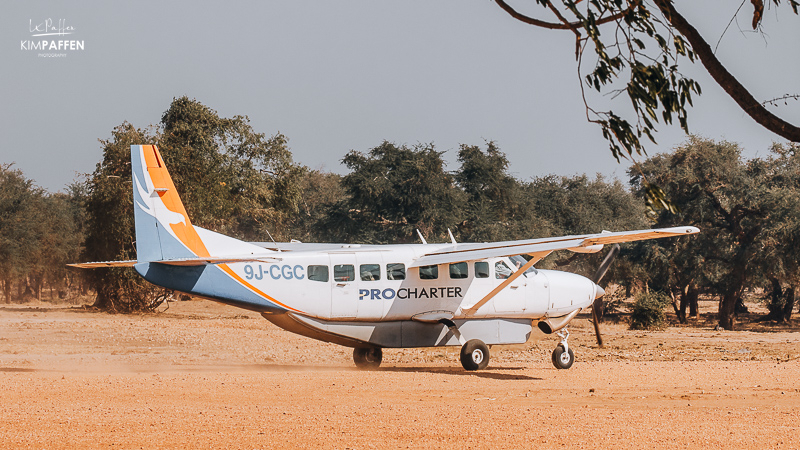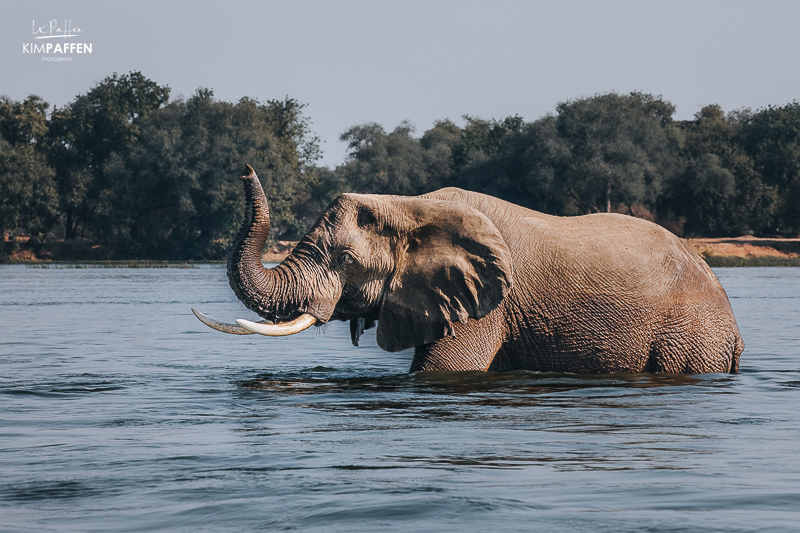 Then, a small motorized boat takes you in 40 minutes to Chiawa Camp cruising the Zambezi River, with amazing sightings of elephant crossings, many hippos and incredible views of the Zambezi River and its channels.
The pioneer in Lower Zambezi National Park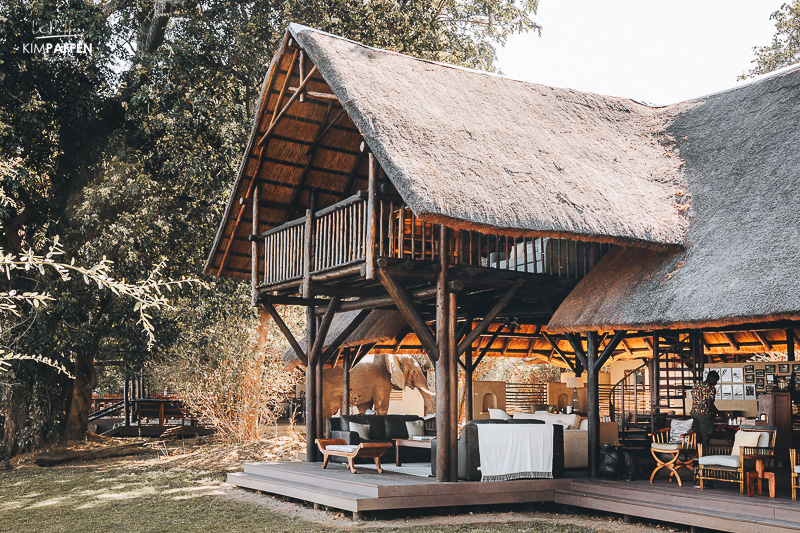 Once you arrive at the camp, you are already smiling from ear to ear and the friendliest staff is waiting at the deck to welcome you with open arms. A great first impression of Chiawa Camp, which is the first camp to settle on the banks of the mighty Zambezi River.
Safari experience of a lifetime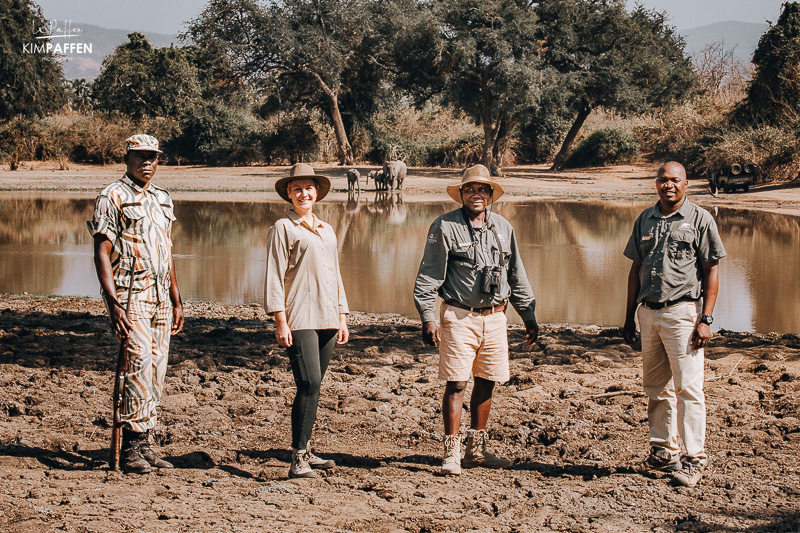 Lower Zambezi National Park is one of Africa's most scenic wildernesses offering some of the best safari activities in Zambia and Africa.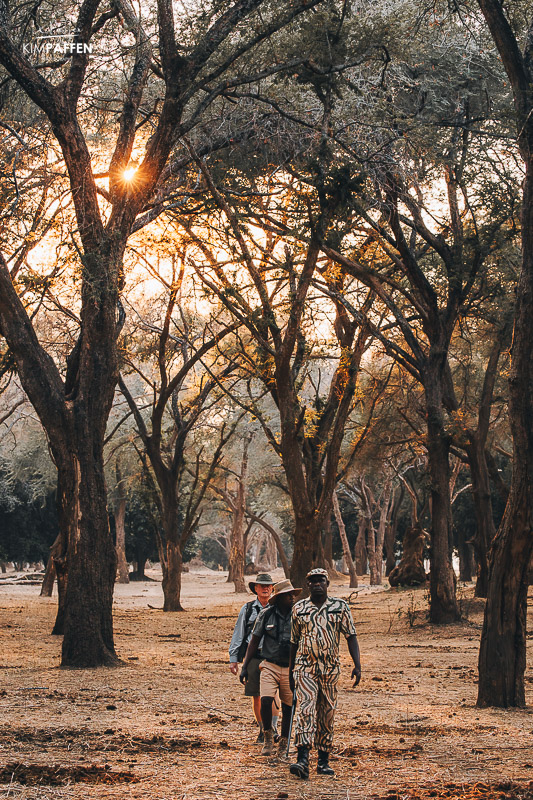 Apart from the wildlife-rich game drives led by high-quality guides, Chiawa Safaris also offers unique walking safari experiences through the magical winter thorn forest and along the lagoon with lots of elephant encounters.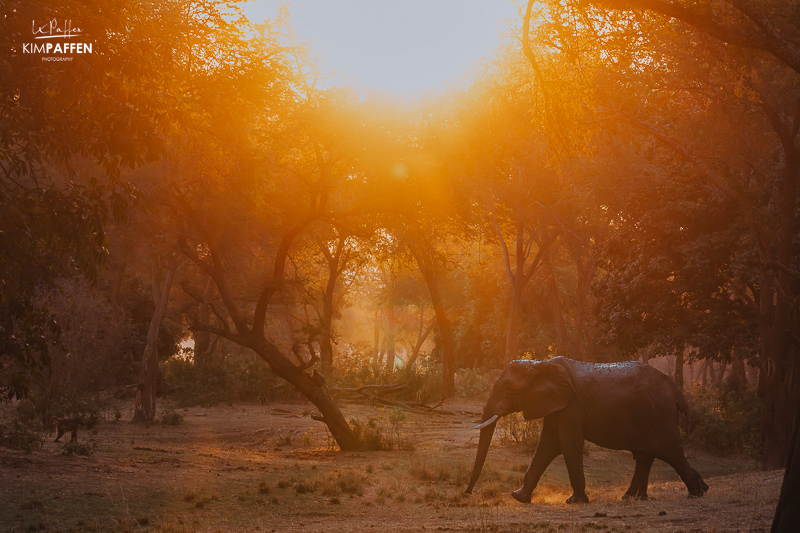 The activities that make Chiawa Camp even more unique are the water-based Lower Zambezi safari activities, like a canoeing trip through the Zambezi channels with amazing wildlife sightings that include up-close vistas of crocodiles, hippos, elephants, many birds, baboons and several antelope species while peacefully floating on the water, listening to the sounds of nature.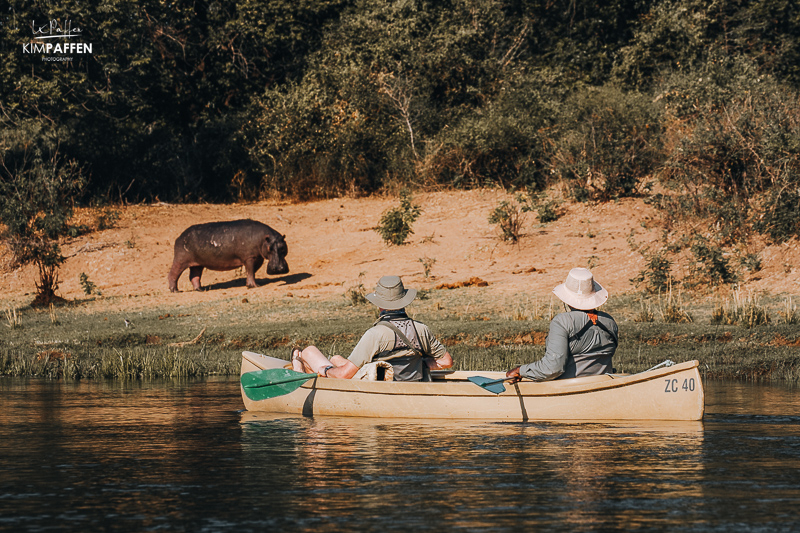 Ending your canoe safari with a sundowner overlooking the Zambezi River that reflects the orange colors of the setting sun is magical.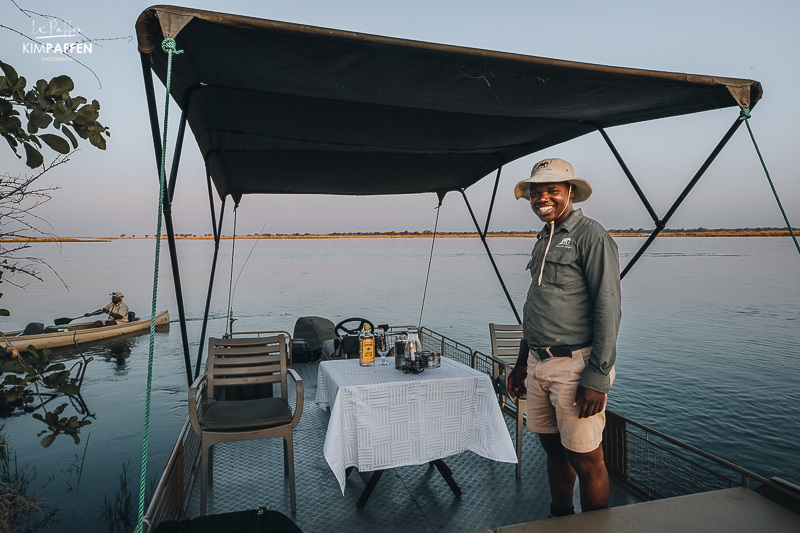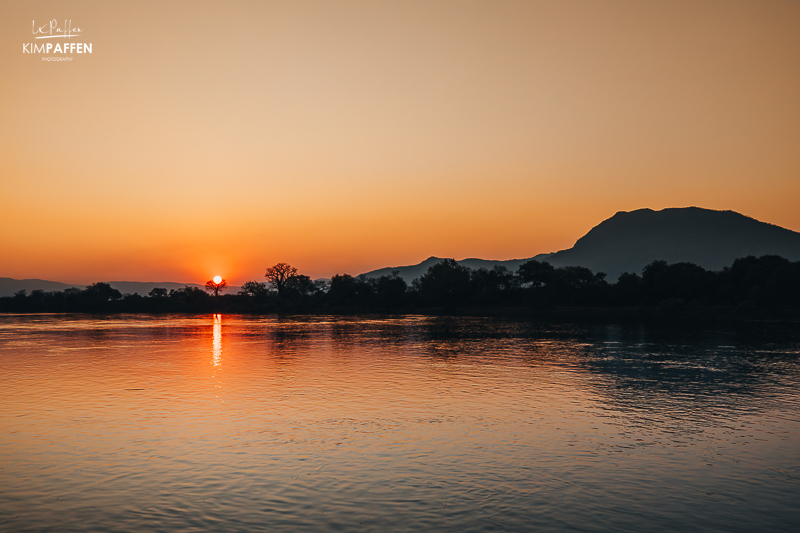 Because of the strict regulations, I assure safari lovers of seeing very little to no human activity while paddling the waters of the Zambezi River which provides that extra exclusive feel of being the only ones on the river.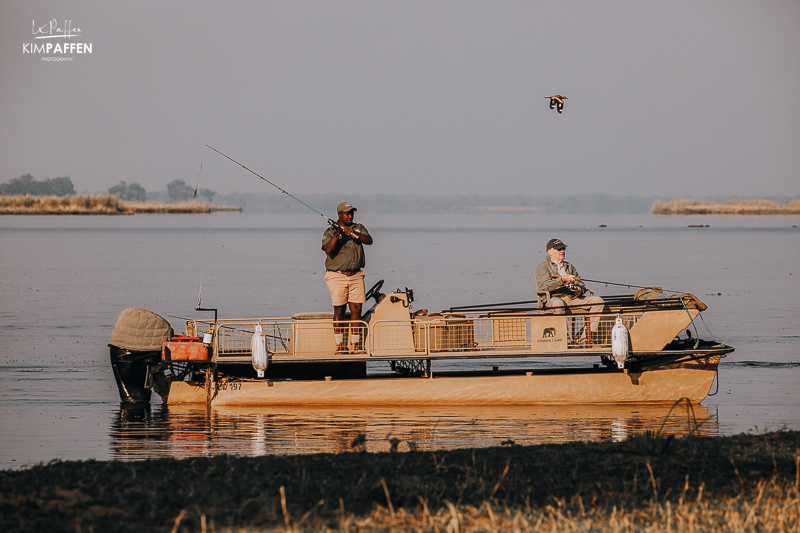 Other things to do on safari in Lower Zambezi National Park are night game drives, boat safaris using stable pontoon boats and tiger fishing. What I really loved about Chiawa's night game drive is the use of a red filter on the spotlight and car to not disrupt the animal's behavior. It was the only place in all of Zambia where they used this red light.
Elephants & Buffalo visit Chiawa Camp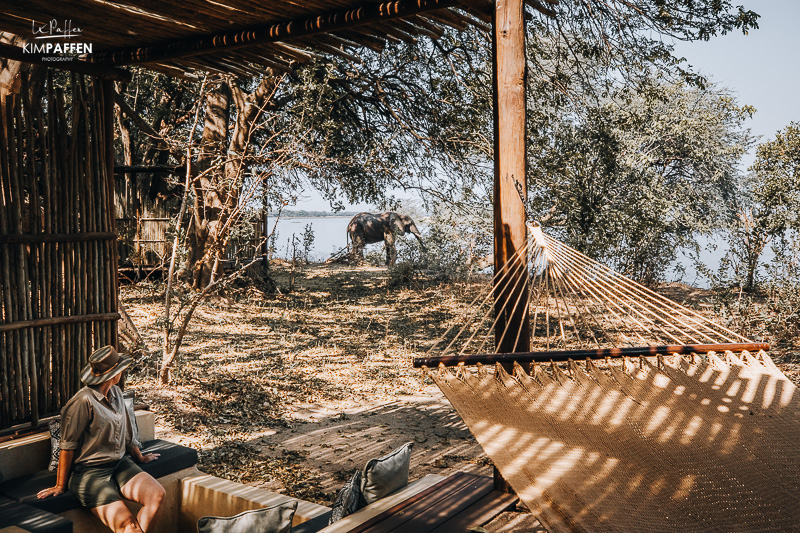 You don't have to drive far to see wildlife. In fact, elephants visit Chiawa Camp daily as the camp is in the middle of a prime wildlife zone within Lower Zambezi National Park.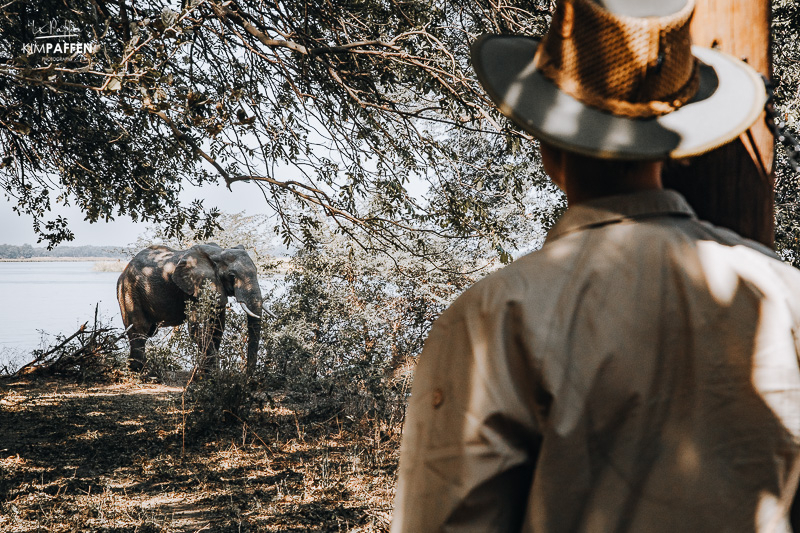 Other wildlife to spot (even within the camp) are lion, leopard, buffalo, waterbuck, hippos and crocodiles. I had a buffalo grazing next to my tent one evening and enjoyed viewing the elephants from my private veranda.
Quality food on beautiful locations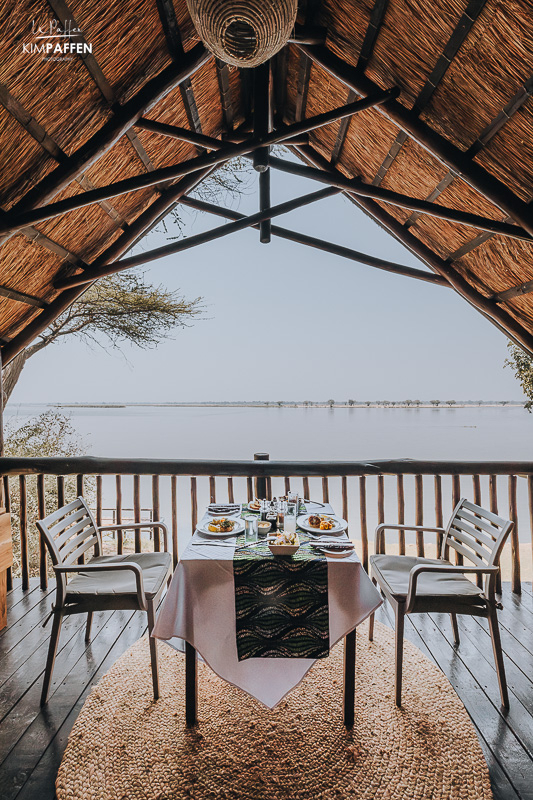 Chiawa's food is delicious, and I really like their effort to prepare different spots to enjoy lunch.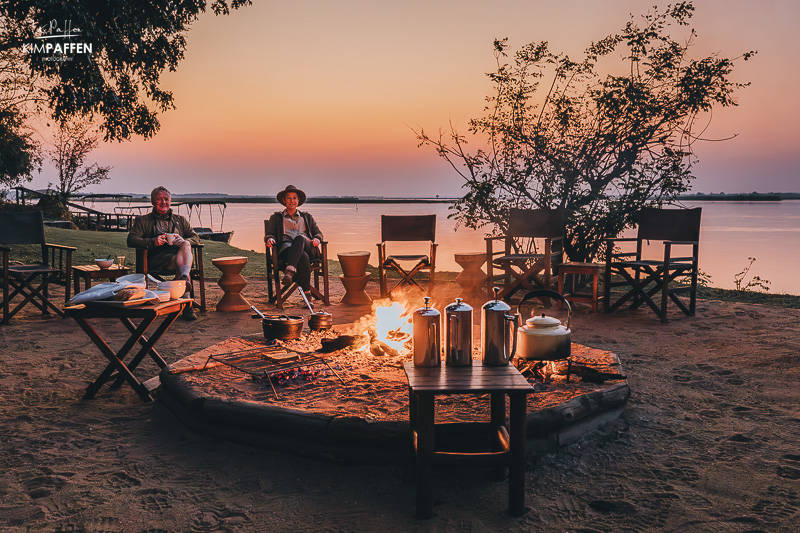 They serve breakfast on the bank of the river at the fire while you can enjoy the slowly rising sun. One day, we had a champagne lunch on the boat while enjoying the river views and another day we sat on the upper deck.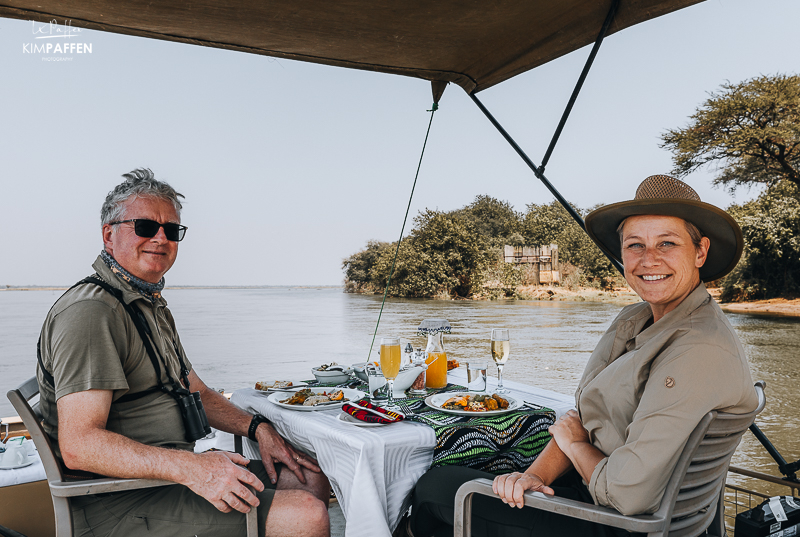 Just before they serve dinner from their main dining area, the staff gathers to sing a song or two to invite us for dinner; a proper choir with regular rehearsals and their own album which you can buy at the lodge to support them.
Luxury Safari Tents with plunge pool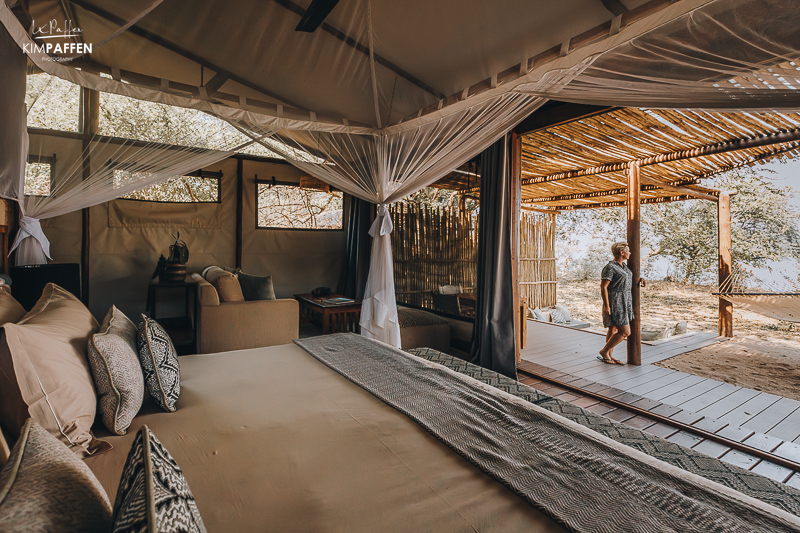 The 100 square meters safari tents are very spacious with a comfortable super-king sized bed, a lounge area and an enormous bathroom plus an extra outdoor 'waterfall' shower for that extra bush feeling.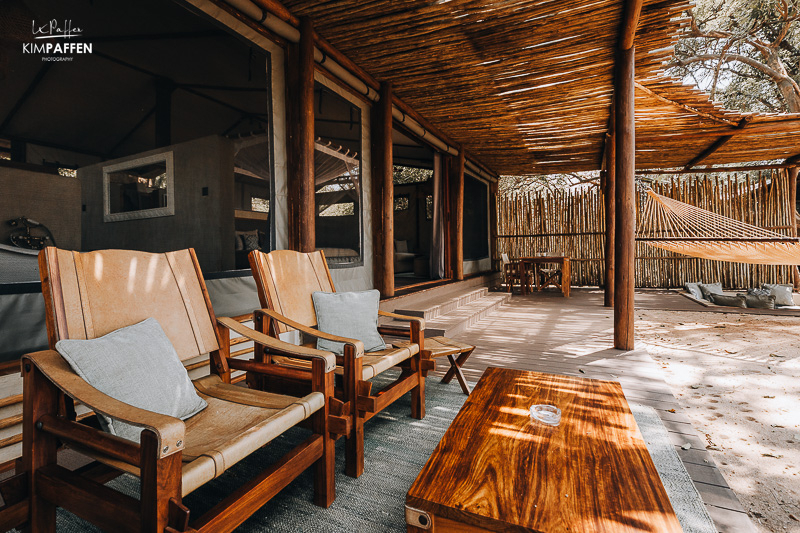 Via a sliding door you enter your private shaded veranda that includes a dining table, leather safari chairs and 'bench wallow'; a sunken lounge area and on-demand plunge pool. I also loved the hammock to chill in between the Lower Zambezi safari activities.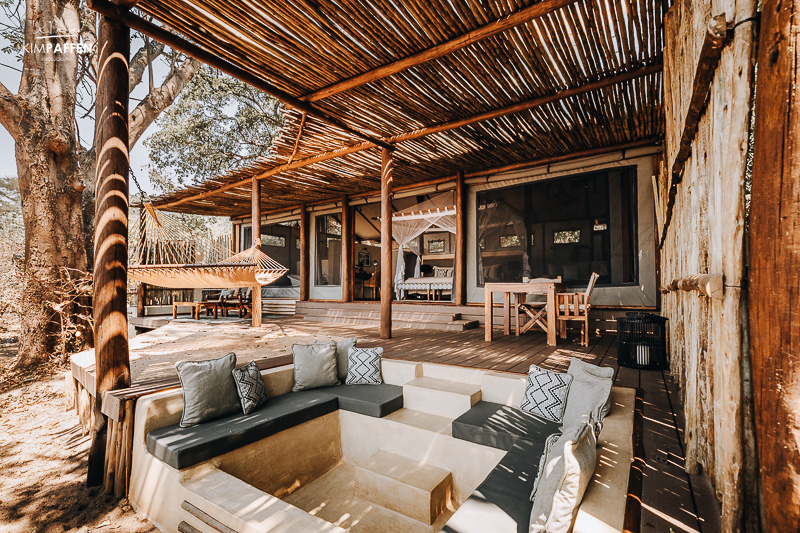 Reusable water bottle
Chiawa Camp wins the price for the best water bottle gift. There are several camps offering reusable water bottles to their clients which is a great way to reduce the use of plastic water bottles but I found Chiawa's water bottle the most convenient and appealing. It's obviously not only a gift to take home, but a gift to nature in an effort for a cleaner and healthier environment.
Travel Tip for your Safari in Zambia: not all camps provide reusable water bottles or a water bottle to take home as a gift, so please bring your own reusable water bottle that keeps your filtered water cold instead of asking for a plastic water bottle.
Best place to stay in Zambia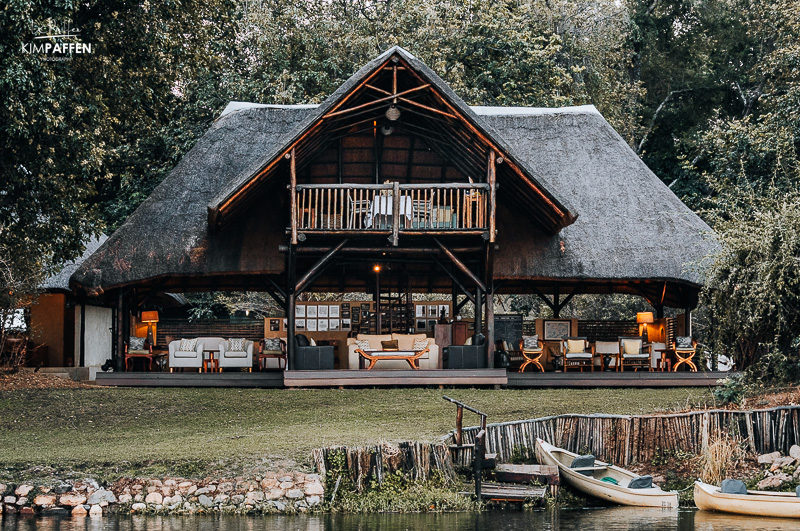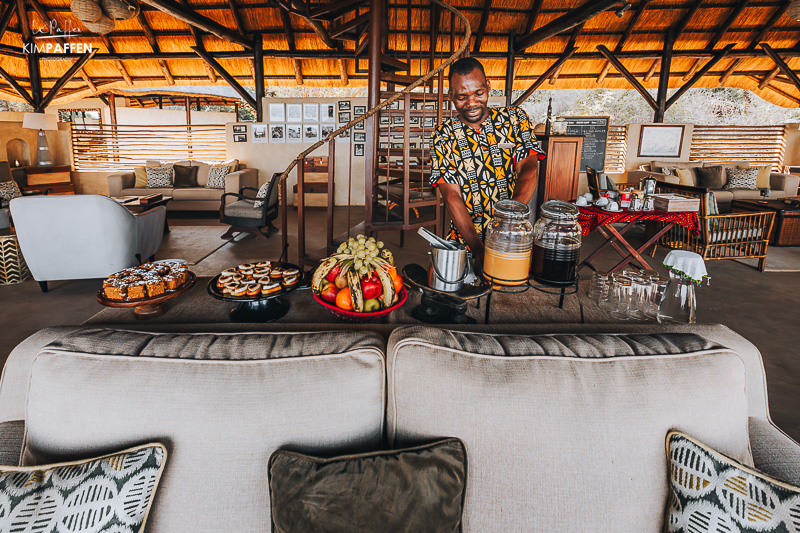 Chiawa Camp is my number one pick as the best place to stay in Zambia and Lower Zambezi National Park became one of my favorite new wildlife parks in all of Africa. Want to include Chiawa Camp in your Zambia Safari Tour? Check out the 15-Day Luxury Zambia Safari & Waterfalls Holiday.
Old Mondoro Lower Zambezi National Park
Old Mondoro, part of Chiawa Safaris, is a wildlife photographer's paradise offering a more intimate and rustic option to enjoy Lower Zambezi National Park. With only 5 chalets, this is the perfect place to stay for that authentic raw African bush feeling with incredible wildlife encounters.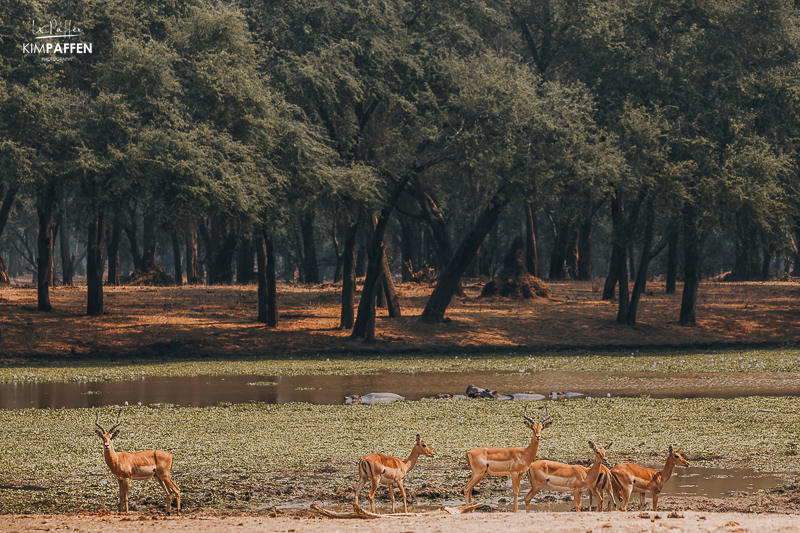 Old Mondoro Camp is within a winter thorn forest and elephants are always present which means the staff has to drive you to your chalet. It's also the place with one of the best toilet views in Africa.
Chindeni Bush Camp in South Luangwa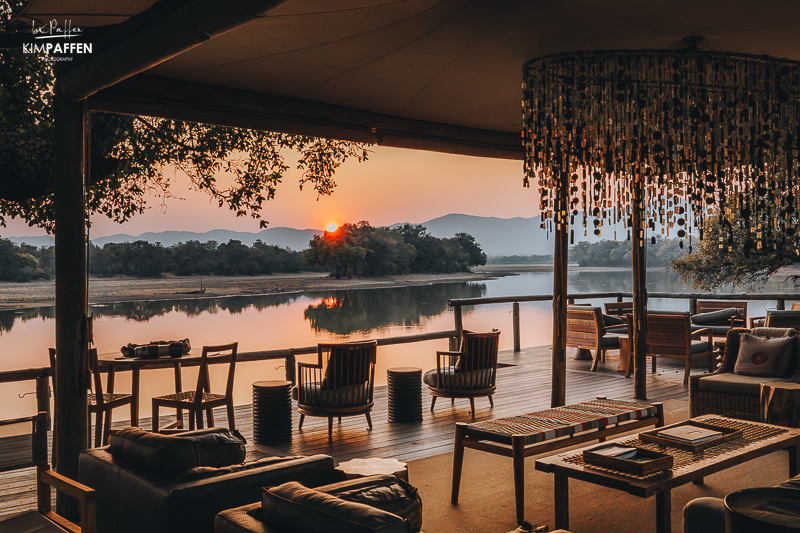 Chindeni is a lovely luxurious tented camp on the edge of an oxbow lagoon in South Luangwa National Park in Zambia with the N'Chindeni Hills providing a wonderful backdrop. I love the fact that this stylish but rustic bush camp is in a remote area of Zambia's Honeypot in the middle of the bush, where the magic happens.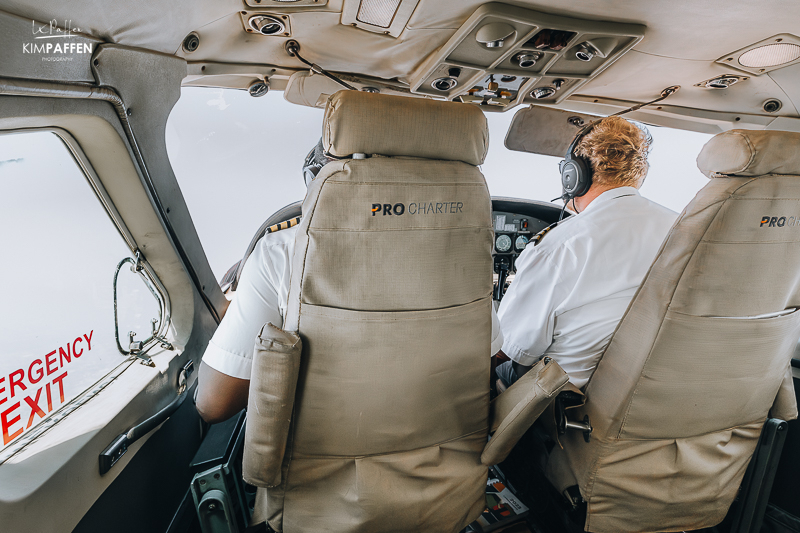 You can reach South Luangwa from Lusaka by road or by air with Proflight Zambia. From Mfuwe airstrip, it's a 45-minutes drive to the Bushcamp Company's main lodge, Mfuwe Lodge; famous because of the elephants passing the reception hallway to feed on their wild Mango tree. From Mfuwe Lodge it's another 2,5 hour drive to Chindeni Camp.
Intimate bush camp offering prime wildlife viewing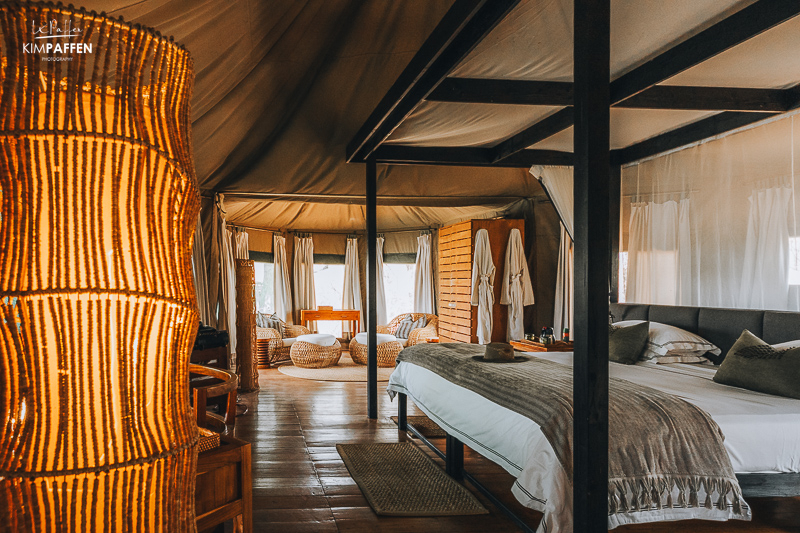 With only 4 luxurious tented chalets, raised on decks with a private veranda overlooking the lagoon, it gives you the perfect intimate feel. The main area is a huge wooden deck surrounded by Ebony trees with the same magical views of the lagoon where elephants pass to drink, hippos wallow around, or wild dogs run along the tree line.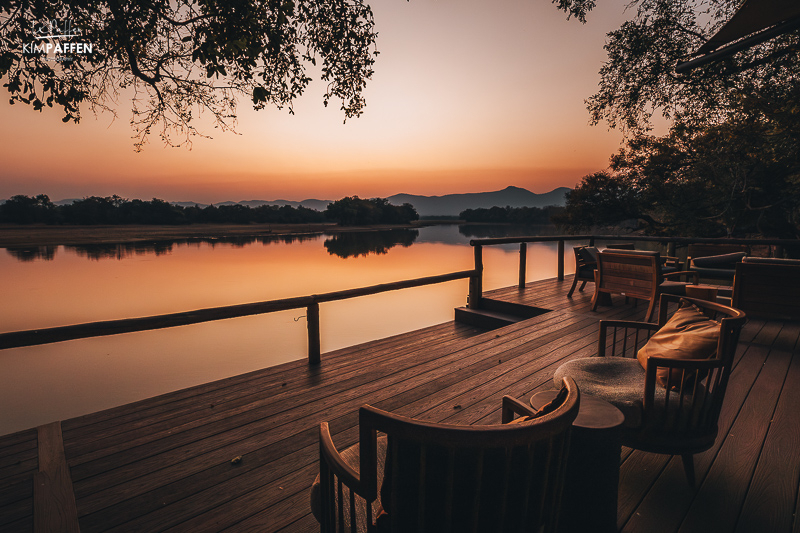 These special views never get boring and the sunrise at Chindeni Camp is simply stunning.
Things to do at Chindeni Camp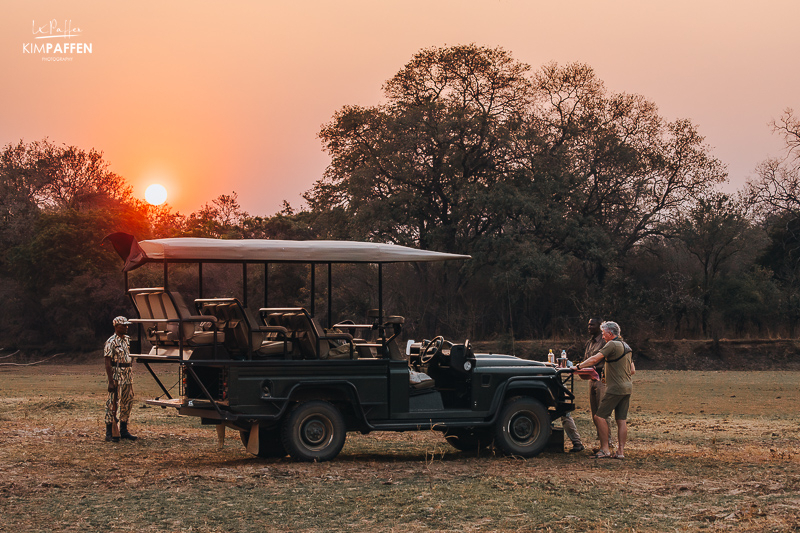 At Chindeni Bush Camp, you can do several safari activities, that include walking safaris, scenic sundowners, game drives, and night drives.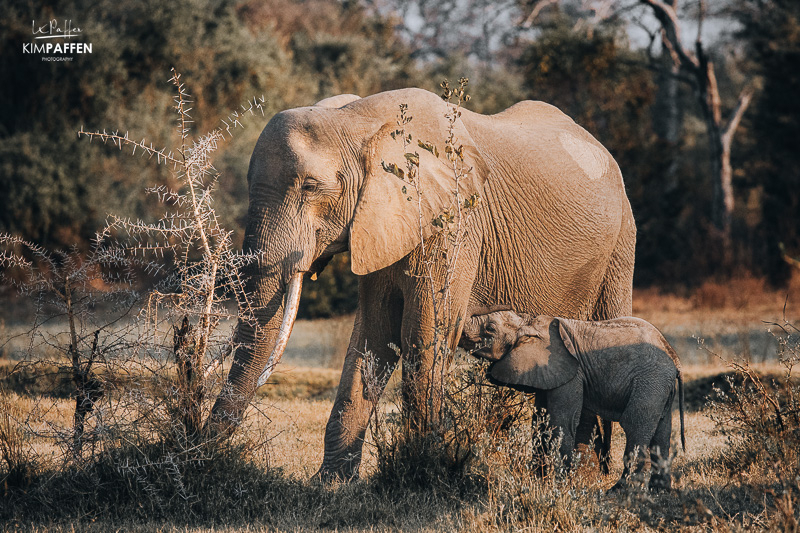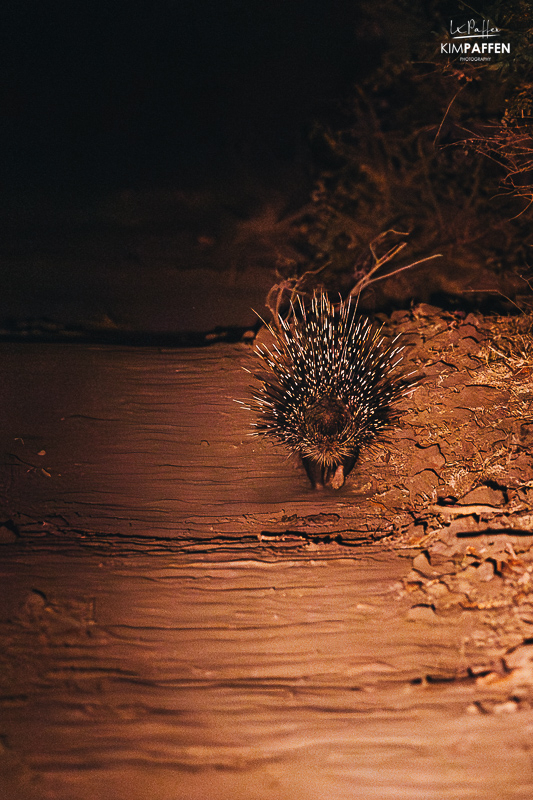 Prince was the perfect guide. He had a wealth of knowledge about all things nature; also the smaller things.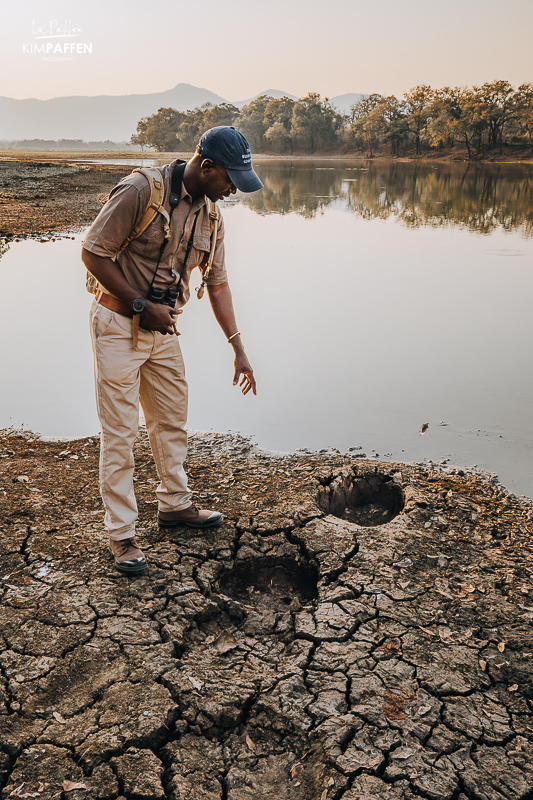 I really enjoyed going on game walks with him, but also the afternoon drive was fun and very informative.
Walking Safari is King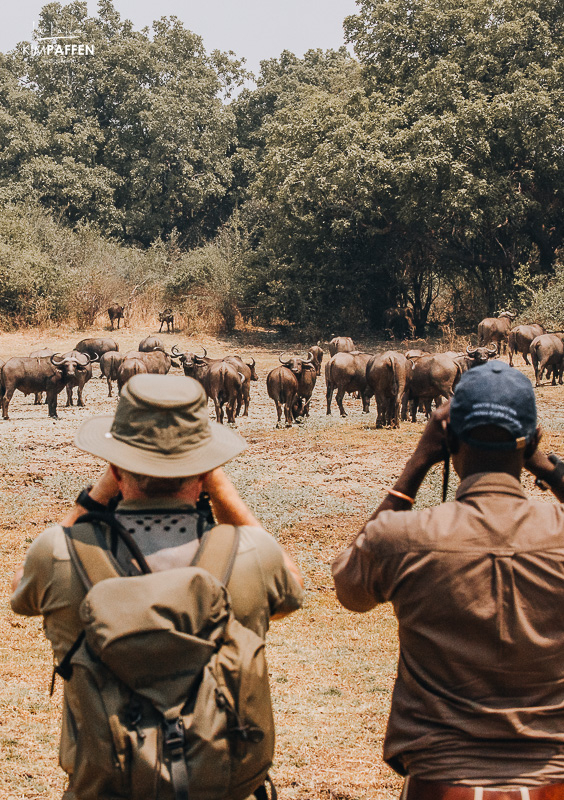 South Luangwa is the pioneer of walking safaris. Foot safaris differ from game drives as you will see so much more, for example leopard scratches on a natal mahogany, rubbings of elephants along the bark of several trees, aardvark droppings, remains of animals, and sunbirds drinking the nectar of the sausage tree flowers.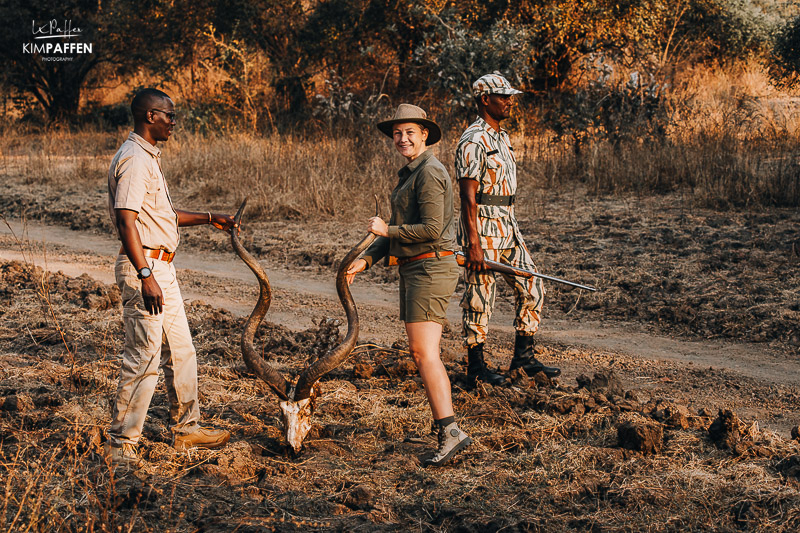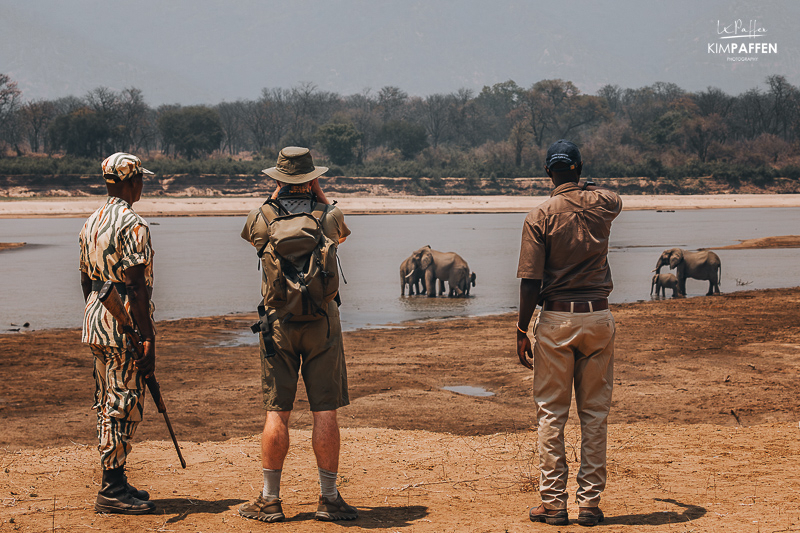 On our first morning, we saw two lionesses that are part of a bigger pride of 7 lions, famous for hunting hippos. Also, special was seeing an Ant Lion (part of the small five), and trees that grow on top of a termite mound, showing how old the termite mound already is. Another great sighting was a flock of yellow-billed storks catching catfish while being chased away by an African fish eagle who stole their fish.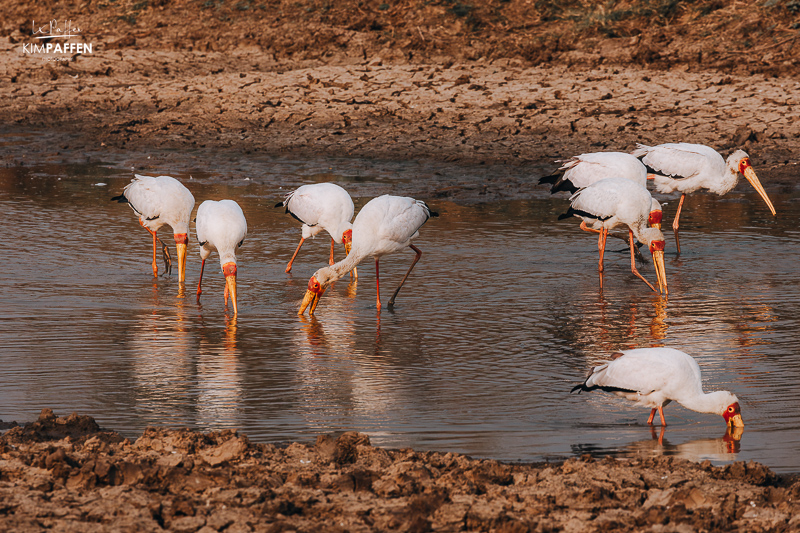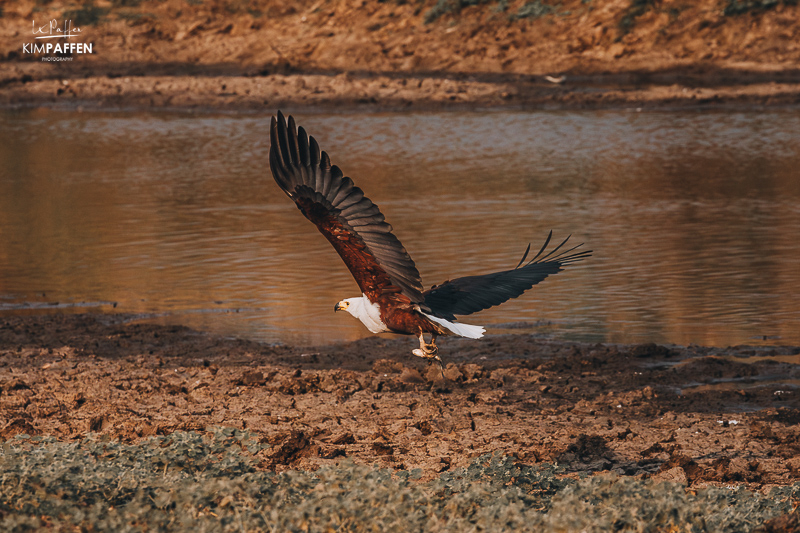 On our fruitful night drive, we saw for example a leopard, a leopard cub on its own, a serval, two genets and hippos grazing on the land.
Abundance of wildlife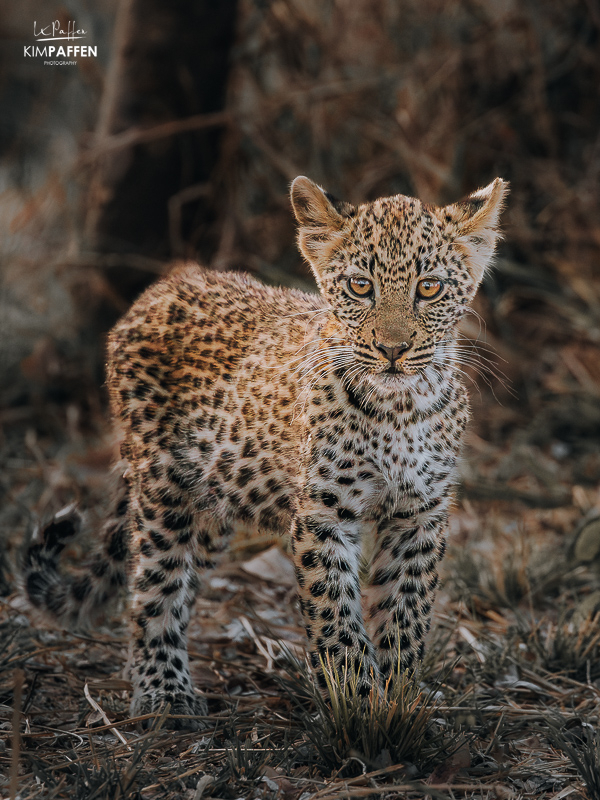 Other animals we spotted on our walks during our 2 nights at Chindeni: leopard, elephants, hippo, herd of buffalo, giraffe, wild dogs, leopard with a kill, wild dogs with pups, kudu, crocodiles, and hyena.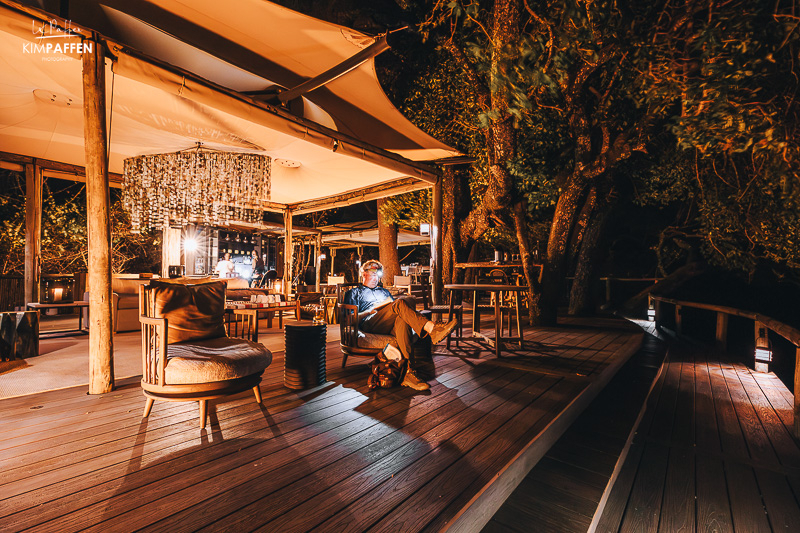 So you honestly can't go wrong booking at Chindeni Camp as the surroundings of the camp offer an abundance of wildlife right at your doorstep.
Conscious Bushcamp Company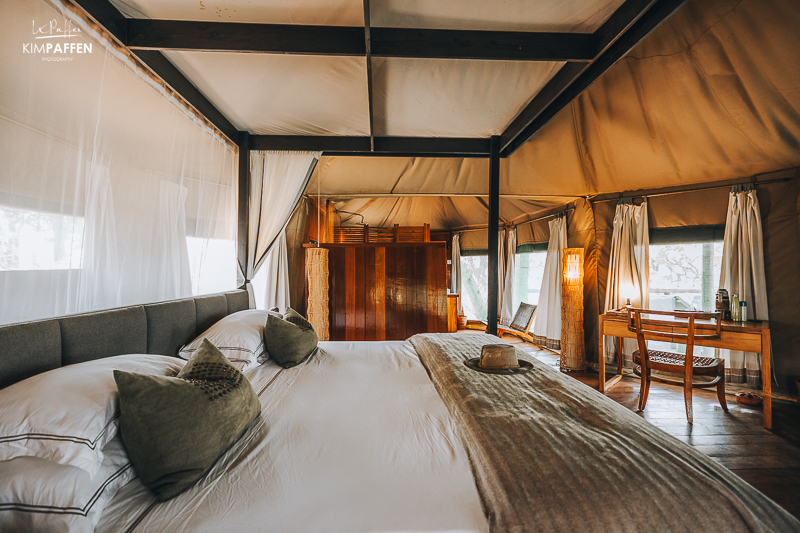 The Bushcamp Company has 3 lodges and 6 bush camps. What makes them special is that they are the only safari operator in the Southern section of South Luangwa National Park and they can pride themselves on the intimate nature of their small, exclusive bush camps in awe-inspiring and remote locations, far from other camps and tourists.
Check out this 9-day safari tour that includes Mfuwe Lodge and one of their bush camps to experience splendid South Luangwa and Zambezi Valley.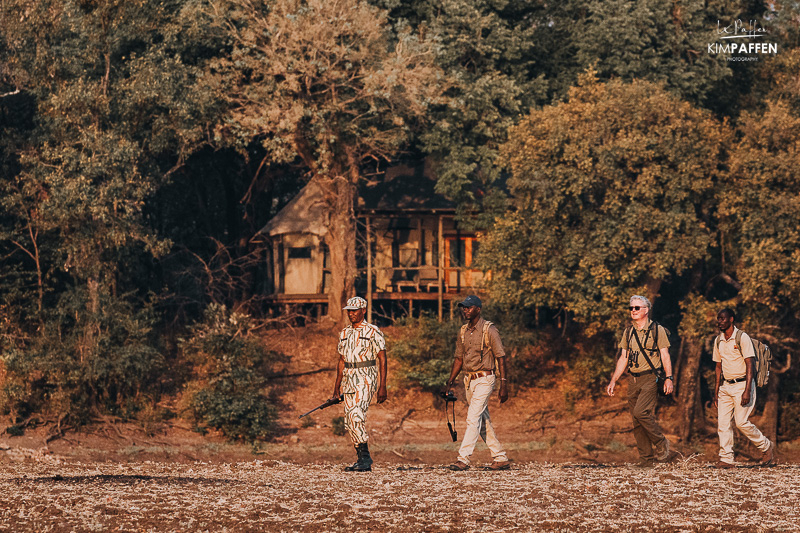 What I also love about Bushcamp Company is that they give every client a water bottle as a gift to take home. The message on the bottle says 'Refilling this bottle reduces annual consumption of single-use bottles by up to 55,000'. A magnificent gift to the environment and the bottle keeps your water cool for a minimum of 12 hours!
Every client also receives an elephant keyring for conservation. The proceeds from the sale of these colorful keyrings benefit elephant conservation in South Luangwa National Park and you get them in all the colors of the rainbow.
Chamilandu Bush Camp in South Luangwa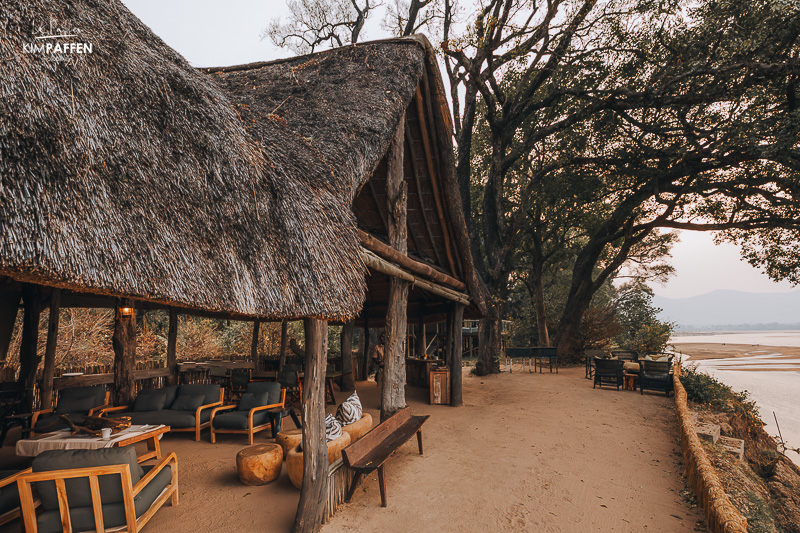 Chamilandu Bush Camp is not too far from Chindeni Camp, both owned by The Bushcamp Company. Chamilandu has a more rustic feel then Chindeni because their rooms are semi-open to the African bush. It's a great camp for the well-traveled Africa lover.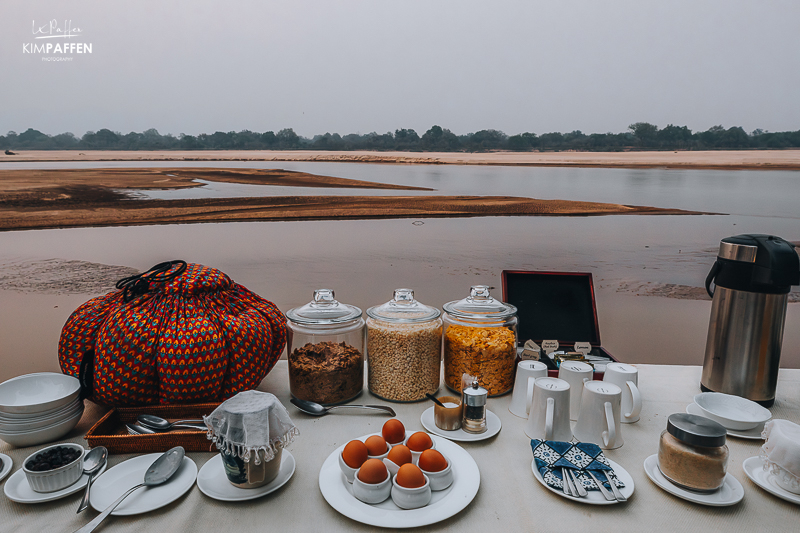 Unfortunately, I didn't get to experience the camp to its fullest because I arrived very late in the evening when it was already dark and we left the following morning very early for a walking safari to Chindeni Camp. However, I loved the setup and the views of the river while enjoying the early morning light.
Luangwa Bush Camp in South Luangwa
At Luangwa Bush Camp from Robin Pope Safaris, you go back to basic as you will be camping in the middle of South Luangwa's wilderness with views of the Luangwa River. While this is not a luxury lodge experience, you will find luxury in being disconnected from the world and fully connected to nature instead. It's at this place, where I really felt I could recharge my own battery.
Hearing the laugh of a Hyena or a Lion's roar while sleeping in a canvas tent is truly something special; a different kind of luxury. Even the hot bucket shower felt as a wonderful gift as I don't expect to have hot water while camping in the middle of the bush, but Luangwa Bush Camp has all you need! Even their breakfast, lunch and diner is great as they get the food from their Nsefu camp.
From Tena Tena Camp we did a walking safari to Luangwa Bush Camp. This was a very exciting walk as we spotted a leopard in the distance and found Aardvark tracks. After arriving at the tented camp, you can't do more then relaxing in your tent or watching birds and animals like hippo along the Luangwa River. After lunch, we did another walk around the camping area with interesting sightings of a hippo carcass and giraffes that seemed very relaxed in our presence. For a different safari experience, I highly recommend camping in South Luangwa National Park and one of the reasons this camping adventure is in my top places to stay for safari in Zambia.
Mwaleshi Camp in North Luangwa
Mwaleshi Camp is a rustic bush camp on the banks of the Mwaleshi River 10 km upstream of the confluence with the Luangwa River. It's the only camp in the vast wilderness of North Luangwa National Park offering 4 chalets, operating from June 15 until the end of October. The camp is part of Remote Africa Safaris and the easiest way to get to the camp is by plane from RASAir, Remote Africa's in-house Cessna 210. It's a 40-minute flight from Mfuwe Airport in South Luangwa with scenic views of the Luangwa river.
Remarkable, remote and rustic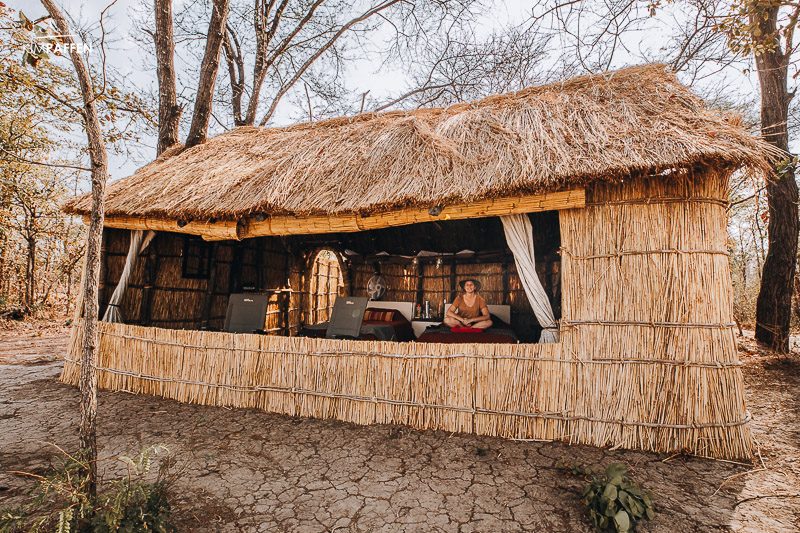 The feel of the North differs from the South. There's no distraction of other people or cars passing and Mwaleshi is one of the in total two camps inside the park. The other camp, Takwela, is also part of Remote Africa Safaris but that camp is in a different area of North Luangwa.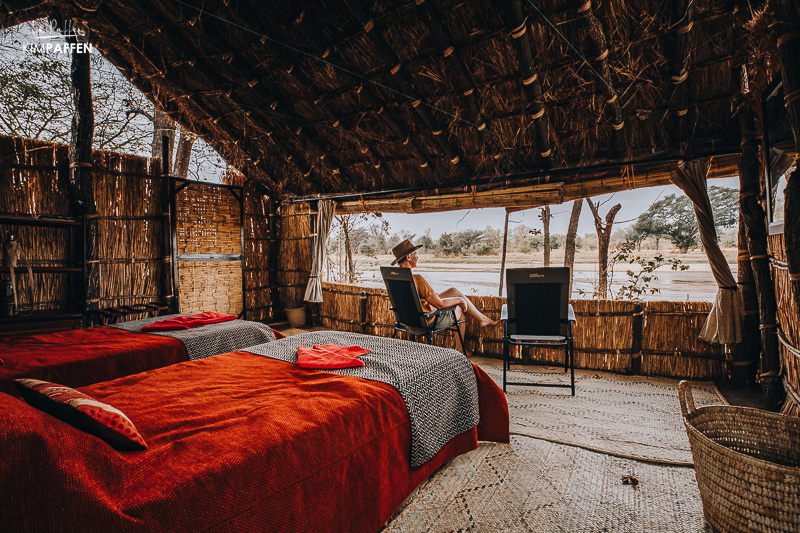 The camp is very rustic and might not be for everyone, especially if you're a first-time Africa visitor but I rank Mwaleshi Camp and its surrounding nature as one of the favorite places I stayed in Africa.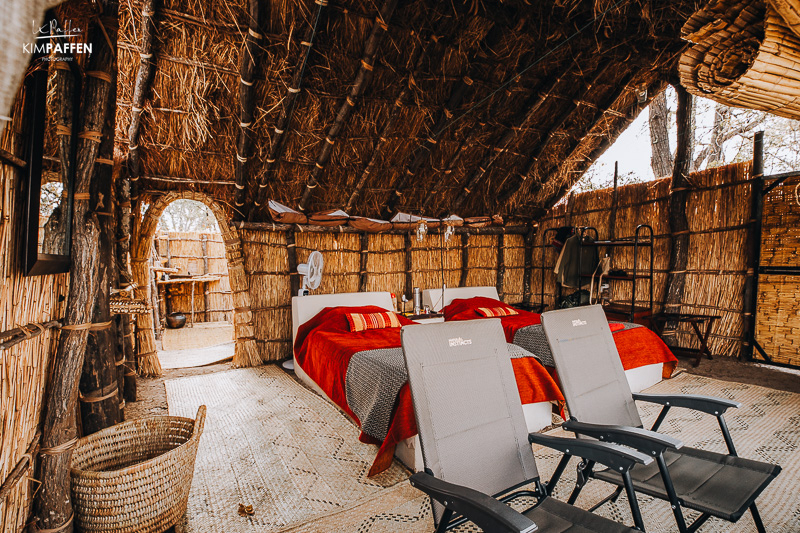 The remoteness of the camp and the semi-open cottage build with natural materials only using local skills, is what makes it so exclusive. Also, the purity of the walks into areas with no roads adds to the exclusivity.
Only Black Rhino population in Zambia
The area along the Mwaleshi river offers a chance of seeing the Big Five (and wild dog) on foot and North Luangwa is a hotspot for lion, kudu, Zambia's endemic Cookson's wildebeest, elephant, wild dog, and black rhino.
In fact, Mwaleshi Camp is within a 120 km 2 black rhino sanctuary, another reason this hidden gem is worth visiting. According to Birdwatch Zambia there are 416 species of birds and the Luangwa Valley is also one of the top 10 lion strongholds of Africa.
Pure Nature Connection
With no Wi-Fi, cell phone connection or electricity it is purely nature connection here. Use all your senses to connect to nature and enjoy being present in the very moment. It's the perfect place to recharge your battery and I recommend a minimum of 4 days to fully immerse yourself into this remote luxury for the best experience.
Waking up to the sun rising over the Mwaleshi river while having your breakfast around the fire listening to the sounds of the birds is a perfect start of the day and a great way to prepare yourself for a 4-hour walking safari. In the afternoon, you go out for another 2.5 to 3-hour walking safari ending with a sundowner while watching the sun set over the Mwaleshi river.
Home-cooked cuisine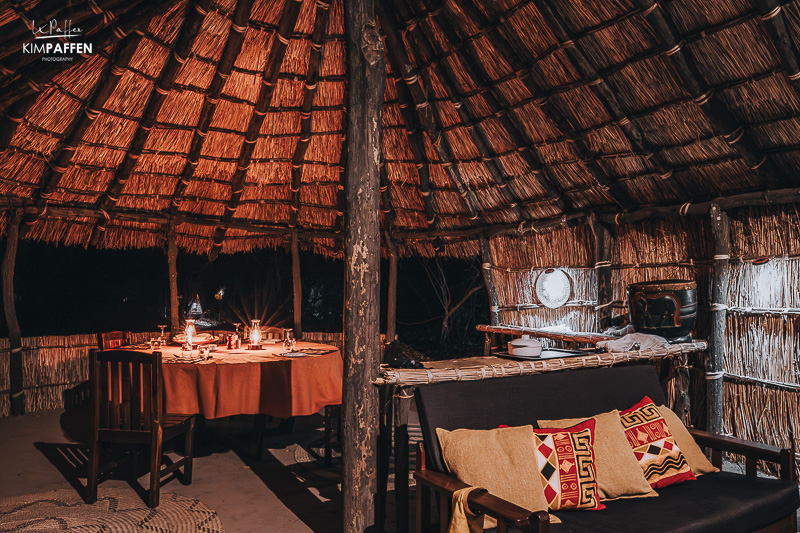 Back at the camp you can enjoy a perfect candle light dinner, cooked over a wood fire. They bake the homemade bread with coals in the ground and their fresh vegetables come straight from their own vegetable garden.
Most inspiring guide & camp manager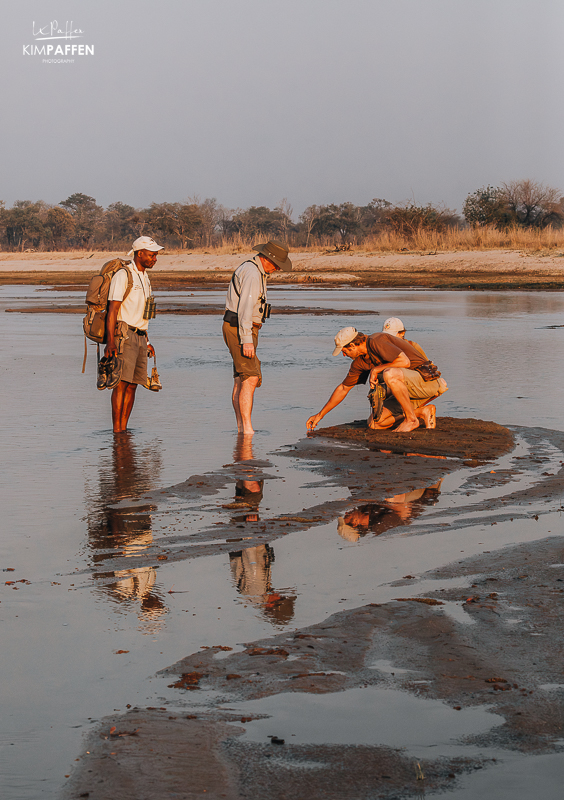 A guide can make or break your safari. Brent was honestly one of the most inspiring souls I have met. He's extremely passionate about all things nature, sharing his knowledge in a philosophical way.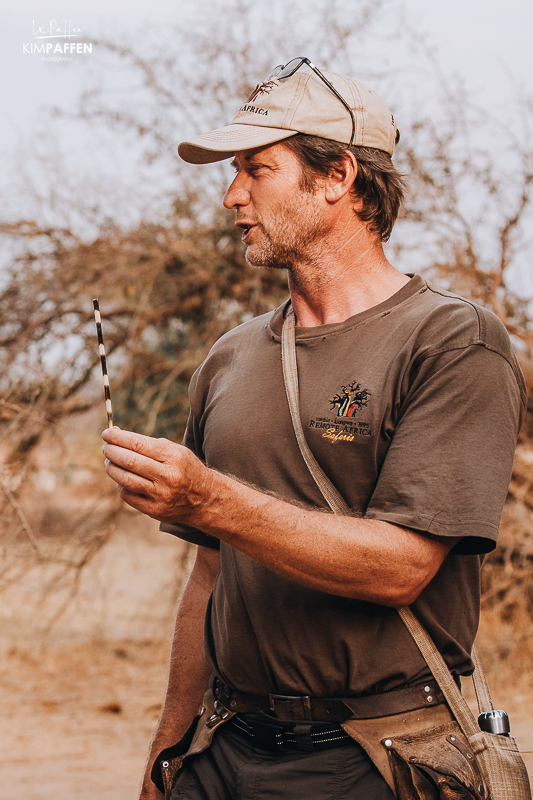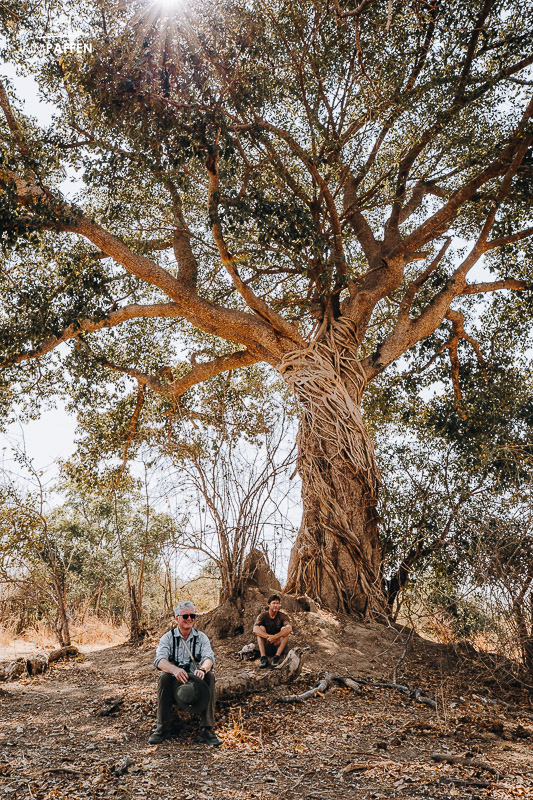 A very interesting person to listen to with a pleasant voice; the perfect person for a TedTalk if you ask me. Brent is definitely the kind of guide that makes you want to go back to that place.
Royal Livingstone Victoria Falls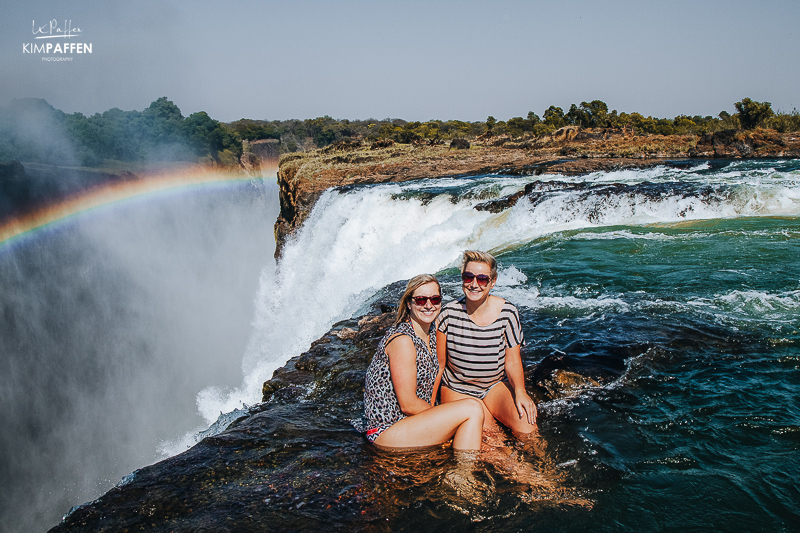 The Royal Livingstone Victoria Falls is a very expensive hotel part of the Anantara Hotel Group, so it's not for everybody. I haven't slept here myself, but I visited this luxury property a few times for lunch and a delicious high tea. This hotel has been included in the list of the best places to stay in Zambia because it serves as the departure point by boat to Livingstone Island for the Devil's Pool activity.
The Victoria Falls Waterfront in Livingstone
The Victoria Falls Waterfront is a much more affordable place to stay in Livingstone, close to Victoria Falls that overlooks the Northern banks of the Zambezi River and is only 10km away from the famous Victoria Falls, the smoke that thunders. The lodge also has a swimming pool, braai facilities and a lively bar.
Best places to stay for Safari in Zambia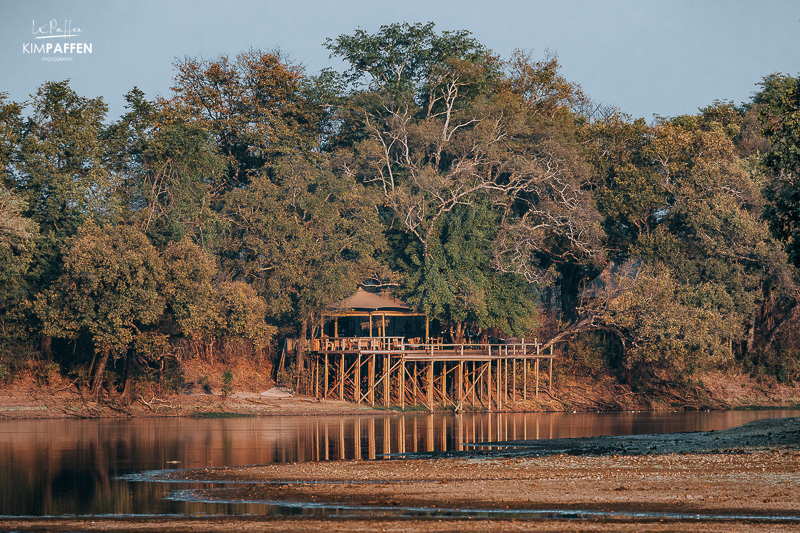 Most of the best places to stay are intimate bush camps and exclusive safari lodges in Zambia's most pristine wilderness areas, such as Lower Zambezi National Park, Kafue National Park, South Luangwa National Park and North Luangwa National Park. If you are looking for a real remote safari experiences with an abundance of wildlife away from the crowds, choose Zambia as your next safari destination! It's one of Africa's underrated countries for safari but I'm 100% sure you won't regret traveling to one of the safest countries in Africa. Be ready for awe-inspiring natural wonders and Zambia's enchanting wilderness.
Here's a summary of my 11 hand-picked favorite accommodations to stay for safari in Zambia:
 Wild Dogs Lodge in Lusaka
 Pioneer Camp in Lusaka
 Mukambi Safari Lodge in Kafue National Park
 Chiawa Camp in Lower Zambezi National Park
 Old Mondoro in Lower Zambezi National Park
 Chindeni Camp in South Luangwa National Park
 Chamilandu Bushcamp in South Luangwa National Park
 Luangwa Bush Camping
 Mwaleshi Camp in North Luangwa National Park
 Royal Livingstone Victoria Falls
 The Victoria Falls Waterfront in Livingstone
Do you have tips for lodges that deserve to be part of this list too? Share your tips in the comments or invite me to visit your lodge. Check out this selection of Zambia Safari Tours to book your next safari in Zambia.