Tanzania Travel Guide
Tanzania is an excellent African safari destination giving you the opportunity to see all of the Big Five. One of the best experiences is witnessing the Great Migration of wildebeest and zebra crossing the plains of the beautiful Serengeti and Mara River, trying to avoid the jaws of crocodiles and other predators. Apart from the abundance of wildlife, Tanzania offers a rich diversity of natural landscapes and experiences.
The Serengeti is one of the 7 UNESCO World Heritage Sites in Tanzania and one of the older ecosystems in the world. The plains sweep up to Lake Victoria. Tanzania is also home to the world's largest intact volcanic caldera, the Ngorongoro Crater, and the tallest mountain in Africa; Mount  Kilimanjaro.
Apart from these well-known highlights, Tanzania offers a lot more stunning beauty. It counts 22 National Parks, including Arusha National National Park, Lake Manyara famous for its tree-climbing lions and flamingos, and Tarangire National Park. The Northern part of Tanzania, called the Northern Circuit, is the most popular among tourists, but Selous Game Reserve, now renamed Nyerere National Park, and Ruaha National Park, part of the Southern Circuit, are also well worth a visit.
A well-known tribe is the Maasai; opt for a bush walk with a Maasai guide and learn more about their culture and the bush. Lots of safari trips in Tanzania are luxury and high-priced, but you can also find budget (overland) safari tours. You can also think about volunteering in Tanzania to contribute to (wildlife) conservation.
After your safari trip in Tanzania extend your trip to the tropical Zanzibar (or Pemba) to enjoy the white sandy beaches or experience a thrilling skydive. The food is also delicious; expect a mixture of Arabic, Indian and African influences. 
Table of contents in this Tanzania Travel Guide:
Interesting Facts Tanzania
  Flag of Tanzania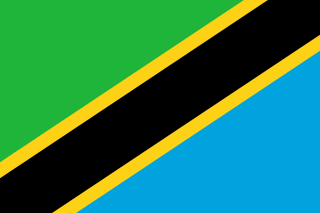 Tanzania's National Animal
Masai Giraffe
  Tanzania National Dish
Ugali (maize porridge)

  Currency in Tanzania
Tanzanian shilling (TSh)
  Tanzania Time Zone
East African Time Zone or EAT (GMT+3 hours)