Experience the magical Serengeti from the sky on a hot air balloon safari! Drifting above the African savannah plains, while watching herds of animals beneath you, is without a doubt a once-in-a-lifetime experience. In October 2022, I did my first hot air balloon safari in Serengeti National Park with Adventures Aloft; an unforgettable experience that was on my African safari bucket list for a long time.
For most of us, a balloon safari in Africa is an expensive activity, but in all honesty, it was worth every dollar spent on this exclusive safari trip in the sky! In this article, I will share my experience and detailed information about what to expect on a hot air balloon safari in Serengeti, Tanzania.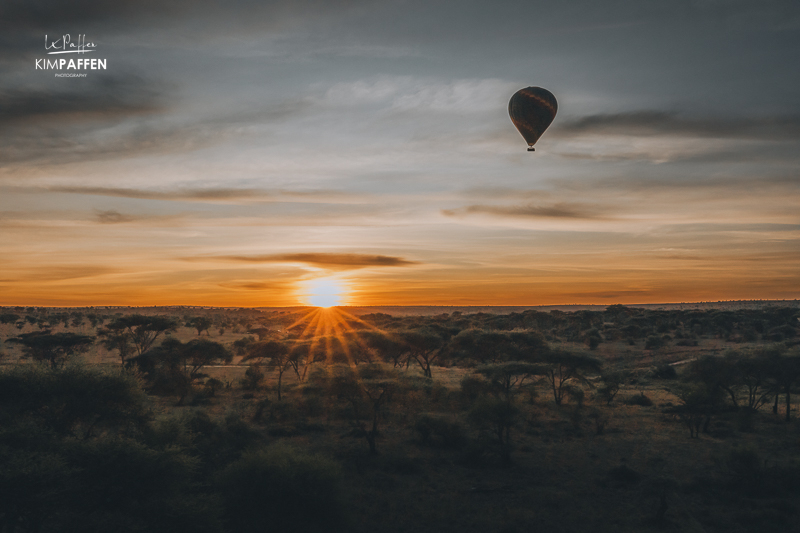 Balloon safari in Serengeti National Park
Serengeti. National Park is a protected area part of the Serengeti-Mara EcoSystem and is one of the top attractions in Tanzania, known for its stunning landscapes, and diverse wildlife. The Serengeti is home to a wide variety of animals including the Big Five, as well as other species such as cheetah, giraffe, zebra, hyena, and topi.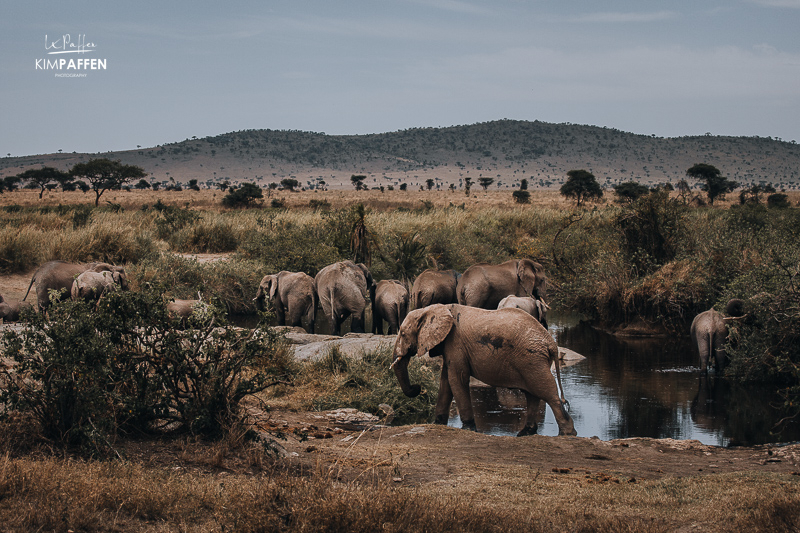 The park is also known for its annual wildebeest migration, during which millions of wildebeest and zebra travel across the park in search of food and water. The Serengeti is considered one of the best places in Africa to observe wildlife in its natural habitat, and it's a popular destination for tourists interested in wildlife viewing and photography. Not only on game drives or walking safaris, but also on a balloon safari to witness the vast open plains from the sky combined with a magical African sunrise.
  RELATED: 10 best places to visit in Tanzania (Northern Circuit)
Balloon flight locations in Serengeti, Tanzania
Where does the hot air balloon fly in Serengeti? There are several set locations in Serengeti to start your balloon safari. The best location for this exclusive game-viewing activity from the sky depends on the density of wildlife in a certain area of Serengeti National Park, the location of your safari lodge or hotel, and the ballooning operator you choose to go with.
We did our hot air balloon safari in Serengeti with Adventures Aloft Balloon Safaris. Because of our location at the amazing Pamoja Serengeti Luxury Camp, we started near Seronera in Central Serengeti, 5 kilometers from the Visitors Centre.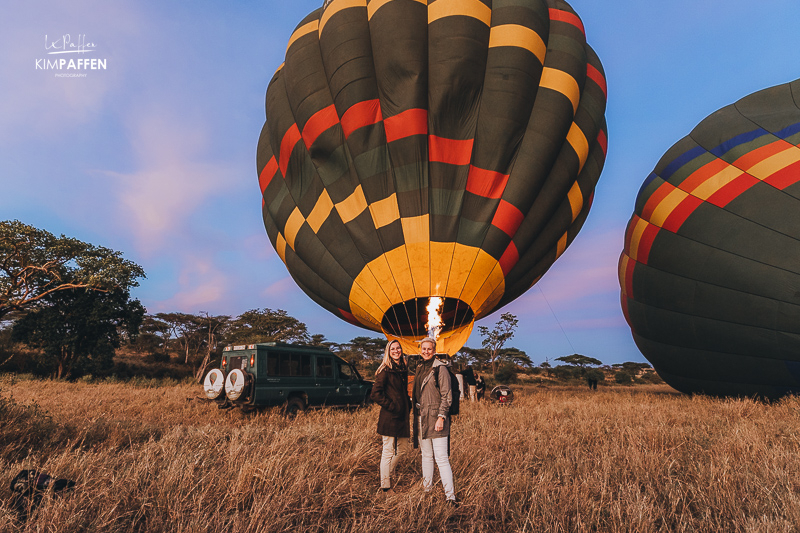 Central Serengeti offers a great diversity of wildlife including wildebeests, elephants, giraffes, zebras, and the highest concentration of large predators in Serengeti.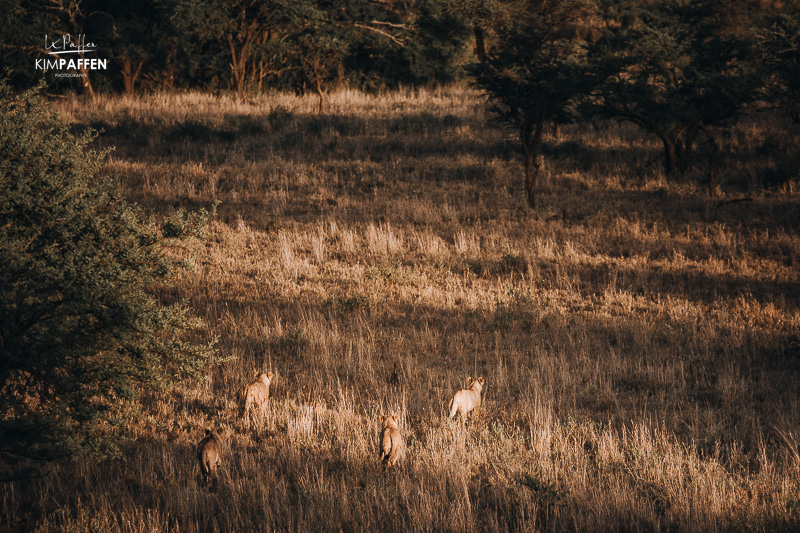 For over 25 years, Adventures Aloft is one of East Africa's most experienced balloon operators with operations in the Masai Mara in Kenya, Tarangire National Park, Ngorongoro Crater, and three locations in Serengeti National Park. Apart from a balloon location near Seronera, they also have a starting point in Northern Serengeti in Kogatende and in Togoro in Central Serengeti.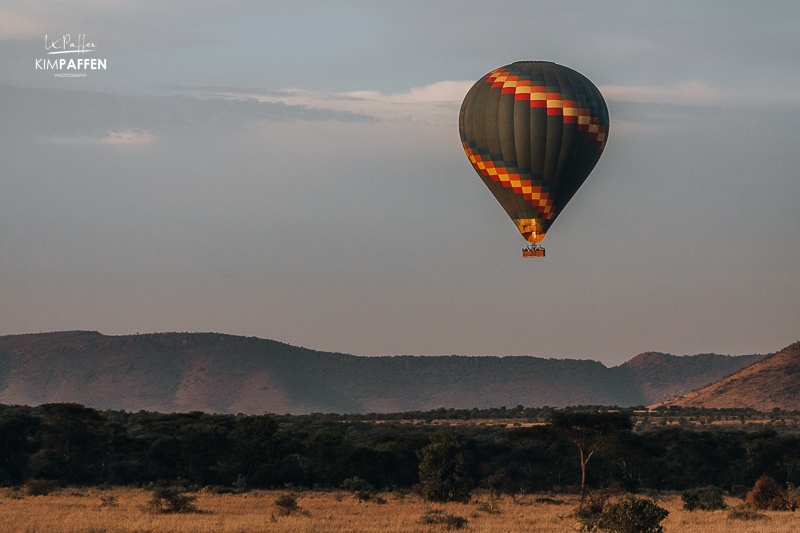 Adventures Aloft was the first balloon company flying in the Kogatende area in Northern Serengeti. Kogatende is often referred to as the Switzerland of Serengeti, because of the landscape with hills and the majestic Mara River flowing through the area. This is also the place where the great wildebeest migration can be witnessed between July and November. Between May and July, the Togoro area is a great place to see the great migration as well. Togoro is known as the 'golden plains of the Serengeti' dotted with Acacia and Sausage trees.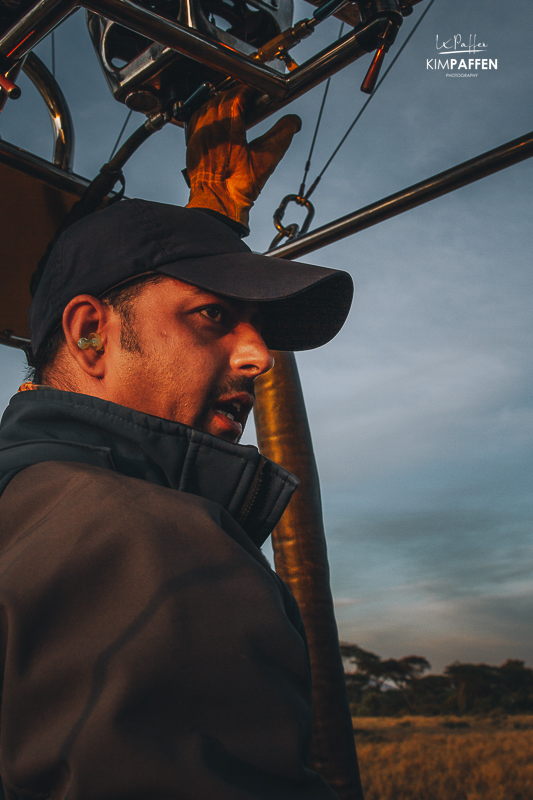 What to bring on a hot air balloon safari in Serengeti | Pre-briefing?
After booking your hot air balloon safari, a staff member will explain some important information about your pick-up in the early morning, what to wear and what to expect. We had this pre-briefing at the Seronera visitor center in Central Serengeti one day before the balloon safari. Most of the time, this pre-briefing takes place at your lodge in the evening before you're going for your Serengeti balloon safari.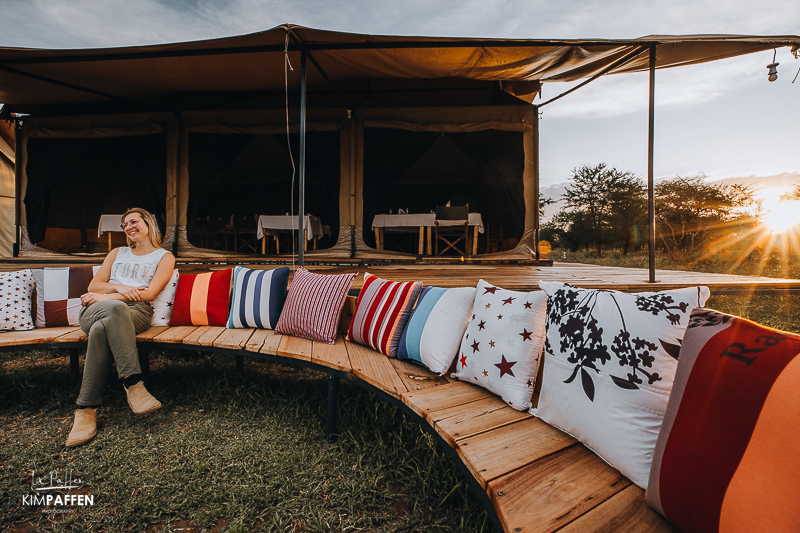 What to pack for your balloon safari? It's recommended to wear safari clothing and comfortable shoes. Bring a light windproof jacket or sweater for the cold mornings. To protect yourself from the sun, it's a good idea to bring a hat and sunscreen. For the balloon flight, it might not be the best idea to wear a hat, but you will be happy with it during the bush breakfast on the Serengeti plains.
Don't forget a pair of binoculars to have a closer look at the wildlife and birdlife. Also bring your smartphone and/or a camera. There's so much to video and photograph in Serengeti from a hot air balloon! I took a small camera bag including some personal belongings and stored it at the bottom of the basket. However, be mindful of what you bring on the balloon flight as there's not too much space to store bags on the floor.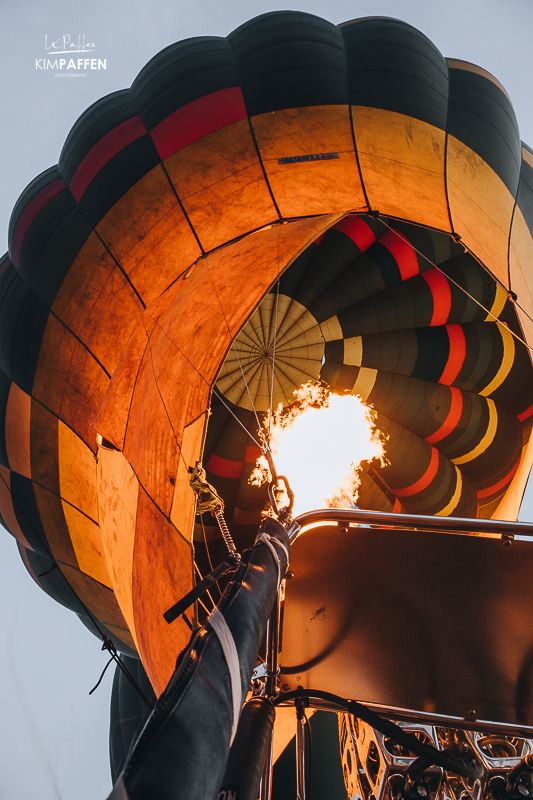 I thought it would be cold in the morning, high up in the air. However, it wasn't cold at all! The hot air balloon floats with the wind so there is no wind chill. Apart from that, the balloon gets heated, so you will definitely feel that warmth. As you climb over the Serengeti the air also warms up. Therefore, there is no need to wear too many layers.
In this pre-briefing, Adventures Aloft will also communicate the exact pick-up time at the lodge. Be prepared to get up (very) early, because the hot air balloon safari in Serengeti starts before sunrise!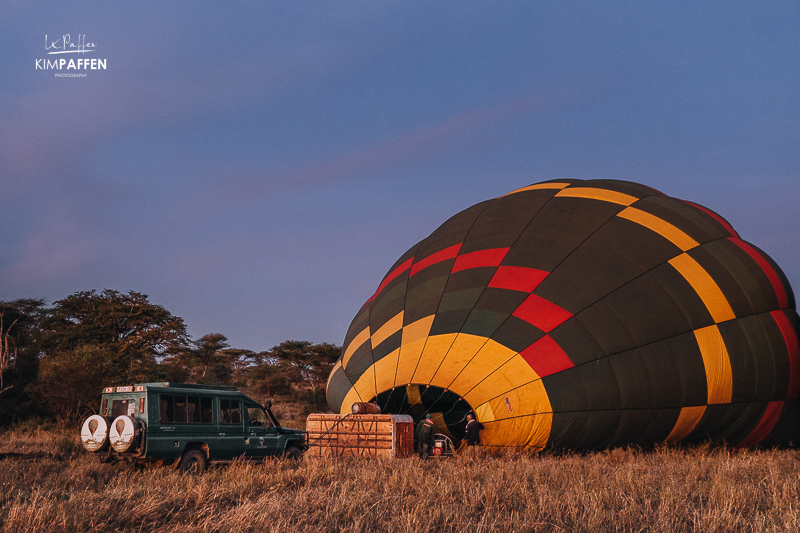 Balloon ride pick-up and transfer
Your balloon adventure starts before dawn, meaning you will depart from your lodge between 04.00 and 05.00 in the morning. Aloft Adventures arranges pick-up and transfers from most camps in Serengeti National Park. In the very dark, you will be picked up by a driver who will safely take you to the starting point of the balloon safari.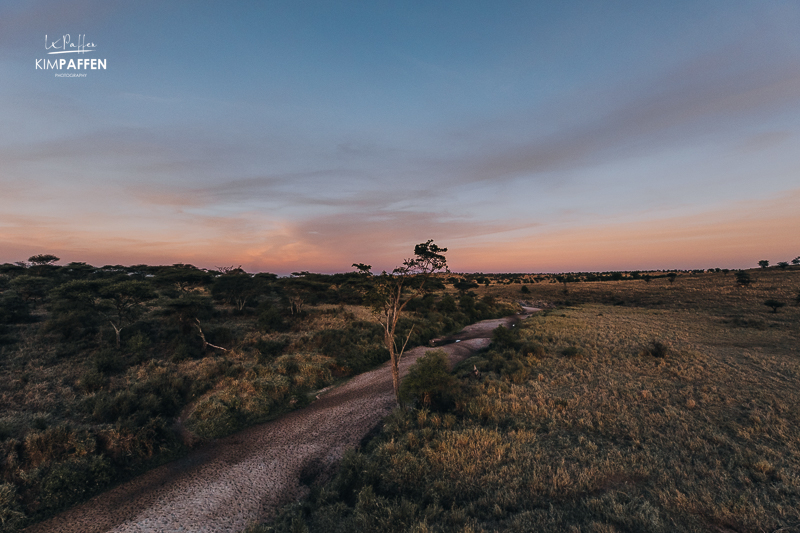 There's something special about waking up under a sky full of stars and watching the Serengeti come to life. Our drive took about 45 minutes, witnessing the first light in the form of a purple sky. When you're lucky, you might see some animals en route. We for example saw a lion and a hyena along the road which was very exciting.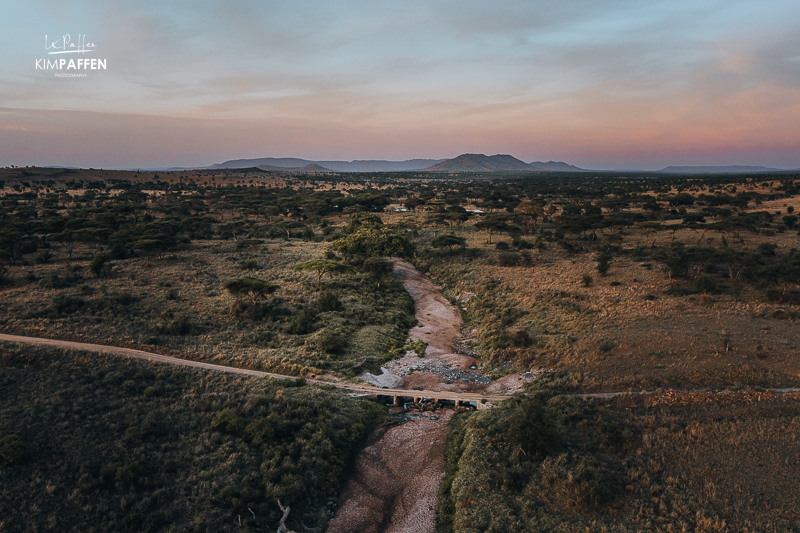 Coffee, tea, and safety briefing
As soon as you arrive at the starting point, you're welcomed by the staff. It's still dark at that point, but the sky is already turning into beautiful purple colors. While the staff is preparing the balloon for the flight, you can enjoy a warm cup of tea or coffee with a cookie. The hot air balloon gets heated to give it the much-needed lift to fly. The crew holds the basket with ropes while the balloon is getting filled with more hot air.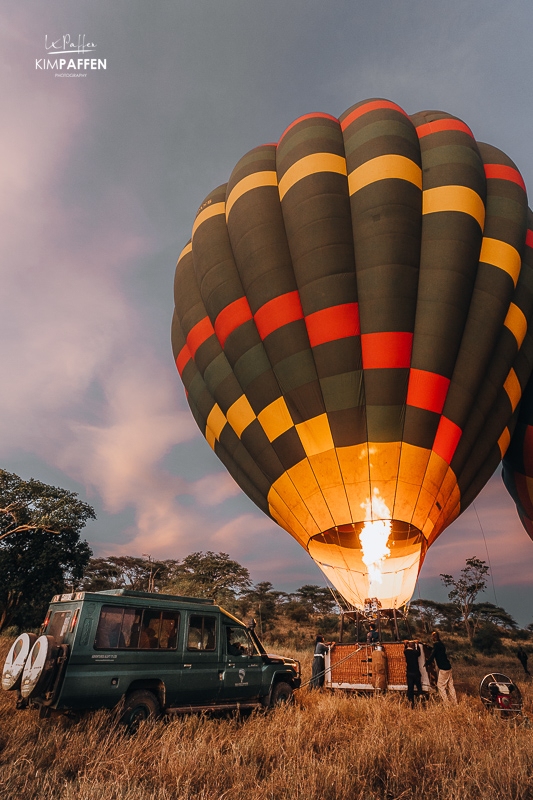 Shortly before departure, you will receive simple safety instructions with a safety belt. The staff will tell you how to position yourself in the basket and what to expect during the flight. When the balloon is ready for departure, you can enter the basket and secure your belt to the basket. The basket doesn't sway because it moves with the wind, so you don't have to worry about motion sickness.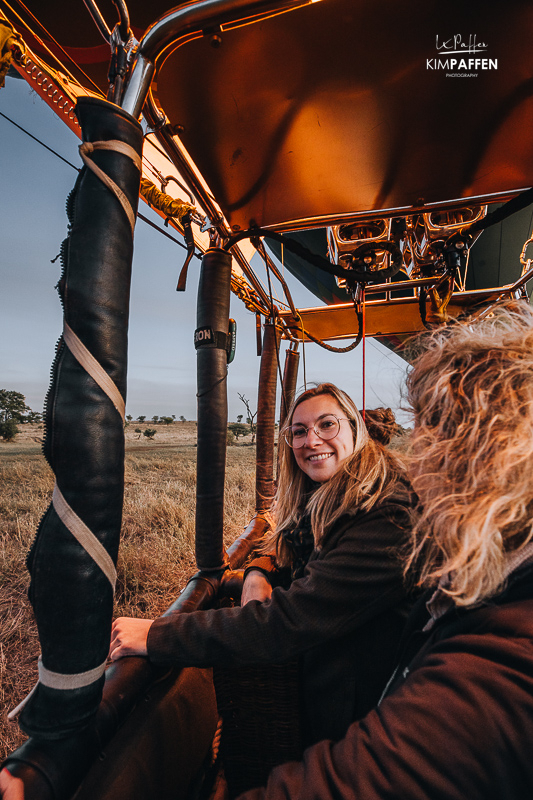 Each hot air balloon can carry 12 to 16 guests, divided into four compartments. This allows extra safety in the basket, everyone will have enough space, and lovely views are guaranteed! We were 3 persons in each compartment, meaning we had a total of 12 guests.
Experience the majestic Serengeti from the sky
When everyone has entered the basket, the balloon pilot is ready for take-off! Your pilot will heat the hot air balloon, and it will smoothly lift in the air. After take-off, you will soon witness a perfect sunrise over the Serengeti plains.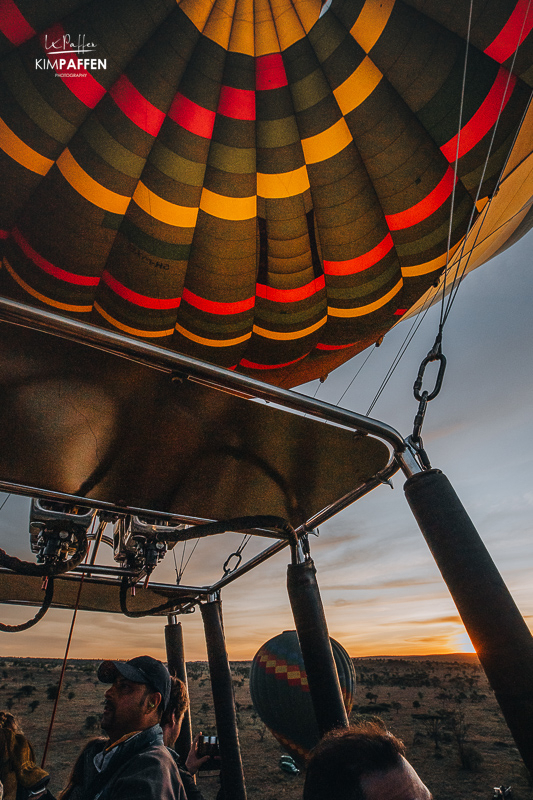 It's such an exciting and peaceful experience, I loved it! Because the balloon floats with the find there is no turbulence and you won't hear a loud motor. It's just you and the hot air balloon drifting over the sweeping Serengeti plains, with a birds-eye view of the animals beneath you and the sunrise in front of you.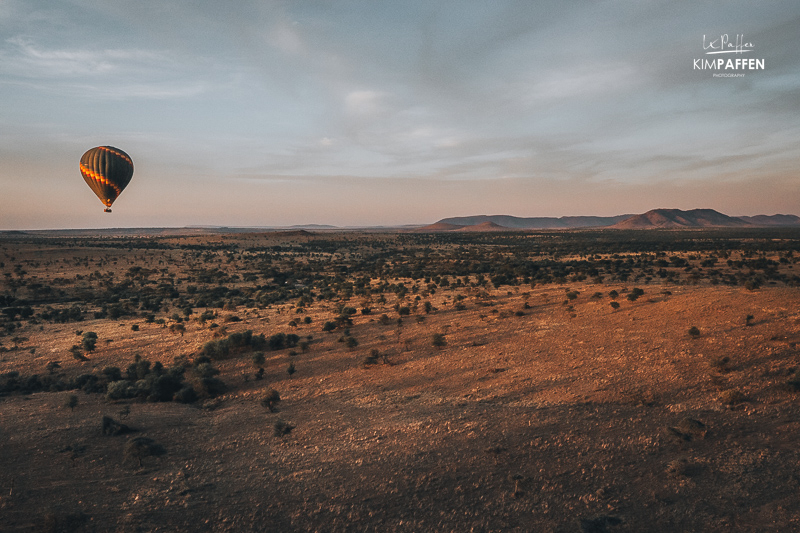 The flying altitudes, controlled by the pilot, vary between 300 meters above the ground and skimming treetops for a panoramic view of the Serengeti. The average flight lasts about one hour. Depending on the weather conditions and finding a place for landing it can take a bit longer or less than 60 minutes. All flights of 40+ minutes are charged as full.
Watch this reel of our balloon flight!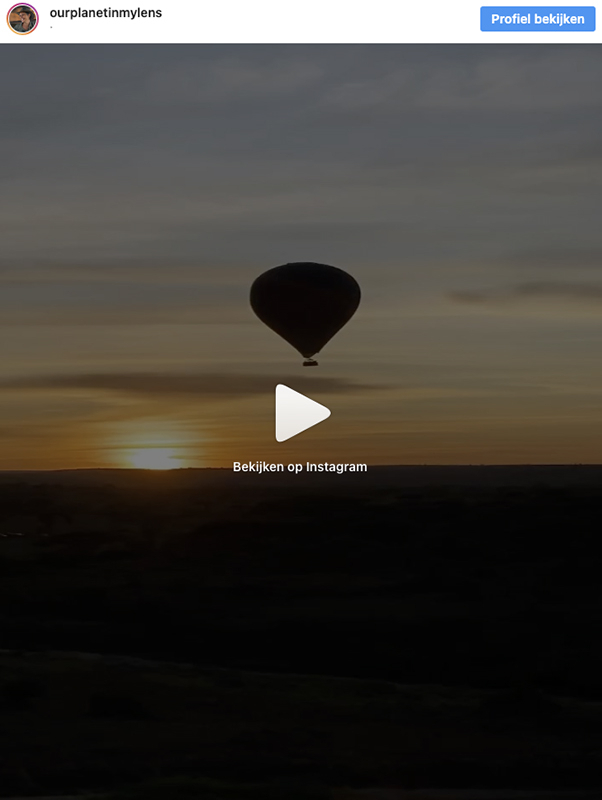 What wildlife can you see on a hot air balloon safari in Serengeti?
You can see many animals on a balloon safari in Serengeti. We saw a pride of lions, giraffes, an elephant herd marching over the plains, various hyenas, birds, and many plains game like wildebeest, topi, zebra, and other antelopes. It was a memorable experience to witness the Serengeti from above!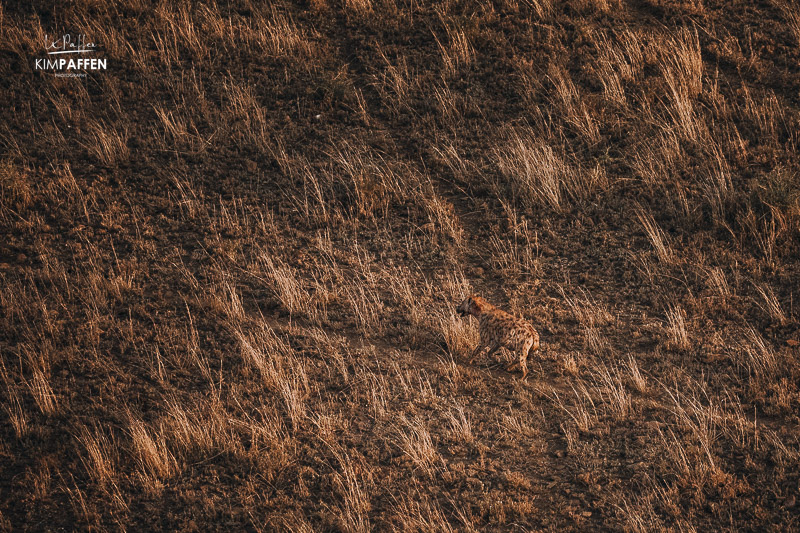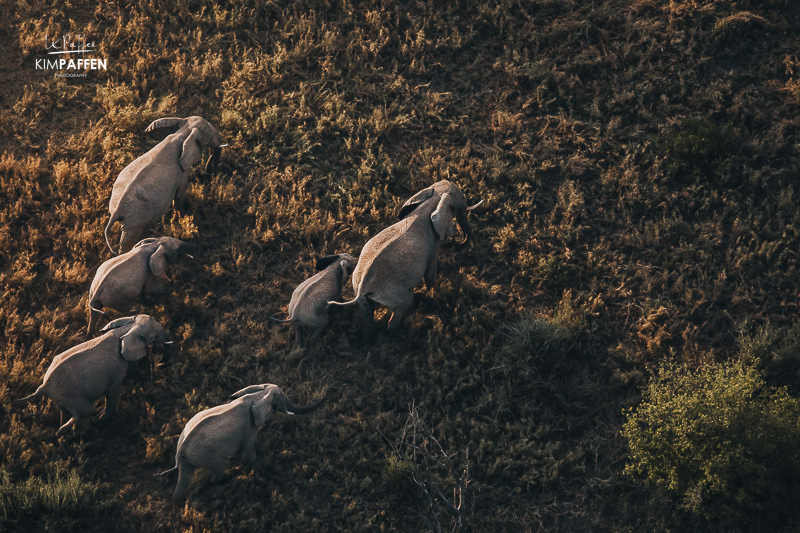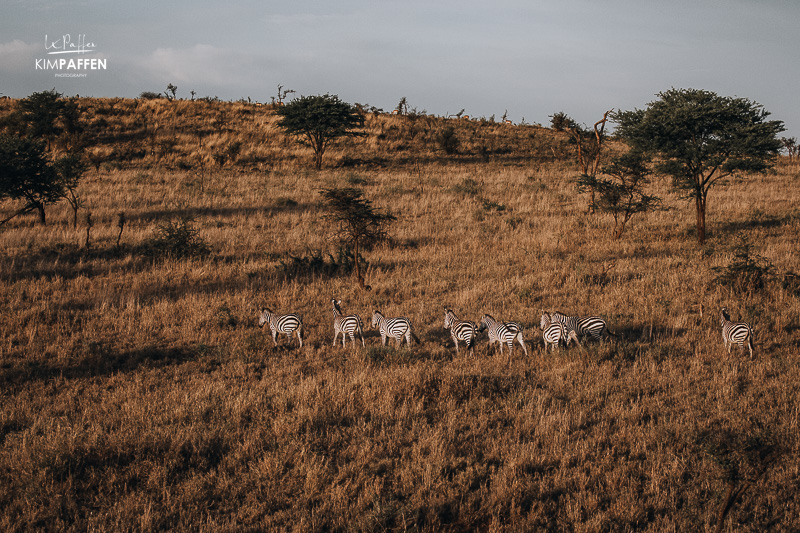 Pop the champagne!
After enjoying the Serengeti plains for about an hour from a birds-eye view, the pilot searches for an open space suitable for landing and makes a landing announcement to get ready for the descent. For landing, everyone has to face in the same direction and sit on the bottom of the basket. If you follow those rules, a smooth landing is assured.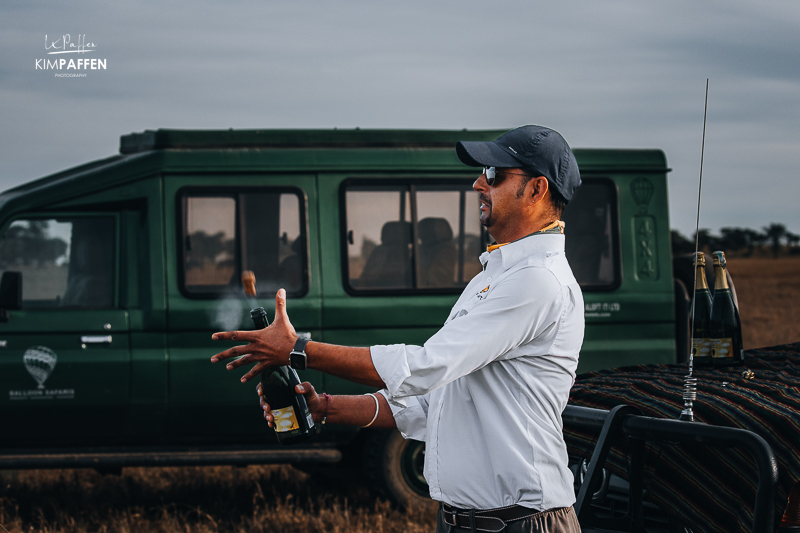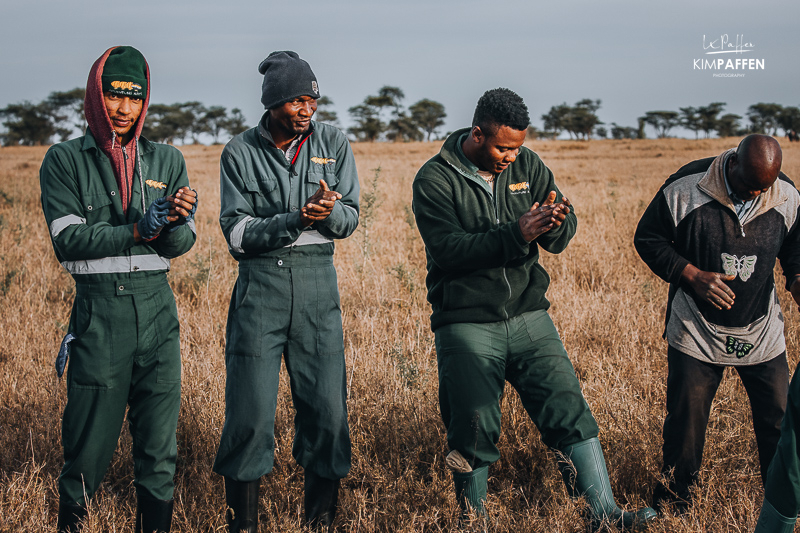 During the balloon flight, the pilot stayed in touch with other staff members of Adventures Aloft, that were ready to assist at the landing spot. After getting out of the basket, our experienced pilot popped the champagne to celebrate a fantastic flight experience over the magical Serengeti. After the toast, the driver took us to a beautiful set-up breakfast site in the middle of the Serengeti plains.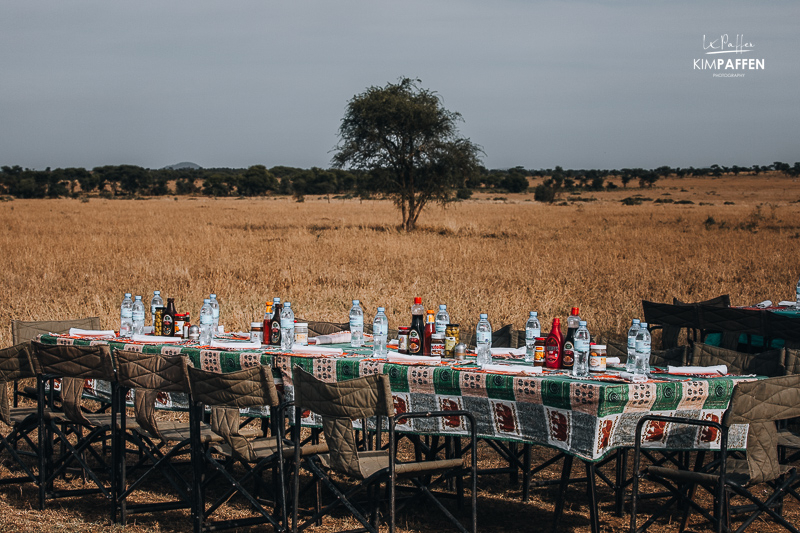 Champagne bush breakfast
While you're still full of excitement about the Serengeti balloon ride, you will arrive at the breakfast site to enjoy an extensive champagne bush breakfast with fresh fruits, fresh juices, and warm and cold dishes, like eggs of your choice, sausages, and pancakes. The food is freshly prepared by the chefs, with all dietary requirements in mind.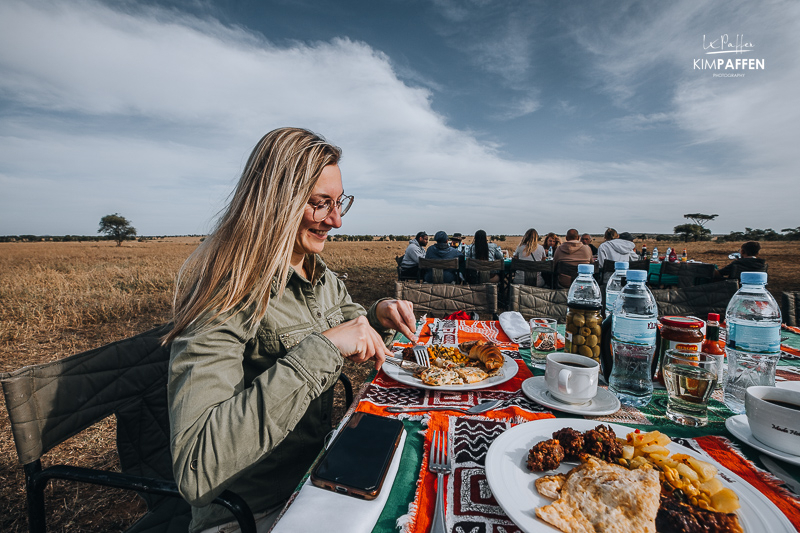 There is no better way to end an exciting hot air balloon safari in Serengeti!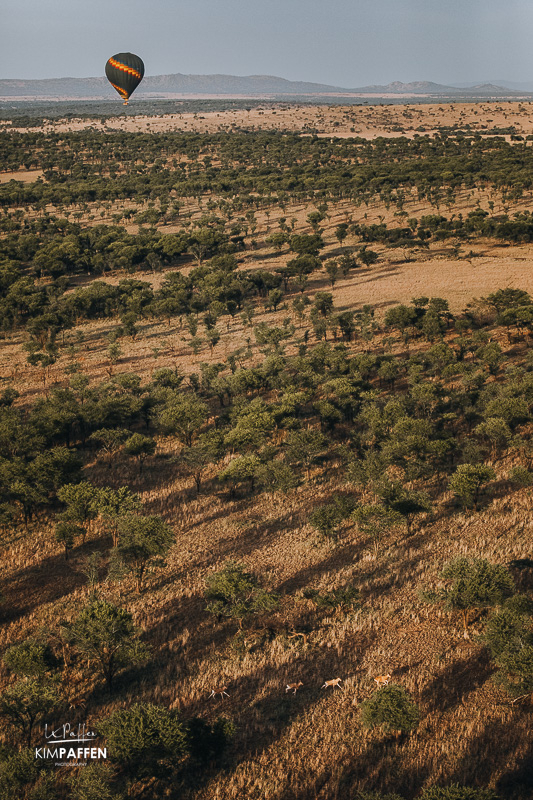 Balloon flight certificate!
When everyone finished breakfast, you will be rewarded with a personal Serengeti balloon flight certificate, a nice souvenir of a memorable moment in the sky.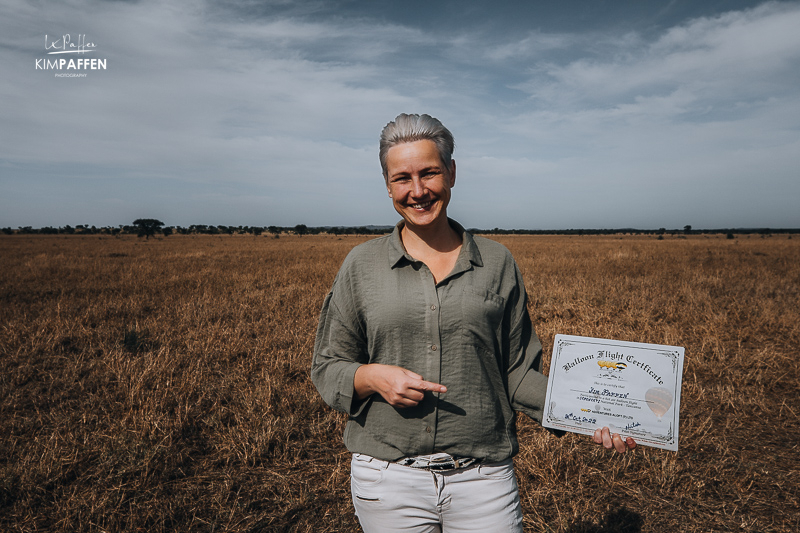 After this celebration, you will be taken back to your lodge or other agreed meeting point, including an en-route game drive where we saw this tree-climbing lion, hippos, and elephants.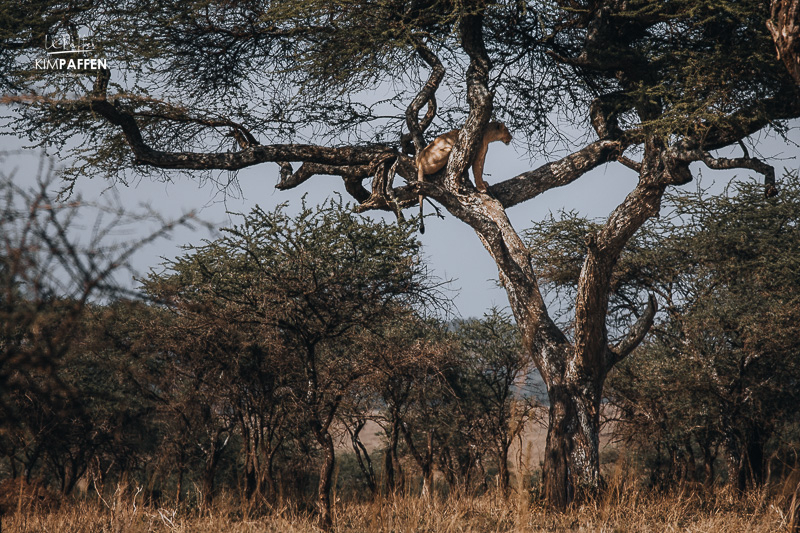 Joining a hot-air balloon safari in Serengeti National Park was a dream come true. It's a special and unforgettable experience that I would recommend to everyone who's visiting Serengeti National Park.
360 degrees view of Serengeti on balloon flight
Watch my Instagram reel offering a 360 degrees view of our Serengeti Balloon Ride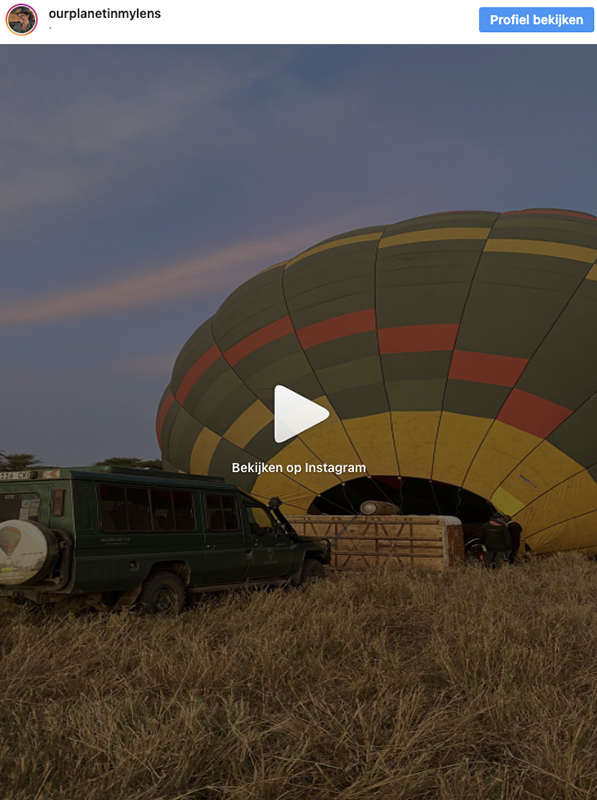 What is the price of a balloon safari in Serengeti?
A balloon ride in Serengeti costs 599 USD (2022), that is including images and videos of the hot air balloon flight, a champagne celebration, a champagne bush breakfast, a balloon flight certificate, the concession fee, and transfers from and to your accommodation in Serengeti.
Planning to book a balloon safari in Tanzania or Kenya? Because of my partnership with Adventures Aloft Balloon Safaris, I'm able to offer you an attractive discount. For more info, get in touch through hello@ourplanetinmylens.com.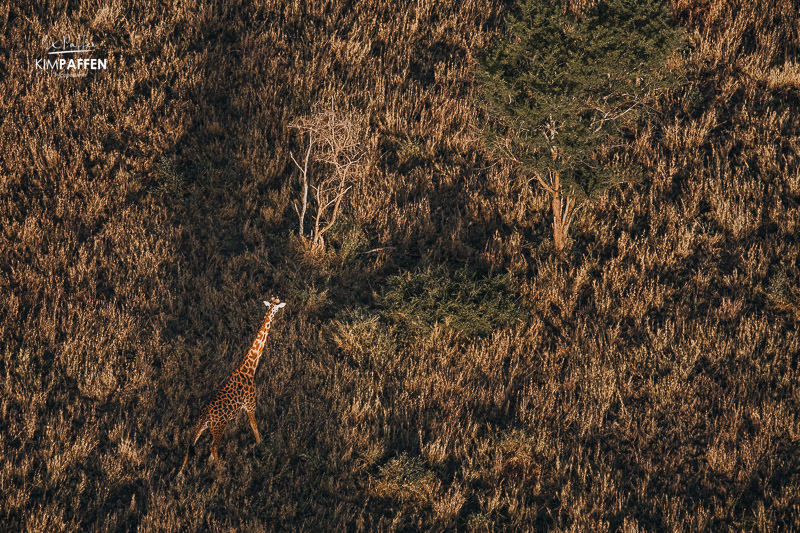 When is the best time to book your balloon safari?
It's best to book as soon as you know you're going to visit Serengeti. Balloon safaris are very popular and offer limited places. Therefore I suggest booking your balloon flight as early as possible.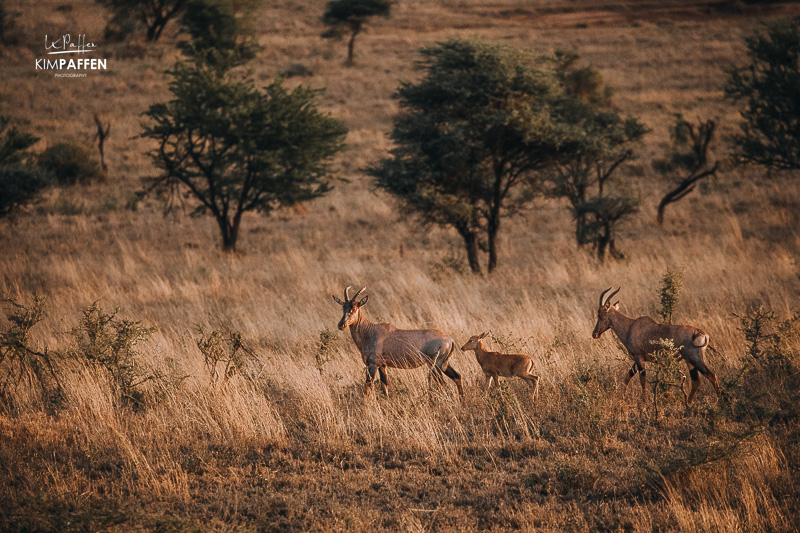 Hot air balloon Safari in Serengeti with Adventures Aloft
We were very pleased by the friendliness and service of Adventures Aloft. For over 25 years, they have been providing guests with memorable hot-air balloon safaris over some of East Africa's premier national parks and reserves like Serengeti and Tarangire in Tanzania and the Maasai Mara in Kenya. The balloon ride in Serengeti was one of the most tranquil game-viewing experiences I had on safari in Africa; a dream come true!
Consider this article also as a Serengeti balloon safari review for Adventures Aloft. You can't go wrong booking your balloon ride with this ballooning company.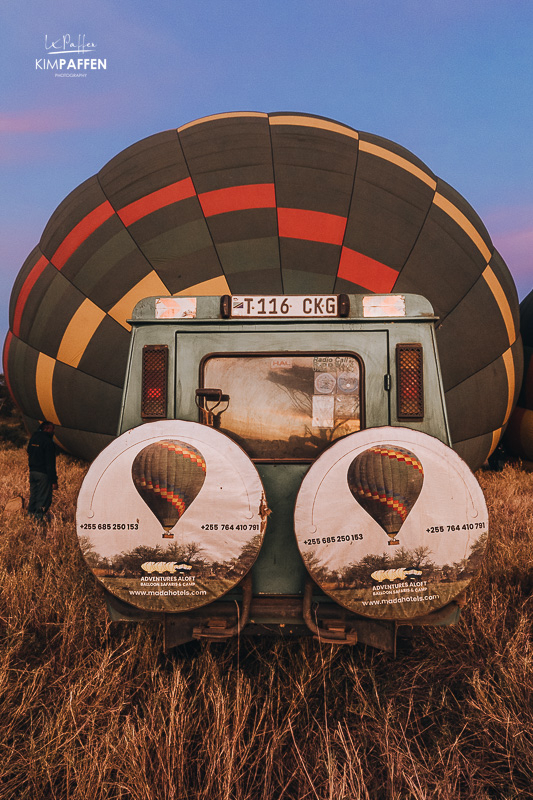 Are you interested in a hot-air balloon safari in Serengeti National Park? Or maybe in Ngorongoro or Masai Mara? Because of my partnership with Adventures Aloft Balloon Safaris (a division of Mada Hotels Safari Camps and Balloon Safaris), I'm able to offer you an attractive discount. Send me an email at hello@ourplanetinmylens.com if you're interested!
Here's a video of a balloon ride with Adventures Aloft Balloon Safaris!
Guide to Balloon Safari in Serengeti
I hope this article about what to expect on a balloon safari in Serengeti was helpful to prepare yourself for your balloon flight of a lifetime! Curious what else Tanzania has to offer in the North? Check out the 10 best places to visit in Northern Tanzania.
You can help me in return by sharing this guide to balloon safari in Serengeti on your social media channels and leaving a comment or your questions below! I'm happy to help you getting ready for your hot air balloon ride or for your safari in Africa in general.
Planning to visit Tanzania or Africa for the first time? Read my Africa travel guide or What to pack for safari in Africa and What to expect on a game drive in Africa.
Safari Njema!