Neutral-colored safari-style clothing and camera gear are a must to pack for a safari, but what else and what do you have to take into account while packing for an African safari? In this complete safari packing guide, I share exactly what to pack for a safari in Africa. It helps you choose what to wear on safari, what not to wear, and which safari essentials are important to bring on a game drive. It also includes a complete African safari packing list and practical information to get prepared for your safari trip, like important travel documents, appropriate safari clothing, shoes, handy gadgets, electronics, and type of camera.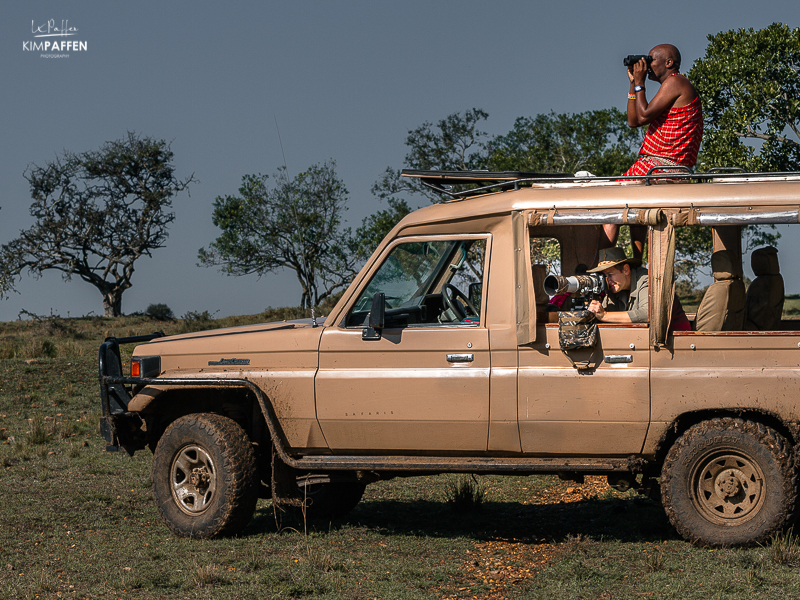 Important travel documents in preparation for your African safari
It is crucial that you prepare all the necessary travel documentation (print or digital) before you hop on a plane to your African safari destination. Your travel document checklist should include your passport (valid for at least 6 months after arriving back home), visas if needed, airline tickets, vaccination certificates (Yellow Card), insurance documents, accommodation vouchers, car-rental reservation forms, and an international driver's license if necessary.

Visas for Sub-Saharan Africa
Many Sub-Saharan countries in Africa require a visa to enter. Check the visa requirements of your African travel destination(s) and make sure if you need a visa, what kind of visa, and how to apply for a visa. More and more countries want you to apply online, in advance, while other African countries ask you to pay cash on arrival. Most countries accept US Dollars, printed after 2009 and in good condition.

Cash money
Check the local currency of the African country you're planning to visit. To most accepted foreign currencies are the US Dollar and the Euro. Bring US Dollar bills if you need a visa on arrival. I would always recommend taking a credit card and cash money. Don't exchange money with locals on the street. It's illegal and risky. I would recommend withdrawing local cash money at an ATM machine upon arrival or exchanging your own currency at an exchange office. Cash is king in Africa as power cuts or blackouts are normal and you can't pay with your bank or credit card everywhere. Cash is also handy for souvenir shopping and tipping guides and general staff as tipping is common in Africa and very much appreciated by the locals.

Vaccination certificates
Required vaccinations vary per country in Africa. Most African destinations require Hepatitis A and Yellow Fever. If you're traveling in an area with a risk for malaria, consider taking anti-malarial tablets. My best and only advice is to plan a consult with a medical travel clinic, 4-6 weeks before departure, to know exactly what's needed for your safari trip.
Make sure your International Certificate of Vaccination or Prophylaxis (ICVP), also known as the Yellow Health Card, is updated with the recommended vaccines (including the date and validity of the vaccine, stamp, and signature of the doctor). It's an official vaccination report created by the World Health Organization (WHO) and is basically a kind of medical passport that is internationally recognized to enter certain countries with health risks for travelers. Personally, I've been asked for my Yellow Health Card only once during all my Africa travels and it was about the Yellow Fever certificate.
Depending on the government regulations you either need a COVID-19 vaccination certificate, a negative COVID-19 PCR test result, or a recovery certificate. For details about the latest COVID-19 regulations, it's advised to visit the official websites of the country you are traveling to and the airline you are flying with.
Checklist of important travel documents to bring on safari
Valid Passport (required to be valid for another six months after returning)
Visa (if needed)
Airline ticket(s)
Vaccination certificates / Yellow Health Card
COVID-19 proof of vaccination, negative (PCR) test result, or recovery certificate
Insurance documents
Accommodation vouchers
Car rental reservation forms
International driver's license (if needed for a self-drive)
Bankcard, credit card
Cash money, also in the local currency (withdraw money on arrival: it's not always possible to pay by card plus it's useful for tips)
Photocopy of your passport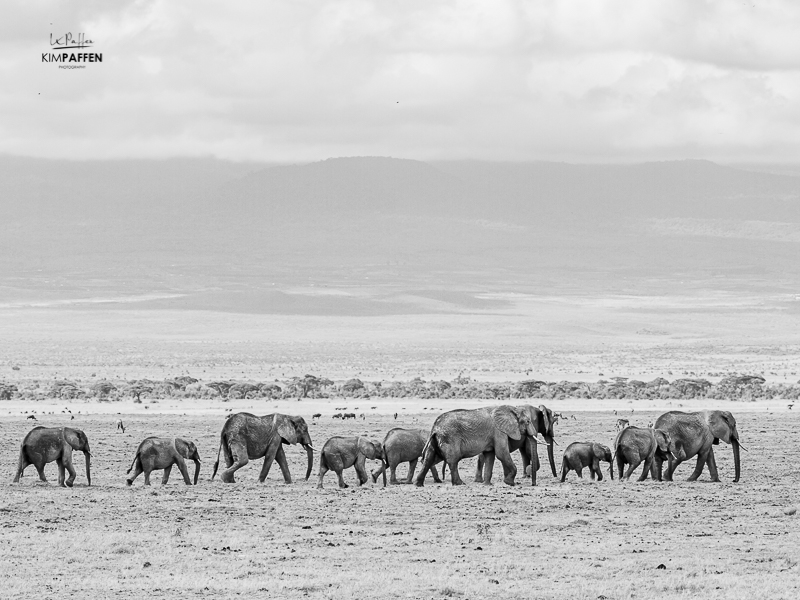 What clothes to wear on an African safari?
The best safari clothing is comfortable, lightweight, and durable. That's necessary to adapt to the environmental conditions in Africa like heat, moisture, dust, and insects. The best clothing for an African safari offers sun and anti-insect protection and dries quickly. It's advised to pack neutral colors, like earth tones.
Best colors to wear on Safari
Khaki, brown, sand, and green are the best colors to wear on safari. Neutral-colored earth tones work best to become part of the African bush. Dark clothes like black and blue attract heat, biting tsetse flies, and other insects. Colors you should not wear on safari are too bright or neon colors can scare the animals away. Avoid camouflage clothing, as in some African countries it's worn by military personnel only. Also, avoid busy patterns as you don't want to draw the attention of the wildlife to you.
Wear layers on your game drive
The weather in Africa can change very quickly. It can be cold and windy in the morning, and hot during the day, plus you can always be surprised by an African rain shower. For that reason, wear layered safari clothing on your game drive and bring a hat and scarf. Wearing lightweight pants (or zip-offs) and a long sleeve light-weight blouse also helps with extra protection from insect bites and the sun. Roll up your sleeves or zip off your pants if it gets warmer.
  RELATED: I also wrote a guide to game drives including 15 things to know about going on a game drive in Africa.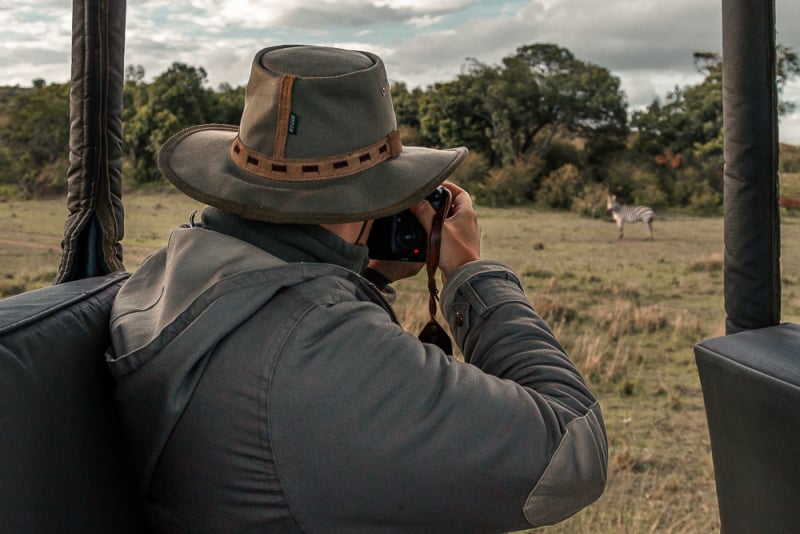 Safari clothes for women
Finding suitable safari clothing for women can be challenging because the clothes made for safari are often focused on men but sold as unisex. I definitely get that most women like to pack stylish safari clothing, but do realize your safari clothing still needs to be comfortable. Imagine going to the bush toilet on a game drive and you're wearing a jumpsuit, or you need to climb in the vehicle with a short skirt. You get the point.
RUGGEDWEAR's Tayla Jane Range
Women should definitely check out RUGGEDWEAR's Tayla Jane Range. The clothes offer exceptional comfort, breathability, rapid drying, and a fashionable appeal. It's one of my favorite safari clothing brands for women with the Parka as my fave item.
I also always make sure to pack RUGGEDWEAR's blouses when I go on safari. Thanks to the breathable material, I can comfortably wear them for multiple days in a row without worrying about unpleasant odors. Plus, these clothes require no ironing after washing, and even dirt, such as mud, can be easily removed, making them a convenient and essential choice for my journeys.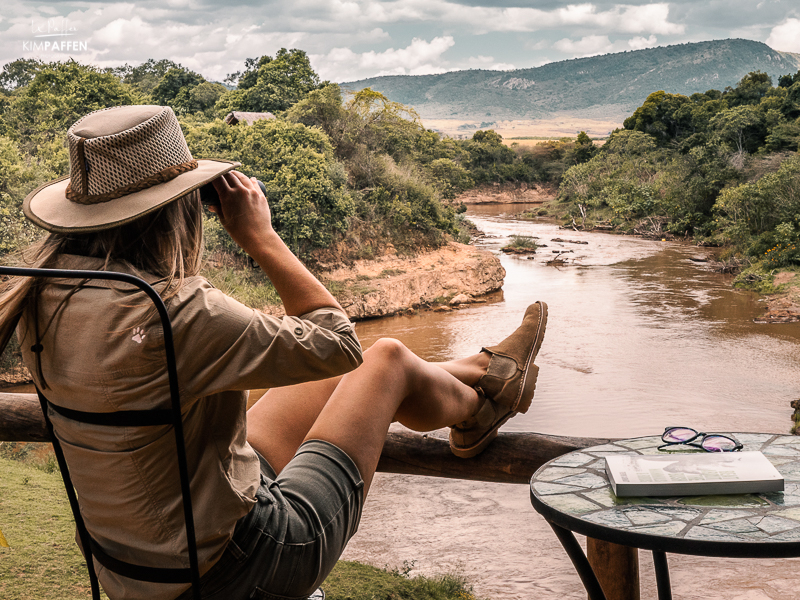 Colmar for urban styles, and outdoor activities
The luxury Italian clothing brand Colmar primarily specializes in outdoor skiwear. However, their high-quality clothes are also well-suited for safari adventures. Colmar's commitment to durability, protection from the elements, functionality, breathability, and the versatility of layering make their clothing an excellent choice for both skiing and safaris.
My favorite Colmar item is this casual lightweight jacket with a fixed hood. It's convenient, comfortable, and made of thermal and water-repellent material. The side pockets and a practical adjustment drawstring make the jacket feminine and functional for safari.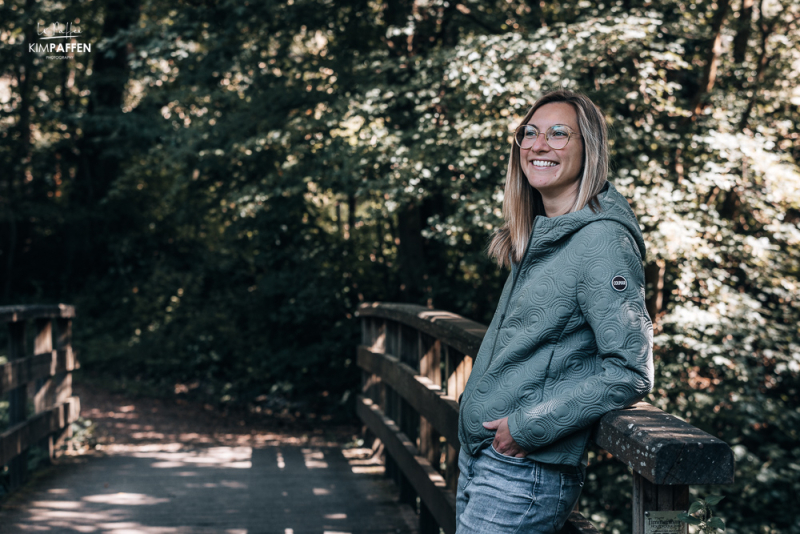 Safari Clothing List
Below is a safari clothing list to use as a guideline for your safari trip. Most lodges or accommodations offer a laundry service at a small rate or even free of charge. My advice: pack light and make use of the laundry service. It's also a great way to support (local) employees.
5-6 neutral-colored shirts and/or tops
2 long sleeve safari blouses (light and breathable)
2 sand or khaki-colored shorts
2-3 light-weight long trousers (optional are zip-offs)
a light jacket like a soft shell (water- and windproof, luxury lodges provide ponchos on their game drives)
One fleece or warm vest
Scarf or buff/bandana (handy for colder drives as well as protection from the sun)
Pajama
4-6 pairs of neutral-colored socks
Underwear (take enough for 5-7 days, then do your laundry)
Swimsuit or swim shorts for the lodges that have a pool
Safari hat (I love Rogue Hats, but any neutral-colored hat is fine)
Sunglasses
Stable safari shoes and flip-flops
Gaiters (for walking safaris)
Sport-bra for women
Ziploc bags to keep your dirty laundry separate from clean safari clothing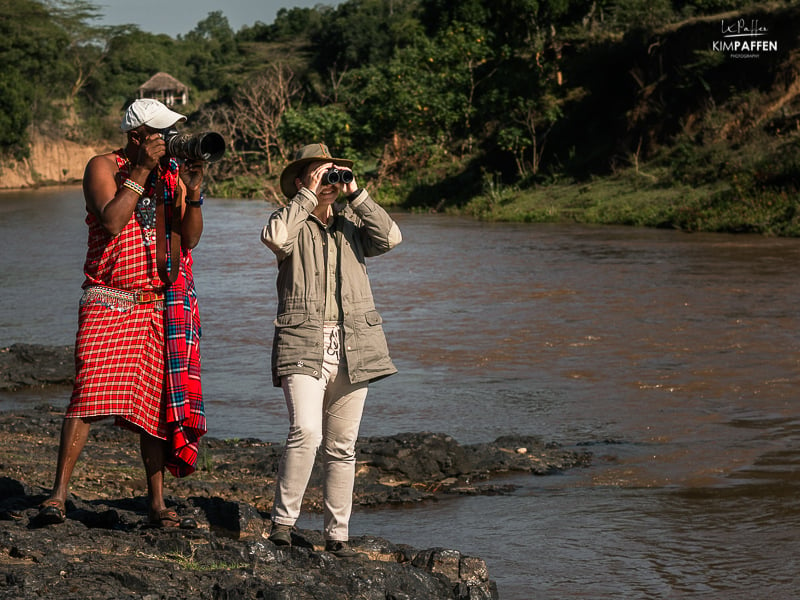 Formal evening wear
Formal evening wear is not necessary on safari, as most safari lodges and camps have a casual safari-style dress code. Some people like to change before they go to dinner. However, in reality, almost no one is going to their room to freshen up after the afternoon game drive as you arrive back in the dark. Most of the time you have a drink at the fire when returning from the game drive and go for a cozy Boma dinner straight after. On my first safari in Africa, I went back to the room to have a shower and change but I learned quickly that most people stay around the fire after the game drive, have dinner and go to bed early because of the early start.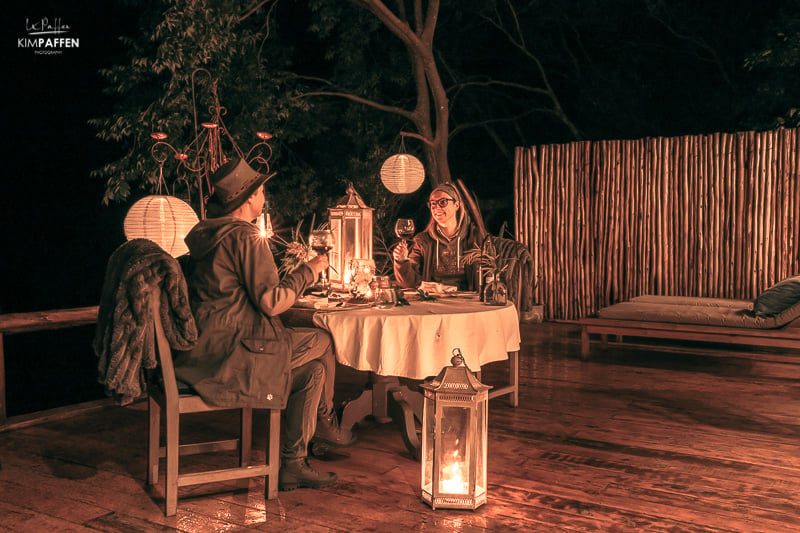 Dresses
I've had several safaris in various African countries. There were times I also packed two dresses but in reality, I almost never wore them. Sometimes around the camp in between the two game drives. It obviously depends on the kind of safari trip you're doing, but if you are in a lodge doing two game drives per day you usually wear suitable safari clothing for game drives. If you also visit a city during your safari trip, like Cape Town, I would also pack one or two dresses.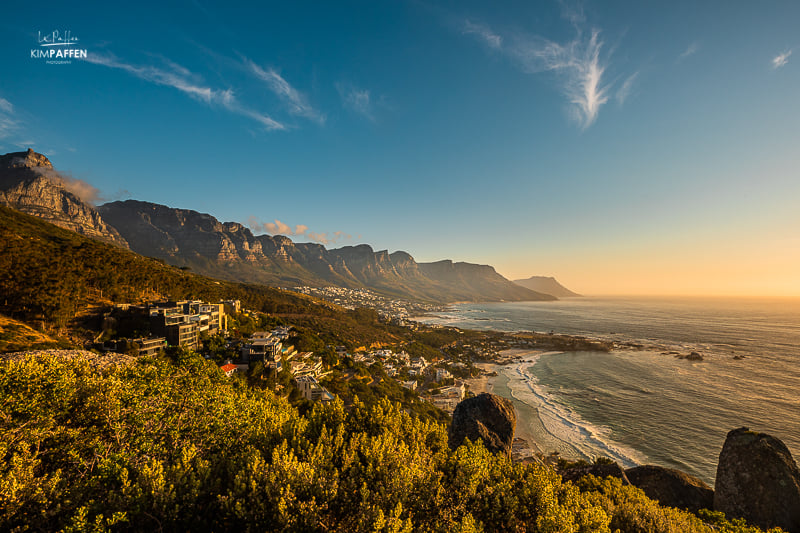 What shoes to pack for safari in Africa?
On a safari in Africa, you need to bring sturdy footwear. Hiking boots or hiking shoes aren't always necessary and take up a lot of space in your suitcase or backpack. If your safari trip includes walking safaris or hikes, do bring hiking shoes or trail shoes that provide enough grip and protect you from thorns.
Otherwise, comfortable, closed, and sturdy shoes are more than enough. If you are in an area with lots of insects or snakes, a higher-rise boot is recommended, or wear gaiters for extra protection. For me, insects and thorns are the main reason why I prefer to wear closed safari footwear on a game drive plus you are better protected during comfort breaks, coffee stops, and the afternoon sundowner. Normal sneakers are not the best option as thorns go straight through these soles.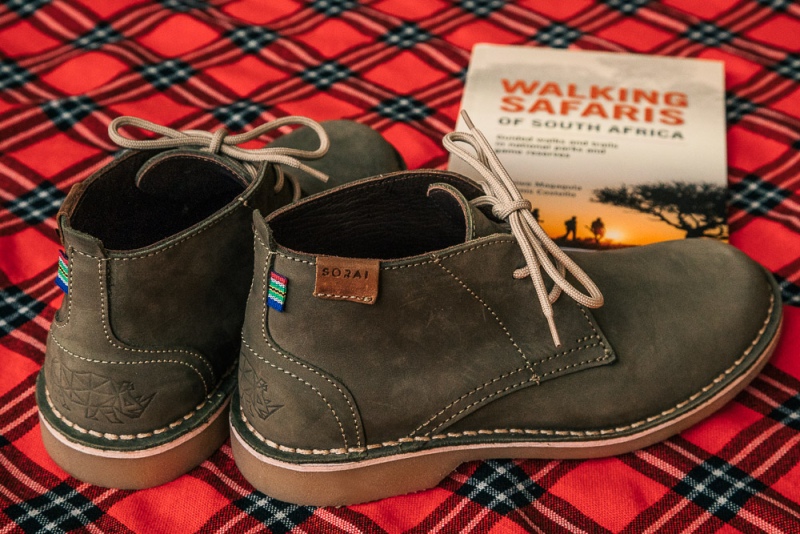 Safari Shoes
My favorite safari shoes are the Authentic South African Veldskoen boots. Veldskoen boots are handmade and stitched in South Africa and often worn by local field guides. Choosing a Veldskoen means comfort and style. It will definitely complete your safari outfit. Apart from closed shoes, bring a pair of flip-flops or sandals to wear around the camp.
Safari First aid kit and toiletries
Professional medical care isn't always close when on safari. For that reason, it's important to be prepared for medical issues. Your guide or tour operator will always have a first aid kit available. However, it's advisable to bring a basic medical kit yourself. The most basic and crucial medical safari essentials are insect repellant, after bite, anti-malarial tablets, painkillers, and blister band Aids. In case you have any medical issues or if you use any medicines, it's necessary to inform your guide on forehand.
Your first aid kit for safari should contain:
Prescription medicines / Antibiotics (if you currently take any)
Malaria medication (if necessary)
Paracetamol or other painkillers
Anti-diarrhea pills for food poisoning
Oral Rehydration Salts in case of diarrhea or dehydration
Anti-histamine for allergic reactions
Cough drops
Band-Aid
Sunscreen
Insect repellant (eco-friendly)
Lavender essential oil (functions as after bite and many more purposes like a good night of sleep)
Pads for blisters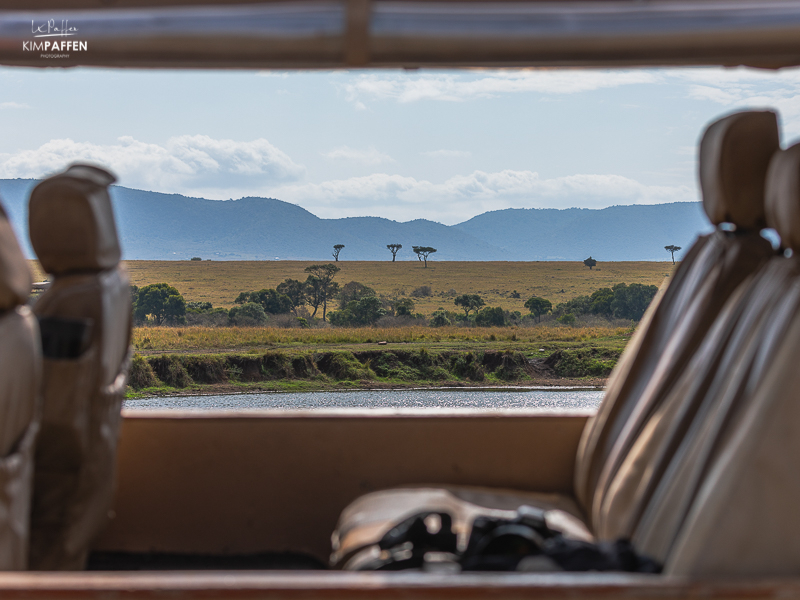 Other toiletries to pack for your safari:
Soap, shampoo, conditioner
Toothbrush, toothpaste, and dental floss
Deodorant
Hairbrush
Feminine hygiene products
Contact lenses and fluid
Wet wipes (handy on camping trips or long drives)
Lip balm for the dry air
Face mask and hand sanitizer
Hand and body lotion
Tweezers
Shaving kit or razor
What camera gear should I bring on safari?
Having the most expensive camera doesn't mean you'll shoot the best photos because whatever camera you bring on safari, it's critical to know how to use it. You will be disappointed if you invested a lot of money in camera gear and your pictures are too dark or blurry.
If you do know how to use a camera or if you have the time and motivation to learn how to use a camera, I would advise bringing a DSLR (Digital Single Lens Reflex) camera with exchangeable lenses. The best zoom lenses for wildlife photography are in the range of 200-600 mm with a minimum of 200mm zoom to capture wildlife.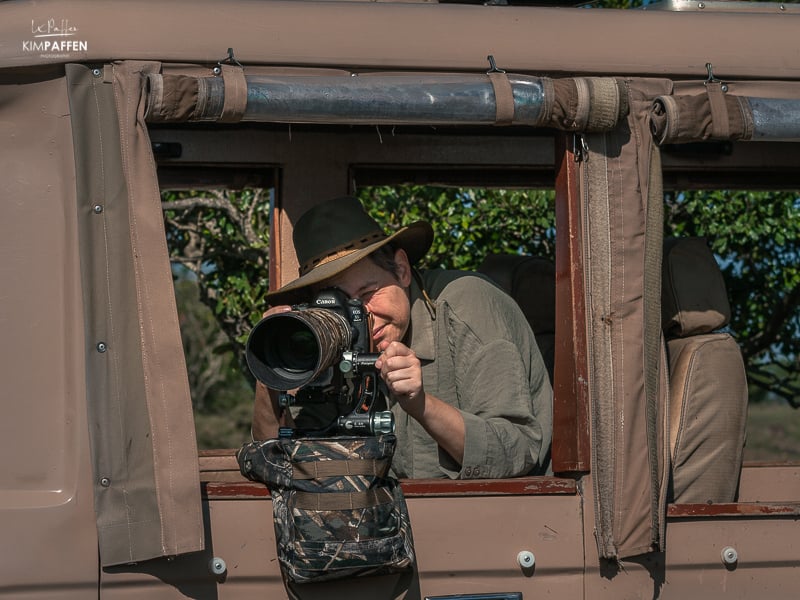 As a travel and wildlife photographer, I always bring different zoom lenses to photograph wildlife and a more wide-angle lens to capture Africa's gorgeous landscapes, for example, the Canon 16-35mm 2.8.
To practice and learn how to use your camera, you can read the instruction manual, watch some tutorials on YouTube, take a class, and most importantly practice with different settings and conditions before departure. If you don't have the time, motivation, or skills to learn how to take (better) photos with a DSLR, then save your money and enjoy the experience on its own.
You can try to take photos with your smartphone. Nowadays, the cameras on smartphones are pretty good, but you will definitely lose quality when you try to zoom in with your smartphone camera. Important to know about photographing in Africa is that it is considered rude in African culture to take photos of people without asking them first.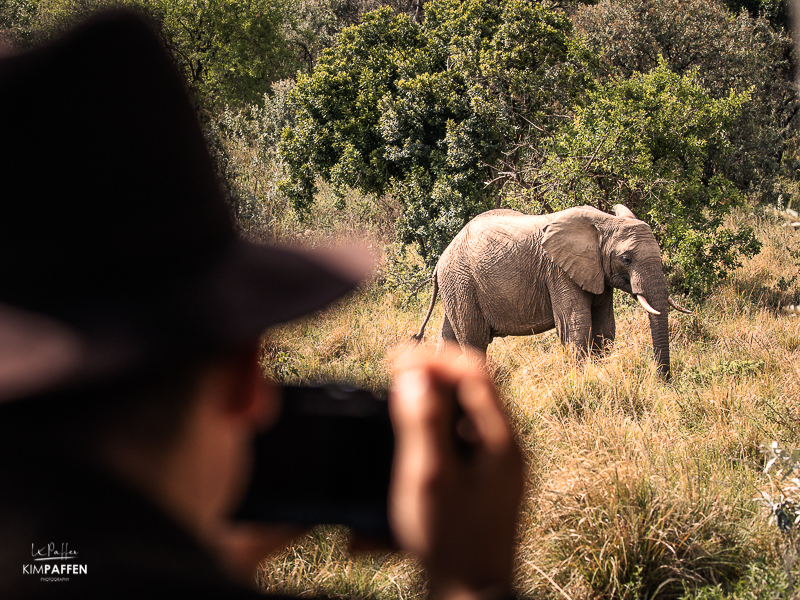 Packing list for camera gear on safari
I would suggest bringing the following camera gear on safari:
A DSLR camera plus a long-range zoom lens (70-300 mm, 28-300 mm, 18-400 mm). If you bring a camera with a long-range zoom, you don't need to switch lenses or bring different bodies
Memory cards (plenty)
Cleaning equipment (it will be dusty, so bring cleaning cloths)
Charger (you don't want to run out of battery)
Extra batteries
Camera bag
Rain cover or towel (to protect your camera from rain, dust, and moist)
Ziplock bags (to protect equipment from dust)
Curious about the photography equipment I use? Check out my photography gear collection.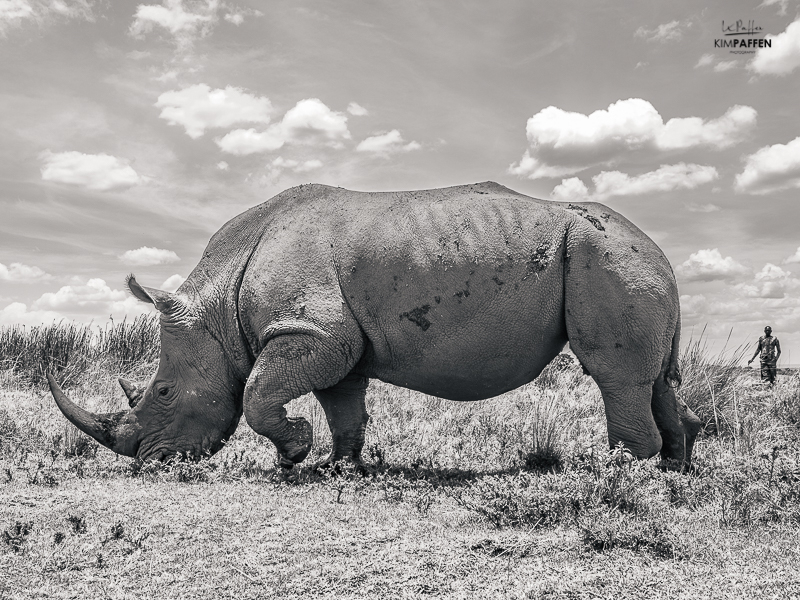 For the more advanced photographers, I recommend bringing:
An extra body
Different lenses (wide angles lenses, zoom lenses, etc.)
A tripod to photograph the beautiful night sky or a monopod for extra stability on your game drives
Camera remote
Beanbag
External hard drive
A sensor cleaner and blower brush (important when you often change lenses)
Filters (optional)
In case you are interested in a photography-focussed safari, you might want to read my blog about planning a photo safari in Africa, including 7 essential tips to consider before booking your photography safari.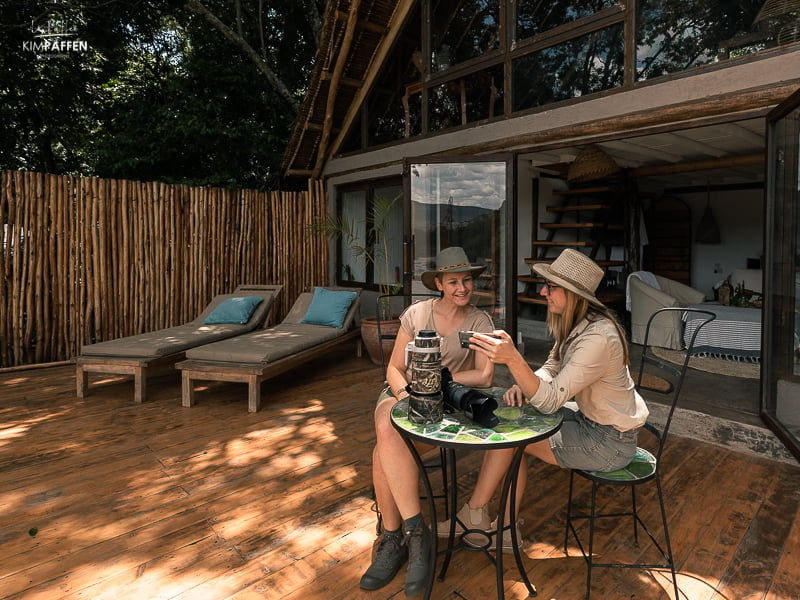 Electronics to pack for safari in Africa
Power can be limited in the bush, but there are some must-have safari gadgets, like your camera, batteries, and phone that require frequent charging. In Africa, you sometimes need to deal with power cuts or blackouts.
The location or type of accommodation can influence the availability of power. Some budget accommodations or eco-lodges only offer solar lights in the tents, no individual plug-in options, and use time slots for power. In those accommodations, a shared charging station is usually available in the main building. Most mid-range or luxury accommodations have charging stations in the room or tent. Africa uses 220-240 volt electricity at 50hz. Check which plug converter is needed for the country you're traveling to.
I always bring my own solar energy source because I use a lot of technology on safari. One of my favorite safari essentials is the WakaWaka Solar Panel combined with the Power 10. It's one of the most powerful solar panels and power bank-combination that can charge up to five electronic devices at once. In Africa, it is relatively easy to make use of the sun for energy, and it's also sustainable! Other electronics I usually pack for safari are a headlamp, a torch, and my laptop for photo editing.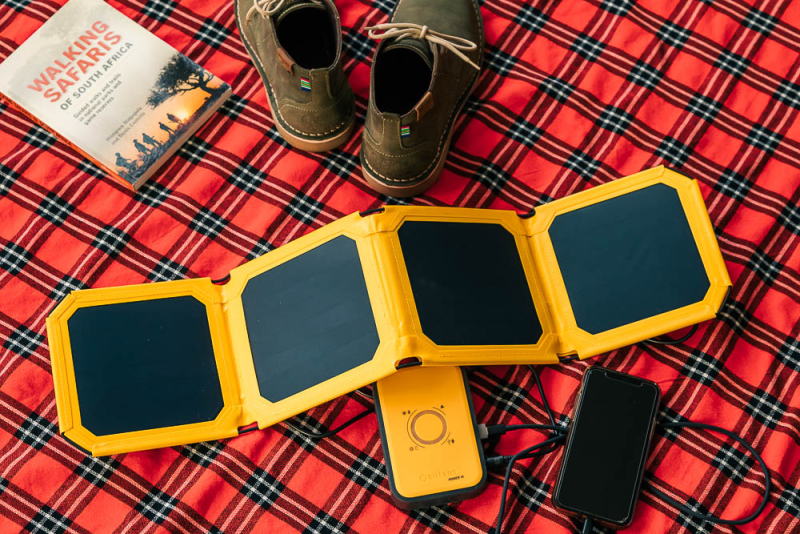 Useful electronics to pack for safari are:
A solar power panel
A portable Power Bank (to charge devices in lodges without electricity or during the game drives)
Torch and/or headlamp (very useful in the evening and night)
Headphones
Mobile phone unlocked for international use (you can buy a local sim card on arrival)
Charger for your phone, including charging cables
Tablet or laptop plus charger (for a game, writing, or photo editing)
An e-reader (optional for free time in between game drives)
International plug converter
Optional travel hairdryer, however, most lodges have hairdryers in the room
Safari essentials
To complete your safari packing list, there are a few safari essentials you should not forget, like binoculars, and a thermal water bottle. When I pack my bag for safari, I won't leave my Celestron TrailSeeker Binocular and my Stanley coffee percolator. Those are two of my favorite safari essentials. Other practical things to bring on safari are bird and animal books.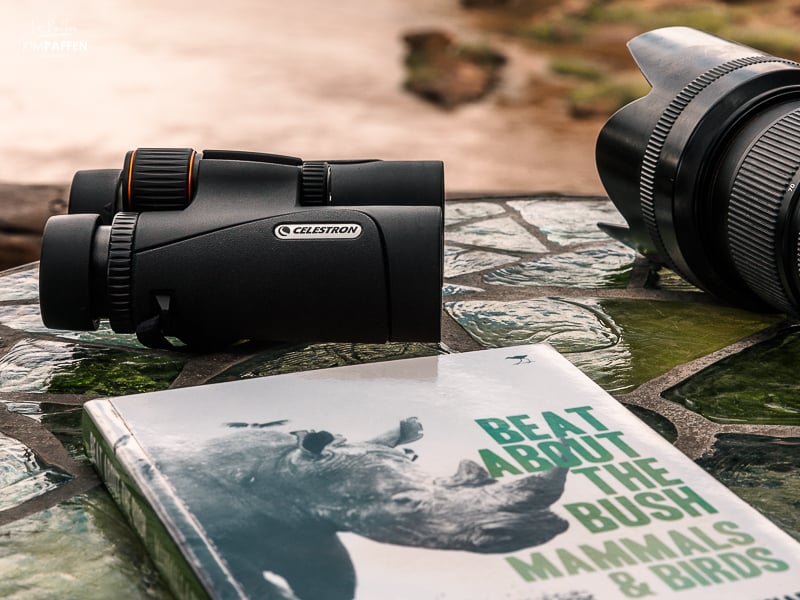 Other important essentials you should bring on a safari in Africa:
Carry-on daypack for your game drives
Binocular
Thermal water bottle
Stanley coffee percolator (if you're a coffee lover like me)
Earplugs
Snacks if the usual meals a day are not enough
a small notebook and pen (or use your notes on the phone)
waterproof dry bag to keep important stuff or electronics away from water, sand, and dust
Bird and animal checklist or book (or use apps like the Roberts Bird App to document and read about sightings)
Bag locks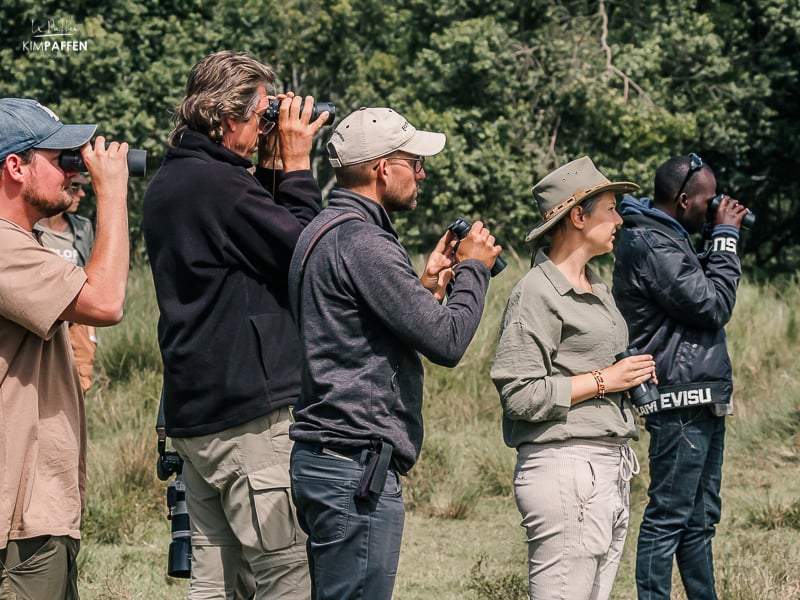 The complete safari packing guide
After reading this complete safari packing guide, you know exactly what to pack for safari in Africa. I recommend using packing cubes to organize your bag. For traveling in Africa it's advisable to travel with a soft bag or suitcase. Charter flights to for example airstrips in the Maasai Mara have a maximum weight allowance and not a lot of space to store heavy hard suitcases.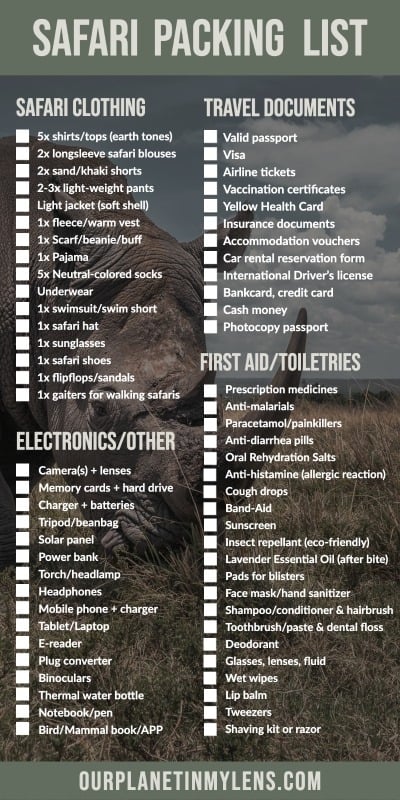 Pin this African Safari Packing List for later use!
If this packing guide is helpful for you, you could help me in return by sharing the link of this article on Instagram, Facebook, and Twitter or pinning it on Pinterest for your future safari trip to Africa. Have a great safari in Africa!