Namibia Travel Guide
Namibia is a fascinating diverse travel destination famous for, among other things the highest dunes in the world in Sossusvlei, which are part of the oldest desert in the world: the Namib Desert. These dunes, like Dune 45, are the most photographed dunes in the world! Due to the vast size of the country that for a huge part consists of desert, The Republic of Namibia has the smallest population in Africa. It is bordered by South Africa, Angola, Zambia, Botswana, and Zimbabwe. Other famous highlights in Namibia are Deadvlei, the Fish River Canyon, Spitzkoppe, Waterberg Plateau Park, and the Kalahari Desert. Walvis Bay Lagoon is also worth a visit because it is known for its large colony of South African flamingos basking and feeding in the shallow waters. With several cultural attractions, Namibia's capital city Windhoek is also worth a visit!
With the largest population of free-roaming black rhinos and cheetahs, Namibia is also a popular safari destination. Most tourists choose Etosha National park for a great safari experience. This is also home to the tallest elephants in Africa and together with Mali, the only place to see desert elephants. 
With 12 official Namibia National Parks and 2 UNESCO World Heritage Sites, there's enough to see! Well-known National Parks are Etosha National Park, Namib Naukluft National Park, Skeleton Coast National Park, and the /Ai-/Ais-Richtersveld Transfrontier Park.
 And did you know the Namib Rand Nature Reserve is one of the best places in the world for stargazing and star photography?
Check out this ultimate Namibia guide where I share the most popular places to visit in Namibia including some of the best things to do and things to know before you travel to this stunning country of endless horizons, for example, the best time to visit, safety in Namibia, and required vaccinations.
Interesting Facts Namibia
  Flag of Namibia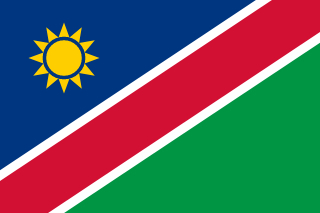 Namibia's National Animal
Oryx, an antelope also called Gemsbok
  Namibian Dish
Oshifima, a traditional porridge often served with a stew of vegetables, meat, or fish.
  Currency in Namibia
Namibian Dollar N$ (NAD), but the South African Rand is also widely accepted in Namibia
Namibia Time Zone
Central Africa Time Zone or CAT (GMT+2 hours)