Go skydiving in Zanzibar to experience the exhilaration of a 35-second free-fall from a plane at 3050 meters above the sparkling Indian Ocean! Feel the warm tropical breeze of this paradise island against your face as your heart races with adrenaline. A tandem skydive with experienced instructors from Skydive Zanzibar in Kendwa is one of the best adventure activities in Tanzania.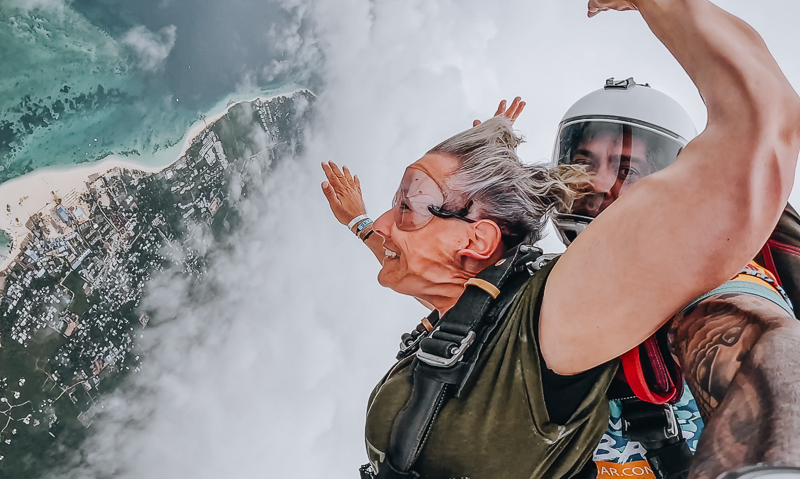 Read everything you need to know about skydiving in Zanzibar. Learn what to expect and how to prepare yourself when jumping out of an airplane, including the costs of skydiving and the safety measures you need to take to get yourself safely back on the ground. Skydiving in the tropical paradise of Zanzibar is without a doubt a unique thing to do in Zanzibar! 
The thrill of tandem skydiving in Zanzibar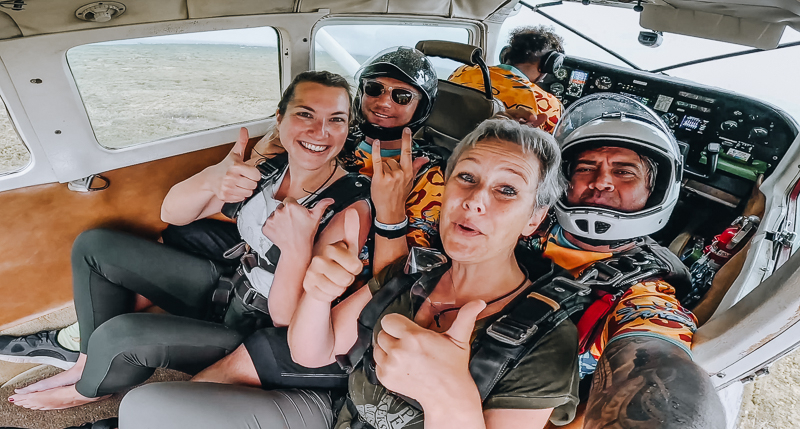 A tandem skydive in Zanzibar is an exciting way to see the beautiful island from high up in the sky. You'll be attached to an experienced instructor who will be with you the whole time. For that reason, a tandem skydive is a great option for first-time skydivers.
There is freedom waiting for you on the breezes of the sky. And you ask "What if I fall?" Oh, but my darling, what if you fly? ~ Erin Hanson
After a 20-minute scenic flight to get to an altitude of 3050 meters (10.000ft), you and your instructor jump out of the plane together. The views of Zanzibar's stunning ocean and landscapes are incredible from the sky. Then, the parachute opens, and you'll glide gently down, enjoying the amazing scenery from above. It's an unforgettable adventure that combines the thrill of falling with the beauty of Zanzibar Island. 
This skydive activity with Skydive Zanzibar will take approximately 2 hours from the minute you arrive until you leave with a backpack full of great memories.
What is the best time to skydive in Zanzibar?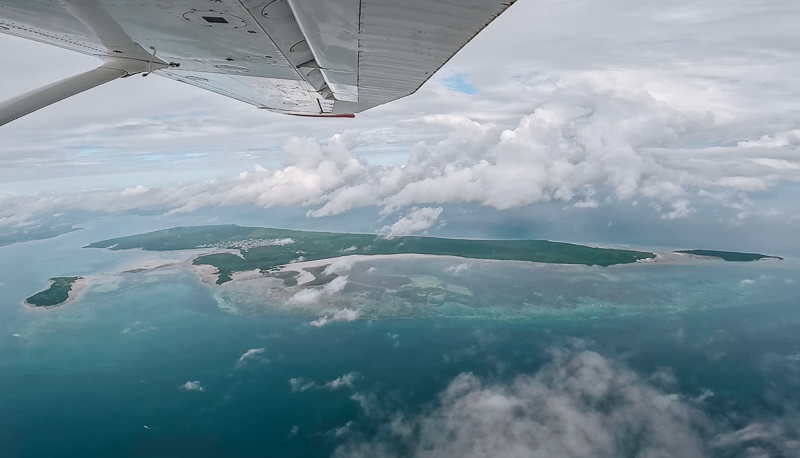 The best time to go skydiving in Zanzibar is during the dry season, which usually lasts from June to October. This is when there is little rainfall, and the skies are generally clear, making it perfect for skydiving to see the beautiful Indian Ocean, pristine beaches, and lush landscapes from high up in the sky. The temperatures are also pleasant, not too hot, making the skydiving experience even more enjoyable. 
Do you like adventure activities in the sky? Another unforgettable adventure in Tanzania is a Balloon Safari over the mighty Serengeti.
Skydive Zanzibar: an adventure with a reputable organization!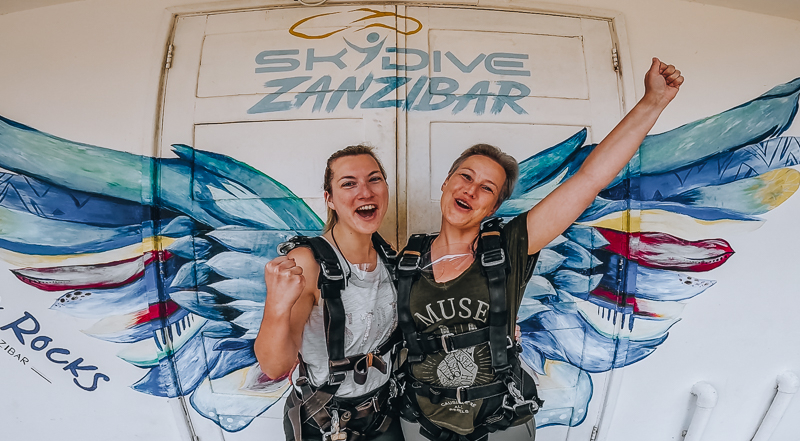 Skydiving has an element of risk, but there is no need to worry. Skydive Zanzibar is affiliated with the United States Parachute Association (USPA). This is a mark of professionalism, credibility, and commitment to safety. The instructors of Skydive Zanzibar are professionals with extensive training and experience.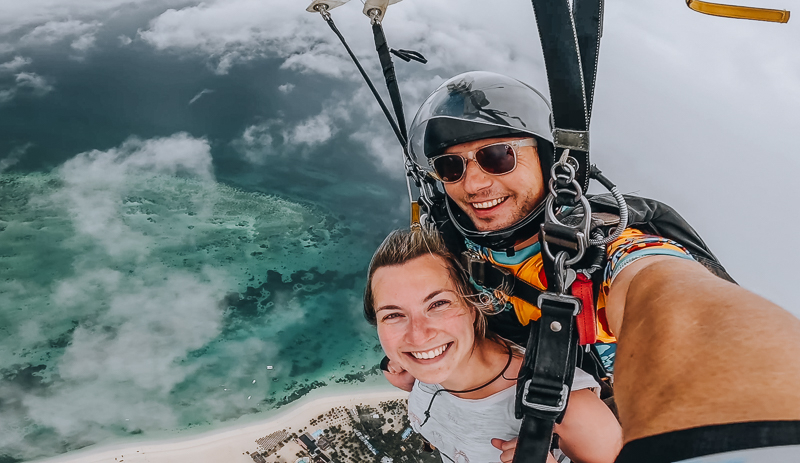 So, is skydiving safe? YES! They are certified experts who have completed numerous jumps and are well-versed in the safety procedures and techniques required for a successful skydiving adventure. You'll be in capable hands and I personally felt safe throughout the entire skydiving journey with our wonderful and experienced instructors Gary and Artem.
Skydiving at Kendwa Beach Zanzibar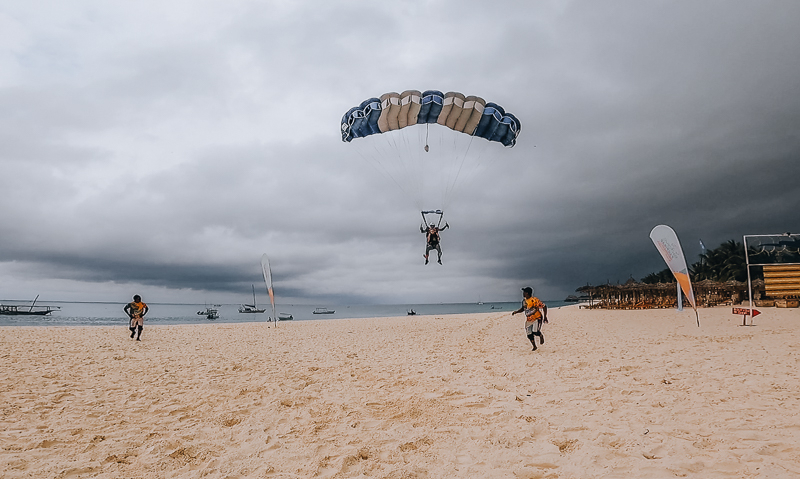 Kendwa Beach is one of the best beaches in Zanzibar and is ranked among the top 10 best beaches in the world. As the only place to go skydiving in Zanzibar, this laid-back and beautiful place near Kendwa Rocks Hotel attracts island lovers and thrill-seekers from around the world.
Kendwa Beach is located on the northwest coast of Zanzibar. It is renowned for its unspoiled beauty, tranquil atmosphere, and breathtaking views of the Indian Ocean. The beach offers visitors a secluded and peaceful escape while still being within reach of other popular attractions on the island. 
Zanzibar skydiving adventure
Once you've booked your thrilling skydive with Skydive Zanzibar, you will receive a comprehensive booking confirmation with all the important details to make your experience smooth and amazing. They will let you know the exact location of Skydive Zanzibar and the time you need to be at the Skydive Centre for your skydive. To keep you comfortable and safe during the jump, they will give you guidance on what clothes to wear to be well-prepared for the altitude and weather conditions. 
What to wear for the tandem skydive in Zanzibar?
I recommend wearing comfortable clothing to skydive: leggings, shorts, trousers, or even jeans are fine. Combine it with a T-shirt or top which is not too baggy. If you wish, Skydive Zanzibar can provide a jumpsuit but we just jumped in our own clothing. 
The amazing team of Skydive Zanzibar will also arrange everything else you need, like goggles. Not the most charming glasses to wear, but good protection for your eyes. 
Skydive Tip: You are allowed to put the goggles off after the freefall, once the parachute is out.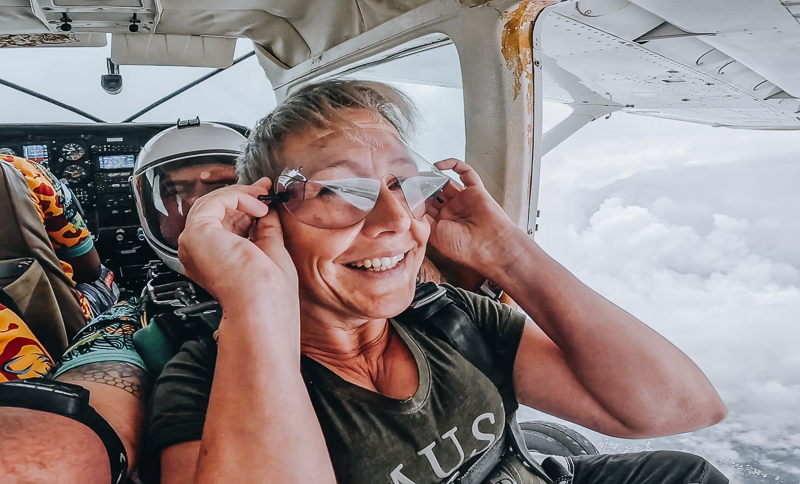 What shoes to wear for skydiving in Zanzibar? I'd suggest wearing a pair of sports trainers or lace-up shoes that won't blow off your feet or choose to go barefoot! If you choose to not wear shoes, just be reminded that the walk from the car to the plane is gravel (but only a few meters). I personally liked to jump barefoot: feel the wind on your feet and land on the beach with your feet in the sand!
Skydive Instruction video
To prepare yourself for your jump from an airplane, Skydive Zanzibar will also share an interesting and informative skydive instruction video, which will guide you through the essentials of the skydiving process. It's important to watch this video on forehand. 
Ready, Set, Go Fly!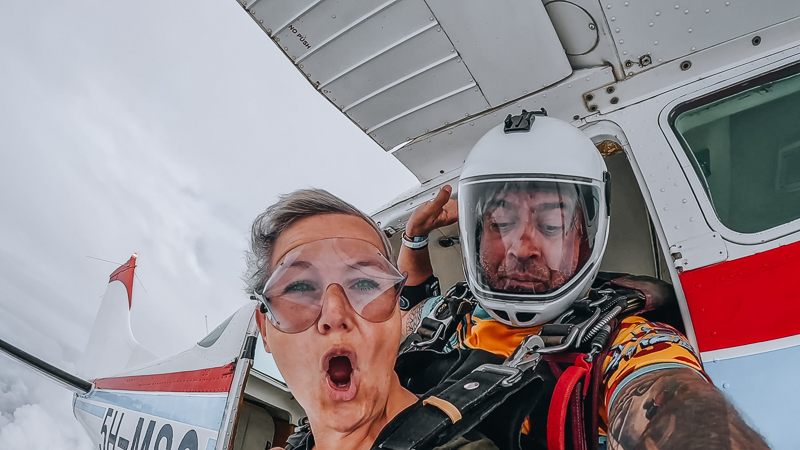 When you arrive at the Skydive Zanzibar office, a team of enthusiastic professionals will be waiting for you. First, you need to sign some papers. Then it's time to meet your experienced instructor who will give a safety briefing and training. Your instructor will help you put on your harness, and after a short video recording and photo moment in front of the wings of Skydive Zanzibar, you're ready to fly and head to the plane. 
Did you know that Skydive Zanzibar will capture your incredible moments with various photos and videos taken throughout the experience? These captivating clips will be compiled into a fantastic video, which you will receive later.
The Skydive Adventure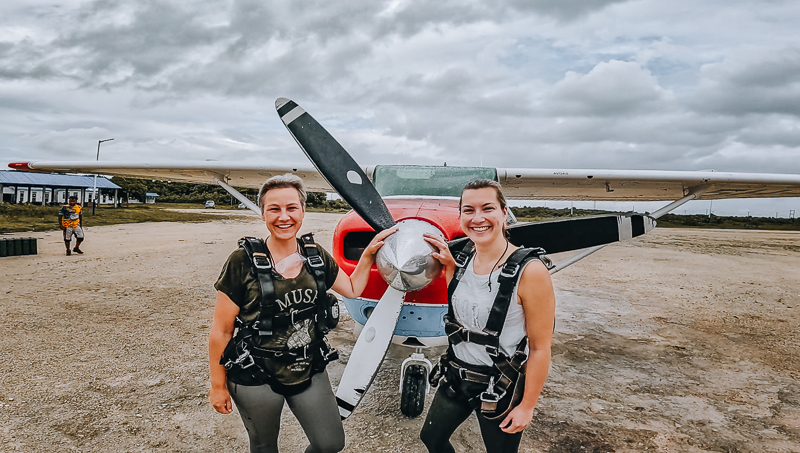 From Kendwa Beach, it takes about 15 minutes by car to Nungwi Airstrip, the place where the plane is waiting for you. Before boarding the aircraft, your instructor will repeat the most important safety instructions, and you're ready for the ascent. 
Related: 11 best things to do in Nungwi (Zanzibar)
Scenic flight over Zanzibar
Your skydiving journey begins with a 20-minute scenic flight that showcases the stunning landscapes of Zanzibar from a bird's-eye perspective. Enjoy breathtaking aerial views of the island's coast and the turquoise waters. The flight itself is an experience worth cherishing.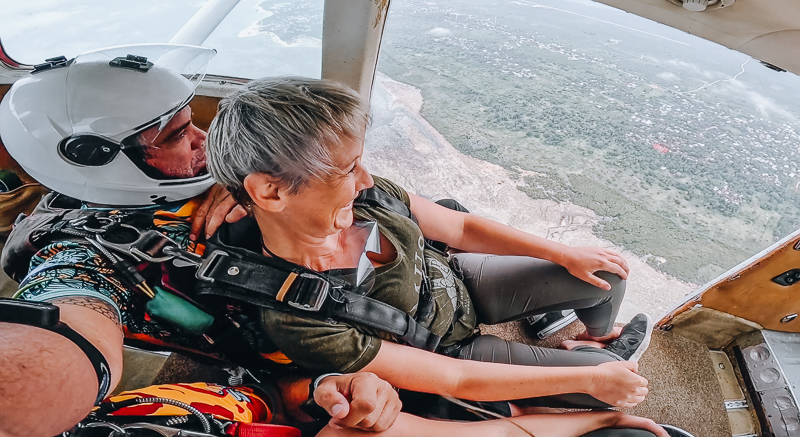 The Jump, your leap of faith
Once you reach the right altitude (about 3050 meters or 10.000ft), the moment you've been waiting for arrives. With your experienced instructor by your side, you go closer to the open door, ready to leap into the sky. Did I already mention there's no door in the aircraft? The space to jump from is open all the time, so there's no door! Do you feel the excitement already?
The Freefall
The exhilaration hits its peak as you exit the aircraft. You and the instructor will jump together into the thrilling 35 seconds of free fall at 200 km/h (whoooooo!!!)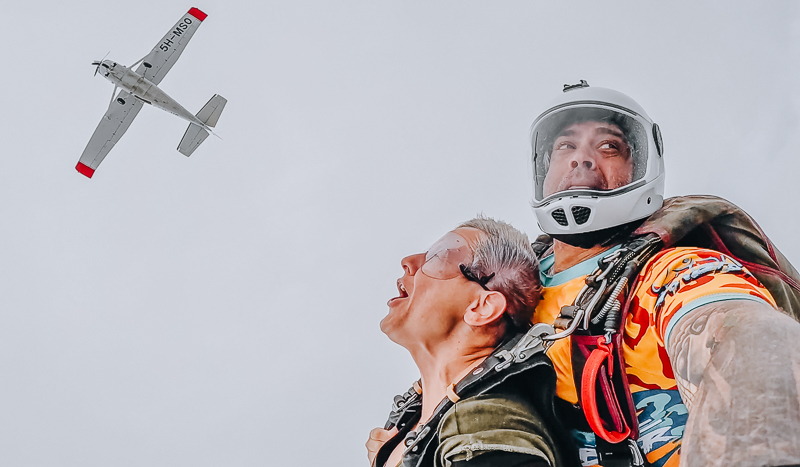 During the free-fall, take a moment to marvel at the stunning panoramas stretching out before you. Feel the rush of wind against your face as you descend through the clear blue skies; the ultimate freedom feeling!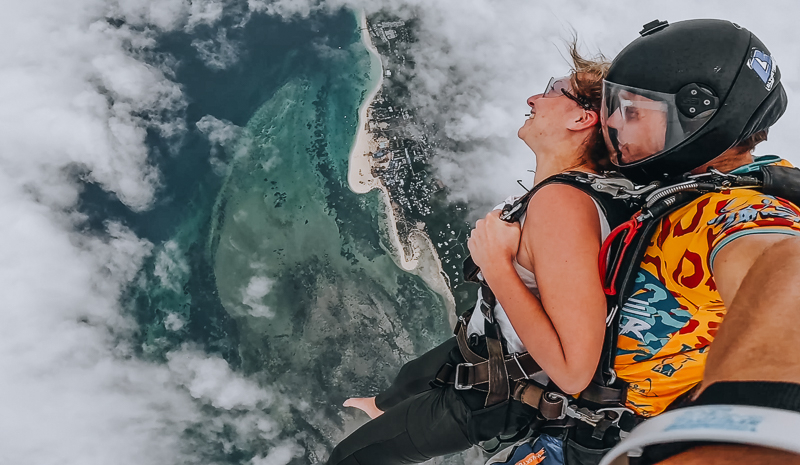 The parachute opens
As the parachute deploys, you'll gently glide back to the ground, taking in the stunning views of Zanzibar's paradise below. It's incredible! Enjoy the stunning views as you glide gracefully toward the landing zone at Kendwa Beach.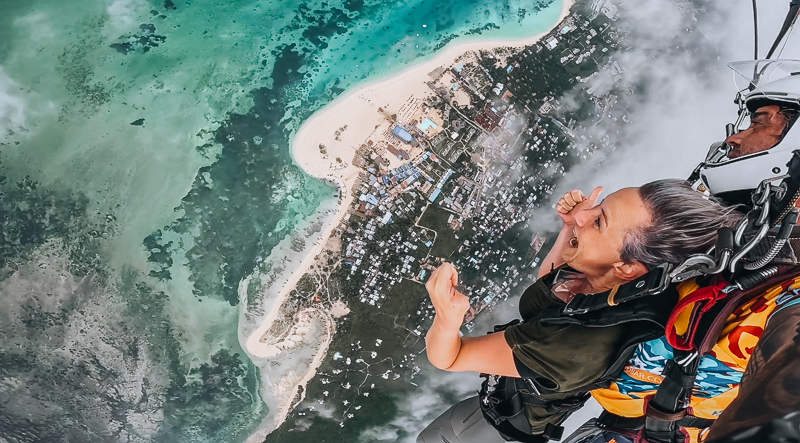 Landing at Kendwa Beach
Every jump is a jump that lands on Kendwa Beach. As your feet touch the white sand, a surge of accomplishment and satisfaction washes over you! After that, you can enjoy a drink at Kendwa Rocks bar and restaurant.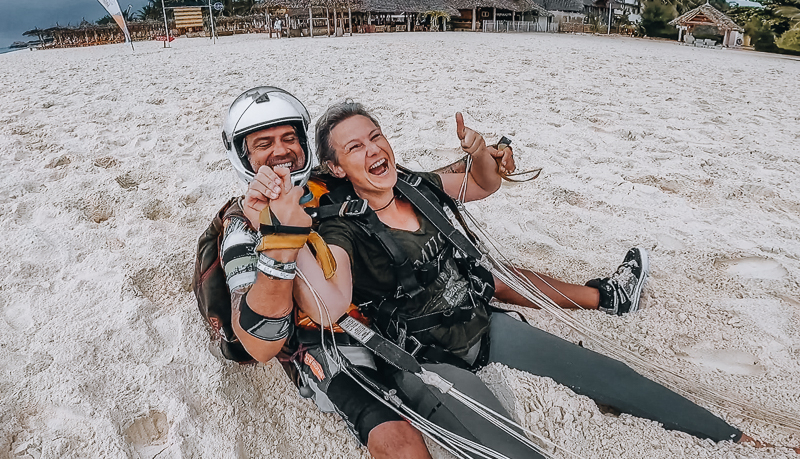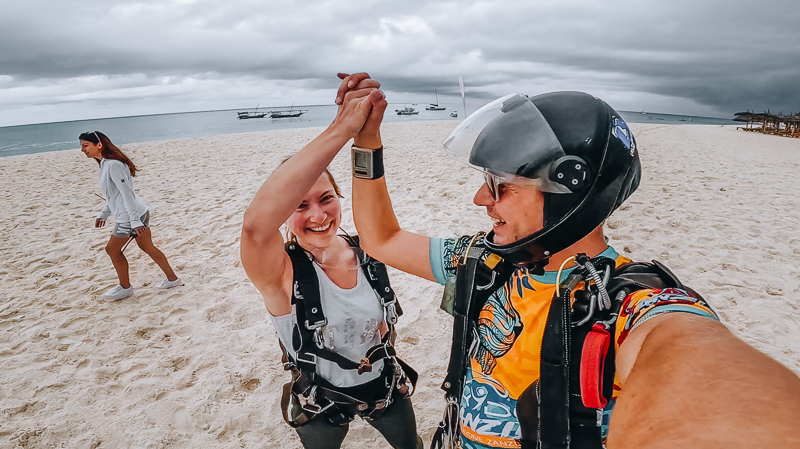 Cherish the skydive of a lifetime!
As the adrenaline settles, you'll find yourself slowly realizing the incredible feat you've just accomplished during your skydive with Skydive Zanzibar. The rush of free-fall, the breathtaking views, and the feeling of floating through the skies will leave you in awe.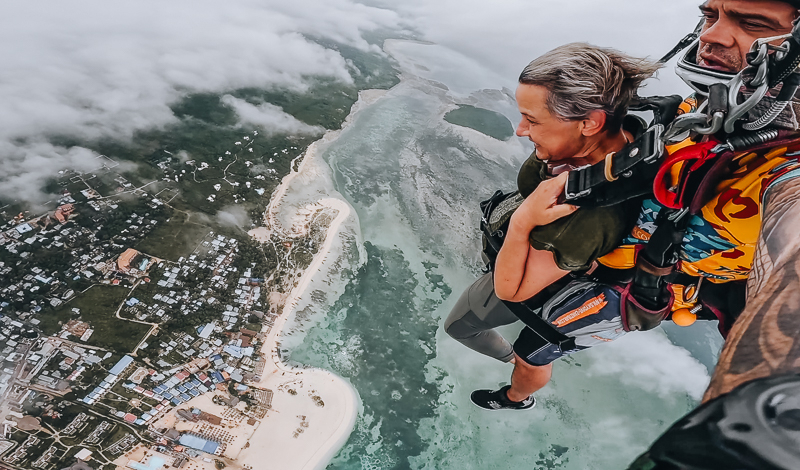 Video and photos of your Skydive activity
Skydive Zanzibar has captured every thrilling moment using GoPro cameras throughout the entire activity. You can look forward to receiving a collection of stunning photos and a compilation video that will let you relive this unforgettable experience time and again. 
Cherish this moment and share the excitement with your loved ones, as Skydive Zanzibar helps preserve the memories of this once-in-a-lifetime journey through the skies above the picturesque paradise of Zanzibar. Watch a youtube video of our skydive adventure to get an idea of the whole experience.
What does it cost to skydive in Zanzibar?
Skydiving in Zanzibar isn't very cheap, but you do get value for your money. The total price per person for skydiving in Zanzibar is 445 USD. It's not only the tandem skydive itself, but you will also have a 20-minute scenic flight over Zanzibar Island plus photos and a professionally edited video of your adventure including a 30 second edit for Instagram.
Zanzibar skydiving activity in Kendwa!
Skydiving in Zanzibar is definitely a recommended activity to do when you visit Zanzibar! Take that leap of faith and book your tandem jump with Skydive Zanzibar. I recommend booking at least 3 to 4 days in advance. For me, it's in the top 3 of the best activities in Zanzibar. They also have a jump school!
Discover your inner adventurer, overcome your fears, and see Zanzibar like never before. An exciting and life-changing adventure awaits, and Skydive Zanzibar in Kendwa is happy to take you to new heights!