Santorini, Greece is a picture-perfect destination, and undoubtedly one of the most romantic Greek islands to visit! This Aegean island is a famous volcanic island, renowned for its picturesque whitewashed villages, awe-inspiring sunsets, stunning views, crystal clear waters, and romantic atmosphere. It's a popular honeymoon destination and one of the most popular tourist destinations in Greece. If you're thinking of planning a trip to Santorini, here are 8 reasons why you should go!
1. Santorini has the best sunset views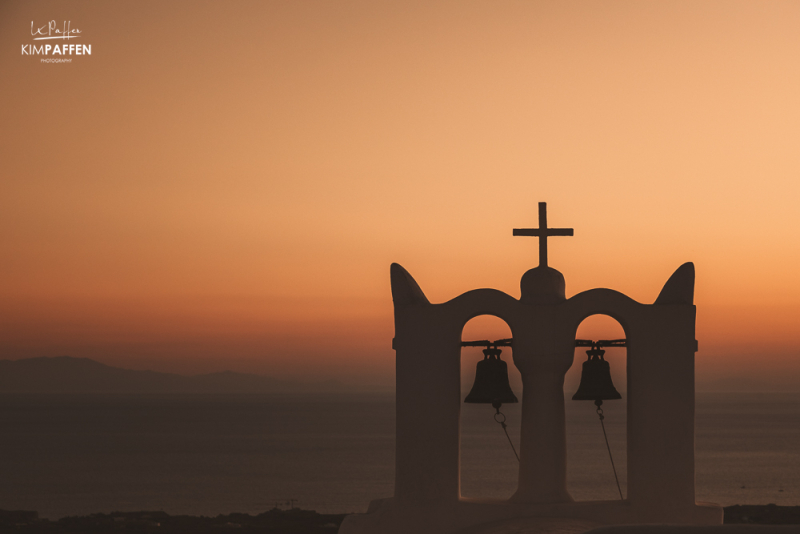 Santorini Island is famous for its breathtaking sunset views and for a good reason. The island's whitewashed buildings perched on the cliffside, with their blue domes, are iconic of Santorini. The best places to take in the caldera views are Oia, Imerovigli, and Fira, where there are numerous rooftop restaurants, cafés, and bars that offer panoramic views.
Where is the best sunset in Santorini?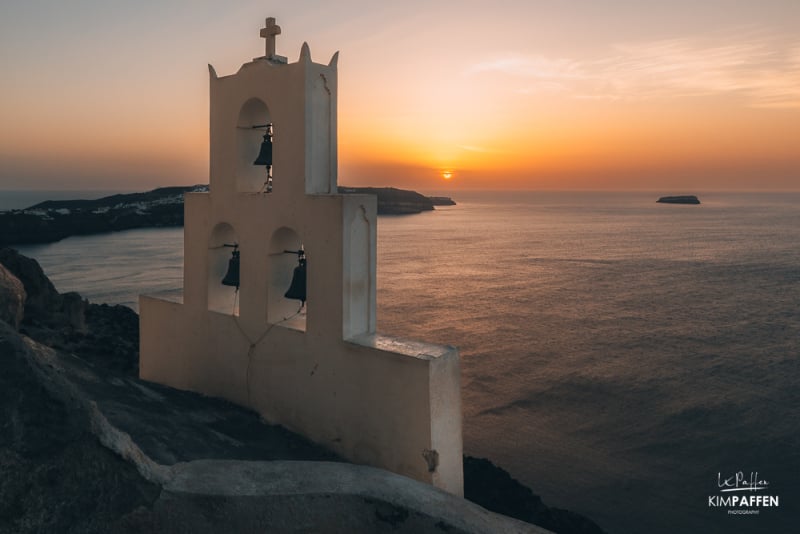 There are three villages in Santorini with amazing sunset views, but each place is different so the best place to see sunset in Santorini also depends on your preferences. Both Oia, Fira, and Imerovigli have wonderful sunsets. In Fira, most hotels on the caldera have a front view of the sunset over the caldera. Oia is famous for its iconic sunset picture of the cliff but it can get extremely crowded. 
Apart from that, In Oia, most hotels don't have a direct view of the sunset, meaning you need to go to a sunset spot to watch the sun set into the water. I personally loved to watch the sunset in Imerovigli. It's less crowded and from most hotels, you have a perfect view of the sunset.
The best sunset view in Oia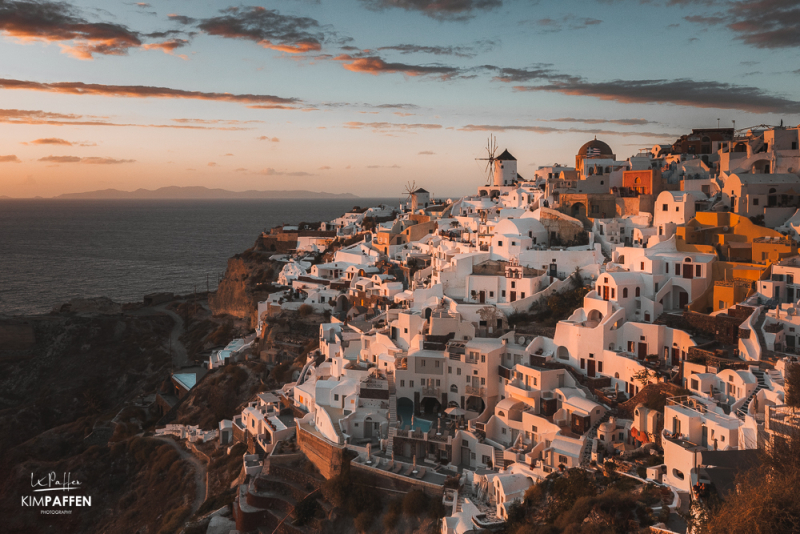 The sunset in Oia, Greece, is considered one of the most spectacular sunsets in the world. As the sun descends towards the horizon, it casts a golden glow over the white buildings and the turquoise sea, creating a breathtaking scene that attracts visitors from all over the world. The best spot to watch the sunset in Oia is at the Byzantine Castle Ruins, which overlook the caldera and offer unobstructed views of the sun setting into the sea. That viewpoint can get quite busy, as seen in the image below along the walls of the Castle of Oia. I took this image from our suite with a private terrace (White Side Suites).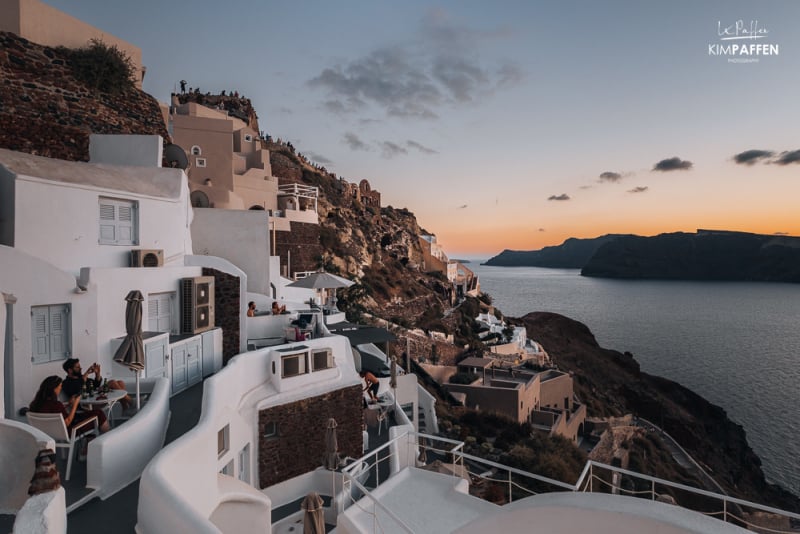 Sunrise in Oia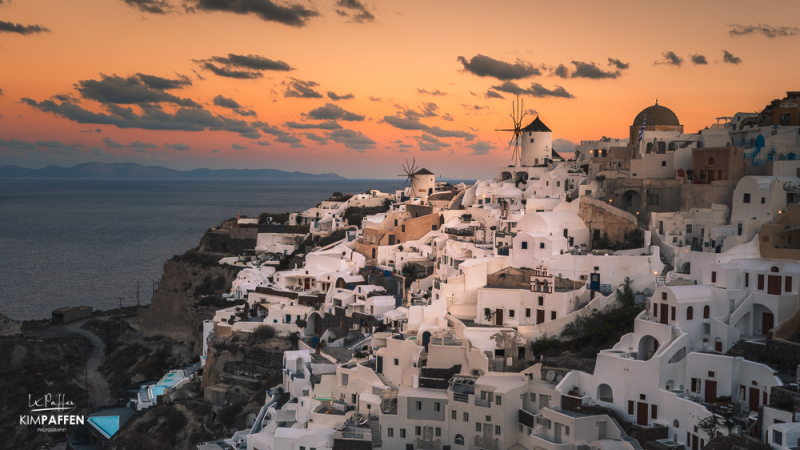 Similarly, the sunrise in Oia is also a spectacular sight to behold, as the first rays of sunlight hit the cliffs and the sea, illuminating the landscape in a golden hue. While watching the sunrise from the Byzantine Castle ruins is also possible, it's less popular than the sunset as it requires waking up early in the morning. I loved the early-morning sunrise because we could beat the crowds.
Whether you're strolling through the winding streets of Oia or taking in the panoramic views from Fira, these villages of Santorini offer some of the most picturesque views you'll ever see.
2. Santorini is a food lover's paradise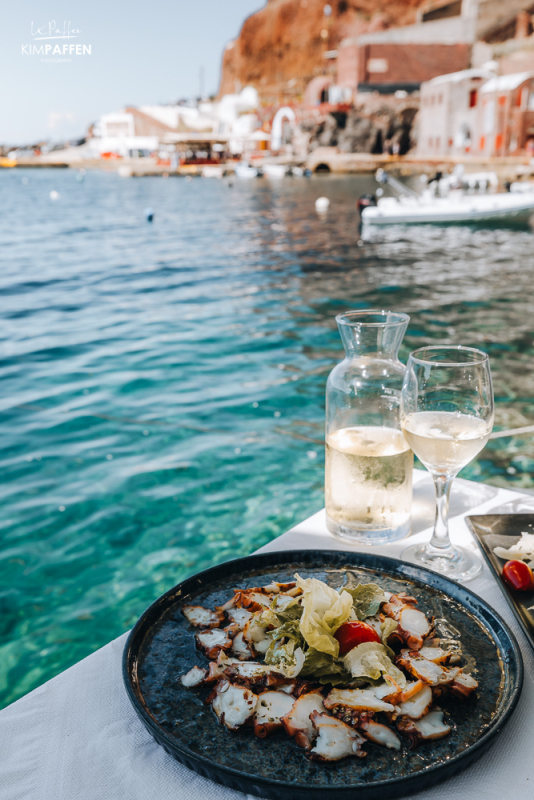 You will absolutely love the delicious Greek dishes and specialties while visiting Santorini, Greece. With its rich culinary heritage and abundant local ingredients, there's something for everyone to enjoy in this food lover's paradise.
Local dishes from Santorini
Greek cuisine is famous for its fresh ingredients, bold flavors, and healthy Mediterranean diet. Santorini is no exception, and the island has some of the best seafood, fava (a popular appetizer made of chickpeas), and white eggplant dishes you'll ever taste. Don't miss the chance to try traditional dishes from Santorini like domatokeftedes (tomato fritters), grilled octopus, Melitzanosalata, Spanakopita, Moussaka, Chloroturi, Apochti, and Fava me Koukia.
Best restaurants in Santorini, Greece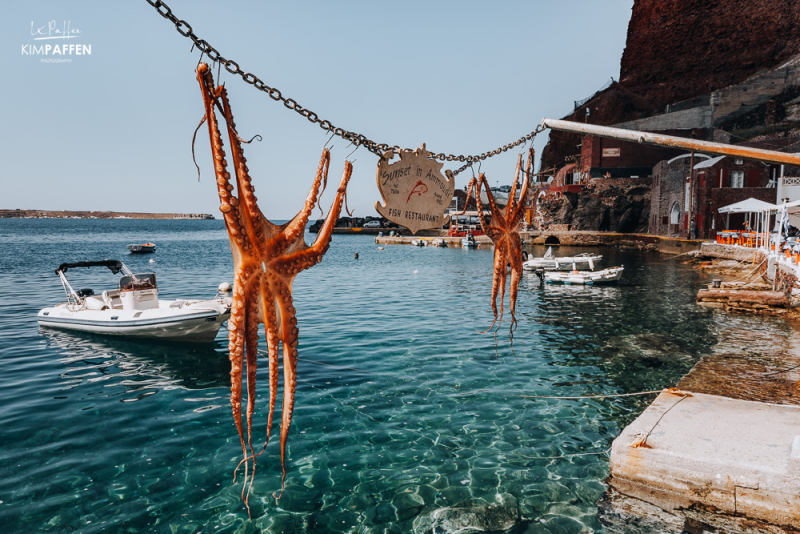 My favorite best restaurants in Santorini are Anogi, located in the charming village of Imerovigli, and Dimitris Ammoudi Taverna in Ammoudi Bay. 
The menu at Anogi features classic Greek dishes, such as moussaka, souvlaki, and Greek salads, as well as fresh seafood, grilled meats, and vegetarian options. The restaurant has a cozy and inviting atmosphere, with both indoor and outdoor seating available, and the staff at Anogi is very friendly and welcoming. They are always happy to provide recommendations and suggestions to help you choose the perfect dish.
Dimitris Ammoudi Taverna in Ammoudi Bay is perfectly located in the small fishing village of Ammoudi Bay in Santorini. The restaurant is situated right on the waterfront, offering stunning views of the bay and the Aegean Sea. The atmosphere at Dimitris Ammoudi Taverna is laid-back and casual, with a rustic charm that reflects the fishing village setting. This restaurant is a popular spot for both locals and tourists, and it can get busy during peak hours. However, the wait is well worth it for the delicious seafood, stunning views, and unforgettable dining experience.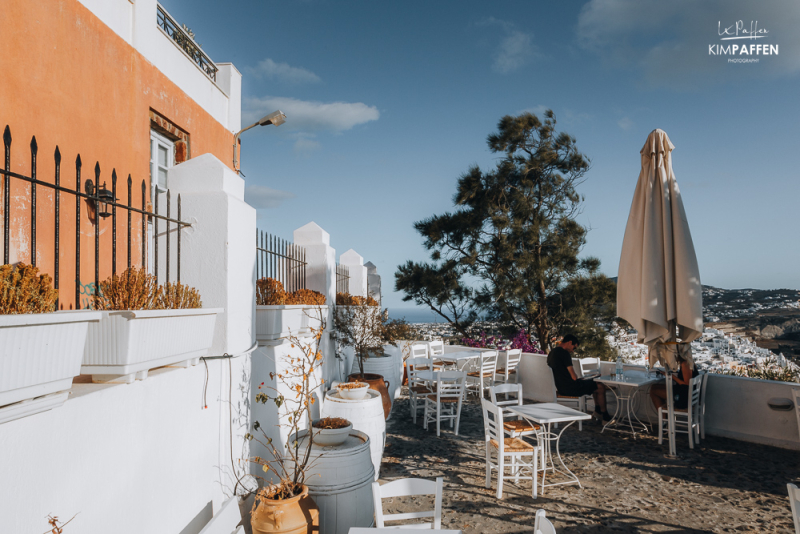 Other popular restaurants in Santorini are Argo in Fira, Lauda Restaurant and Karma Restaurant in Oia, and the family-run restaurant Metaxy Mas, situated in the traditional village of Exo Gonia.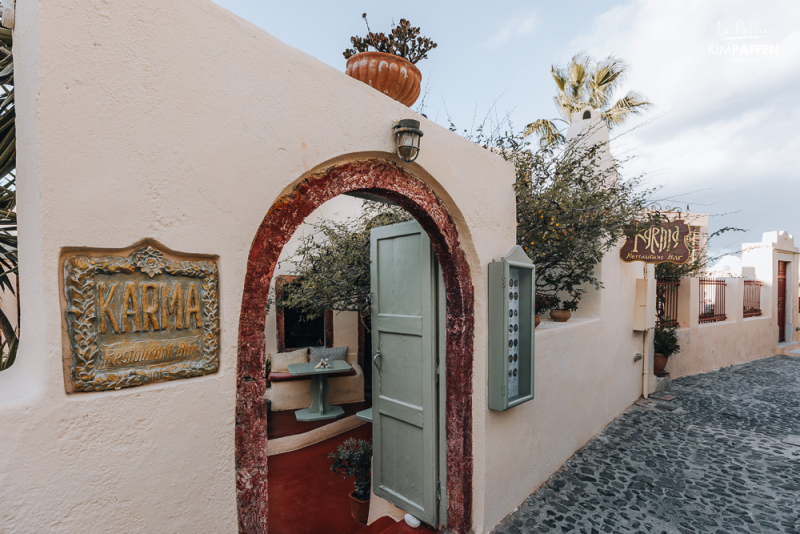 Without a doubt, exploring the island's culinary scene is a great way to experience the local culture and traditions.
  Related: Best restaurants Kos (Greek island of the Dodecanese island group).
3. Santorini's fascinating history 
Santorini Island has a long and complex history that spans several millennia. The island was formed by a series of catastrophic volcanic eruptions that occurred over thousands of years, and the resulting landscape is both stunning and unique.
Santorini was once home to a thriving Minoan civilization, was ruled by the Byzantine Empire for several centuries, and was occupied by the Venetians and the Ottomans. Santorini played a key role in the Greek War of Independence and is still an active volcanic zone. Today, visitors to the island can explore its rich history through its numerous archaeological sites, museums, and cultural landmarks. 
Museums in Santorini, Greece
Throughout the caldera and the surrounding cliffs, you can also find a wealth of museums and cultural institutions that showcase Santorini's rich history and culture. For example, the Museum of Prehistoric Thera in Fira, is home to a collection of artifacts from the ancient city of Akrotiri, while the Folklore Museum in Oia offers a fascinating glimpse into traditional island life.
4. Santorini's Blue Dome Churches
Whether you're interested in religious history or simply want to learn more about the local culture, visiting the Santorini churches is an excellent way to gain a deeper appreciation for Santorini's rich heritage. When visiting Santorini Greece, take time to visit some of the little or bigger churches.  
Santorini is especially famous for its picturesque Blue Dome Churches.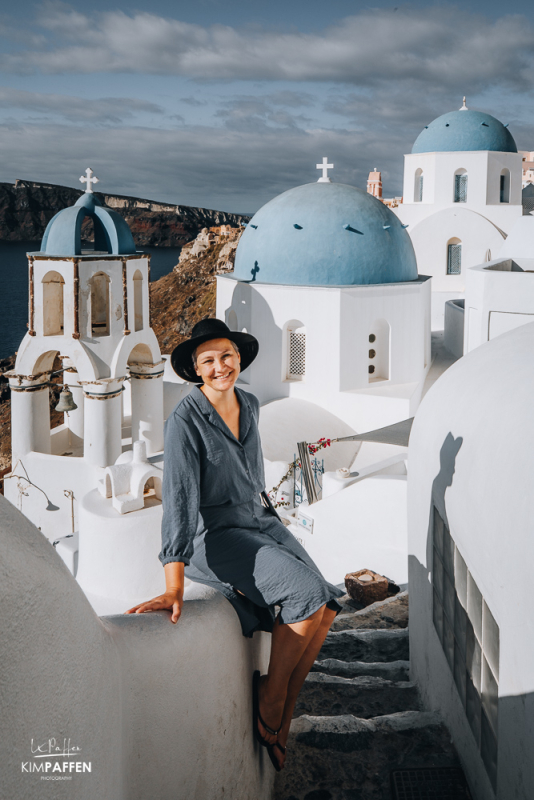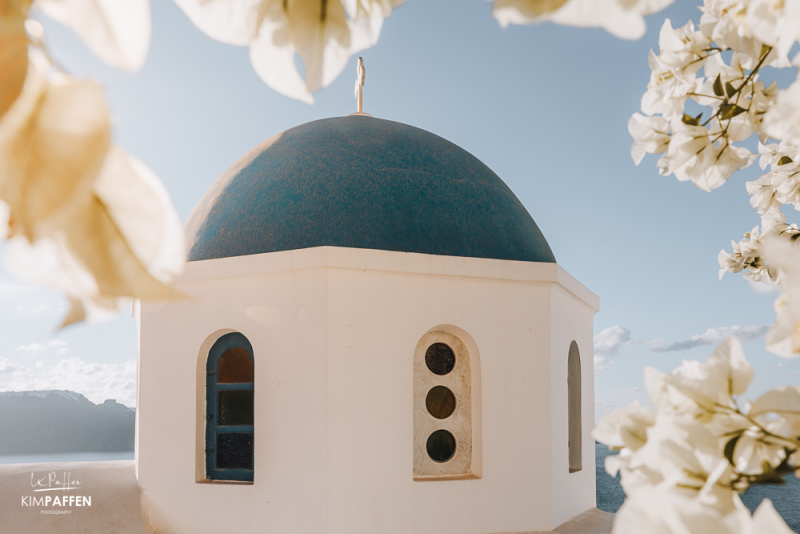 Most of the churches are incredibly photogenic, but please be a responsible traveler and do not climb the churches to get that perfect shot.
5. Local markets, Arts & High-end shopping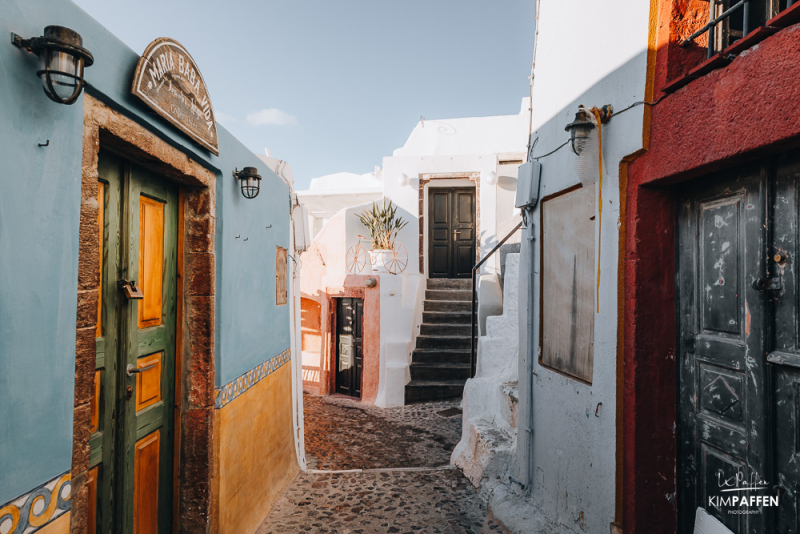 In Santorini, you can find plenty of shopping options in popular towns like Oia, Fira, and Kamari, where there are many boutique stores, art galleries, and souvenir shops.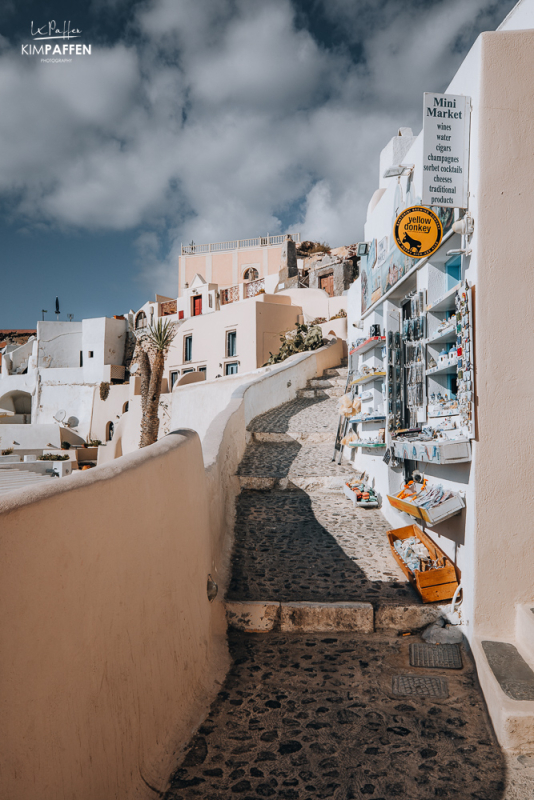 High-end Shopping
For those who are interested in high-end fashion, Santorini has several luxury clothing and accessory stores that offer designer brands from around the world. Many of these shops are located in high-end hotels or in the main shopping districts of the larger towns.
Authentic Local Markets in Santorini
If you're looking for a more authentic shopping experience, head to one of Santorini's local markets or craft fairs. Here, you can find unique handmade products and souvenirs, as well as sample local foods and drinks. Some popular local markets in Santorini include the Fira Street Market, the Oia Art Market, and the Kamari Open-Air Market.
6. Santorini is home to some of Greece's best wineries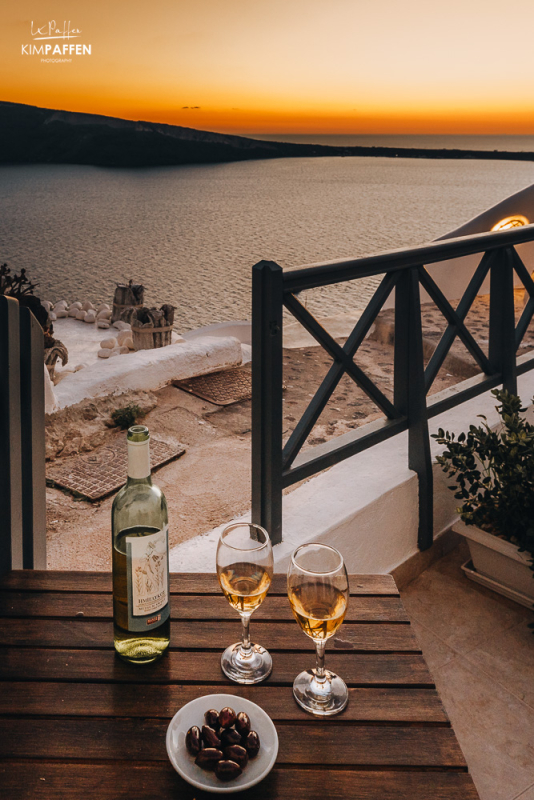 One of the most iconic cultural traditions of Santorini is the local wine industry. Santorini's volcanic soil and unique climate produce some of the most delicious wines in the world. 
Wine-tasting tours in Santorini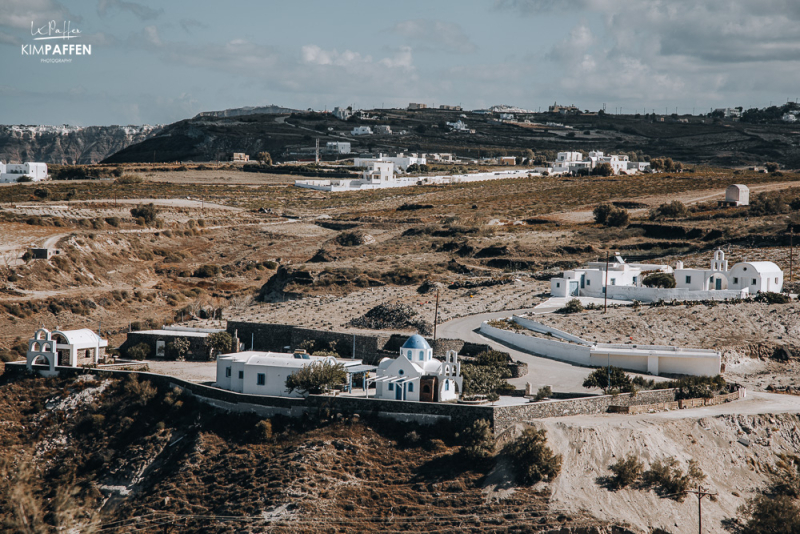 Many of the wineries in Santorini offer guided tours that take you through the wine-making process, from grape harvesting to bottling. You can also sample different wines, including the Santorini's signature white wine, Assyrtiko, as well as other varieties such as Athiri, Aidani, and Vinsanto.
Popular wineries in Santorini
Some of the most popular wineries to visit in Santorini include Santo Wines, Venetsanos Winery, Gaia Wines, and Sigalas Winery. Many of these wineries also have restaurants on-site, where you can enjoy local cuisine paired with their wines.
7. Beach life in Santorini Greece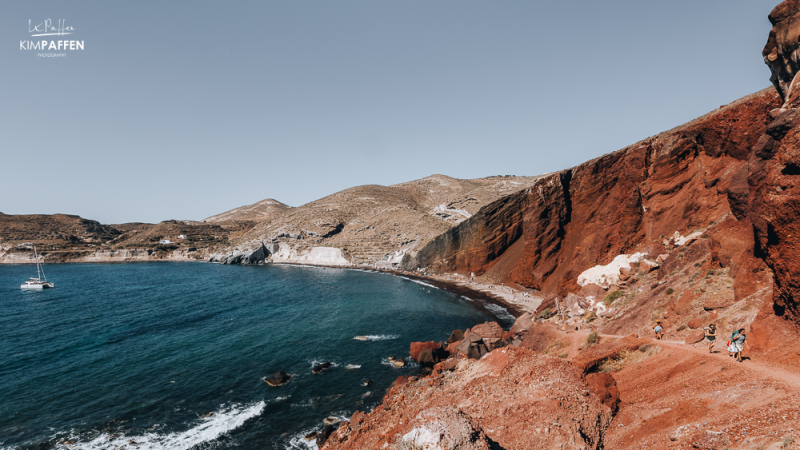 Santorini is known for its stunning and unique landscape, but it is not necessarily a destination for those seeking long stretches of sandy beaches. However, the island still has several beaches worth visiting for their picturesque setting, crystal-clear waters, and volcanic sand or pebbles.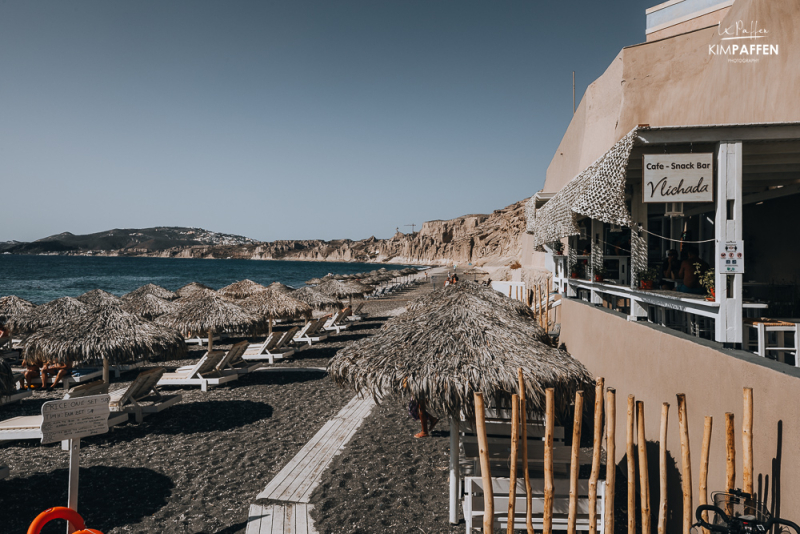 Here are some of the best beaches in Santorini:
Red Beach - known for its striking red cliffs and sand, this beach is one of the most photographed in Santorini.
Perissa Beach - located on the southern coast of the island, this long, black sandy beach is a popular spot for swimming and sunbathing.
Kamari Beach - another popular black sand beach, Kamari is lined with restaurants, cafés, and shops.
Vlychada Beach - a quieter and less crowded option, Vlychada Beach is known for its unique white volcanic rock formations and clear blue waters.
Monolithos Beach - a family-friendly option with shallow waters, a playground, and several beachfront restaurants.
Amoudi Bay - not a traditional beach, but a picturesque fishing village with clear blue waters, cliff jumping, and seaside tavernas.
While not a beach, the hot springs at Palea Kameni are also worth a visit for their natural thermal waters and unique swimming experience.
8. Santorini is a Romantic Getaway in Greece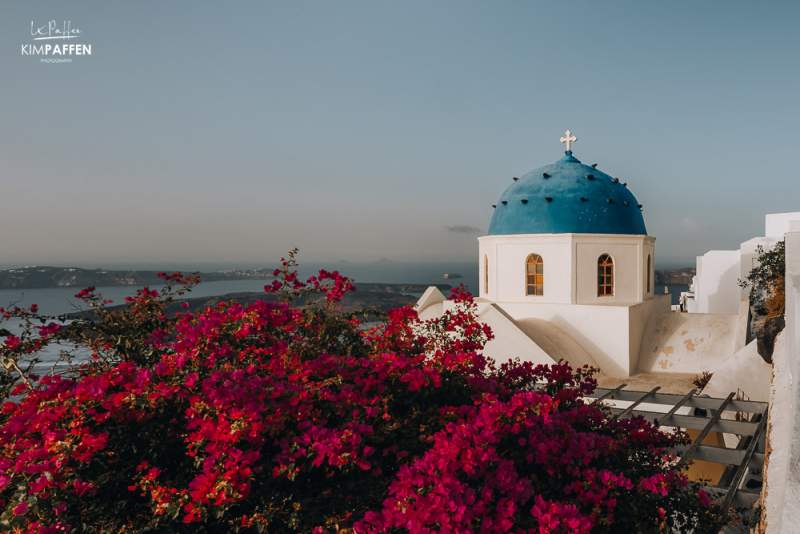 Santorini is a true paradise for couples seeking a romantic getaway. The Island's beautiful scenery, charming architecture, and excellent dining and wine scene make Santorini probably the best romantic holiday destination in the world. Due to its romantic atmosphere, it's an extremely popular destination for honeymooners. That being said, I wouldn't choose Santorini as my honeymoon destination. For me, it's too crowded and I'd prefer countries in South or East Africa, like Kenya or Tanzania.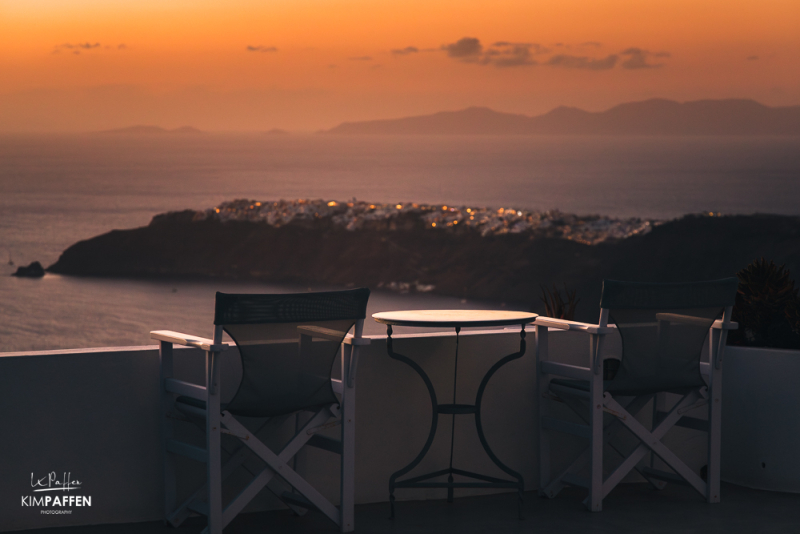 Dining at one of the romantic restaurants in Santorini while overlooking the awe-inspiring caldera, or watching the sun dip below the horizon while holding hands with your love are experiences that will stay with you forever. Santorini Island offers plenty of secluded spots for couples seeking a more private getaway. From hidden beaches and coves to private villas with stunning views, there are many options for couples looking for a romantic escape.
As I said before, this picturesque island of Santorini, Greece boasts some of the most breathtaking views in the world, with sparkling turquoise waters meeting the stunning caldera. The island's traditional architecture, with its whitewashed buildings, blue domes, and cascading flowers, provides the perfect backdrop for romantic walks and unforgettable moments. If you love Greece and the Greek Islands, Santorini is a must-visit destination!
Where to stay in Santorini Greece?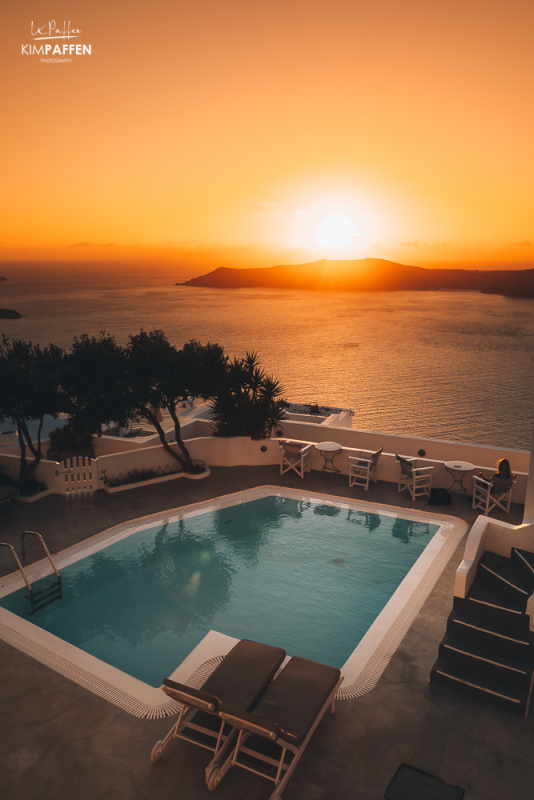 The four most favored places to stay in Santorini are Oia, Imerovigli, Fira, and Firostefani. I highly recommend Oia as a must-stay destination for first-time visitors. I believe that Oia, with its unparalleled beauty, deserves at least a two or three-night stay to fully appreciate its charm. If you are planning to stay longer, I would advise staying the rest of the days in a less busy part of Santorini Island. 
I stayed at White Side Suites in Oia and Remezzo Hotel in Imerovigli. 
White Side Suites in Oia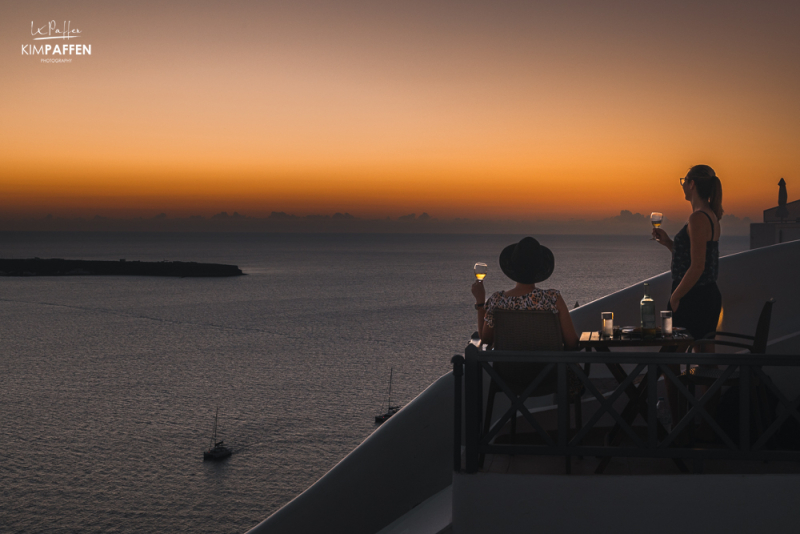 White Side Suites is a luxury hotel located in the charming town of Oia, known for its stunning views and romantic atmosphere. The hotel offers elegant suites with traditional Cycladic architecture, featuring whitewashed walls, domed ceilings, and private terraces overlooking the Aegean Sea with a lovely sunset view!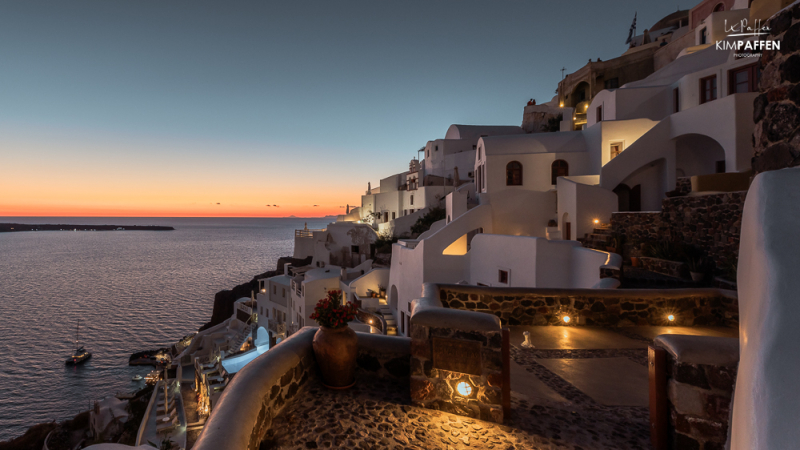 The suites are spacious and beautifully furnished, with comfortable beds, luxurious bathrooms, and modern amenities such as air conditioning and free Wi-Fi. Every morning, we enjoyed a delicious breakfast on our private terrace.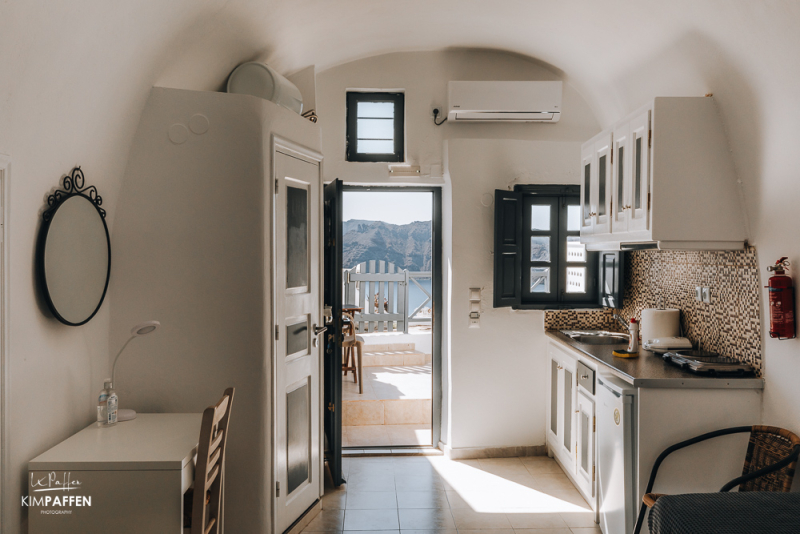 The location of White Side Suites is ideal for exploring Oia and its surroundings, with the famous sunset viewpoint just a short walk away. The staff at White Side Suites are also happy to arrange excursions, transfers, and other activities for their guests.
Remezzo Villas in Imerovigli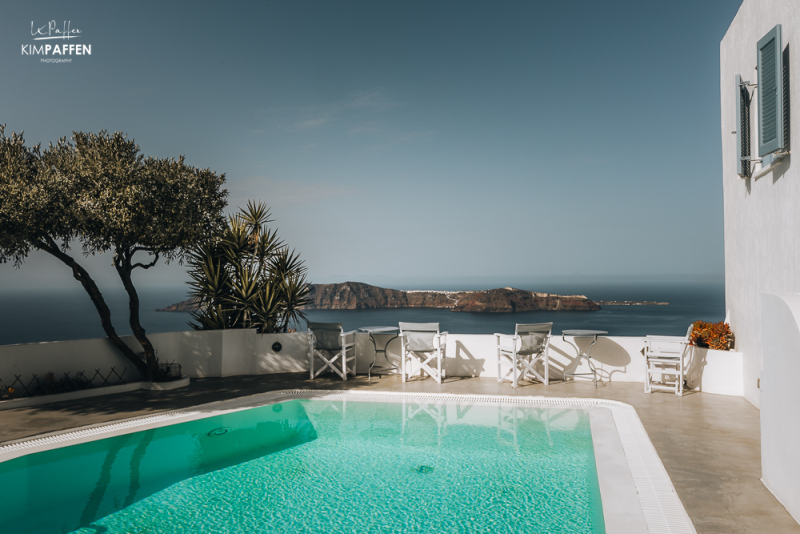 Remezzo Villas is a stylish boutique hotel located in the picturesque village of Imerovigli, one of the most beautiful and peaceful spots on Santorini Island. Remezzo's location is ideal for exploring the island, with the vibrant town of Fira just a short drive away. Watching the sunset in Imerovigli is a more peaceful experience than the famous busy sunset spot in Oia. From Remezzo Villas, you have first-class views of the magical sunset.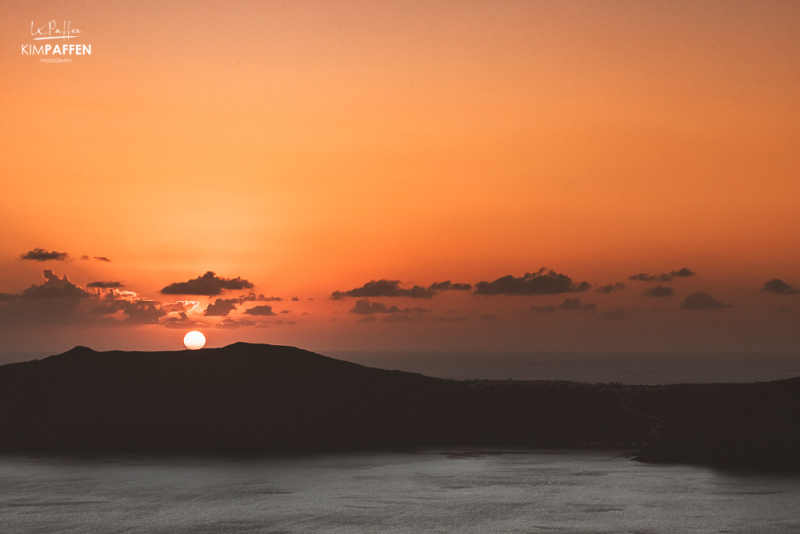 The hotel offers a range of luxurious rooms and suites that are beautifully decorated and feature all modern amenities, including air conditioning, flat-screen TV, and free Wi-Fi. Each room has a private balcony or terrace with breathtaking views of the Aegean Sea and the island's caldera. The hotel's outdoor pool is the perfect place to relax and soak up the sun while enjoying the stunning views.
Apart from these two suggestions, there are many more nice hotels in Santorini, Greece. Check out the best hotel deals for Santorini Greece at Booking.com.
8 Reasons to visit Santorini, Greece
To me, Santorini Greece one of the best summer destinations in Europe, and there are plenty of reasons why Santorini is worth visiting. Here's a summary of my top reasons to visit Santorini, Greece:
Best Sunset Views
Food Lover's Paradise
Fascinating History
Blue Dome Churches
Local Markets, Arts & High-end Shopping
Best Greek Wineries
Beachlife
Best Romantic Getaway
I hope these 8 reasons to visit Santorini, Greece made you curious about spending your holiday in Santorini. Are you interested in other beautiful Greek Islands, like Kos? Check out my Greece Travel Guide.
Reach out if you have questions about things to do in Santorini Greece or travel to Greece in general. I've also visited places like Athens, Meteora, and Kos Island. I'm happy to help. In return, you could help me by sharing this article on your social media channels as this helps me to continue what I love doing most.