Greece Travel Guide
With an enticing expanse of Mediterranean flora, beaches, and ancient relics, Greece is a country that every traveler cherishes to visit.
Because of its budget-friendliness and breathtakingly picturesque landscapes, tourists often consider Greece as one of the best places to visit in Southern Europe. It has 18 UNESCO World Heritage sites and 12 National Parks.
With more than 2000 islands, Greece is a land of myths and mysteries. Unlike other European countries, it is cost-effective and therefore one of the best places to visit if you are on a budget. Though we often refer to the country as 'Greece', its original name is The Hellenic Republic with Athens as its capital city.
Greece also has a rich variety of wildlife, including Monk Seal, and Loggerhead Turtles. Apart from the ancient relics of Nekussabu caves, Delphi ruins, and the Archaeological Site of Sounio, you can also watch the reenactment of Greek tragedies. They take place every summer during the Hellenic festivals in Greece. Admiring the beautiful sunset in Oia on Santorini, a Greek Islands boat tour, and exploring the monasteries of Meteora are other main attractions of Greece for travelers.
Table of contents Greece Travel Guide:
Interesting Facts Greece
  Flag of Greece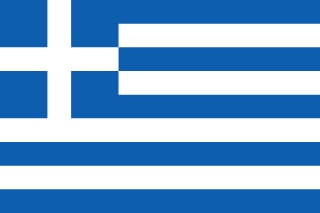 Greece's National Animal
Dolphin
  Greek National Dish
Gyros, moussaka, souvlaki, kokoretsi ,magiritsa, fasolada
  Currency in Greece
Euro (€)
Greece Time Zone
Eastern European Standard Time or EET (GMT+2 hours)