Officially called the Kingdom of Eswatini since 2018, the country is better known as Swaziland. This tiny nation is Africa's last absolute monarch and is located in Southern Africa landlocked by Mozambique to the east and South Africa to the north, west, and south. Despite being the smallest landlocked country in Africa by area and population, there are lots of amazing places to visit in eSwatini.
eSwatini is best known for its beautiful scenic and mountainous landscapes with waterfalls, gorges, rolling hills, rivers, valleys, and stunning mountain peaks. Nature enthusiasts will love the combination of hiking in Swaziland's highlands and going on safari in one of the game reserves in the Lowveld with Hlane National Park as a top attraction in eSwatini to spot Africa's Big Five animals.
Travelers who love to learn more about the Swazi culture and their lifestyle will be amazed by the many cultural things to do in eSwatini, like sleeping in beehive huts, cultural village tours, music festivals, learning about the history of eSwatini, and visiting the local markets with handmade Swazi products.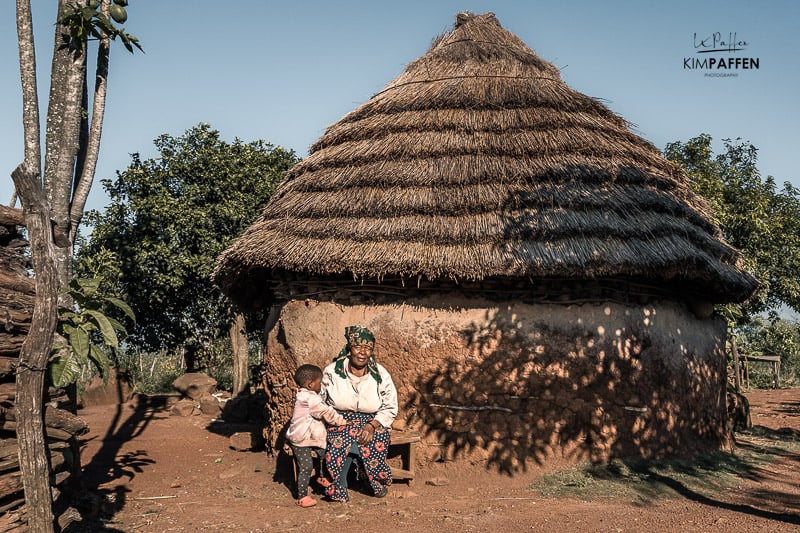 Planning to visit Eswatini or combine it with for example Kruger National Park and Hluhluwe in South Africa or with the white sandy beaches of Mozambique? Learn about the 25 best things to do in eSwatini (Swaziland) to create your Eswatini itinerary.
1 Quad Biking
Adventurous travelers looking for an adrenaline rush in the mountains should add this quad biking tour to their Eswatini itinerary. This fun quad biking activity is at Umushi weNkosazane Resort and Spa on the high rolling hills of the highveld in Forbes Reef, very close to Hawane Nature Reserve and the entrance of Malolotja Nature Reserve, on the road leading to Piggs Peak.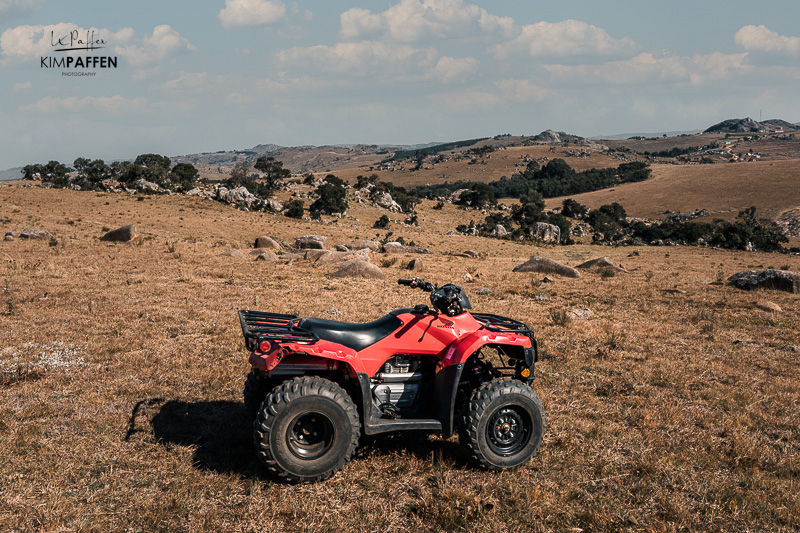 This Off Road quad biking adventure offering 360 degrees of panoramic views, is one of the most fun things to do in Eswatini. You can choose to either do a 30-minute tour (which I'd never suggest) or a 1-hour tour. I did the 1-hour tour but for the best experience, I would have liked to do at least 1,5-2 hours. This will give you a bit more time to take photos of the stunning views, go for a short walk, have a rest at the water streams, or get closer to the falls.
On this 1-hour guided quad biking tour with some of the best views that Eswatini offers, you make your way to the falls and from there you will make your way back to Umushi weNKosazane.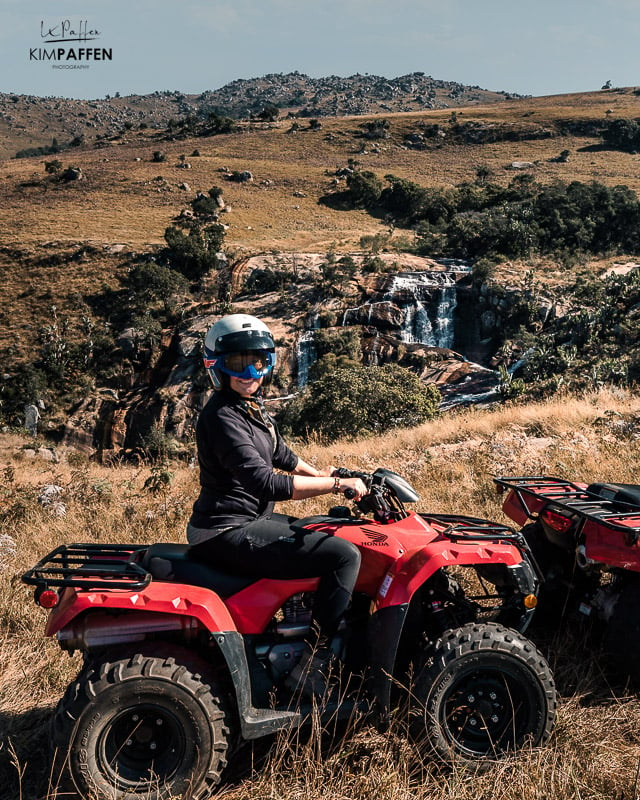 Our guide didn't know the name of the falls, so if anyone knows the name of the waterfall, please leave a comment below. This quad biking adventure was one of the Swaziland highlights.
2 Malolotja NR
Malolotja Nature Reserve is the largest protected area located in the highlands of eSwatini where you will find the country's highest mountains with Ngwenya Mountain standing out, to the deep Nkomati River Valley and the highest waterfall; the 89-meter (292ft) Malolotja Falls. In height, the waterfall measures itself with the Victoria Falls in Zimbabwe.
Molotja is a hiker's paradise for adventurous travelers and nature enthusiasts. Malolotja National Park offers various hiking trails for beginners and advanced mountaineers including multiple-day (guided) camping trips for up to 7 days.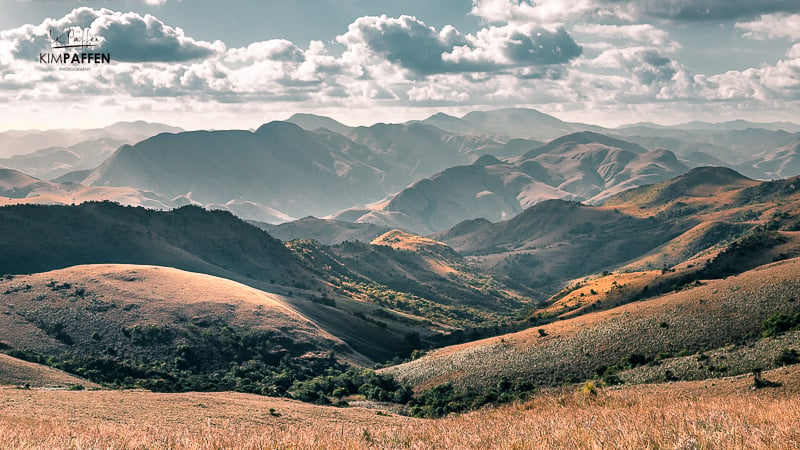 Molotja doesn't have big game animals, but you are most likely to see various antelopes like eland, klipspringer, reedbuck, oribi blesbok, jackal, and blue wildebeest, the rare black wildebeest, and zebra. Leopards are part of the ecosystem too, but very rare to see.
Imagine this African wildlife with beautiful wildflowers and rolling mountain hills as a backdrop, and you'll have picture-perfect views everywhere you look. The stunning nature reserve is also home to several birds with colorful species like louries, blue cranes, sunbirds, the endangered blue swallow, and a breeding colony of bald ibis, that nest on the cliffs near Malolotja Falls.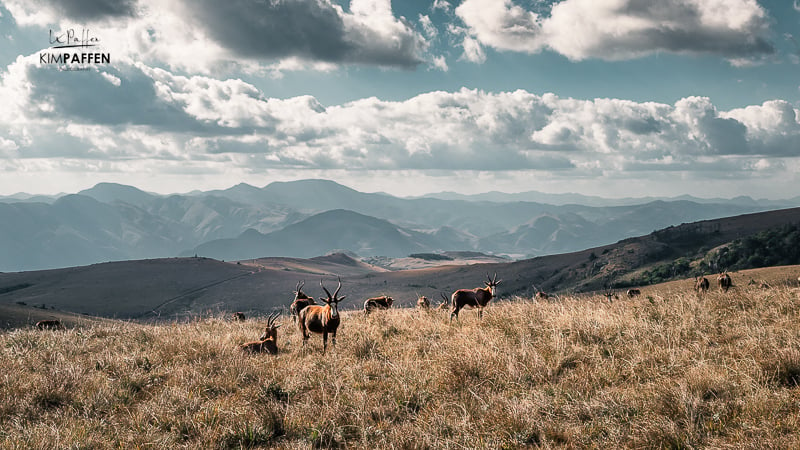 For the adventurous traveler, the reserve also offers the Malolotja Canopy Tour; a fun adventurous activity in Swaziland's highlands where you zip line between wooden treetop platforms in the canopy. There are 10 slides and 1 suspension bridge. The canopy tour is one of the best and most adventurous things to do in eSwatini.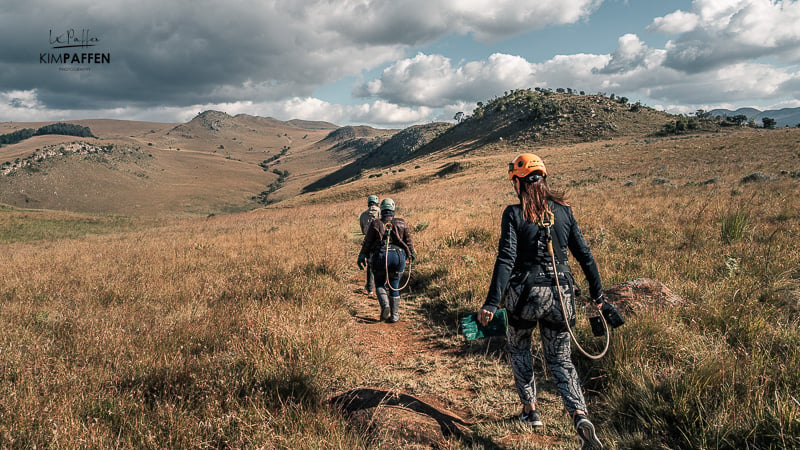 Other activities to do in Malolotja Nature Reserve are mountain biking, 4x4 safari, camping, and walking. You can easily spend a few nights in the unspoiled wilderness of Malolotja Nature Reserve, either at one of the many camping spots in the mountains or at picturesque wooden self-catering Malolotja Cabins with amazing scenic views over the rolling grasslands and mountain peaks in the distance.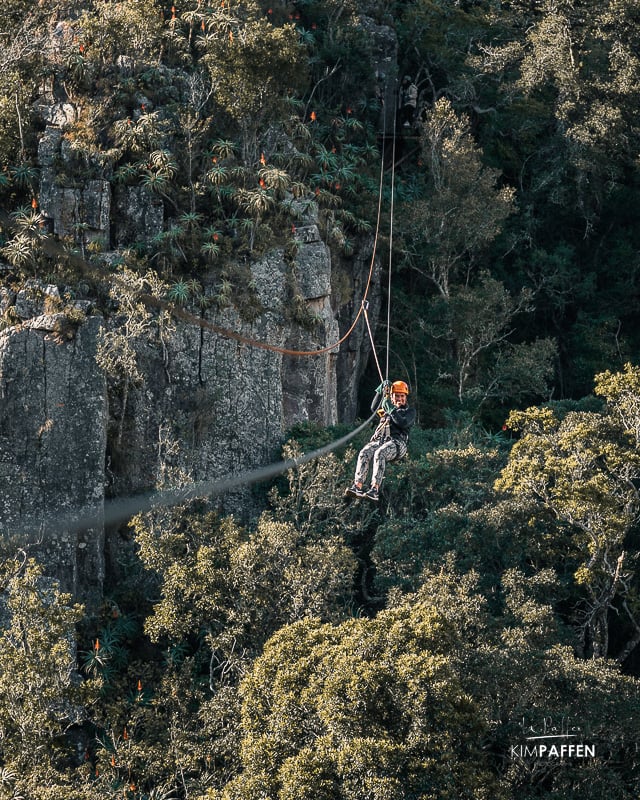 A list of top-rated tourist attractions in Malolotja Nature Reserve (Eswatini):
Malolotja hiking trails (half day up to 7 days)
Malolotja Falls
4X4 safari
Mountain biking
Malolotja Canopy Tour / Zipline
Horse riding nearby Hawane resort
Forbes Reef Gold mine in the center of Malolotja Nature Reserve
3 Maguga Dam
Maguga Dam is located in the tiny village of Maguga between the hills of the Hhohho Region in the northern part of Eswatini. Maguga, between Malolotja and Piggs Peak, is worth a stop-over to take photos of the 115-meter-high dam wall that crosses the Nkomati Valley. The structure was completed in 2001 and built to withstand flooding and cyclones. Maguga Dam has received many awards for civil engineering achievements. Apart from the impressive structure itself, it is also a beautiful place in Eswatini to relax at the lake shore, go on a boat tour, hire a houseboat or go fishing. Hippos are also present in the lake. If you don't see them, you most likely hear them. Visiting Maguga Dam is one of the free things to do in Eswatini.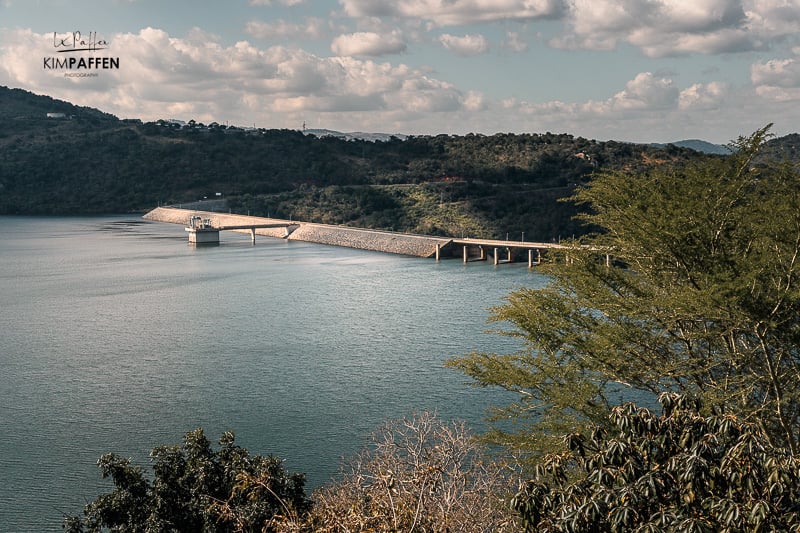 For one of the best views of Maguga Dam and good food, visit Maguga Lodge. The lodge has a lovely outdoor terrace with scenic views of Maguga Dam and the lake. From Maguga Lodge, you can also do guided hikes to the Nsangwini Bushmen Paintings and waterfalls.
Nice fact: Maguga Lodge is just a short drive from Kruger National Park and Mozambique and therefore an ideal stop if you wish to explore Eswatini in combination with South Africa and Mozambique.
4 Nsangwini Rock Paintings
The Nsangwini Rock Art comprises a series of Bushmen Paintings that are considered the best bushman paintings in Eswatini (Swaziland). These historical paintings are on the northern hillside of the Nkomati Valley overlooking Maguga Dam and the Komati River, beneath a rock shelter. These inspiring rock paintings are only accessible by foot.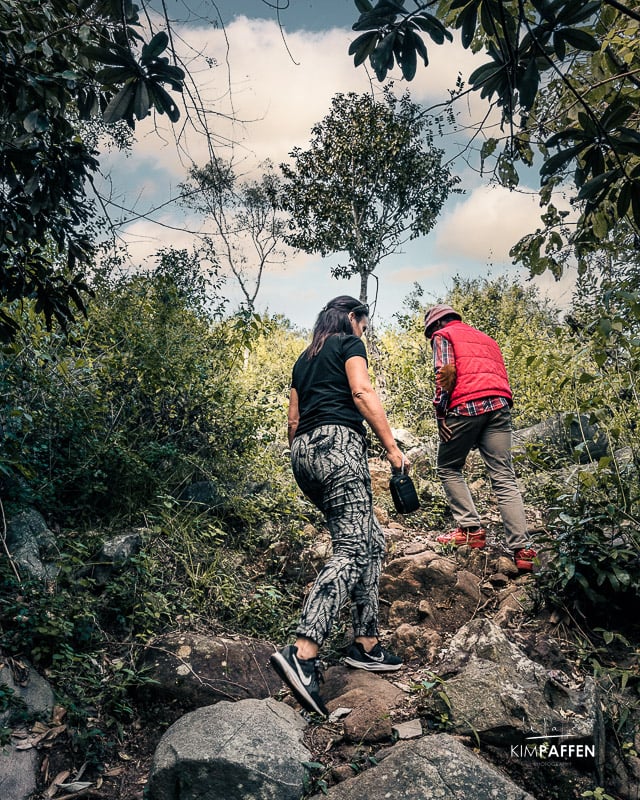 A guide from the local community accompanies you on a 20-minute slightly steep and rocky hike down (and 25-30 minutes back up) to the Nsangwini Rock Paintings. At the rock shelter, the guide tells you everything about the symbolic meaning of the Bushman Paintings and how these hunter-gathered San people used to live. These works of art are an interesting way to learn more about the ancient way of life of our forerunners, which are believed to be up to 4.000 years old. The 'birdmen' painting lets archeologists think about whether it was the portrayal of a spiritual component of life in the Nsangwini Rock Shelter.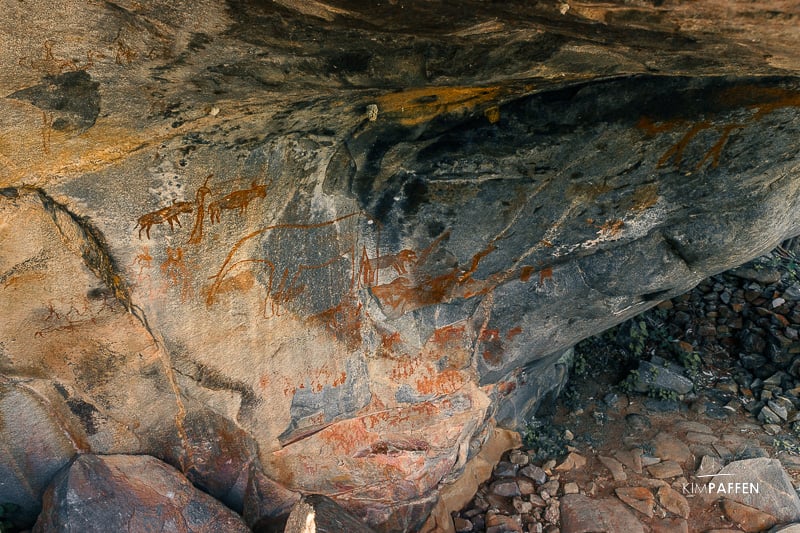 To my surprise, the paintings that are painted in red ochre and animal blood, aren't protected yet. In my opinion, this historical site should be part of UNESCO's World Heritage Sites to preserve these paintings for future generations. A few paintings are already washed away by rain and light; it would be sad if those meaningful paintings - that tell the stories of the San people - would vanish. Put it on your list of incredible things to do in Swaziland, as you never know how long these paintings will last if they're not protected.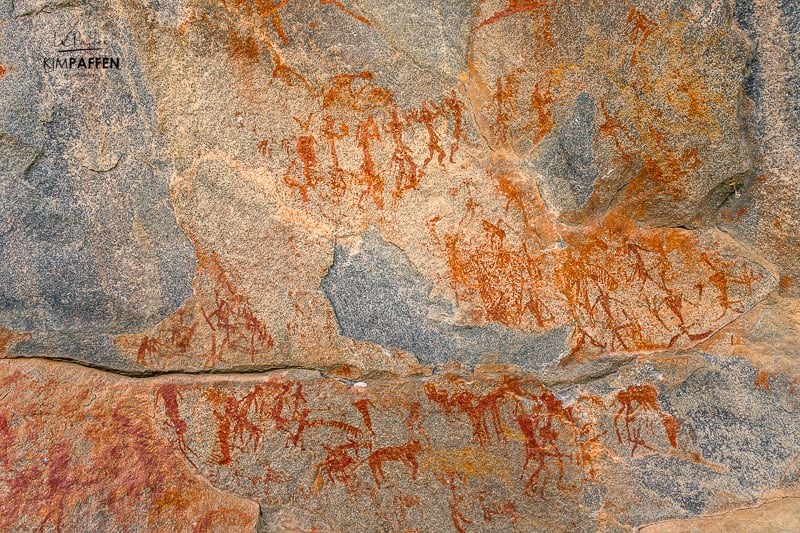 This hike to the Nsangwini Rock Art can also be extended with a trail leading to a few potholes, called Esicancweni: the Gap. An incredible thing to do in Swaziland
5 Piggs Peak
Piggs Peak town is only 30 minutes by car from Malolotja Nature Reserve and is named after William Pigg, who discovered a reef in the hills. The gold mine was the most important one in Eswatini. Nowadays Piggs Peak's most important industry is forestry. Apart from that, it offers great hiking trails and nice homestays. Just like Maguga, Piggs Peak is also a perfect stopover for travelers that want to visit Kruger National Park in South Africa.
Souvenir shopping at the Peak Craft Centre north of the Piggs Peak Hotel & Casino is one of the best things to do in Piggs Peak as it is the most scenic craft center offering amazing views over Piggs Peak. Expect to find African handicrafts like carpets, curtains, hand-woven blankets, scarves and shawls, ceramics, stone-carving, and jewelry. At Coral Stephens Handweaving you can also see how the weaving takes place.
Where to stay in Piggs Peak? Check out the Piggs Peak Hotel & Casino.
6 Phophonyane NR
The 600-hectare Phophonyane Nature Reserve is only 8-10 kilometers from Piggs Peak with year-round water, tiny antelopes, and birds. The top tourist attraction of Eswatini's private nature reserve is the 80-meter-high Phophonyane Falls which can be visited on a short self-guided hiking loop. You start from Phophonyane Falls EcoLodge which is located on top of the waterfall. From there you hike down through the forest to the bottom of Phophonyane Falls, stopping at several viewpoints with scenic views of the falls.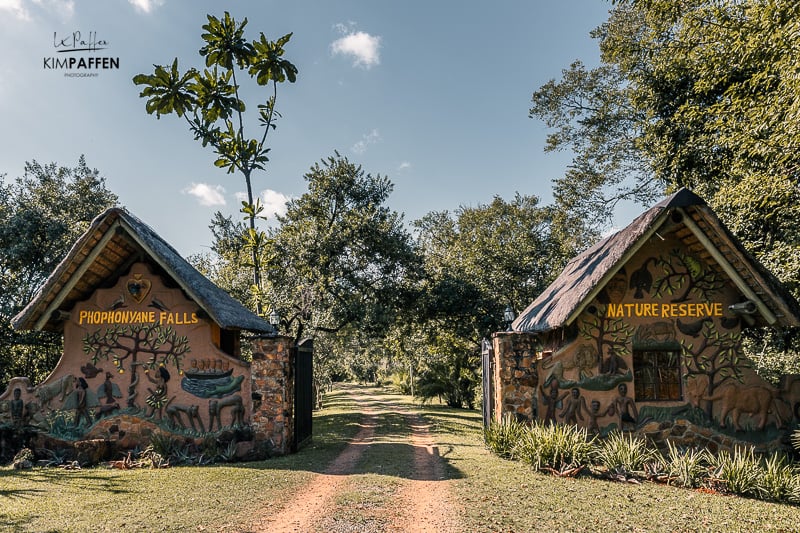 Once you are at the bottom you are treated with an up-close view of the waterfall which is also a great picnic spot to relax and take some images of the Phophonyane waterfall. The rocks are believed to be some of the world's oldest rocks (3.55 billion years).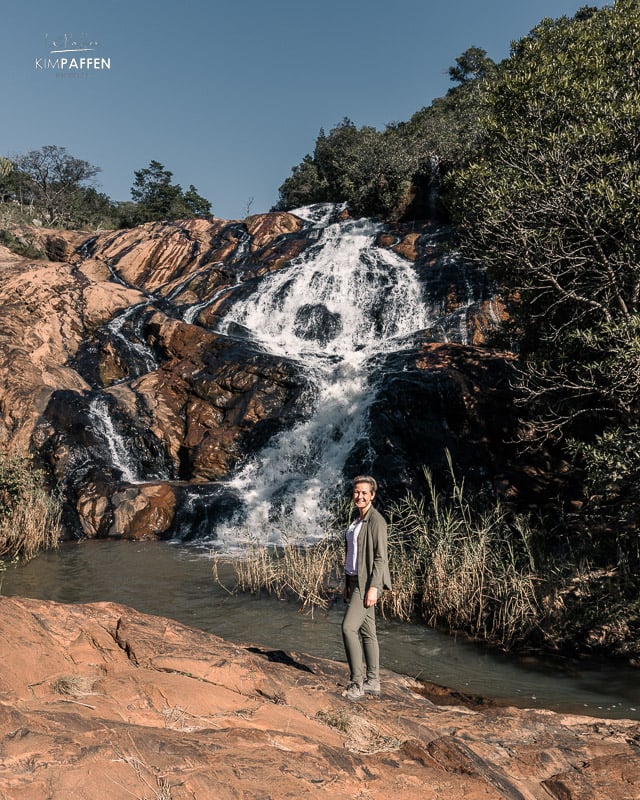 After that, you have to climb a steep hill with a few stairs to get back up. Along the walk, you can spot birds, spiders, millipedes, rainbow skinks, red duiker, vervet monkeys, and if you are lucky a snake.
Because of my tight schedule, I only did a short walk, but there's a network of several walking trails around the river and waterfall. You may want to check out Phophonyane Falls EcoLodge, an enchanting place to stay with natural rock pools and a lovely swimming pool to relax. Definitely, one of the top things to do in Swaziland.
7 Shewula Cultural Experience
The Shewula Cultural Experience is one of my favorite things to do in Eswatini and also one of the most unique places I've visited during my stay in the Kingdom of Swaziland. This cultural activity takes you to Shewula Mountain Camp, located on top of the Lubombo mountain range, nearby Shewula Nature Reserve. Be prepared for an African massage on your way up as the last 10 km is a dirt road.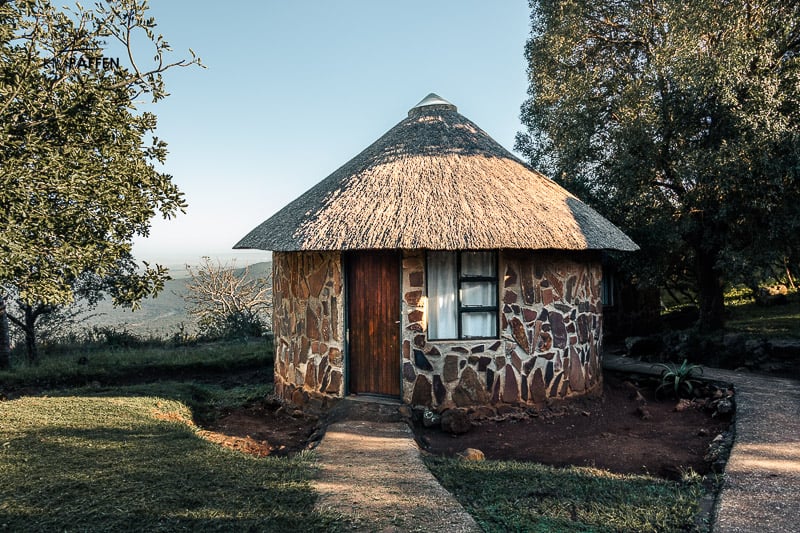 Shewula Mountain Camp
On arrival, you get a warm welcome from the kids of the community performing traditional dances and songs. Sleeping in Shewula Mountain Camp is an experience on its own as you can enjoy an amazing night sky with clear views of the milky way, the Southern Cross, Scorpio, and many more star constellations.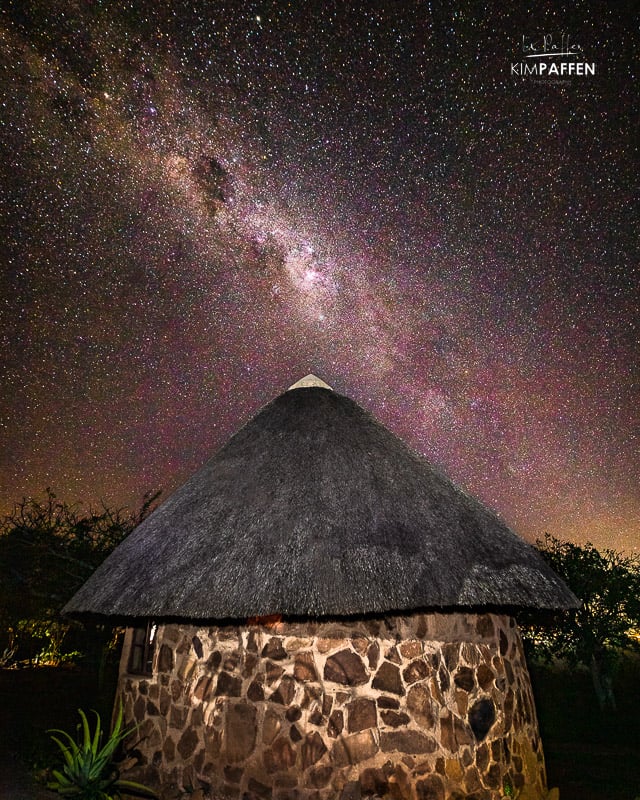 The traditional community huts with thatched roofs don't have electricity but only two oil lamps and an outdoor shower with premier views of the stars. There is no phone signal or WiFi, meaning back to basic and I loved it. Charging your devices is possible in the dining area.
First Eco-tourism project Eswatini
The goal is to experience how these members of the Shewula community live, so we also got to taste some traditionally cooked meals for dinner and breakfast. The Shewula Mountain Camp experience is the first community-owned eco-tourism project in eSwatini and the community counts 14.000 members.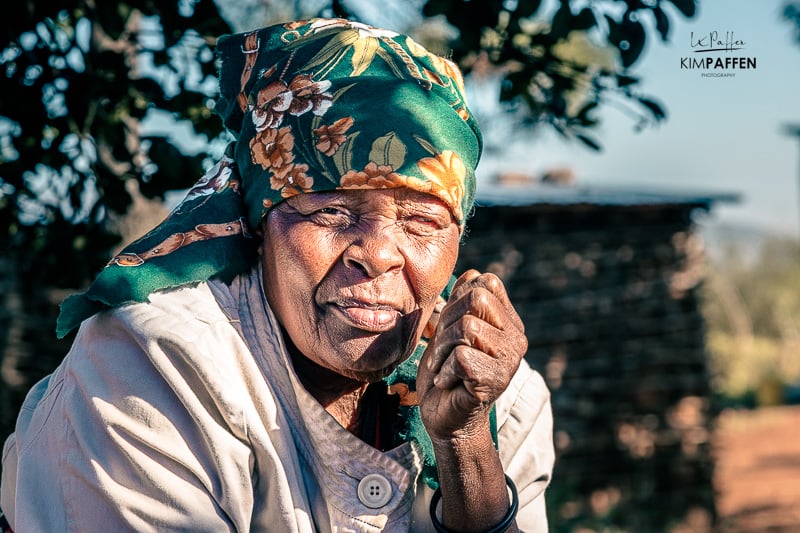 Shewula was without a doubt one of the highlights of my visit to Eswatini for several reasons. The views were simply magnificent with panoramic views of Swaziland and Mozambique. If you only plan to stay for one night, arrive in time for the magical sunset and make sure to wake up early to sip your coffee while the sun is slowly rising. The colors in the sky are amazing.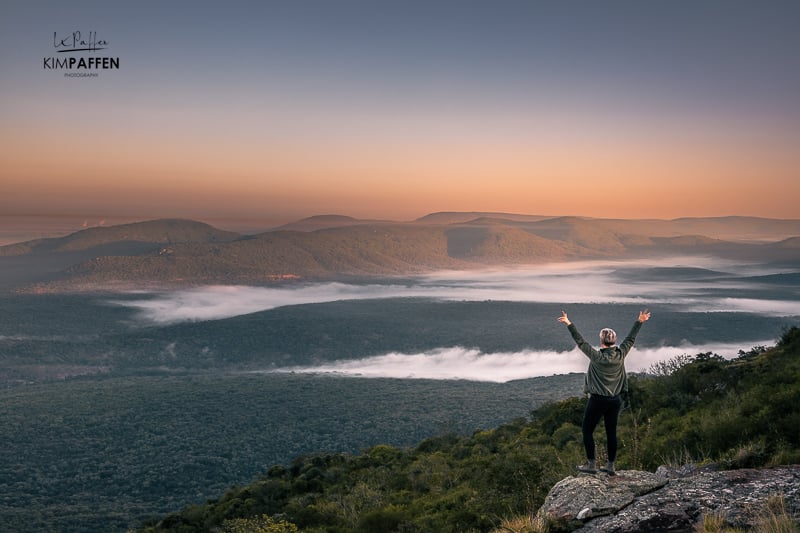 Shewula Village Tour
As part of the Shewula experience, they also offer a cultural village tour to several homesteads belonging to the Shewula community. These visits were still authentic and not touristy, like the commercial village tours in some places of Eswatini - like Mantenga. I felt privileged to get a peek into their home and learn about their way of life.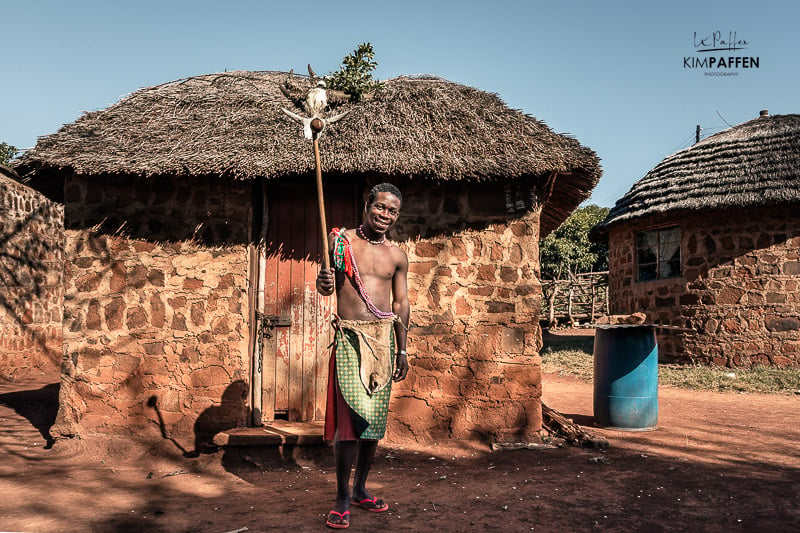 Other things to do in Shewula Nature Reserve are several hiking trails and mountain biking. In my opinion, Shewula is one of the most beautiful places to visit in Eswatini.
8 Hlane NP
Hlane Royal National Park is the no. 1 tourist attraction in Eswatini. It's the only national park in Swaziland and it offers good game viewing possibilities. If you're going on a game drive in Hlane National Park, you can find 4 out of the Big Five: Elephant, Rhino, Lion, and Leopard. Three out of the Big 5 are usually easy to spot, except for the elusive leopard. I saw several white rhinos, male lions and a lioness, a cool rock monitor next to the game drive vehicle, and animals like warthog, antelopes, and birds.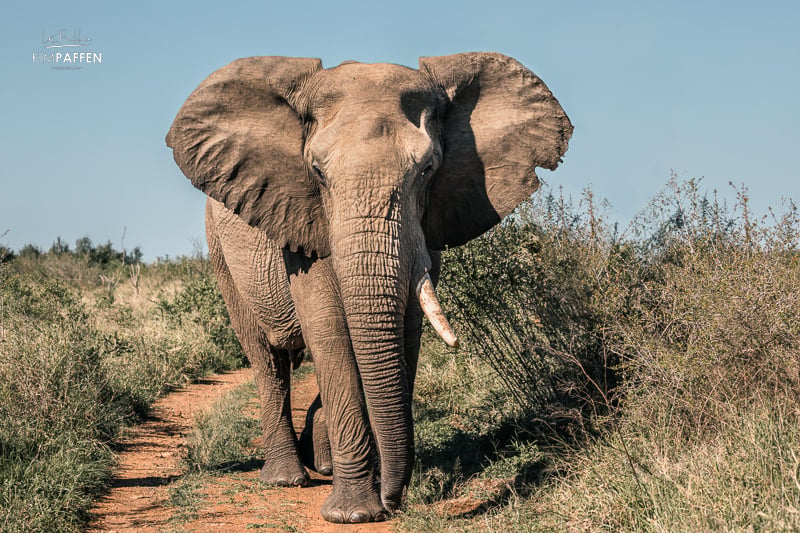 You can either choose to do a game drive as a day visitor or opt to stay inside Hlane National Park in one of their camps, like Ndlovu Camp. The nice thing about Ndlovu Camp in Hlane is the presence of a water pool where you regularly spot hippos or rhinos coming to drink as well as several birds like storks and Hamerkop.
Visitors are also welcome to do a self-drive but going on a game drive by yourself doesn't allow you to go to the area where the lions are. That is a separate area in the Hlane National Park that is only accessible to tourists that book a guided game drive.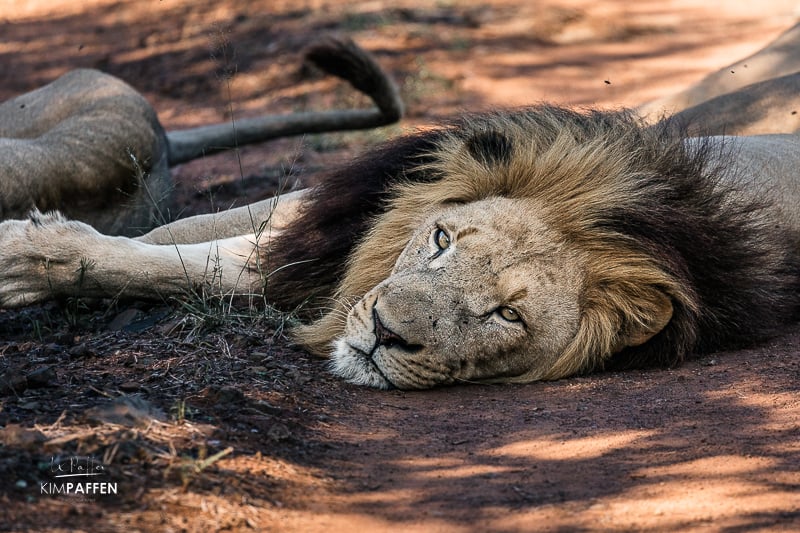 Hlane Royal National Park is part of the Kingdom of Swaziland's Big Game Parks. His Majesty, King Mswati III, held an interesting speech at Hlane in July 1994 as a tribute to the Game Rangers of Eswatini:
"I would like to mention the role of the forgotten heroes of Swaziland's conservation efforts. The Kingdom's ranger force, under the dedicated and determined leadership of my wildlife advisor Mr. Reilly, Macobane, continues to display the highest levels of courage, devotion, and professionalism in their daily work. Without the discipline and commitment of all our rangers Swaziland (now Eswatini) would have no wildlife left to admire, they are an inspiring example to us all..."
9 KaMsholo Safari
Formerly known as Nisela Safaris, KaMsholo Bushveld Safaris impressed because of the stunning Lebombo mountains as its backdrop, including a body of water and acacia savanna with iconic Africa trees, known as 'umbrella' acacias. You can stay within KaMsholo Game Reserve.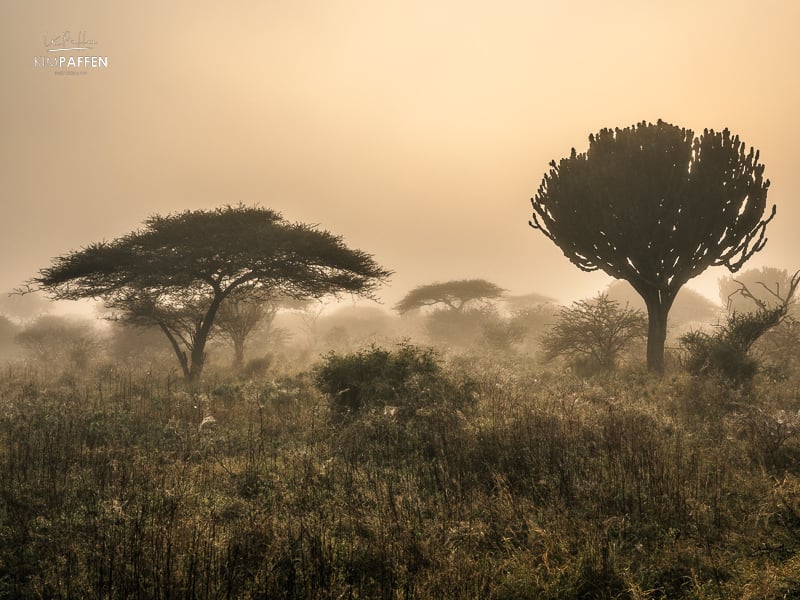 KaMsholo Game Reserve has no big game animals or predators, only antelopes like impala, nyala, kudu, reedbuck, and duiker. Other common wildlife to spot on a game drive in KaMsholo is wildebeest, zebra, giraffes, ostriches, warthogs, and lots of birds, with mostly Hornbills, Go-away birds, glossy starlings, kingfishers, and several raptors. If you look at wildlife only the park isn't the best park for a safari in Eswatini, but the combination of the vegetation and views makes it a scenery you will find nowhere else in this land of the Swazi.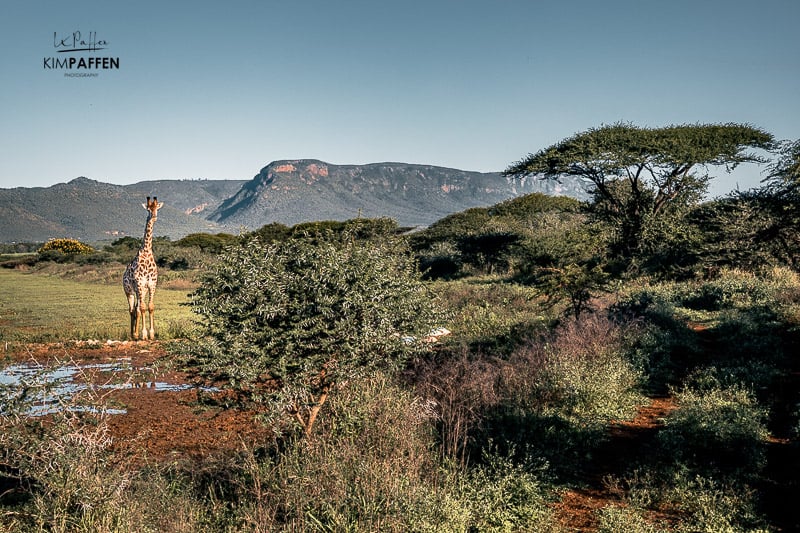 Another interesting addition to Nisela Safaris, now called KaMsholo is the two-level photography hide with views of a water hole; a birder's paradise. Apart from birds we also spotted water monitors. Have a look in the morning and in the afternoon. In the morning there's still mist hanging over the water which adds a more dramatic look to your images. If you are a lover of travel photography or wildlife photography add KaMsholo Safari to your Eswatini itinerary.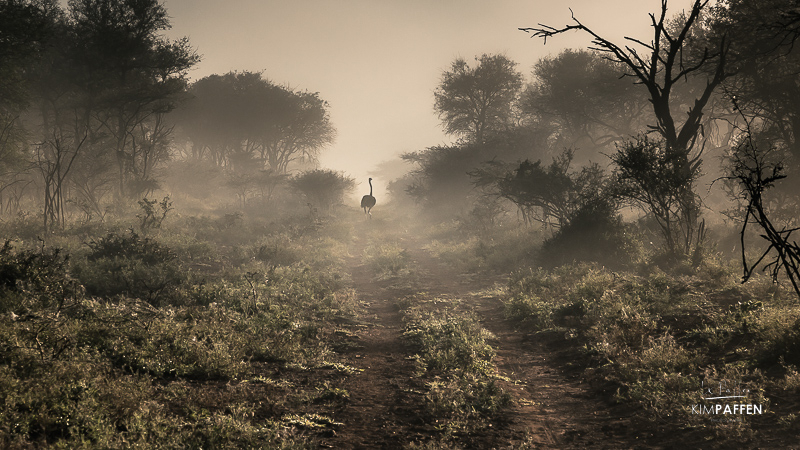 If you visit Eswatini during wintertime, don't skip the morning game drives in KaMsholo! The low-hanging fog between the acacia trees offers some great photography opportunities. The orange-colored African sunset on your afternoon game drive safari in Eswatini is also a real treat and gives you the 'this is Africa' feel.
10 Mkhaya Game Reserve
Award-winning Mkhaya Game Reserve is Eswatini's refuge for endangered species; a unique international conservation effort. The reserve lies in the heart of the Lowveld, between Manzini and Big Bend, and is an exclusive safari retreat in Eswatini. Mkhaya offers a unique wildlife experience with endangered African species, like the Black Rhino and White Rhino. It has one of Africa's most effective anti-poaching units to protect these highly endangered species.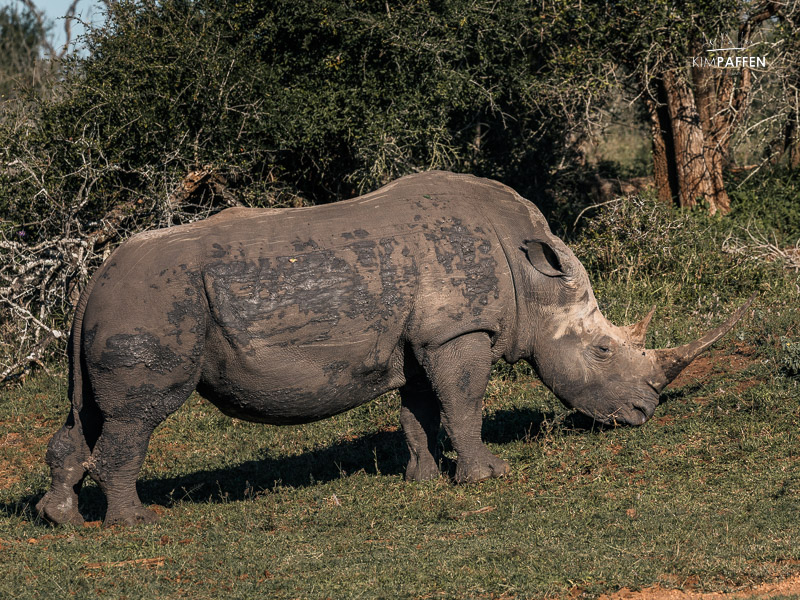 Mkhaya Game Reserve is also home to giraffes, zebra, hippo, crocs, warthog, the only buffalo in Eswatini, as well as the sable antelope, tsessebe, and Livingstone's eland. Visiting Mkhaya is a soul-enriching responsible thing to do in Eswatini, as you support their conservation efforts through paying park fees.
Apart from game drives, Mkhaya also offers game walks and bush trails where you track rhinos on foot in Eswatini. Common sightings on these walks also include both black rhinos and white rhinos, a very special experience to view these endangered animals up-close. However, these bush walks are not only about rhino trekking or other big game animals. It's a complete experience where you become part of the environment and one with nature using all your senses to learn everything about the African bush. If you are into a bush walk, pack good closed walking shoes with solid soles to protect yourself from thorns, a sun hat, insect repellant, and lightweight long clothing.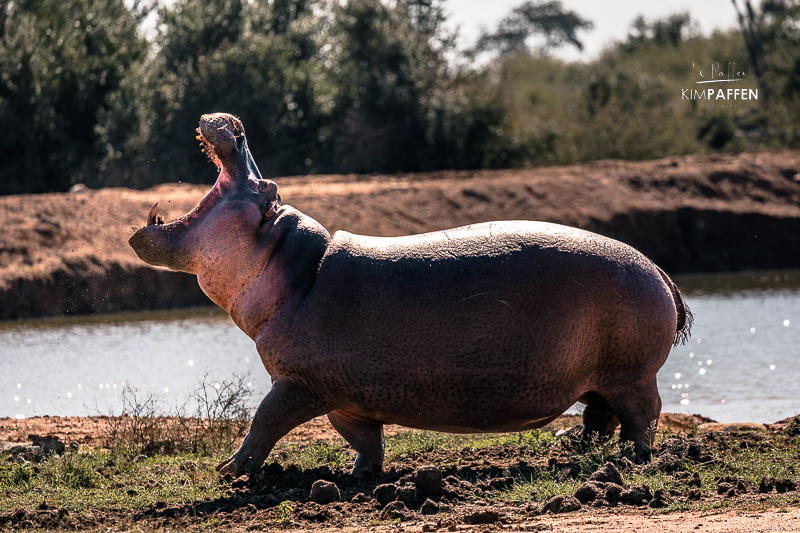 11 Manzini City Tour
Doing the Manzini Eco City Tour is a journey to experience Manzini as a local while discovering all the hidden gems and historical buildings Manzini has to offer. Manzini is formerly known as Bremersdorp by the name of explorer Arthur Bremer, and used to be the colonial headquarters.
In the Old Stone Church Museum in Manzini's old town, you come to know about the origin of Manzini. After that, you will explore other interesting places in Manzini, like king Bhunu's trial site, the King's tree, Manzini markets, the birthplace of His Majesty, the Ludzidzini Royal Residence, and the grand statue of the father of the Swazi nation (King Sobhuza I) that stands in King Somhlolo Park.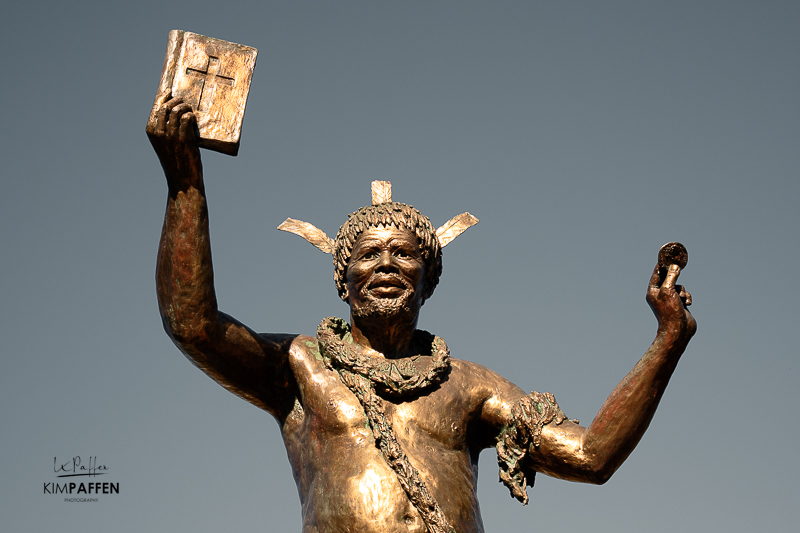 Manzini is a true Hub nearby the Matsapha International Airport in Eswatini and worth adding to your Swaziland itinerary. It's also a good place to find typical Swazi souvenirs. Strolling the markets is a free thing to do in Swaziland, but the local sellers appreciate it when you buy a small souvenir at one of their stalls.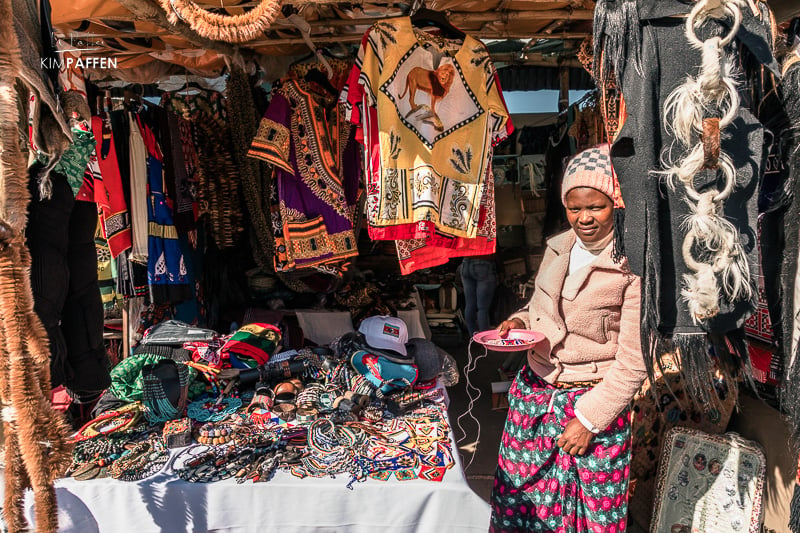 12 Mantenga Reserve & Falls
Mantenga Nature Reserve is one of the best places to visit in Eswatini (Swaziland) with Mantenga Falls as the main tourist attraction; it's Eswatini's largest waterfall by volume. The reserve offers several short trails that lead to several rock pools along the southern boundary with Mlilwane Wildlife Sanctuary and the Mantenga Falls.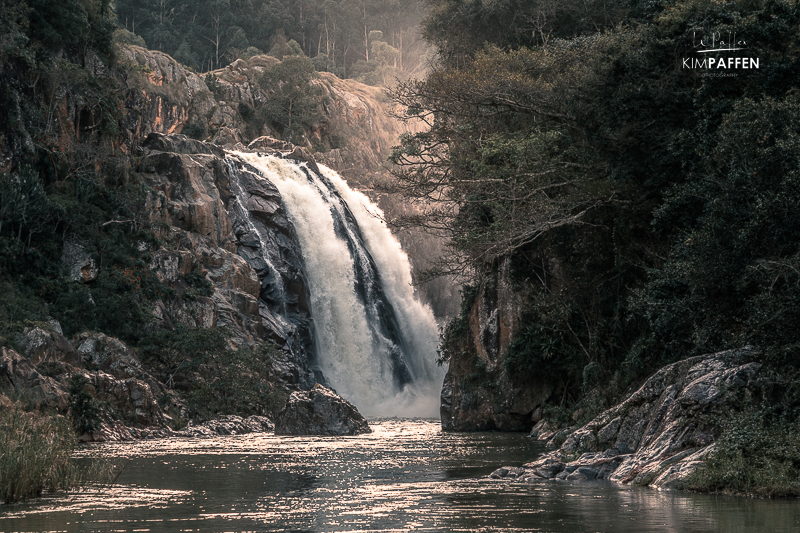 On your trail through the forest, you can find small wildlife, like duiker, rock hyrax, bush pig, nyala, vervet monkeys, and klipspringer. Stay in Mantenga Lodge if you like to stay inside the reserve. At the reception, there's a free map available with various hiking trails. Mantenga Cultural Village is also part of the Mantenga Nature Reserve and is worth a visit if you would like to learn more about the Swazi traditional way of life.
13 Swazi Cultural Village
The Mantenga Cultural Village in Swaziland is the most popular cultural thing to do in Eswatini among tourists. The Swazi village is part of the small Mantenga Nature Reserve that is situated in the Ezulwini Valley.
The Swazi cultural village with authentic beehive huts is a replica village built for commercial purposes to teach tourists visiting Swaziland about the Swazi history, culture, and traditions. A guided cultural village tour includes a cultural show where Swazi perform a sibhaca dance and sing meaningful songs.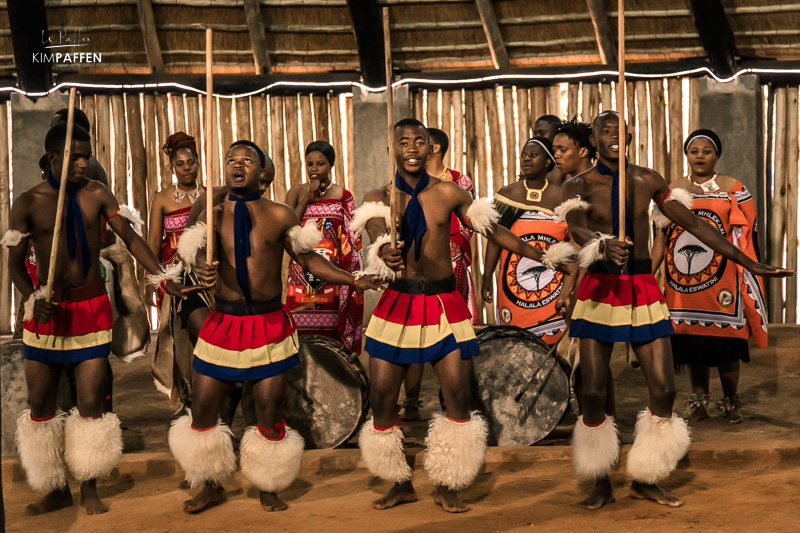 After the cultural display, you visit the replica Swazi village where a local guide will explain how the Swazi life, including the role of every family member and the purpose of each beehive hut. He also talks about the authentic materials used to build these famous Swazi huts.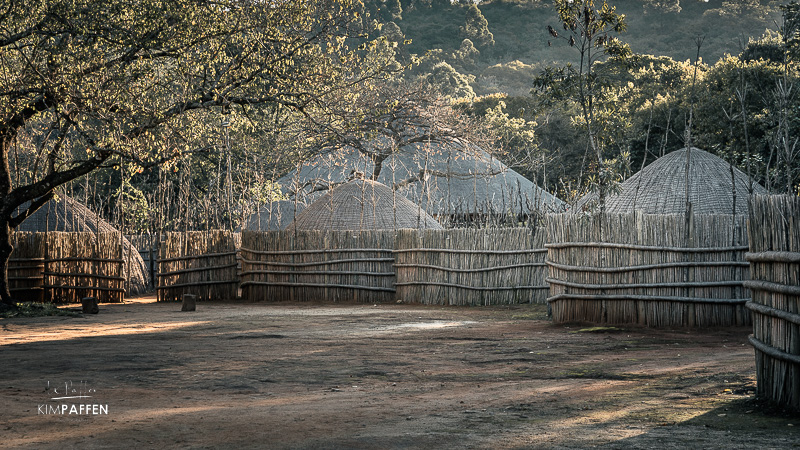 Personally, I'm not a fan of these commercialized villages and I prefer visiting authentic villages. On the other hand, it's a great and probably the best way to learn about the Swazi lifestyle and their cultural traditions. Therefore, I put it on this list of the best things to do in Swaziland. Especially for those who are short in time because they use Eswatini as a shortcut to travel from Hluhluwe to Kruger or vice versa, this is a great stop-over to learn more about the Swazi way of life. Mantenga Cultural Village is also close to Swaziland National Museum, at King Sobhuza II Memorial Park.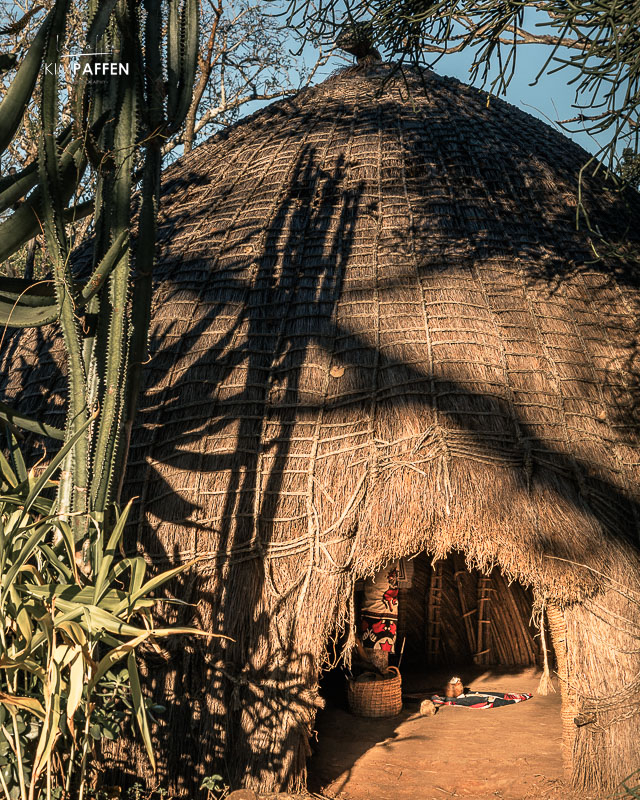 14 Mbabane
Mbabane is the official capital city of Eswatini (Swaziland) and is also the largest city in this land of the Swazi. The city is located on the Mbabane River, in the Hhohho Region. Mbabane is a great location as a base to explore some of the best places in Eswatini as it's centrally located among Swaziland's top tourist attractions.
Mbabane is also known for the Mbabane Market with fruit and veggies sold by the 'market mamas', the Mbabane Shopping Mall, Swazi Plaza, and the traditional Swazi Craft Markets. You can find one on the main road next to the Ezulwini Sun and the other one is at the Royal Swazi's Suns' entrance. You can also enjoy the nightlife in Mbabane as it also has bars and a casino.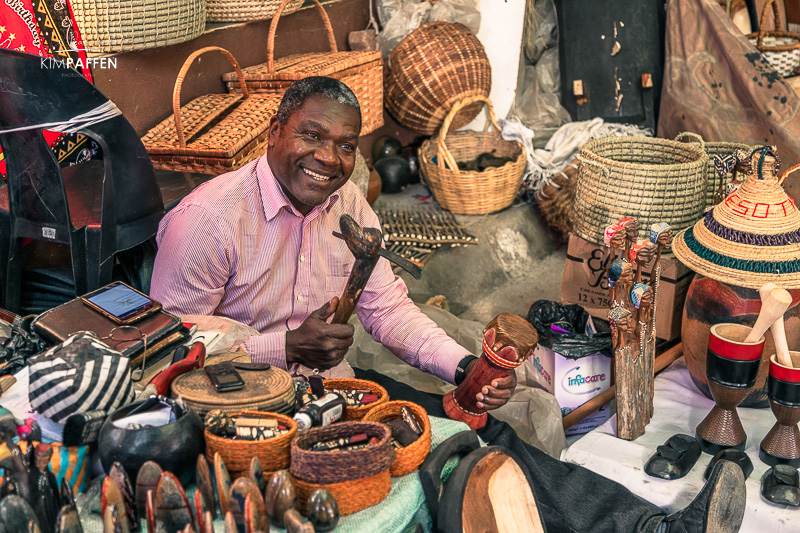 If you are looking for a good restaurant in Mbabane, choose Ramblas Restaurant. It's one of the best restaurants in Eswatini and that's also where I drank one of the best coffees. My best Eswatini travel tip for lunch is Farm to Table in Mbabane. Its mission is to create market access for local farmers and start-up food businesses. They do this by making their goods conveniently and easily accessible to people in both their shops and restaurants. If you are going for lunch at Farm to Table you are supporting locals and making a positive impact on the community, a perfect example of sustainable travel.
15 Sibebe Rock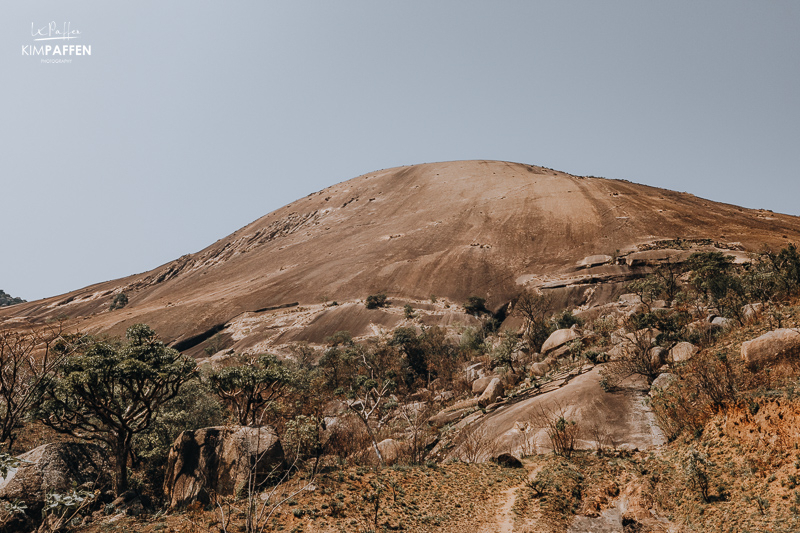 Sibebe Rock is the world's largest granite dome and is located only 10 km from Mbabane, the capital city of Swaziland. It's an impressive geological volcanic feature that is up to 3 billion years old. You can book several Sibebe Rock Tours and there are a variety of hiking trails to climb Sibebe Rock. Some of them are hard and very steep, while other trails are easy with amazing views. Climbing Sibebe Rock is one of the best hiking activities in Eswatini and a must for your Swaziland bucket list.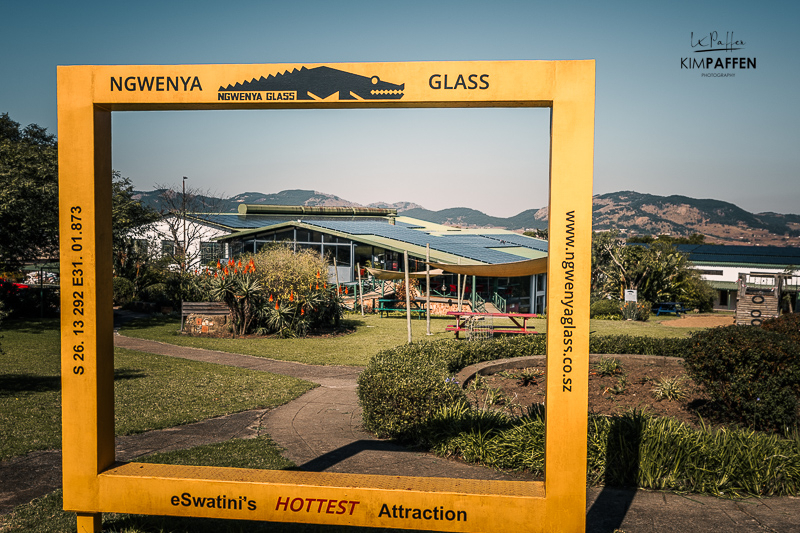 16 Ngwenya Glass Factory
What I liked about the Ngwenya Glass Blowing factory is that you can see local Swazi creating handmade products from 100% recycled glass. A worker in the factory showed us how they shape and mold molten glass into various products. They named themselves the hottest tourist Swaziland attractions.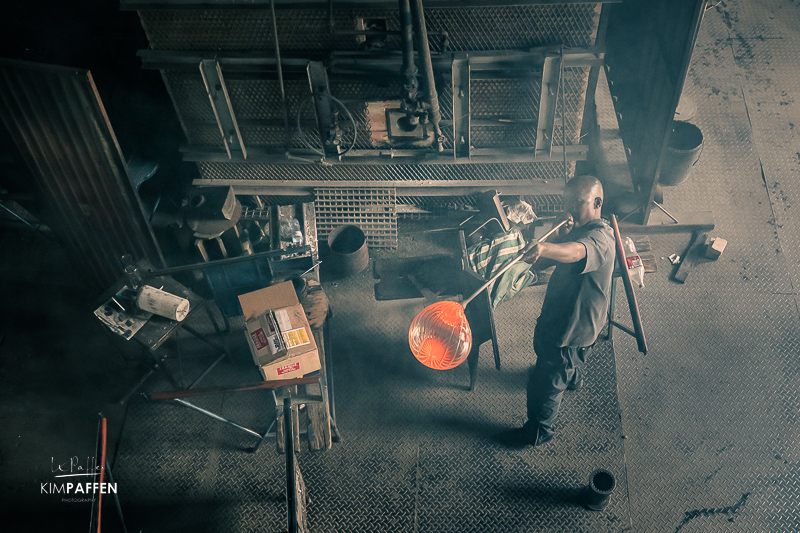 The factory also encourages the local Swazi community to collect discarded glass in return for payment; I really love these kinds of eco-friendly community projects. Next to the Ngwenya Glass Blowing factory, there are many other souvenir shops with handmade products from eSwatini, like jewelry and other products made from recycled paper, woven baskets, clothing, and Swaziland chocolate.
17 Sleep in traditional Beehive huts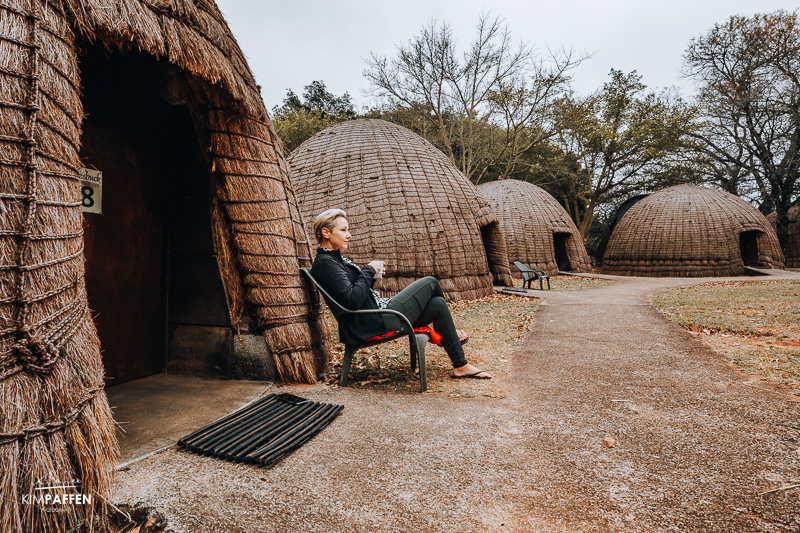 One of the top things to do in Eswatini is stay in a traditional beehive hut.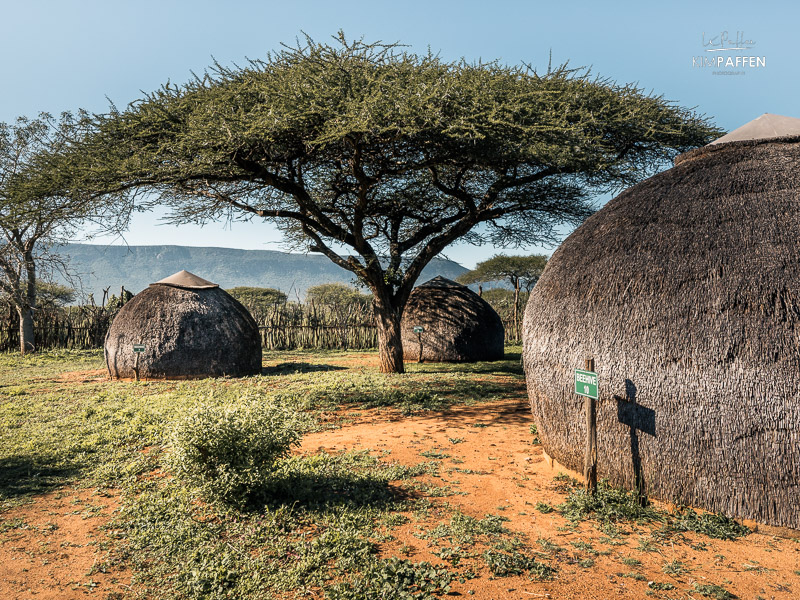 There are a few places to stay in Eswatini that offer these unique sleeping possibilities, like the traditional beehive chalets – complete with modern interiors – at Hawane Resort, and the budget-friendly Swazi huts in KaMsholo Bushveld Safaris, which is one of the cheap(er) places to visit in Swaziland.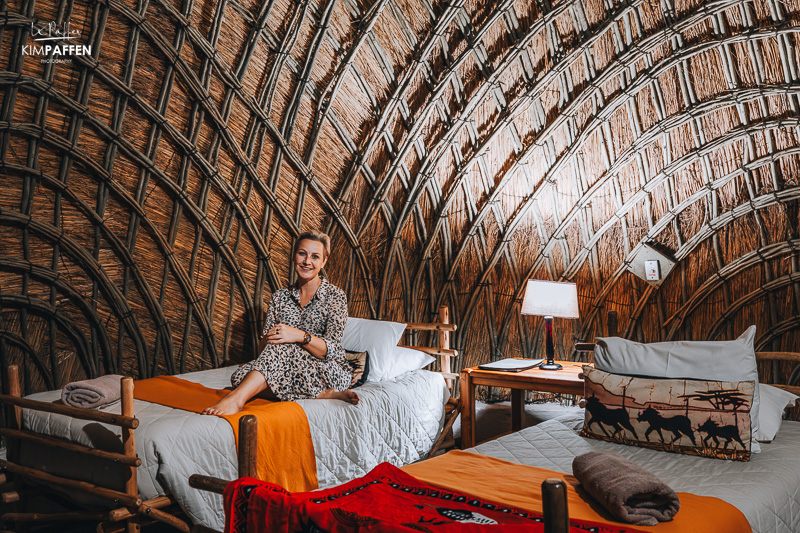 At Mlilwane Wildlife Sanctuary, you also have the possibility of sleeping in a traditional swazi beehive hut.
18 Lunch at Velvet Monkey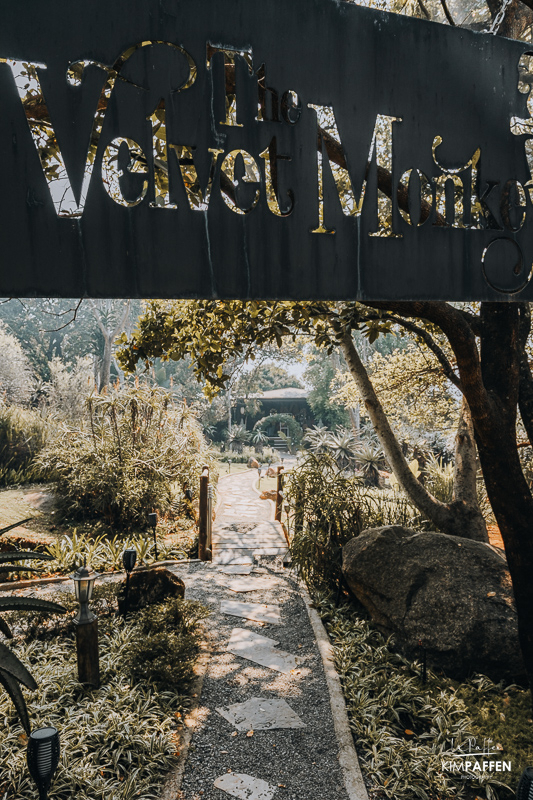 A great lunch or dinner spot in Eswatini is the Velvet Monkey. It's rated among one of the best restaurants in Eswatini and in Ezulwini. The friendly staff and cozy atmosphere make you feel at home, and the food is excellent with reasonable portions. Nestled in Eswatini's beautiful landscapes, it's a hidden gem for those who love exquisite Italian cuisine. The unique decor adds to the charm, and I suggest outdoor seating, which is covered and enjoyable even in rainy weather.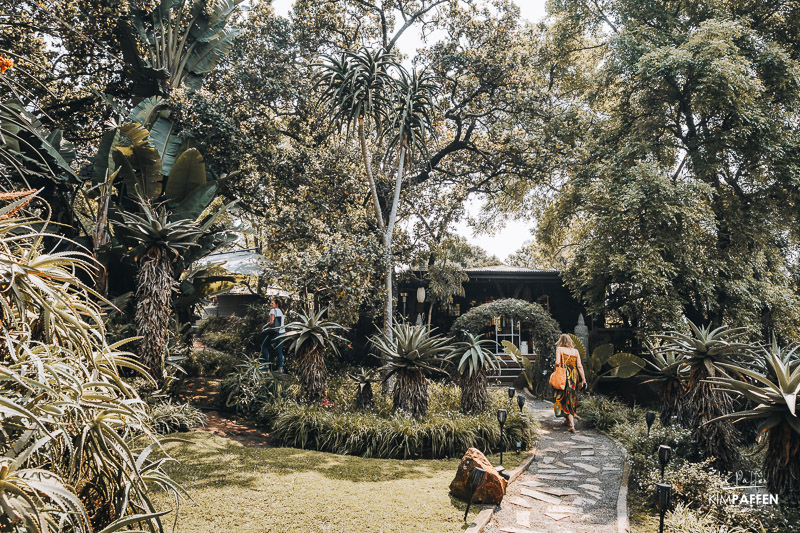 The Velvet Monkey is currently a popular place, known for its unique interior, lovely views, warm ambiance, creative cocktails, and great Italian food and/or tapas platters. They also offer regular live music and karaoke for a fun time.
19 Swazi Candles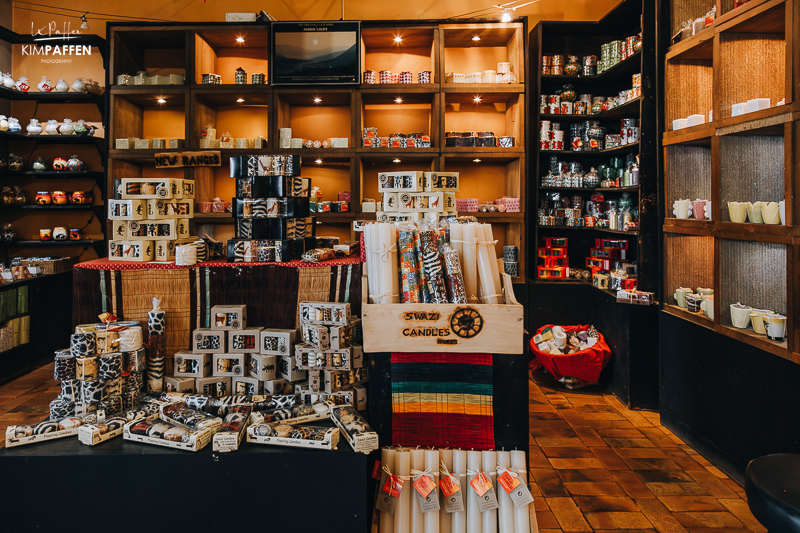 If you're looking for a place to shop for local Swazi crafts, handmade goods, and other souvenirs, you can lose track of time at the Swazi Candles Center. It's a touristy, but lovely, informative, and unique spot.
The Swazi Candles Centre serves as a hub for promoting local craftsmanship and supporting the Swazi community's livelihood. The core business is candle making, both traditional paraffin wax and soy candle tea lights. They currently export to over 20 countries.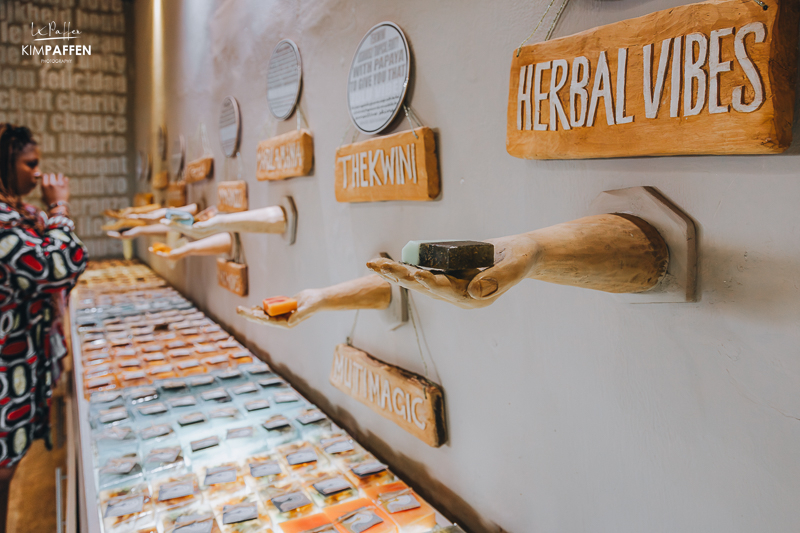 Apart from that, the Swazi Candles Centre has become an important cultural landmark and a significant contributor to the Eswatini's tourism industry, drawing visitors from all over the world interested in experiencing Swazi culture and witnessing the creation of these exceptional handcrafted candles. Apart from candles they also sell Swazi Soaps.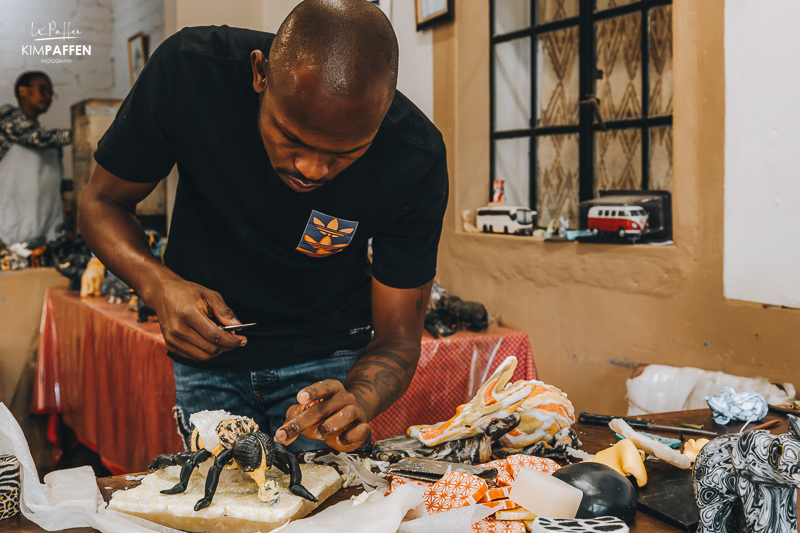 Swazi Candle Travel Trip: attend a candle-making tour (free) to learn how they make the candles and develop appreciation for their work. There is also a market where you can buy other handmade Swazi souvenirs and a restaurant.
20 Summerfield Botanical Gardens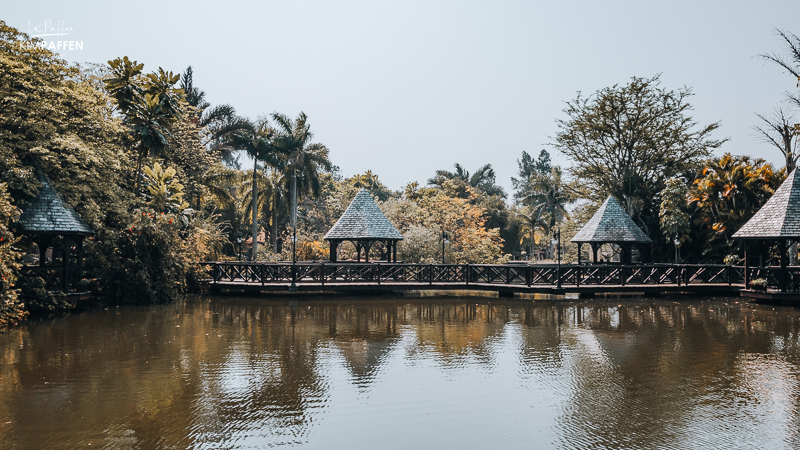 Tucked away in the breathtaking region of Malkerns Valley, Summerfield Botanical Gardens is a perfect place to unwind by taking a leisurely walk in their beautifully decorated gardens and having lunch or dinner at the restaurant with views of the lake.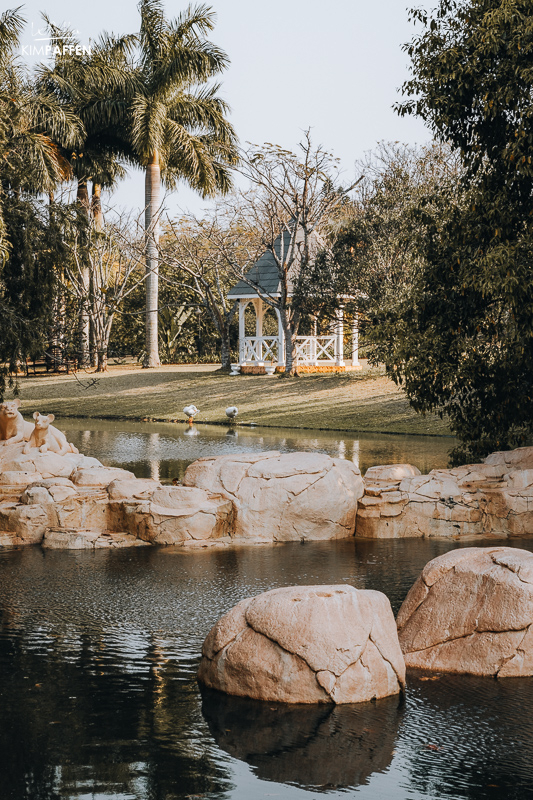 The Summerfield Resort is one of the best places to stay in Eswatini, close to several popular tourist attractions in Swaziland. Rated #1 accommodation in Eswatini by the Ministry of Tourism, Summerfield Resort is a special place, perfect for a breakaway. I didn't stay at the hotel in the Botanical Gardens myself, but I did enjoy a delightful tapas lunch at the restaurant of Summerfield Resort, which is known as one of the best restaurants in Eswatini.
21 Mlilwane Wildlife Sanctuary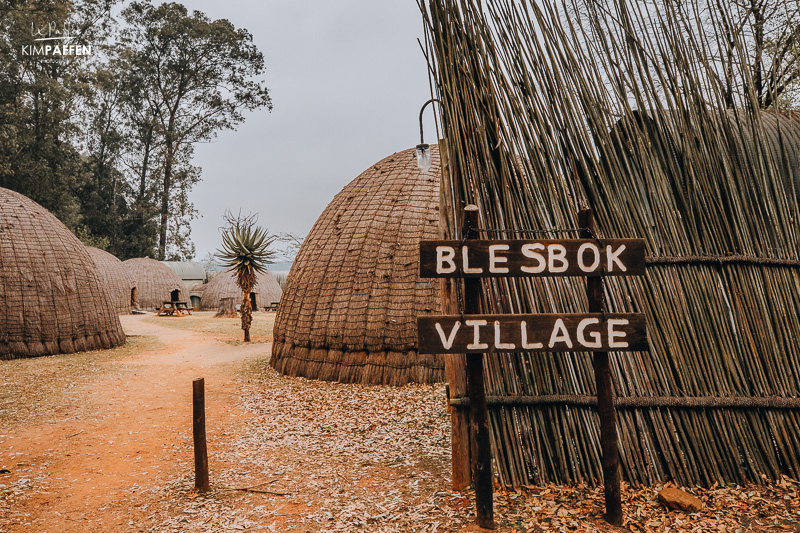 Situated between Mbabane and Manzini in the Ezulwini Valley, also known as the 'Valley of the Heavens', Mlilwane Wildlife Sanctuary stands as Swaziland's first conservation area. Despite its size, Mlilwane in Swaziland hosts a diverse range of wildlife, both large and small.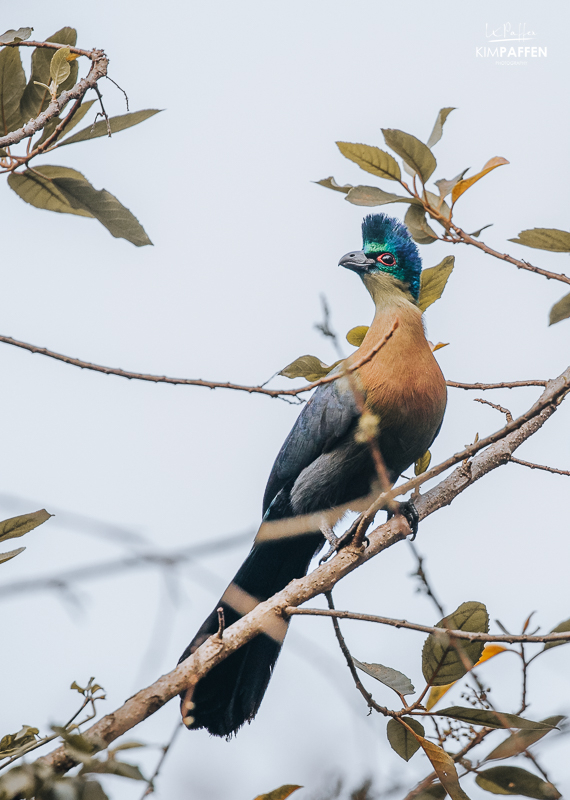 Managed by a non-profit trust, it spans 4,560 hectares and features grassland plains, granite peaks, and a network of trails for walking, self-driving, biking, or horse riding. The absence of dangerous game, allows for safe exploration on foot. The primary tourism hub is in the southern section of Mlilwane Park, which extends from open grassland plains to the prominent granite peaks of Nyonyane Mountain.
At Mlilwane Wildlife Sanctuary, you can also sleep in a traditional beehive hut.
22 Sheba's Breast & Execution Rock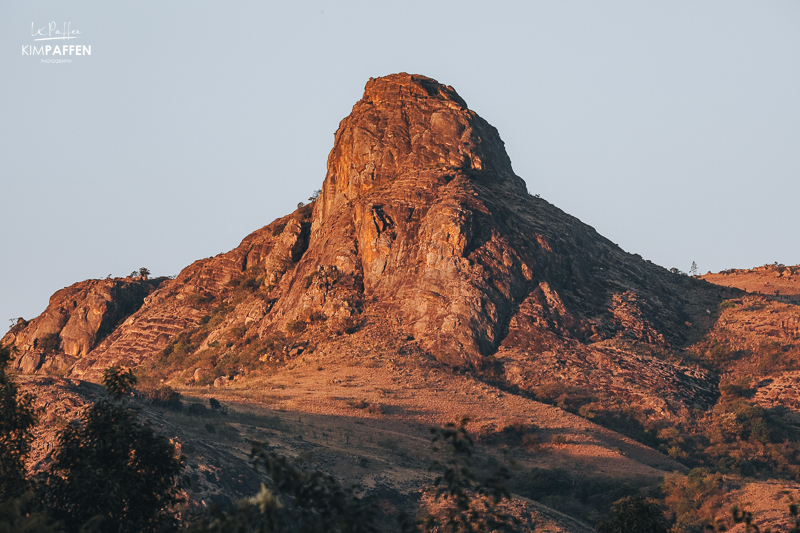 Located in the Ezulwini Valley in the Kingdom of Eswatini, you will find two well-known mountains, both providing stunning views over the valley and hiking opportunities to the top: Sheba's Breasts and Execution Rock. Trekking and hiking around Sheba's Breast Mountain are popular activities for adventurous tourists interested in experiencing the natural beauty and cultural heritage of Eswatini.
Sheba's Breasts
Sheba's Breasts are two peaks forming the west side of the Ezulwini valley, named after Ethiopia's legendary Queen of Sheba. To Sheba's breast, there are two hikes. One starts at Lidwala Lodge, where you must obtain a permit, and the other trail starts at the entrance to the Mantenga Nature Reserve.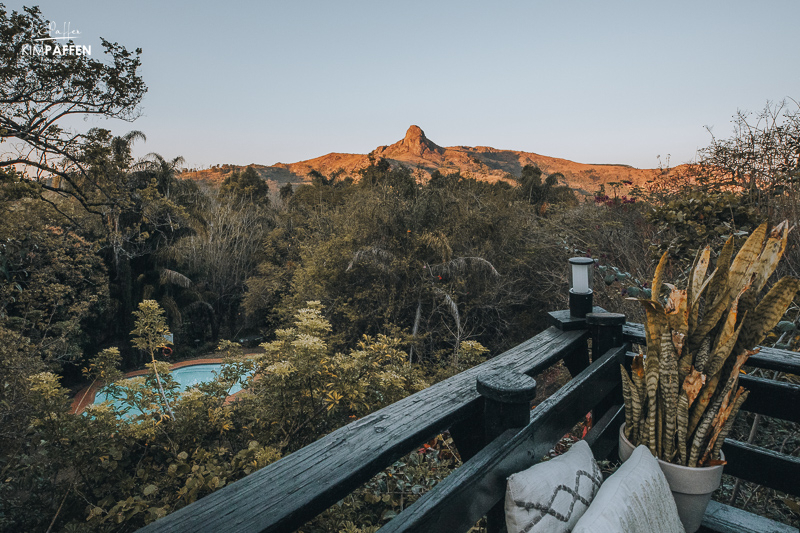 The Sheba's Breast Mountain summit offers 360-degree views over Mlilwane Wildlife Sanctuary & Mantenga Nature Reserve. It's a rugged and steep trail but offers some of the most spectacular views in Eswatini from the summit of the Kingdom's most iconic mountain. A great place to stay on the foot of Sheba's breast with an amazing view of Execution Rock is Mantenga Lodge., 500 meters from the Mantenga Craft Center.
Execution Rock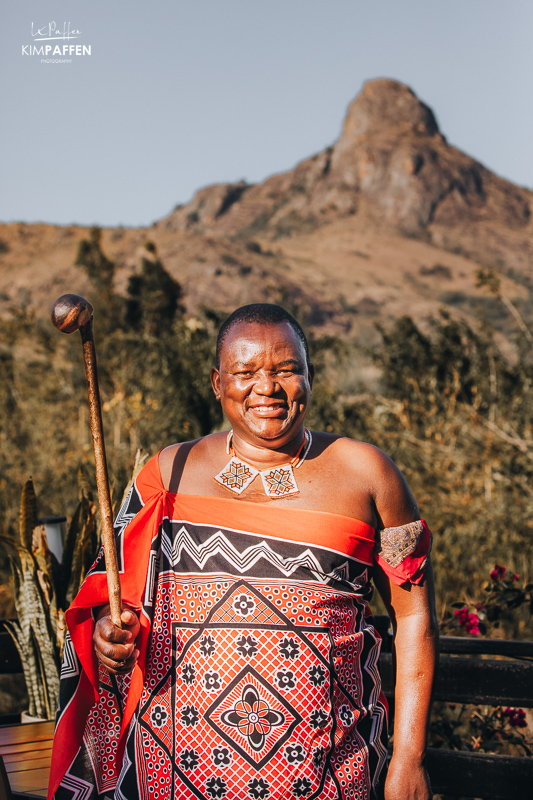 Execution Rock (Nyonyane Mountain), with its exposed granite peak at 1110m, was once home to ancient Bushmen and now hosts Swazi Royal graves, making it historically important. Execution Rock lies within (and is accessible from) Mlilwane Wildlife Sanctuary. It takes about 4 hours up and down from the Mlilwane Park entry office. If you are on Execution Rock at the Nyakato viewpoint, the two "breasts" of Sheba's Breasts are visible.
23 National Museum & King Sobhuza Park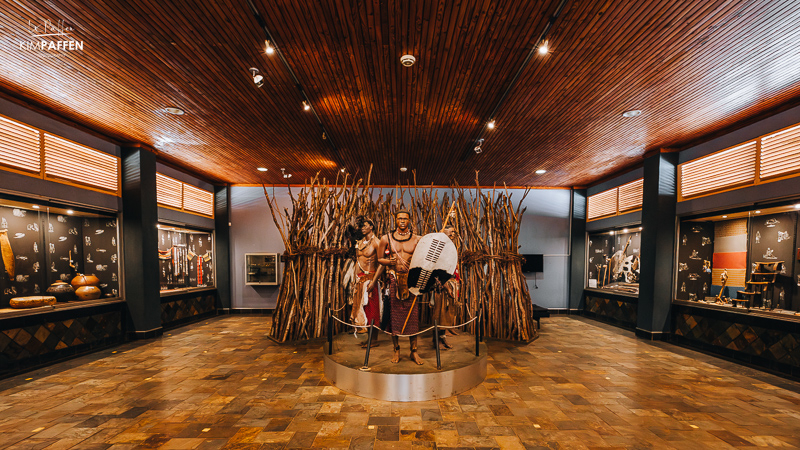 Located in Lobamba, adjacent to the Parliament, you will find Eswatini's National Museum, known as 'Umsamo Wasive'.
Visit this museum in combination with the nearby King Sobhuza II Memorial Park if you're interested in getting a deeper understanding of Eswatini's national culture and history. Eswatini Travel Tip: Ask for a discounted combo ticket.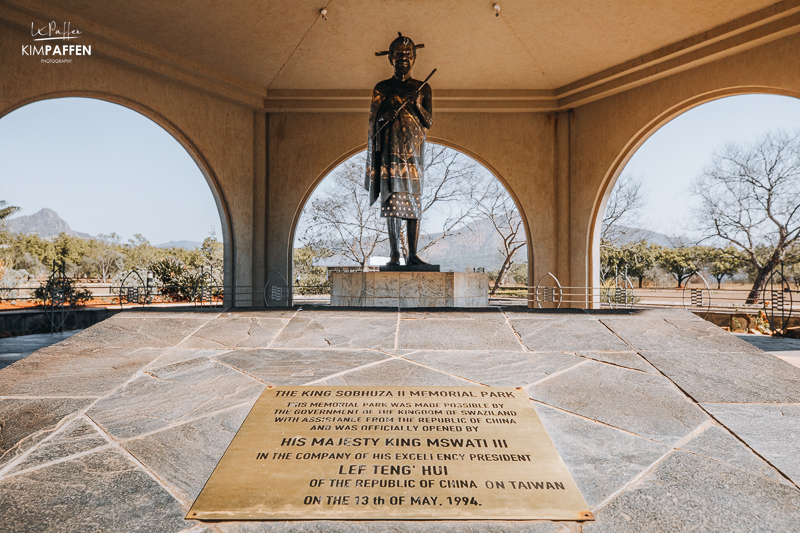 The small national museum showcases displays of the Swazi culture and several cars from the 1940s that belonged to King Sobhuza II.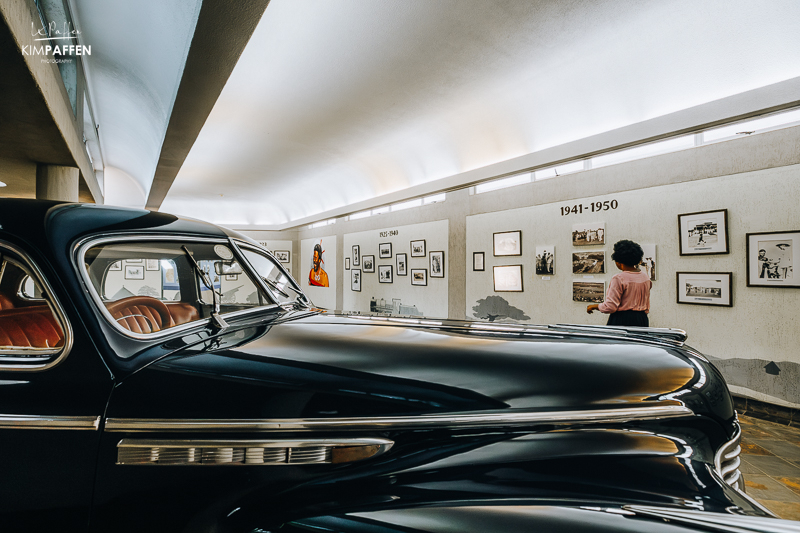 The King Sobhuza II Memorial Park is a formal garden built in 1982 after the death of King Sobhuza II at the site where his body lay in state.
24 Reed Dance Festival
The Umhlanga Reed Dance Festival, also known as Zulu Reed Dance or Swaziland Reed Dance, brings about 40,000 up to 60,000 unmarried girls and young women of the country together to cut and collect reeds and present them to the king. It's an annual traditional 8-day ceremony and symbolizes the pride and unity of the Zulu nation.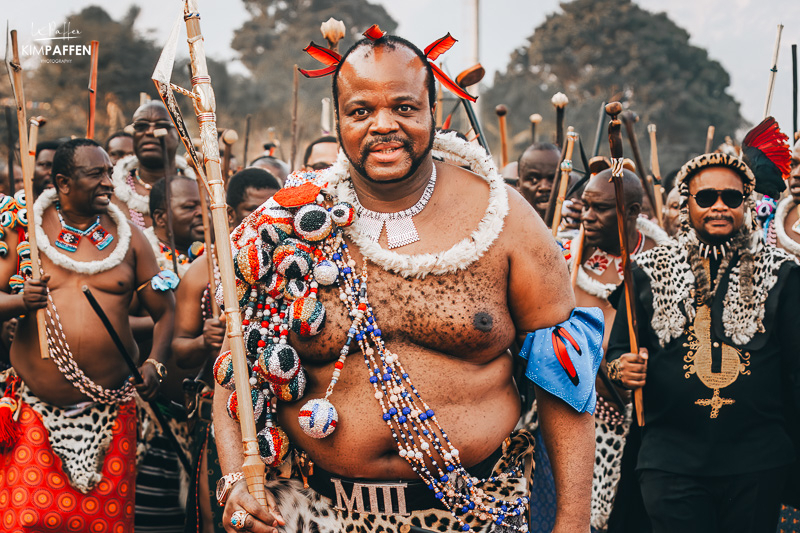 Attending the traditional Reed Dance Ceremony in Eswatini is a unique and exciting cultural experience. Read everything you need to know about the Umhlanga Reed Dance, including the history of the Reed Dance, the purpose of the Royal Reed Dance, its cultural relevance, and how you can attend this colorful Eswatini festival & ceremony.
25 MTN Bushfire Festival
During my last visit, I really hoped to visit the Bushfire Festival in the Kingdom of Eswatini. It is held every year and has a variety of stages that showcase the dynamic, and talents from Africa and around the globe. I haven't been to the MTN Bushfire Music Festival yet, but it's still on my Eswatini bucket list and I, therefore, added it as number 25 to the list of best things to do in Eswatini (Swaziland).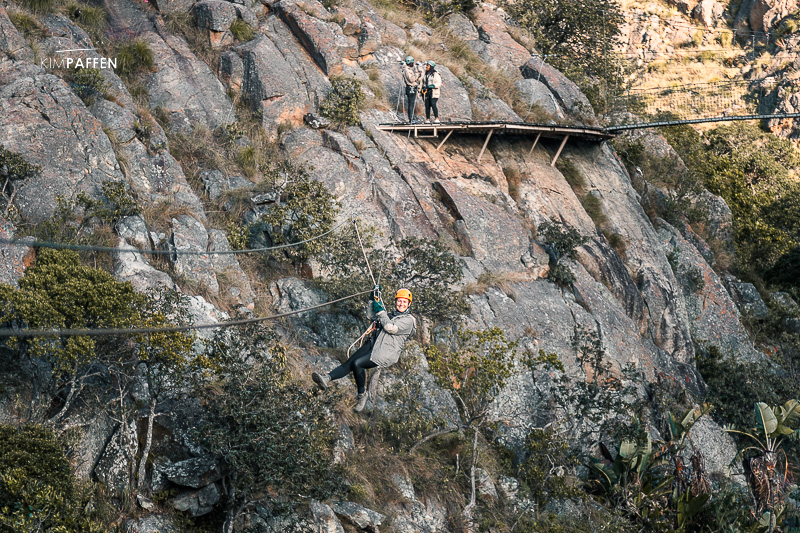 25 best things to do in Eswatini (Swaziland)
There are a lot of beautiful places to visit in Swaziland that offer adventurous and unique things to do. To sum it all up, I listed the 25 top things to do in the Kingdom of Eswatini below:
 Quad Biking
 Malolotja NR
 Maguga Dam
 Bushman Paintings
 Piggs Peak
 Phophonyane NR
 Shewula Cultural Experience
 Hlane NP
 Kamsholo Safari
Mkhaya Game Reserve
 Manzini City Tour
 Mantenga Falls
 Swazi Cultural Village
 Mbabane
 Sibebe Rock
 Glass Factory
 Stay in Beehive huts
 Eat at Velvet Monkey
 Swazi Candles
 Summerfield Botanical Gardens
 Mlilwane Wildlife Sanctuary
Sheba's Breast & Execution Rock
 National Museum & King Sobhuza Park
 Reed Dance Ceremony
 MTN Bushfire Festival
If this article about the best Swaziland attractions and what to do in Swaziland (now Eswatini) was helpful to you, please share this list of the 25 best things to do in Eswatini on social media or leave a comment or your questions below! I'm happy to help.
Are you still doubting if Swaziland is worth visiting or if it is safe in Eswatini? I also wrote a complete Eswatini Travel Guide, including the best time to visit Eswatini, travel requirements to Swaziland, and other things to know before you travel to Eswatini.