Zimbabwe Travel Guide
Zimbabwe is an iconic country in Southern Africa that is surrounded by 4 African countries: South Africa, Botswana, Zambia, and Mozambique. With the majestic Victoria Falls as Zimbabwe's number one tourist attraction, it's the adventure capital of the African continent with activities like bungee jumping from Victoria Falls Bridge, zip-lining, micro flights, helicopter flights, and much more.
The Zambezi river forms the natural boundary with Zambia. When the Zambezi is in full flood you can witness the world's largest curtain of falling water at 'Vic Falls', a great experience not to be missed.
Apart from adventure, you can also find amazingly diverse landscapes, lush mountains, and off-the-beaten-path wildlife experiences in amazing national parks where you can spot the Big Five (leopard, lion, rhino, elephant, and buffalo), such as Mana Pools, Hwange National Park, Matusadona, Matobo Hills, and Lake Kariba.
Zimbabwe has a troubled and politically unstable past. It was once the Bread Basket of Africa, and now one of the poorest countries in the world. Despite the situation, the Zimbabweans are very warm, welcoming, and hopeful for what the future might hold. There is no reason to not travel to Zimbabwe, and you should add it to your Africa bucket list. It's the colonial heart of Africa and home to the largest ruins in all of Africa. Zimbabwe has 5 UNESCO World Heritage sites with an abundance of free-roaming wildlife.
Table of contents in this Zimbabwe Travel Guide:
Interesting Facts Zimbabwe
  Flag of Zimbabwe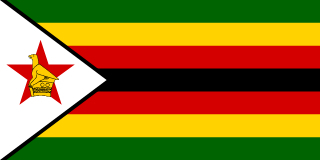 National Animal Zimbabwe
Sable Antelope
  Zimbabwe National Dish
Sadza

  Currency in Zimbabwe
Zimbabwean dollar (ZWD) 
  Zimbabwe Time Zone
Central African Time Zone or EAT (GMT+2 hours)