We all know flamingos are usually pink because of the food they eat, but recently, a rare black Lesser Flamingo was spotted by local farmers Hendrik Beukes and Len Joubert on their farm in Chrissiesmeer, South Africa's Lake District in Mpumalanga Province. I went on a birdwatching tour with Peter Borradaile to see this extraordinary bird with my own eyes! As a wildlife photographer, I'm always on the lookout for special moments like these and it's one of those sightings I will remember for the rest of my life!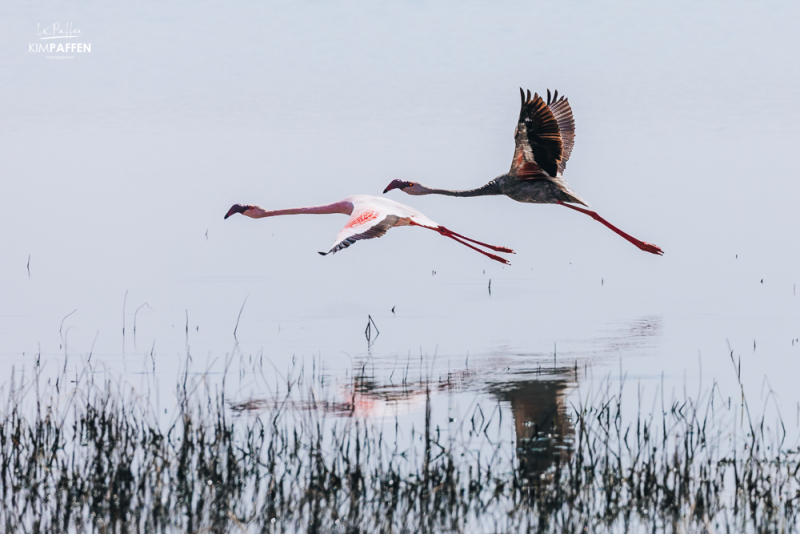 Flamingos can migrate long distances and every summer, large flocks of Greater Flamingos (Phoenicopterus roseus) and Lesser Flamingos (Phoeniconaias minor) visit the Chrissie Pans in early September. The 270 interconnected lakes & pans on private land boast the largest natural inland freshwater-lake in South Africa, Lake Chrissie, and is a birdwatcher's paradise with 287 bird species.
Black Flamingo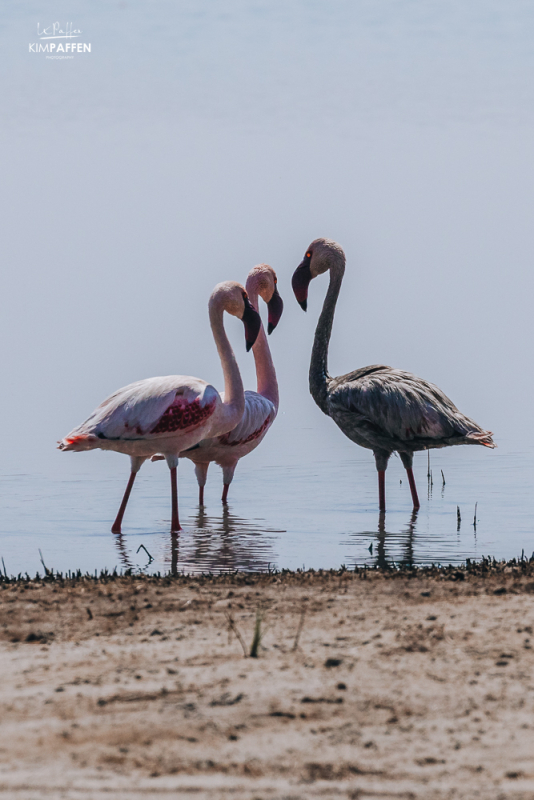 It's not the first discovery of a black flamingo. In 2013, scientists discovered a black Greater Flamingo in Israel and two years later, in 2015, they found a black Greater Flamingo at the Akrotiri Environmental Center in Cyprus. The IUCN Flamingo Specialists Group, dedicated to the conservation of all six flamingo species, identified these two sightings as the same bird.
Melanistic or plumage stained?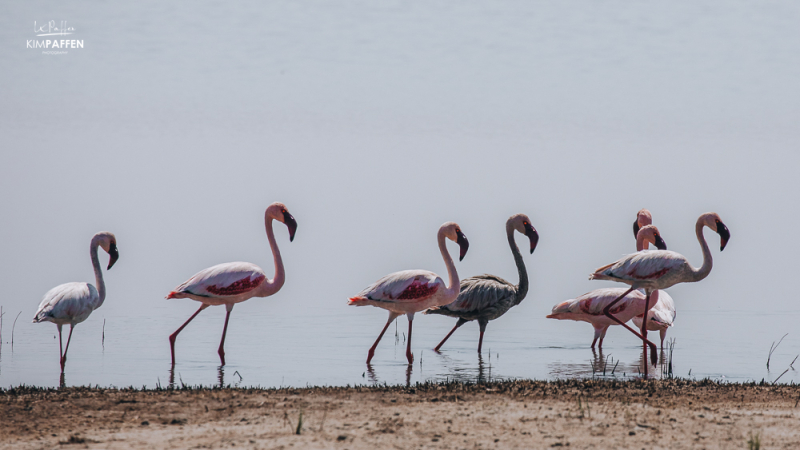 The recently discovered black Flamingo in Lake Chrissie is the first melanistic Lesser Flamingo ever discovered, or is it plumage stained? The black feathers could be a genetic condition called melanism which causes excessive pigment melanin, turning the colorfully pink feathers into dark plumage.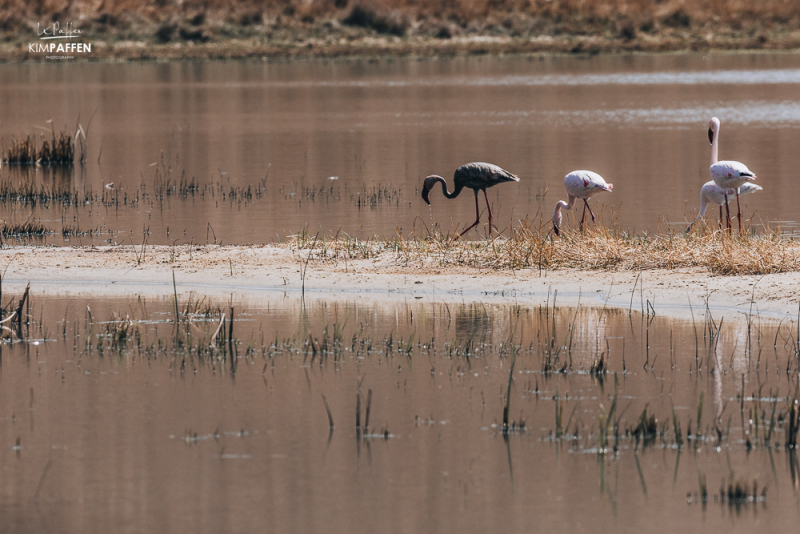 Unlike the black Greater Flamingo spotted in Israel and Cyprus, this Lesser Flamingo is not pitch black but shows different shades of gray. However, there are also bird enthusiasts who believe that the plumage is dirty, "not oiled as that would change not only the color but also the effectiveness of the feathers as an insulator".
Chrissiesmeer's Roger the Dodger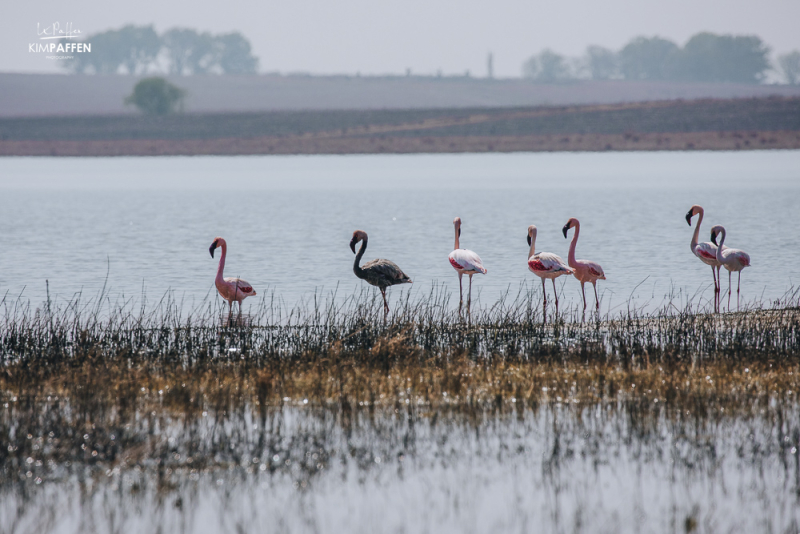 I was lucky enough to spot this extraordinary flamingo on a birdwatching tour with Peter Borradaile, a birding guide in Chrissiesmeer. The flamingo is called "Roger the Dodger" amongst the local farmers because he first disappeared a few times before settling in one of the pans in the Lake District of South Africa end of August. The dark-feathered flamingo is now seen almost daily. I'm not a bird specialist, but the feathers look clean and perfectly healthy to me.
Standing out from the flamboyance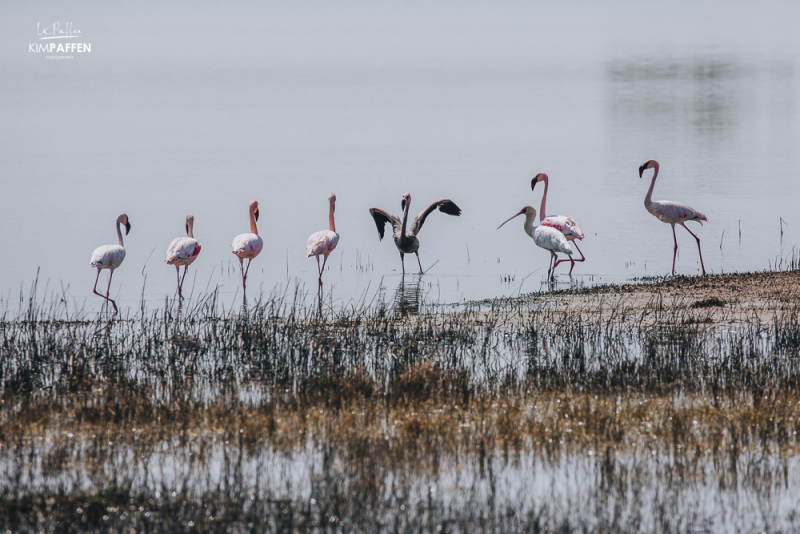 As a wildlife photographer and nature guide, it was extremely special to spot this gift of mother nature with my very own eyes. It's a reminder that the world still holds mysteries, and in that moment, you become a storyteller for a bird few have witnessed.
Because Lake Chrissie's Lesser black plumaged flamingo stands out from the rest of the flamboyance, its fellow pink adults do not accept the bird and it is trying to hang out with the juveniles instead. Just like us humans, this creature is trying very hard to fit in with the species it belongs to, and it breaks my heart to see it's being repelled by its own kind. Will this special bird ever be able to breed?
I don't have that answer, but I know it's not the only species where melanism can occur. Other examples are the elusive black leopard spotted in Kenya and they also seen it amongst ducks. You can also compare it with the natural occurrence of albinism. Mother nature keeps surprising us.
The Flamingos of Lake Chrissie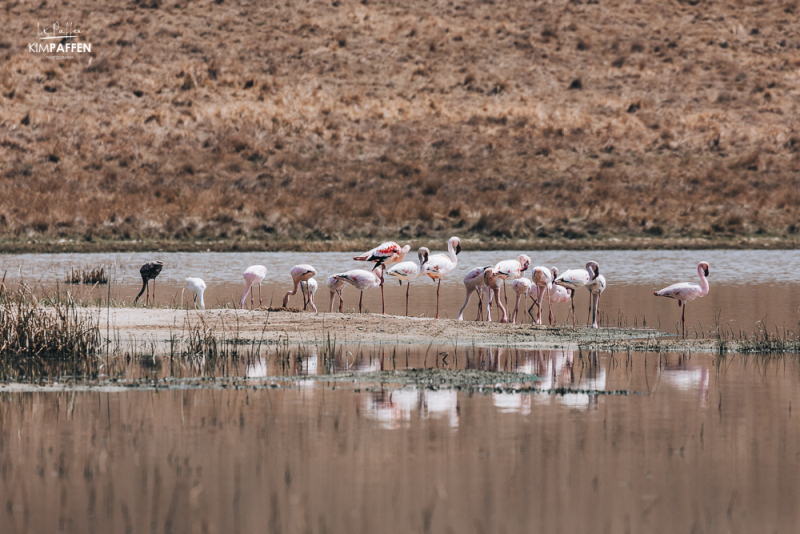 Every year, 15,000 to 20,000 flamingos migrate to the fresh-water lakes of Chrissiesmeer in search of shrimps and other food sources like insects. These flamingos don't settle here, meaning you never know exactly for how long they will stay before migrating to other places in Southern Africa, like Makgadikgadi Pans in Botswana.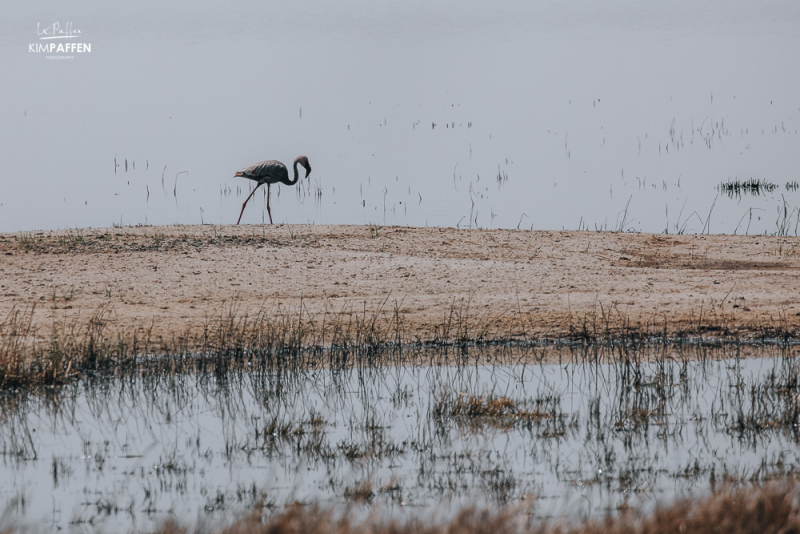 Do you want to see this black flamingo with your own eyes? Go flamingo watching in Chrissiesmeer and book a birdwatching tour with Peter Borradaile (contact +72 076 9995), who may take you on private farmer's land. Several farmers, including Hendrik Beukes and Len Joubert, gave Peter total access to their farm. That's a great thing in Chrissiesmeer, considering how vulnerable the farms are to criminal attacks.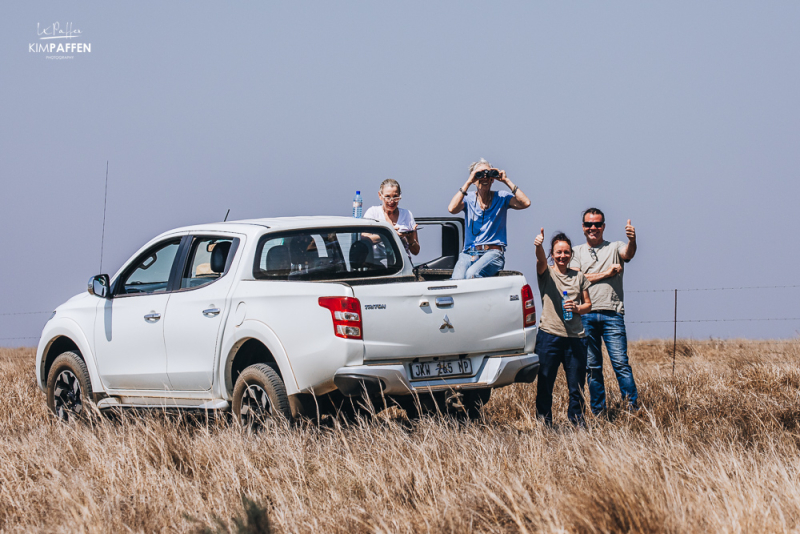 Without a tour, you cannot see this rare dark-colored flamingo. Let me know what you think! Is it a genetic condition or stained? The best time of the year for wetland birding is between September and March.
Mpumalanga's best kept secret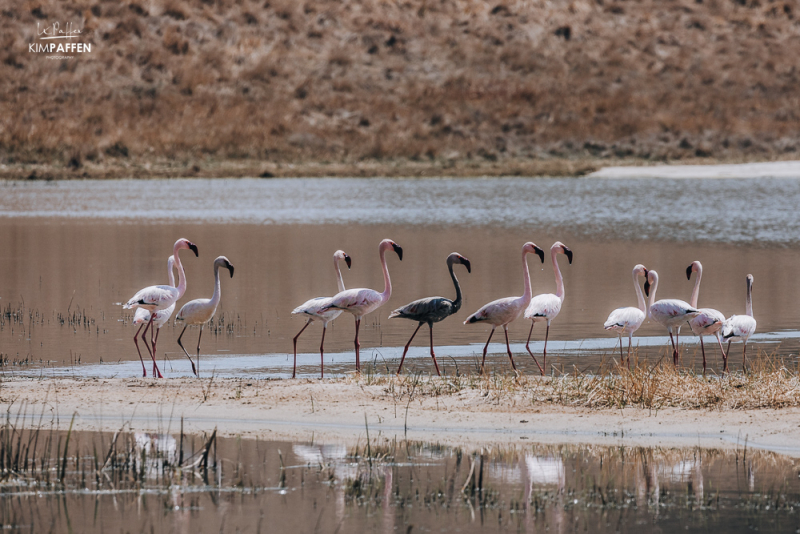 Chrissiesmeer, only 2,5-3 hours from Johannesburg, is a wonderful bird watching area in the highveld of Mpumalanga with 287 species of birds, including two species of Flamingo, Blue and Grey Crowned Crane, Secretary Bird, Chestnut-banded Plover, and African Marsh Harrier, to name a few.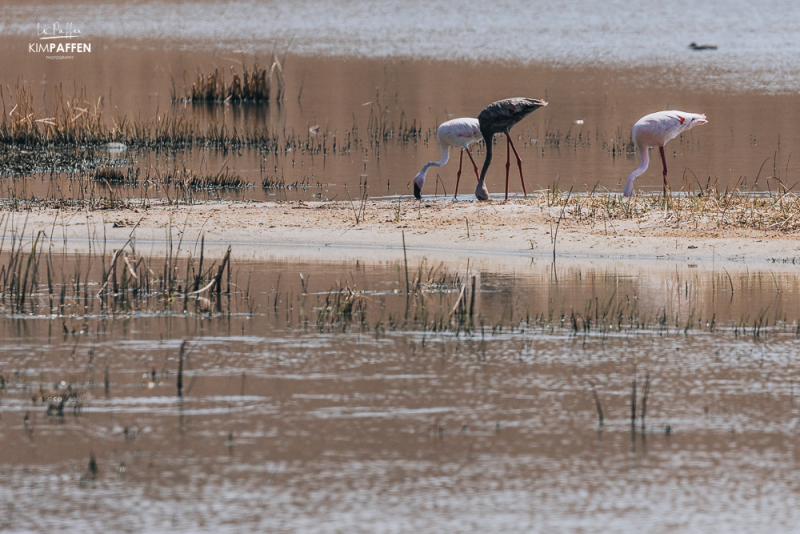 Chrissiesmeer is also known as Matotoland, meaning 'land of the frogs' in siSwati. Every year in the first weekend of December, the charming town hosts a 'Frog Night' event where frogging guides take people to the wetlands to catch (and release) the frogs to identify several species.
Another highlight in Chrissiesmeer is the wild flower season from August to February with 12 wild orchids. They hold the annual wildflower day in the third weekend of January. Get in touch with Esbie Bezuidenhout, owner of the Billiard Room Bar & Restaurant in Chrissiesmeer for more information about Chrissiesmeer or to book a wild flower walk (contact: +27 81 040 7787). The Billiard Room is also the place you must visit for a delicious breakfast or lunch.
Buy Chrissiesmeer black Flamingo images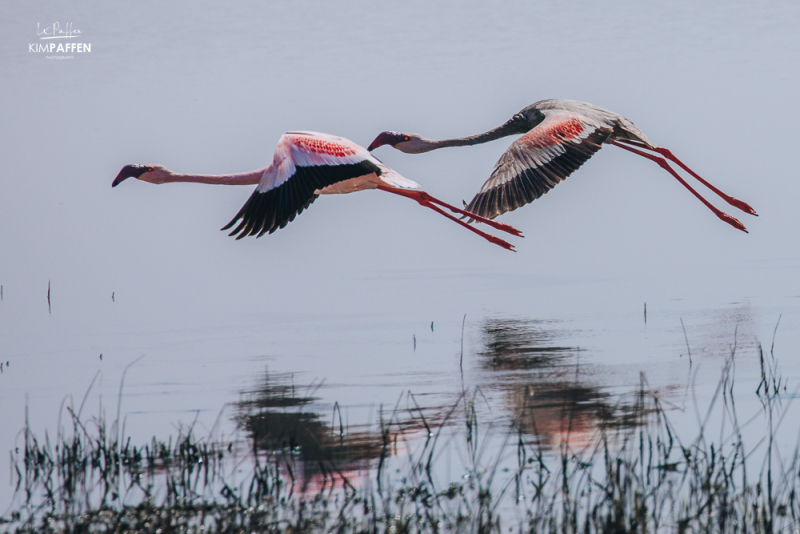 Interested in my images of the black flamingo in Chrissiesmeer? High-res images are available for licensing. Get in touch for my rates.