Kampala is the heart and soul of Uganda! Also known as the City of 7 Hills, this vibrant capital city is a must-visit when you travel to Uganda. Bordering Lake Victoria (the largest freshwater lake in Africa) and surrounded by many rolling hills, Kampala offers a variety of things to do and places to see that will make your visit truly memorable.
In this comprehensive guide, we'll share the 20 best things to do in Kampala and take you on an unforgettable virtual sightseeing tour of Kampala that showcases the best of this African gem, including fun activities, must-visit tourist attractions, and Kampala's lively nightlife scene.
Kampala Fact: Did you know that Kampala derived its name from the many impalas that used to live on the surrounding rolling hills? Sadly, the Kampala region used to be a designated area for hunting impalas.
Whether you're a nature enthusiast, foodie, souvenir hunter, or looking for an authentic cultural experience, Kampala has something special in store for you. Expect a vibrant culture, friendly locals, and rich history in the densely populated capital city of Uganda - only 70km from the Equator!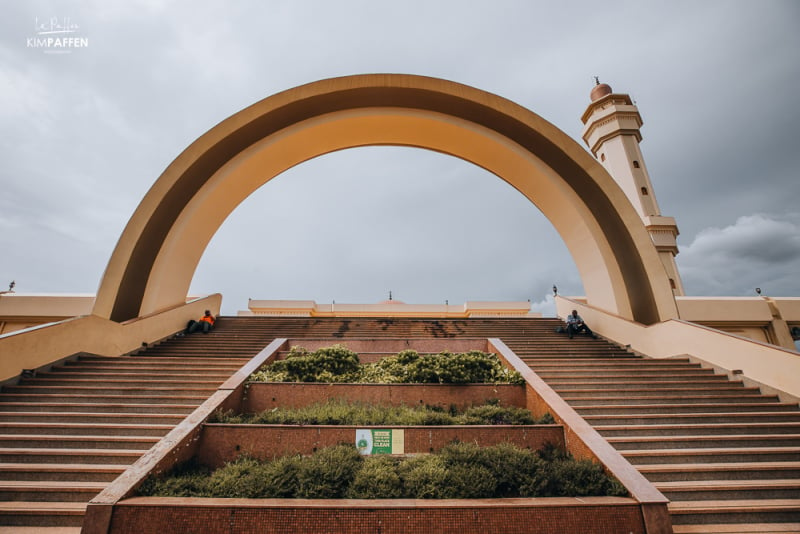 Kampala City Tour
How to spend a day in Kampala? If you only have 1 day to see Kampala, I highly recommend a one-day Kampala City Tour with a guide that can tell you everything about this capital city of Uganda and its history. On this tour, you will visit most well-known monuments and top tourist attractions in Kampala. Along the way you can taste Kampala's streetfood on the colorful markets and submerge yourself in Uganda's vibrant culture.
I like to support women in tourism, so we did the city tour with a local Ugandan and woman-owned travel agency, called Sites Travel. We met Jemima (CEO) & Shivan in person during the Pearl of Africa Tourism Exhibition organized by the Uganda Tourism Board. Jemima is a wonderful woman with over 15 years of experience.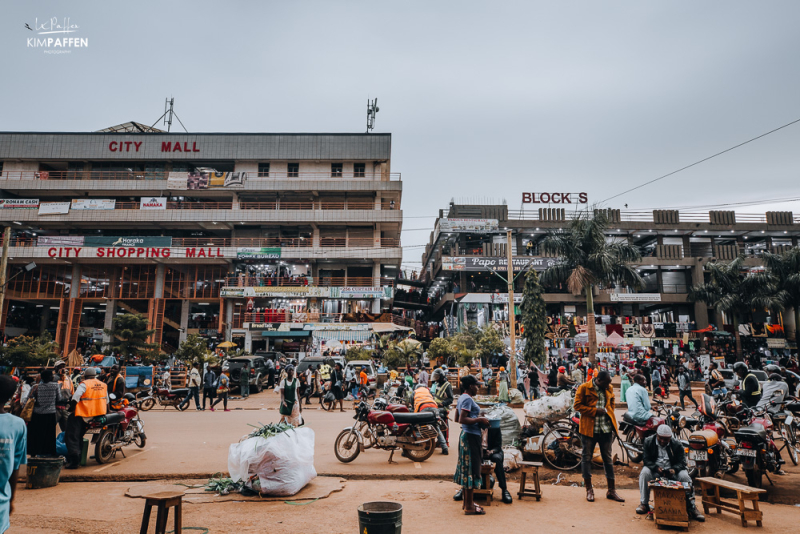 Grace, our knowledgeable female tour guide, made us feel safe walking around the chaotic city and told me when it would be better to put away my camera gear.
Is Kampala safe for tourists?
I honestly felt safe in Kampala all the time; even on the busy markets. Just be aware of pickpockets and use your common sense. Is Kampala safe at night? I suggest to avoid traveling after dark outside the main towns. It's also safer to avoid driving at night as roads can be in bad condition (potholes, badly signposted). Want to go out for dinner at night? Taking an Uber in Kampala is very safe.
What is the price for a city tour in Kampala?
Prices for a city tour in Kampala vary from $30-$100 depending on the hours of exploring (half-day or full-day) and mode of transportation. You can opt for a motorized tour or a simple walking tour in Kampala. A combination of these options is advisable to cover more of all the top sights Kampala has to offer. Sites Travel Ltd can customize the tour to your personal wishes and advise about what to do in Kampala or organize your safari in Uganda.
Now it's time to discover the best things to do in Kampala (Uganda). Did I miss an important, fun, or unique thing to do in Kampala? Please leave a comment in the comment section below!
1. Uganda National Mosque with 360° city views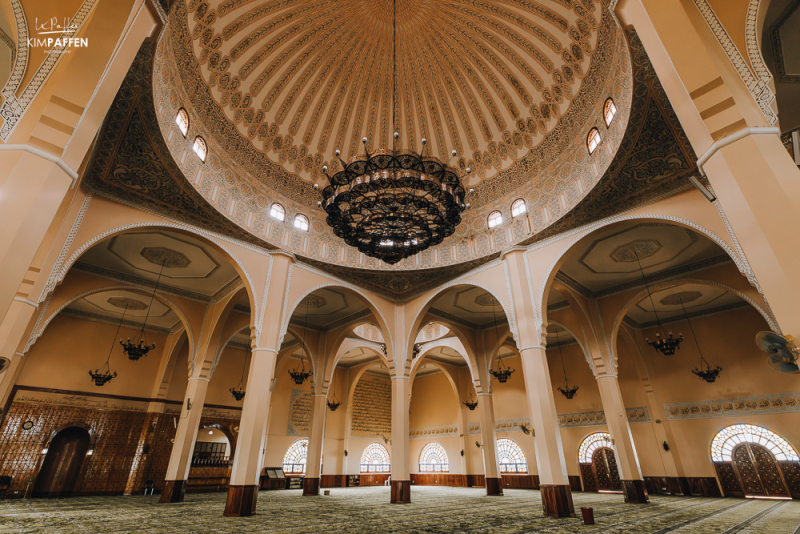 With its impressive architectural design, the Uganda National Mosque - also known as the Gaddafi National Mosque or Kampala Central Mosque - is a prominent landmark in the city on Kampala Hill in Old Kampala. This iconic Old Kampala Mosque is one of the best places to visit in Kampala as it's the largest mosque in East Africa offering a wonderful blend of Islamic culture and architectural grandeur.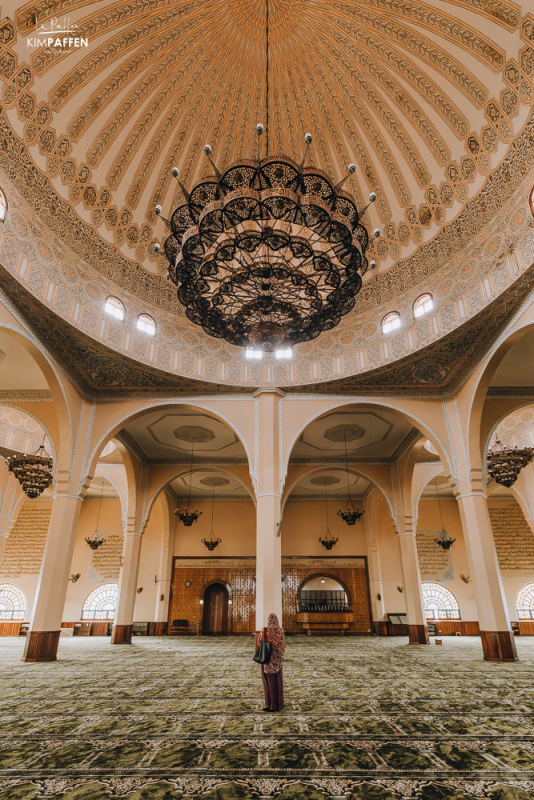 The mosque (initially built by Idi Amin Dada) got its nickname Gaddafi Mosque because the former Libyan leader Muammar Gaddafi funded various infrastructure projects, including the mosque, which became a symbol of the historical ties between Libya and Uganda during Gaddafi's rule. Following Gaddafi's fall from power in 2011, the name of the mosque became a subject of controversy and got renamed to Uganda National Mosque.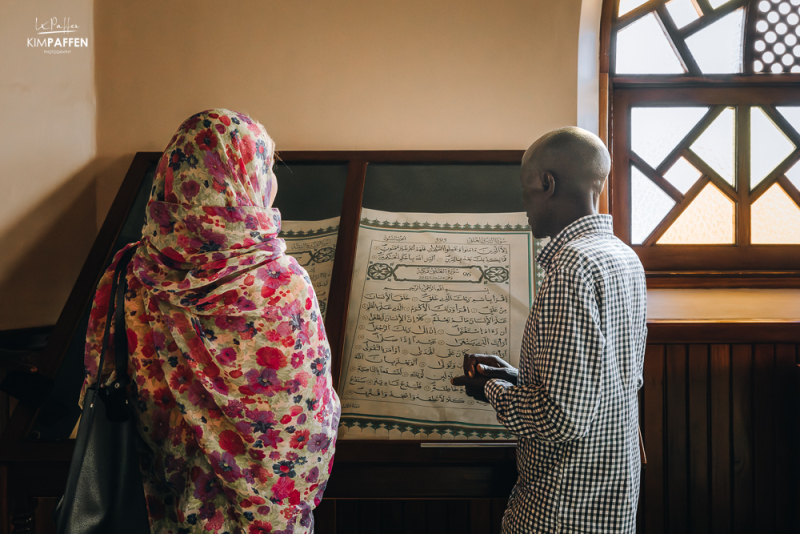 360° Panoramic views of Kampala on top of Minaret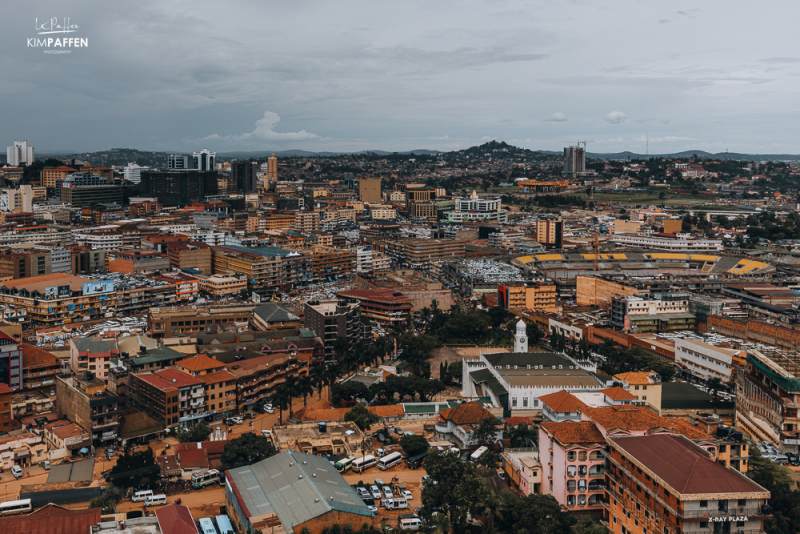 Explore the mosque's premises and admire the panoramic views of Kampala on top of the minaret. It's a 300-steps climb to get a 360-degree view over Kampala city from the top, but it's 100% worth the ascent. Also, don't forget to look down the winding staircase inside the minaret, one of the Instagrammable photo spots in Kampala.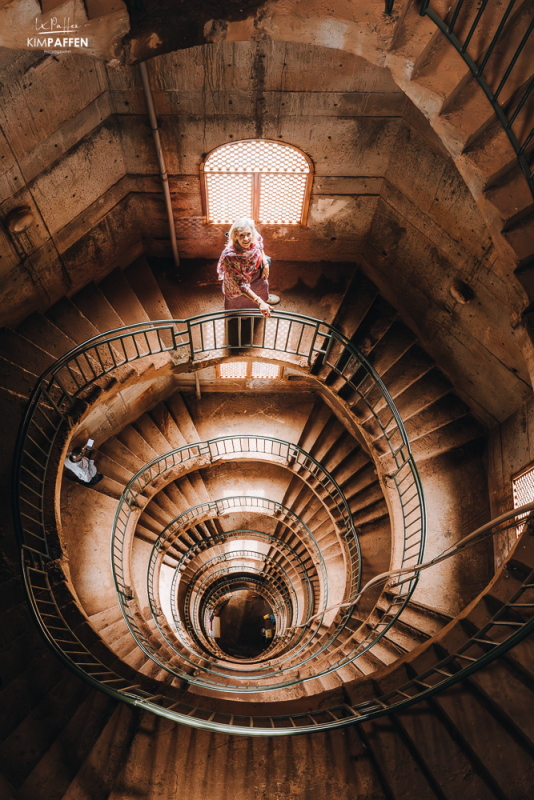 Entrance Fee Gaddafi Mosque
The entrance ticket for the Gaddafi Mosque is about 5 US Dollars (20,000 UGX) for foreign internationals. That includes a guide and a scarf to cover the women's head, arms, and legs. If you book a Kampala City Tour with Sites Travel, they already included the ticket in the walking tour.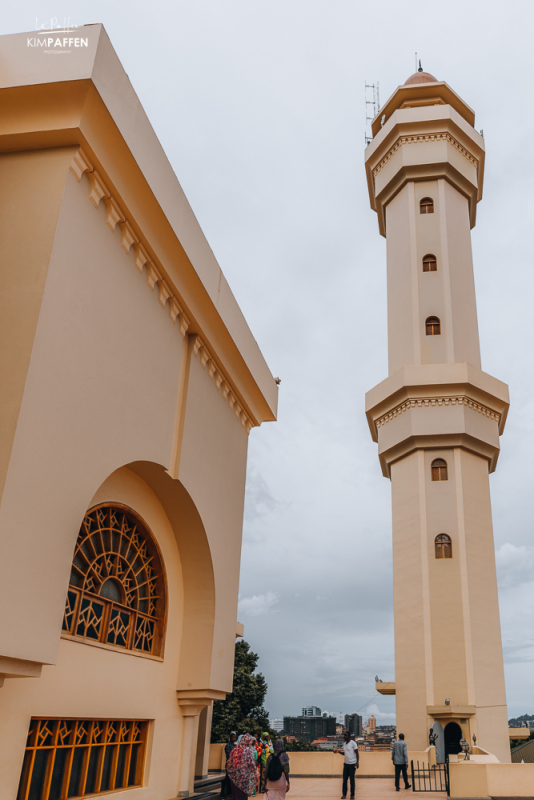 The Uganda National Mosque is one of the best places to visit in Kampala as it provides a glimpse into the Muslim community's vibrant cultural practices, and it offers some of the best views of Kampala city. A good beginning of your Kampala Walking Tour as you get to know the city and its surrounding 'seven hills' from a birds-eye perspective.
There's also another mosque in Kampala that is worth visiting, called Kibuli Mosque. It's the second most popular mosque in Uganda after the Gadhafi Mosque. It's located in Kibuli, a place with the largest population of Muslims in Kampala.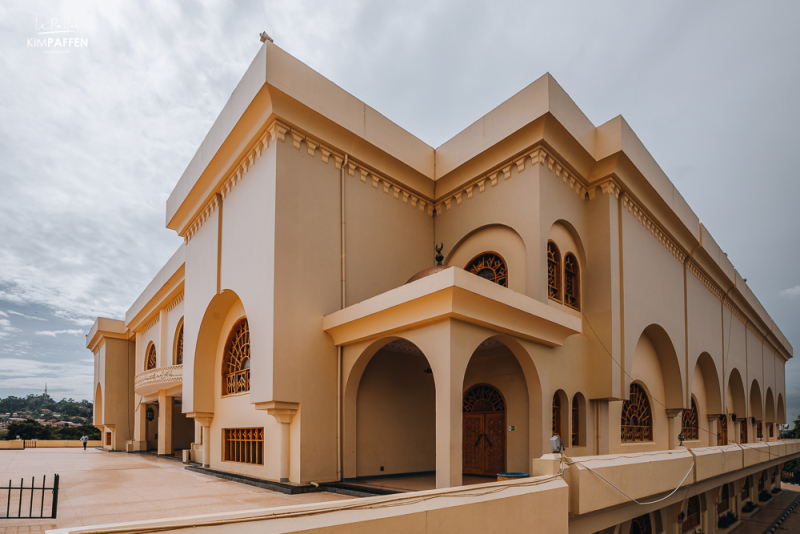 2. Visit the UNESCO Kasubi Tombs
Kampala hosts one of the 3 UNESCO World Heritage Sites of Uganda, the famous Kasubi Royal Tombs. These royal burial grounds hold great cultural significance for the Buganda Kingdom. Observe the traditional architecture, learn about the kingdom's history, and gain insight into the traditions of the Buganda people, including their spiritual beliefs & rituals associated with the last resting place of the kings and royals.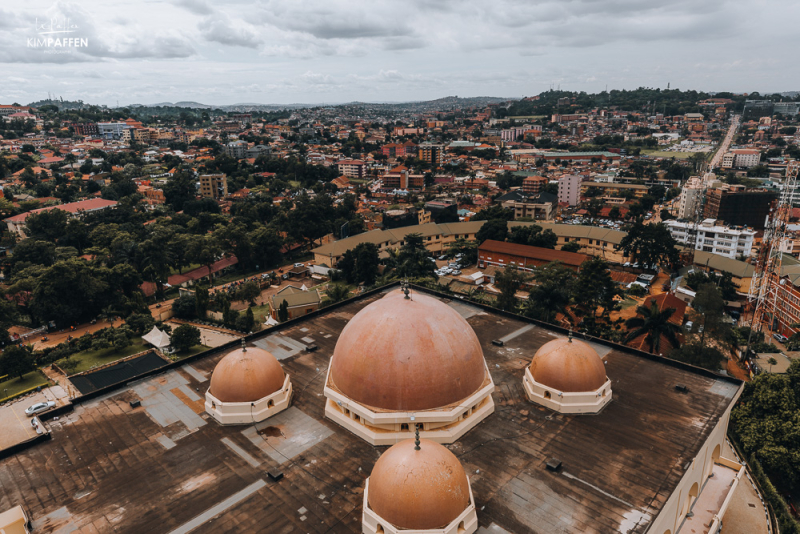 3. Explore the Uganda Museum
Learn about Uganda's past at the Uganda Museum, the oldest museum in East Africa. The museum offers an impressive collection of artifacts, exhibits on traditional crafts, and displays of Uganda's diverse cultural heritage. The Uganda National Museum offers a captivating journey through time and offers a unique opportunity to learn about Uganda's pre-colonial, colonial, and post-colonial history, as well as the country's ethnic groups, traditions, and customs. A must-visit for our history lovers and everyone who wants to learn more about Uganda.
The National Museum also hosts the annual Amakula International Film Festival in Kampala where visual content is celebrated and promoted with a focus on African cinema.
4. Kabaka's Palace & Idi Amin's Torture Chambers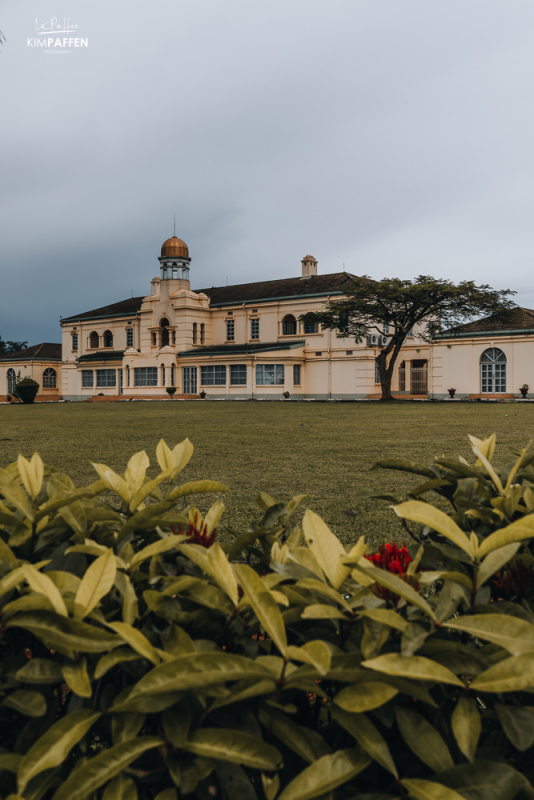 When you visit Kampala, make sure to explore the historic Kabaka's Palace, also known as the Lubiri Palace. Situated on the Royal Mile in the heart of Kampala city, the Lubiri Palace served as the residence of the Kabakas. The Kabakas were the traditional rulers of the Buganda kingdom, dating back to the 19th century during the reign of Kabaka Mwanga II. Today, the palace also houses the Buganda Parliament (Lukiiko), where the Lukiiko convenes to discuss and deliberate on matters related to the Buganda kingdom's governance, culture, and development.
The Kabaka palace complex showcases traditional Buganda architecture, like thatched roofs and intricate woodwork. You can take a guided tour including the royal residences, courtyards, ceremonial spaces, and Idi Amin's prison.
Idi Amin's Torture Chambers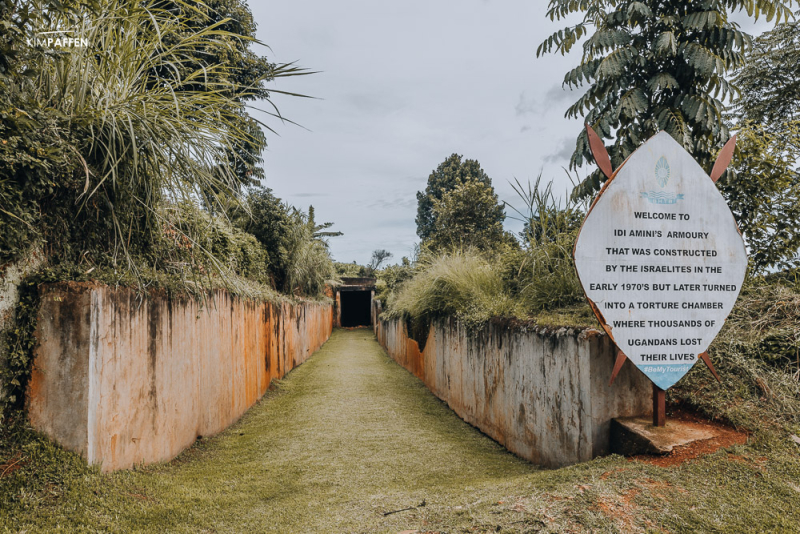 Idi Amin's Torture Chambers, also known as the Haunted Mansion or Amin's Haunted House is one of the most sad but interesting places to visit in Kampala. It is a building with a dark history associated with the regime of former Ugandan President Idi Amin. During Idi Amin's presidency, Uganda witnessed widespread human rights abuses and political repression. Many individuals were subjected to torture and violence under Amin's regime.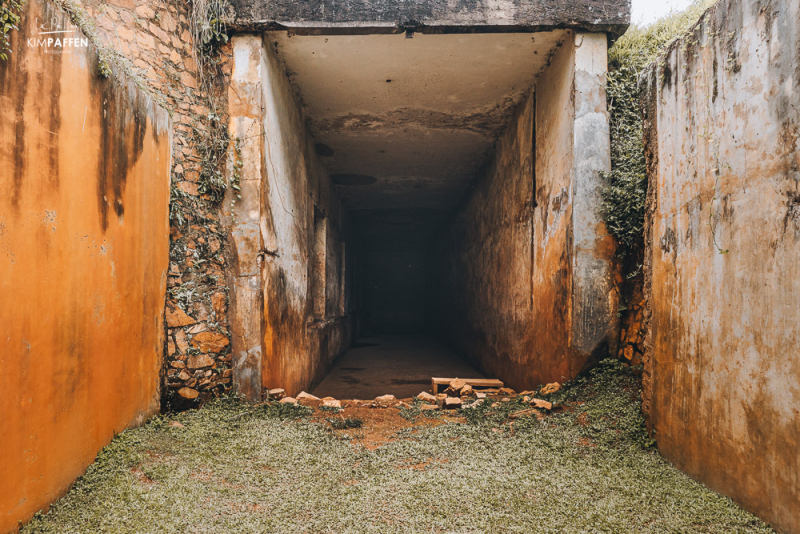 The Haunted Mansion is believed to be one of the places where Amin's security forces carried out their brutal activities. Stories and rumors of paranormal occurrences, ghostly apparitions, and lingering negative energies have emerged over the years, contributing to the haunted reputation of the site.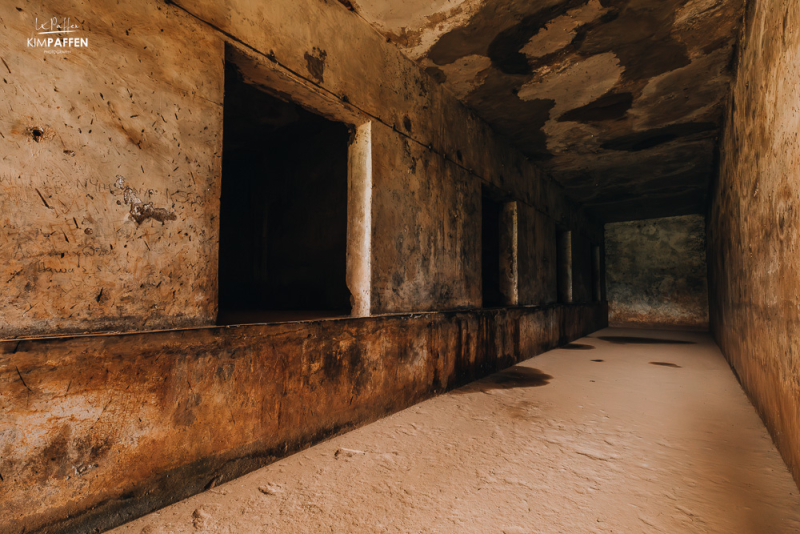 When you visit the site, you will encounter a dark concrete tunnel with prison cells. These cells used to be separated by an electrified body of water to prevent prisoners from escaping. Each torture cell had over 100 people with no ventilation, water, or food.
Unfortunately, over 200,000 people died in these torture chambers. When you visit Idi Amin's Torture Chambers you can still see heartbreaking messages on the walls of the torture cells written by former prisoners. Other signs you can find are bullet holes and scratches of resistance. I found the torture chambers impressive and ominous. It gave me goosebumps all over.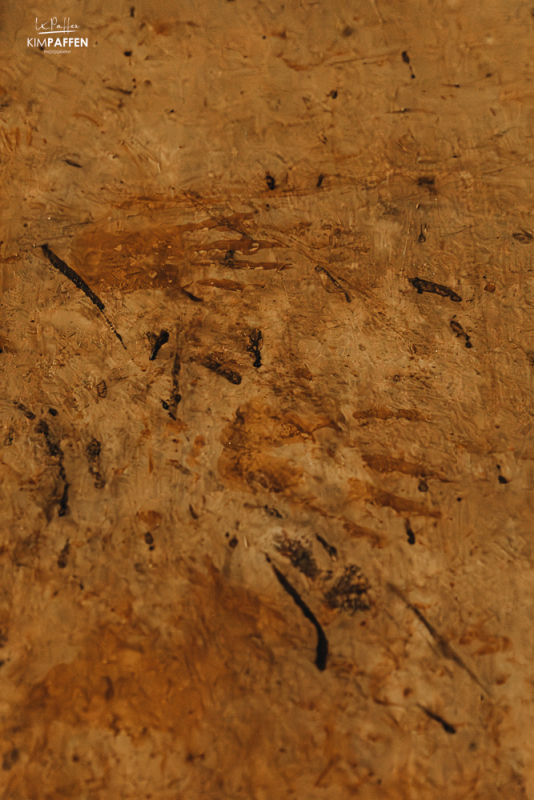 You'll also find the remains of Mutesa's Rolls-Royce which was destroyed by Idi Amin. Nowadays, the palace is called Mengo Palace due to its location on (Nkaawo) Mengo Hill, one of the 7 Kampala Hills.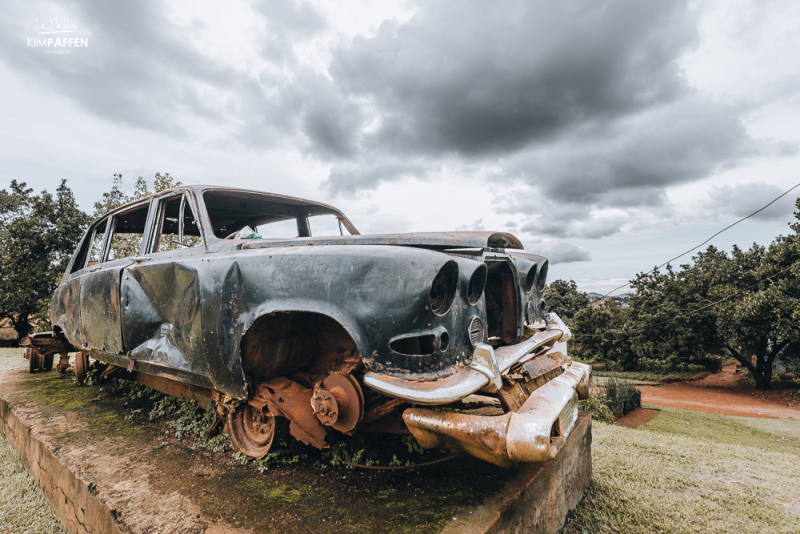 5. Royal Mile of the Buganda Kingdom
Travelers should add a walk along The Royal Mile to their list of things to see and do in Kampala. The Royal Mile is a historic road connecting important sites, and landmarks associated with the kingdom and holds significant cultural and political importance for the Buganda people.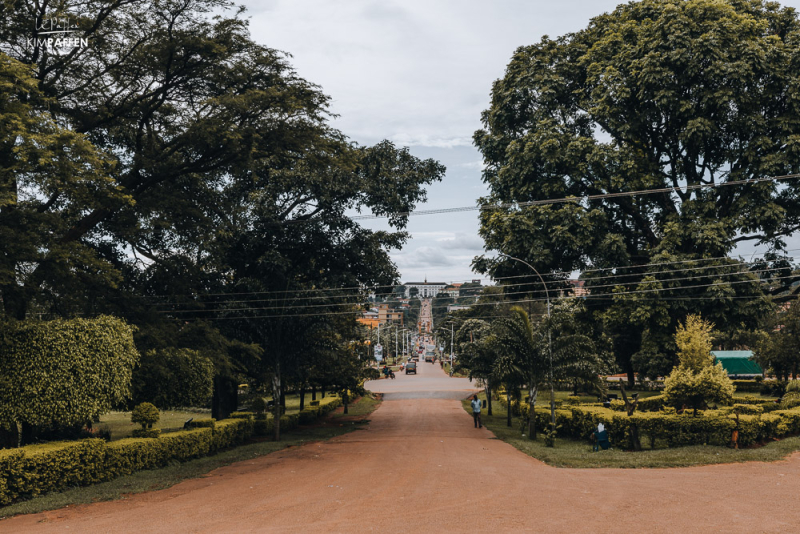 Walking the Royal Mile is one of those tourist activities in Kampala you can't miss as it features the following important landmarks:
Lubiri Palace or Kabaka's Palace (no. 4 in this Kampala article)
The Bulange Parliament Building (or Bulange Mengo) serves as the administrative and cultural headquarters for the kingdom's affairs. Here, you can learn about the political system of the Buganda Kingdom and witness the cultural ceremonies and events that take place. It also houses the offices of the Katikkiro (Prime Minister).
Naggalabi Buddo Coronation Site where Buganda kings get traditionally crowned.
Kabaka's Lake also known as Luggard's Lake, was created during the reign of Kabaka Mwanga II. The lake not only adds to the beauty of the area but also holds historical and cultural importance within the Buganda Kingdom.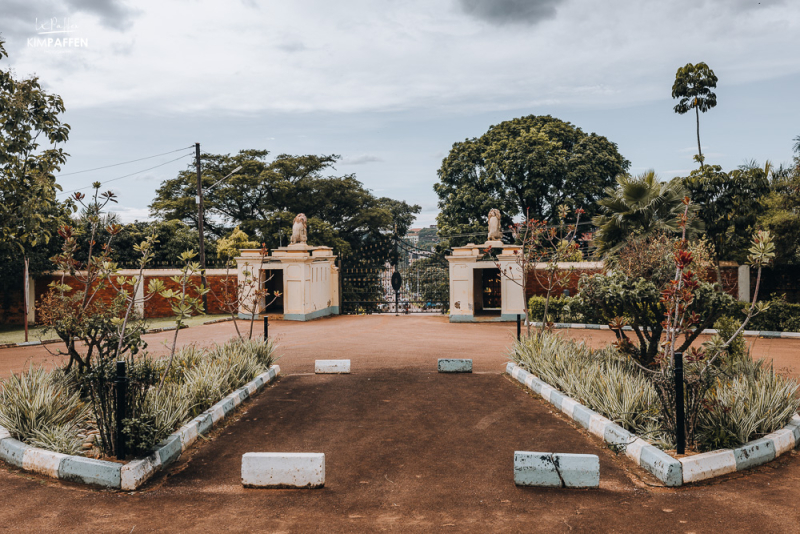 By exploring this historic activity, you learn more about the Buganda people's identity. So, take a stroll along The Royal Mile and let the stories of the Buganda Kingdom unfold before you.
6. Stroll the colorful Owino Market; the best place to visit in Kampala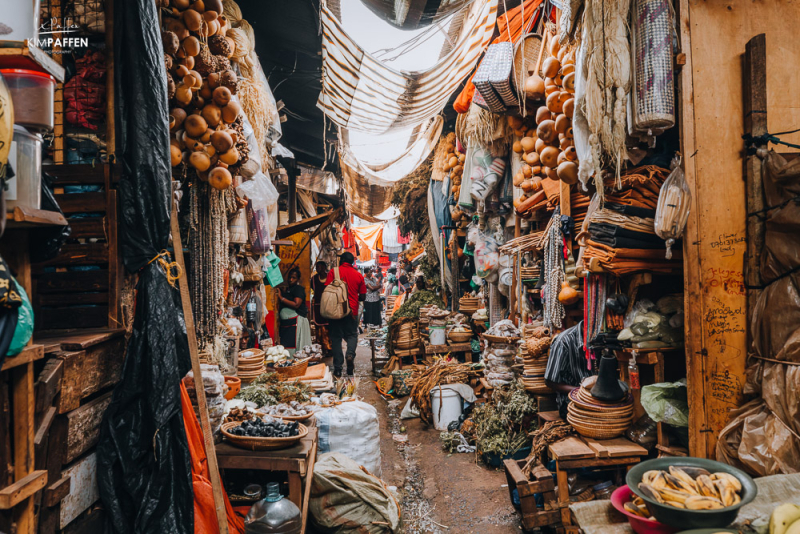 Officially (re)named St. Balikuddembe Market, no visit to Kampala is complete without experiencing the vibrant atmosphere of the Owino Market, the largest market in Kampala!
Second-hand market in Kampala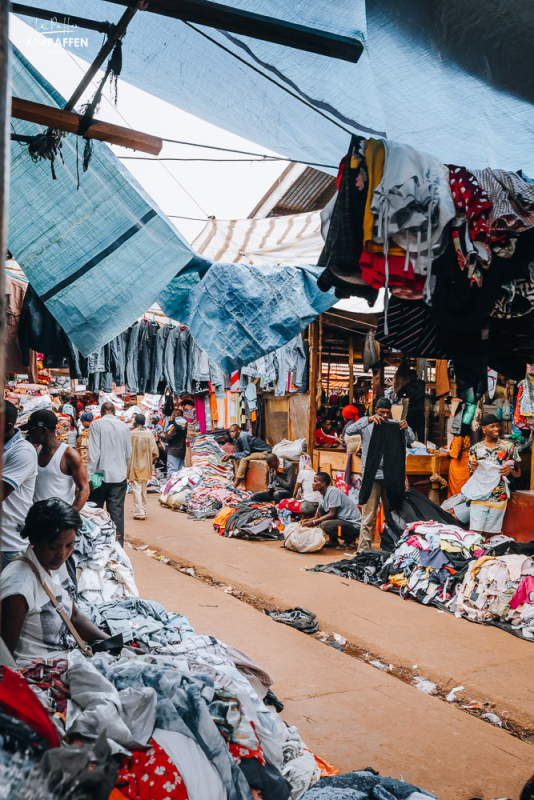 This bustling market, commonly referred to as "Kampala's second-hand market" is a treasure trove for thrift shoppers. They have everything from unique clothing and shoes to accessories; all at affordable prices. So, unleash your inner fashionista as you browse through second-hand items, giving them a new life and adding a touch of individuality to your wardrobe.
Labyrinth of alleys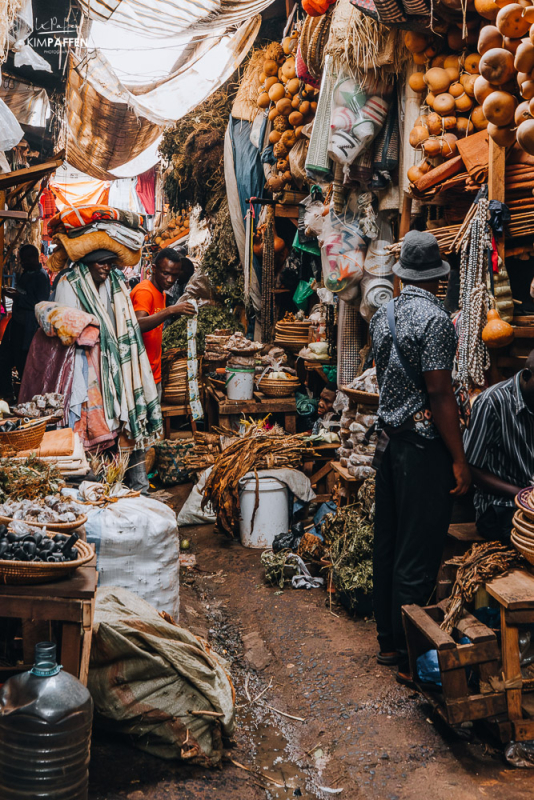 Visit Kampala and get lost in the many small alleys that feel like a labyrinth filled with stalls offering colorful fabrics, traditional crafts, clothing, traditional Ugandan food, and lots of souvenirs. Engage with friendly vendors, bargain for unique finds, and embrace the lively atmosphere of this bustling open-air Owino Market. I was happy our guide Grace knew exactly what alleys to go through and what stalls to show us to learn some interesting facts about certain products. 100% one of the best outdoor activities in Kampala!
Open-air St. Balikuddembe Market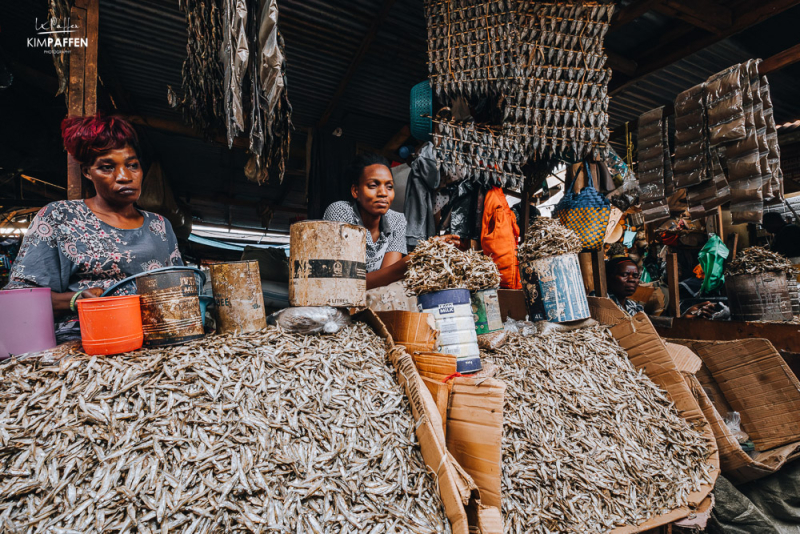 They renamed Owino Market into St. Balikuddembe Market in honor of a prominent Ugandan martyr named Charles Lwanga, who was canonized as Saint Charles Lwanga Balikuddembe. Balikuddembe is a local term that means "the one who brings peace". The name change pays homage to this important figure in Ugandan history and to emphasize the market's connection to the local community.
7. Eat Local Ugandan Cuisine (Rolex tasting)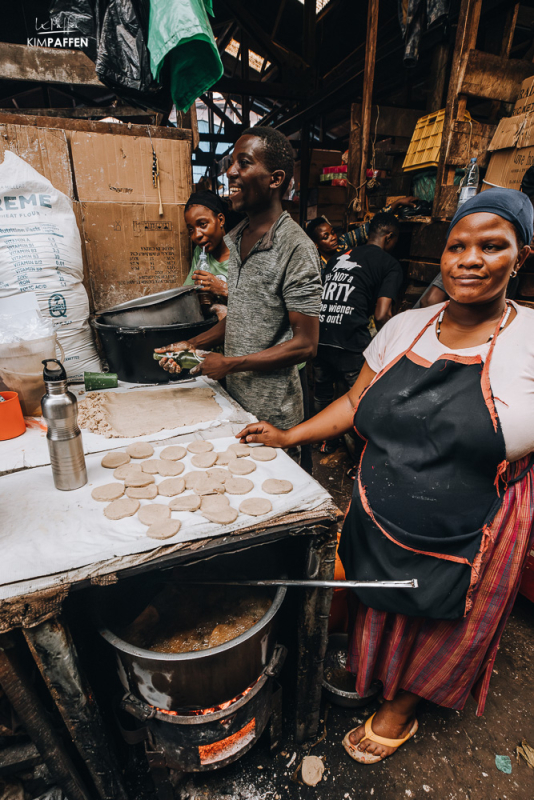 When in Kampala, you can't miss out on tasting some flavors of the Ugandan cuisine. Things you must taste and eat in Downtown Kampala are local dishes like matoke (cooked banana), luwombo (stewed meat wrapped in banana leaves), and Rolex (a popular street food comprising a rolled chapati with eggs and vegetables).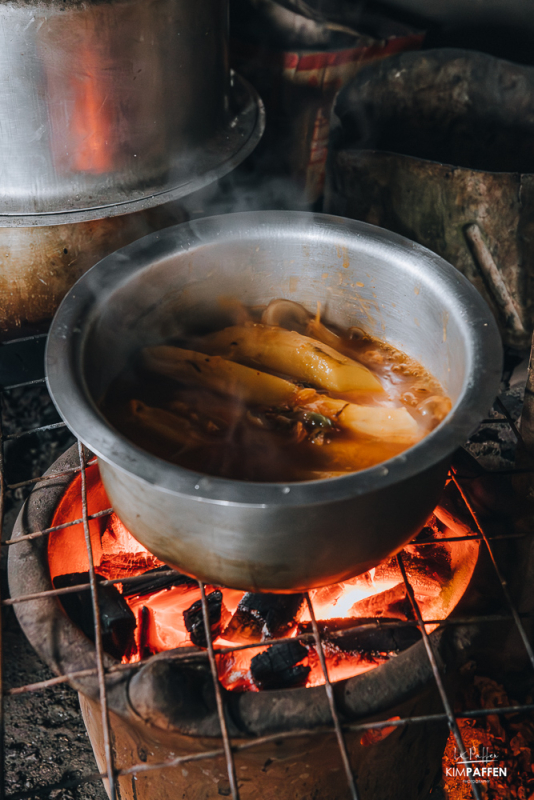 So when you buy a Rolex in Uganda, you don't get a watch but a rolled chapati with eggs! A Ugandan Rolex is a great street food that you find along the road. We did Rolex tasting on our Kampala City Tour, where we got to see how they make this fresh local Ugandan dish.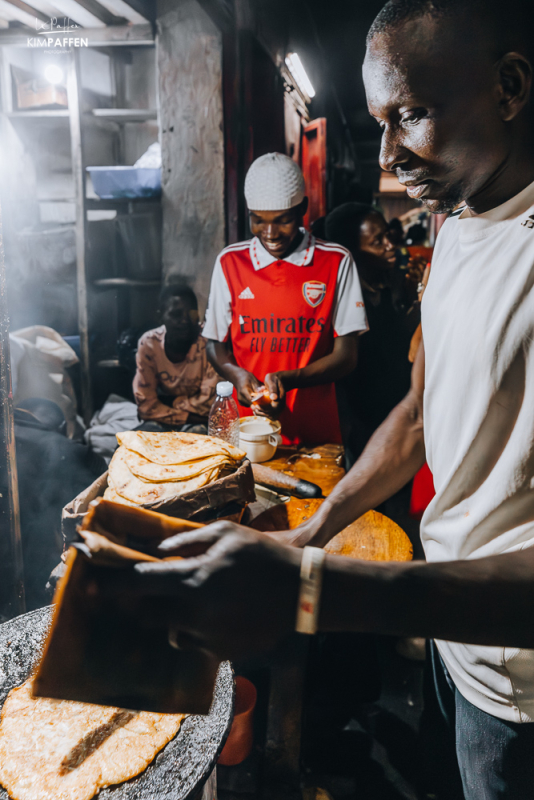 We also tasted freshly made Banana pancakes and some G-nut sauce. Head to local restaurants and Kampala street food stalls to experience the authentic tastes of Uganda.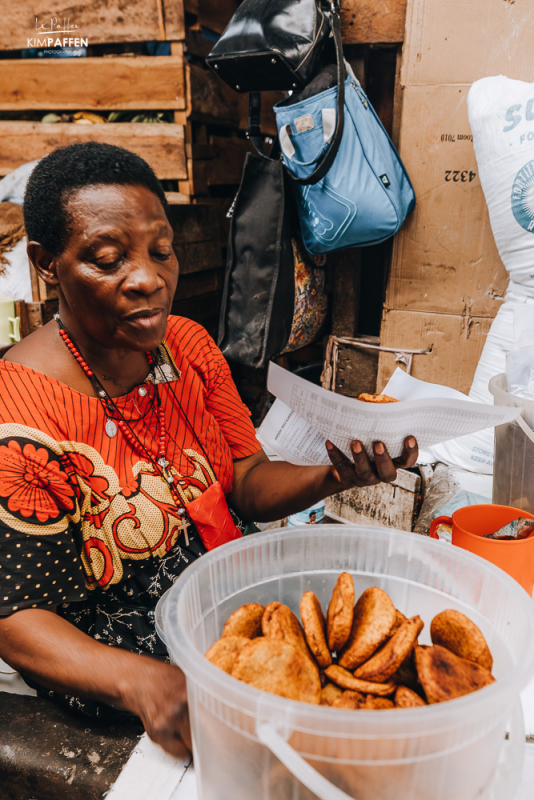 If you have more time, you can also opt for a Ugandan Cooking Class with authentic Ugandan dishes or do a half or full-day food tour in Kampala. A food tour is one of the cool things to do in Kampala because it's very interactive and a great way to support the vendors and their families.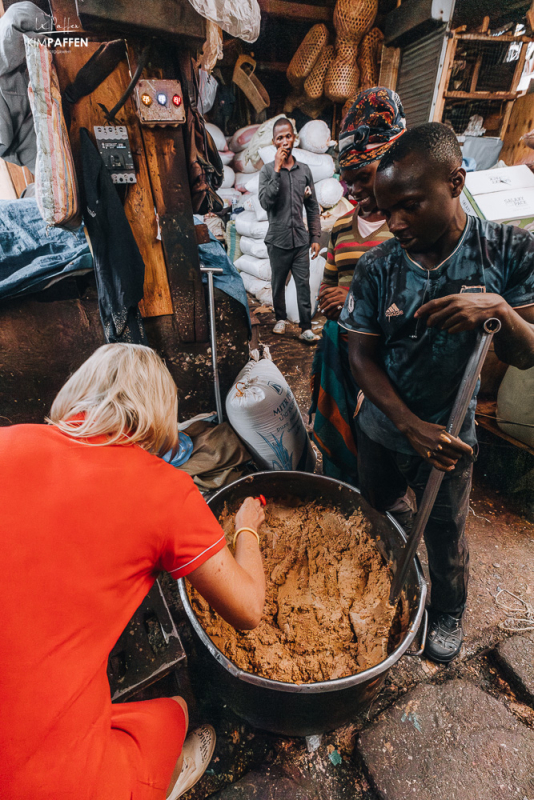 Are you a lover of coffee? Check out 1000 Cups of Coffee, at PRISM Mall on Buganda Road - opposite the East African Craft Village. They also offer Coffee Safaris and options to experience their Roastery.
8. Ugandan Coffee Experience Class
Life is too short to drink terrible coffee! The Coffee Experience and Home Brewing Class in Kampala is an interactive and fun thing to do in Kampala if you want to learn more about Uganda's rich coffee heritage. The class delves into the progress (or lack thereof) in being recognized as a coffee giant and growing & processing methods. It also focuses on price transparency and the dynamics between coffee growers and coffee consumers.
You will analyze roast profiles, grind size, and various brewing methods, plus you will sample specialty Robusta and Arabica coffee. Interested in this coffee class? Check out One Tribe Coffee at Motiv or visit their Instagram.
9. Buy fresh fruits at Nakasero Market
In the heart of downtown Kampala, Nakasero Market is Kampala's major food market; a bustling hub where locals, visitors, and businesses come together to buy and sell fresh food like colorful fruits, vegetables, grains, spices, meats, fish, and livestock like chickens.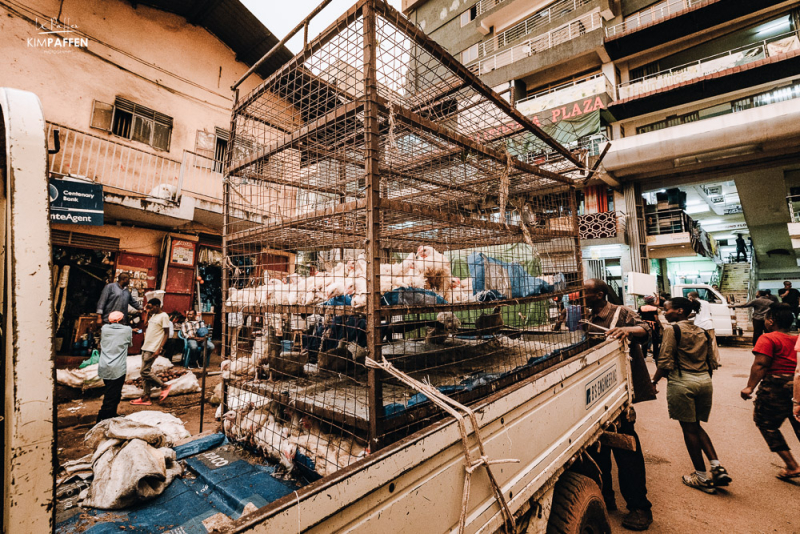 It is the oldest and most iconic market in the city, offering a unique cultural experience for visitors. It's also the place where most hotels buy their food.
So, the foodies among us will be in for a treat at Nakasero Food Market. Take a stroll through the food section and engage with the vendors to learn about traditional Ugandan ingredients and recipes.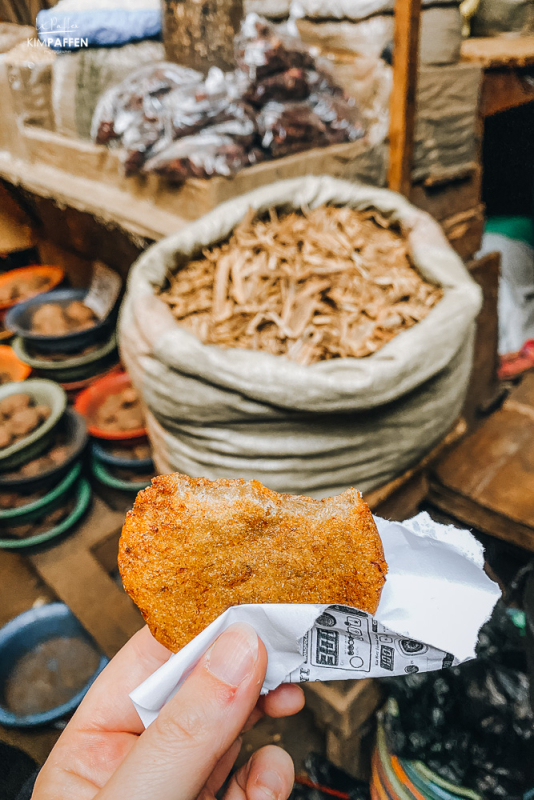 Eat fresh fruits and sample some of the local street food, such as roasted plantains, grilled meats, and savory samosas, for a true taste of Uganda's culinary delights.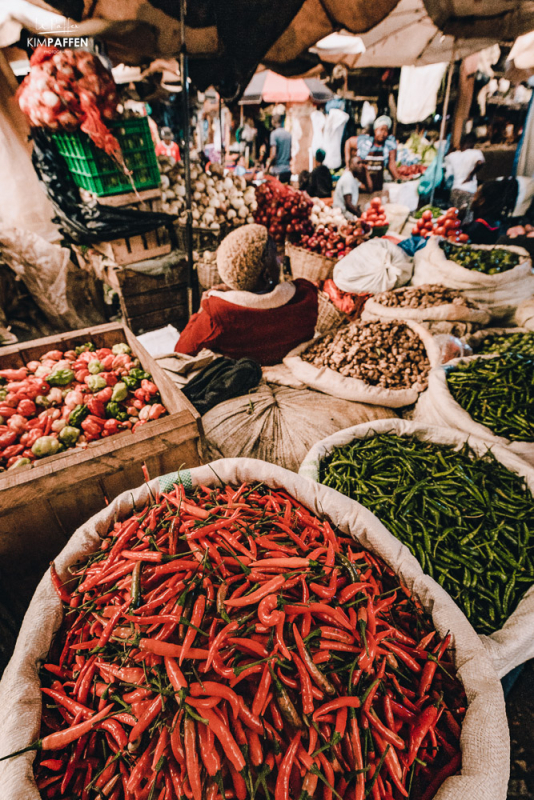 The lively atmosphere, bustling crowds, and eye-catching displays make it a photographer's paradise. Capture the essence of everyday life, and the friendly faces of the vendors as you document your visit to Nakasero Market.
📷 Kampala Markets Photography Tip: Don't forget to ask permission to photograph people or to capture a portrait as not everyone likes to be photographed; especially not without asking permission.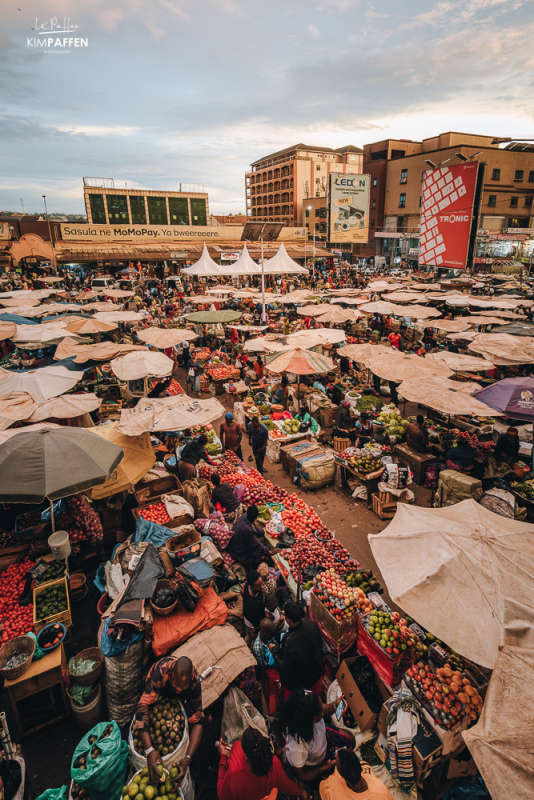 Like to have a panoramic view of the Nakasero Market to photograph the food market from above? Go up the stairs at the nearby mall! If you're with a guide he or she can show you the way!
What I like about strolling the markets is that it's a cheap thing to do in Kampala as the markets don't have an entrance fee. I do recommend buying some souvenirs, and tasting local dishes and fresh fruits, like mango.
10. People-watching at Old Taxi Park
The Old Taxi Park is a bustling transportation hub that can be an interesting place to see in Kampala. It's where taxis, matatus, and boda-bodas converge. Passing by the taxi park, away from the more touristy areas, allows you to witness the vibrant hustle and bustle of Kampala's transport system firsthand, and it's a fantastic spot for people-watching.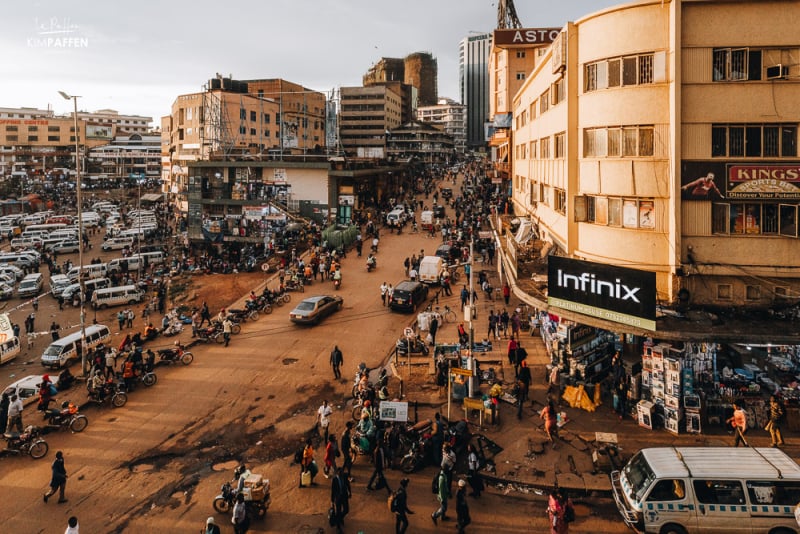 It's a chance to observe the vibrant street life, and it provides a glimpse into the authentic side of Kampala. The park is a hive of activity, with the constant movement of vehicles and people, the sounds of honking horns, and the vibrant colors and energy that characterize the local transportation system.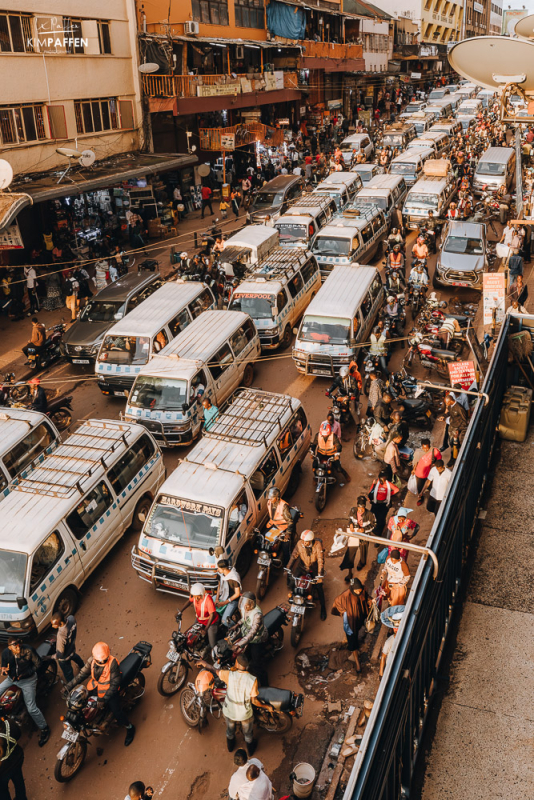 The old Taxi Park is also a commercial center. Vendors set up shops around the park, offering a variety of goods and services. The Taxi Park offers many opportunities for capturing unique photographs that reflect the essence of Kampala. The lively scenes, vibrant colors, and the constant motion of people and vehicles can make for interesting visual compositions.
  Old Taxi Park Travel Tip: If you walk up the stairs in the nearby mall you will have a great view over the Old Taxi Park and the nearby busy streets. It's also a great spot to watch the sunset over Downtown Kampala; a free thing to do!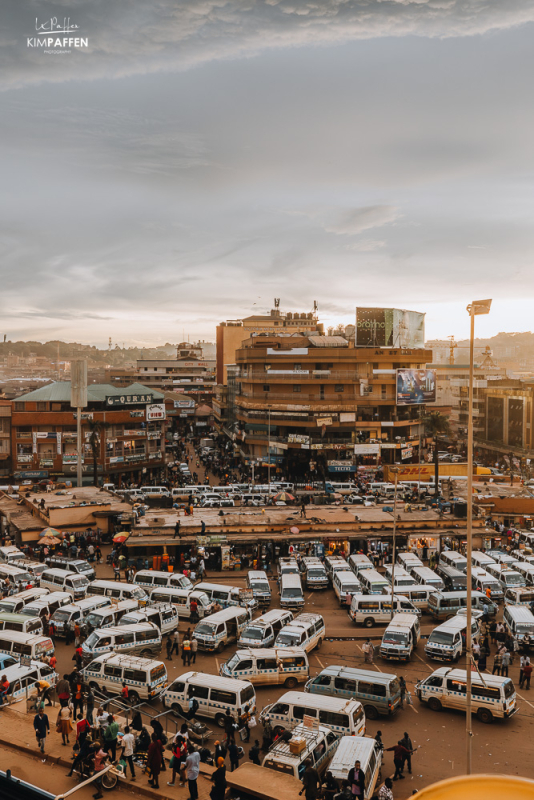 11. Discover the Bahá'í Temple
The Bahá'í Temple, also known as the Mother Temple of Africa, is set on Kikaya Hill, one of the 7 hills that surround Kampala. This magnificent temple offers panoramic views of Kampala and provides a serene space for reflection and meditation. The Bahá'í Faith was introduced to Uganda in 1951, making it one of the earliest Bahá'í communities in Eastern Africa. Bahá'í Houses of Worship are spiritual gathering places open to all peoples.
Explore the beautifully landscaped gardens and learn about the Bahá'í faith. The property (opened in 1961) includes the Bahá'í House of Worship, the peaceful gardens, a guest house, and an administrative center.
For a very long time, Uganda was the only country in Africa with a Bahá'í Temple. However, in recent years they built a temple in Kenya and the world's first national Bahá'í House of Worship in Congo, DRC. They also plan to build another one in Zambia.
12. Visit the Namirembe Cathedral
The Namirembe Cathedral, also known as St. Paul's Cathedral Namirembe, is one of the oldest and most iconic cathedrals in Uganda. It holds a significant place in the country's history and serves as the headquarters of the Anglican Church of Uganda. Tourists can attend these services.
The panoramic views of Kampala city are another reason why the Namirembe Cathedral is one of the beautiful places to visit in Kampala. The cathedral is located on Namirembe Hill, one of the 7 hills of Kampala.
13. Buy Souvenirs at Kampala Craft Markets
Explore the vibrant craft markets in Kampala, such as the National Crafts Village at the Kampala National Theatre complex, the African Village Market in Kisementi, the East African Craft Village, or the Uganda Crafts 2000 Limited.
These bustling markets offer a wide selection of traditional crafts, including colorful textiles, wood carvings, jewelry, basketry, and artwork. Engage with local artisans, learn about their techniques, and take home unique Ugandan souvenirs.
  Responsible Travel Tip: By purchasing souvenirs on one of the local markets, you support local artisans. You might not need a souvenir to bring back home, but buying a souvenir at these stalls is a great way to give back to local Ugandans and their community.  If you don't want to take your souvenir from Uganda back home, you can gift it to a local Ugandan you meet along the way. Another option is to buy some school materials to gift to a rural school.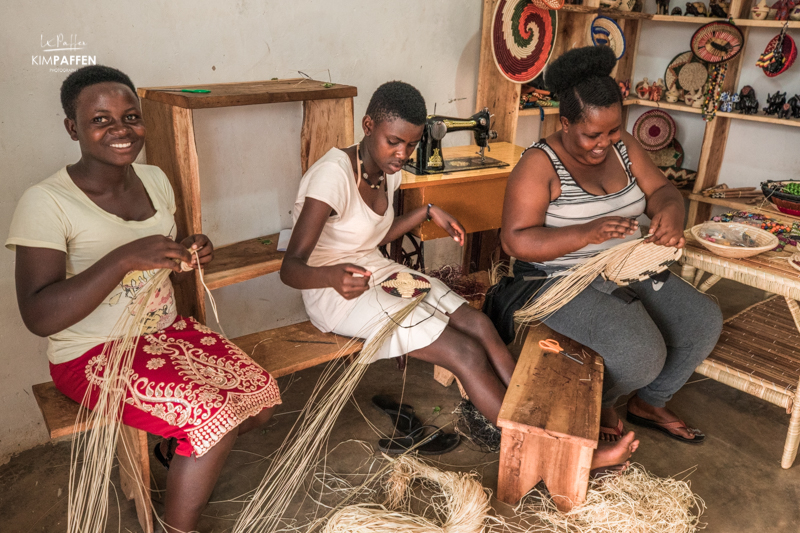 If you're done souvenir shopping in these tourist places and want to experience some upscale malls, you can also visit various shopping malls in Kampala, like the Oasis Mall in Centenary Park and Acacia Shopping Mall in Kisementi. Acacia Mall has various shops, cafes and restaurants. Cafesserie is a nice hangout place in the mall with a nice menu and ambiance. Other malls are Lugogo Shopping Mall (Kabalagala) and Freedom City (Entebbe Road).
14. Experience Ndere Cultural Center
Nestled in a beautiful garden setting, The Ndere Cultural Center is a cultural hub for tourists visiting Uganda to experience traditional dances, music, and storytelling that highlight the diverse ethnic groups of Uganda. Attend captivating evening shows that feature energetic drumming, African dances, and traditional songs performed by talented artists wearing colorful traditional clothing.
Through its performances, it seeks to foster unity, understanding, and appreciation for Uganda's cultural diversity. It's an excellent opportunity to gain insights into the history, rituals, and beliefs of various ethnic Ugandan groups, as well as witness the fusion of traditional and contemporary elements in Ugandan music and dance.
Apart from the performances, this Kampala tourist hub also hosts workshops, where you can learn traditional crafts, musical instruments, and dance moves. Visiting the Ndere Cultural Center is definitely among the best things to do in Kampala. Engage with the artists, take part in interactive sessions, and get a hands-on experience of Uganda's cultural expressions.
15. Kampala Sightseeing Bus Tour
If you're short on time, you can also explore Kampala City with the Kampala Sightseeing Bus. This city sightseeing tour offers two daily trips and the journey takes between 4 and 5 hours depending on the traffic. The bus will take you to Kampala's top sights such as the Uganda Museum, The National Theater, Nakasero Market, Rubaga Cathedral, Namirembe Cathedral, Kabaka's Lake, Kabaka Royal Palace, Uganda national mosque, Bahai Temple, the Independence Monument, and many other things to see in Kampala. The tour starts at the BMK House next to Hotel Africana.
I listed the bus sightseeing tour as some of the best things to do in Kampala to give you more ways of exploring Kampala City. Personally, I prefer a private guided tour to experience Uganda's capital city, like the one I did with Sites Travel.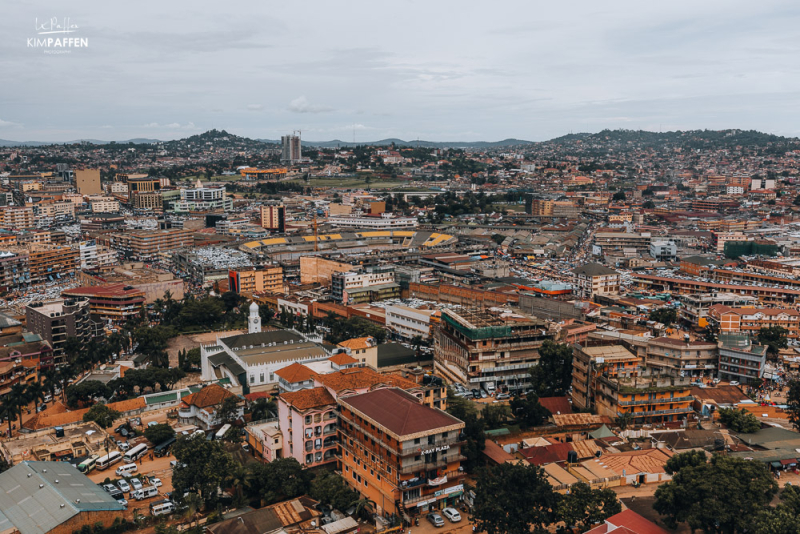 16. Kampala by Night Party Bus
Wondering what to do in Kampala at night? Experience the energy of Kampala's nightlife in a unique and thrilling way with the Kampala by Night Party Bus. Stepping aboard the party bus is without a doubt one of the most fun things to do in Kampala. The party bus is equipped with a high-quality sound system, dazzling lights, and comfortable seating, getting you ready for a night of excitement, music, and dancing in the city that never sleeps.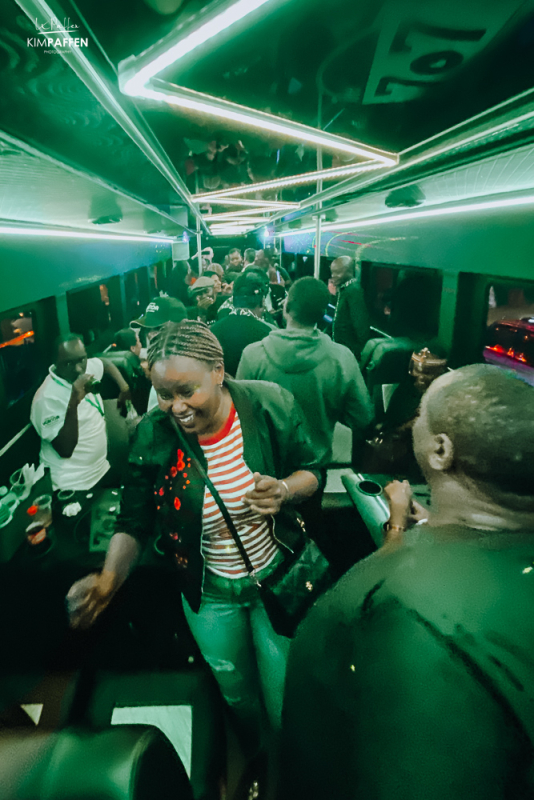 I experienced this fun activity during my last safari trip to Uganda together with Explore Uganda (the Uganda Tourism Board). We had a lot of fun, and it was a great way to get to know the people in the neighboring seats. I left my camera in the hotel at Speke Resort Munyonyo, so I only have a few phone images.
As the party bus hits the road, you'll cruise through the streets of Kampala, immersing yourself in the lively atmosphere and beats of the nightlife in Kampala. It's not for nothing that Kampala is regarded as the 'Las Vegas of Africa'. The city is very alive after dark with lots of bars and pubs to have a fun night out. The upscale nightlife spots are most safe for tourists in Kampala.
Popular Nightlife Spots & Bars in Kampala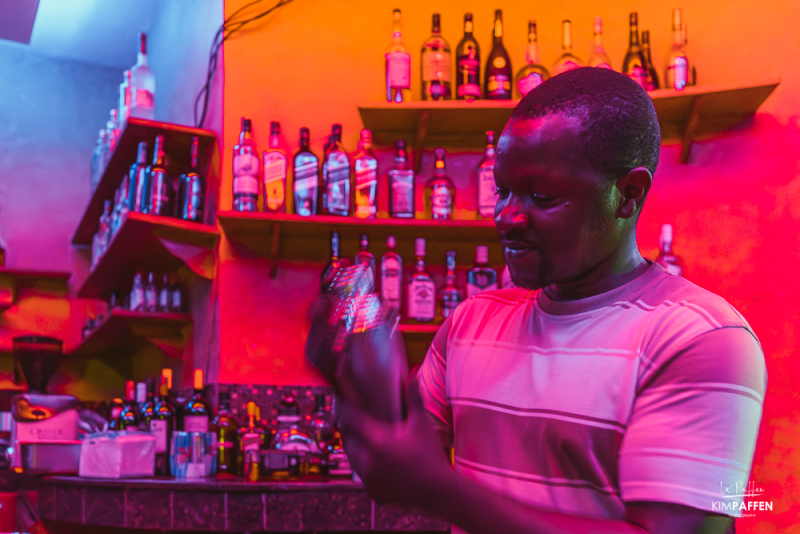 The Kampala by night route may include some of the following popular hangout places:
Industrial Area known for its trendy bars, lounges, and clubs;
Kisementi is a popular area filled with hip bars like Alchemist Bar, Sky Lounge Rooftop Bar with panoramic views of the city skyline, restaurants, and clubs offering a mix of local and international entertainment, ensuring a diverse and lively experience for partygoers;
The upscale residential Kololo is known for its trendy bars, rooftop lounges, and live music, like Casablanca Pub & Restaurant on Acacia Avenue, a bustling street lined with a variety of bars and clubs;
Ntinda is a lively neighborhood where you'll find a mix of local hangouts, clubs, and live music venues where you can enjoy performances by talented Ugandan artists and DJs;
Centenary Park is a popular entertainment complex offering a variety of bars, clubs, and open-air venues.
Prices of domestic and imported beers vary. In more upscale clubs you also pay higher prices. According to Numbeo that shares an overview of the cost of living in Kampala, the price for a domestic beer (0,5l draught) is around 0.81 - 3.22 USD.
The Kampala by Night Party Bus tour provides a safe and exciting way to discover the city's vibrant nightlife, hopping from one hotspot to another, and enjoying the music, drinks, and lively ambiance on board. It's a fantastic opportunity to socialize, dance, and create unforgettable memories with friends and fellow travelers in some of the coolest hangout spots in Kampala.
Where to book the Kampala by-night party bus ride?
7o7safaris offered an exclusive luxury party bus that is available for dry hire and 25 persons max. There was also an open-roof party bus offered by "Promote Uganda Safaris Limited (PUS)", the same organization that offers the Kampala Sightseeing Bus Tour.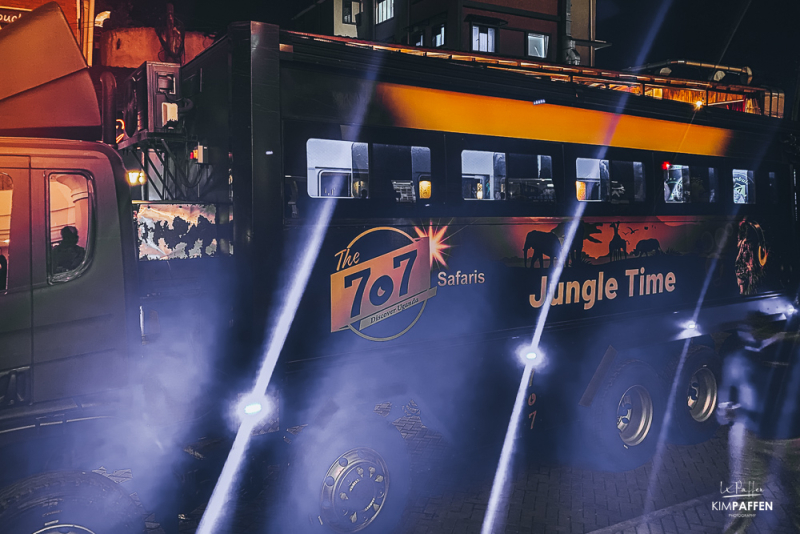 17. Reflect at Uganda Martyrs' Shrine
This historical and religious site, also known as the Namugongo Martyrs' Shrine is located in Central Uganda 15 kilometers northeast of Kampala City. It commemorates the lives of 22 Christian converts who were executed for their faith in the late 19th century during the reign of Kabaka Mwanga II of Buganda. The shrine serves as a powerful reminder of the sacrifices made by these young men and women who chose to remain steadfast in their beliefs.
Apart from that, The Uganda Martyrs Shrine Namugongo is one of the largest Christian pilgrimage destinations in Africa and a place of reflection and prayer for visitors, especially during the annual Martyrs' Day celebrations on June 3rd, which is a public holiday in Uganda.
18. Unwind at Lake Victoria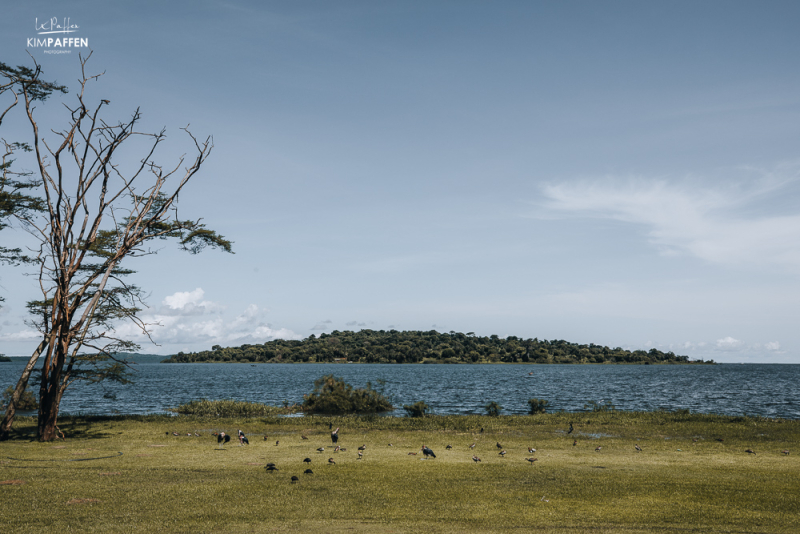 Take a break from the chaos in Kampala city and head to the tranquil shores of Lake Victoria, Africa's largest lake. Because the lake borders multiple countries, it's also one of the best things to do in East Africa.
Looking for a romantic thing to do in Kampala? Go pick-nicking at Lake Victoria and head back after you watched a typical African sunset. A totally free thing to do in Kampala and you're at the lake in no time. Other tourist activities on Lake Victoria are a scenic boat ride, fishing excursions to catch Nile perch and tilapia, or simply relaxing by the waterfront.
Ggaba Fish Market
If you decide to visit Lake Victoria, Ggaba Market is a must-visit for seafood enthusiasts. It's a vibrant fish market where fishermen bring in their fresh catches of the day.
Birdwatching near Kampala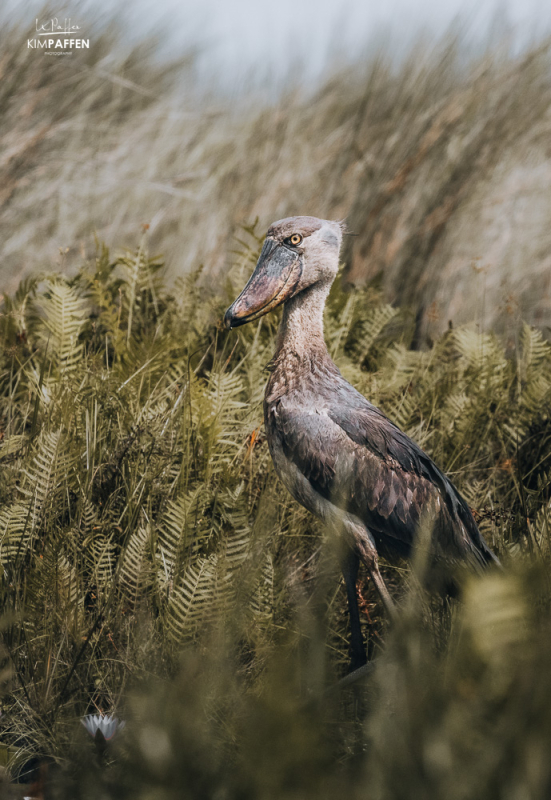 Lake Victoria is also a paradise for birdwatchers. Some birds you can spot along the shores of Lake Victoria are the African Fish Eagle, Pied Kingfisher, and Malachite Kingfisher. A great place to see nearby Kampala is the Mabamba Swamp, known for the Shoebill watching activity. This birding activity starts from Entebbe but you can easily arrange a half-day trip from Kampala. Here are a few examples of birding tours in Uganda:
Island-hopping Lake Victoria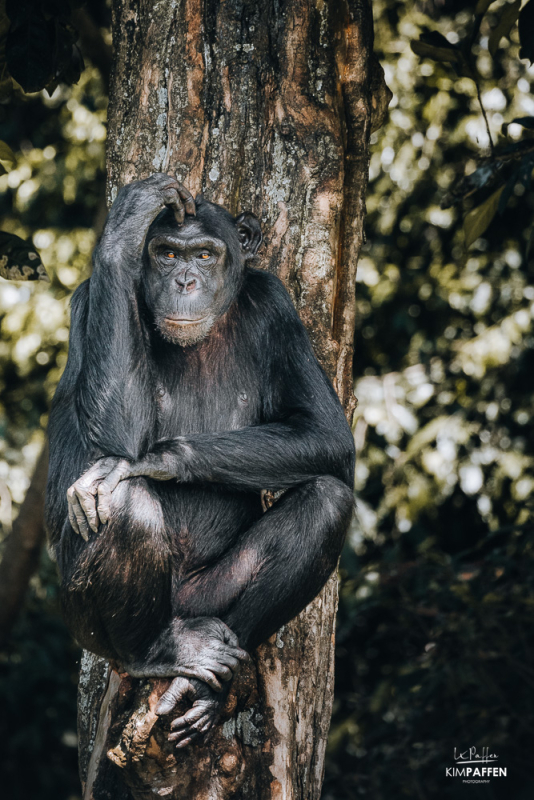 Lake Victoria hosts many beautiful islands like Ssese Island, Bulingugwe Island, and Ngamba Island Chimpanzee Sanctuary, that are worth visiting when you travel to Uganda.
Lake Victoria Beaches near Kampala
Explore the pristine beaches and just relax on the shores of Lake Victoria. Some popular beaches near Kampala include Munyonyo Beach and Lido Beach.
Kampala Cycling
Are you a fan of cycling? A cool thing to do near Kampala is an off-the-beaten-path cycling tour around Lake Victoria, starting in Kampala. Here are examples of a cycling tour:
19. Water fun at Planet Water Park & Games in Kampala
If you're traveling in Kampala with kids, check out Planet Water Park & Games. It's the ultimate destination for thrilling water adventures and one of the most fun things to do in Kampala (with kids). Locals visit a lot as well, especially during weekends. Another option to hangout with kids is the Disney Kids Play Park.
20. Discover the Source of the Nile by boat on a day-trip from Kampala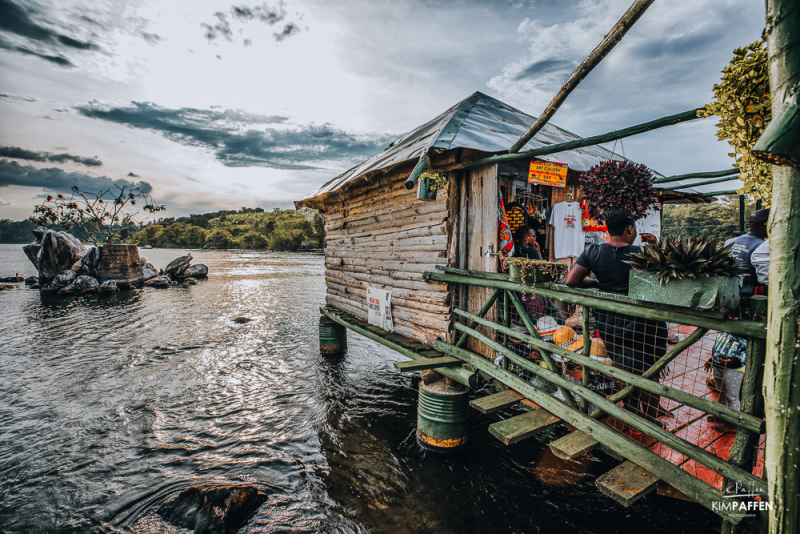 You can find the Source of the Nile in Jinja, also known as Uganda's adventure capital. Jinja is nearby Kampala, and it's very easy to plan a day trip from Kampala to see the source of the Nile. Because Jinja is close Kampala, I included it in the best things to do nearby Kampala.
If you're interested in visiting the source of the Nile and other tourist places in Uganda, I recommend reading  The 15 best places to visit in Uganda,
Here are examples of 1 to 3-day tours to Jinja and the Source of the Nile:
20 Best things to do in Kampala
In summary, these are the 20 best things to do in Kampala, Uganda:
Uganda National Mosque
UNESCO Kasubi Tombs
Uganda National Museum
Kabaka's Palace & Torture Cells
The Royal Mile
Mowimo Market
Eat Local Uganda Street food
Ugandan Coffee Experience Class
Nakasero Market
Old Taxi Park
Baha'i Temple
Namirembe Cathedral
Kampala Craft Markets
Ndere Cultural Center
Kampala Sightseeing Bus Tour
Kampala by night Party Bus
Uganda Martyr's Shrine
Lake Victoria
Planet Water Park & Games
Source of the Nile
Is Kampala worth visiting?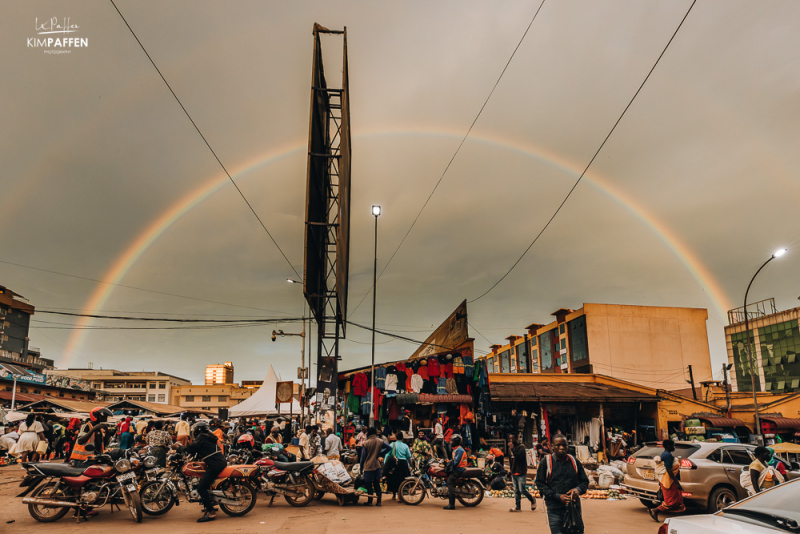 When I first visited Uganda in 2018, I skipped Kampala in my 3-week itinerary because I read it's too much chaos, not really a clean city, and nothing much to do. Since Kampala is the heart and soul of Uganda, I really wanted to explore the capital city whenever I would visit Uganda again, and I'm super happy I did! I will even visit Kampala again next time, as there's still more to explore.
Is Kampala a clean city? Not really! They try to keep the streets clean but there's a lot of dirt everywhere and looking at Kigali in Rwanda, Kampala still has a lot of work to do. Is Kampala chaotic? 100%. You just have to adapt and go with the flow to find peace in the crowds going about their daily lives.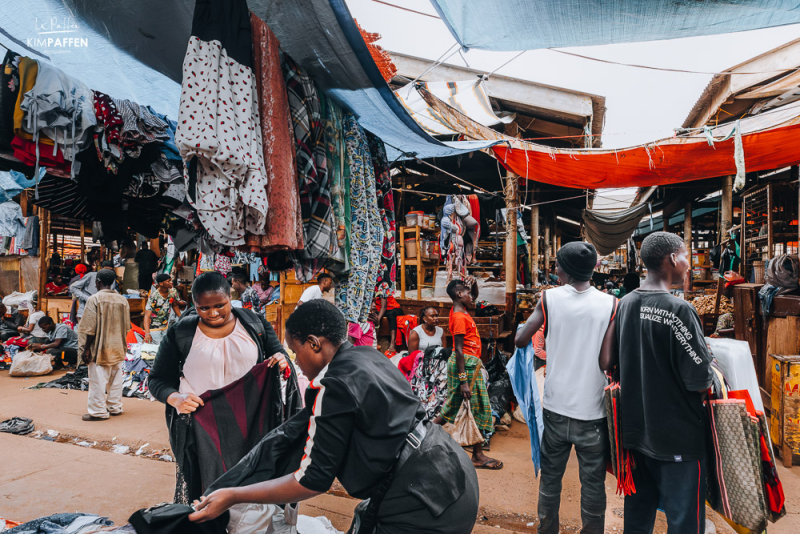 So, yes, Kampala is a place worth visiting! From delving into the country's rich heritage at the Uganda Museum to exploring the serene shores of Lake Victoria, this city offers a diverse range of experiences.
Where to book a Kampala Walking Tour?
Book a Kampala Walking Tour and immerse yourself in the sights, sounds, and flavors that make this African gem shine.
Plan your trip to Kampala today, and let this remarkable city leave an indelible mark on your travel memories. We booked our guided city tour through Sites Travel, a local woman-owned travel agency based in the Kampala Serena Hotel that is listed as the best romantic places in Kampala.
It's obviously not the only one offering walking tours in Kampala or a full-day Kampala Tour but I had a good experience with them. They picked us up from the hotel, we first drove to a few sights more outside of downtown Kampala and then started our walking tour along the markets and old taxi park etc.
When is the best time to visit Kampala?
The best time to visit Kampala is all year round! Some people advise the dry season months of mid-December to February and June to August, but I traveled to Uganda in the shoulder seasons or rainy season in Uganda (March/April and October/November) and I really loved to visit Uganda and Kampala during that time. The average coldest month in Kampala, Uganda is July.
  Related: Best time to visit Uganda and Uganda weather by month.
Other things to do around Kampala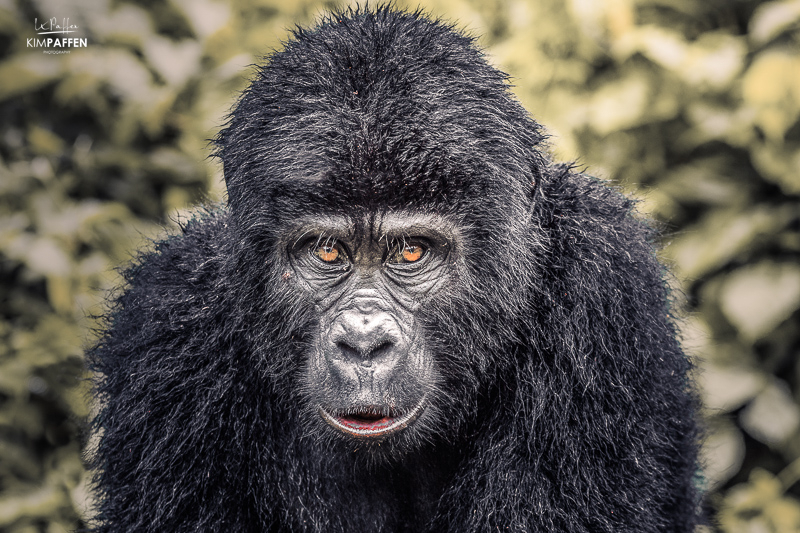 Kampala City is enormous, and there are probably more beautiful places to visit or unique things to do. Kampala also has a lot of monuments, like The Independence Monument, the Sir Edward Muteesa Monument, the World War 1 & 2 monuments, the sculpture of Sir Apollo Kagwa, the Statue of Leadership, and the Nakasero Hindu Temple. Kampala is also known for its Makerere University which was the only educational institute of its kind in East Africa for many years. That's also the reason why many prominent figures from Kenya, Tanzania, and Uganda at Makerere University, including Milton Obote, the former president of Uganda.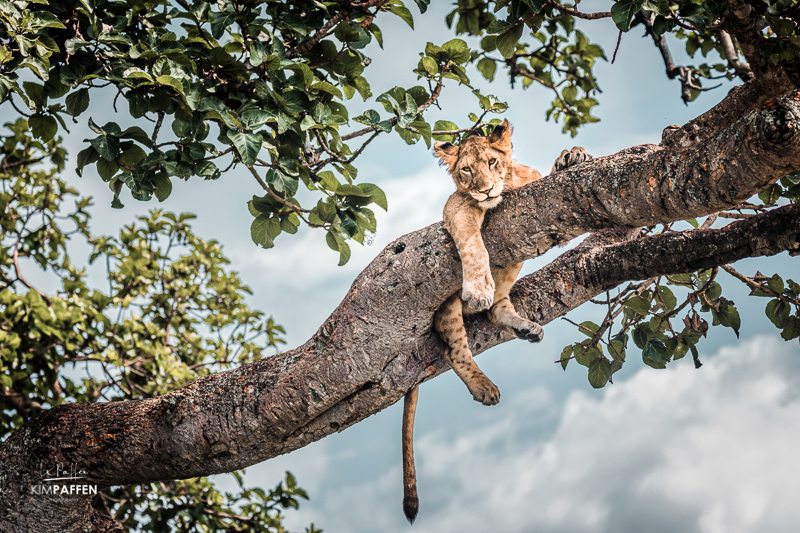 From Kampala, you can also plan other things to do in Uganda; for example, Gorilla Trekking in Bwindi National Park, Shoe bill Watching along the shores of Lake Victoria in Entebbe, Chimpanzee trekking in Kibale, hiking along the Sipi Falls or go on safari in Queen Elizabeth National Park and Kidepo Valley National Park. I also wrote the 9 best things to do in Murchison Falls National Park and everything you need to know about Shoebill watching in Mabamba Swamp, Entebbe.
Best things to do in Kampala
If you want to explore all the sights Kampala offers or if you want to experience Kampala as a local, you can easily spend a week in Kampala. But the listed 20 best things to do in Kampala are a good start! Did I miss an important highlight or must-see in Uganda's capital city? Please leave a comment below.
Want to travel to Uganda? Book your Uganda Safari Tour here: