Murchison Falls National Park is one of the most beautiful and diverse destinations in Uganda for safari lovers and nature enthusiasts. The most iconic feature of this park is the waterfall on the lower Victoria Nile River, 32 km east of Lake Albert. It is known as the most powerful waterfall in the world, where the longest river in the world squeezes through a gap of 7 meters and then drops 45 meters.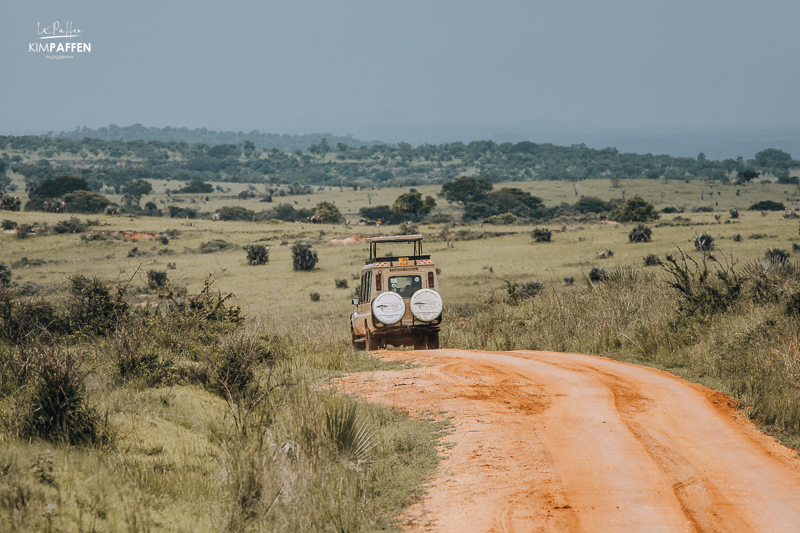 With its stunning waterfalls, diverse wildlife, and unique activities, there is plenty to do and see in this park. Here are some of the best things to do in Murchison Falls National Park, that is located in the northwestern part of Uganda, approximately 300 km northwest of the capital city, Kampala:
1. Boat Safari on the Nile River
One of the best ways to experience Murchison Falls is by taking a boat safari on the Nile River. This allows visitors to get up close and personal with the wildlife that congregates around the river banks, ending with an amazing sight of the Murchison (Kabalega) Falls.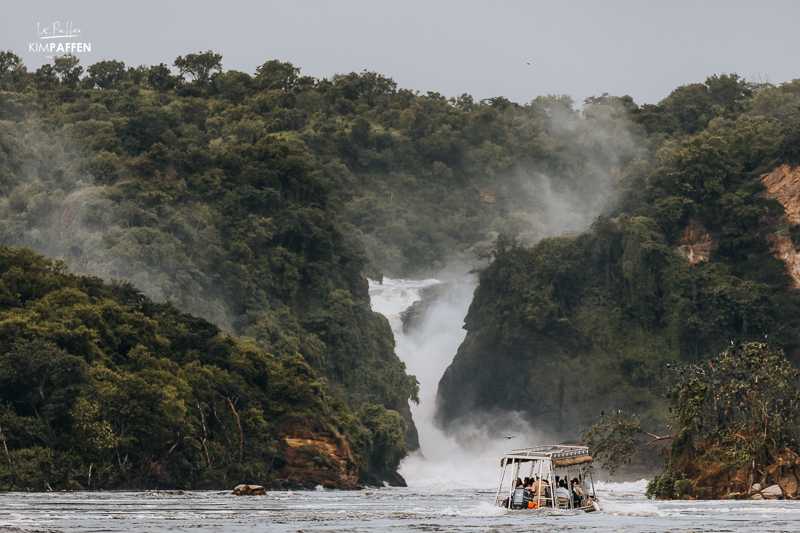 The most common animals you can see on the riverside are water bucks, elephants, giraffes, hippos, and crocodiles.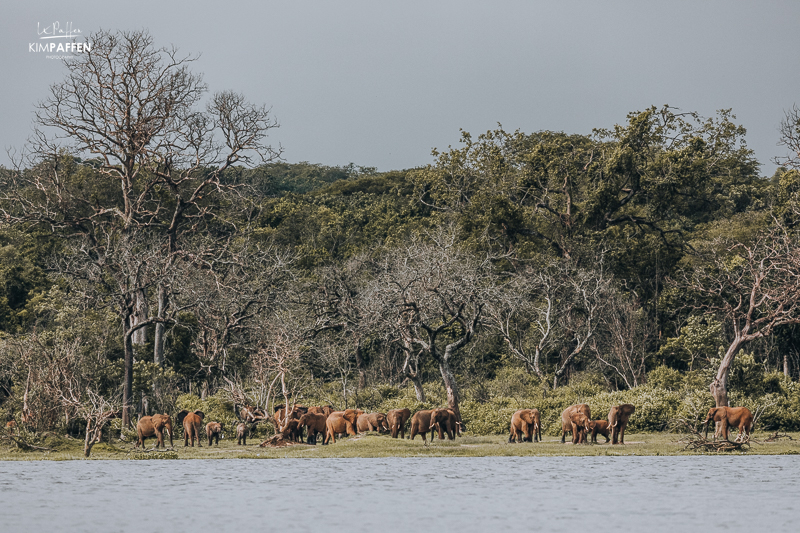 One of the most special sightings I had on this boat ride was seeing a tiny crocodile of maybe 2-3 months old. Most people on the boat didn't even notice the small creature on top.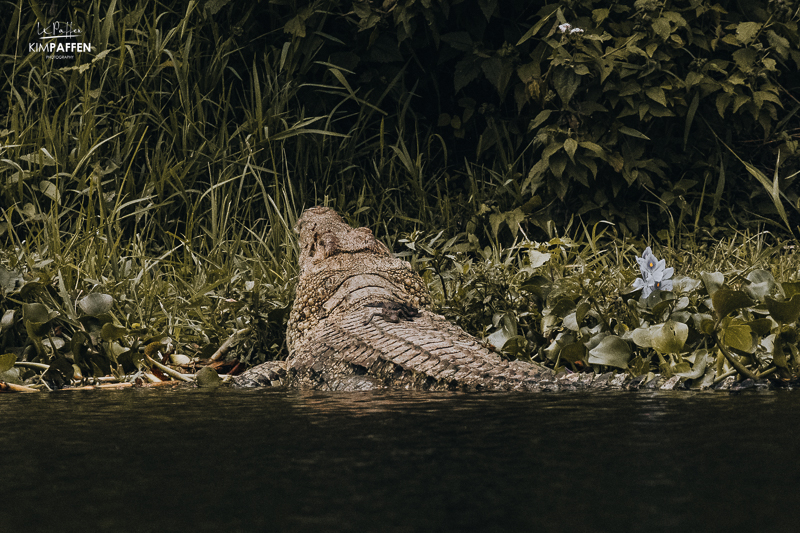 The area is also rich in birdlife, like kingfishers, and fish eagles but I also spotted black and white Colobus Monkeys high up in the trees.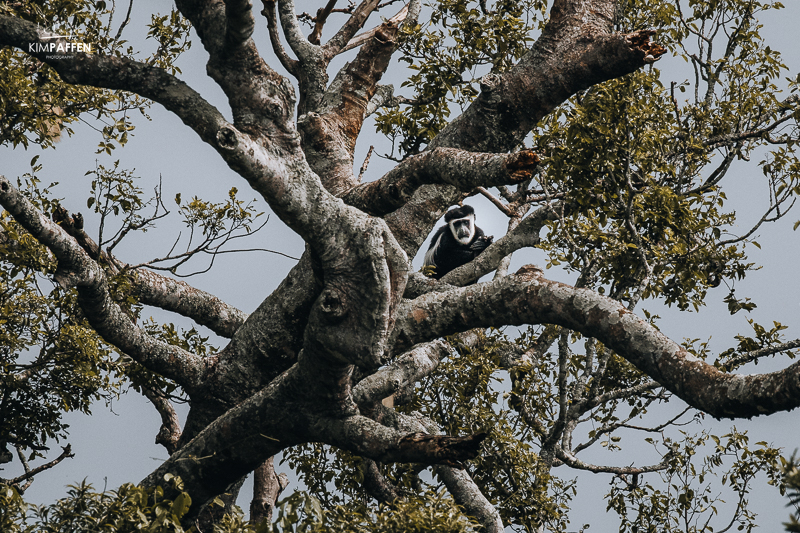 Taking a boat ride up to the base of the falls allows you to feel the power of the water firsthand. Before the flooding in 2020 it used to be possible to get off the boat and hike to the top of the falls. This is no longer possible, but you can still reach the top of the falls by doing a hike from a different starting point, called the Baker's Trail.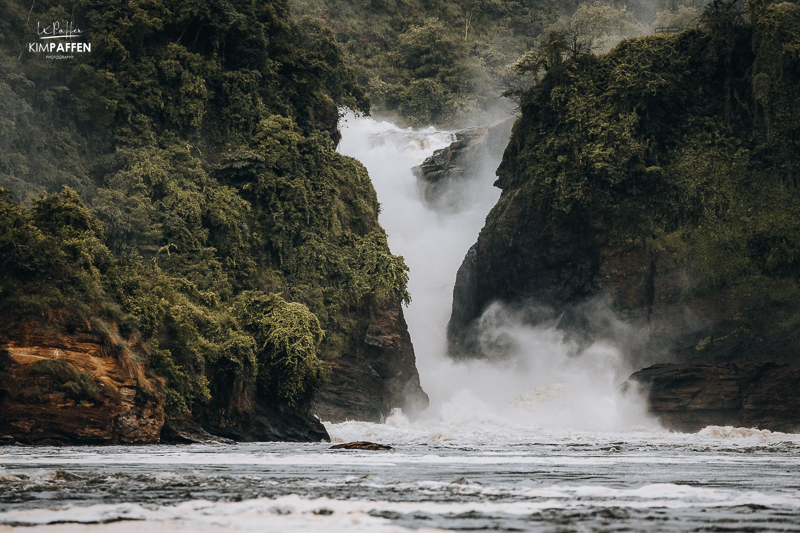 2. Game Drives
One of the most common activities to explore the wildlife in Murchison Falls National Park is on a game drive. You can either choose to do a game drive during the day or a night game drive to spot the nocturnal animals in Murchison Falls National Park.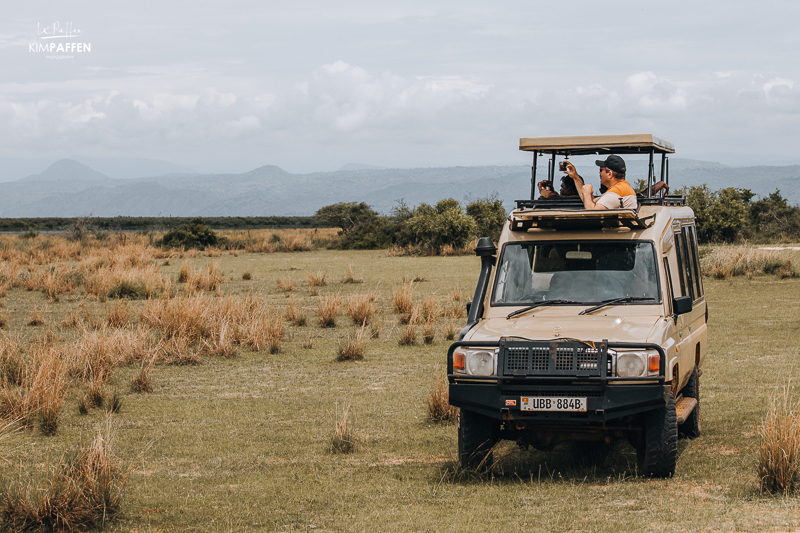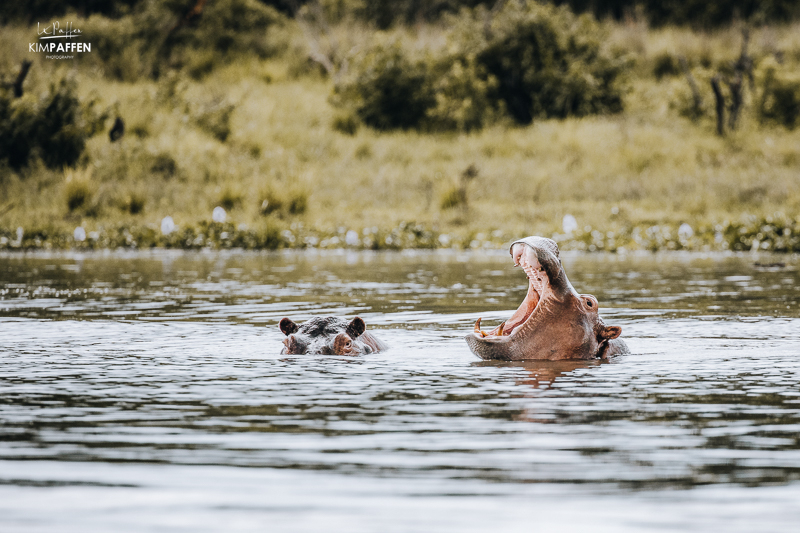 A game drive is not to be missed when visiting the park. Even without the animals, this park is a stunning piece of nature, offering amazing views of the lush green landscape.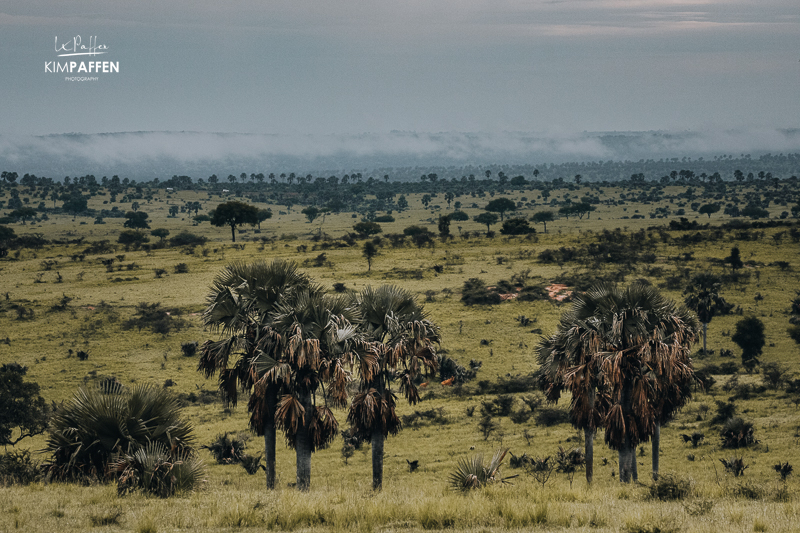 What wildlife can you find on a safari in Murchison Falls National Park?
I did a few game drives in Murchison Falls National Park and I spotted many towers of giraffes, a big herd of buffaloes, elephants, Ugandan Kob (the national animal of Uganda), hyenas, baboons, monkeys, hippos, a leopard tortoise, a leopard in a tree and a pride of lions.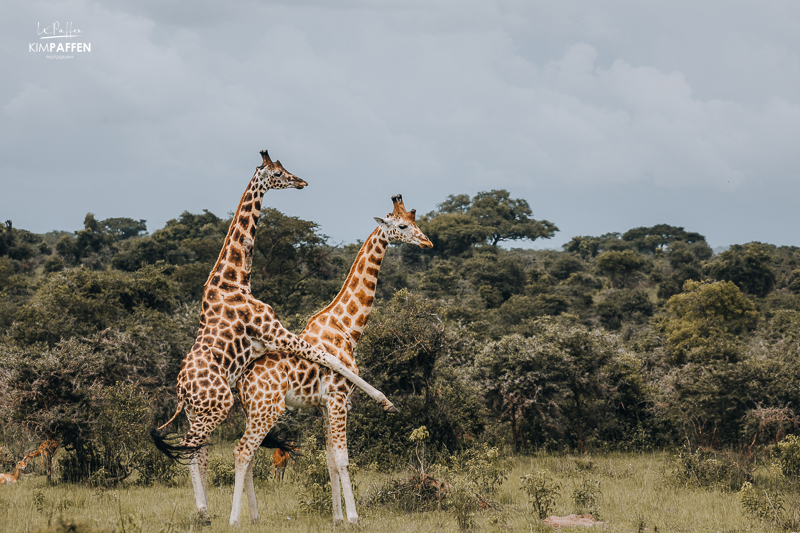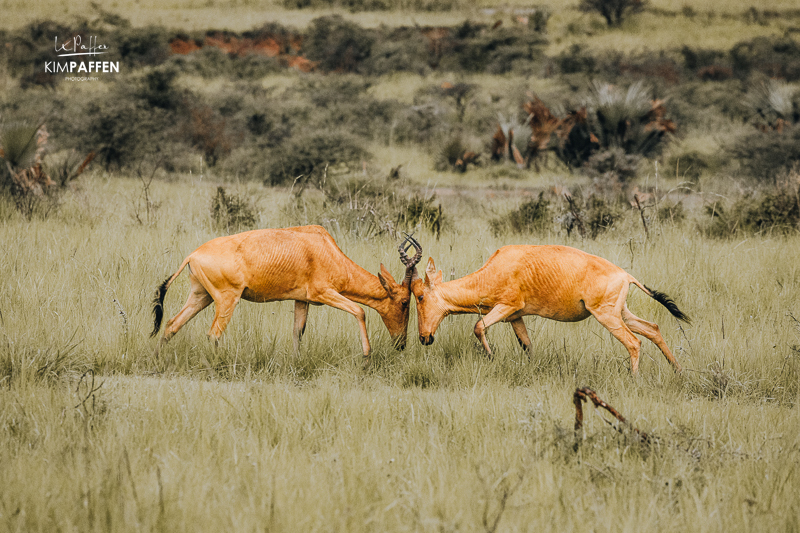 Can you find the Big Five on safari in Murchison Falls National Park?
The short answer is no, you can not find all Big Five animals in Murchison Falls National Park. You can find lions, leopards, elephants, and buffaloes, but you can't find the rhinoceros in this park.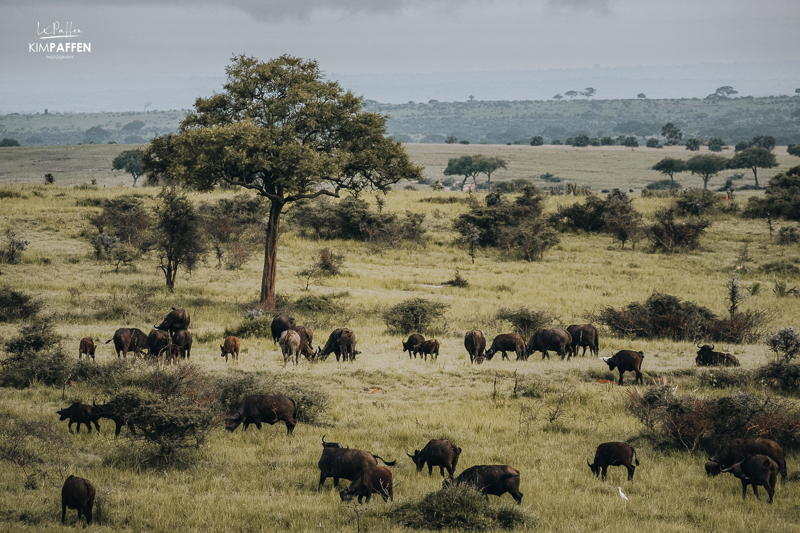 However, if you plan to visit Murchison Falls National Park, you can opt for a stop-over at Ziwa Rhino Sanctuary where you can track rhinos on foot.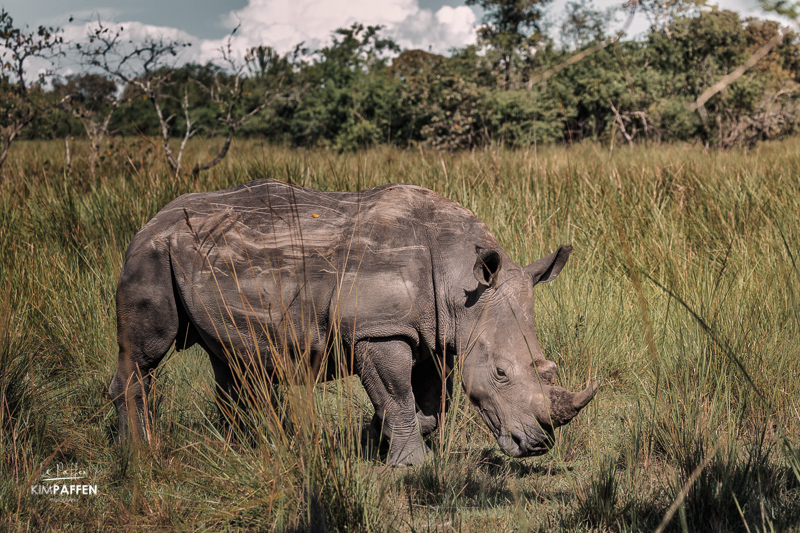 It's a 2-hours drive from Murchison Falls and 3,5-hours from Kampala. This is the only place in Uganda where you can see white rhinos. It's a sanctuary because these rhinos sadly need 24/7 protection by rangers. I highly recommend adding this activity to your Uganda itinerary. Not only to see these rhinos up-close but it's also a great way to give back to rhino conservation.
I was lucky enough that one of my trusted partners, African Adventure Specialists, arranged a transfer for me. They organize safaris in East-Africa and they are always willing to help. I needed a last-minute transfer and they took care of it in no-time.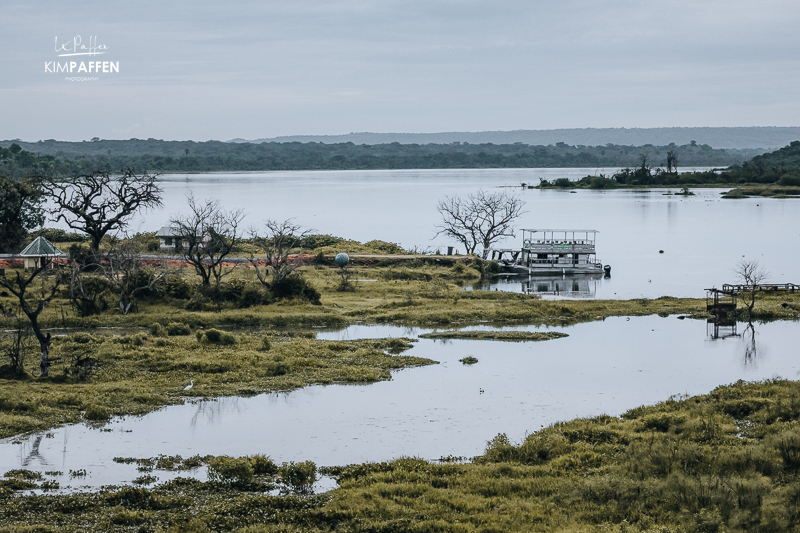 3. Hiking to the Top of Murchison Falls
For the adventurous traveler, hiking to the top of Murchison Falls is a must-do activity. The hike takes about 1 to 1,5 hour and offers stunning views of the falls and the surrounding landscape. A guide of Murchison Falls National Park will accompany you and tell you everything about the falls.
It's not really a tough climb, but be prepared to climb 165 stairs on the 2.5 km trail to the top. Because temperatures are high, you might get exhausted, but the views are definitely worth the climb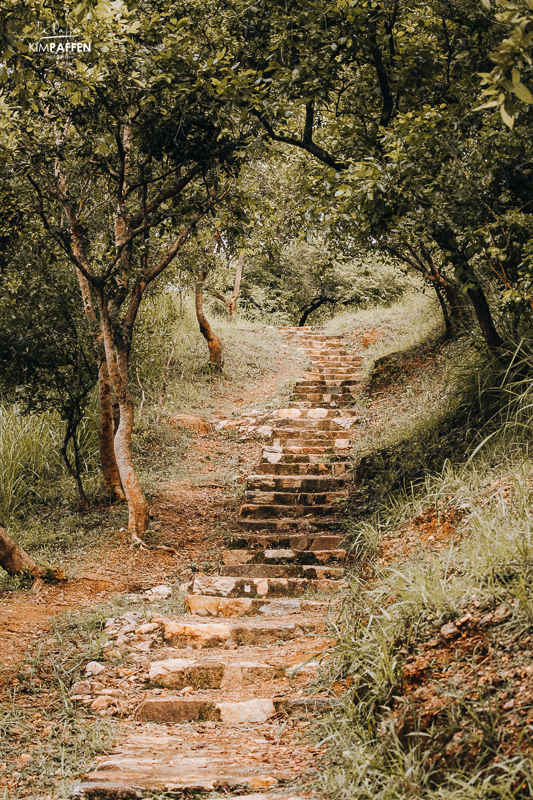 The trail that takes you to the Top of the Falls and down to the falls is called the Baker's Trail, with various panoramic viewing points of the two waterfalls.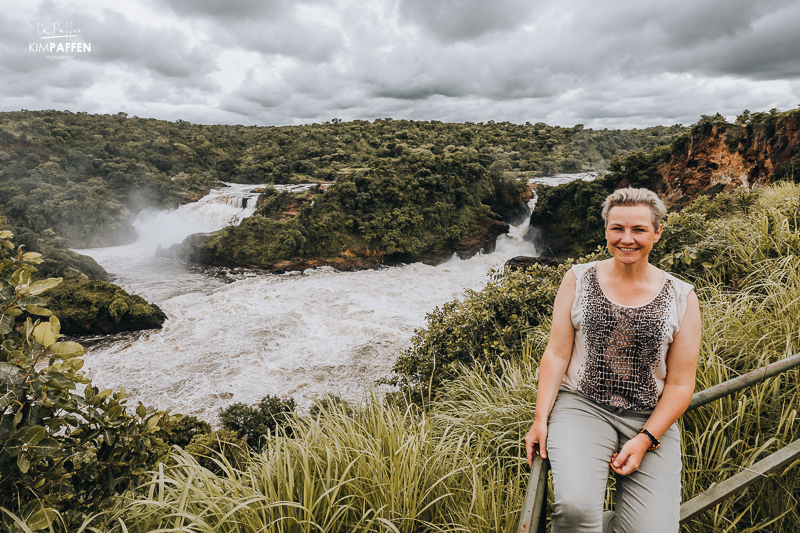 The trail first takes you to the top of the falls, and then you hike down to Devil's Cauldron. Prepare to get wet by the spray of the falls.
When you reach the top of the falls you will get a great view of the Uhuru Falls, the Kiswahili word for independence or freedom, formed as a result of breaking away from the initial Murchison Fall during Uganda's independence.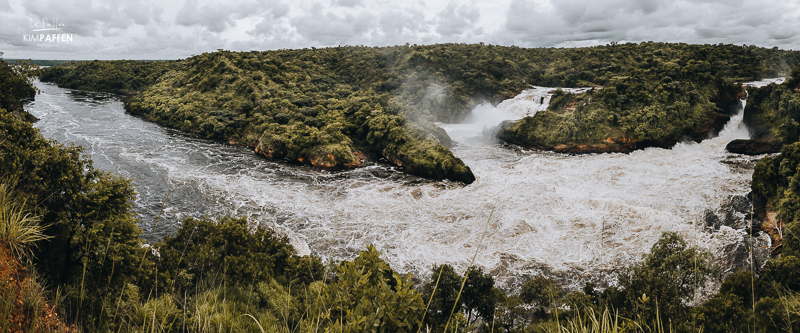 4. Breakfast at the fast flowing River Nile
Depending on where you stay in Murchison Falls, you can have a lovely breakfast near the fast flowing River Nile very close to Devil's Cauldron.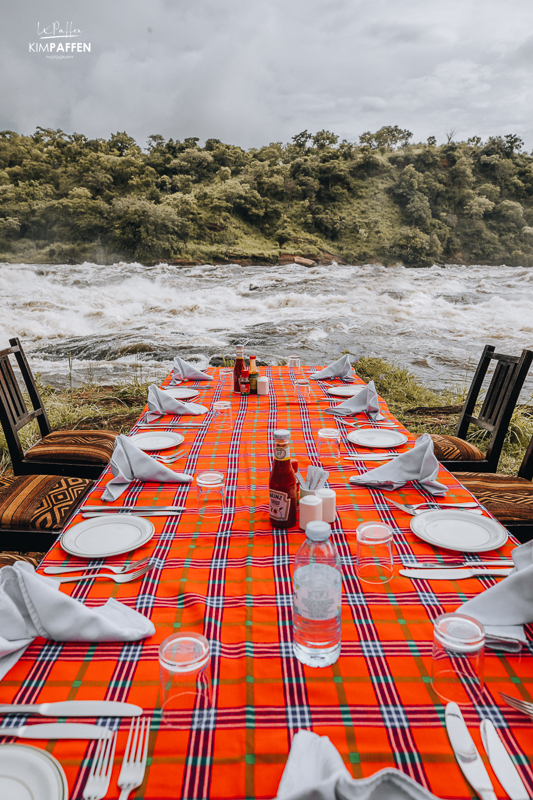 We stayed at Sambiya River Lodge, and they organized our breakfast right at the river; a great way to experience the Nile and listen to the roaring sound of the Murchison Falls dropping through the small gap.
5. Chimpanzee Tracking in Budongo Forest
Budongo Forest, located near Murchison Falls National Park, is home to a large population of chimpanzees. Visitors can take a guided trek through the forest to observe these amazing primates in their natural habitat.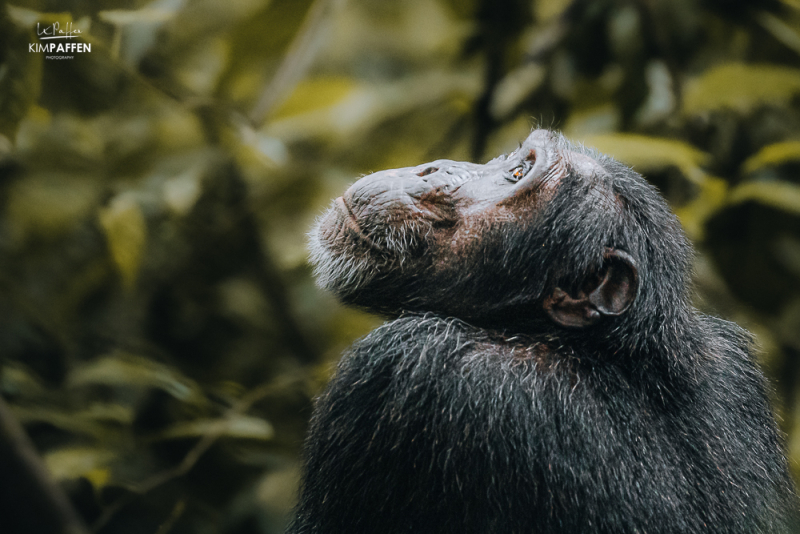 If you only have a few days to explore a part of Uganda, you can't go wrong with visiting Murchison Falls as you're able to spot big game animals as well as various primates, including our closest relatives, the chimps.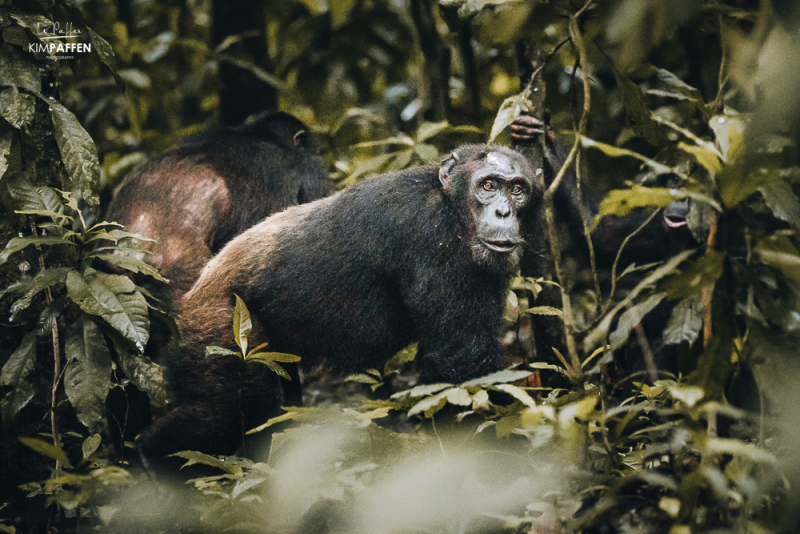 Note that Budongo Forest is not part of Murchison Falls National Park, but it's part of the larger Murchison Falls Conservation Area, which includes both the national park and several other protected areas. Because these places are very near to each other, it's a great way to combine Big Five safari with Chimpanzee Trekking.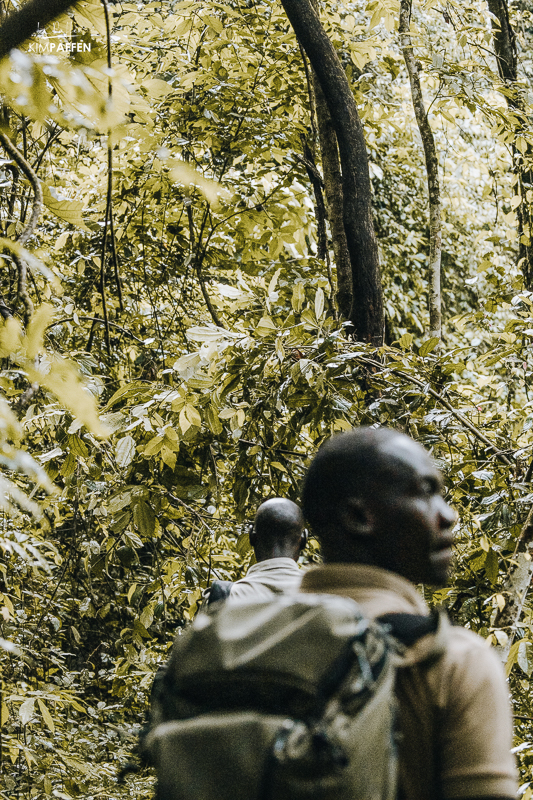 6. Birdwatching
With over 450 species of birds, Murchison Falls National Park is a birdwatcher's paradise and one of Uganda's best birding areas. If you're a bird lover, I highly recommend taking a guided tour or exploring the area on your own to spot some of the park's rare and beautiful bird species. 
Birding in Murchison Falls is an all-year round activity, but the best time for birdwatching is during the wet season, from March until mid-May and September until November.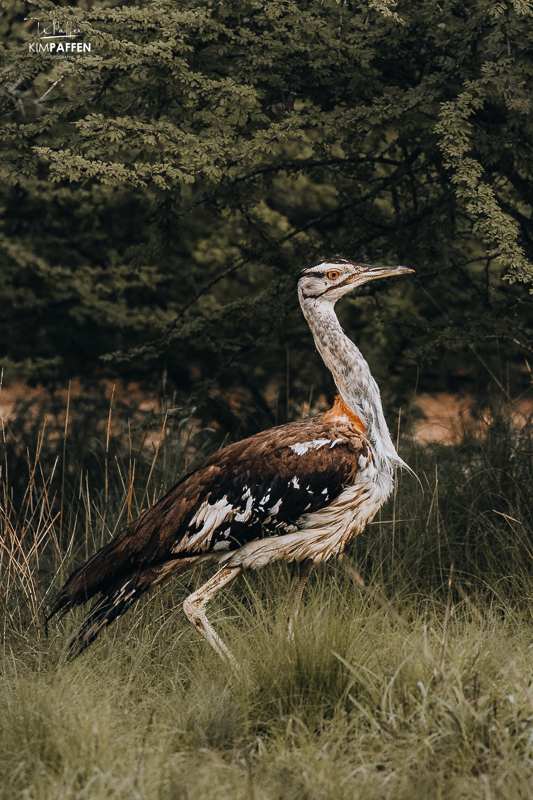 Examples of birds to spot in Murchison Falls National Park are: kingfishers, crested crane (Uganda's National Bird), weaver birds, giant heron, Shoebill stork, ground hornbills, black-bellied bustard, blue naped mousebirds, silver birds, the Fish Eagle and various other birds of prey.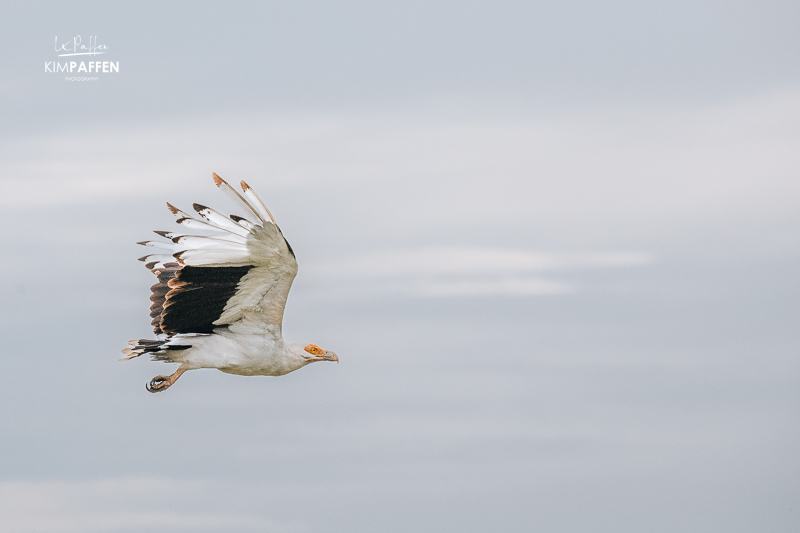 7. Sambiya Zip Lining and Canopy Walk
If you book your stay at Sambiya River Lodge in Murchison Falls National Park, you can also opt for a zip lining activity and a canopy walk. The canopy walk is a short walk over a wooden bridge where you're able to spot various birds, including kingfishers.
The lodge has 2 zip lines: the first one is 170 meters long, and the second one is 75 meters long.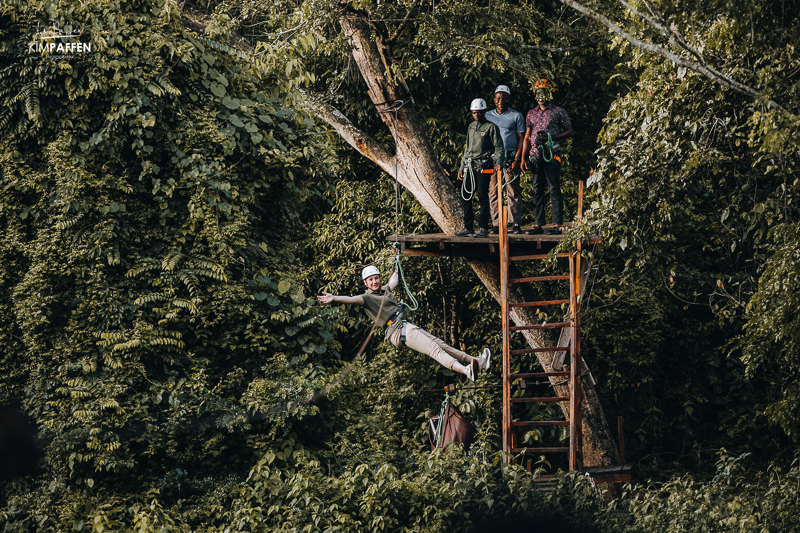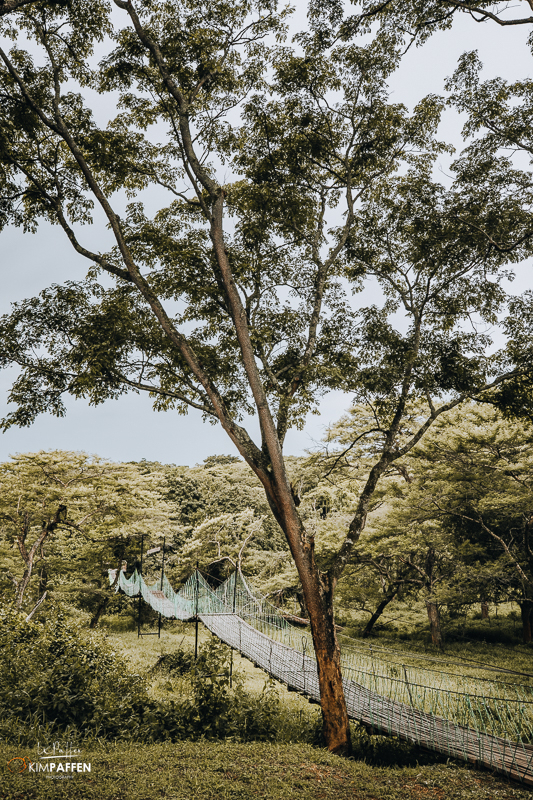 8. Murchison Falls Cultural Experiences
In addition to its natural beauty and diverse wildlife, Murchison Falls National Park offers visitors the opportunity to experience the culture of the local communities. Visitors can visit nearby villages and interact with the locals, learning about their way of life and traditions.
9. Enjoy the sunrise in Murchison Falls
The landscapes of Murchison Falls National Park are simply beautiful with magnificent views everywhere. If you're a nature lover like me, please don't miss out on the sunrise in Murchison Falls National Park. Ask your guide to leave early at 6.00AM to either watch the sunrise over the river nile or inside the national park. The colors are beautiful.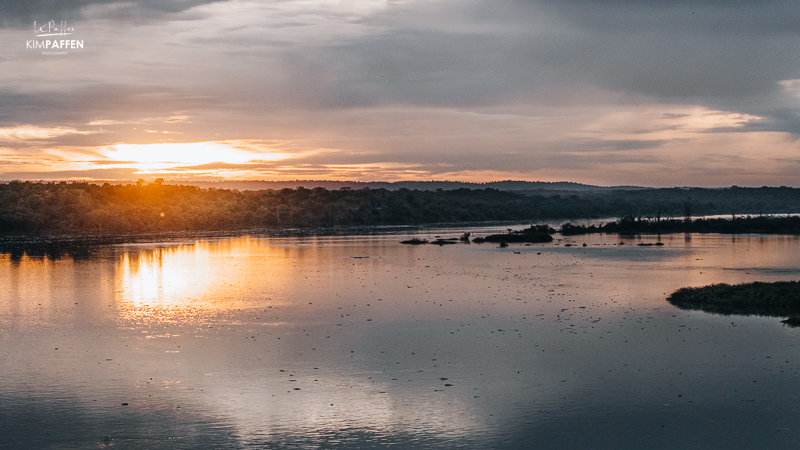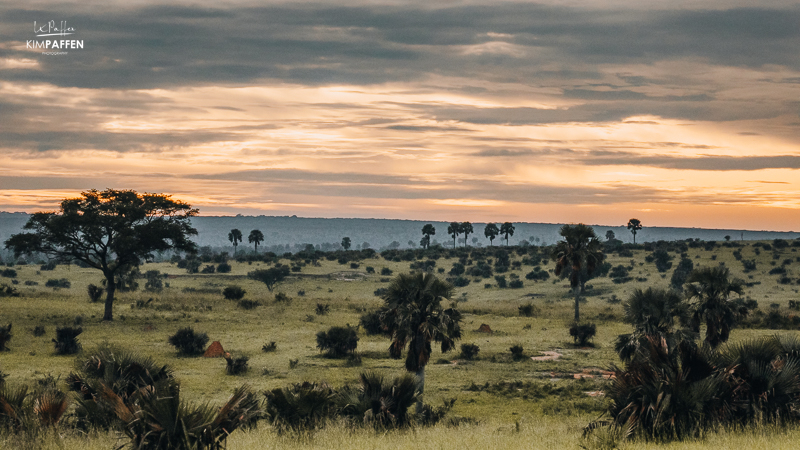 Things to do in Murchison Falls
Apart from the above 9 best things to do in Murchison Falls, there are more activities to choose from, like nature walks, fishing, and canoeing on the Nile. There used to be a hot air balloon safari activity in Murchison Falls National Park offering stunning views of the park's wildlife and landscapes from a bird's eye view, but this balloon ride in Murchison Falls is no longer offered.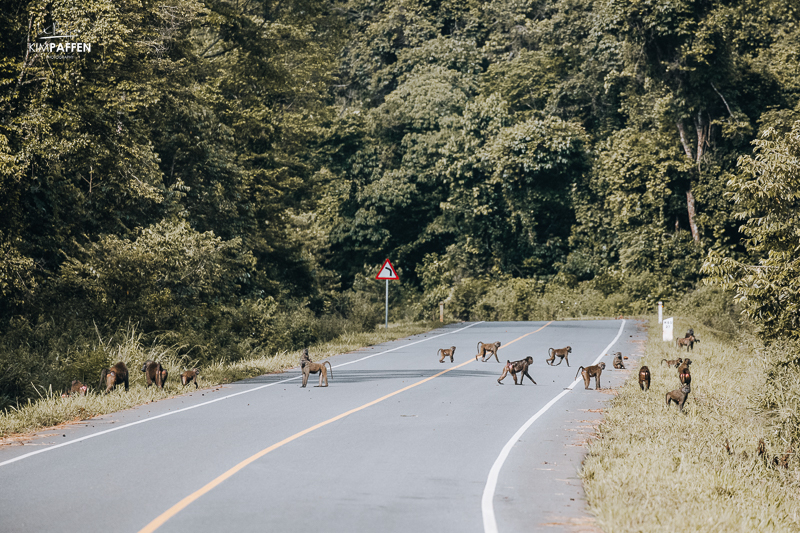 Is Murchison Falls National Park Uganda worth visiting?
The above activities in Murchison Falls National Park make the park undoubtedly one of the best places to visit for anyone traveling to Uganda. I visited Murchison Falls. National Park for the first time in 2018, but the park keeps surprising me. This time, I visited Murchison Falls National Park together with Explore Uganda (Uganda Tourism Board) and I was happy to explore new parts of Murchison Falls Conservation Area, like the Chimp trekking in Budongo Forest.
Looking for a Murchison Falls Package? If you combine a visit to the national park with Ziwa Rhino Sanctuary and Chimpanzee Trekking in Budongo Forest, part of the Murchison Falls Conservation Area, you will have a wonderful Uganda safari experience.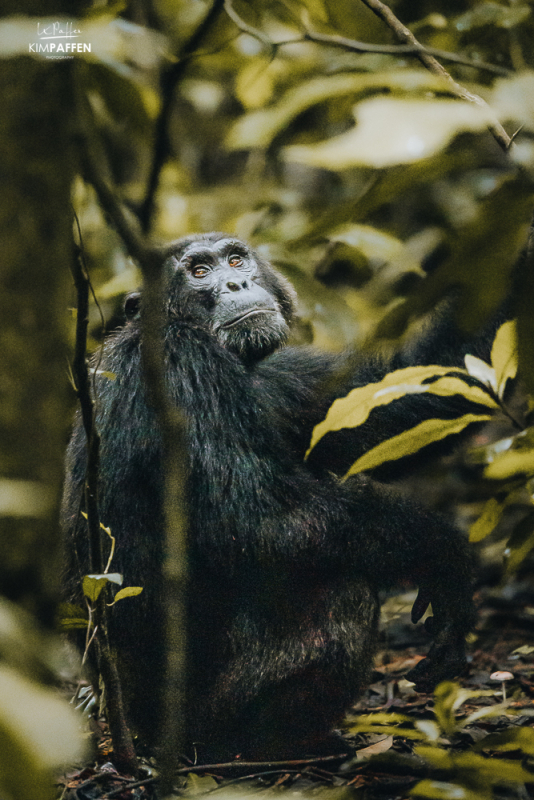 I suggest a minimum of 5 days/4 nights to experience the best Murchison Falls has to offer. If you're looking for a bit more rest at the River Nile, you can always extend, for example at the wonderful exclusive Nile River Lodge or Twiga Safari Lodge, both offering views of the river.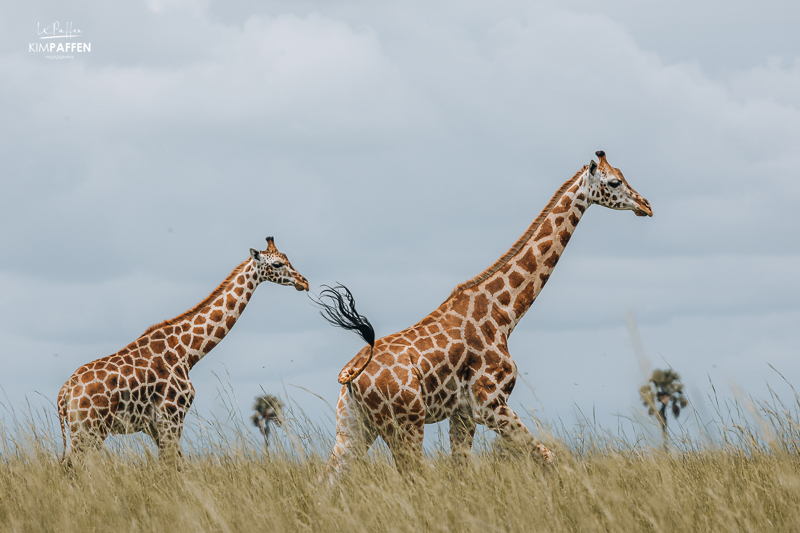 So, plan your trip to Murchison Falls and get ready to explore one of Uganda's most stunning natural wonders! Looking for a trusted partner to book your trip in Uganda? Check out African Adventure Specialists.