Gorilla trekking in Uganda's Bwindi Impenetrable National Park is an unforgettable experience that should be part of your Uganda itinerary. Visiting the mountain gorillas in Uganda supports conservation efforts and the growth of the gorilla population in Africa.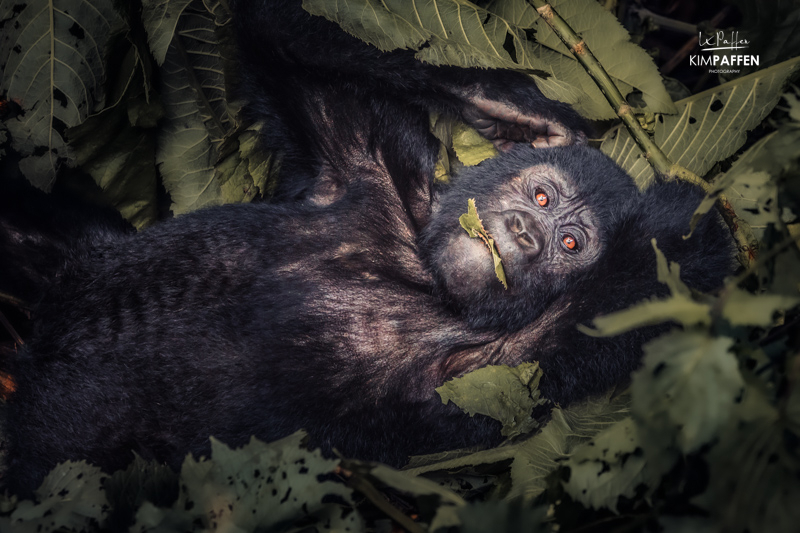 In this article, I will share all you need to know to plan your Uganda Gorilla Safari; including the price of seeing gorillas in the wild, how to get your Gorilla permit, and what to wear for trekking gorillas in the tropical rainforest of Bwindi. Be prepared for an unforgettable hike to see these endangered primates up close in their natural habitat and spend exactly one hour with these human-like wise and gentle great apes in the African bush! For me, one of the most impressive wildlife encounters I've had in Africa, and the world.
Mountain Gorillas in Africa; an endangered primate species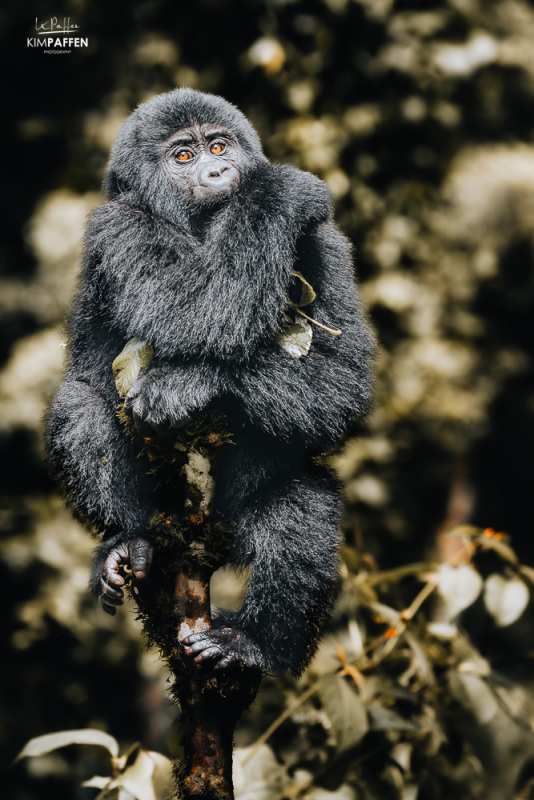 Mountain gorillas live in Eastern Africa and are one of the most endangered animals on our planet due to years of war, hunting for bushmeat, poaching, habitat loss due to f/e deforestation, and climate change or illegal trade in baby gorillas. Sadly, there are still people who offer a lot of money for such a heavily traumatized baby gorilla. For each baby gorilla found, usually, a lot of other gorillas are killed including the mother. The gorillas are also prone to human diseases. 
Thanks to conservation efforts, the population is slowly rising. However, with an estimated 1000 gorillas in the wild, this Eastern Gorilla species is still listed as "critically endangered" by the International Union for Conservation of Nature (IUCN). 
Where to find Mountain gorillas?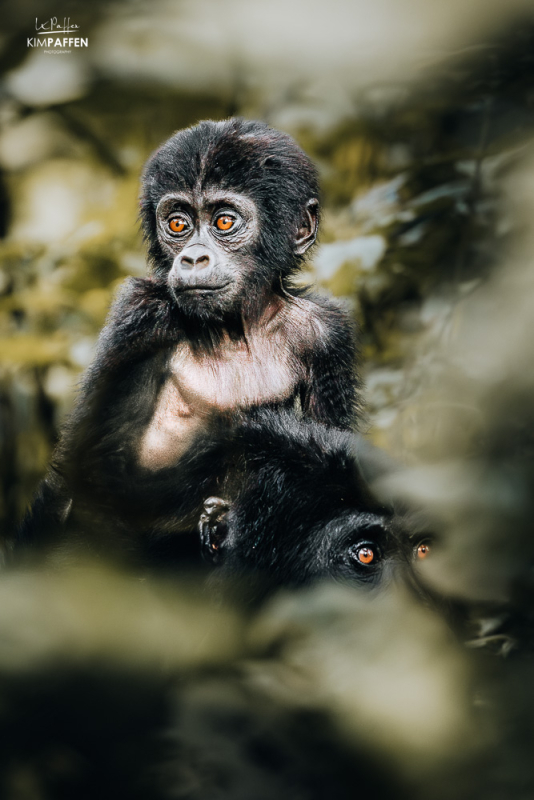 Most of the mountain gorillas live in Uganda, but you can also find the impressive silverback gorillas and their families in the volcanic Virunga mountain range in the bordering countries of Rwanda and the Democratic Republic of Congo (DRC). 
Other gorilla species in Africa
The Mountain gorilla is a sub-species belonging to one of the two main species in Africa, the Eastern gorilla. The other sub-species is the Eastern Lowland Gorilla (also known as the Grauer's Gorilla). The other main gorilla species is the Western gorilla which is divided into two sub-species: the Cross River Gorilla and the Western Lowland Gorilla. 
Scientists believe that these two gorilla species were separated during the Ice Age as the cold and ice caused the rain forests to shrink into smaller forests separated by Savannah. The Gorillas of the western lowland are the most common. You can find the Western gorilla species in Angola, Cameroon, Central African Republic, Equatorial Guinea, Congo, Gabon, and Nigeria.
Where to track gorillas in Uganda?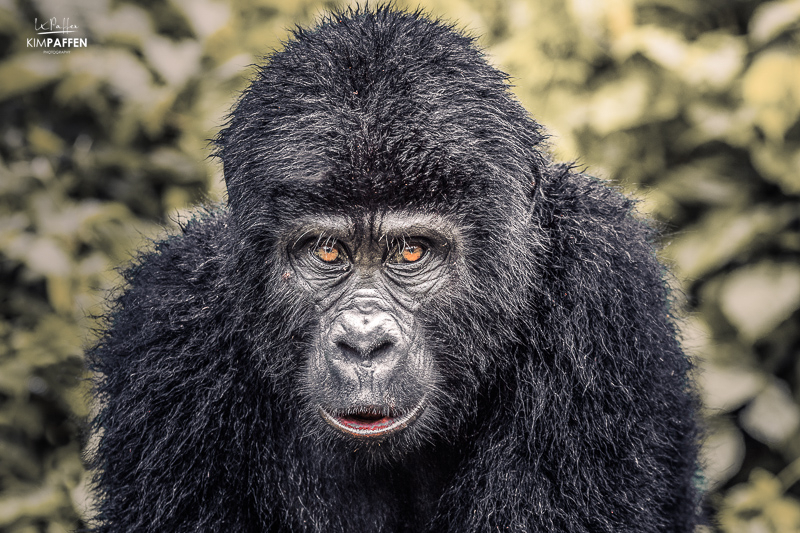 In Uganda, you can spot mountain gorillas in the wild in two different places: Bwindi National Park and Mgahinga National Park. The Uganda mountain gorillas are subdivided by the area or place they live in.
#1 Bwindi Impenetrable Forest National Park
Bwindi is the gorilla trekking hotspot! A densely vegetated tropical rainforest in southwestern Uganda with entrances in 4 sectors: 
Rushaga in the southeast
Buhoma in the northwest
Ruhija in the northeast
Nkuringo in the southwest of Bwindi Impenetrable Forest
Each area has its lodges close to the park gates and the Bwindi Gorillas. 
After purchasing your gorilla permit they inform you about the sector of your gorilla trekking. It's also possible to express your preference based on the location of your lodge or campground in Bwindi.
#2 Mgahinga Gorilla National Park
Mgahinga Gorilla National Park is the smallest national park in Uganda and easier to trek through because it's more open than the thick misty Bwindi Forest. Mgahinga is part of the Virunga mountains and therefore the gorillas living here are called the Virunga Gorillas. The gorillas in Mgahinga National Park are bigger with a thicker coat because of the higher location.
Bwindi NP vs. Mgahinga Gorilla NP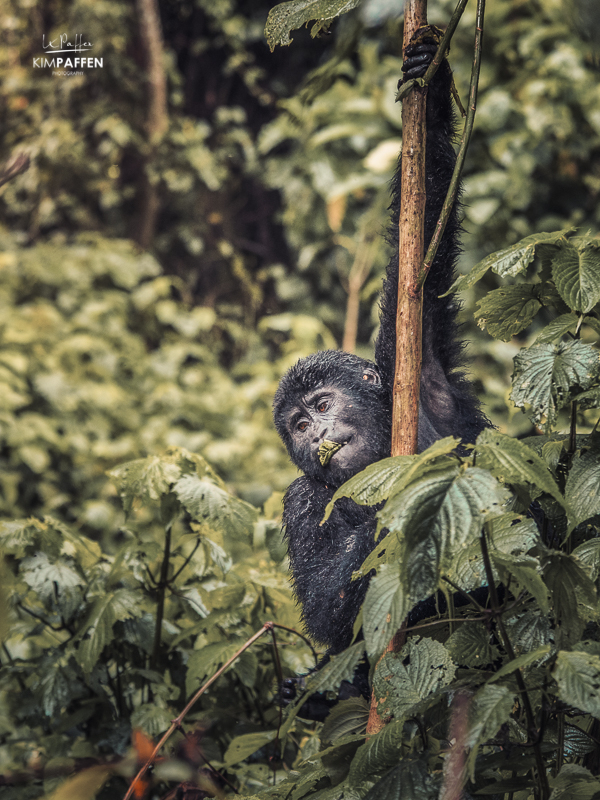 I haven't visited Mgahinga Gorilla National Park myself. However, the advantage of trekking in Mgahinga on the volcanoes in Uganda is the open space, which makes gorilla trekking easier. The downside is that there's only one fully habituated gorilla group in Mgahinga Gorilla Park. The Nyakagezi gorilla group was famous for its migratory behavior across Rwanda and the Democratic Republic of Congo (DRC). However, this gorilla group has today settled in Mgahinga Gorilla National Park in Uganda where tourists are assured of a great gorilla trekking experience.
In my opinion, the foggy Bwindi National Park is a must-visit when you travel to Uganda! I loved the natural beauty and mystic feeling of the place. Seeing the hills covered in mist makes you immediately think of the movie Gorillas in the Mist: The Story of Diane Fossey.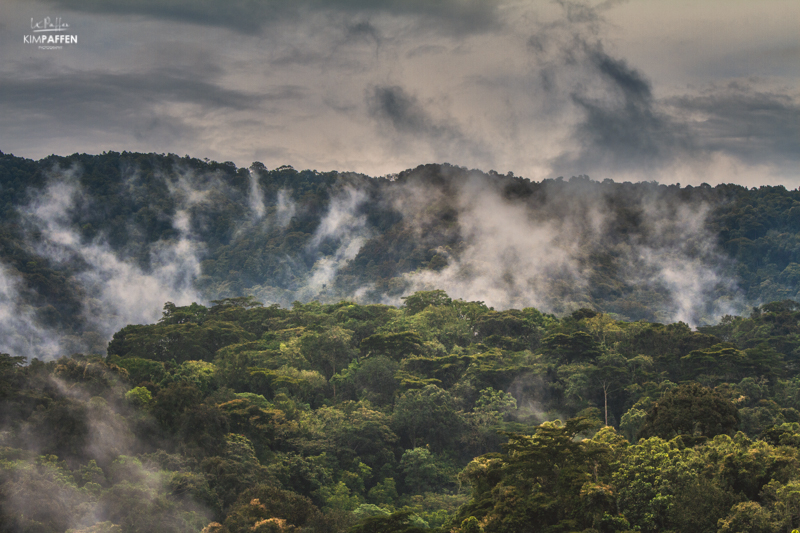 Also, don't forget that Bwindi is a UNESCO World Heritage Site and Uganda's no. 1 destination to visit. The forest is home to half of the world's remaining gorilla population and has to date 36 gorilla groups within Bwindi Impenetrable National Park. Only 17 families can be visited for gorilla trekking in the park because they are the so-called habituated gorilla groups. The other gorilla families are still wild, though some are still undergoing the gorilla habituation process. Habituated means the gorillas are used to human presence; a process that takes one single ranger up to 3 years.
For those reasons, you can't go wrong when booking a Uganda gorilla trekking safari in Bwindi Impenetrable Forest National Park.
What is the best sector to spot gorillas in Bwindi?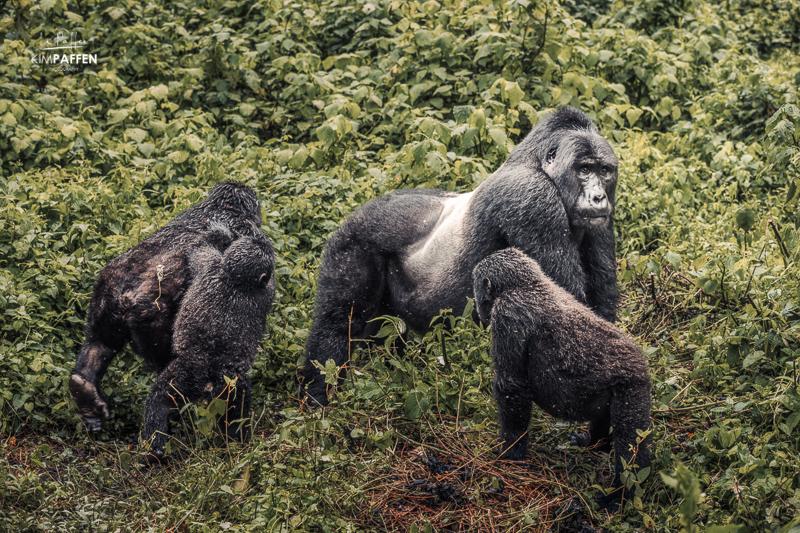 I did my gorilla trekking experience in the Rushaga sector of Bwindi, which is one of the best places to trek gorillas because they have the most habituated gorilla families in that area. Rushaga is quieter in terms of accommodations but I loved our stay in Gorilla Safari Lodge, in close proximity to the local community, Batwa tribe, and the Rushaga visitor center. 
  RELATED: my personal experience of trekking the Bweza gorilla family in the Rushaga sector of Bwindi.
The Buhoma sector was the first sector in Bwindi where they started tracking habituated gorilla families. That is one of the reasons Buhoma is a popular sector among tourists. Other reasons are the accessibility of Buhoma which makes it easier for people who are less fit. Buhoma has more luxurious lodges at higher costs.
The Ruhija sector has the advantage that the area is easily accessible by car from other places in Uganda, like Queen Elizabeth National Park or Lake Bunyonyi. Ruhija has budget-friendly campgrounds and lodges.
Is Gorilla Trekking in Uganda ethical?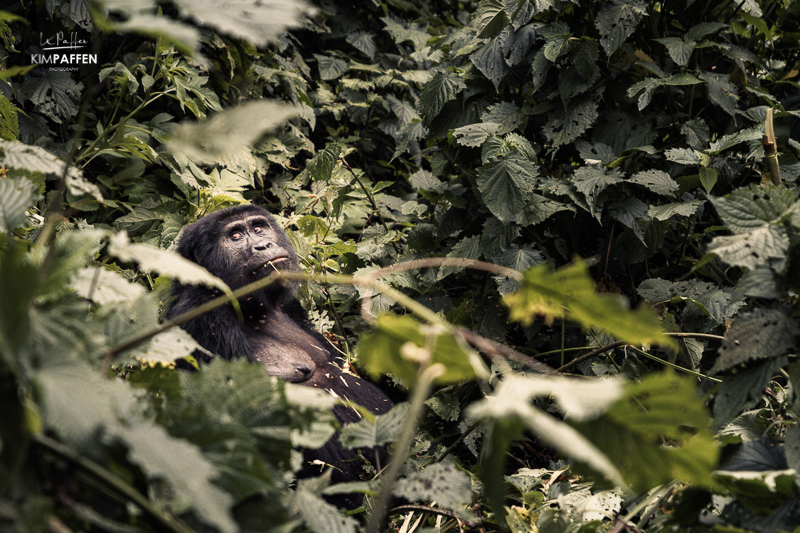 Yes, a gorilla walking safari in Uganda is ethically responsible. Saving these gorillas from extinction is partly in our hands because the Uganda Wildlife Authority (UWA)  relies on our conservation fees to protect them, care for their natural habitat, and to take care of the people that live in the surrounding communities to prevent illegal gorilla poaching activities. 
Habituated gorilla groups in Bwindi
Some of those Eastern gorilla groups are being habituated so that they get used to human presence. Is that still ethical? Absolutely. The process of habituating a gorilla family takes two to three or four years to complete and that is the effort of one ranger that keeps visiting this gorilla family in Bwindi Forest almost every single day! At the point they understand that humans do not hurt them, they will first become curious and after that neglect our presence. 
Better protection of the Mountain Gorilla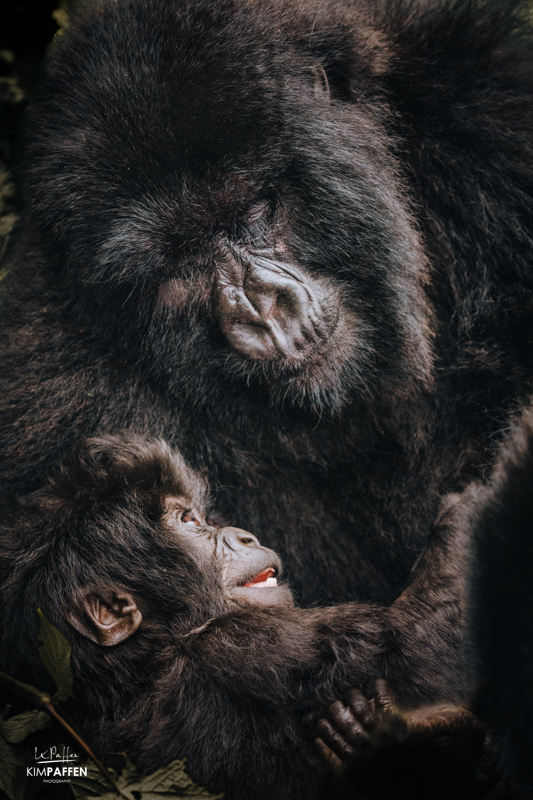 Once they allow our presence, researchers learn a lot about their natural behavior resulting in better protection of the gorillas and treatment if they are sick or have a trap around the limb. That is also the reason why the population of Mountain gorillas has grown over the past years.
Do you know Jane Goodall's story about when she was in the forest observing Chimpanzees and the chimps slowly got used to her presence? That's the same. The gorillas are slowly getting used to human presence so that they don't hide if humans approach a gorilla sighting. Apart from that, the gorillas remain wild and free as we are not allowed to touch them or come too close. Habituating mountain gorillas was started in 1967 by gorilla researcher Dian Fossey. The habituated gorilla groups basically function as representatives of all gorillas, in the hope that people will protect these extraordinary gorillas and their living environment. 
Ethical gorilla trekking
A guided gorilla trekking safari is the only way to see mountain gorillas in the wild! You can't track gorillas on your own as it's a protected area. You can only find the gorillas with a trained mountain gorilla tracker. By visiting the Uganda gorillas, we help with the survival of these great apes.
How much does it cost to see the gorillas in Uganda?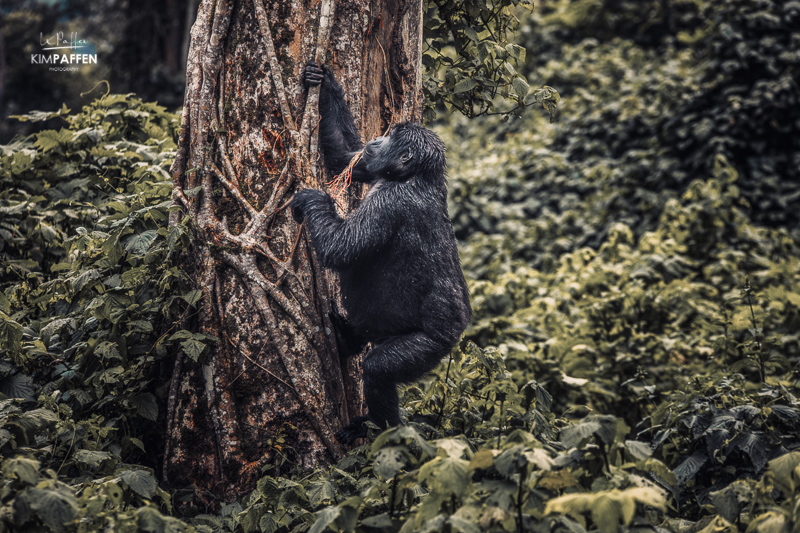 The prices of the gorilla permits for foreign non-residents (2022) are as follows:
A gorilla trekking permit in Uganda costs $700 US Dollars
Gorilla habituation experience permit costs $1500 US Dollars
The rates include guide fees, park entrance fees for the day, and community development contributions. Buying your gorilla permit, means you have a ticket for your gorilla safari.
Looking for a low-budget Gorilla trekking in Uganda? Then I might have the best gorilla trekking tip for you! In the low season, prices for a gorilla permit occasionally drop as low as $450-$525 USD. That is a discount of 25-35%. 
Or book a gorilla trekking tour here:
How to secure a gorilla permit?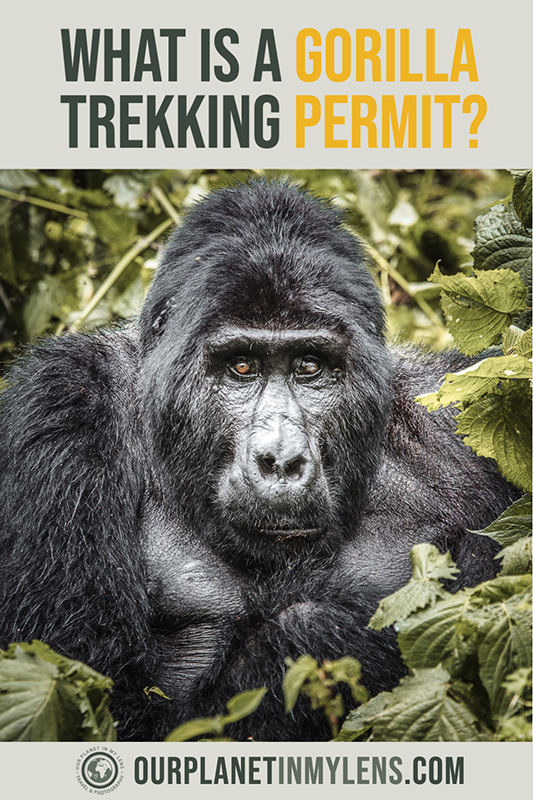 The gorilla permits are issued by UWA which markets them through Uganda Tour Operators to the public. Book a gorilla trekking tour with a member of the Association of Uganda Tour Operators or book your permit directly through the UWA e-payment online portal. 
During COVID-19 in Uganda, their website got a serious upgrade and is now much more user-friendly. Although you still need to confirm the availability of the date of your choice by sending them an email first, before adding the activity to the cart. This way, they can check their booking system to be sure the dates are available. Therefore, booking a permit through a local Ugandan tour operator might be faster. However, keep in mind that tour companies can add an extra fee of about $50 to $100 per permit.
Once the payment is done, you will need to send a copy of your passport with details that are used for the permit registration.
After finalizing the purchase of your gorilla safari permit you will receive a receipt with a booking ID that you need for your trek at either Bwindi Impenetrable Forest or Mgahinga Gorilla Park. A tour operator will send you a copy of the permits as you will most likely receive your physical gorilla permit card (a reusable card) one week before the trekking date or on arrival in Uganda. If you buy your permit directly with UWA, note that you have to collect your gorilla permit from the Uganda Wildlife Authority office in Kampala. The gorilla permit is only valid on your trekking date.
When to book your gorilla trekking permit?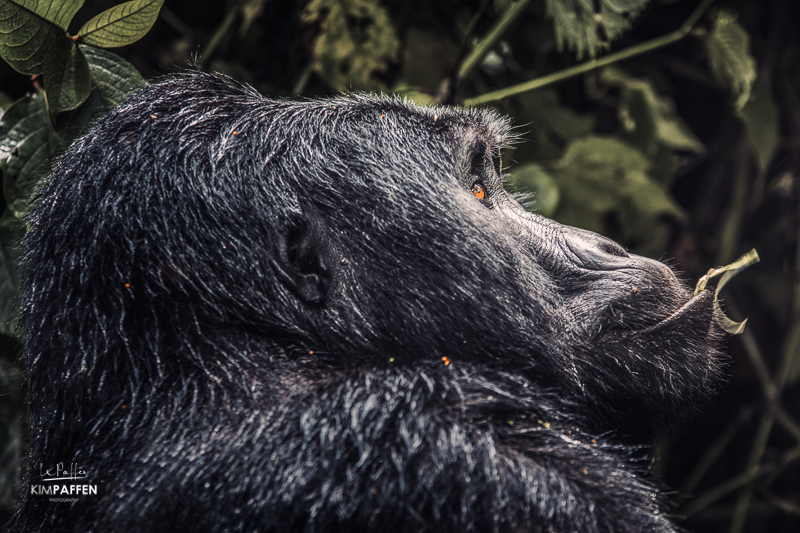 To avoid disappointment, try to secure your gorilla trekking permits before arrival and ideally 3-6 months before the date you want to do the trekking. The gorilla treks in Uganda are limited to only 8 visitors per gorilla group per day. Safari permits in the Uganda peak season - also Uganda's dry season (June-September, December-February) - tend to sell out quickly. In the low season, you can also opt for a last-minute booking. I bought my Uganda gorilla permit around 2 months before the trekking and there were enough available dates. Some people try their luck by visiting the Gorilla trekking visitor center for a last-minute gorilla trek, with positive results due to cancellations or open spots.
Gorilla trekking vs. Gorilla habituation experience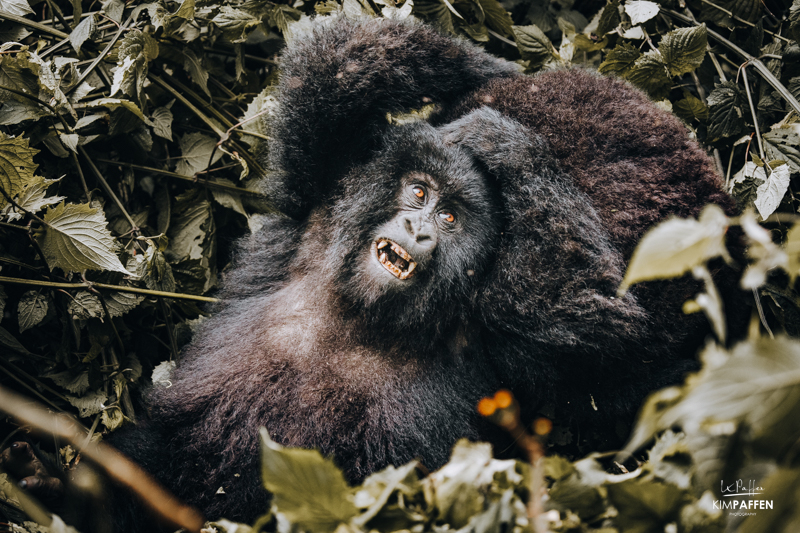 When choosing a Gorilla Habituation experience, you can spend 4 hours observing, photographing, and learning about gorilla behavior and how they adapt to human presence. That is 3 hours more than watching gorillas on a regular primate trekking. The number of tourists for this activity is limited to 4 per gorilla group instead of 8 on a normal gorilla trekking. These gorillas are still wild or semi-habituated. The viewing, therefore, depends on the gorilla's behavior and the mood they are in. However, the gorilla researchers and trackers assure a memorable gorilla habituation experience. You participate in the habituation process of a gorilla family group. Bwindi Forest is the only place in Uganda where you can do Gorilla Habituation.
Is trekking Gorillas in Africa worth the money?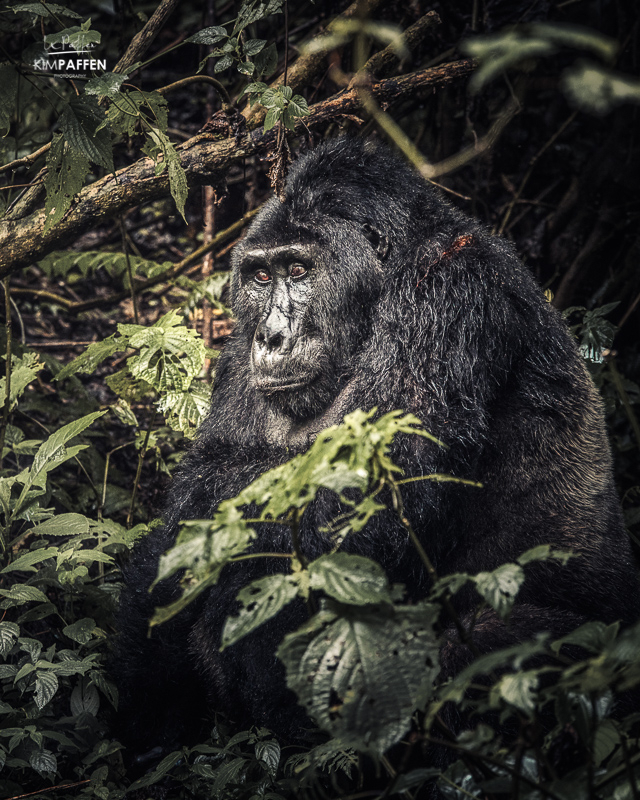 For many wildlife lovers and travelers to Africa, Gorilla trekking is a once-in-a-lifetime experience. I agree the trekking permit is a lot of money but once you are eye to eye with a giant silverback gorilla, that moment is priceless and you will most likely forget about the money! 
See it also partly as giving back to the cause of nature and wildlife conservation. When you are eager to pay 700 USD for a flight to Uganda, please don't save on a gorilla permit. Only if you hate hiking and are not super excited to see mountain gorillas in the wild, I wouldn't spend the money on it. 
In short, yes, gorilla trekking is worth the money and definitely interesting for those who love nature, animal behavior, and wildlife photography.
When is the best time to do a gorilla trekking safari?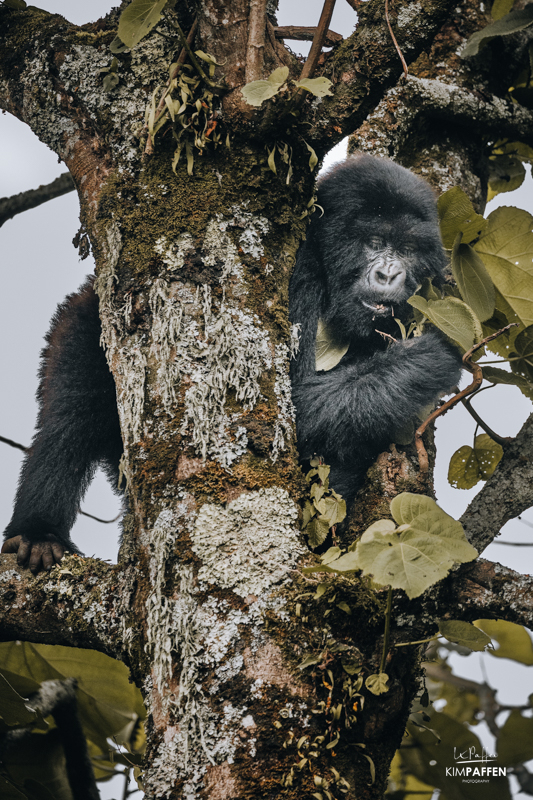 The best time to do a gorilla safari is all year round. The weather in a tropical rainforest is a world on its own and you might experience at least one rain shower during the hike. Although many travelers prefer the dry season for gorilla treks in Africa, it is also possible in Uganda's rainy season. Uganda gorilla trekking in the wet season has a few interesting advantages. Because gorillas tend to stay on the lower slopes where there's enough food, the gorillas are easier to find with a shorter trekking time. However, the walk can be more challenging because of the heavier rain showers. Choosing a gorilla trekking in Uganda's low season might save you a lot of money as the prices of gorilla trekking permits occasionally drop to $450 US Dollars. The low season in Uganda begins from March to May and from October to November.
   RELATED: Month-by-month Uganda Climate and Weather Guide to choosing your preferred period of traveling to Uganda
How long is a hike to find the gorillas?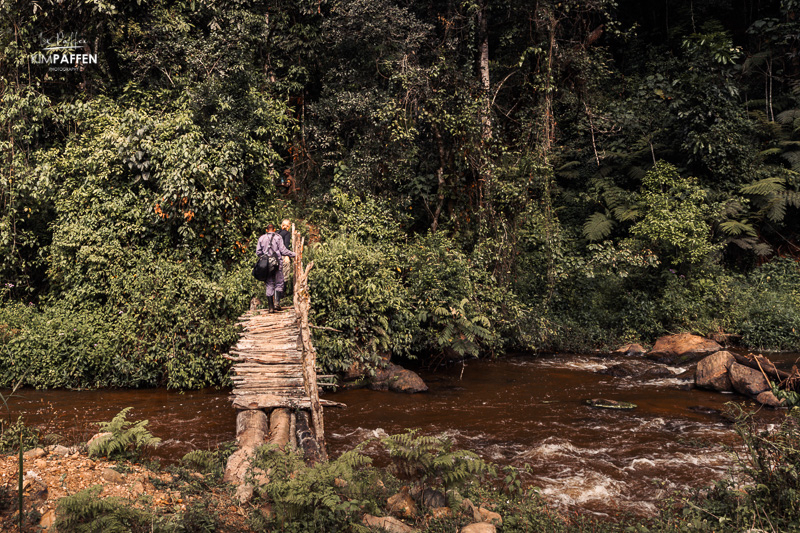 How long is a mountain gorilla trek? It's hard to say how long a gorilla trekking is as it depends on where these human-like primates are located. It can take about 1-3 hours to locate a gorilla family, after which you can spend 1 hour with the gorillas. After observing the gorillas and spending time with them for exactly one hour, you need time to hike back to the Bwindi visitor center; that can be 1 to 2 hours. In total, trekking of 5 hours is pretty normal. Sometimes it can take longer (7 hours), but sometimes the trekking is much shorter. If you're lucky, you can find the gorillas on a short 1 to 2-hour hike!
Is Gorilla Trekking in Uganda hard?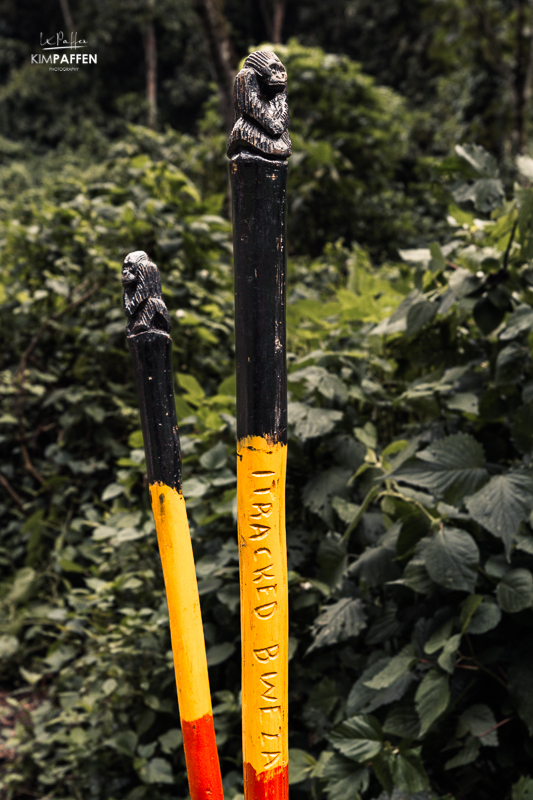 Depending on how long it takes to find the gorillas and where they are located, trekking can be hard! Some tourists are lucky to find the gorillas on the lower mountain slopes and only need 1 or 2 hours to get to the gorilla family in Bwindi. Others need 7-hour trekking through the dense rainforest of Bwindi because they are high up the mountain. Keeping the hot humid climate in mind with sometimes very muddy paths and only short pauses in between, a 5 to 7-hour hike can be exhausting. If you fail to reach the mountain gorillas because of your fitness level, you will not get a refund. 
Hire a porter on your gorilla trek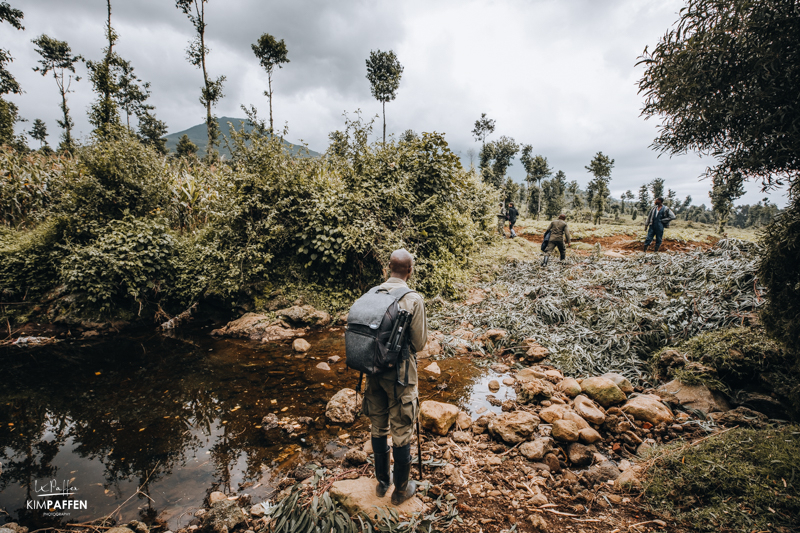 I highly recommend hiring a porter to carry your bag during the gorilla hike. Especially with the previous information on gorilla trekking hours and climate conditions in mind. Don't underestimate gorilla trekking in Bwindi's rainforest. The porters are often local people and students living in the surrounding areas. They stay with you during the hike and will help you steady your balance if necessary. 
The costs of hiring a porter are about $15 and they gather at the ranger station near the entrance gates to Bwindi National Park. To me a no-brainer as it's better for your back and a lovely opportunity to support the local community in Bwindi. 
Maybe you are that fit that you don't need a porter to carry your bag, but then you're missing the point. There is no better way to support the local economy than hiring a porter on your gorilla trekking in Bwindi. There are both men and women porters. Since I love to support local women's groups, I would hire a woman if I had the chance.
Is a Gorilla sighting guaranteed?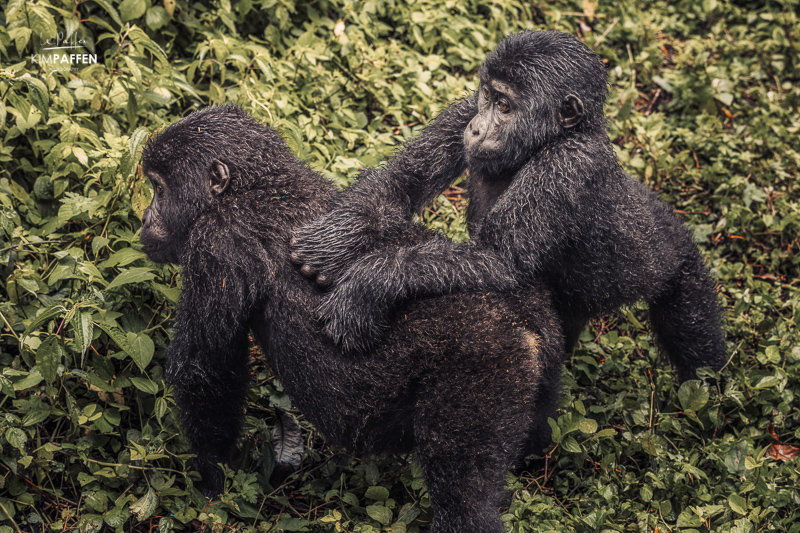 There is no guarantee, but the chance of seeing mountain gorillas in Uganda is 95% according to Uganda Wildlife Authority. There are many gorilla families in Bwindi Impenetrable National Park and it is rare not seeing a gorilla family group. The mountain gorillas are monitored by rangers 24-7, so the gorilla visitor center in Bwindi has a good indication of where the gorilla families are located. Therefore, I trust to say that the chance of seeing gorillas is almost 100%. The rangers try to search for gorillas until 15.00. If that doesn't work out you'll head back, because it gets dark around 18.00. 
Will you get a refund if you couldn't see the mountain gorillas? It depends. If the rangers locate the gorillas and it's not possible to get to them within the given timeframe, you will get a refund of 50% of the gorilla permit costs. The other option is they offer you to see another gorilla family. 
Can everybody participate in a gorilla trekking activity?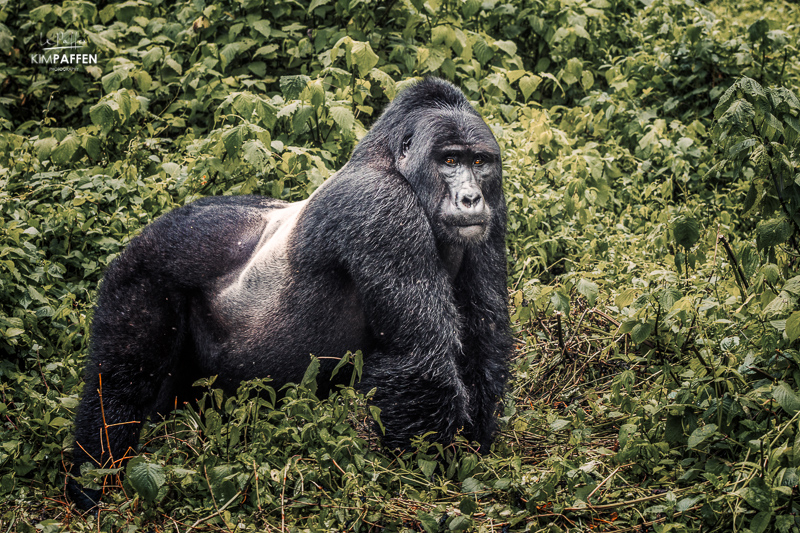 Not everyone can join a gorilla trekking. Because of the rough bushy terrain, the minimum age for tracking gorillas is 15 years. When you have a cold or feel ill, you are also not allowed to track gorillas or be in their presence because gorillas are prone to human-related diseases. Wearing a face mask on a gorilla trekking during the Covid pandemic is mandatory as soon as you get close to the mountain gorillas. If you are ill and bring a letter from the doctor, you will get a refund of 50% of the costs of a mountain gorilla permit.
Is a gorilla trekking safe?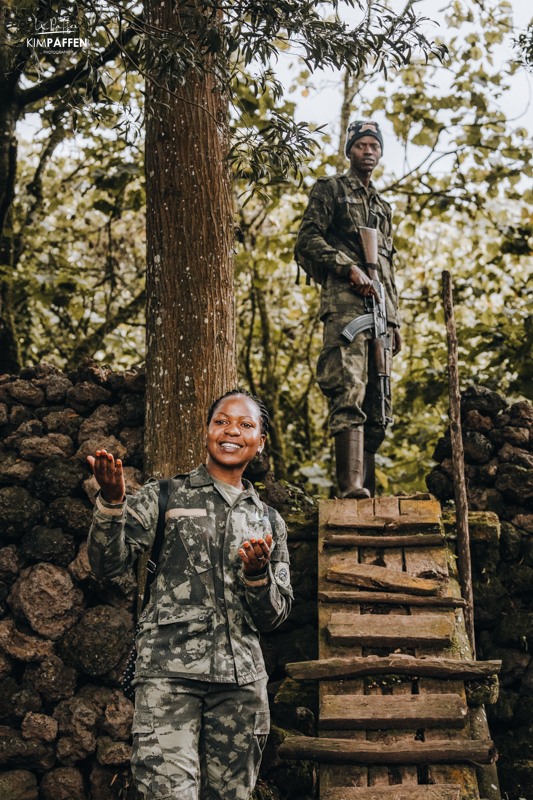 Yes, gorilla trekking in Uganda is safe. There are high levels of security around the park fences and the border regions with Congo are high. Everyone - from police to the Ugandan military and armed rangers - does their best to protect the gorillas and the people that are visiting them. Uganda is a very safe country for tourists and I felt safe everywhere in Uganda. 
Safety rules to see the Gorillas in Bwindi
In terms of safety, there are important gorilla tracking safety rules to follow when trekking gorillas in the wild:
The maximum number of visitors is eight persons per gorilla group
Lower your voice to not scare the gorillas and other wild animals, like bush elephants
Don't leave any garbage behind in the Bwindi forest
Smoking is not permitted on the tour
Visits are limited to 1 hour per gorilla group per day
Maintain a distance of 7m (21ft)  from the gorillas
If you have to sneeze or cough, cover your face and turn away from the gorillas, as they can catch coughs and colds from humans
Never look directly into the gorillas' eyes 
Stay still as you wait for the gorilla to pass and don't run away if a gorilla shows aggressive behavior
What to wear on a Gorilla trek in Africa?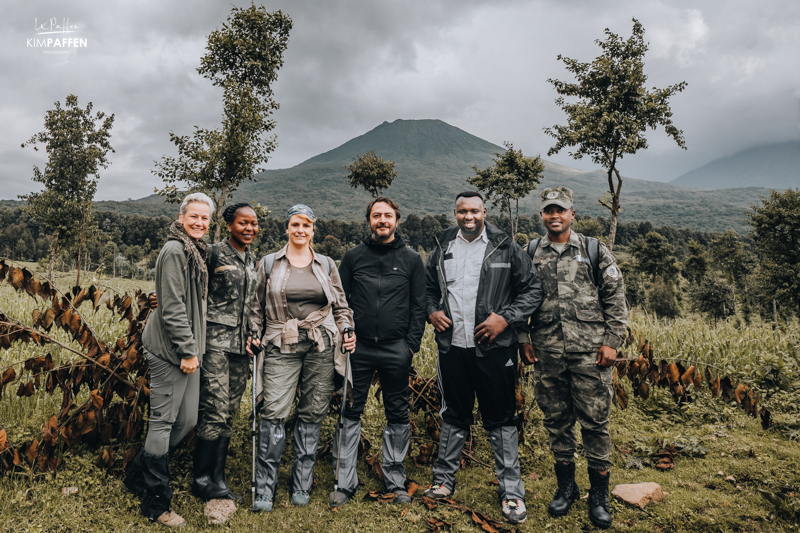 Wear the following items on your gorilla trekking safari:
Waterproof hiking shoes with ankle support and high socks
Gaiters to keep water, stones, mud, and sand out of your shoes
Hat, beanie, and/or scarf
Wear light-weight neutral-colored layers (khaki, beige) in moisture-wicking fibers or cool cotton (ripstop is good)
Wear long trousers and thin long-sleeved cotton shirts to protect your arms and legs from bugs and scratches
Do not wear military camouflage designs or animal prints
Avoid wearing black or blue colors because this attracts insects like mosquitoes
Gorilla Packing List: what to bring on a Gorilla safari?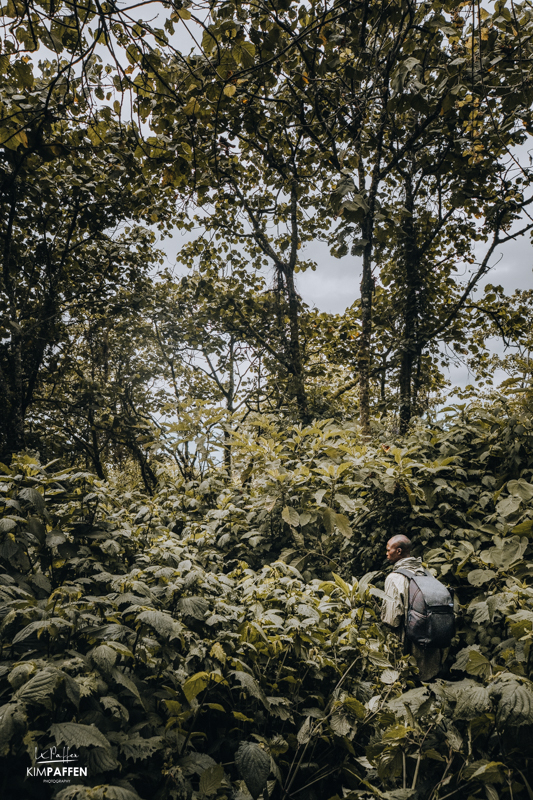 Be well prepared for your gorilla trekking in Uganda and pack at least the following items to make the most out of your gorilla hike:
Drinking water to stay hydrated (minimum of 2 liters!)
Packed lunch or nutrient bars
Rain jacket
Hat and sunglasses
Biodegradable insect repellent and sunscreen 
Small microfibre towel for rinsing hands and face
Mini first-aid kit with antiseptic, plasters, and wet wipes
Camera gear and a rain sleeve for your camera
Phone (on flight mode) to create videos or take photos of Gorillas
Optional: walking sticks and gardening gloves to grab onto plants and branches for support
Gorilla trekking vs. Chimpanzee trekking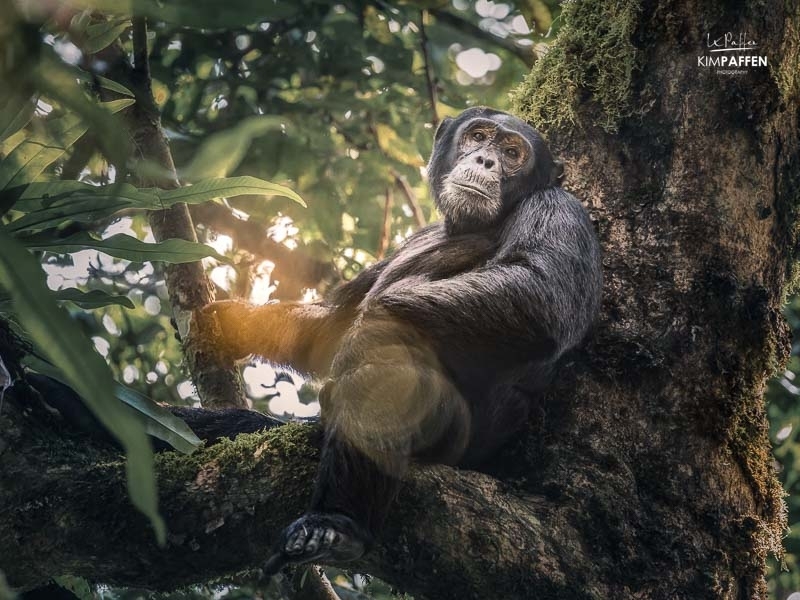 Both primate trekking experiences in Africa are valuable, but if I had to choose between chimpanzee trekking or gorilla trekking, I would instantly choose to see gorillas in Uganda. They are described as wise, charismatic, and benevolent great apes.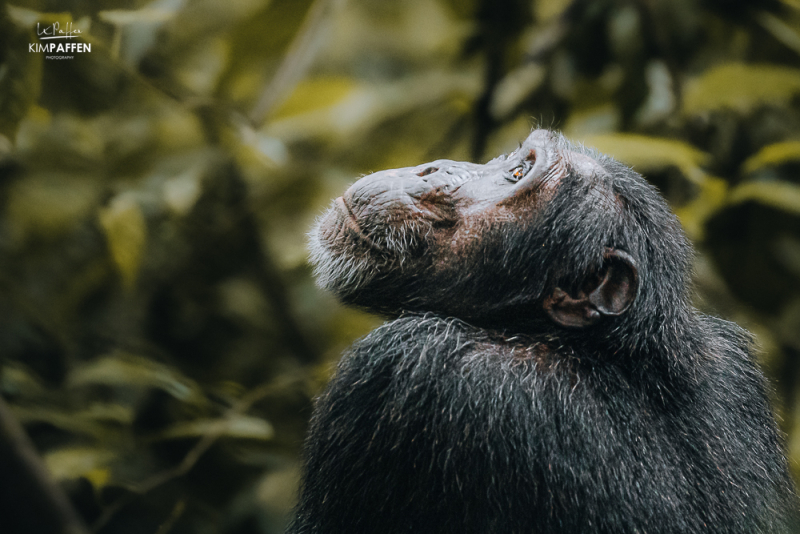 I went chimp trekking in Kibale National Park. Chimpanzees may be clever and more intelligent, but they are more disorganized compared to gorillas and move around a lot more and faster. They are very active, meaning you have to walk more to keep up with them, whereas the mountain gorillas are not moving around much; which makes them easier to watch and observe. At least, that is my opinion of the chimpanzee habituation in Uganda. I found the gorillas more intriguing to watch.
Gorilla trekking Rwanda vs. Uganda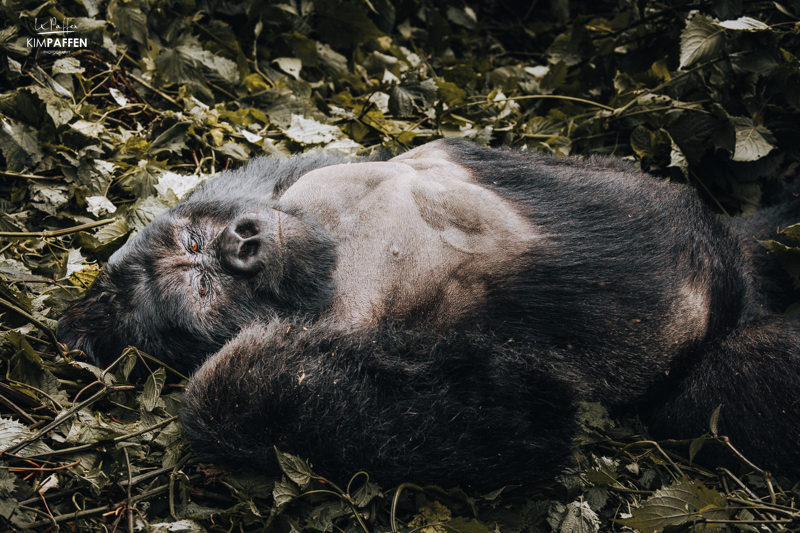 What is the best country to visit the gorillas? It depends on your preferences. The most important difference between gorilla trekking in Rwanda and Uganda is the price. With the stunning Volcanoes National Park, Rwanda focuses on the exclusive segment for spotting gorillas, offering high-end luxury lodges surrounded by the natural beauty of the volcanoes and easy access to the gorillas. The price for a gorilla permit in Rwanda is $1500 US Dollars, almost double the price of a permit in Uganda. 
In terms of value for money, I would recommend doing a gorilla safari trip in Uganda. If you are more of a luxury type with enough money to spend, I would opt for spotting the gorillas in Rwanda because the Volcanoes National Park is simply stunning and is known for easy gorilla trekking, although that depends on where the gorilla families are located. In Rwanda, I tracked the Kwitonda Gorilla Family, living on the Gahinga mountain part of Volcanoes National Park.
  RELATED: 11 best places to visit in Rwanda, including Gorilla Trekking in Volcanoes National Park
Gorilla trekking Congo vs. Uganda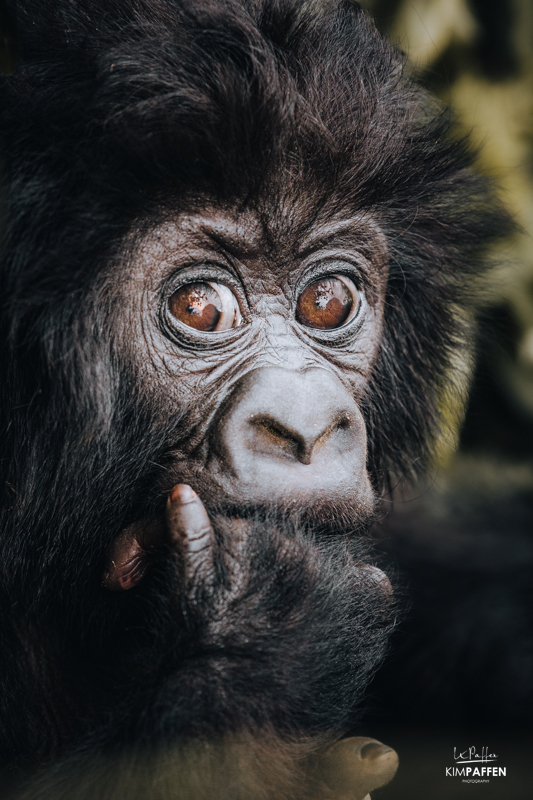 Booking a gorilla safari in Congo looks like the cheapest option to watch the mountain gorillas in Eastern Africa, but be aware of extra costs once you secured your Congo gorilla permit. Examples of extra costs are expensive overnight stays in Congo and transport because rangers need to protect you during the whole trip regarding the safety issues in DRC. 
Where to stay in Bwindi Impenetrable Forest National Park?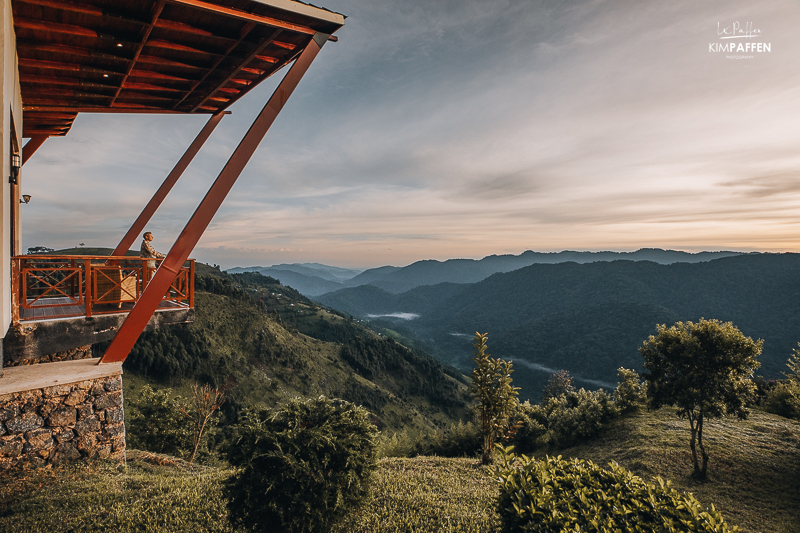 A good place to stay in Bwindi is the Gorilla Safari Lodge or Rushaga Gorilla Lodge in the Rushaga sector of Bwindi National Park. Both lodges are located near each other, and very close to the park gates of the Rushaga sector. I loved the fact that we were able to go for a walk in the village and talk to the locals. 
On our walk, we had some drinks in a local pub and ended up in a kitchen where they taught us how to cook a typical Ugandan dish. We also tasted fried grasshoppers, a Ugandan snack. Visiting the Batwa tribe was another inspirational experience as you learn a lot about how they used to live and hunt in the rainforest of Bwindi National Park.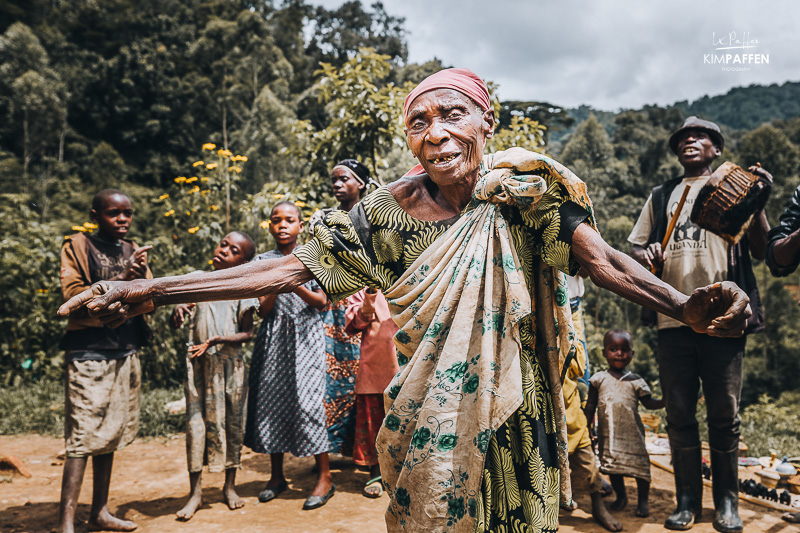 Other things to do in Uganda
Uganda is the primate capital of the world! Apart from visiting gorillas and seeing chimpanzees in Uganda, there are more primates to spot, like the golden monkey and colobus monkey.
Other things to do in Uganda are game drives in search of the Big 5 safari animals; for example, the tree climbing lions in Queen Elizabeth National Park, elephants and hippos in Murchison Falls National Park, zebras and impalas in Lake Mburo NP, and lions and leopards in Kidepo National Park. Hiking in Sipi Falls or searching for the elusive Shoebill in Mabamba Swamp is also a wonderful thing to do in Uganda.
Book a Gorilla Trekking Safari in Uganda
Find the best Gorilla Trekking safari deals and secure your spot to be part of an adventure of a lifetime. 
Gorilla Trekking Guide Uganda
I hope this complete guide to gorilla trekking in Uganda was helpful to prepare for your ultimate gorilla safari experience. If you're curious about my personal gorilla encounter with the Bweza Gorilla group, I suggest reading about my gorilla trekking experience in the Rushaga sector of Bwindi. 
Feel free to reach out with questions about seeing gorillas in the wild or traveling to Uganda in general by leaving a comment on this blog. You can help me in return by sharing these gorilla tips with friends on Facebook, Twitter, and Instagram, or pin this Gorilla trekking guide on Pinterest for later use.