Nkuringo sector is one of the 4 sectors in Bwindi Impenetrable Forest National Park where you can do gorilla trekking, but for nature lovers and adventure enthusiasts, there's more to do and see around the Nkuringo sector than trekking these endangered mountain gorillas. The region is home to a wide range of wildlife and birdlife and has two nearby lakes (Lake Mutanda and Lake Mulehe) that offer stunning sceneries and water activities. Apart from that you can participate in cultural activities like visiting the Batwa or community walks.
So let's find out the 7 top activities and things to do in Nkuringo sector of Bwindi.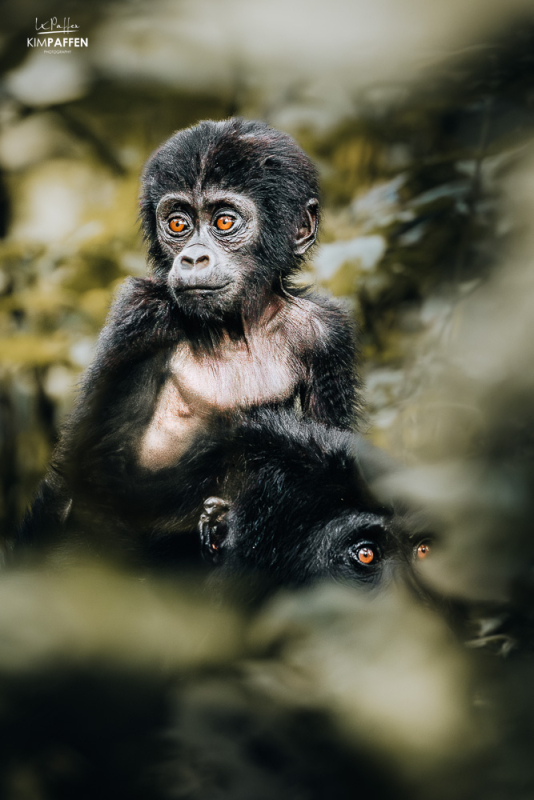 1 Gorilla Trekking in Nkuringo
Gorilla trekking in Uganda is without a doubt the number one reason to visit the Nkuringo sector of Bwindi National Park. The southern part of Bwindi is home to (only) three habituated gorilla families: Nkuringo, Christmas, and Bushaho.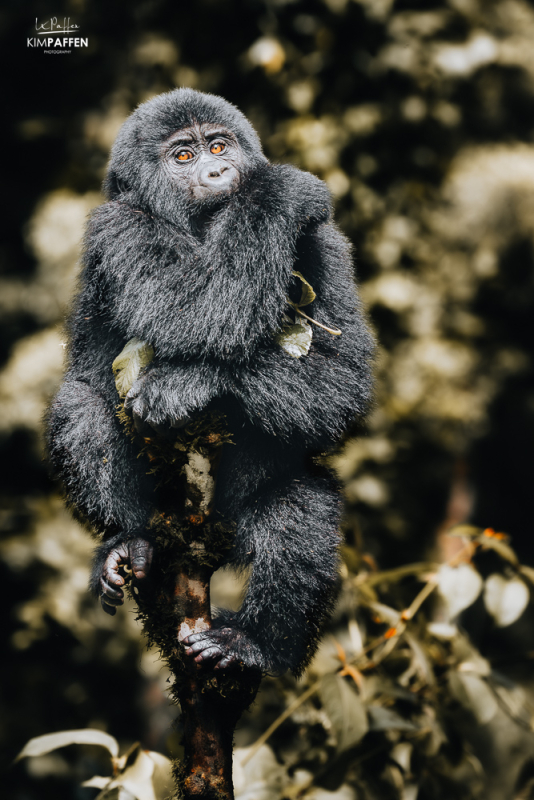 Because of its steep hills, Nkuringo is known for a tough, adventurous hike with a lot of climbing before you reach the gorillas. So trekking the gorillas in this sector is perfect for hikers that really want to put in the effort to find the mountain gorillas. The average trekking from beginning to end takes around 5 hours, but it all depends on where the gorillas are located and how mobile they are. For that reason, the trek can take anywhere from a few hours to a full day.
Once you locate the gorillas, you can stay with them for max. one hour, enjoying their human-like behavior. Planning a gorilla trekking in Nkuringo? Book your gorilla permit (700 USD) in advance as they are in high demand and there are only 3 gorilla families in Nkuringo to trek.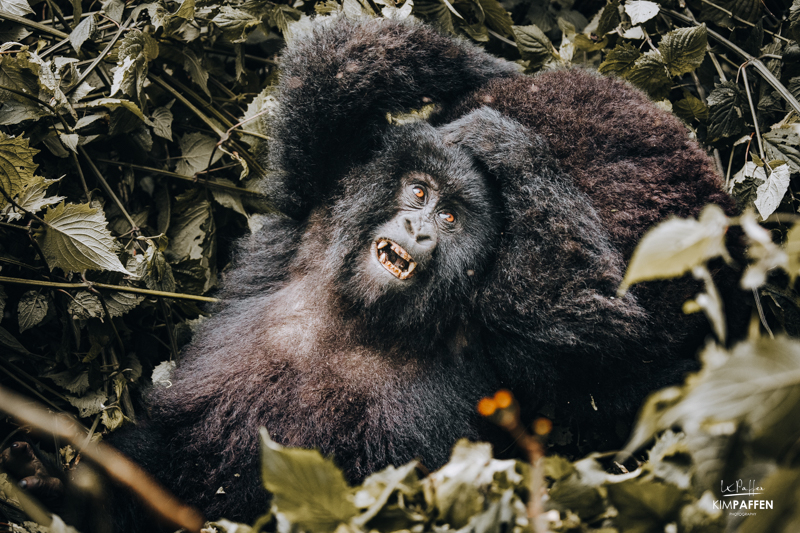 Are you not very fit and not a great hiker? Plan your gorilla trekking at the Rushaga sector. This area in Bwindi has more gorilla families to trek and the families are more accessible. From Gorilla Heights Safari Lodge, it's a 5-minute drive to the Nkuringa Visitor Center (Park Gate) and a 40-minute drive to Rushaga, so even when you want to do your trekking in Rushaga, you can stay at the 5-star Gorilla Heights Lodge.
  Related: My Gorilla Trekking Experience in the Rushaga Sector of Bwindi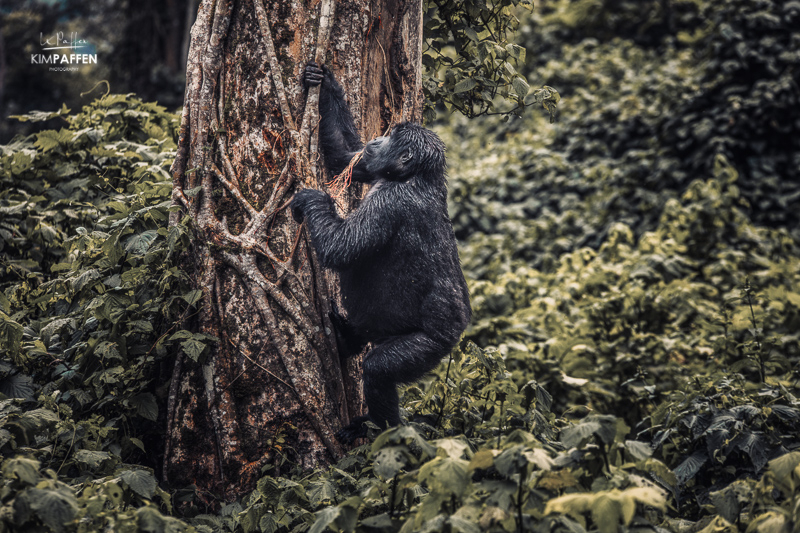 Book Gorilla Trekking in Uganda
Find examples of Uganda tours that include Gorilla Trekking.
2 Gorilla Habituation Experience
Apart from gorilla trekking, you can opt for a gorilla habituation experience, which allows you to spend almost all day with a semi-habituated gorilla family. Nkuringo currently has one semi-habituated gorilla family, meaning these gorillas are still in the process to get fully habituated. The Gorilla Habituation Experience costs 1500 USD.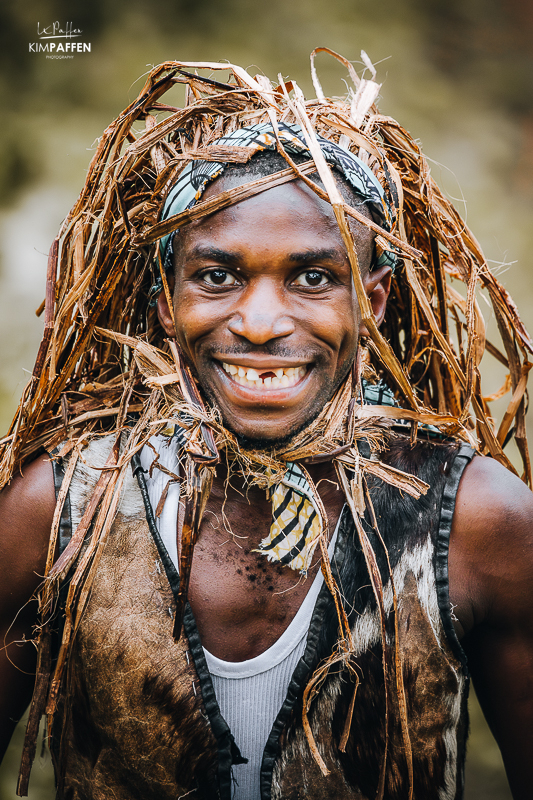 3 Batwa Cultural Tour
Walk in the footsteps of the Batwa, and discover many uses of the Buniga Forest. When you visit the Nkuringo sector, one of the activities you can't miss is engaging with the Batwa pygmies, who used to live in Bwindi Impenetrable Forest together with the gorillas.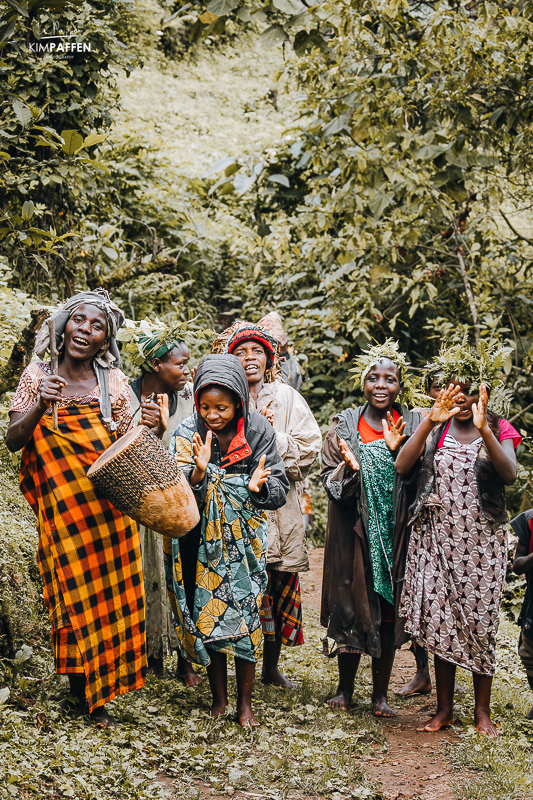 The Batwa are one of the oldest tribes in Africa and are known as 'keepers of the forest'. A cultural Batwa Tour is a great way to learn more about their way of life, culture, and traditions. You can also participate in their traditional dances and songs.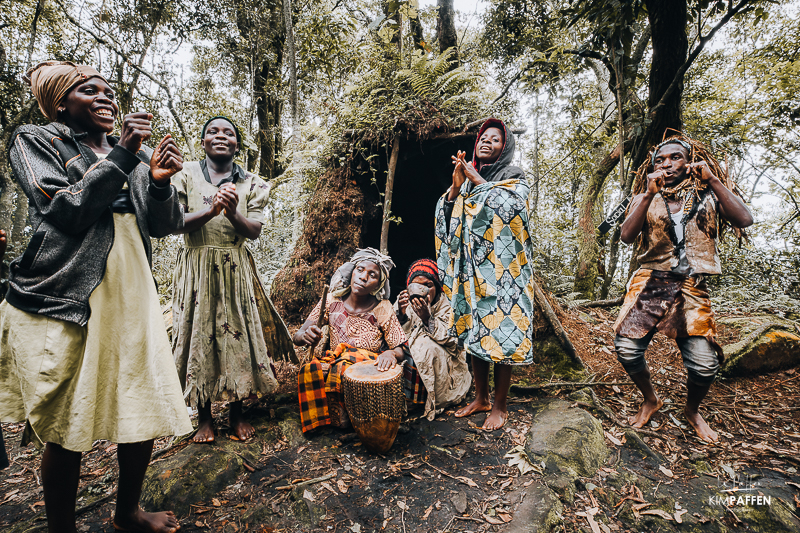 Apart from that, a member of the Batwa community will explain everything about the plants they use to stay healthy and the plants to treat diseases.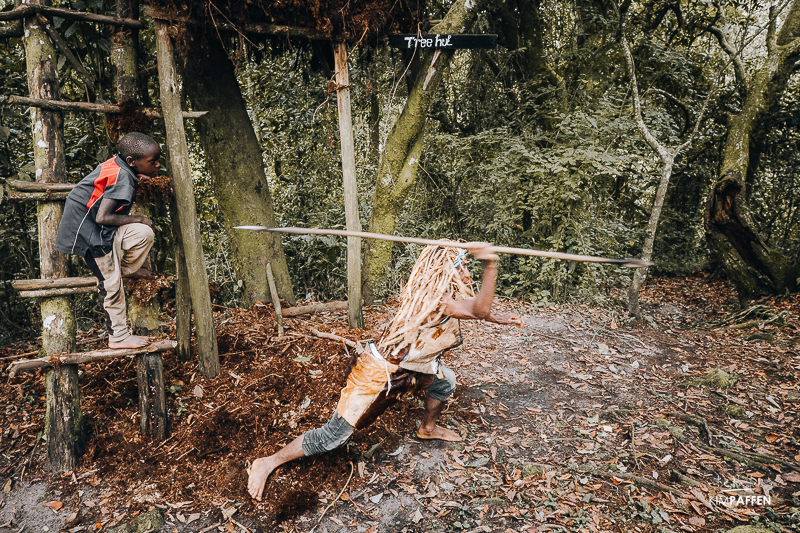 But they will also show you how they used to hunt animals with clever tricks to catch animals like a duiker or buffalo in a trap. Lastly, they will show you how to make a fire to stay warm and cook their food.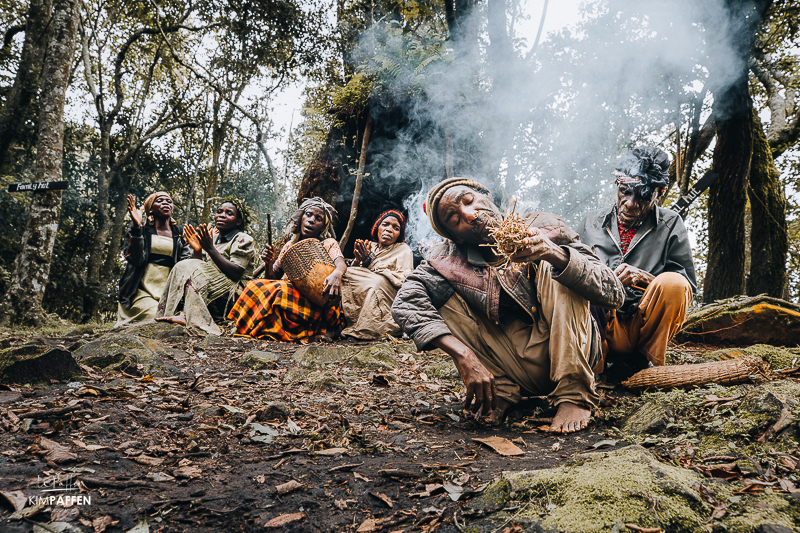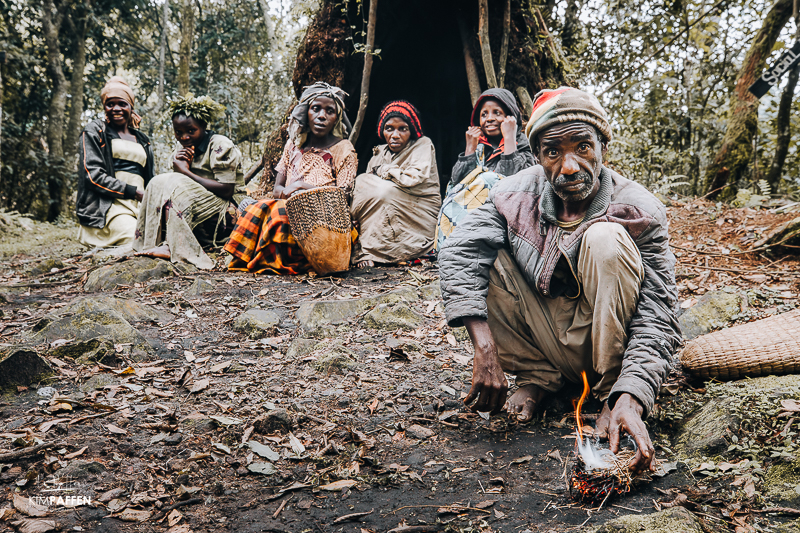 They also explained about the various huts that are part of the Batwa settlement, like a bachelor hut, a family hut, a community hut where the Batwa gather to eat their food, and the treehouse hut where they would leave their children that aren't ready to hunt yet.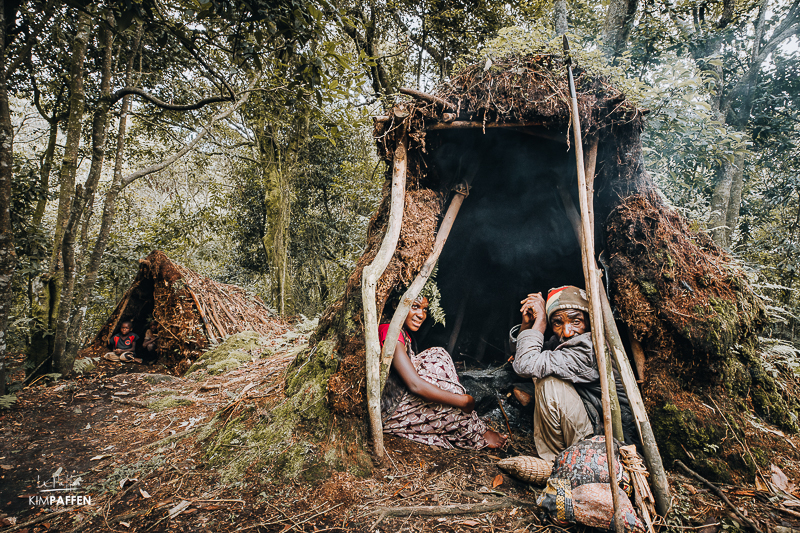 During the Batwa Cultural Tour in Nkuringo you don't visit their actual settlement, but it's set up to show people their way of life in the forest. The trail is known as the Buniga Community Forest Trail.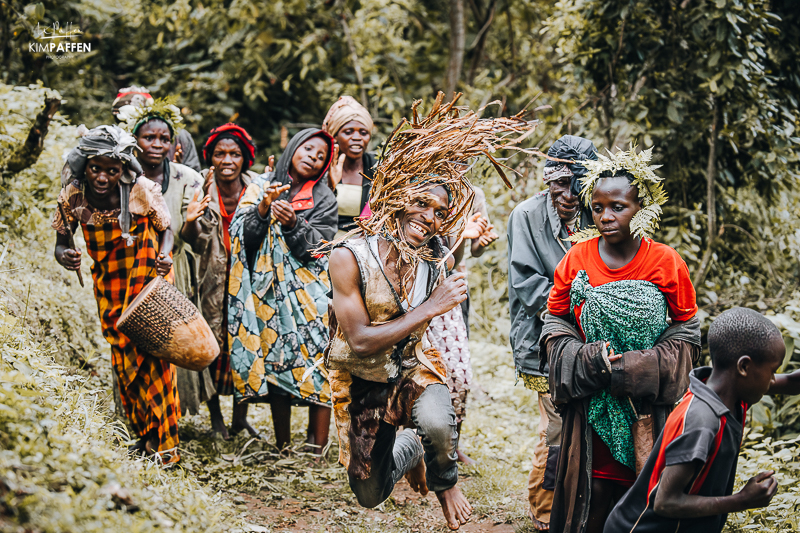 4 Spa Treatment at Gorilla Heights Lodge
Looking for a relaxing experience after a tough gorilla hike? Book a massage at the Gorilla Heights Spa to stay 'Forever Young' and come to rest in the complimentary sauna and steam cabin.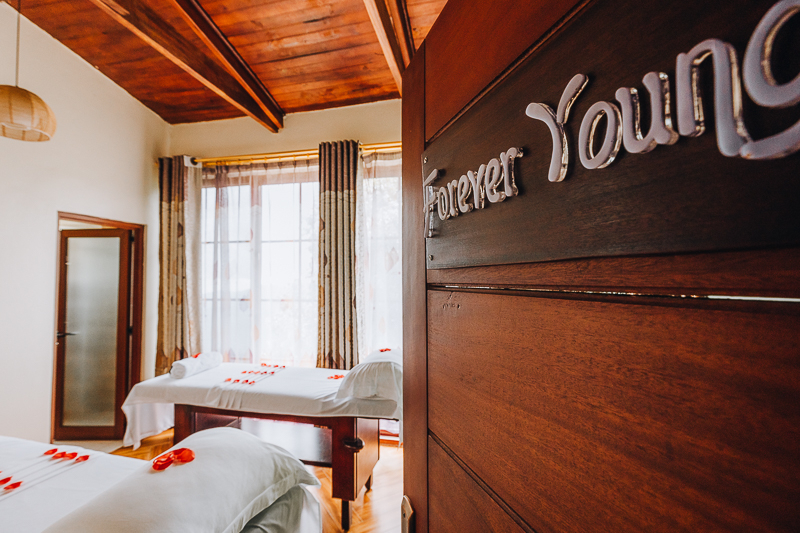 In between you can enjoy a cup of herbal tea with some salty popcorn. A great way to unwind and rejuvenate.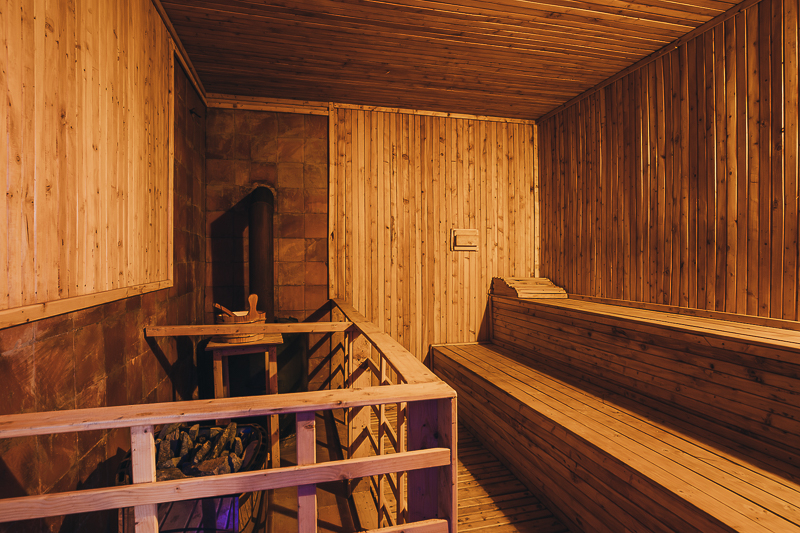 Apart from the Spa, you can also enjoy the swimming pool at Gorilla Heights Lodge; it's the only lodge in Nkuringo sector of Bwindi that has a pool. So, looking for these facilities? Book your stay at Gorilla Heights Lodge.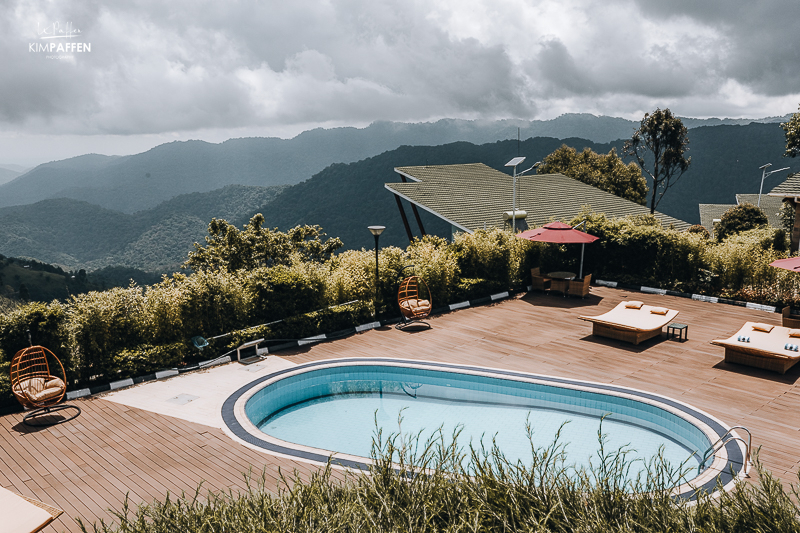 5 Nature Walks & Hiking in Nkuringo
Want to experience Bwindi's stunning nature? Consider going on a guided nature walk in Nkuringo sector where you will spot various primate species, colorful birds, and butterflies, enjoying the scenery and sounds of nature. The nature walks range from short, easy hikes to longer, more challenging ones.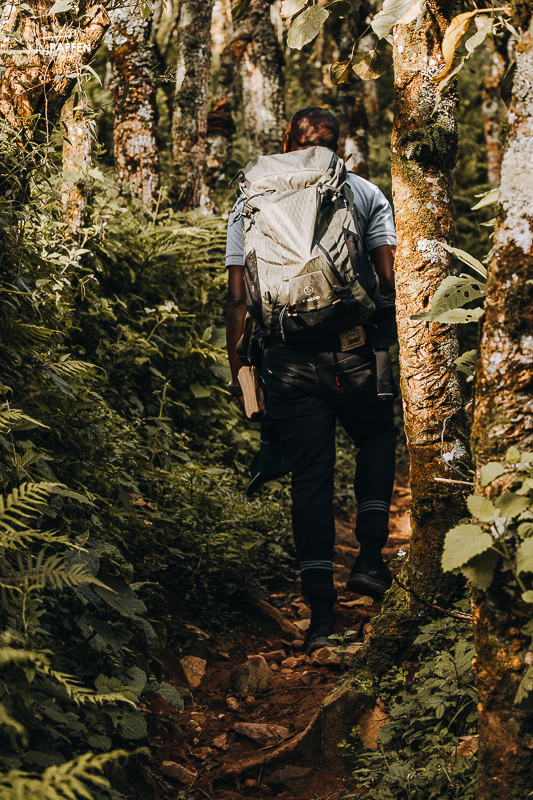 For the more adventurous hikers, there are several hiking trails in the Nkuringo sector that offer stunning views of the Virunga volcanoes and the surrounding landscape. Popular hikes are for example the Nkuringo hill hike, and the Ivy River trail where you can spot different primates, like Colobus monkeys, and baboons, but also animals like duiker.
Opting for a nature walk or hike is a great activity to do in Nkuringo if you want to learn more about the local flora and fauna.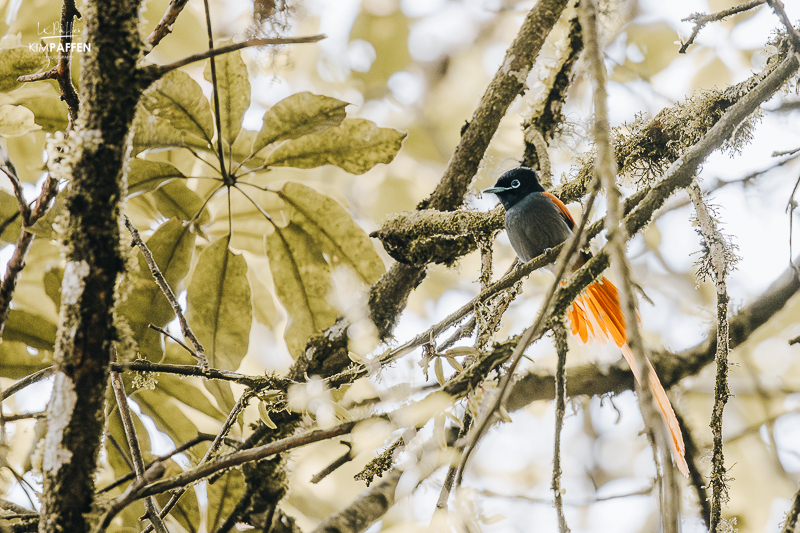 6 Birdwatching
Nkuringo sector is a birdwatcher's paradise with over 350 species of birds. A few birds worth mentioning are the African green broad bill, Shelley's crimson wing, and the black-billed Turaco. During birdwatching, an experienced guide will help you to spot different bird species, like the African goshawk, Klaas's cuckoo, snowy crowned robin chat, African paradise flycatcher, the Yellow-rumped tinker bird, grey-cheeked hornbill, and much more.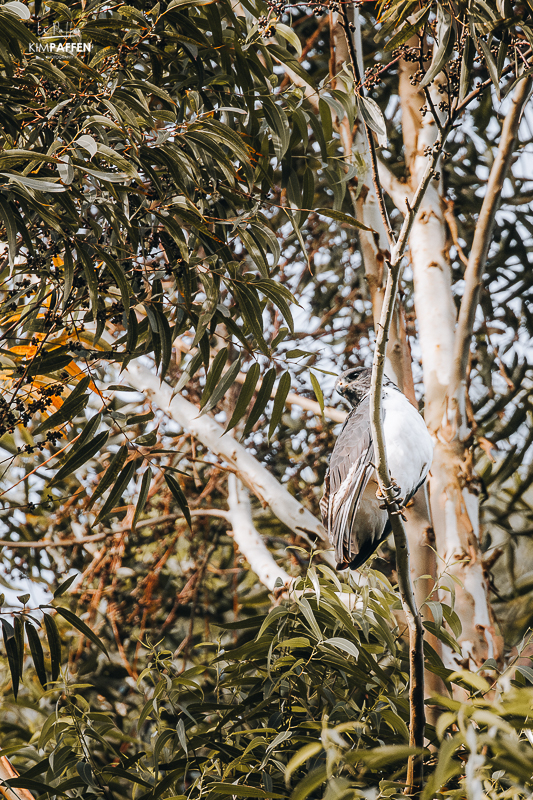 The birdwatching activity in the Nkuringo sector of Bwindi was a 3-hour trail led by the community coordinator using cow and goat tracks.
During the rainy season, this trail is quite muddy and slippery, but during the dry season, these tracks are all dried up. I did the activity during Uganda's rainy season and some parts were challenging including streams to cross.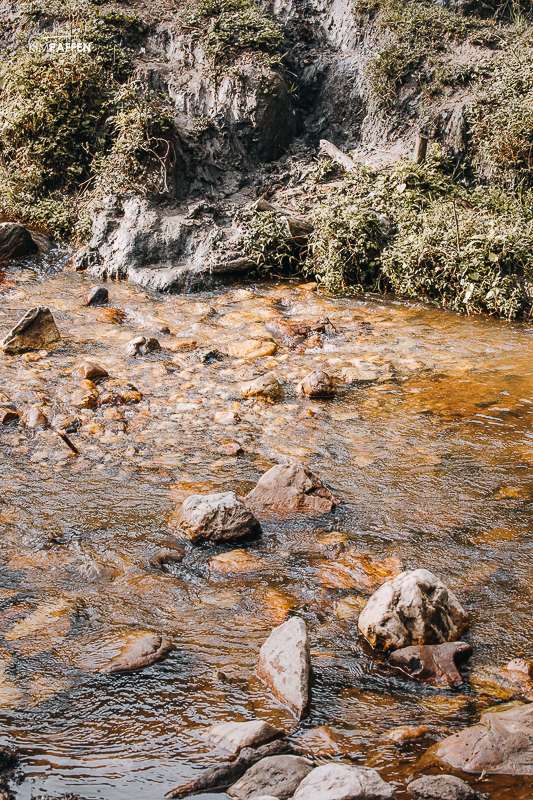 It's a nice trail that takes you through the community and the forest, spotting various birds and passing by various fruit trees, like passion fruit, banana, mango, lemon, and guava. I also found wild cucumber and avocado trees.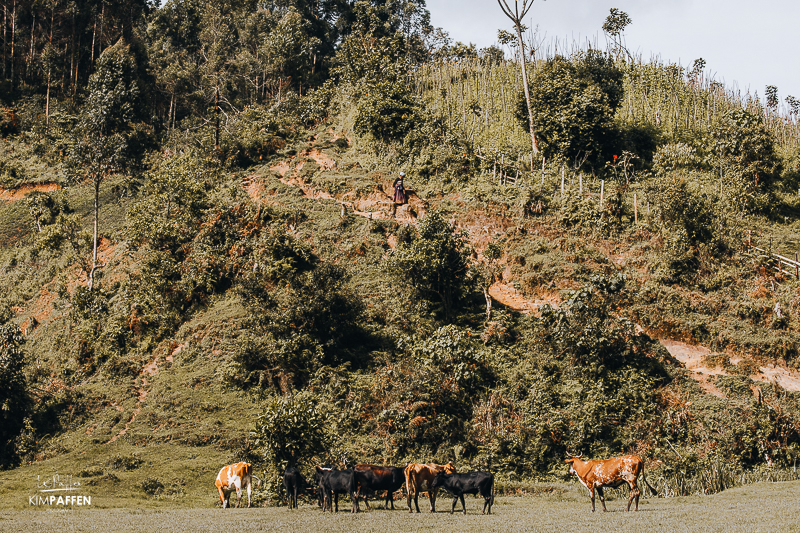 Birds I spotted were the Bronze Sunbird, Chubb's Cisticola, Streaky Seedeater, Grey-backed Fiscal, Yellow White-eye, Green-headed Sunbird, Red-chested Sunbird, Augur Buzzard, and the Pin-tailed Whydah.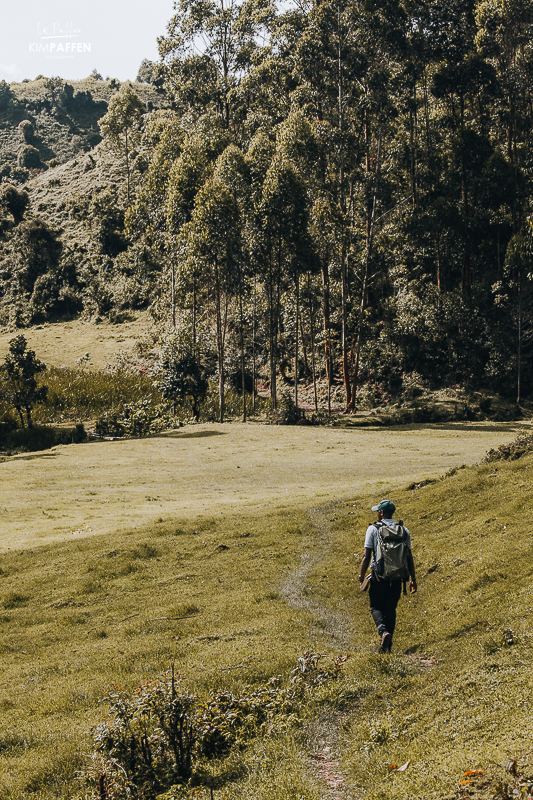 7 Canoeing Trip on Lake Mutanda
Most people come to Nkuringo to trek the gorillas and enjoy Bwindi Forest, which isn't a world heritage site for nothing. However, I highly recommend extending your stay in Nkuringo to enjoy a canoeing activity on the stunning Lake Mutanda, which is surrounded by lush green hills and dotted by volcanoes part of the Virunga mountain range.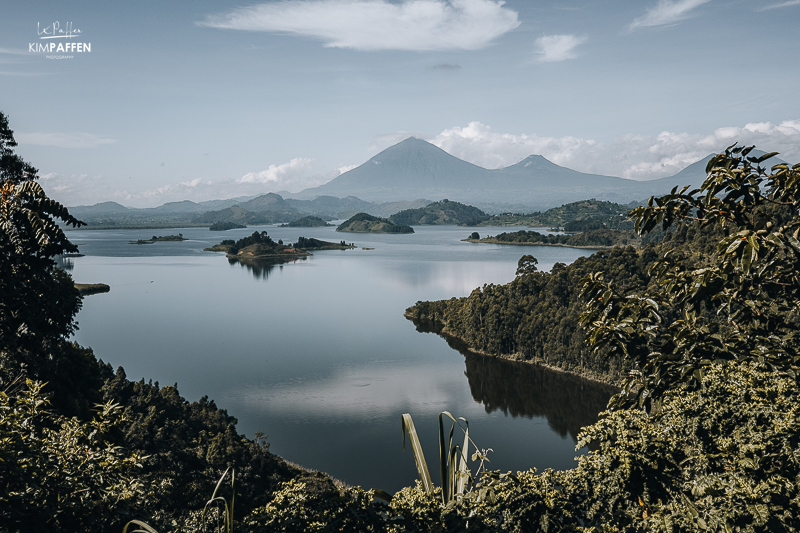 A canoeing trip on Lake Mutanda is a relaxing and peaceful way to enjoy the scenery and spot aquatic birdlife and shy otters.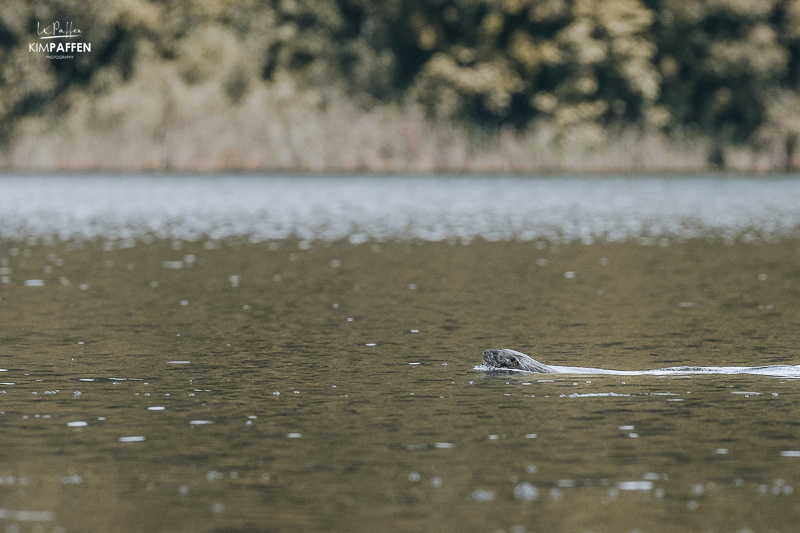 On the internet, you may find that Lake Mutanda also has hippos, but hippos aren't seen in the lake since 2013. Because of the absence of hippos and crocodiles, swimming in the Bilharzia-free Lake Mutanda is very safe.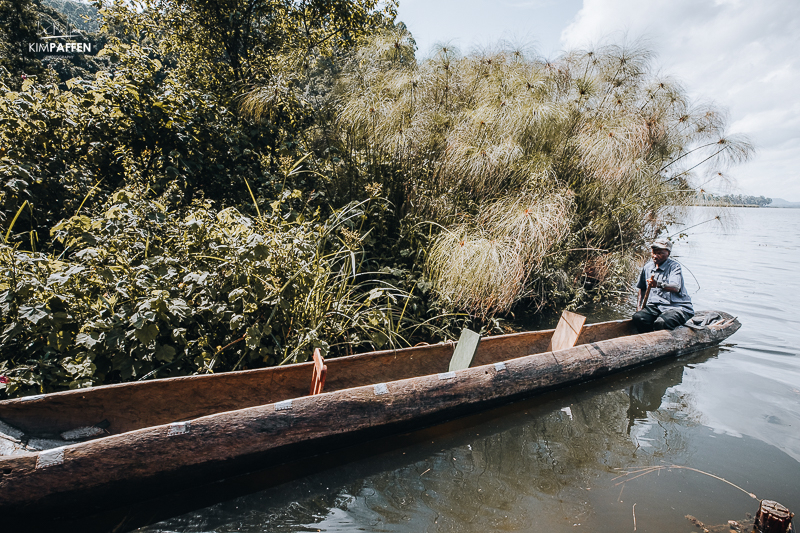 Lake Mutanda is home to several fish, including Tilapia, Catfish, and Mudfish. However, due to overfishing, there are very few fish left. The government tried to place back fish in order to regenerate, but during COVID-19 local fishermen came with huge nets during the night, catching everything they possibly could. Sadly, this is a major challenge of Lake Mutanda, which is believed to be formed 13 million years ago.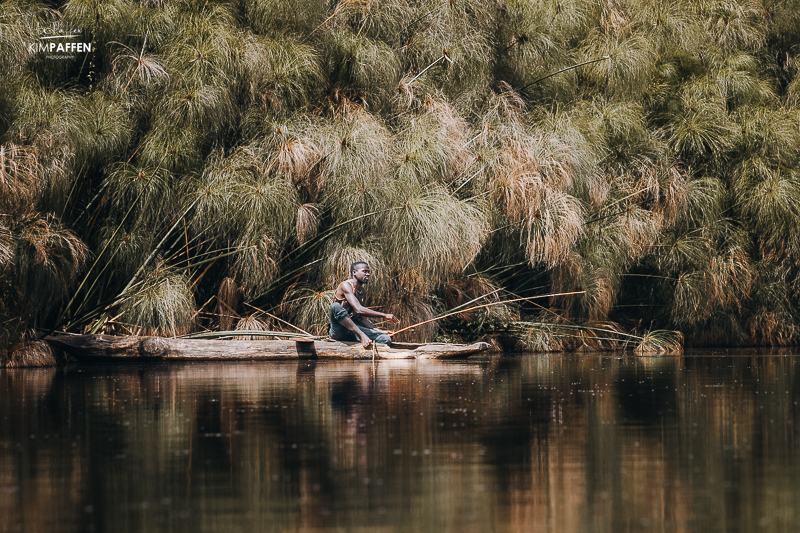 The scenic lake has 13 major islands that support human activity, but there's only one island with a settlement. Lake Mutanda is 45 to 900 meters deep and 29km.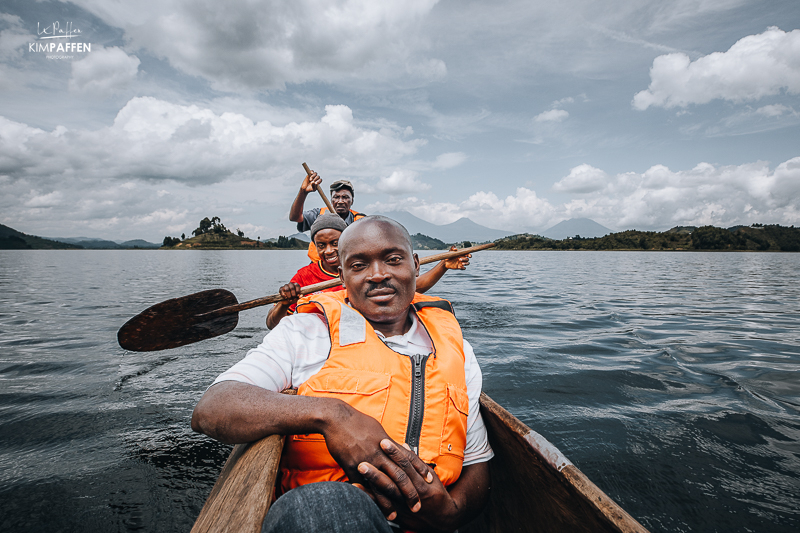 The canoe trip on Lake Mutanda is issued through Chameleon Hill Forest Lodge, a colorful cozy lodge with amazing views of the lake and the volcanoes in the distance. You will use a local dug-out canoe, locally known as 'Ubrato' made of eucalyptus trees. Along the shores, you will also find aquatic birds, like pied Kingfishers.
The hike down to the starting point takes about 10 minutes. When you return it's a steep climb uphill taking you probably around 15 minutes. Wear clothed shoes for the hike; in the canoe, you can take off your shoes if you wish.
From Gorilla Heights Lodge in Nkuringo it's a 50-minute drive to Lake Mutanda. Another option is to go straight to Chameleon Hill Lodge for a canoe trip after arriving at the Kisoro airstrip and stay at this peaceful forest lodge for a nice lunch with a view, before continuing to Gorilla Heights Lodge in Nkuringo.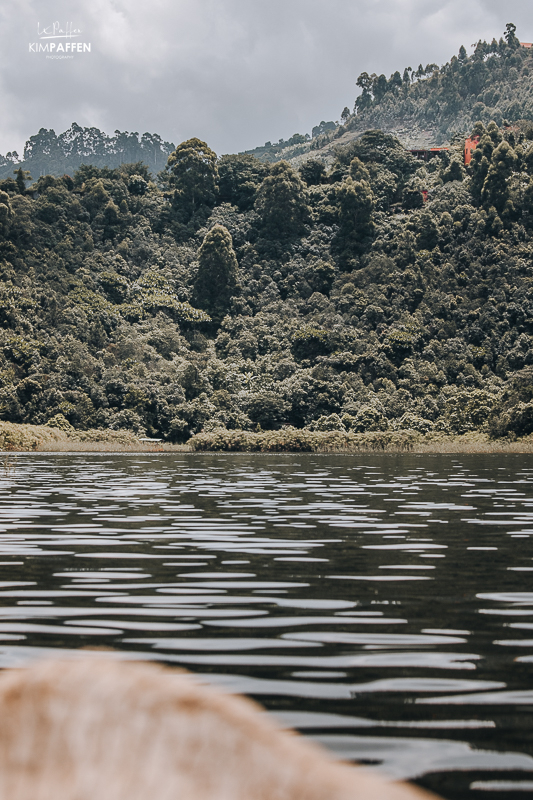 8 Sundowner On Top of the World
Enjoying a sundowner 'On Top of the World' is something not to be missed while staying in Nkuringo. You can either reach the top of the hill by foot, walk through the tea plantation, or drive up the hill.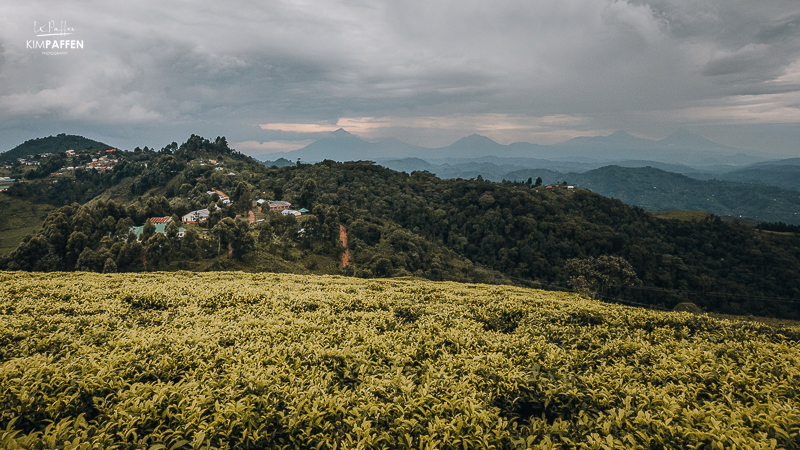 On top, you have a wonderful 360 degrees panoramic view over Bwindi National Park with Buhoma sector in the distance, and on clear days you can even see Queen Elizabeth and Lake Edward. Apart from that, you can see the border with Congo DRC, the amazing 8 volcanoes, and the wonderful property of Gorilla Heights Lodge.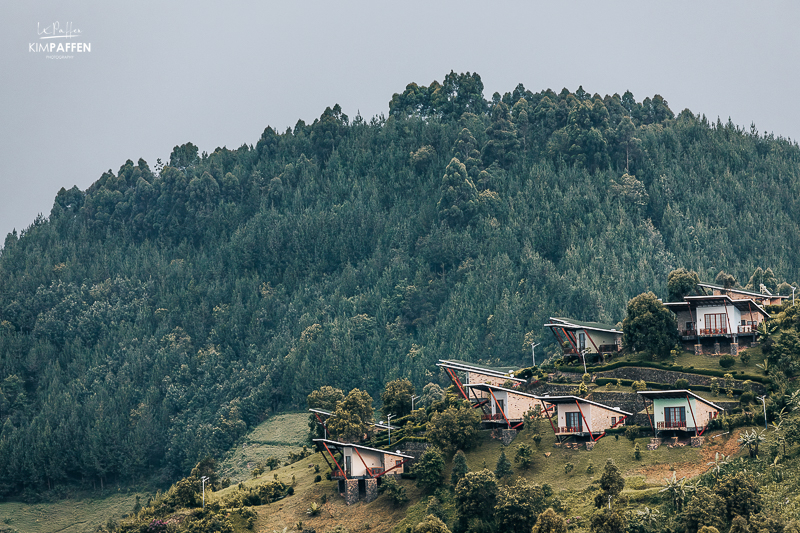 Weather permitting, Gorilla Heights Lodge will set up nice tables and a cozy fire to enjoy the amazing views and sunset while having a sundowner. From the Top of the World Hill, you can also see Gorilla Heights Lodge (and vice versa). And while looking towards Bwindi National Park, you will see a natural buffer zone of tea plantations preventing the Gorillas from eating and destroying the people's crops. This smart solution has heavily reduced the human-gorilla conflict.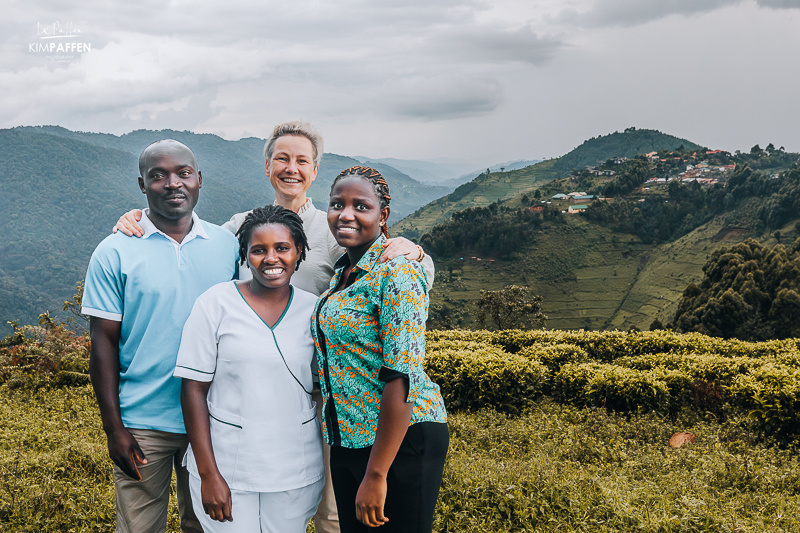 I didn't have the best weather on top of the world, but I enjoyed the view and the amazing souls of Gorilla Heights Lodge. Thank you for an unforgettable stay!
9 Community Walk
You can do several community walks in Nkuringo. One of them is the Batwa Cultural Tour, but you can also take a stroll through the town and see how the people of Nkuringo live and learn more about local craftsmanship, like the blacksmith.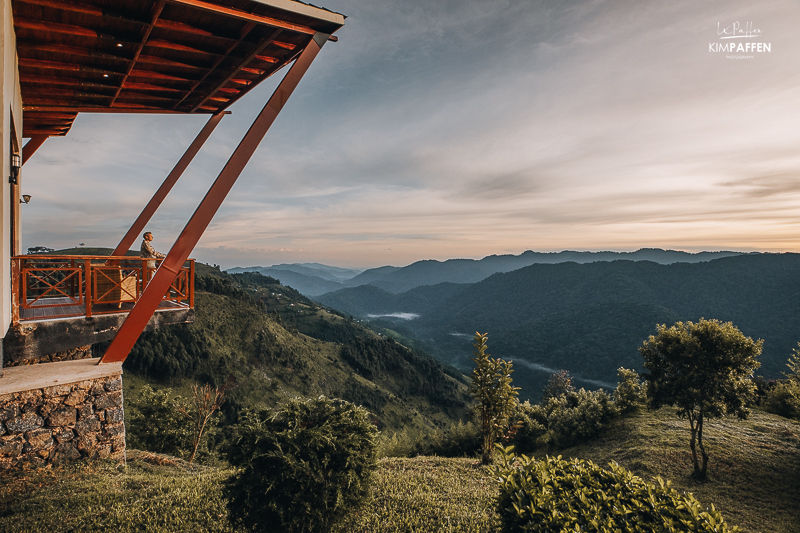 Where to stay in Nkuringo sector, Bwindi?
I highly recommend staying in the 5-star Gorilla Heights Lodge. It's the newest addition to the lodges in Nkuringo, and it has by far the best views and service.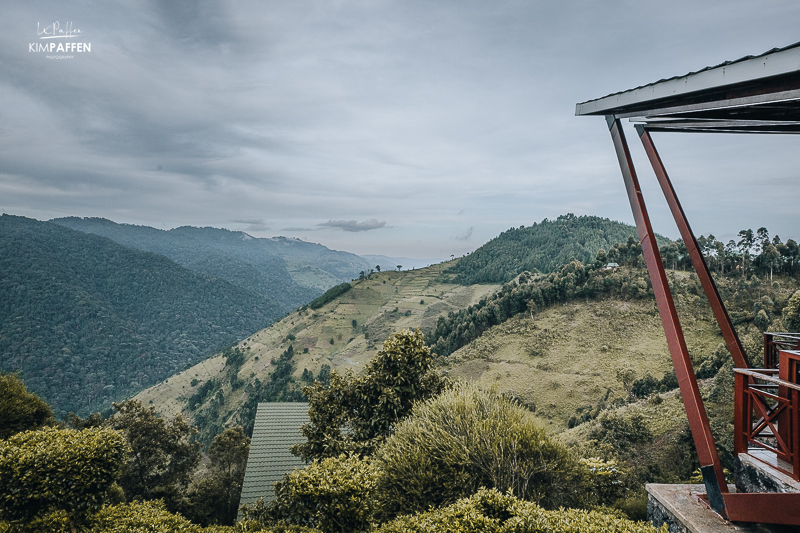 Gorilla Heights Lodge has 9 standard cottages with a balcony overlooking the rolling misty hills of Bwindi Impenetrable Forest, 5 deluxe cottages with an outdoor bath, a second balcony, and a kitchen area.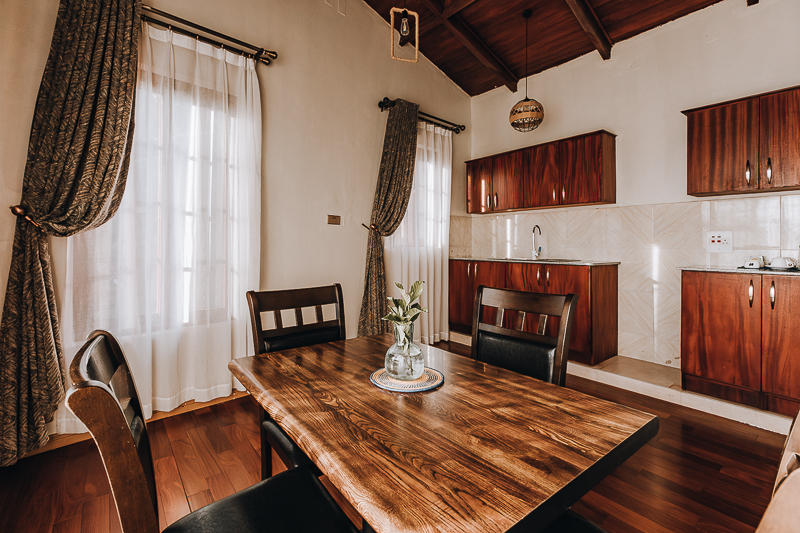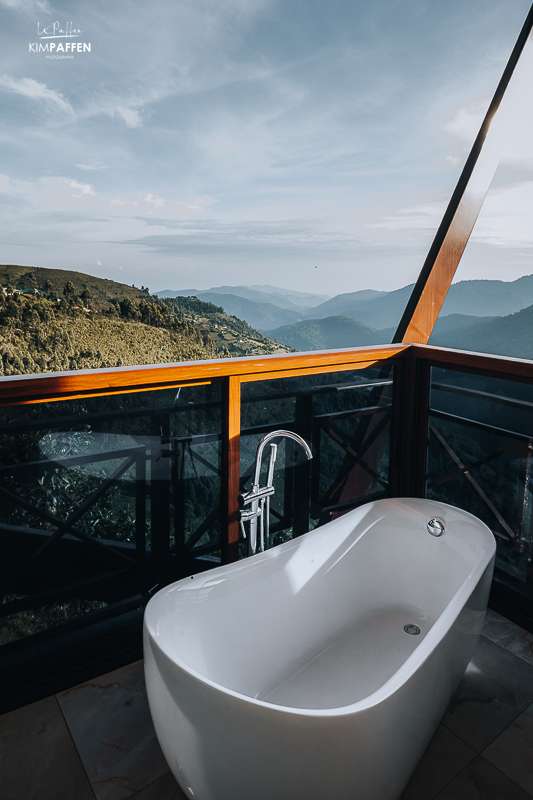 For bigger families, they also offer a family cottage. I had a memorable stay in one of their Deluxe cottages, enjoying the ever-changing view of the UNESCO world heritage impenetrable forest.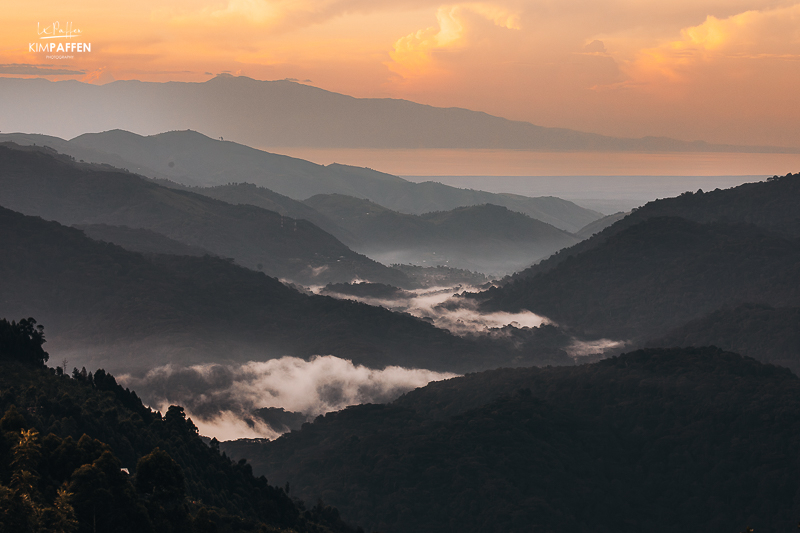 What I really liked about Gorilla Heights Lodge is that they have 2 terraces in the main building. The 'Bwindi Terrace' is overlooking Bwindi Forest, while the 'Virunga Terrace' offers amazing views of the volcanic Virunga mountain range.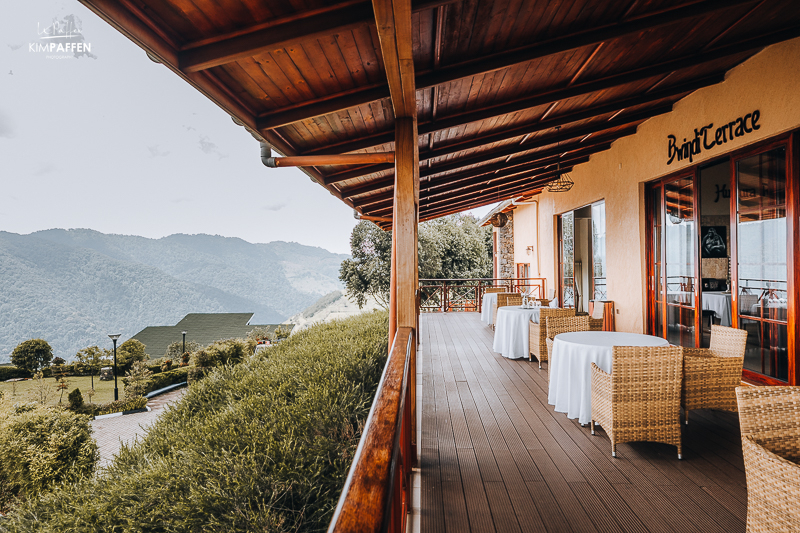 On a clear day, you can see all 7 volcanoes, of which some are shared with Rwanda and Congo. So, regarding views, Gorilla Heights Lodge offers the best of both worlds and the lodge is only a 5-minute drive from the Nkuringo visitor center from where the Gorilla Trekking starts.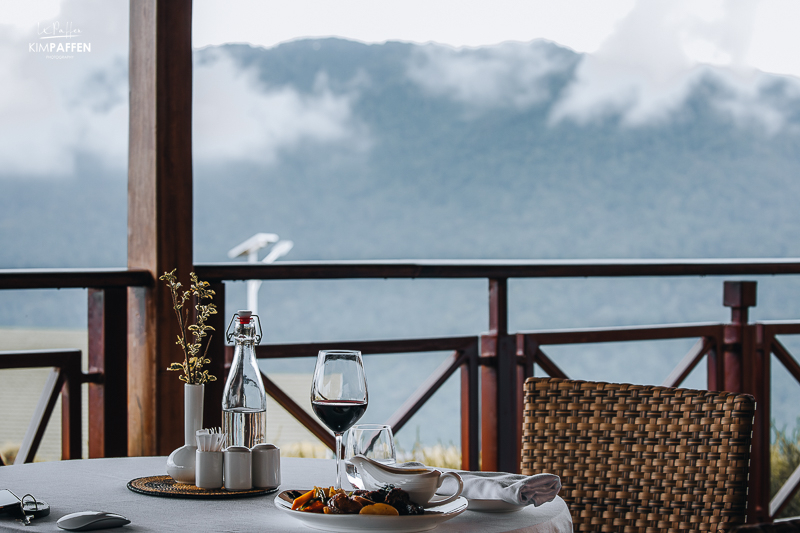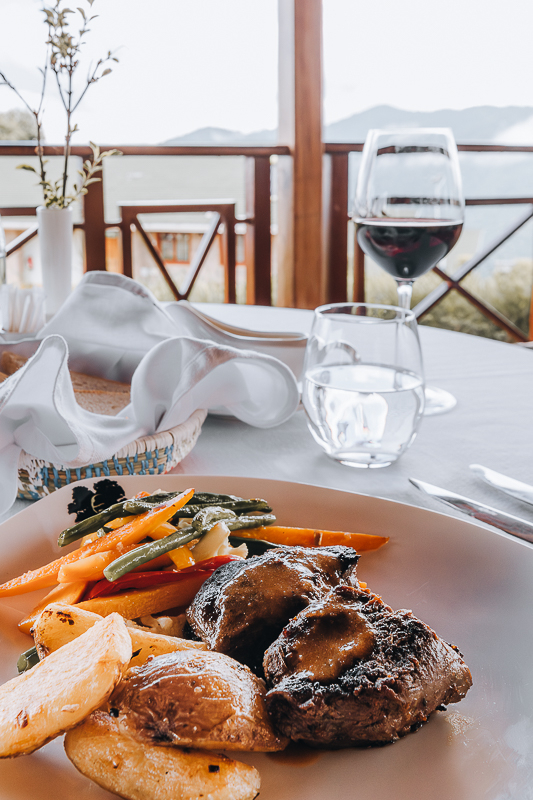 Their food is very good with various options to choose from. Selected wines and beers are complimentary, as well as laundry.
What is the best time to visit the Nkuringo sector?
Nkuringo sector can basically be visited year-round, but the best time is during the dry season in Bwindi National Park. The driest months are June to September and December to February. Because of less rainfall, the gorilla trekking is easier and less slippery.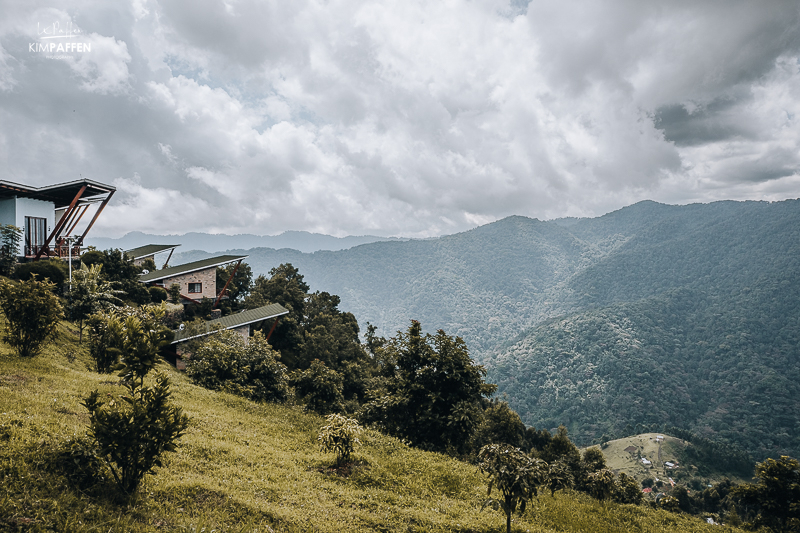 However, Nkuringo sector can also be visited in the rainy season, from March to May, and in November. These wet times are generally the best period for birdwatching, but even gorilla trekking is perfectly fine during these months. At least, that is what I experienced myself as I visited Uganda in the rainy season twice.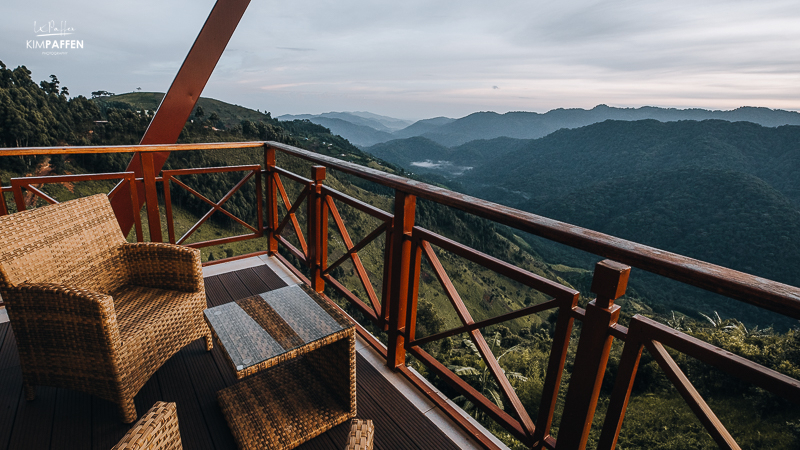 Be aware that Bwindi Impenetrable Forest is a rainforest, so it can rain anytime, and the weather is unpredictable. Downpours during gorilla trekking are common. Sometimes it's just 10–15 minutes and then it clears up again. The advantages of traveling off-season are fewer tourists and lodging is more affordable.
Want to know more information about the best time to travel to Uganda? Read the best time to visit Uganda and Uganda weather by month.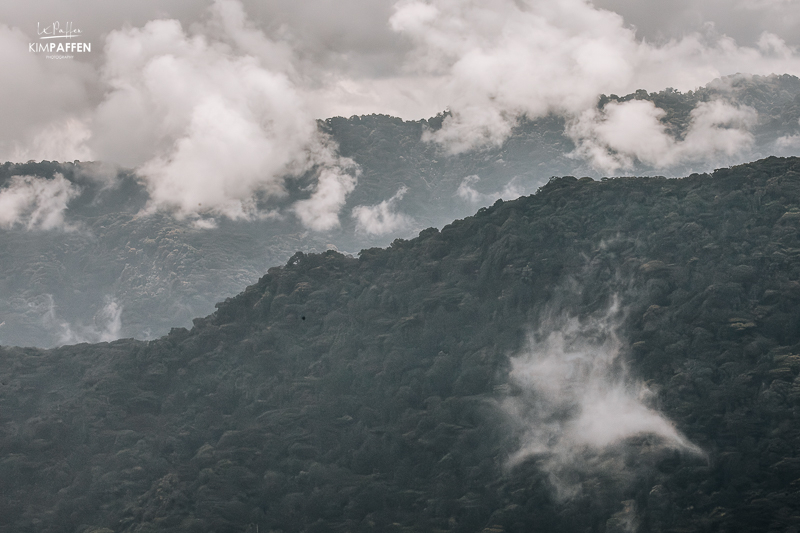 How to get to Nkuringo sector?
You can either access Nkuringo by road (about 10 hours from Kampala) or you can fly to Kisoro Airstrip. A flight with Aerolink from Entebbe to Kisoro takes about one hour, and then it's another 1,5- hour drive to get to Nkuringo.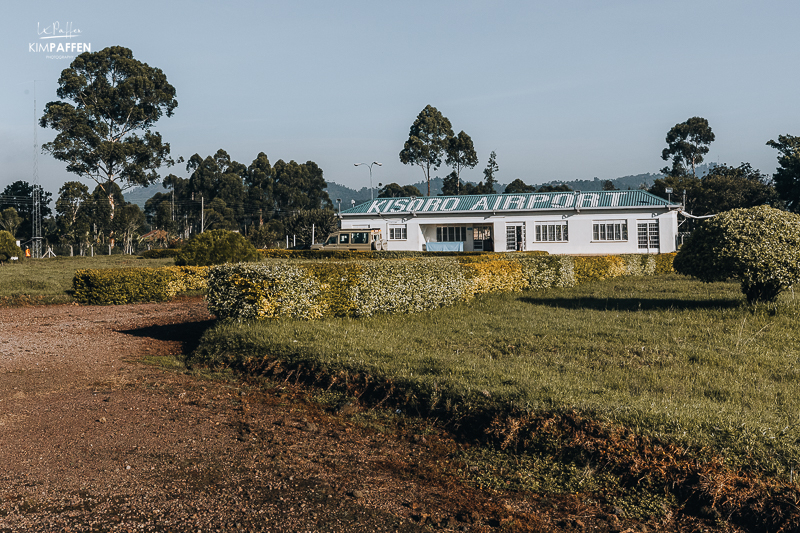 Another option is to fly to Kigali, in Rwanda, and proceed by road from there, passing the Cyanika border from Rwanda into Uganda. This drive will take you around 3 to 4 hours.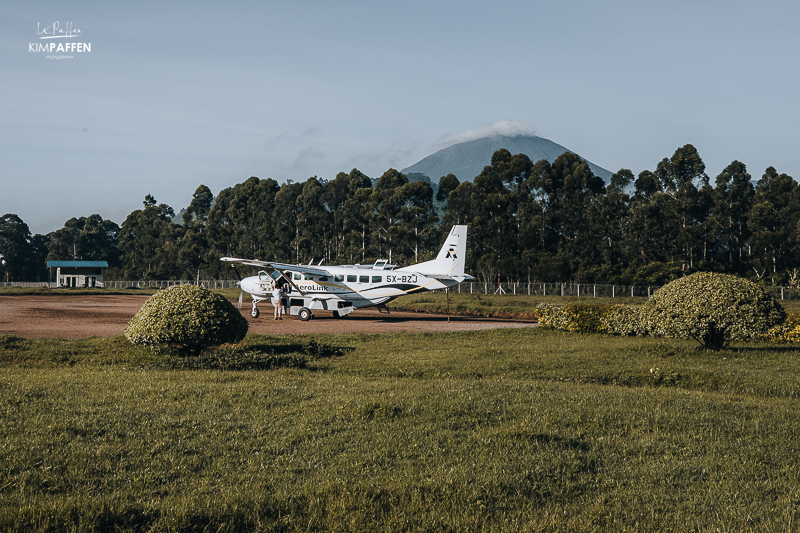 The advantage of booking a domestic flight from Entebbe to Kisoro is that the flight is very scenic with stunning views of Bwindi National Park, Lake Mutanda, the Volcanoes, and more.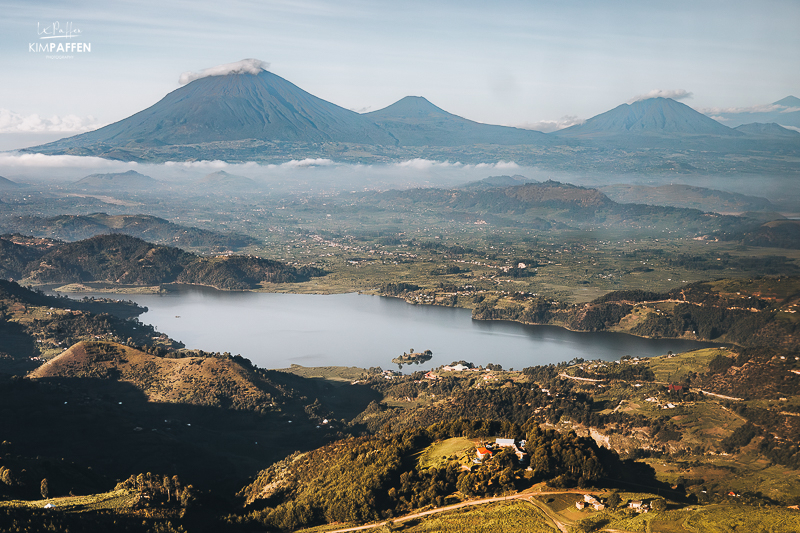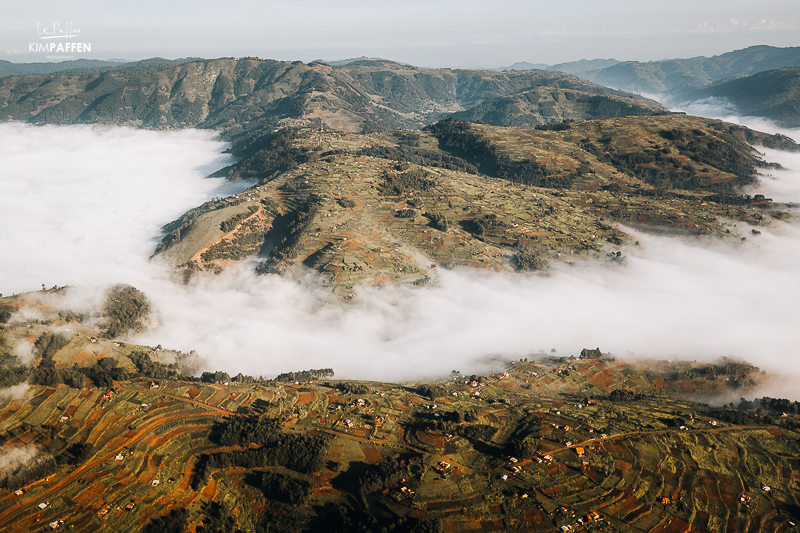 9 Top things to do in Nkuringo sector Bwindi
The above activities in Nkuringo make this sector of Bwindi National Park a must-visit destination if you travel to Uganda. The combination of gorilla trekking, birdwatching, spa treatments, cultural experiences, and lake activities like canoeing, make the Nkuringo sector one of the best places to visit in Uganda.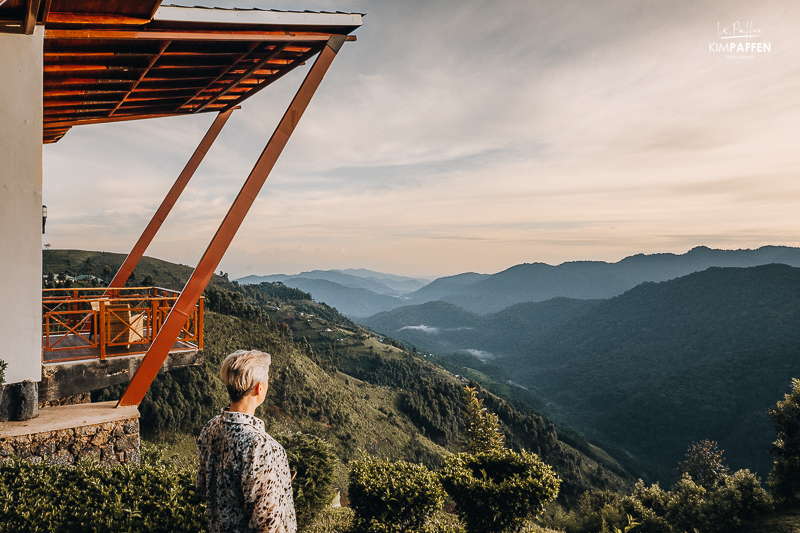 If you're interested in traveling to Uganda, you might like to read these articles as well: