The rangers have located the Bweza gorilla family in the Rushaga region of Bwindi! We stand still to quietly listen to our surroundings. We could hear them communicate, but couldn't see them yet. My heart is beating faster. How close are they? We walked another 20 meters and there they were. For the first seconds, I couldn't believe my eyes and it felt a bit as if I ended up in a fairy tale; I was standing face to face with a giant 43-year-old silverback and his entire gorilla family, including a baby gorilla that made for a high level of cuteness. 
Once you see this human-like endangered great ape species with your own eyes, you forget that you're exhausted from the hike through the thick rainforest of Bwindi Impenetrable National Park. At that moment, you know it was worth every dollar spent on this once-in-a-lifetime gorilla trekking experience in Uganda - even with bruised ribs.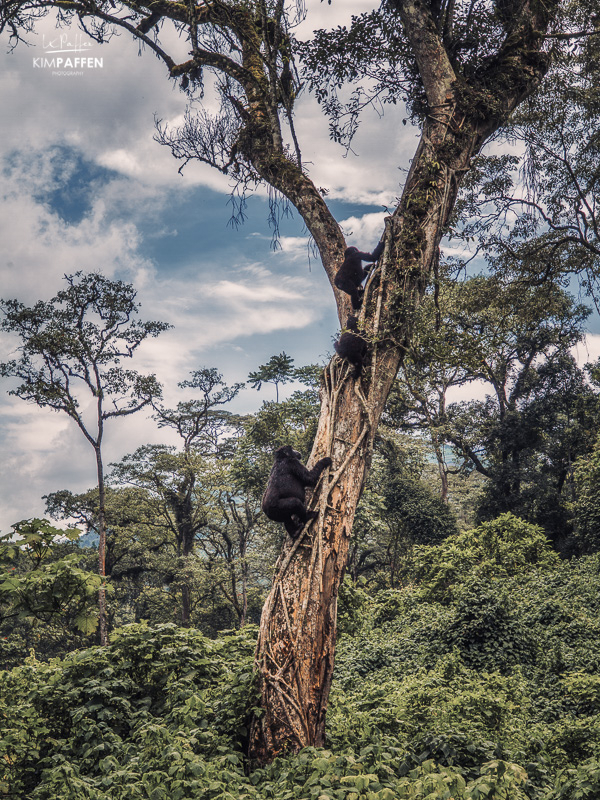 Gorilla trekking in the Rushaga region of Bwindi
In Bwindi Forest Uganda, there are 4 sectors to start your mountain gorilla trekking. We did the gorilla trek in the Rushaga region; the southern sector of Bwindi Impenetrable National Park in the Kisoro District. The other sectors are Buhoma, Ruhija, and Nkuringo. The Rushaga sector of Bwindi has the largest number of gorilla families including Bikyingi, Busingye, Bweza, Kahungye, Mishaya, Mucunguzi, and Nshongi, therefore Rushaga is the best region in Bwindi for gorilla tracking in Uganda. The chance of seeing gorillas in Rushaga and in Bwindi is 98% as half of the world's mountain gorilla population lives in Bwindi National Park.
The Rushaga area isn't only the best place for gorilla trekking in Uganda because of the many gorilla families, but it's also the only place where you can opt for a 4-hour gorilla habituation experience and it's probably the most scenic area of Bwindi National park, along with the Nkuringo area.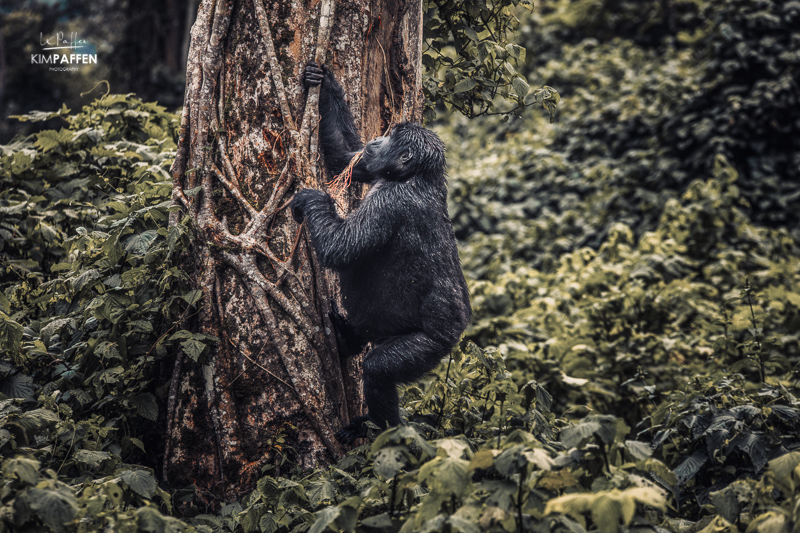 Although Uganda Wildlife Authority (UWA) advises booking your gorilla ticket at least 3 months in advance, the gorilla permits for Rushaga seldomly get out of stock because they sell up to 40 to 56 permits per day. This means you could be lucky to get a last-minute permit to see the gorillas in the wild or to be in a group of five rather than the maximum group number of eight visitors according to the gorilla tourism policy of the Uganda Wildlife Authority. Fewer people in the hiking group give you more space to photograph and observe the habituated gorilla family during your precious 60 minutes with these gentle primates.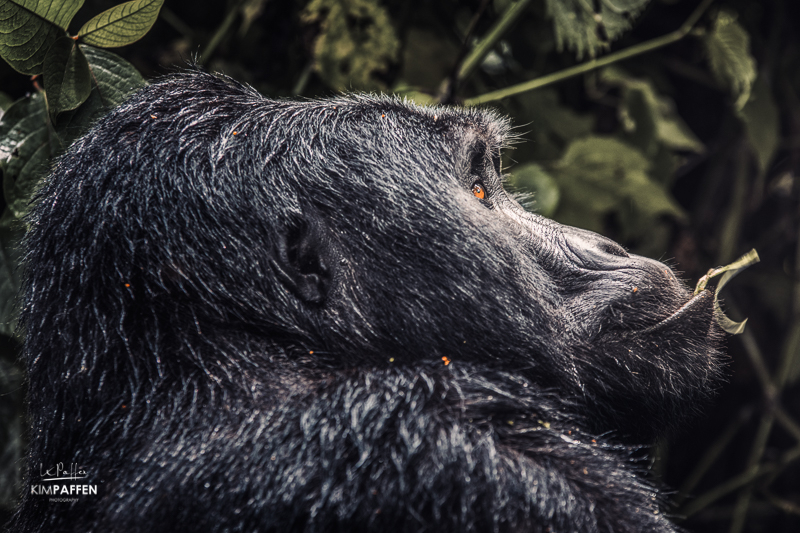 RELATED: Complete Guide to Gorilla Trekking in Uganda with facts like gorilla permit prices, how to secure a gorilla permit, booking a gorilla tour, and the best time for gorilla trekking in Uganda.
Gorilla Safari Lodge in Rushaga
Our base was the upmarket Gorilla Safari Lodge. A great place to stay in this southern Rushaga sector of Bwindi as the gorilla lodge is located only a few minutes by car from the Rushaga Trail Head; the headquarters of the Rushaga gate and visitor gathering center.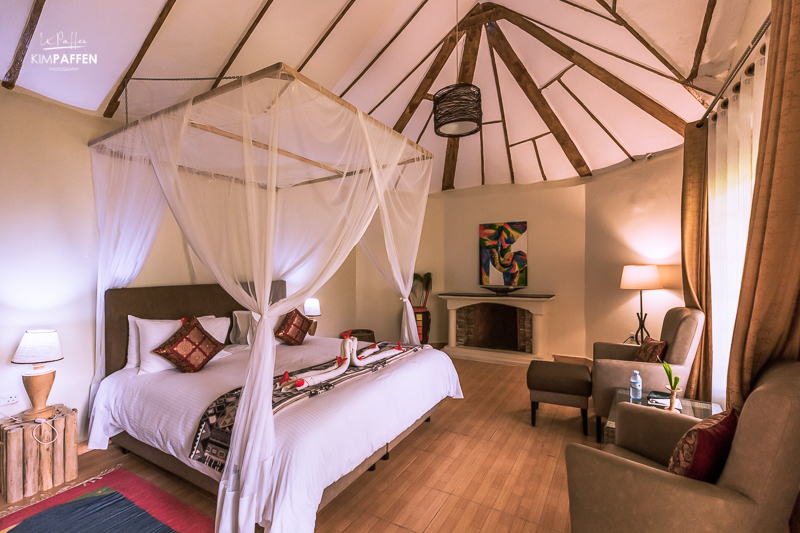 The Rushaga sector in Bwindi offers more (budget and exclusive) hotels and lodges where you can stay on your gorilla trekking tour. Other options are for example Rushaga Gorilla Havens Lodge, Rushaga Gorilla Camp, Gorilla Valley Lodge, or Four Gorilla Lodge. For budget options, you can always check Rubuguri town, near Rushaga and Nkuringo.
Packed lunch for the Rushaga Gorilla trek
On the day of the gorilla trekking, we woke up very early in the morning while it was still dark. From our cottage with views of the mist-covered forest of Bwindi, we used our flashlight to get to the main building for breakfast where we also received our packed lunch for the Rushaga gorilla tracking adventure; a sandwich, chicken, hard-boiled eggs, fruits, cake, and orange juice.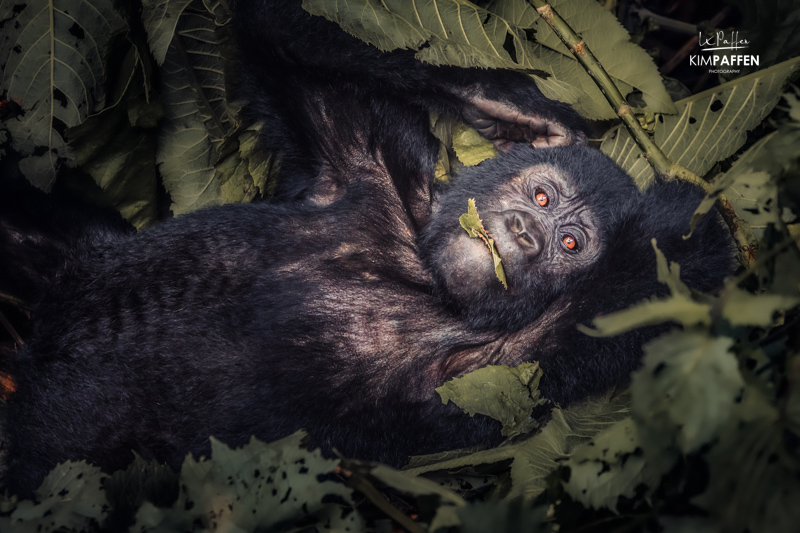 Things we packed for tracking the Gorillas
Apart from the packed lunch, we packed 2 liters of water and some nut bars in a daypack. Furthermore, we packed sunglasses, insect repellant, sunscreen, a DSLR photo camera with 3 lenses (wide-angle and zoom), gloves, and a rain jacket/poncho. Our bags were quite heavy because of the camera stuff, food, and water. However, while preparing and researching for our Uganda trip, I already read about the possibility to hire a porter as a great way to give back to the local community; a win-win solution.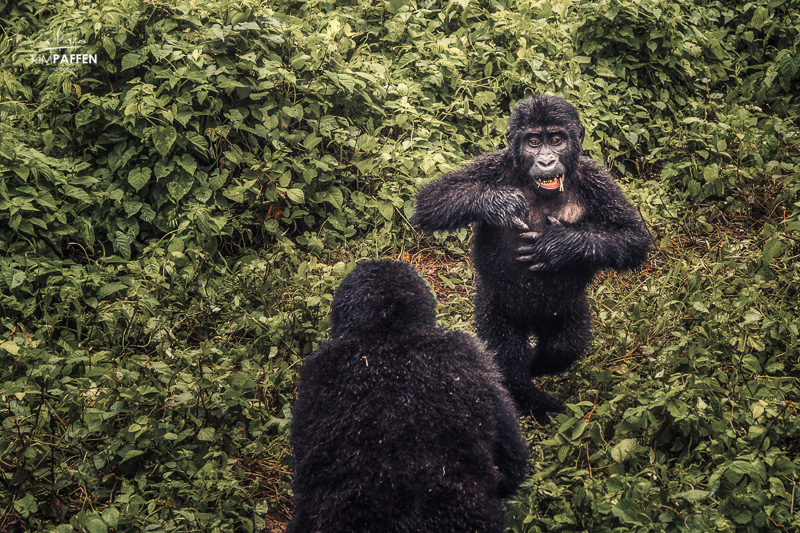 Gorilla trekking clothing: what did we wear?
Almost ready for our departure to the Rushaga Park Headquarters. I went quickly back to our cottage to get a hat to protect myself from the sun and insects, a scarf, and our gaiters. Is it really necessary to bring gaiters? Honestly, I was happy I got them as I felt better protected against insects or f/e snakes, but even more to stay drier during possible downpours and due to the wet and slippery paths. My shoes (and therefore also my feet) stayed definitely drier because of that protection.
Some lodges in Rushaga and Bwindi in general offer gaiters, gloves, and rain jackets for rent. Ask them before you hop on your plane to Uganda, so you can travel as light as possible. Regarding clothing, we wore light-weight breathable trekking trousers and layers of shirts, a long-sleeve blouse, and a sweater, although I wouldn't wear a black sweater anymore next time I go on a gorilla trekking adventure. It was comfortable for the first half an hour because it was still a bit cold, but the sun came out quickly and because you're on the move you will get warm fast.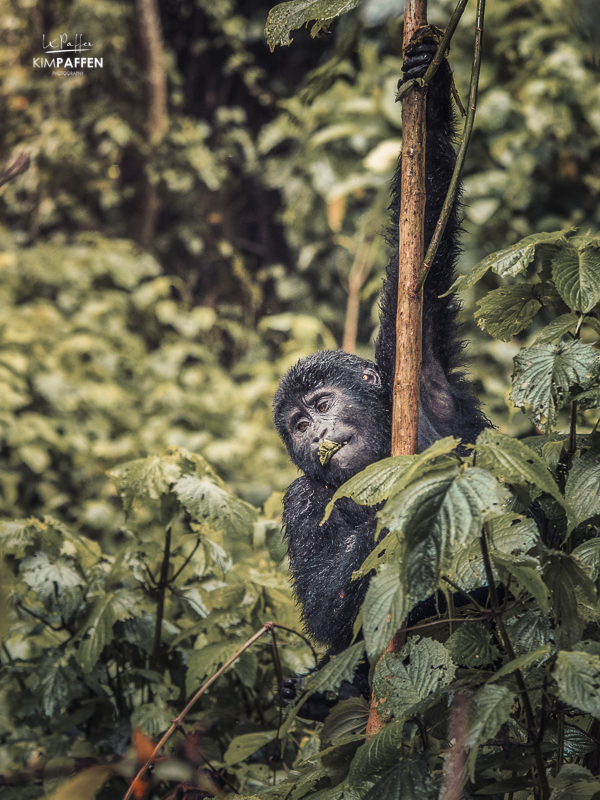 Briefing: mountain gorilla trekking rules
We departed from Gorilla Safari Lodge during dawn and arrived at the Rushaga gate 5 minutes later. First things first, hand over your Gorilla trekking permit and passport for registration otherwise you are not allowed inside Bwindi Impenetrable Forest National Park.
The briefing for the gorilla trek in Rushaga starts at 07.00 am. At the briefing, the park guides explain the rules for mountain gorilla trekking, containing a brief summary of the dos and don'ts while looking for gorillas in the wild.
Some of the most important rules on your gorilla trek are:
lower your voice to not scare the gorillas or other wildlife
smoking is not allowed on the gorilla tour
don't leave any garbage behind
maintain a distance of 7 meters from the gorillas
do not use your flash while taking photos
if you have to sneeze or cough, cover your face and turn away from the gorillas, as they can catch colds
never look directly into the gorillas' eyes
stay still as you wait for the gorillas to pass and don't run away if a gorilla shows aggressive behavior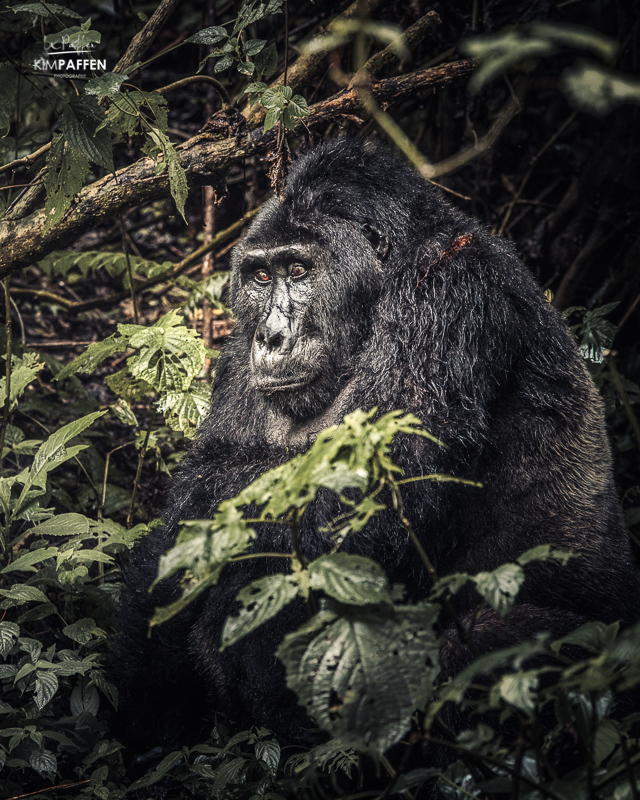 Group division according to the heaviness of the gorilla hike
After a careful briefing about the rules on a mountain gorilla trekking in Rushaga, we got assigned to a group of up to 8 visitors excluding rangers and porters.
On your gorilla trek, you will be accompanied by your tracker guides and/or Bwindi rangers because they know how the gorillas are handled and where they are located during various hours of the day as they move around within the rainforest.
Visitors at the Rushaga Trail Head get divided and selected on age and fitness level in relation to the heaviness of the trekking. Because the Mountain gorillas are monitored by rangers almost all day, they know where certain gorilla families are moving around.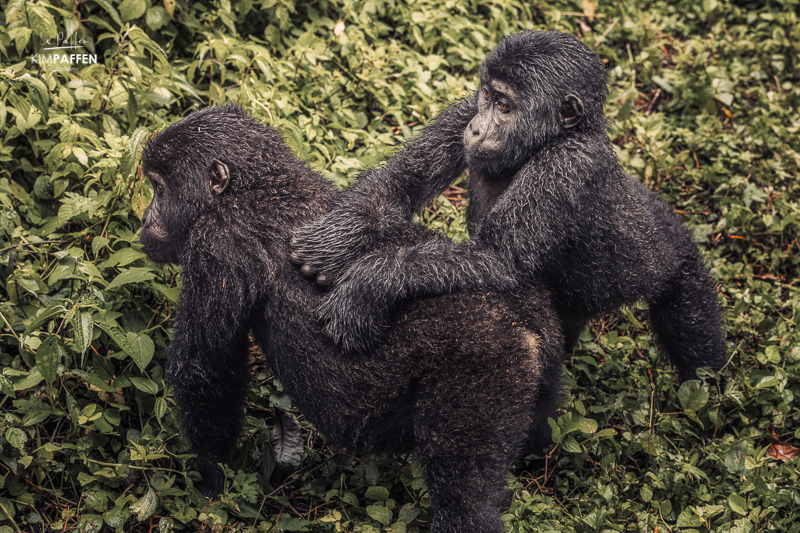 Gorilla hiking gradations
Each gorilla family can be found in a different area of Rushaga. Generally, there are 3 gradations for the gorilla hikes. Trek 1 is for older tourists or people who are less fit as this hike is very close to the visitor gathering point with gorilla families moving around on the lower mountain slopes that are easily accessible from the visitor center. Trek 2 is further away with a harder hike. Trek 3 is assigned to conservationists or people with the best fitness level as it's the toughest hike to get to the gorillas. In the end, you'll never know exactly how hard or easy tracking the gorillas will be, especially if the gorillas are on the move.
Starting point of gorilla trek: by foot or by car
Depending on the heaviness of the trek and the location of the gorilla family, you either start the gorilla hike from the Rushaga visitor center or you get in the car for a 10-30 minute drive to a starting point close to a gorilla family before you continue by foot. From the starting point, it can take anywhere from one to six hours to find the gorilla family, depending on where they were last seen by the rangers.
Gorillas are different in their movement than for example the chimpanzees. Because of their food supply, they most likely don't move around more than 0,5 - 1 km. Therefore it will usually take around 1 to 3 hours to find them.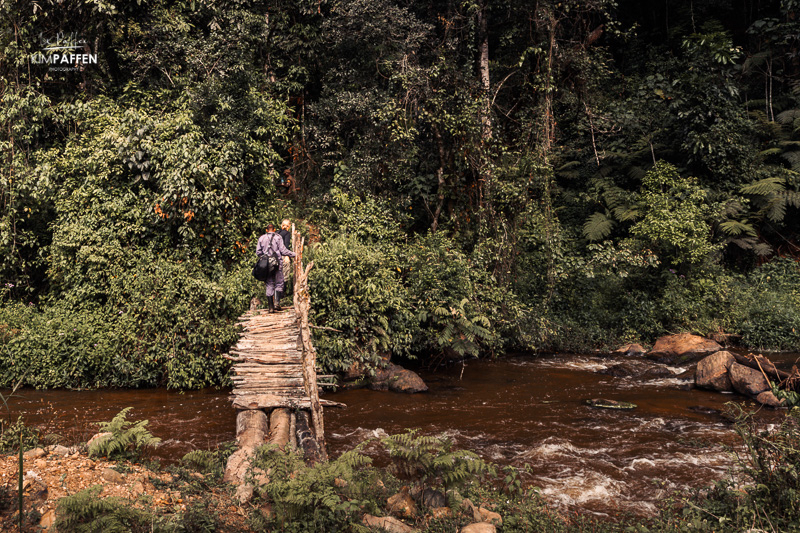 Trekking gorillas in Uganda with bruised ribs
I really wanted to see the gorillas in the wild, but I had bruised ribs due to a fall in Europe. 1,5 week before the trekking, I already extended my stay in Sipi Falls because I even felt my ribs while driving on the somewhat bumpy roads in a 4X4 game drive vehicle. Therefore, I was a bit nervous if I would be strong enough to go on a gorilla trek. Back home, I read several blogs about tracking gorillas and the heaviness of their trekking experiences. Some found it easy, some found it one of the hardest hikes they've done so far.
Not going on a gorilla trekking safari wasn't an option for me as I paid $600 (nowadays $700) for a gorilla trekking permit and I was extremely excited to see these great apes in the wild. It was one of the main reasons I traveled to Uganda in the first place.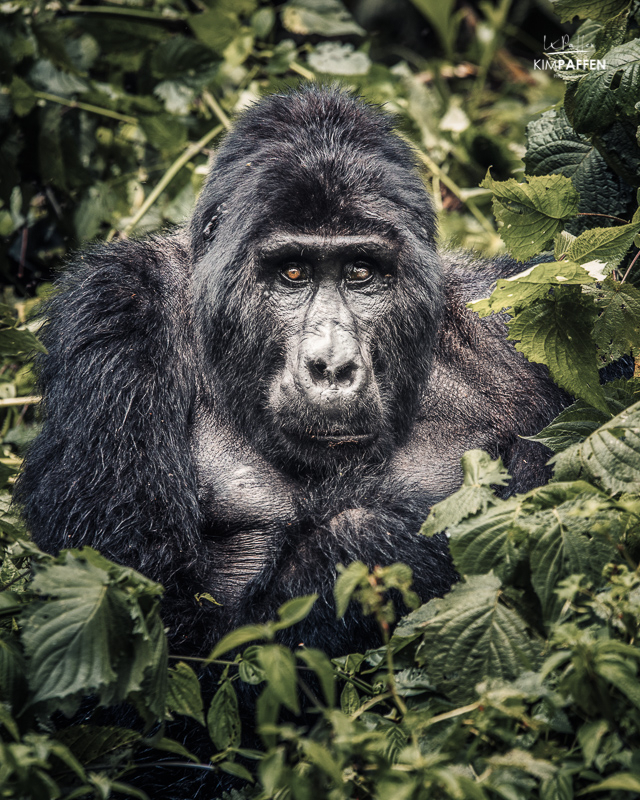 I mentioned my bruised ribs to the people who classified the groups. They assigned me to a group with some of the oldest people who were participating in the trekking activity and we were given a habituated gorilla family that was among the easiest to trek - depending on where they were last seen and the easy walk to that point. I'm still very grateful they were willing to help me make the most out of my Uganda gorilla trekking experience. Did you know Rushaga also offers porters with Sedan chairs for visitors with disabilities? An amazing opportunity for disabled people to visit the gorillas in Uganda.
Hire a porter to carry your daypack
Before you leave the visitor center in Rushaga to start your hiking experience in the search for the Bwindi Gorillas, you have the possibility to hire a porter that carries your daypack and helps you with your balance during the heavy walk. I highly recommend hiring a porter! Keep in mind your bag will become heavier during the gorilla safari. Hiring a porter costs around $15 and the good thing is, you are supporting the local community as these porters are mostly students or other people from the surrounding Rushaga community. You are also provided with a walking stick (for free) that helps with steadying your balance.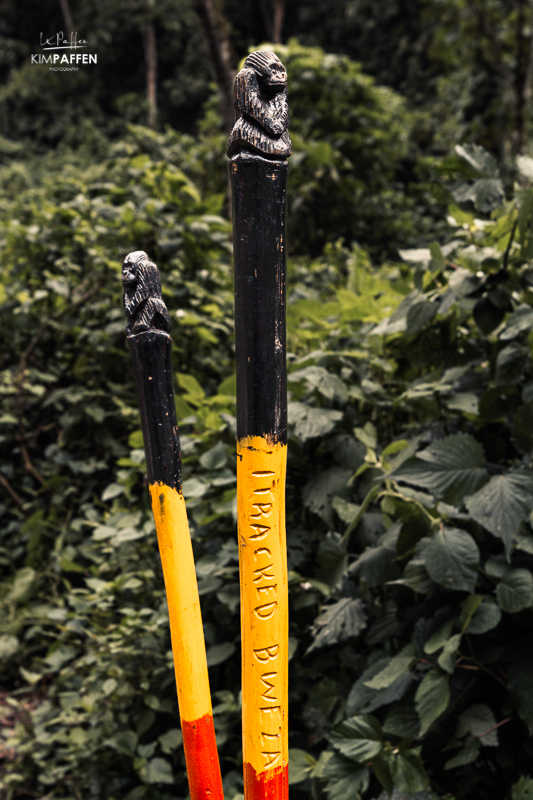 Start of the Gorilla Hike from Rushaga
After the briefing and group division, the park guides, rangers, and gorilla trackers lead you to Bwindi Forest to find the gorillas. When our group was ready to go, we first drove 20 minutes by car to the starting point of the gorilla trekking. This was the closest point the car could get to the Bweza mountain gorilla family that we would visit. From there we needed to go further by foot, into Bwindi's Impenetrable Forest.
Sunny hike along the river
Before entering the thick tropical rainforest we walked a hilly path along the river parallel to Bwindi Forest. The sun was shining bright. The absence of trees along the path made the walk quite hot and humid as there was no shade. I was happy with my hat which protected me from the sun. Wearing long trousers and a sweater I started sweating soon after we started the gorilla hike, so I recommend wearing thin breathable (long-sleeved) layers! At this point, I was already extremely grateful for the porters that were carrying my bag.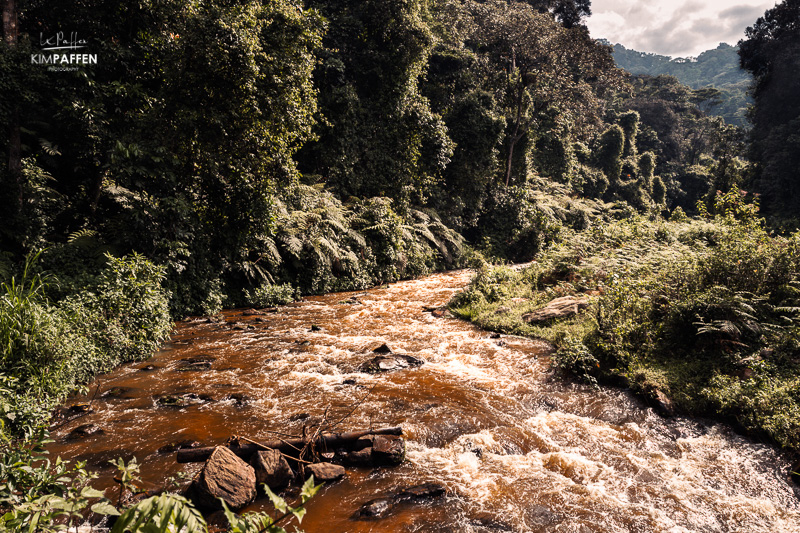 Lunch break in Bwindi Forest
After about 60-70 minutes we walked over a muddy field and crossed a tiny wooden bridge over the flowing river into Bwindi Forest. From there it was another 20-minute hike to an open space in the rainforest where we had our lunch break and waited for a sign of the rangers who were trying to locate the Bweza gorilla family we were about to meet.
After 60 minutes we finally got a message from the gorilla trackers that the Bweza family was found! We were all very excited we were about to finally see these amazing human-like primates in their natural habitat. Since I had bruised ribs, I was happy with the 60-minute break and the time spent sitting and mindfully observing the amazing rainforest that isn't a UNESCO world heritage site for nothing. The park is one of the oldest forests in all of Africa. While searching for the habituated mountain gorillas, also keep your eyes and ears open for colobus monkeys, chimpanzees, and lots of bird species. You might even come across bush elephants or other wildlife.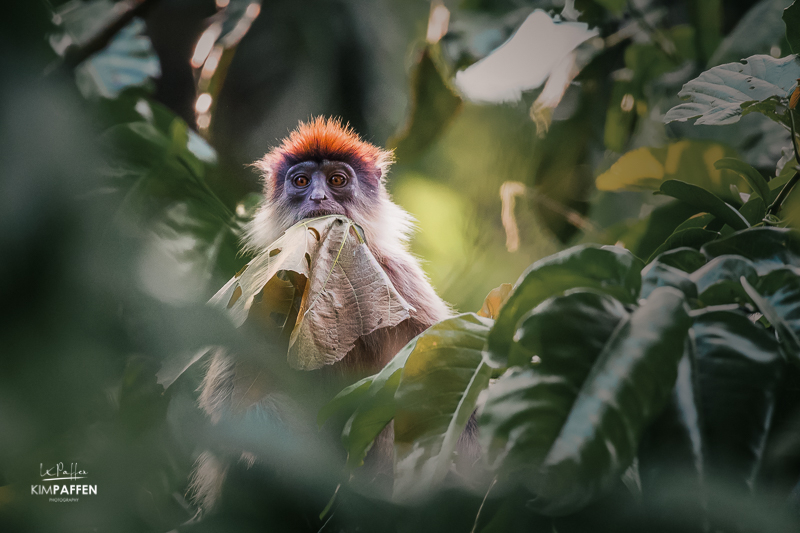 Slippery trek to the location of the Bweza Gorilla Family
From the point where the rangers found the mountain gorilla family, it took us another 30-minute hike to get there. We had to navigate uphill and downhill over slippery trails and through thick tangles of vines, roots, some thorns, and swampy areas. The area was quite slippery due to the rain but still good enough for the trekking experience. I would advise wearing closed waterproof hiking shoes including gaiters. Since you can't find normal paths in the rainforest, the rangers often use game tracks of wildlife like bush elephants to trek through the forest. If there are no game tracks, the guides use their machete to cut their way through the thick vegetation.
Rushaga Mountain gorilla encounter
Everyone was super quiet on our way to the Bweza gorilla family as we were trying to locate them on behalf of the sounds they make. Sometimes we stopped walking to quietly listen to our surroundings. Finally, there's that moment you know you are really close to the gorillas as we could hear them communicate, but couldn't see them yet. My heart is beating faster. How close are they? We walked another 20 meters and suddenly there's that moment of truth when the gorillas emerge from the foliage.
For the first seconds, I couldn't believe my eyes and it felt a bit as if I ended up in a fairy tale; I was standing face to face with a giant 43-year-old silverback and his entire gorilla family, including a baby gorilla that made for a high level of cuteness.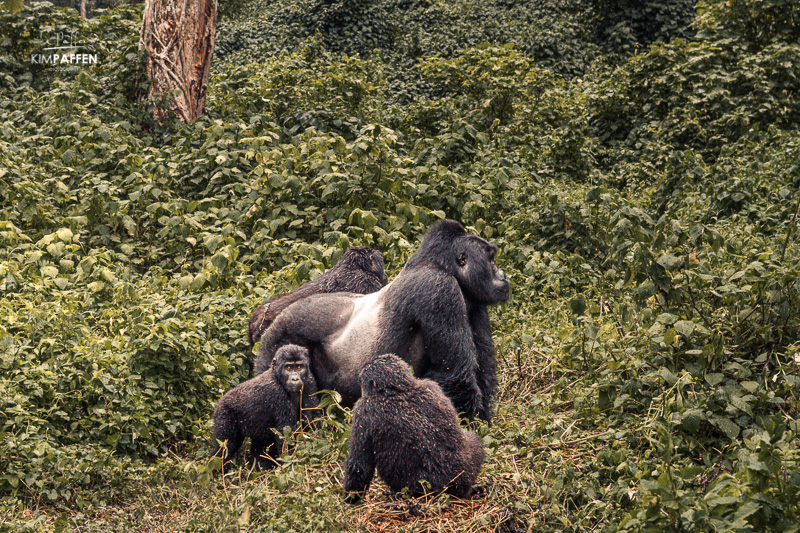 One hour with the Bweza gorilla family in the Rushaga region
Trust me, that moment when you finally see them with your very own eyes and hear them communicate based on the low sounds they make is breathtaking! There is no better and more enjoyable company to spend time with for the following 60 minutes.
Spending one hour with this Bweza gorilla family in the Rushaga region felt like 20 minutes. I could easily spend more time in their presence and those precious 60 minutes were gone before I knew it, but one hour is enough time to observe them, enjoy their company and take a few photos of the gorillas as a lifetime memory.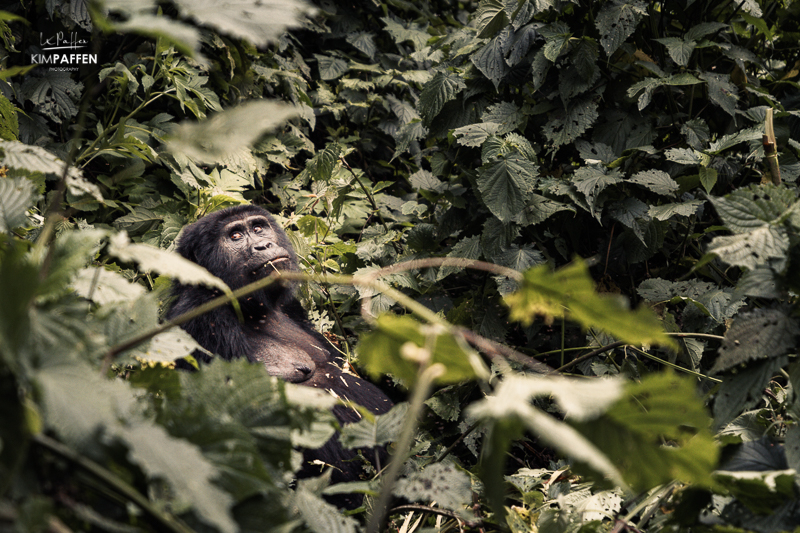 Downpour while watching the Bweza Gorilla group
Ten minutes passed when it suddenly started to pour. These heavy rain showers are normal in the tropical rainforest of Bwindi Impenetrable National Park. Because of its climate, it can rain anytime!
We had to protect our cameras and unpacked our rain jackets from the daypack. And the worst thing, the gorillas fled under the big leaves and thick vegetation of the rainforest to seek shelter from the rain. I guess the gorillas don't like rain either. I was afraid this would be the end of our time spent with the gorillas, but after a heavy 15-minute downpour it started to clear up.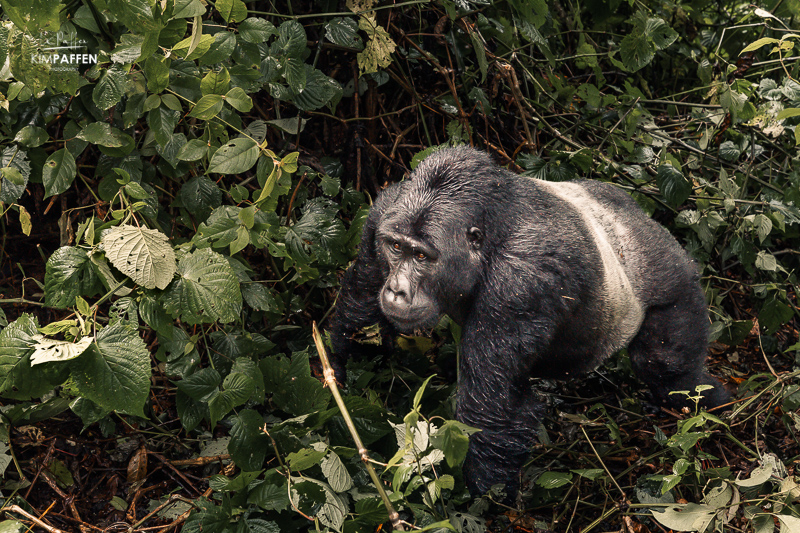 Giant Silverback seeking shelter from the rain
A first-class place to see the gorillas in the wild
As the sun came out, the gorillas luckily came back from their shelters and moved to an open space in the rainforest where we had first-class places to watch the gorillas interact, communicate and play! What an enjoyable experience.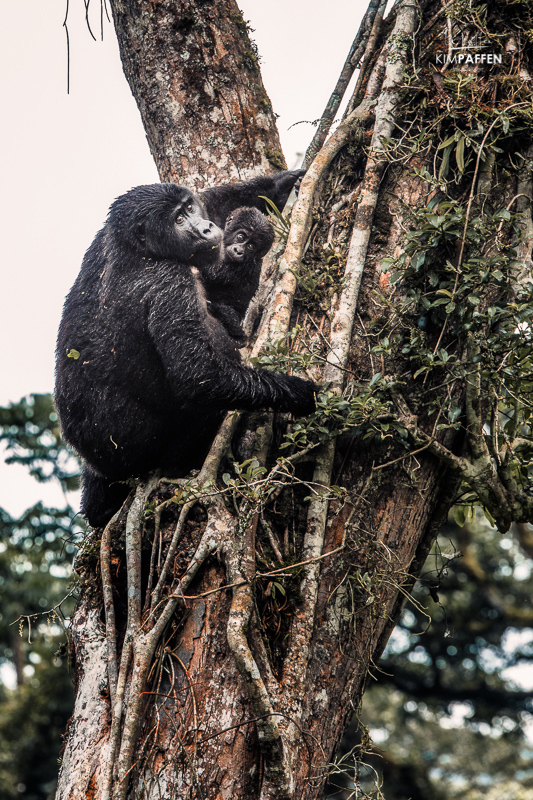 6-months old baby gorilla of the Bweza Family in Rushaga Sector
The 6-months old baby gorilla in the mother's arms was adorable to watch, as well as seeing the playful juveniles. It was like they were in a boxing ring fighting with each other. Others were climbing in trees. An amazing scene as if I was watching a nature documentary on BBC or National Geographic, but then in real life. Priceless!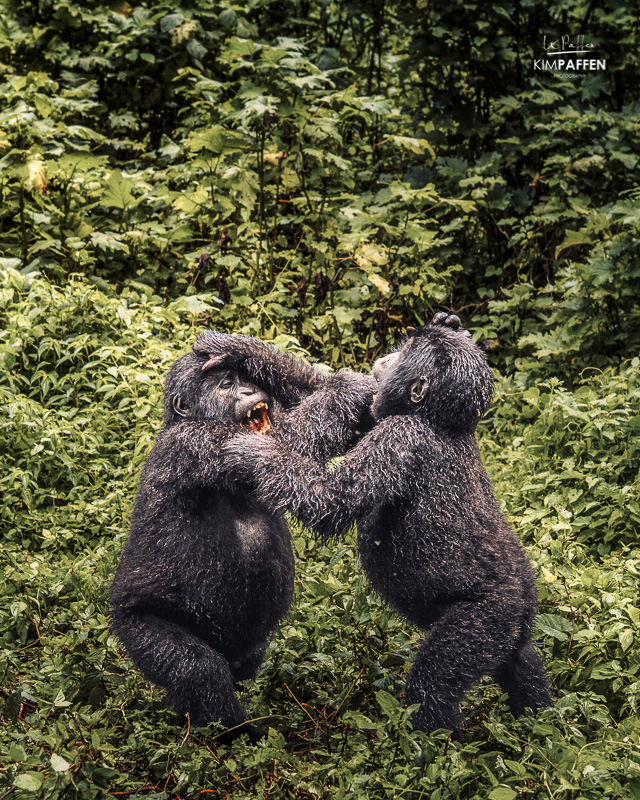 Compared to the active chimpanzees, the mountain gorillas are more relaxed. They were mostly feeding or dozing and didn't move around a lot or fast.
The Habituated Bweza Gorilla Family
The Bweza Gorilla family, one of Rushaga's gorilla families, counted 11 members (2018). The Bweza family is habituated since 2006. Initially, it was a joint family with the Nshongi group and back then they were the biggest gorilla family ever to be habituated in the Rushaga region of Bwindi. The oldest member of the Bweza family was the 43-year-old Silverback and the youngest family member was a 6 months old cute baby gorilla.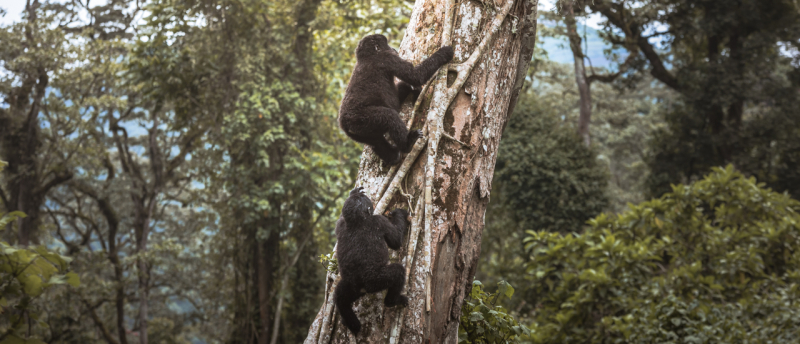 Giant Silverback making a mock charge
Once they moved to the open space, the juveniles of the gorilla group became very playful. The two silverbacks watched the juveniles including us humans very closely and even made a mock charge to let us know we were making him uncomfortable.
One of the juveniles was very curious and decided to come closer to us to which - at some point - one person was standing in between the giant silverback and the two juveniles. That was probably the reason for the Silverback's mock charge. Just like the male lion in a pride of lions, the silverback is the keeper of his gorilla family and does everything in his power to protect them.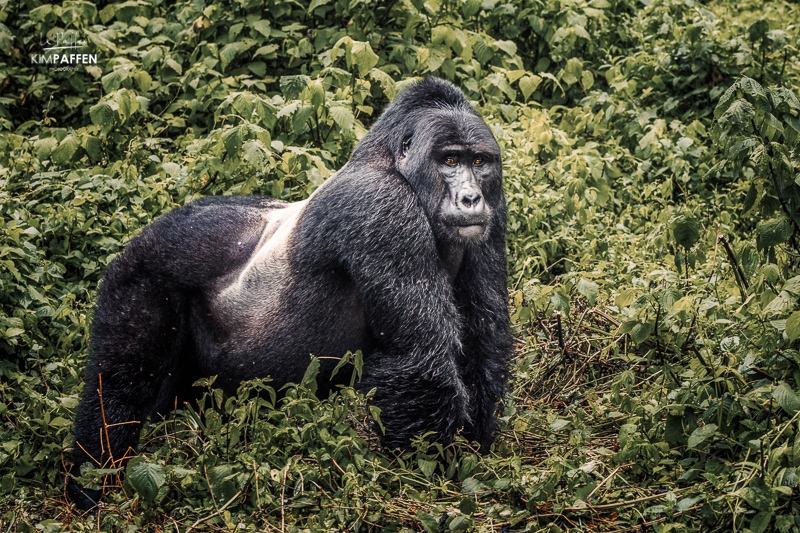 Curious Juvenile Gorilla
While observing the gorillas, it's really fascinating to see how much we are alike with one of our closest relatives. While I was photographing the playful interaction between the juveniles, one of the young ones suddenly came toward me.
It was my camera that raised its curiosity and the gorilla even tried to touch the lens. However, the ranger prevented him from coming too close by making a particular noise which kept the gorilla at a safe distance to respect the rules for trekking mountain gorillas.
The rule is to beware a distance of a minimum of 7 meters, but it's always possible the gorilla chooses to come closer. After all, they are a habituated gorilla group and used to human presence.
Return of the Rushaga Gorilla Trekking
Because it rained for about 15 minutes, we also got an extra 15 minutes to spend with the gorillas; a fair decision of the rangers as the gorillas fled away during the rain.
After spending one hour in the presence of the Bweza gorilla group, it was time to leave them alone and start our hiking trip back to the starting point. It took us almost 2 hours to get back.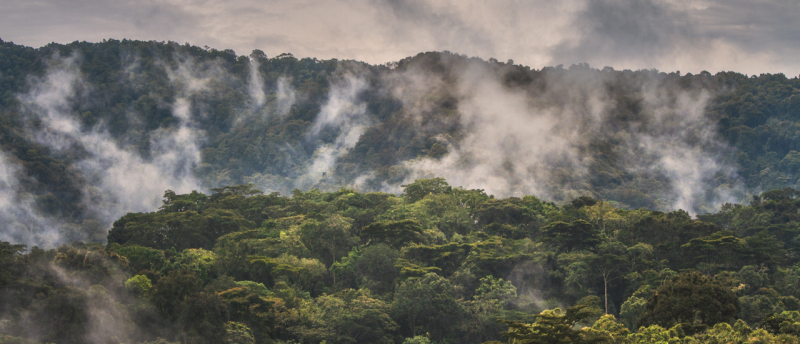 Mountain Gorilla Trekking Certificate
Once we got back to the point where the car dropped us off to start the hiking experience, we held a small ceremony and got rewarded with a Mountain Gorilla Trekking Certificate as proof of  successful gorilla trekking in Uganda.
Things to do in the Rushaga region of Bwindi
Gorilla tracking is one of the main things to do in the Rushaga sector. However, the Rushaga region of Bwindi offers many other interesting things to do, for example, bird watching, nature walks through Bwindi Forest, butterfly walks, mountain biking, canoeing, or visiting a few waterfalls.
Bwindi Impenetrable Forest is also known for having some of the best hiking trails in the world. Hiking the Kara Ridge Trail treats you with amazing panoramic views of Uganda's Bwindi Impenetrable National Park and Rubuguri village. Other popular hiking trails will show you views of the bordering countries of Rwanda and Congo. There's also a trail that includes a canoeing activity across Lake Mutanda.
Cultural things to do in Bwindi's Rushaga sector are visiting the Batwa Pygmies and Bakiga community where you will learn about their cultures and way of life. Because the Batwa were the original inhabitants of Bwindi's Forest, it's an activity not to be missed. This cultural activity also includes drumming, dancing, and learning how to make fire. You can also visit a traditional healer who treats people with plant medicines and there's an option to learn to make crafts, like weaving baskets.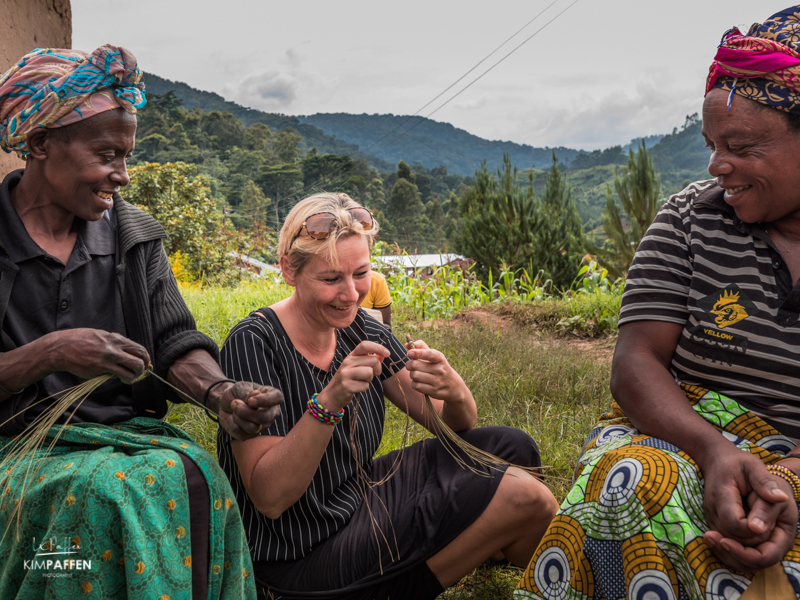 If you want to learn more about the Batwa Pygmies, opt for the 1,5 km Buniga Forest Walk guided by the Batwa themselves; one of the best community-based things to do while on a gorilla safari in Rushaga and Nkuringo. Buniga Forest Reserve is one of the remaining forests next to Bwindi with ecotourism-related activities. The returns from the nature walk benefit the neighboring villages and encourage the community to conserve the forest.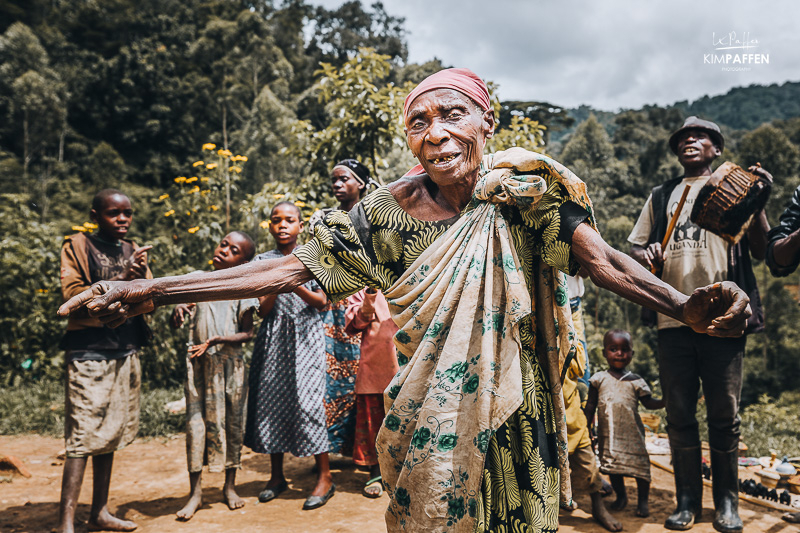 How to get to the Rushaga Sector?
One of the reasons the Rushaga area is so popular for gorilla trekking is because of its accessibility. From Kampala, it takes 8 to 9 hours by car to the Rushaga sector of Bwindi Impenetrable National Park. Another option is to fly from Entebbe Airport to the Kisoro Airstrip and proceed for another hour to Rushaga from there.
Are you traveling in Rwanda? From Kigali, you can drive through the Cyanika or Katuna Border which takes 3 to 5 hours to get to Rushaga - including the time spent at immigration. Uganda and Rwanda travel tip: apply for an East African Visa which allows multiple entries in Eastern Africa, including Kenya, Uganda, and Rwanda. Flying into Rwanda for Gorilla Trekking in Uganda, therefore, isn't such a bad idea compared to the 9-hour trip to Bwindi's Rushaga region from Kampala or Entebbe.
Gorilla Tracking experience in Rushaga, Bwindi
It's absolutely amazing to encounter the mountain gorillas and watch them interact as they have 95% of the human DNA. As if I was viewing our wild self. An unforgettable experience, that more than repays the money spent and the effort of the trek. Would I track the gorillas again? 100% YES! You can't go wrong booking a gorilla trekking experience starting from the Rushaga Trail Head.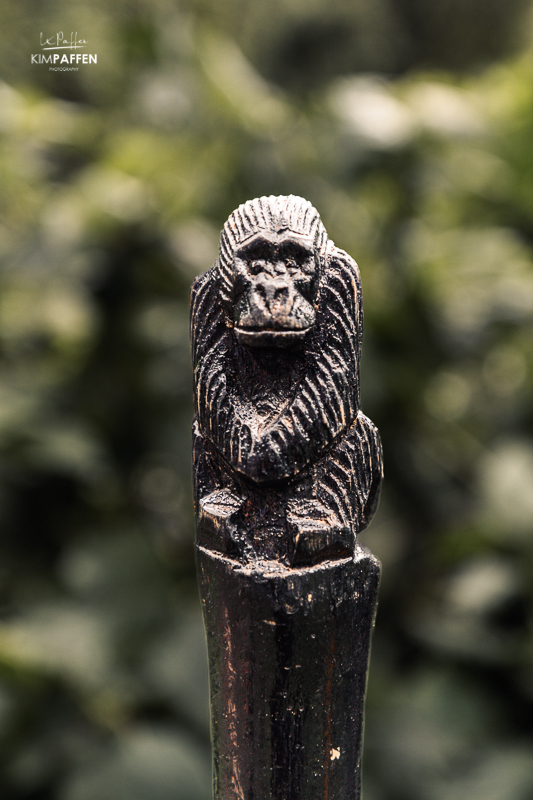 In the Rushaga region, you can also participate in a Gorilla habituation experience where you are allowed to spend 4 hours with the mountain gorillas instead of only one hour, and only 4 people are allowed to spend time with a semi-habituated gorilla family, like the Bushaho and Bikyingi gorilla family. They are still getting trained by the rangers to get used to humans. The price for the Gorilla Habituation permit in Rushaga is 1500 USD, the same price for a normal gorilla trekking in Rwanda, where you get to spend only 1 hour with a gorilla family.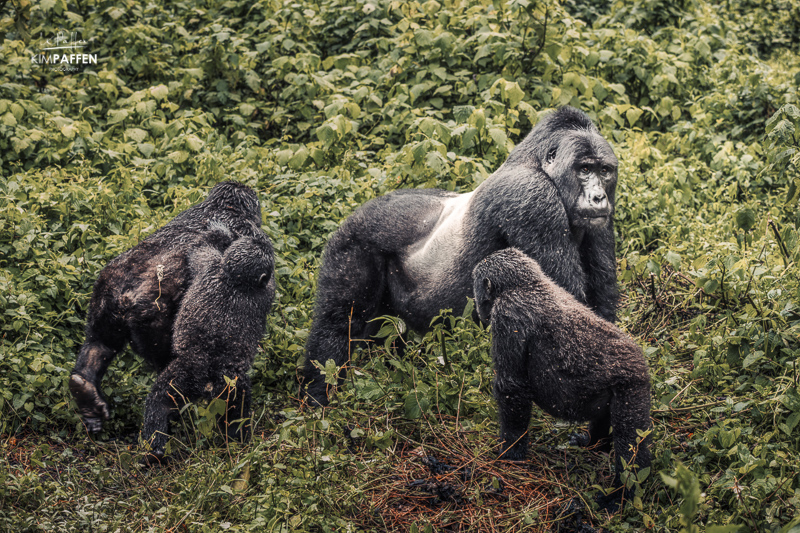 The best time for a gorilla trekking trip in Rushaga is during the drier months (January, February, and June to early September) as these months have less rainfall. On the other hand, Bwindi is a rainforest and has a climate of its own. It can downpour at any time. Personally, I wouldn't worry too much about the best time for Gorilla Trekking in Rushaga as I did the trekking in November, part of the rainy season in Uganda. If you're lucky, you can even get a discounted gorilla permit in Uganda's low season.
Curious about the weather conditions in Uganda by month regarding the Gorilla Trekking? Read my month-by-month Uganda weather guide.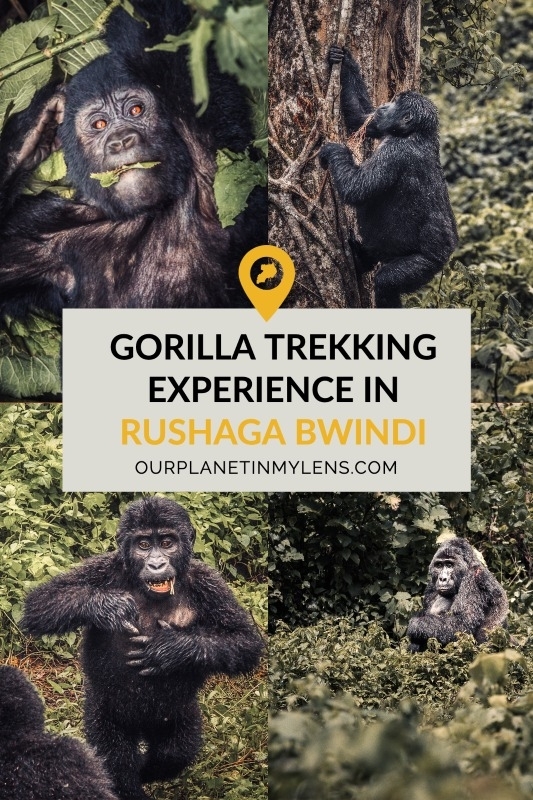 Pin this Gorilla Trekking Experience in the Rushaga sector of Bwindi for later use!