Discover the best places to visit in Rwanda, often referred to as the "Land of a Thousand Hills"! The Republic of Rwanda is a small landlocked country in East Africa, known for its stunning landscapes and rich cultural heritage, but also because of its notorious history regarding the horrific genocide only 20 years ago (1994).
When I visited Rwanda, I really felt the country came back stronger, doing everything in its power to put the natural beauty of Rwanda back on the map. Recognizing their turbulent past, they've built a new stronger foundation where every Rwandan citizen strives to be at peace with one another. They also work closely together to keep their country clean. It's literally the cleanest country I've seen in Africa!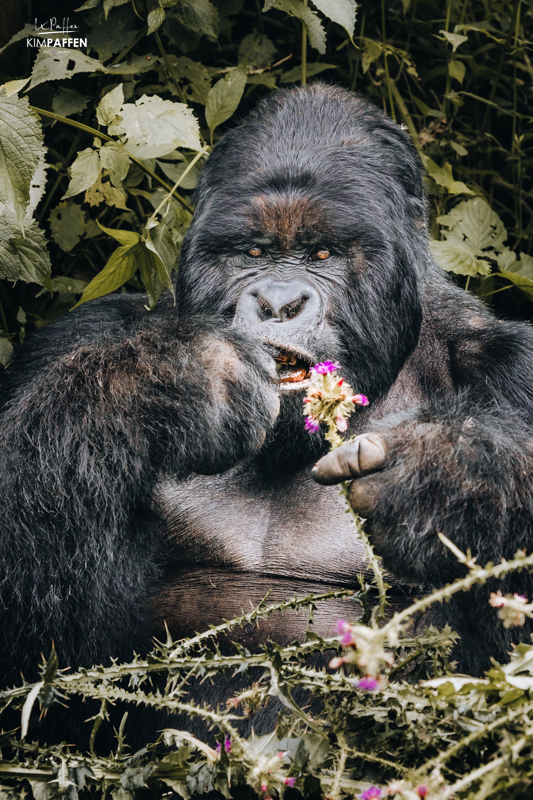 Among tourists, Rwanda is best known for its endangered gorillas in Volcanoes National Park. However, with 4 national parks, 2 UNESCO sites and cultural heritage, there is much more to see in Rwanda than mountain gorillas and chimpanzees. I explored Rwanda with G-STEP Tours. It's a beautiful green destination with breathtaking views and wonderful wildlife (including the Big Five) that should be on every traveler's bucket list. Rwanda even has its own airline RwandAir, so spread your wings and explore these 11 best places to visit in Rwanda:
1. Kigali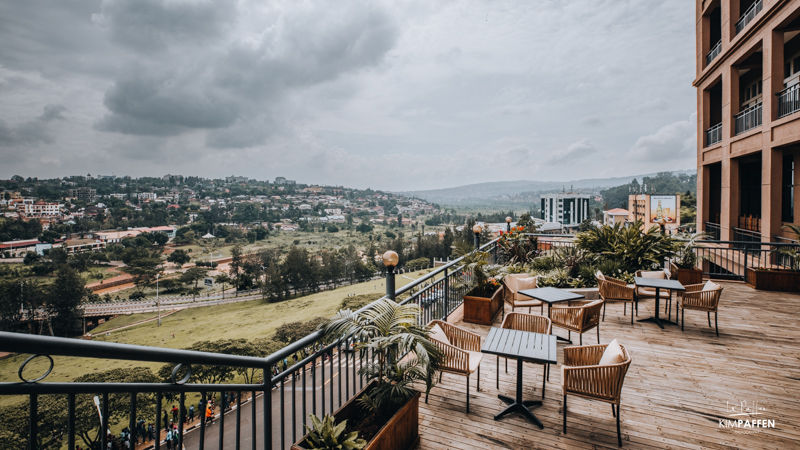 Since most people fly to the bustling capital city of Kigali, why not start with Kigali as one of the best places to visit in Rwanda? Kigali is the cleanest city in all of Africa, and something you'll notice as soon as you get out of the airport.
As a responsible traveler , one of the most important things to do in Kigali is visiting the Genocide Memorial to learn everything from Rwanda's past; a powerful and moving tribute to the victims of the 1994 genocide.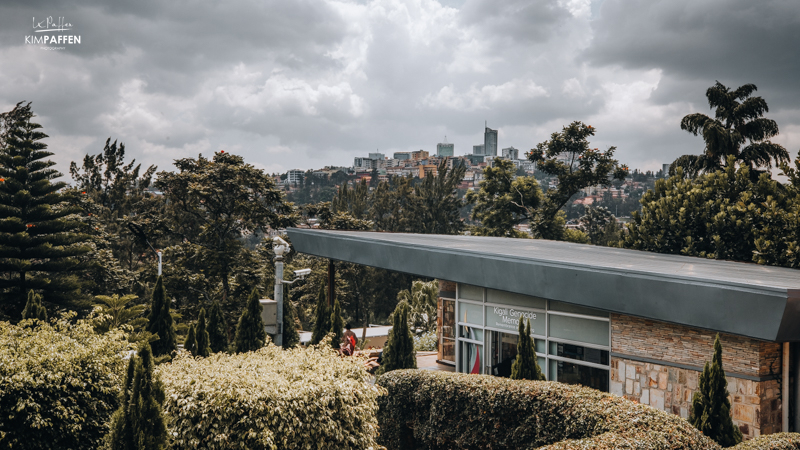 The memorial is located in the Gisozi neighborhood and includes a museum, mass graves, and a research center. It's an emotional visit and impossible to not shed a tear when you enter the the children's room dedicated to the young victims of the genocide. In this room, you can read very personal details like what these children wanted to become when they grow up, favorite books, and things to do. Realizing that this only happened two decades ago and that similar horrific things are still happening in other parts of our planet, is hard to imagine.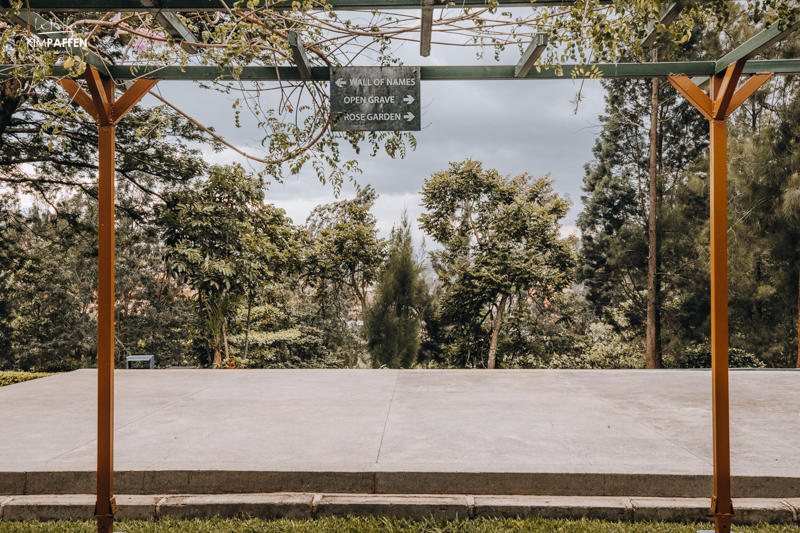 Other interesting things to do in Kigali is visiting the Kigali City Tower that offers panoramic views over the city, viewing local artworks at the Inema Art Center or visit the traditional Caplaki Crafts Village where you can learn about the traditional Rwandan culture, buy handcrafted souvenirs or enjoy traditional dance performances. The Kimironko Market is another tip when you like to buy locally made souvenirs.
There are also some really good restaurants and bars to enjoy the nightlife in Kigali's City Center. We for example had dinner in Atelier Du Vin, a delightful place to have a generous taste of wine paired with delicious food and great views over the city.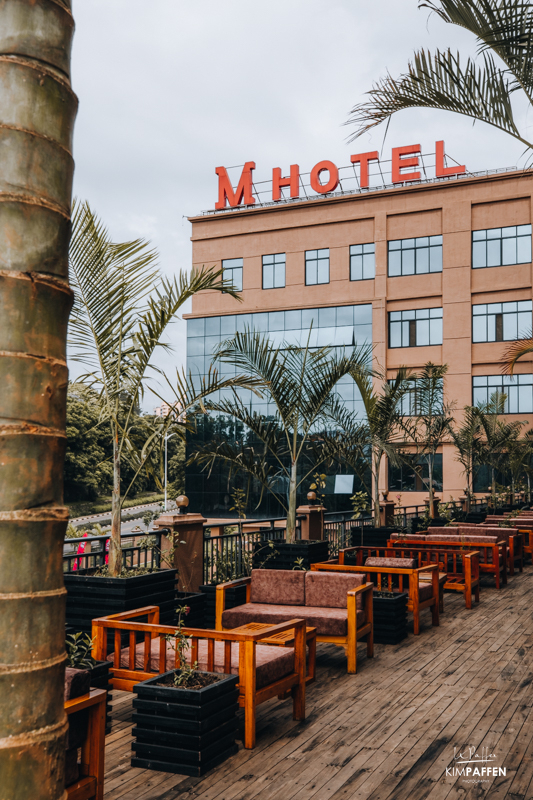 Where to stay in Kigali?
There are several options of hotels in Kigali. We stayed for example in the Kigali M-hotel, a 4-star business hotel in the Center of Kigali, located on a hill with views over the city, including an outdoor swimming pool. Another great place to stay is the Kigali Serena Hotel with a lovely extensive breakfast-buffet and a huge tropical looking swimming pool.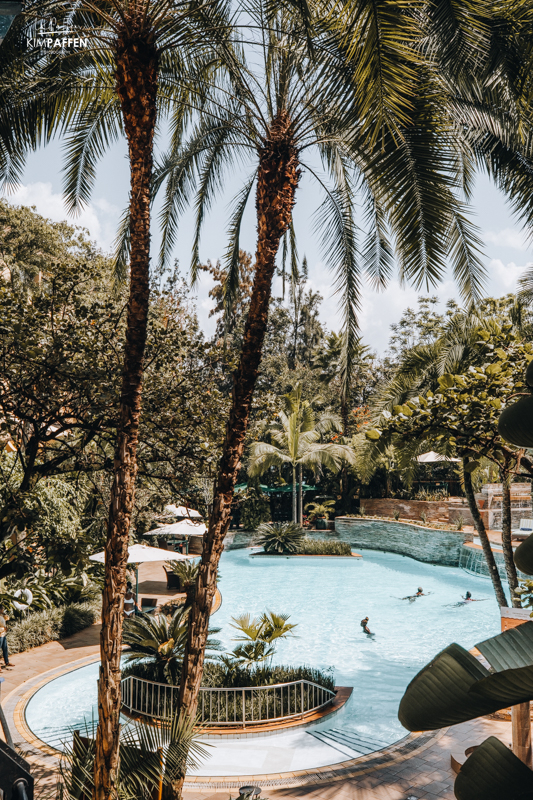 Four Points Kigali is also an option and apart from these well-known hotel brands, you can also find several budget options and cozy Bed & Breakfasts to stay in Kigali city.
2. Umusambi Village Conservancy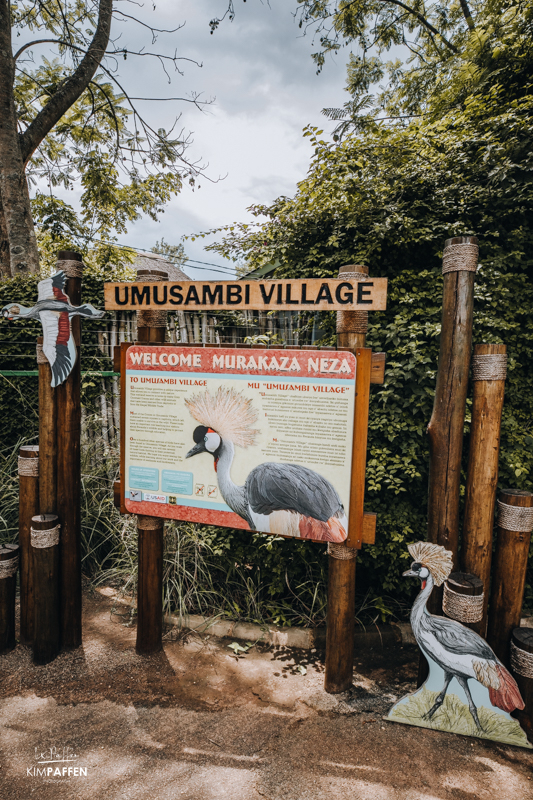 Umusambi Village Conservancy is Rwanda's first wildlife sanctuary and nature reserve, home to disabled Grey-crowned cranes that are rescued from illegal wildlife trade and captivity. The Grey-Crowned Crane is the national bird of Uganda and has a prominent place on Uganda's flag.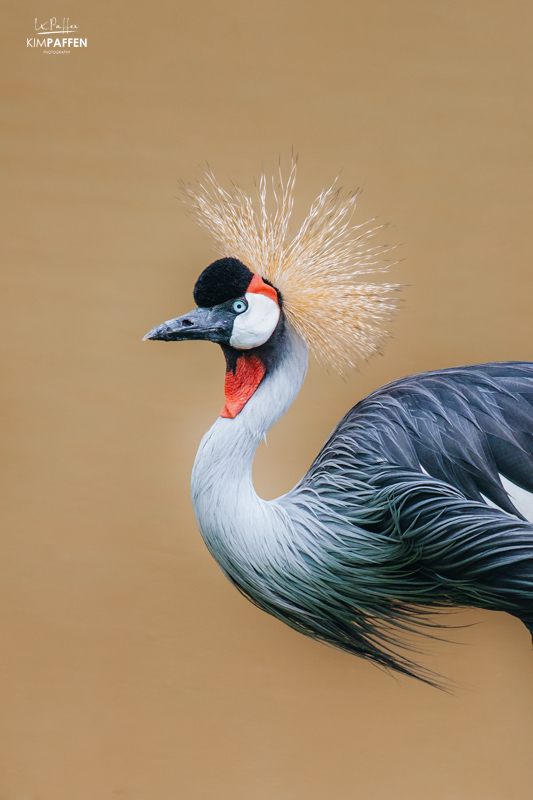 In Umusambi Village in Rwanda, they give these beautiful cranes that are unable to return into the wild a second chance to enjoy nature again in a restored 21-hectare wetland area.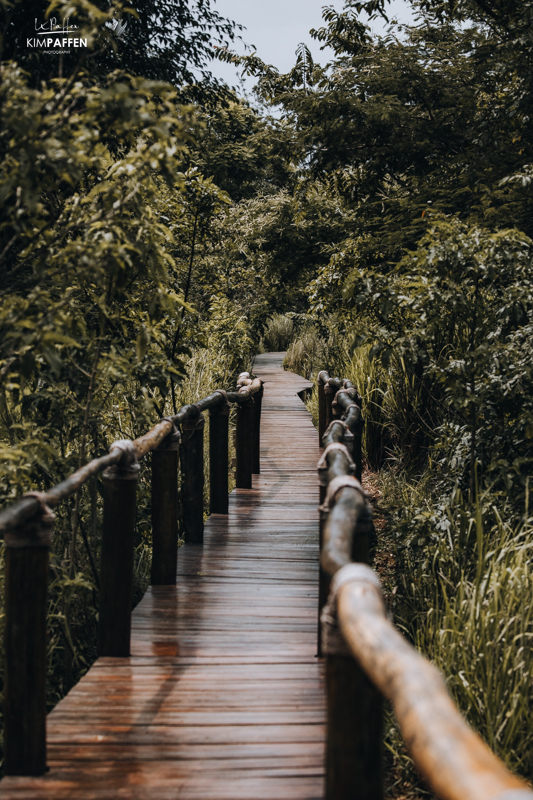 Visitors can enjoy several walking trails, while also learning about Umusambi's conservation efforts and the importance of protecting the natural environment. I only had a short walk, but I would love to visit again to explore more of the wetland.
The sanctuary is run by the non-profit Rwanda Wildlife Conservation Association (RWCA) raising awareness for conservation issues. One of their goals is to engage and educate local communities and improve livelihoods.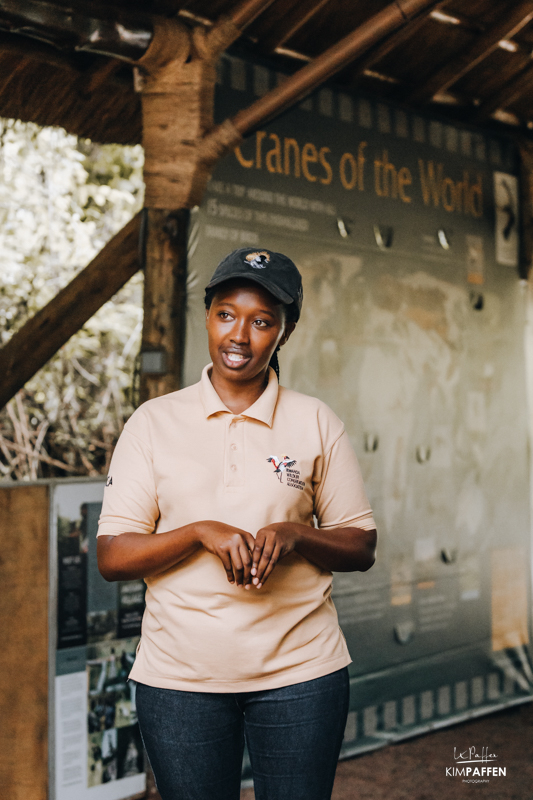 You can also make a donation to Umusambi Village and RWCA, to help secure the future of vulnerable wildlife and their environment in Rwanda.
3. Volcanoes National Park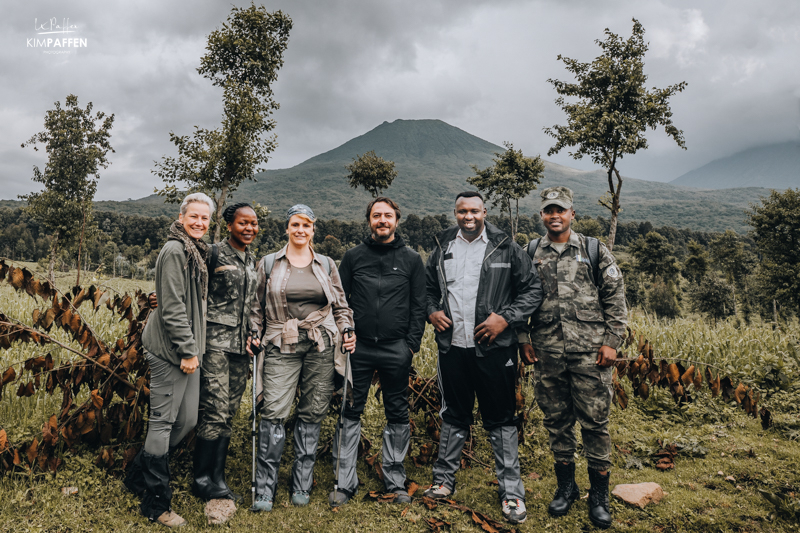 One of the most popular activities in Rwanda is gorilla trekking in Volcanoes National Park. The country is home to over half of the world's population of critically endangered mountain gorillas. Although the number of gorillas is slowly rising due to conservation efforts, they are still endangered and need 24/7 protection. That makes it a privilege we are able to go on guided treks to see these incredible primates in their natural habitat.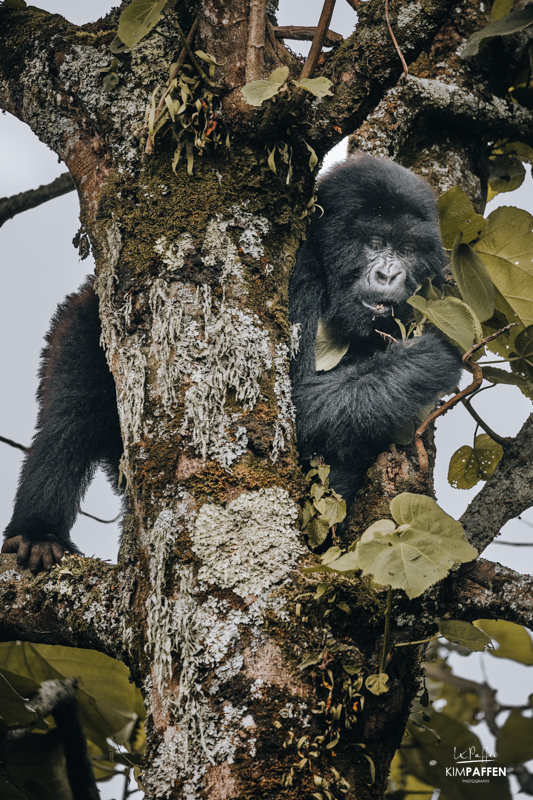 The trekking can be challenging, but the experience of seeing a gorilla up close is truly unforgettable.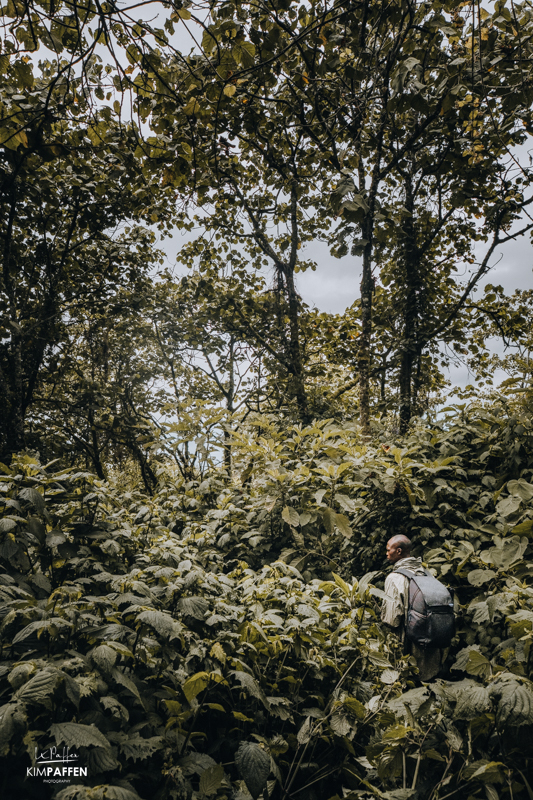 Volcanoes National Park is listed as a UNESCO World Heritage Site. The park is also home to five of the eight volcanoes of the Virunga Mountains. Enough reasons to be listed as one of the best places to see in Rwanda.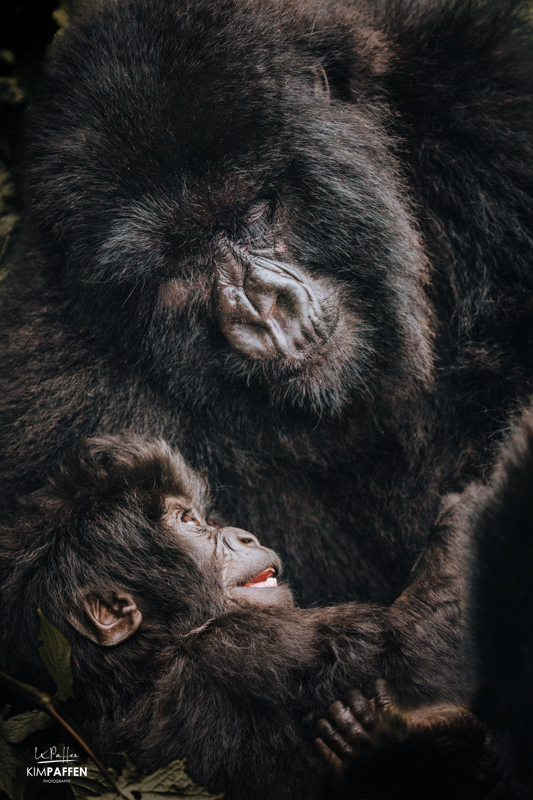 Like to go on a Gorilla Trekking in Rwanda? Obtain your gorilla permit at 1500 USD in advance as there are limited spots on the daily gorilla treks. Tracking these gorillas usually takes around 4-6 hours of which you spend a maximum of one hour with a habituated Gorilla family. In my case, we tracked the Kwitonda Gorilla family; a family of 17 mountain gorillas, including a baby gorilla, living on the Gahinga mountain in Volcanoes National Park.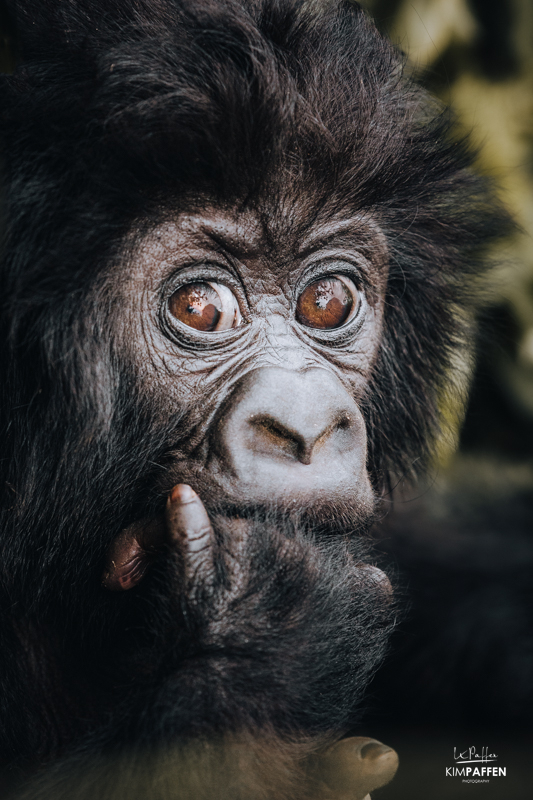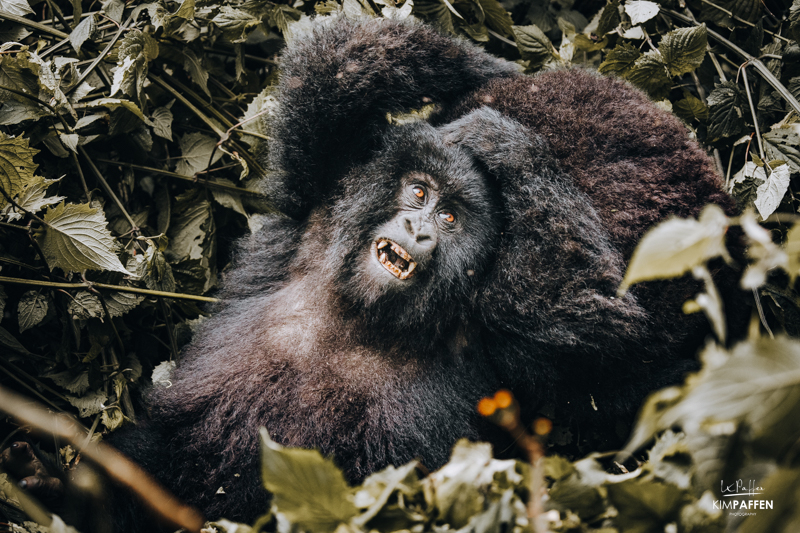 Visiting these endangered great apes means you're making a difference in protecting and preserving their vulnerable lives.
Gorilla Fact: Did you know there are currently only 1060 gorillas left in Rwanda, Uganda and the Democratic Republic of Congo (DRC)?
But aren't these Gorilla permits super expensive? Yes, I agree that 1500 USD for a Rwanda trekking permit is high. But have you ever thought about how hard and risky it must be to protect one of our closest relatives on earth for 24 hours a day, 7 days in a week? Without all these rangers and organizations conserving our gorillas, it wouldn't be possible for us to see these mountain gorillas in the wild as they would have been extinct. Buying a gorilla trekking permit is honestly a wonderful way to give back to nature for what nature has given to us.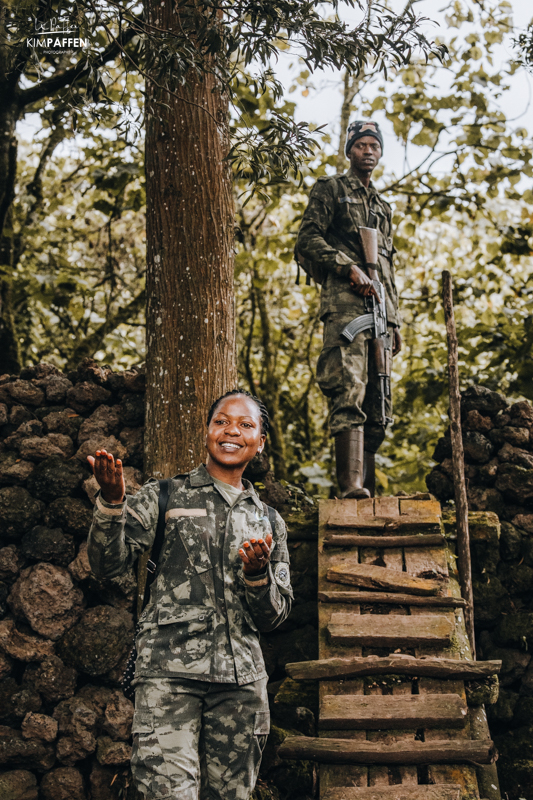 A way of giving back to the community is hiring a local porter who will help you carry your bag or steady you during the hike.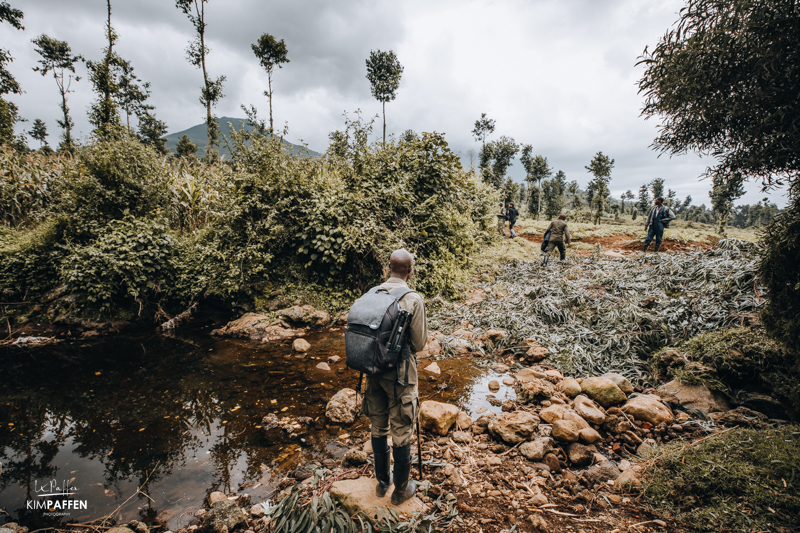 RELATED: my Gorilla trekking experience in Uganda
4. Musanze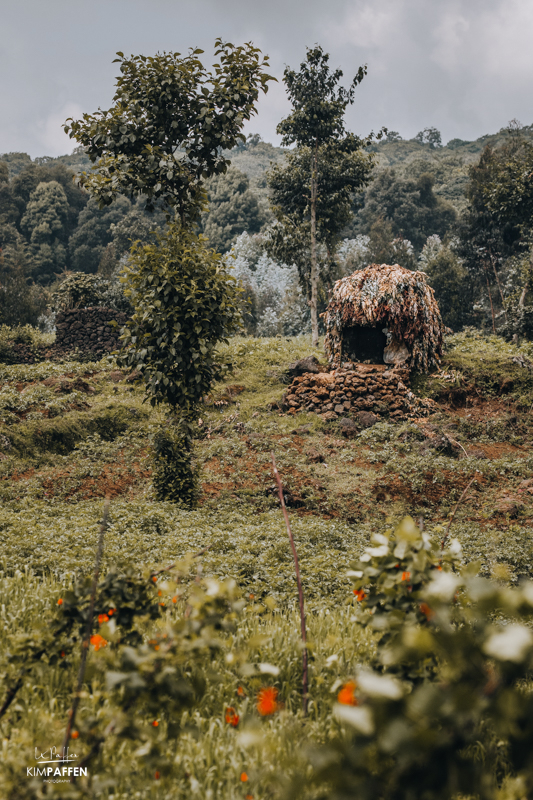 Musanze is a small town nearby Volcanoes National Park. The town is a perfect base for your gorilla trekking safari. If you are up for a cultural experience, you can also visit the nearby Iby'Iwacu Cultural Village. Here, you will learn more about the traditional way of life of local Rwandans and enjoy their traditional dance performances.
Where to stay in Musanze or Kinigi?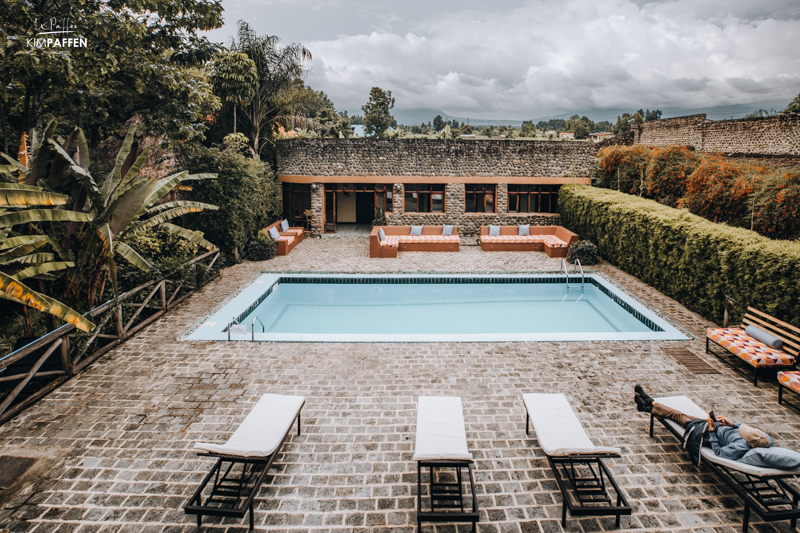 A good affordable place to stay in Musanze, is the Tiloreza Volcanoes Ecolodge; a boutique hotel in Kinigi. Most of the tourists staying there, are participating in a gorilla trekking experience. They also have a small poolside to relax after your gorilla trek. The nice thing about Tiloreza is that they also reach out to the community to support both environmental and educational efforts.
Another amazing place to stay is at the One&Only Gorilla's Nest.
5. Akagera National Park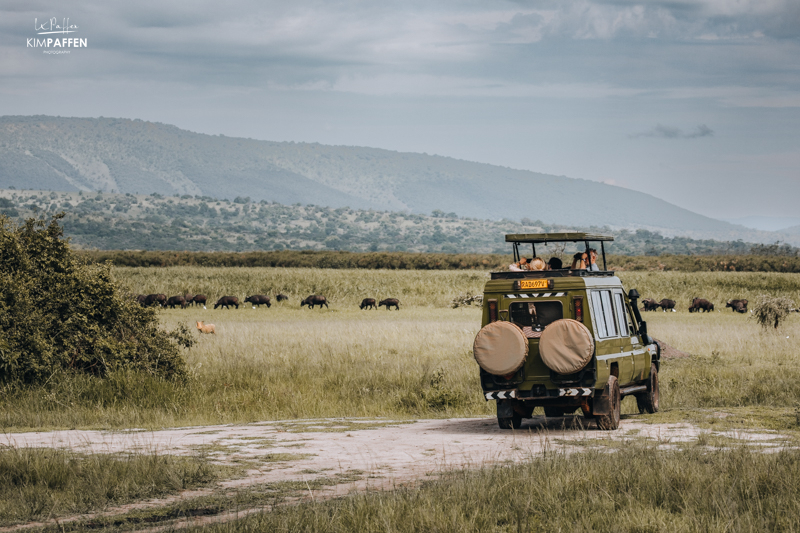 Managed by African Parks, Akagera National Park is located just 2,5 - 3 hours from Kigali in the eastern part of Rwanda and is known for its savannah plains, wetlands, and lakes boasting diverse wildlife. It's one of Central Africa's largest protected wetlands and the last remaining refuge for savannah-adapted species in Rwanda.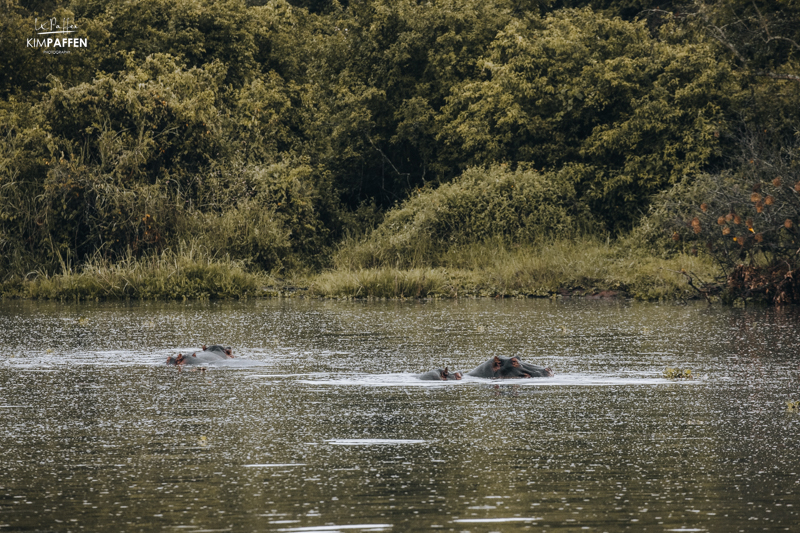 Popular things to do in Akagera are guided game drives or self-drives with stunning mountain views as backdrop, in search of lions, leopards, herds of elephants, zebras, antelopes and towers of giraffes, as well as boat trips to spot hippos, crocodiles, and many colorful birds.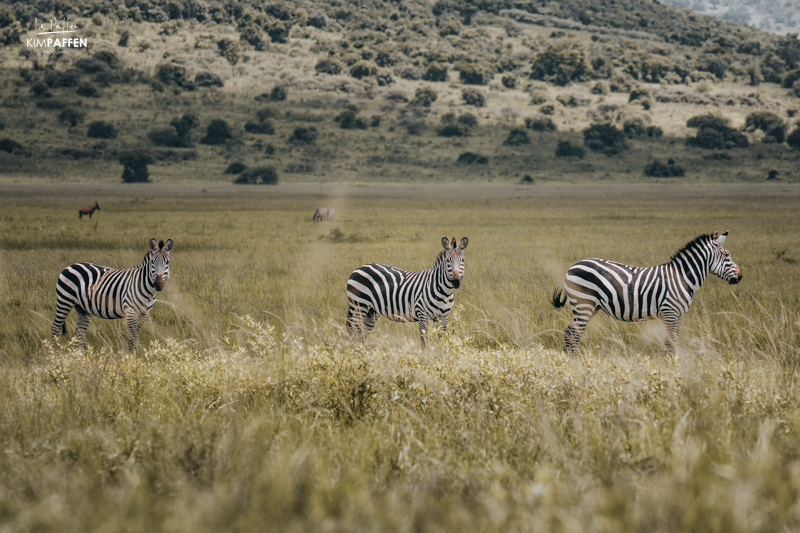 Akagera borders Tanzania, benefitting from the wildlife roaming freely between these two East African countries. The national park is becoming more popular to do a full-day game drive. Despite it's the only national park in Rwanda where you can find the Big Five, it's still rare to spot a rhino or lion. Some of the lodges in Akagera also offer walking safaris.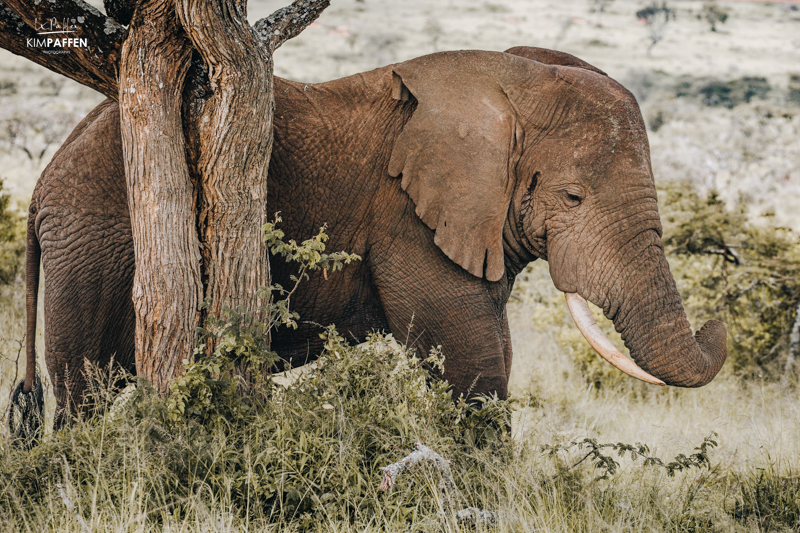 Akagera Safari Tip: Planning to do a self-drive in Akagera with your own car? Self-driving in Akagara is possible, but consider hiring a guide at the visitor center to increase your chances of finding certain animals. You can also book a guided night game drive to spot nocturnal animals. Night drives are only operated by the park's vehicles.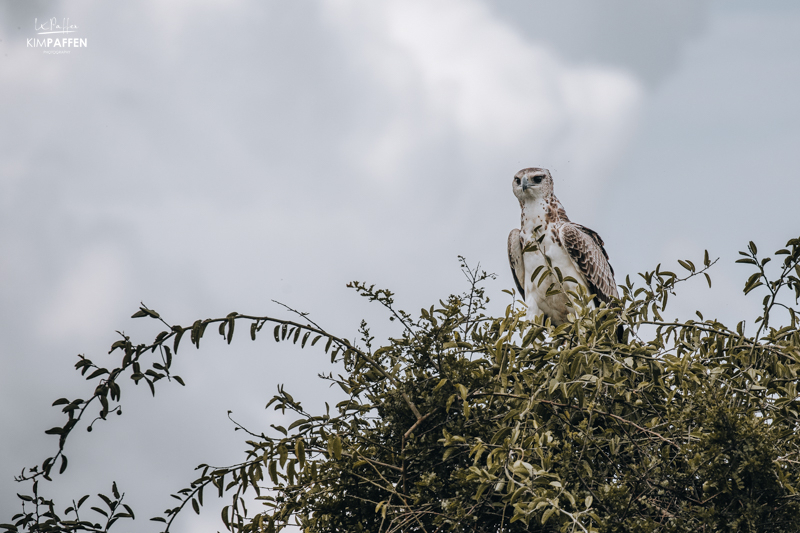 The park has 5 swamp-fringed lakes that get their water supply from the Kagera River, flowing through the Eastern boundary of the national park to Uganda through Tanzania before emptying into Lake Victoria.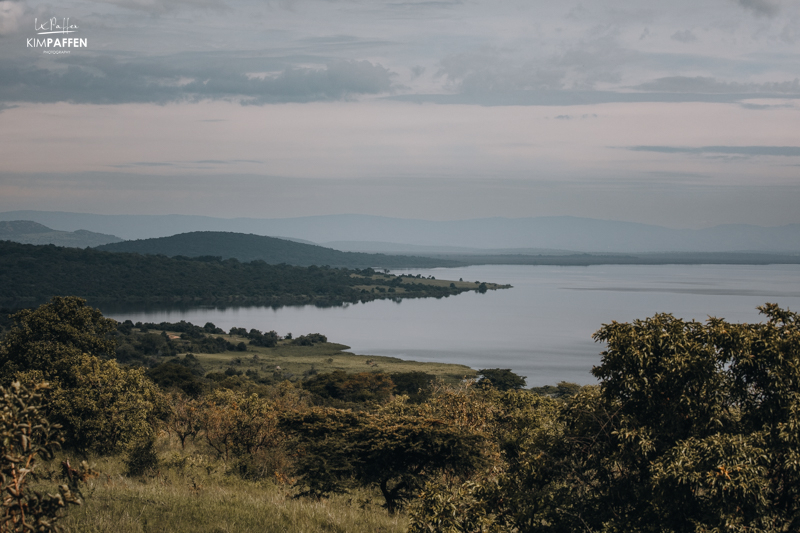 Birdwatching lovers should visit Lake Shakani (400 bird species) and Lake Ihema (155 bird species), located in the southern section of Akagera National Park. At Lake Shakani, you can camp near the lake and take part in sports fishing. Lake Ihema is the biggest lake inside the park and popular for its boat safaris or sunset boat cruises.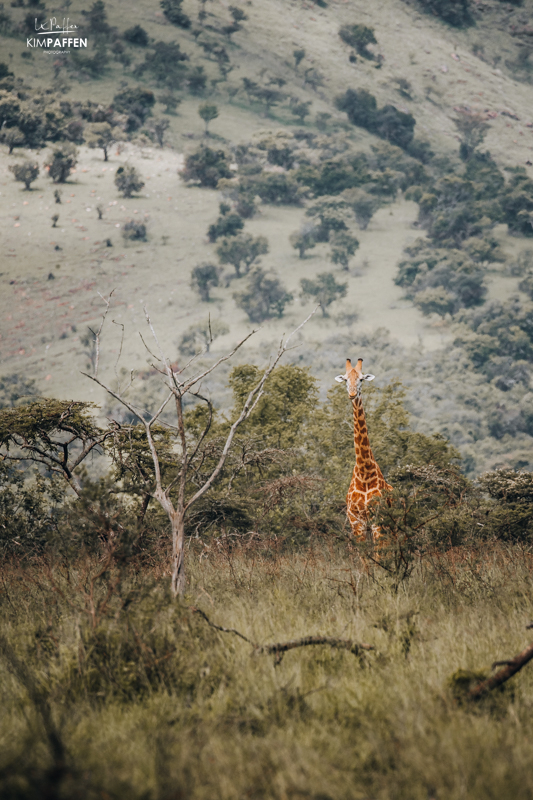 Keep an eye out on the prehistoric and vulnerable-classified Shoebill stork that loves the papyrus-filled swamp-areas. According to BirdLife International, there are only 3.300 - 5.300 mature individuals left in the wild, and populations are on the decline.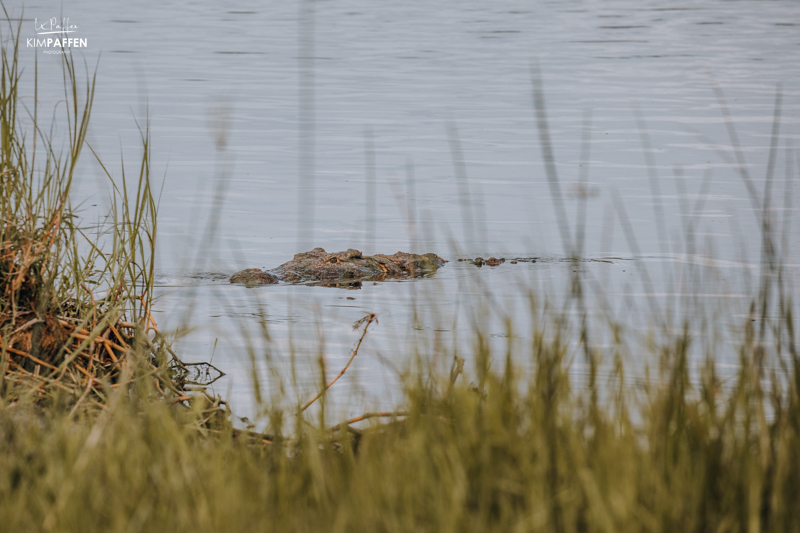 Want to experience Akagera from a bird's-eye view? Another memorable safari activity is a hot-air balloon safari in Akagera National Park.
  RELATED: What to expect on a hot-air balloon safari in Serengeti (Tanzania)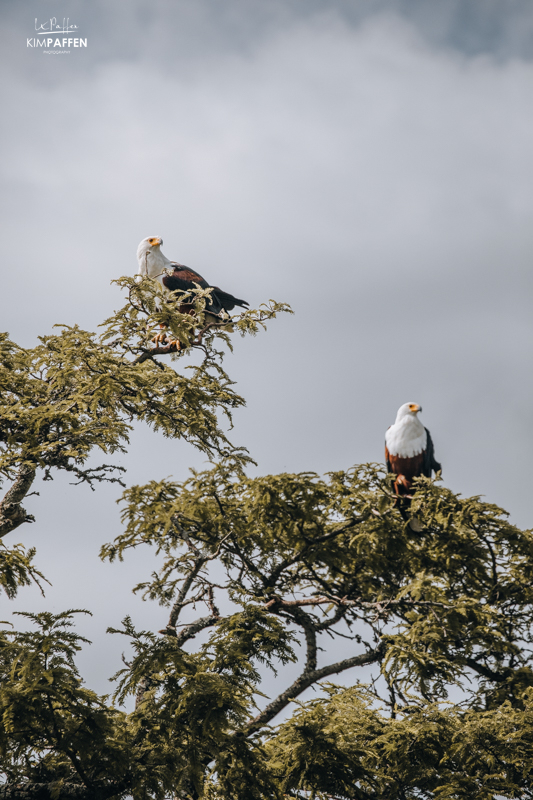 Where to stay in Akagera National Park?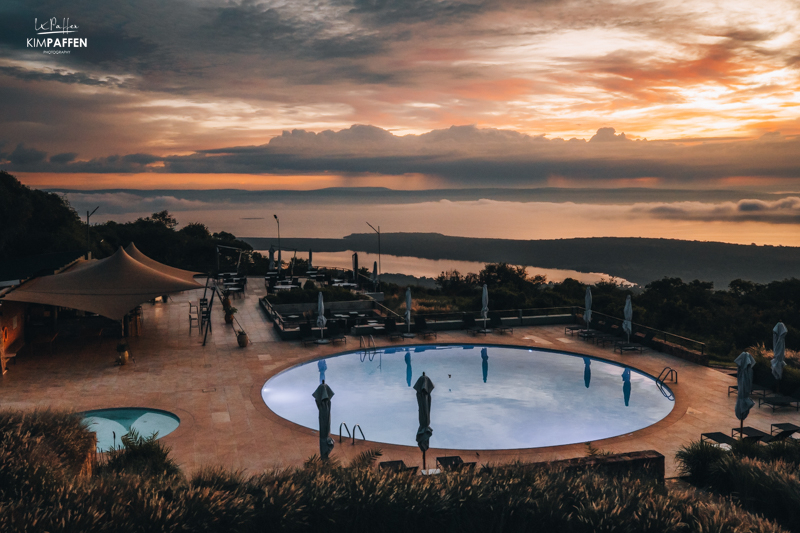 I had a memorable stay in Akagera Game Lodge by Mantis, located inside the Akagera National Park. A beautiful lodge at the lake where you can watch a beautiful sunset and sunrise.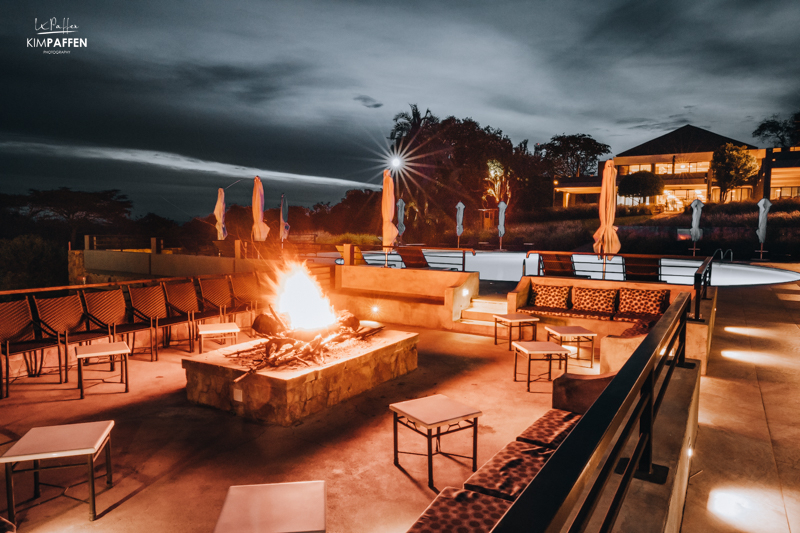 We had a lovely outdoor dinner and after dinner we sat by the fire for a sundowner drink.
Another option in Akagera is the Akagera Transit Lodge, only 1 km from Akagera National Park.
6. Nyungwe Forest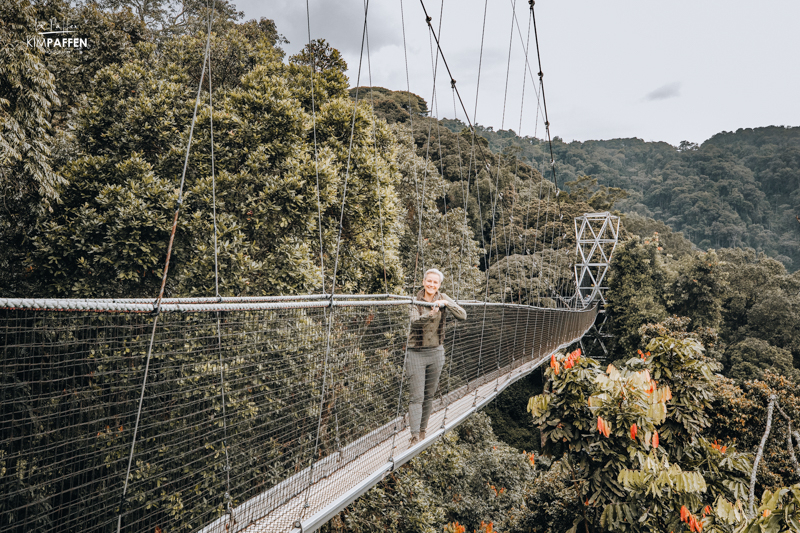 When in Rwanda, you can't miss out on Nyungwe National Park. Most tourists visit the rainforest for chimpanzee trekking, but it isn't the only reason why Nyungwe Forest is one of the best places to visit in Rwanda.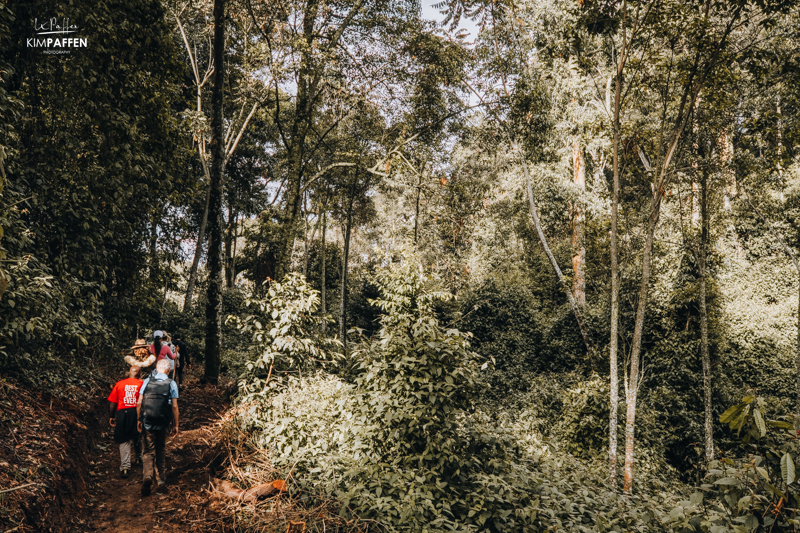 Apart from tracking chimpanzees, you are able to spot Rwanda's national animal, the rare Golden Monkey, and other primate species such as gray-cheeked mangabeys and baboons.
  RELATED: Chimpanzee Trekking in Uganda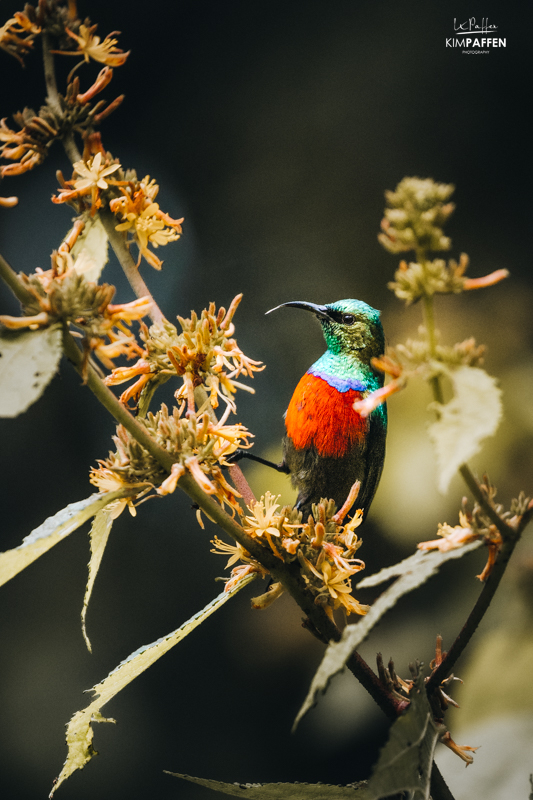 It's an important conservation area in Africa with a special biodiversity of plant species, mammals, and over 300 species of birds. It's one of the biggest montane forests remaining in Eastern Africa and visitors can take part in guided treks, canopy walks, and bird-watching tours.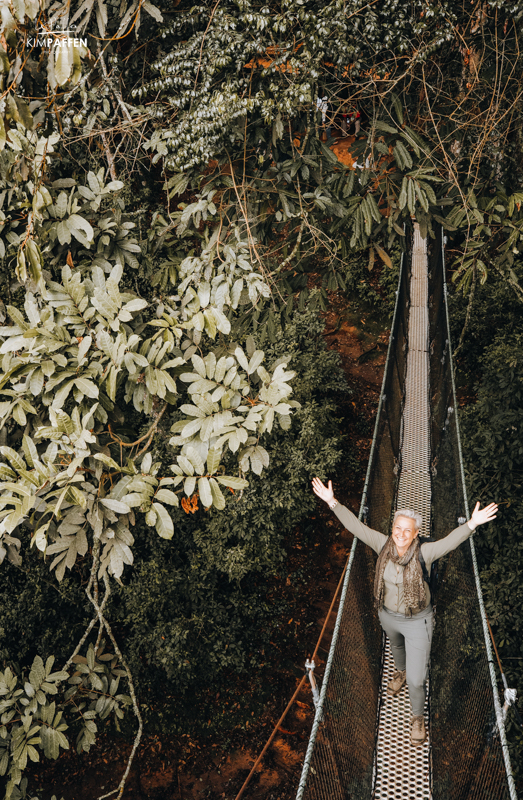 Canopy Tour
The adventurous soul can opt for a canopy walk of 160 meter including a 90-meter-long suspension bridge with fantastic views over the rainforest on a height of 70 meters.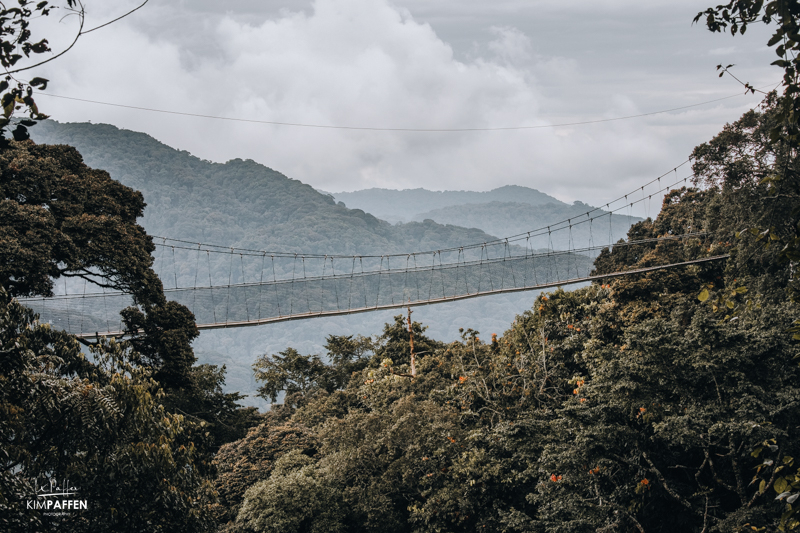 The first canopy walk is divided into 3 sections, where the first bridge is 45 meters long, the second suspension bridge is 90 meters long and the third is 25 meters long. I always love these canopy adventures. Read also about the Malolotja Canopy Tour in Eswatini.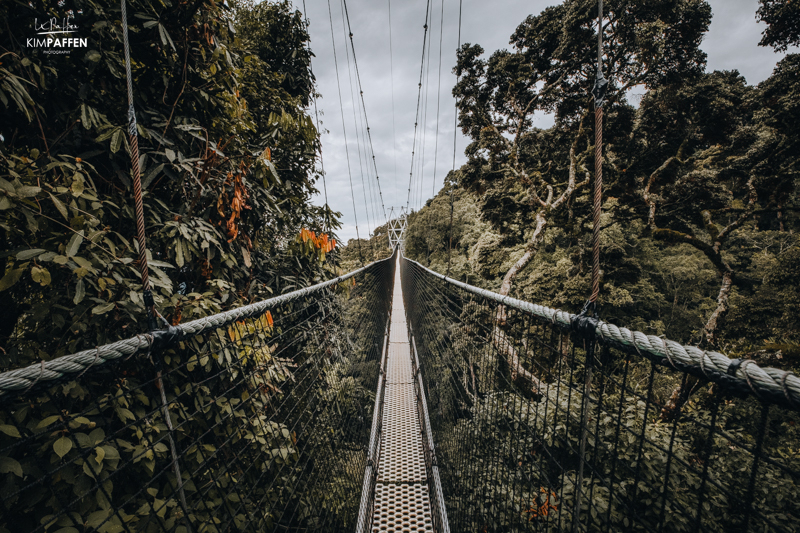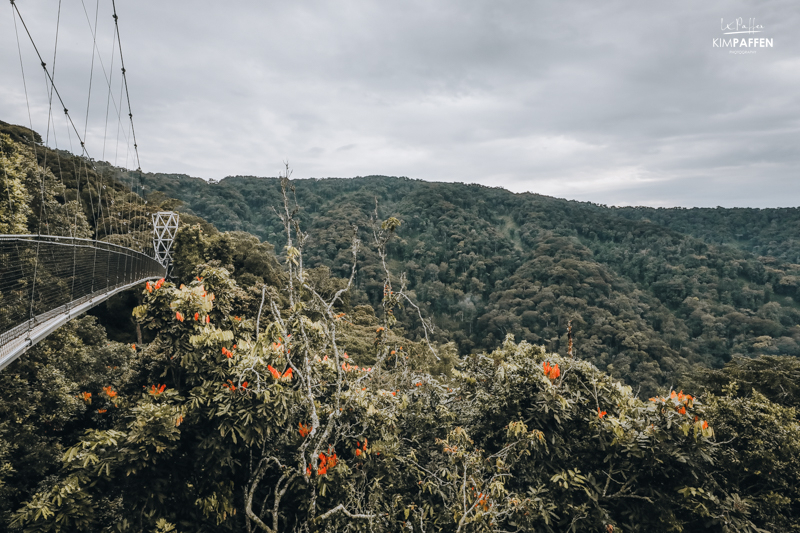 To get to the starting point of the canopy walk, you first have a short 1 to 1,5 hours hike along the Igishigishigi Trail from the Uwinkla Visitor Center. If you're not a fan of heights, there are various other hiking trails to choose from.
While tackling the suspension bridge, I was also lucky to see a chimpanzee nest high up in the trees and the Great Blue Turaco; a lovely blue-colored bird with a yellow beak. It's the largest species of Turaco. I also spotted this incredible bird in the Magombe swamp in Uganda, protected by the Bigodi Wetlands Sanctuary near Kibale National Park.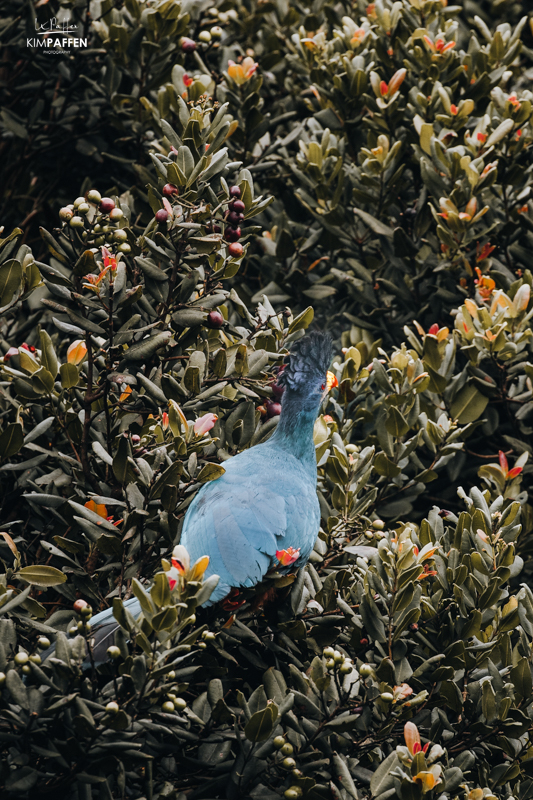 It's worth noting that Nyungwe Forest National Park is also a UNESCO Biosphere Reserve. Definitely one of the must-visits when exploring Rwanda's land of a thousand hills!
7. Lake Kivu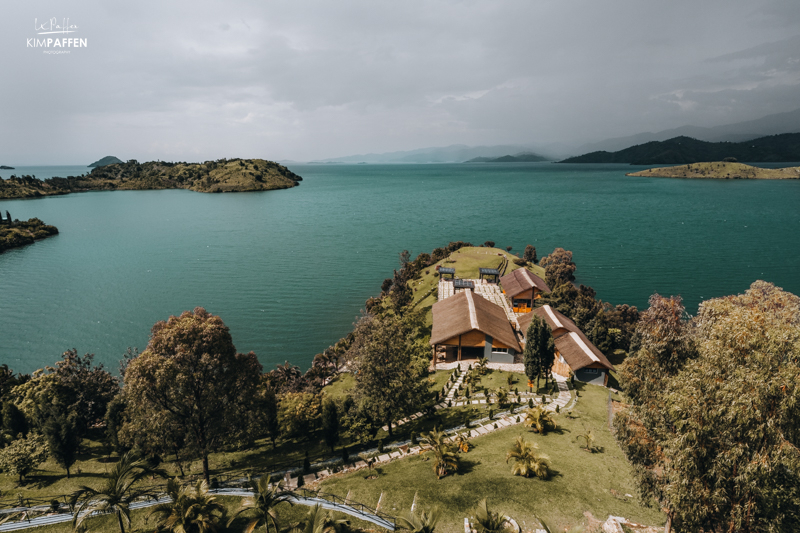 Because of its natural beauty, Lake Kivu is without a doubt one of the best places to visit in the western part of Rwanda. The lake lies on the border of Rwanda and DRC. Visitors can go on boat trips to the many islands in Rwanda's largest lake, go fishing or hike one of the trails around the lake to enjoy its emerald-green beauty.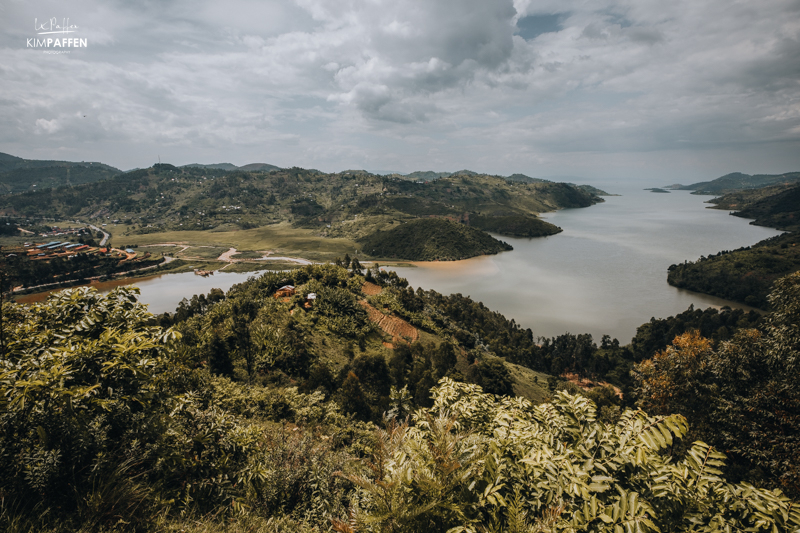 You can even join water sport activities on the crystal clear waters of Lake Kivu, such as stand-up paddleboarding (SUP) or kayaking with local fishermen entertaining you along the way. I also highly recommend visiting one of the nearby fishing villages on the shores of Lake Kivu.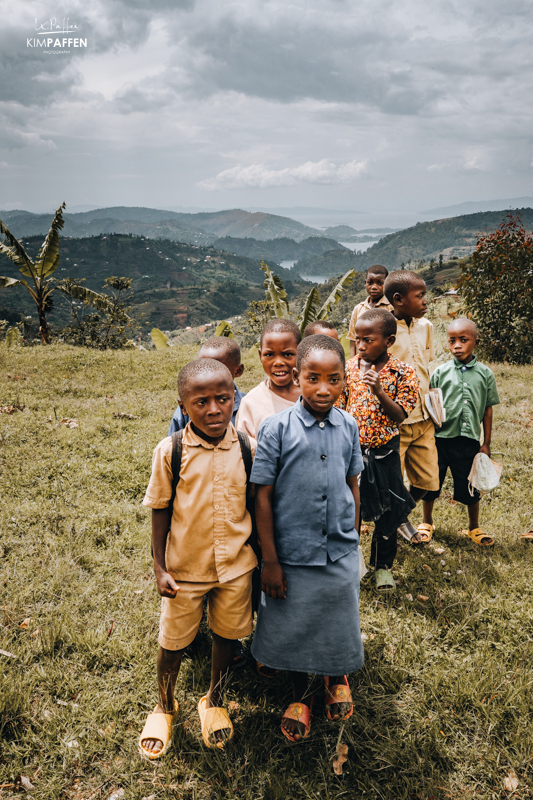 The 2700 m2 pristine lake is also a perfect oasis to give yourself a bit of rest and unwind.
Where to stay at Lake Kivu?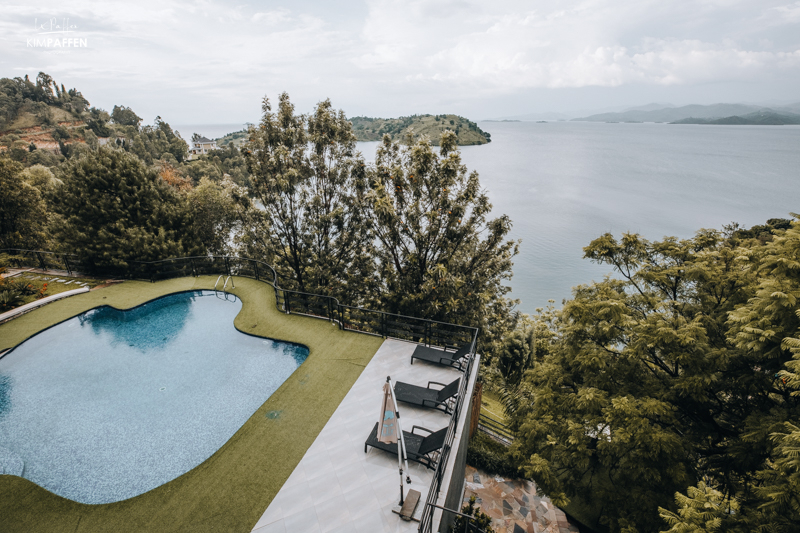 Great places to stay at Lake Kivu are the Lake Kivu Serena Hotel, located in the northern part of Lake Kivu in the resort town of Rubavu or Mantis Kivu Marina Bay Hotel in Muhari, a mere 1 km from Kamembe International Airport in the South West of Rwanda, where you can have your breakfast with stunning views over Lake Kivu.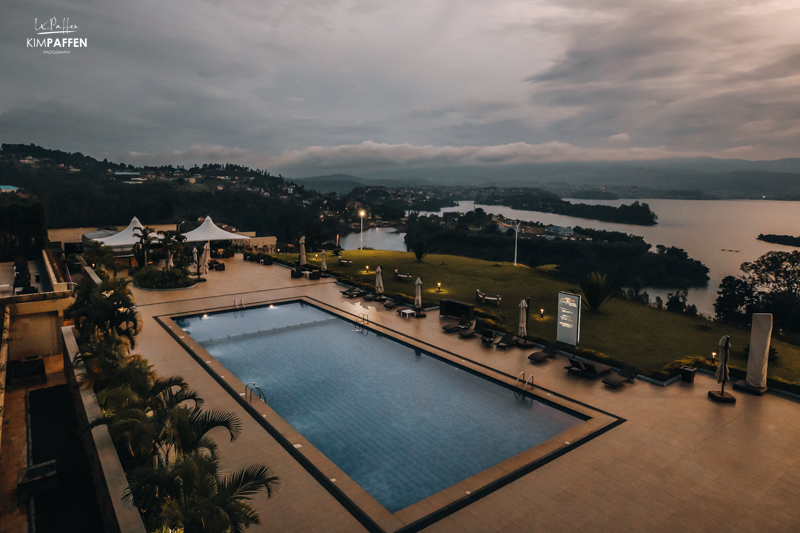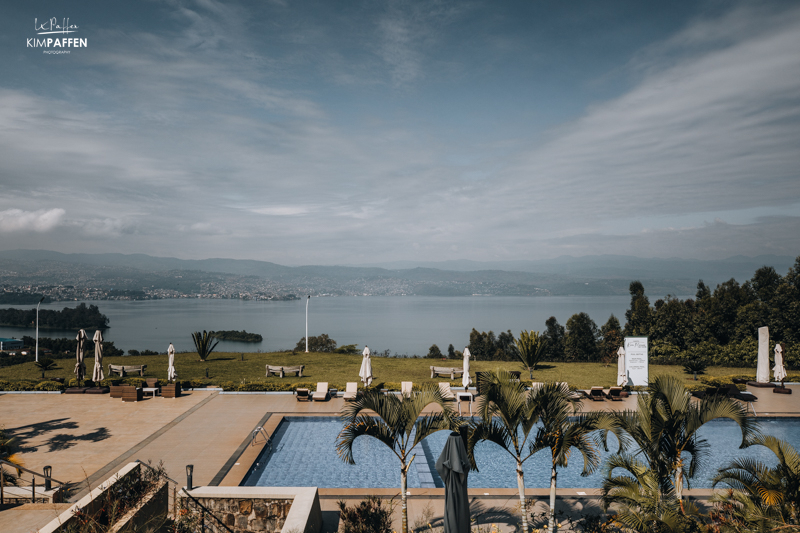 Another great option to stay is Cleo Lake Kivu Hotel. I didn't sleep there myself, but it was our lunch spot for the day with the best panoramic views of the emerald-green Lake Kivu I've seen. It was also the first hotel that served authentic Rwandan cuisine, and it was delicious!
8. Nyanza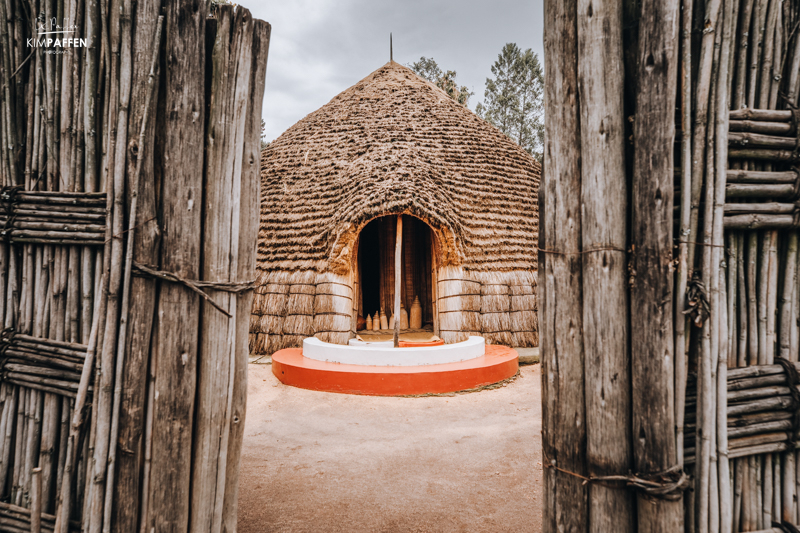 Formerly known as the heart of Rwanda, Nyanza has to be part of your Rwanda itinerary because of the historical Royal Palace and Ruins of Nyanza, which was home to the kings of the Kingdom of Rwanda. The King's Palace Museum is one of Rwanda's six national museums and tells the history of the monarchy and the traditional culture of Rwanda. One of the main attractions within the museum is a beehive-shaped replica of the King's Palace in the 15th century.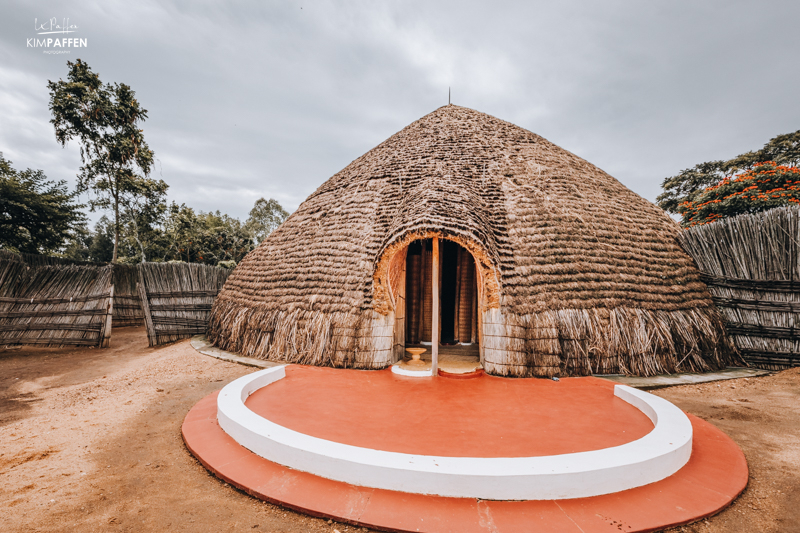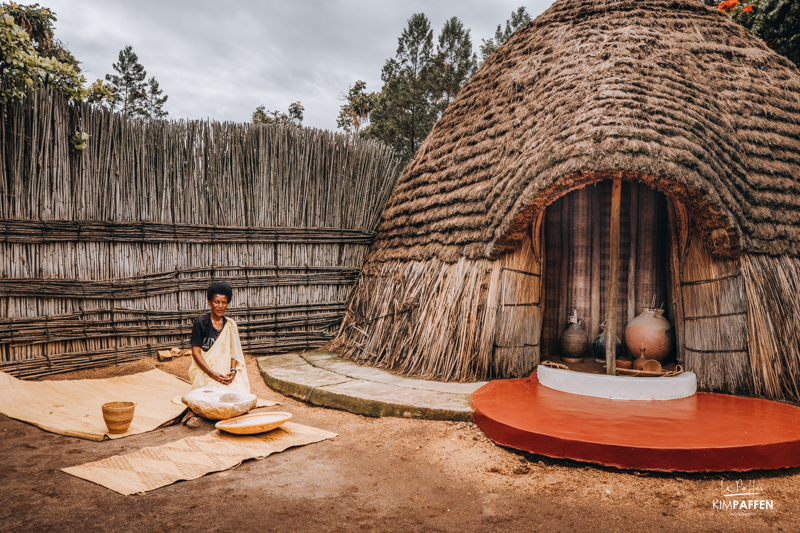 Another cultural attraction are the sacred long-horned cows, known as Inyambo cattle. The cattle keepers sing to the Inyambo by belting poems - a unique ritual in Rwanda.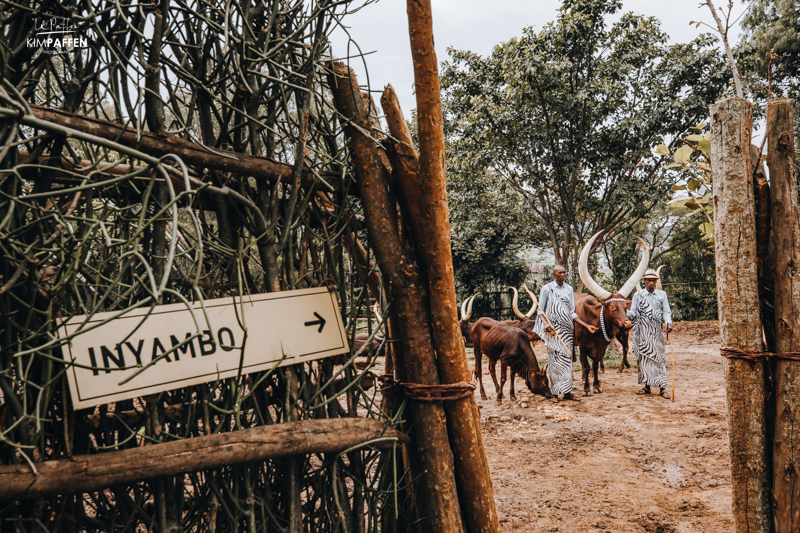 At the museum, you can also find King's Mutara III Rudahigwa's Palace; a colonial building blending Rwandan patterns with European-style furniture. The Royal Palace of Rwanda is a must-see tourist attraction in the southern province of Rwanda to get a rich insight into Rwanda's culture and post way of life.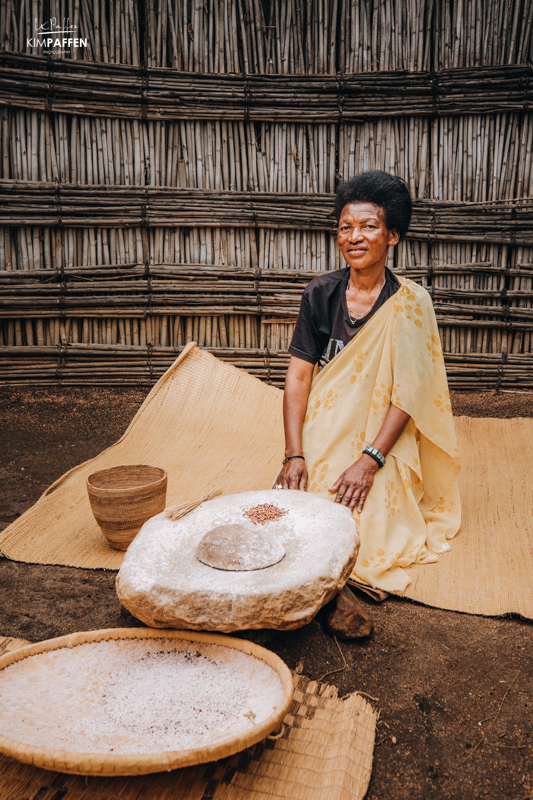 9. Huye
Very close to the King's Palace in Nyanza you can find the Ethnographic Museum, previously referred to as Rwanda's National Museum. It's a great way to combine these two museum-visits. In the Ethnographic Museum in Huye you can find one of Africa's finest ethnographic collections that give a rich insight into Rwandan culture. For example items used in hunting, agriculture, pottery, woodwork, weaving, traditional clothing, and more. You can also visit an on side craft center. Together with the Royal Palace Museum, the Ethnographic Museum is one of the six museums that make up the Institute of National Museums of Rwanda.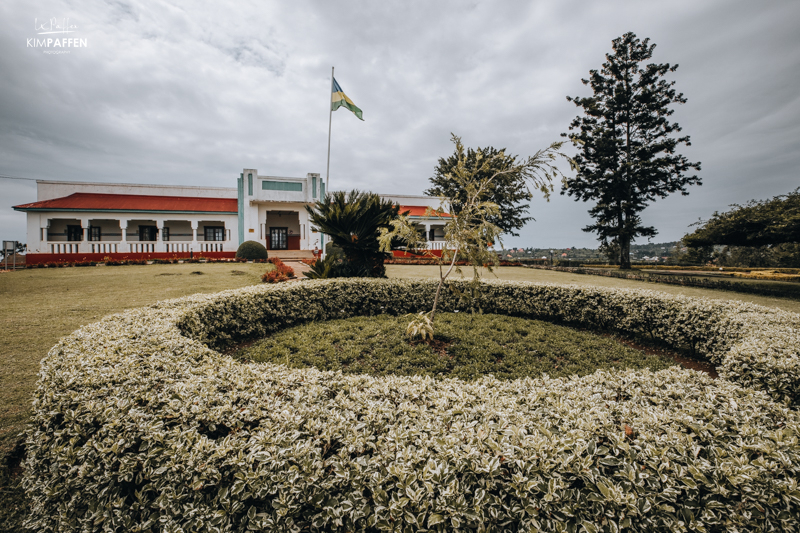 10. RedRocks Initiative
Red Rocks Rwanda is an intercultural exchange center where the community comes first! They believe in responsible tourism that serves local Rwandans, providing them with opportunities and empowerment by sharing their unique culture. Red Rocks offers several tours, volunteer opportunities, and cultural activities in their cultural centre situated in a picturesque valley surrounded by rolling hills and amazing views of Volcanoes National Park.
All community activities work on improving the community with focus on benefitting the quality of life of community people, something I really like! And for tourists like us, it means you will get involved in original humanistic traditional communities. The campsite at Red Rocks, even offers you the opportunity to stay for a longer period en become part of community philanthropic travel with a commitment to conservation and responsible tourism in Rwanda.
Examples of Cultural Tours and Eco-Tourism are making banana beer (Kwenga ibitoki), sewing and bracelet lessons, basket weaving, honey harvesting experience of the bees they keep, village biking tours, community homestead walking tour, herbal medicinal plants visit experience, community tree planting, drumming and traditional dance, storytelling with dinner around the campfire and much more.
The Red Rocks site is very colorful with paintings everywhere and has a laidback vibe. It's an wonderful place where cultural tourism leads to community development; something you want to be part of as a responsible traveler!
11. Gishwati-Mukura National Park
Gishwati-Mukura National Park is one of the newest national parks in the country and home to gorillas, chimpanzees, and other primates. This 34 km2 national park in the western part of Rwanda is known for its stunning landscapes and hiking trails preserving one of the few remaining montane rainforests in Central Africa.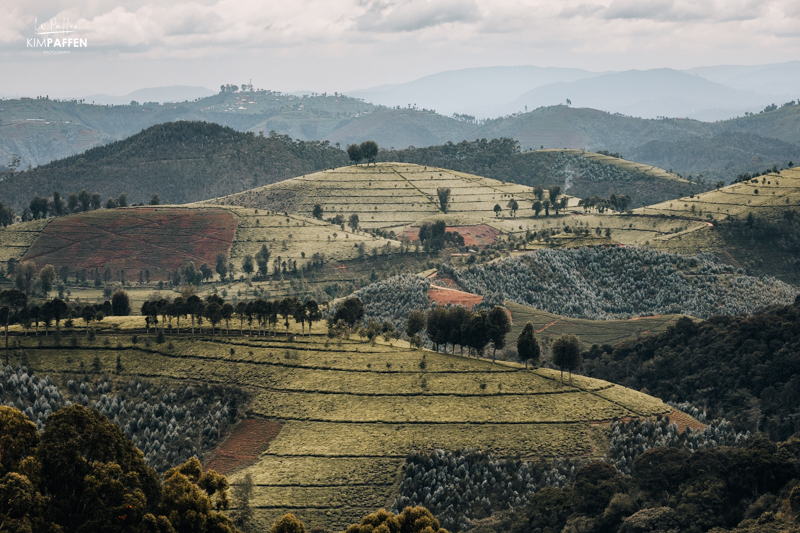 Gishwati Forest is open for tourists who want to book a guided monkey and chimpanzee tracking tour to spot various primates, including the Golden Monkey, Blue Monkey, L'Hoest and approximately 20 chimpanzees. With over 230 bird species within the rainforest, this 4th national park of Rwanda is a great place to visit for bird and nature lovers.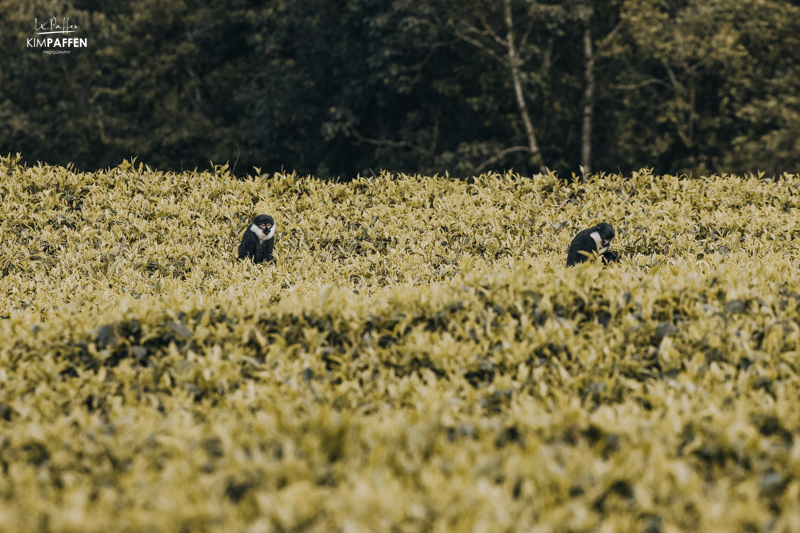 11 Best places to visit in Rwanda
Although Rwanda is a small country, there are a lot of beautiful places to visit in Rwanda that offer adventurous and unique things to do. It isn't named 'land of a thousand hills' for nothing. I explored Rwanda with G-STEP Tours, a Rwandan-based tour company that offers various safari packages.
To sum it all up, I listed the 11 best places to see in the Republic of Rwanda below:
Kigali
Umusambi Village
Volcanoes National Park
Musanze
Akagera National Park
Nyungwe Forest
Lake Kivu
Nyanza
Huye
Red Rocks Initiative
Gishwati-Mukura National Park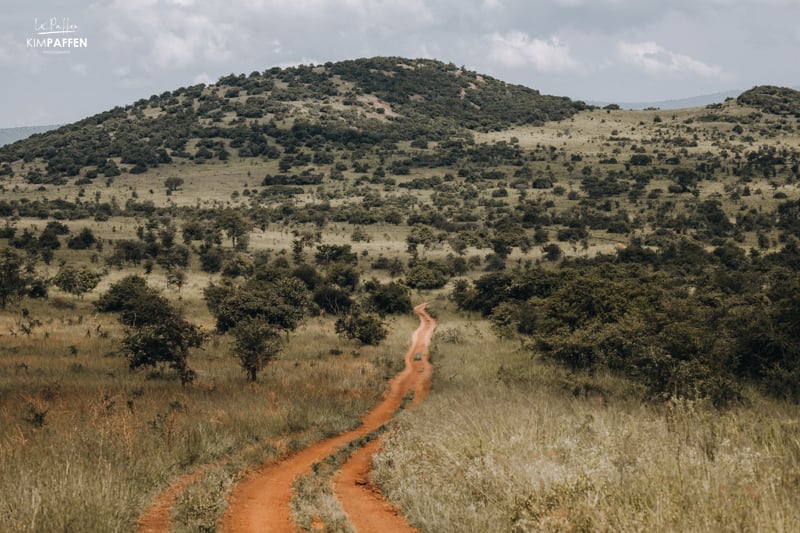 On safari in Rwanda
I hope this article made you excited to go on safari in Rwanda, the land of a thousand hills. Still doubting if Rwanda is worth visiting or if it is safe in Rwanda? I also wrote a complete Rwanda Travel Guide, including the best time to visit Rwanda, travel requirements to Rwanda, and other things to know before you travel to Rwanda.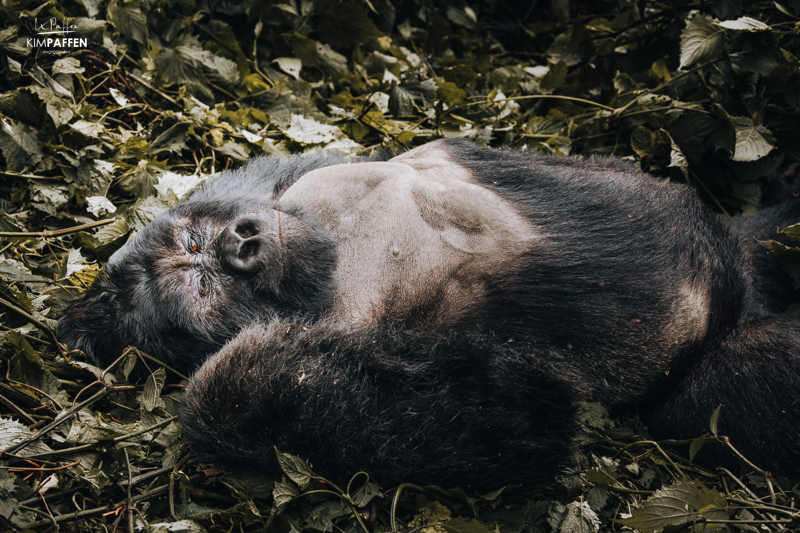 Curious about other places for safari in Africa? Check out my Africa Travel Guide!
Going on safari for the first time? Read about what to expect on a game drive and what to pack for a safari in Africa, including a downloadable safari packing guide.
Helpful article to plan your Rwanda safari?
If this article was helpful to plan your Rwanda itinerary, you could help us in return by sharing this article on your social media channels, leaving a comment, or buying us a coffee.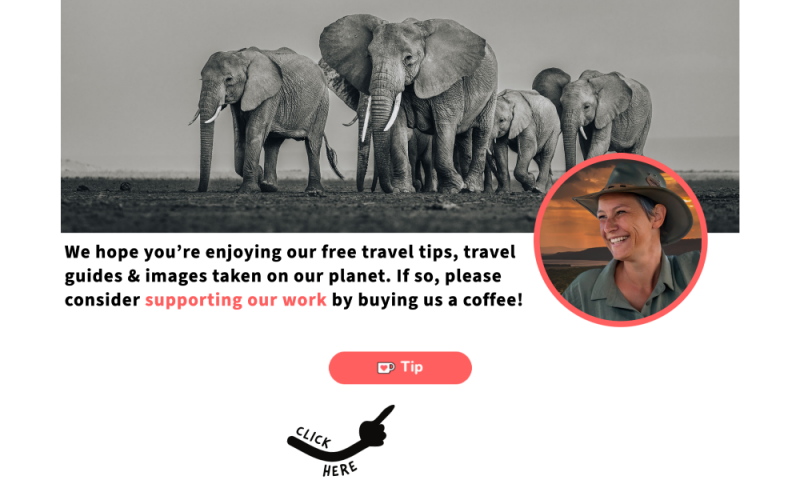 We give back to nature and wildlife conservation by donating 10% of each Fine Art Wildlife Photo Print sold to support the education of guides and rangers as a long-term goal to change the world and to protect our wildlife from extinction due to wildlife crimes & habitat loss. Curious about my image collection? Check out the Wild Heart Fine Art Print Collection. If you buy one of my images, you can make a difference too!