A safari guide course or wildlife training in the African wilderness is an incredible experience for those who are passionate about the great outdoors and want to be more than just a tourist ticking off the Big Five. Joining a wildlife course is a conscious alternative to a safari trip in Africa and a great way to enhance your knowledge of African wildlife and the habitats they live in.
In October 2021, I joined EcoTraining's 35-day safari guide course in Kenya to get trained as an Apprentice Field Guide or Nature Guide. Not necessarily to pursue a career as a safari guide, but in the first place to spend meaningful time in the bush in order to get a better understanding of the natural environment and animal behavior in relation to wildlife photography and taking people with me on photo safaris to Africa.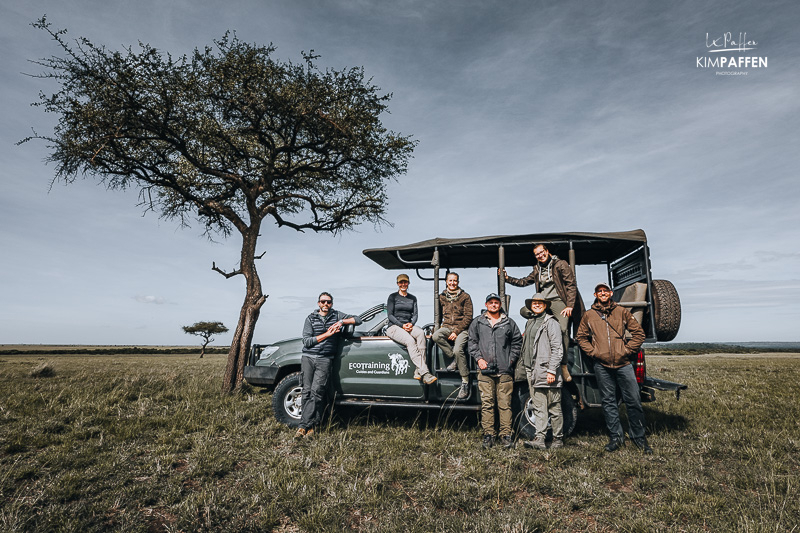 Here are 14 reasons why you should consider taking a safari guide course in Kenya's magical Maasai Mara - one of Africa's top wildlife destinations!
1. (Re)Connect to nature: quality time in the bush
Spending quality time in the African bush was a soul-enriching experience. As a wildlife photographer, I feel at home in the African bush. It's where I feel most connected to nature and myself. Spending time in the wilderness, observing animals in their natural habitat, forces me to be in the moment because - in the bush - you don't know what the next minute will bring. Being so close to nature makes me feel humble, alive, and free.
In search of a more meaningful way to spend quality time in the bush with like-minded people, I found EcoTraining, the pioneer and leader in safari guide and wildlife training.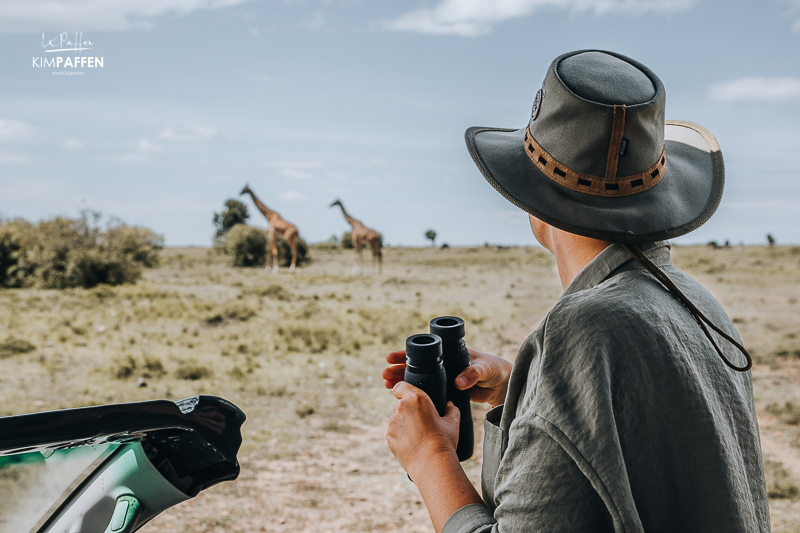 Immerse yourself in nature
Not only will you learn a lot and develop new skills, but you'll also have the opportunity to immerse yourself in the beauty and majesty of the African wilderness. Whether you're interested in a career in the tourism industry or just want to learn more about African wildlife, a safari guide course can provide a sense of personal fulfillment that is truly unique.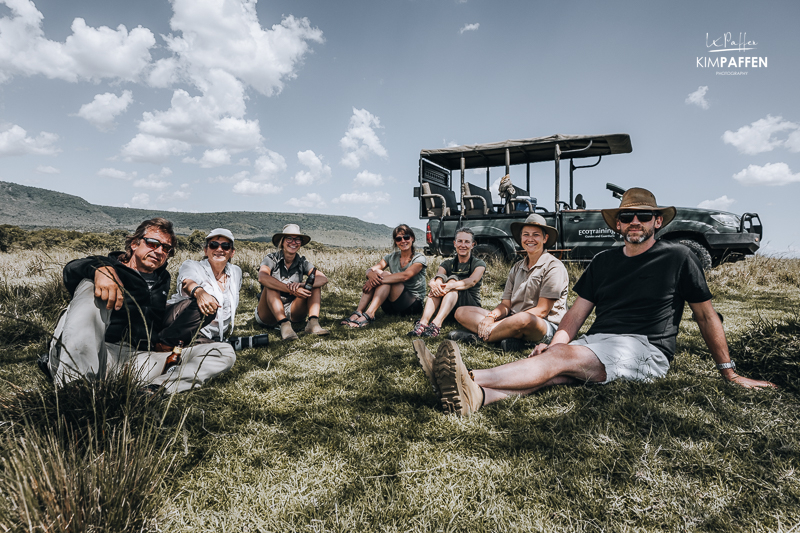 I'm a firm believer that spending time in nature makes you better person and truly enriches your life, if you treat Mother Earth, and all its inhabitants the way you want to be treated, with love and respect. During this wildlife course in Kenya, you learn how to be an ethical safari guide and be an example for the tourists joining you on a safari in Africa.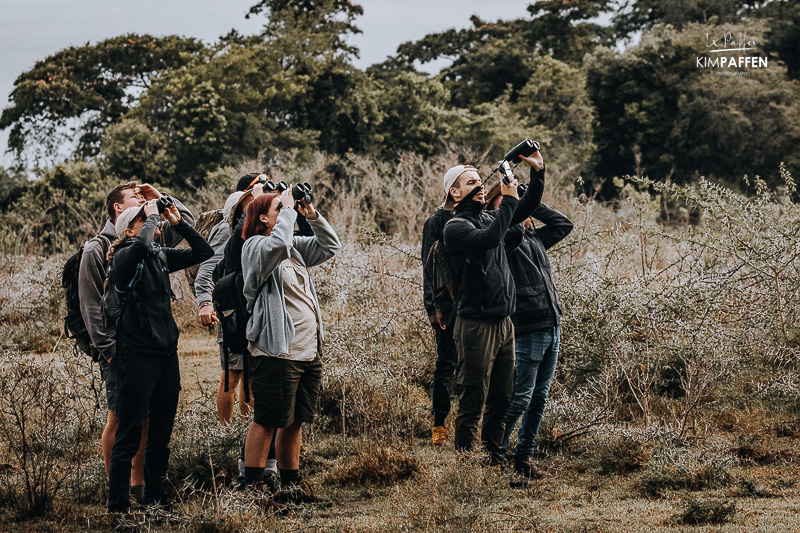 Disconnect to connect
Make the most out of your time in the African bush and try to disconnect from the busy life at home and connect to nature instead by listening to the sounds of the birds, smelling the scents of the bush, touching the leaves of trees to feel the different structures, and being curious as a child while looking at your surroundings. Use all your senses to be in the moment and (re)connect to nature.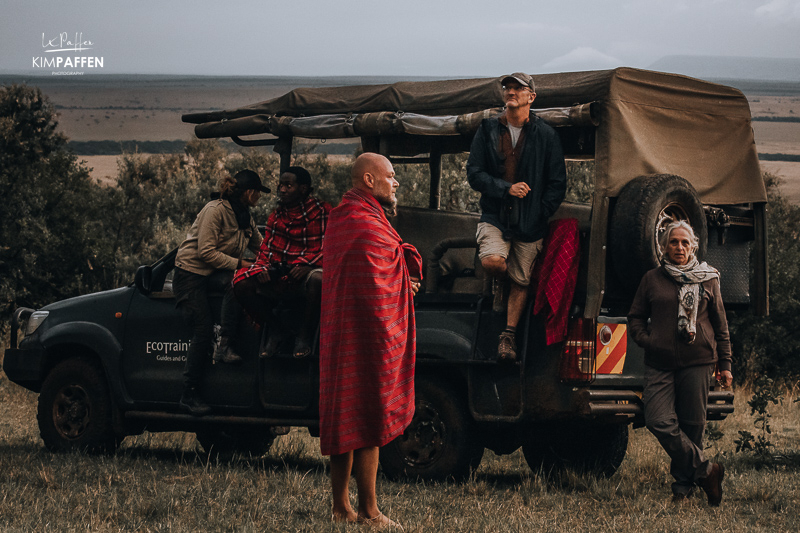 Appreciation for the natural world
Imagine how grateful you must feel waking up to the beautiful songs of the birds and having your first coffee looking at the stars. Imagine feeling the first rays of sunlight on your face on a chilly morning while watching the sunrise over the Savannah landscape on your 6 AM game drive.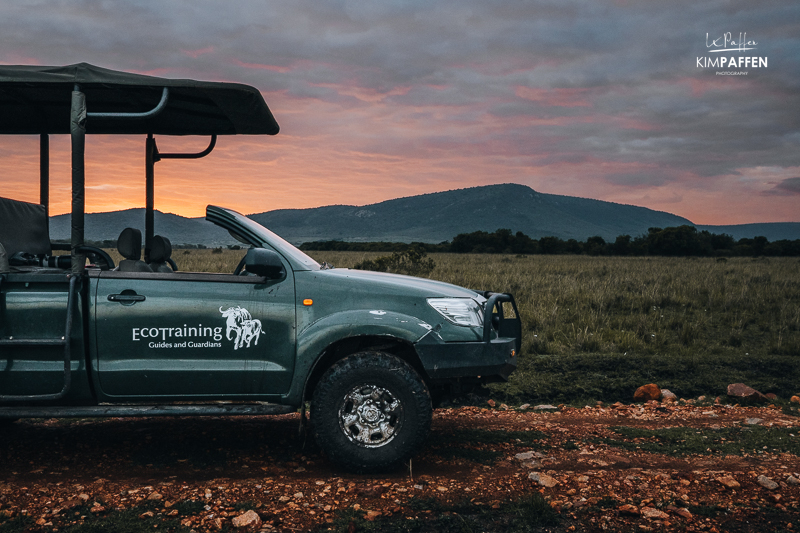 Or what about having a bush breakfast in the shade of an iconic Balanite tree overlooking the vast Mara plains surrounded by animals?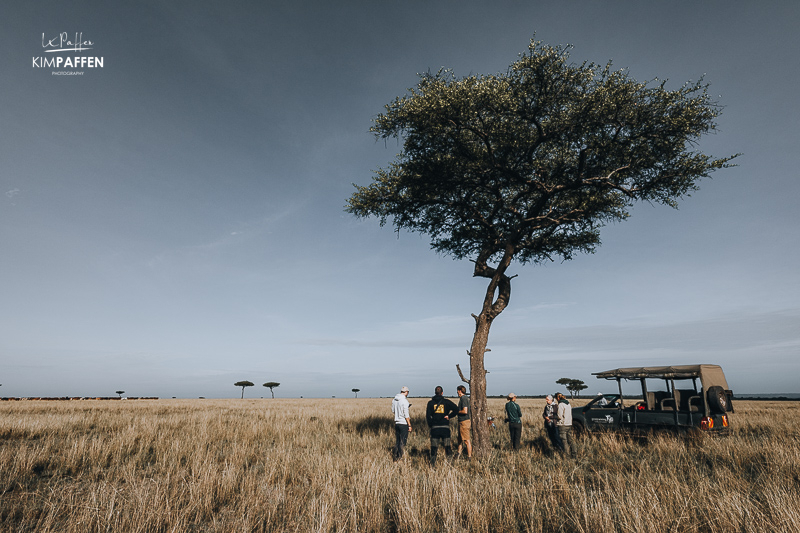 Imagine spending almost all day learning in the bush and experiencing the circle of life from seeing newborns to lives taken.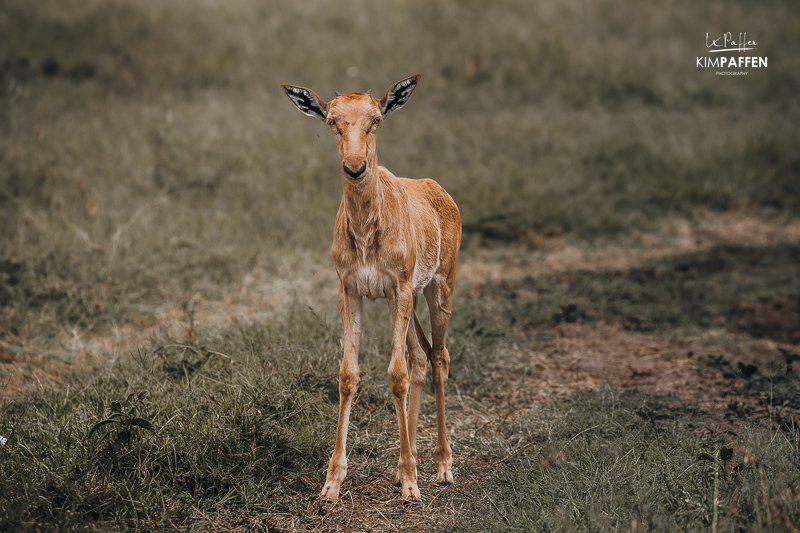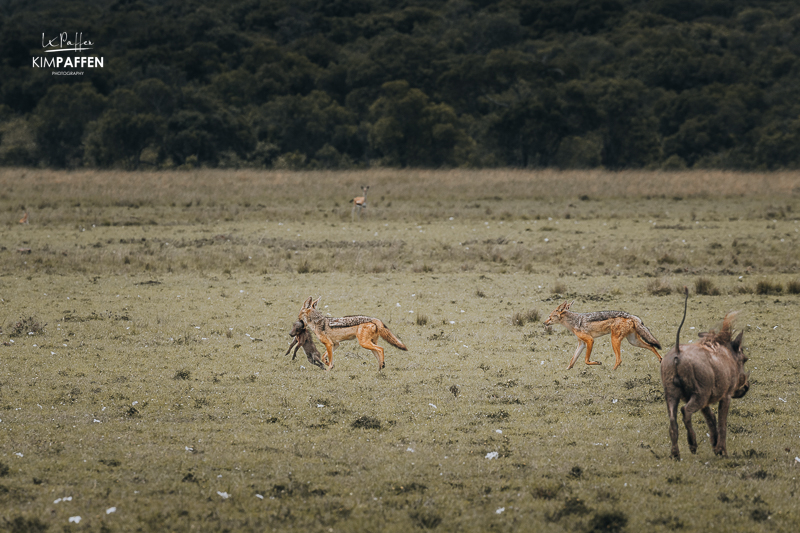 Imagine having a sundowner on your afternoon game drive while enjoying a magical African sunset. And after dinner, you sit by the fire connecting with like-minded nature lovers while looking at a sky full of stars or taking the opportunity to photograph the Milky Way.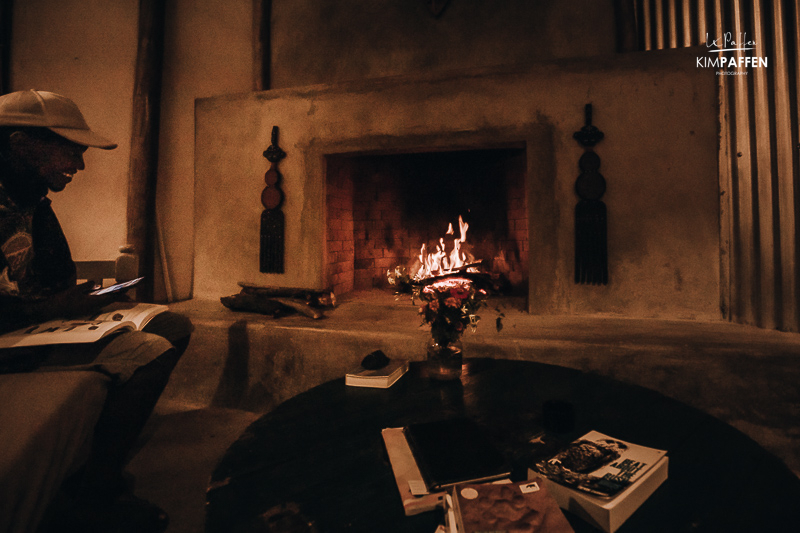 When you're ready to head to your chalet, you hear the laugh of a hyena or a lion's roar in the distance. In bed, you hear a hippo grazing right next to your tent or a bush baby on the roof. These are all moments of gratitude and appreciation for the natural world we are fortunate to live in. Try to count these blessings!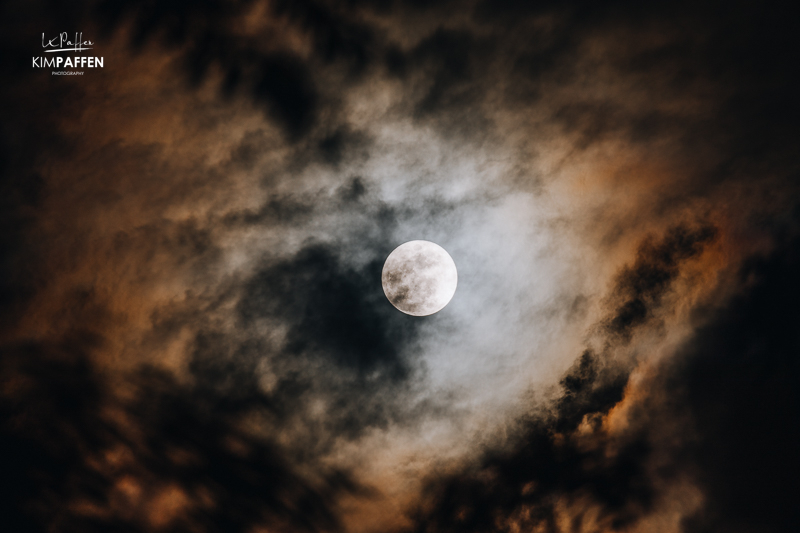 2. Conscious alternative to a safari trip
A wildlife course can be a more sustainable and responsible way to experience the African bush because these nature courses are designed to provide a deeper understanding of African wildlife and the ecosystems they live in.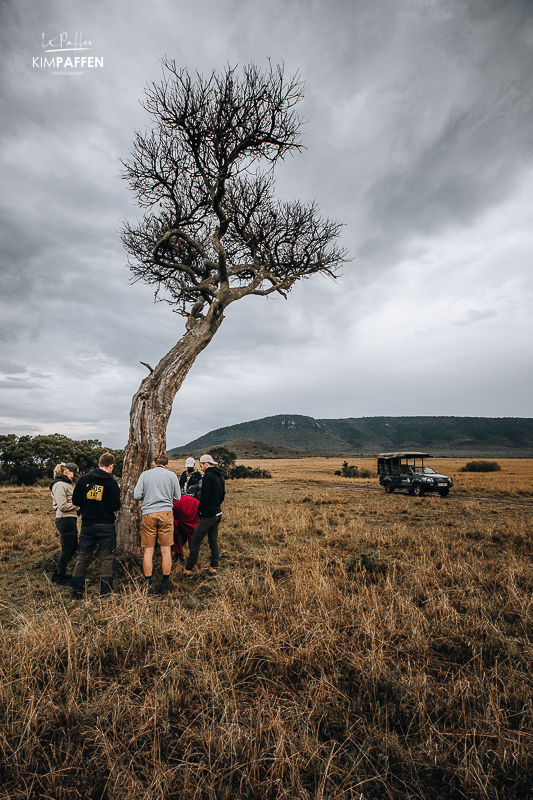 Focus on education and conservation
This also includes a focus on conservation and sustainability, and learning about the threats facing African wildlife and what you can do to help protect and preserve these species and their habitats.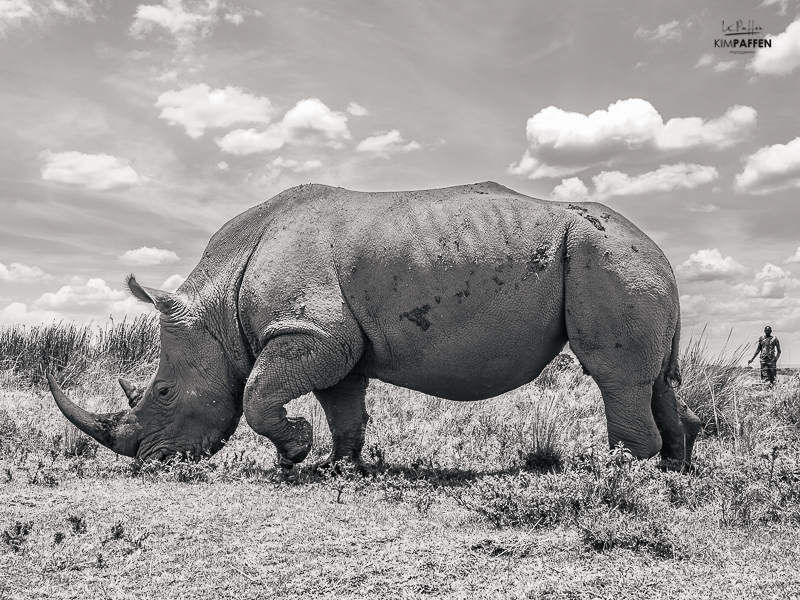 By selling my wildlife photos as Fine Art Prints, I give back to nature by donating 10% of each print sold to EcoTraining to benefit the important work they're doing in educating people and by extension protecting our wildlife. So, if you purchase my Fine Art Prints, you will be making a difference too!
Support local communities
EcoTraining is a training provider that works closely with local communities, providing economic and social benefits. By joining a wildlife training program, you'll have the opportunity to contribute to the well-being of local communities and help to foster sustainable tourism in the region. They train for example two Black Mamba ladies per year. The Black Mambas is an all-women Anti Poaching Unit.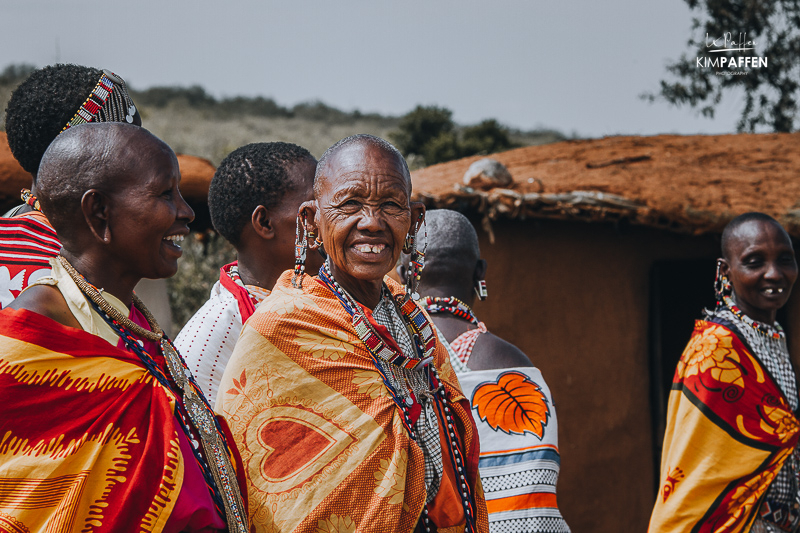 In Enonkishu Conservancy in the Maasai Mara, the Maasai co-exist with wildlife. You'll learn about human-wildlife conflicts and with the help of fundraisers, EcoTraining also sponsors ambitious and driven Maasai to become safari guides themselves. We had a local member of the Maasai community joining our course as well.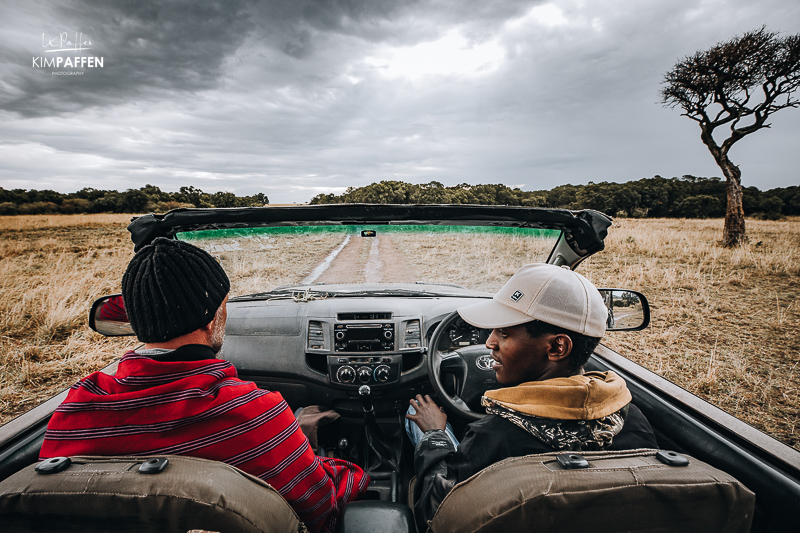 Minimize environmental impact
If you choose to do a safari guide course in Africa, you also choose to travel slow and staying at one place for a longer period. That's a greener option than driving to new lodges every other day.
Apart from that, the EcoTraining training (eco)camps are build to minimize environmental impact while promoting sustainable tourism practices, like engaging in activities that have a minimal impact on the surrounding environment, for example growing their own fruits and vegetables in the Wild Shamba, planting trees, using naturally made soaps, using wood to heat the water for showering, etc.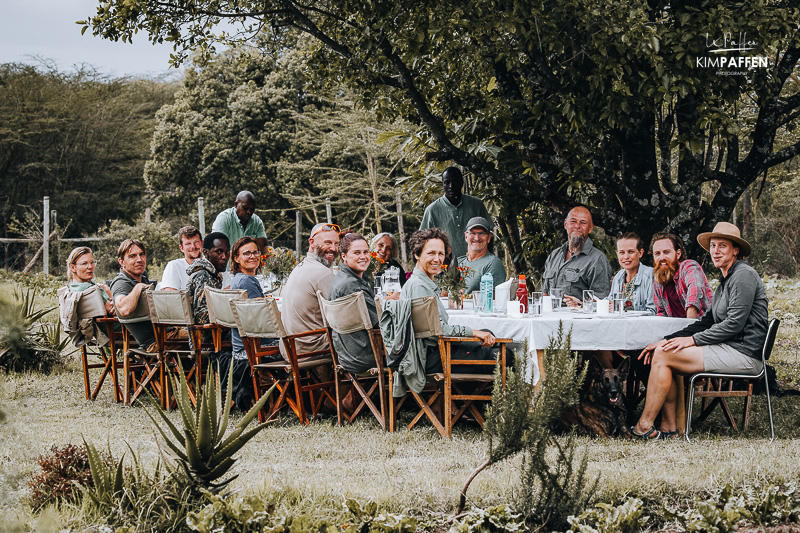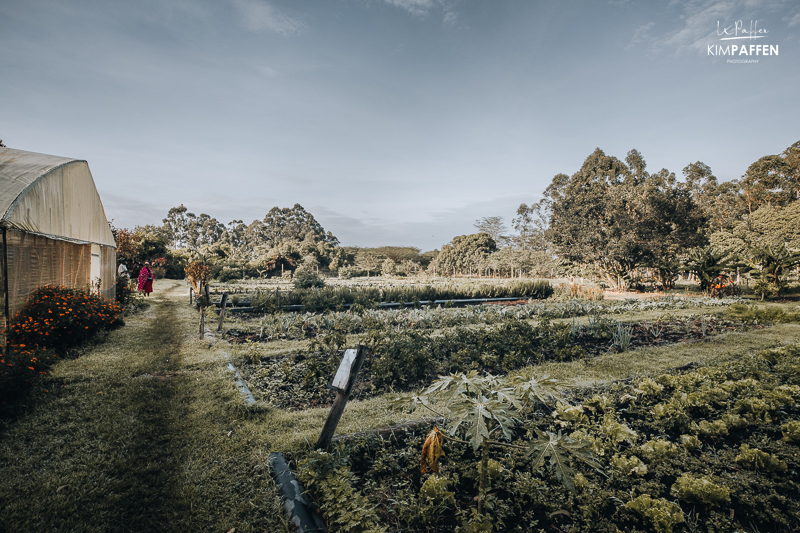 On the wildlife course, you'll also learn how to minimize your impact on the environment while maximizing the enjoyment of your guests. For example, turning off the vehicle at a safe distance from an animal sighting to not disturb the animals too much, not approaching a sighting when the maximum amount of cars is reached, or explaining guests the importance of not littering and collecting litter we find in nature. We take nothing but photos & litter, we leave nothing but footprints, and kill nothing but time!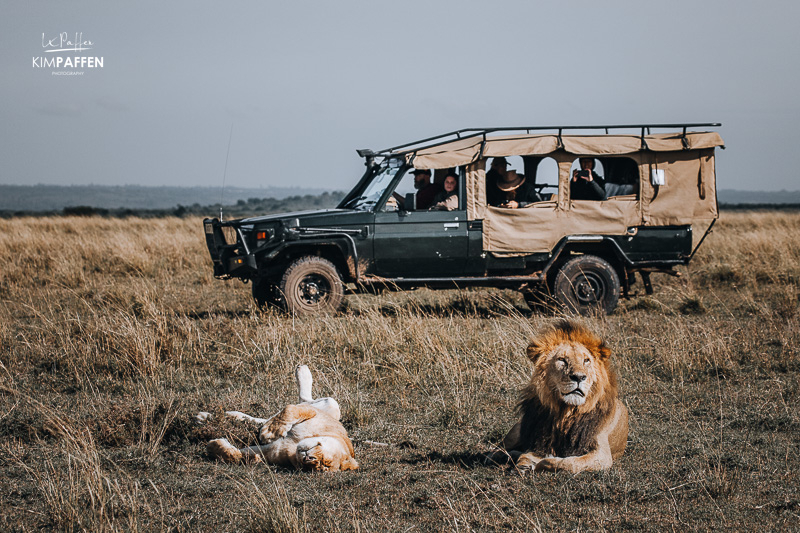 3. Prime location in the Maasai Mara
If you have the chance, opt for a 35-day or 55-day field guide training in the Maasai Mara in Kenya. The Mara Training Center is located on the banks of the Mara River in Enonkishu Conservancy, where wildlife and the Maasai tribe co-exist.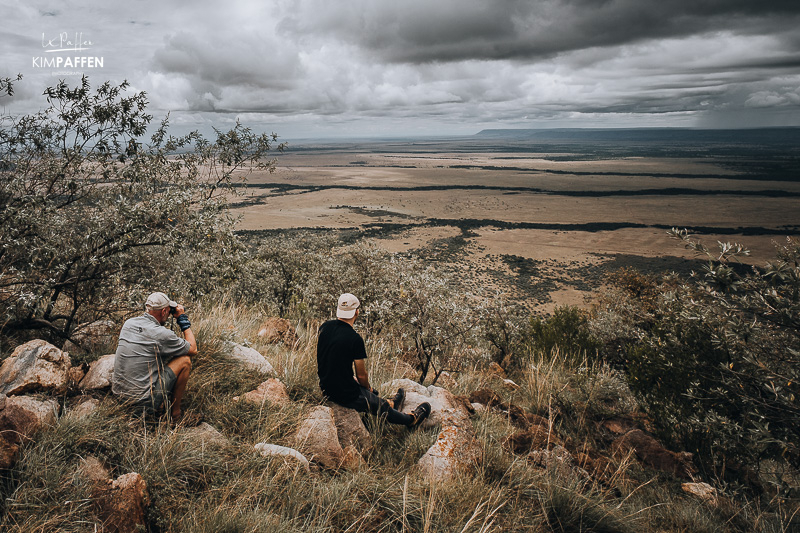 Chalets in the unfenced Mara Training Camp
This safari guide course in Kenya might be a bit more expensive than the courses EcoTraining offers in South Africa and Botswana, but therefore, you are staying in an unfenced camp on a prime location in the magical Maasai Mara in comfortable chalets with an outdoor terrace where the friendly staff makes sure your room is clean, beds are made, and laundry is done.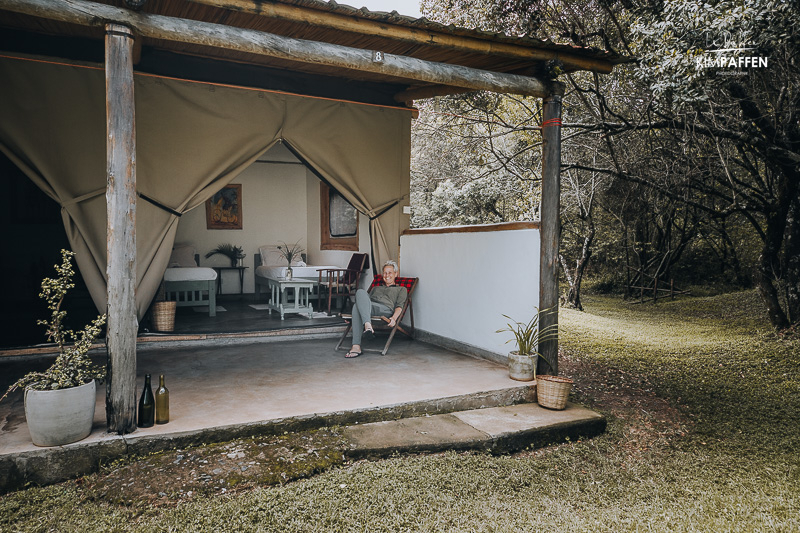 The chef cooks 3 fresh meals per day, including fruits and vegetables straight out of their own Shamba (vegetable garden). There's also no need to bring your own shampoo, conditioner or shower gel. All naturally made soap products are provided.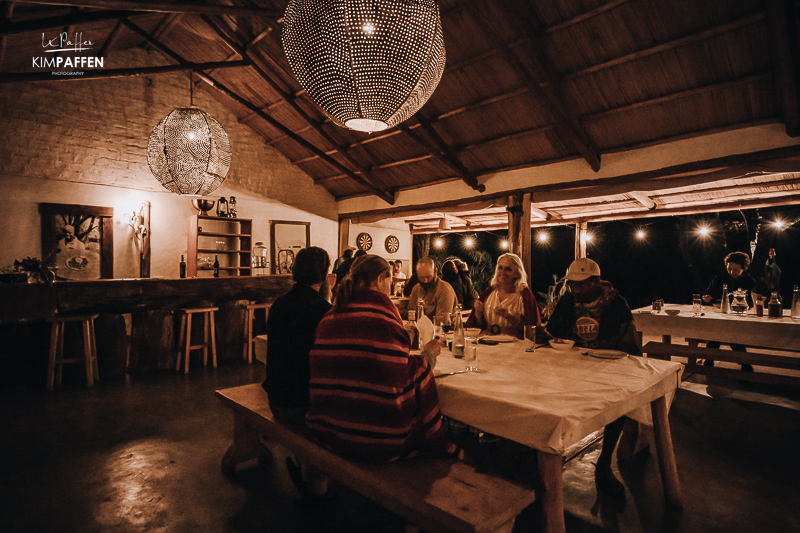 Animals in the Greater Mara Ecosystem
The Enonkishu Conservancy is part of the Greater Mara Ecosystem and covers an area of 5.928 acres where you can find amazing flora and fauna with over 50 species of mammals and 350+ bird species. The Enonkishu area is home to the Big Five game animals: lion, leopard, white rhino (at the Rhino Sanctuary), elephant, and buffalo.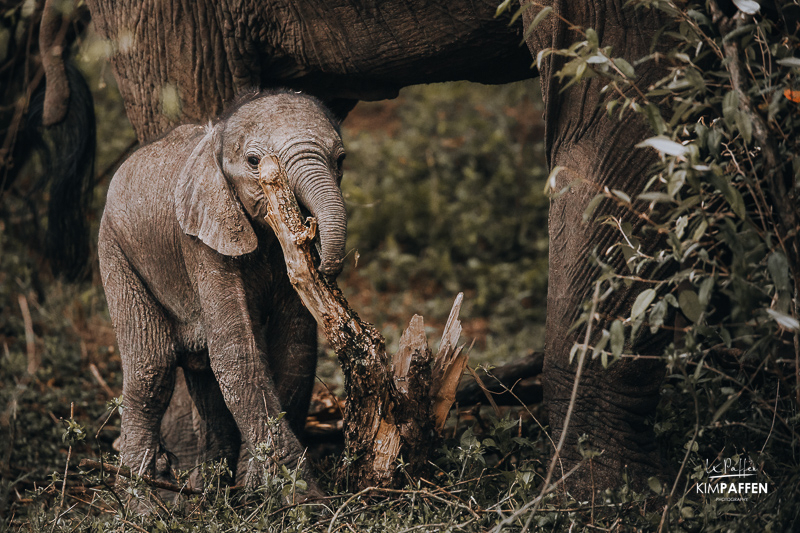 Luckily, the course is not just about the Big Five, which is a hunting term after all. Even the smallest creatures - like Dung Beetles - play an important role in the ecosystem and during the course you'll learn to appreciate every single organism and the interconnectedness of this all.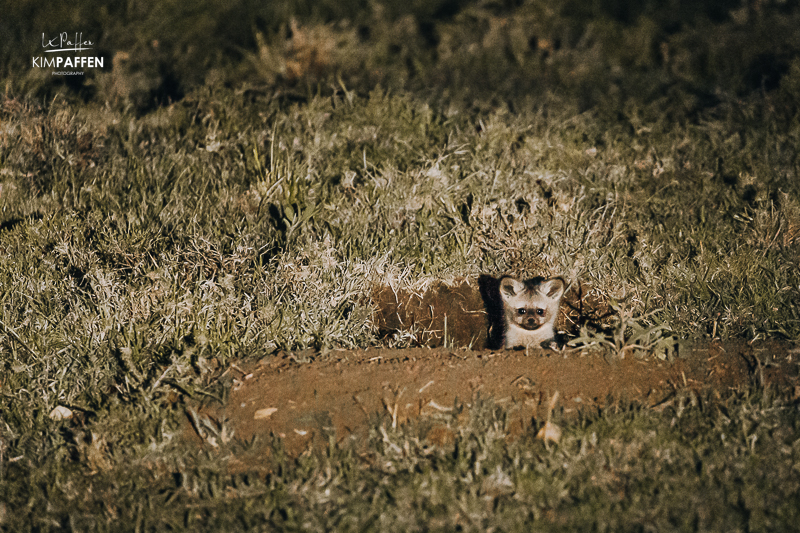 On the above image you see a little bat-eared fox spotted on a night drive in Enonkishu Conservancy.
In the Masai Mara, you will find many other interesting animals like topi, Thomson's and Grant's gazelle, cheetah, eland, impala, hippo, hyena, giraffe, and zebra.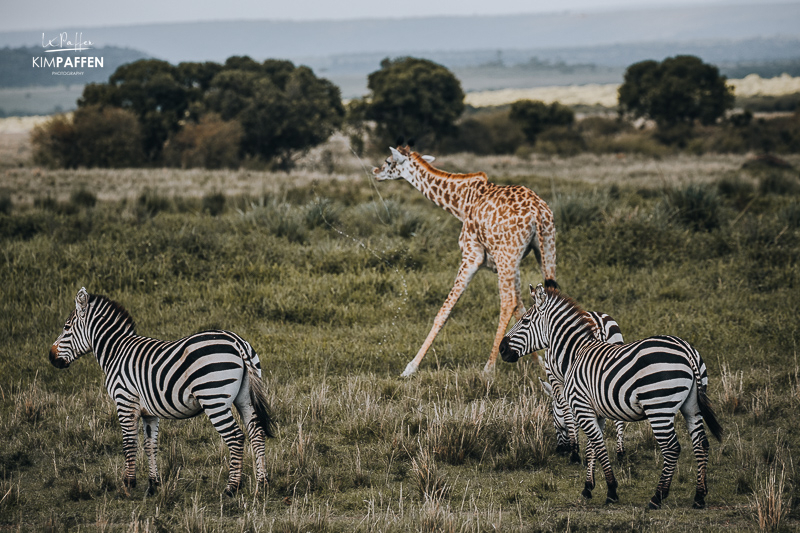 And not to forget about all the beautiful flowers, plants and trees!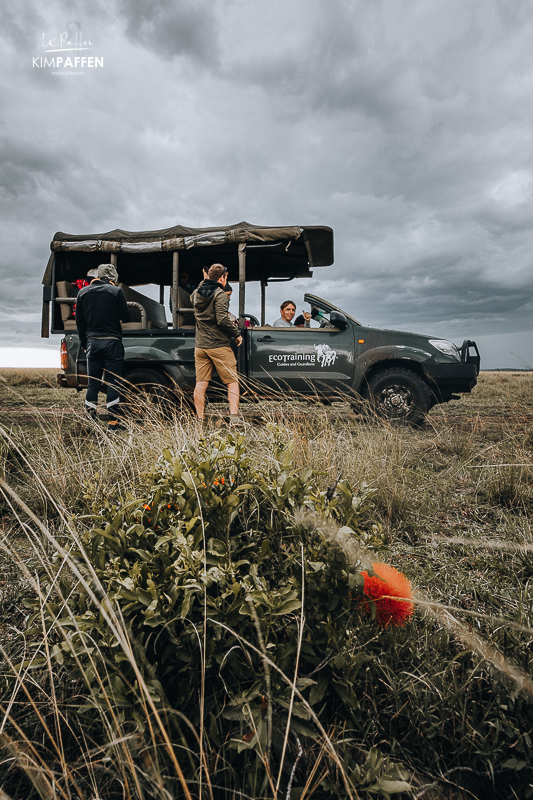 If you visit the Masai Mara National Reserve during the time of the Great Migration in East Africa, you might be lucky to see a Mara River crossing. The Maasai Mara is a world-class wildlife viewing area and never disappoints.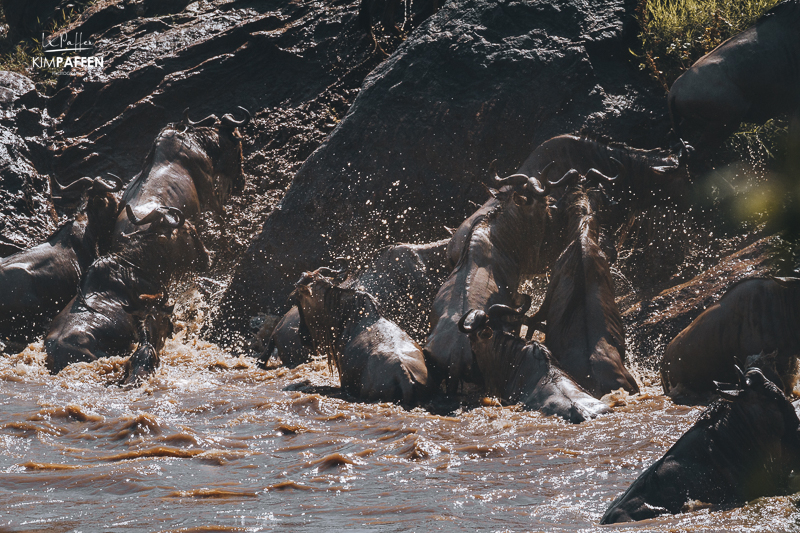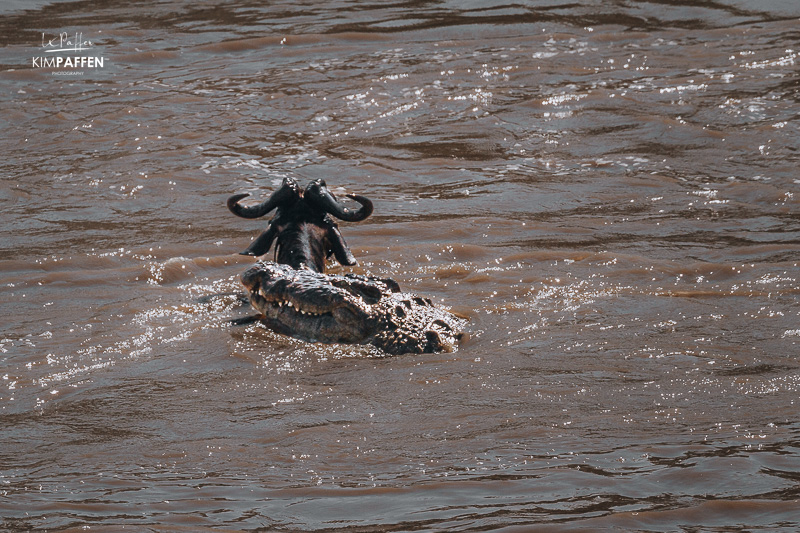 4. Enhance your knowledge and understanding of African wildlife
A safari guide course or wildlife training program will teach you about the various species that inhabit the African bush, their behavior and habits, and how to identify them. You will not only learn about mammals, but also fish, amphibians, arthropods, reptiles and birds.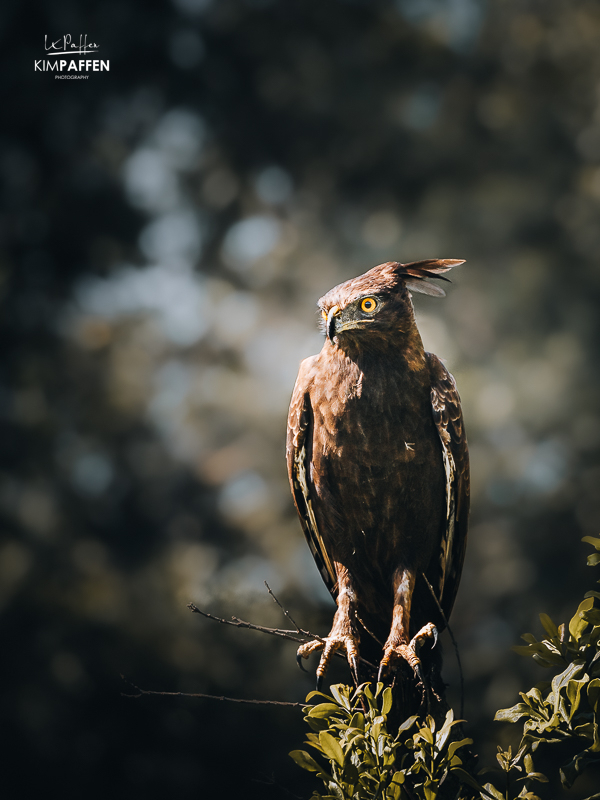 You'll also learn about the ecosystems and environments in which they live, and how to interpret animal tracks and signs - like spoor, dung, and territorial identification.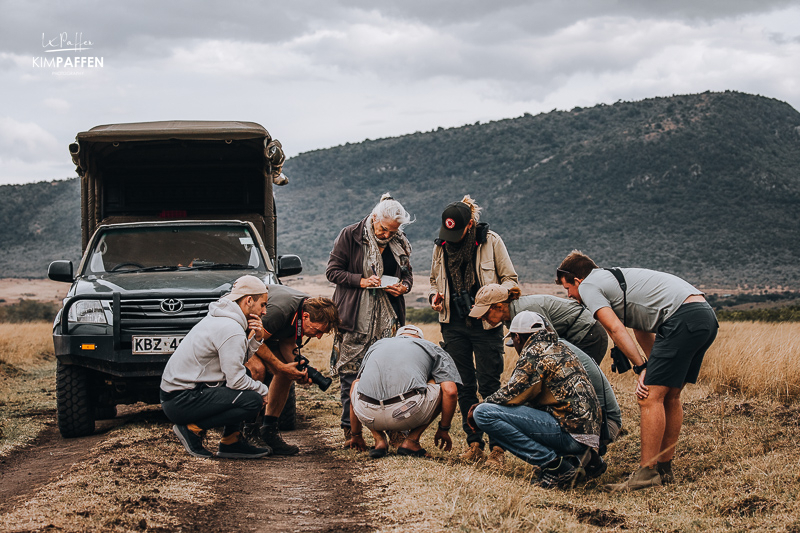 Other important subjects are the understanding of geology, ecology, weather and climate, biomes, botany and grasses, and historical human habituation.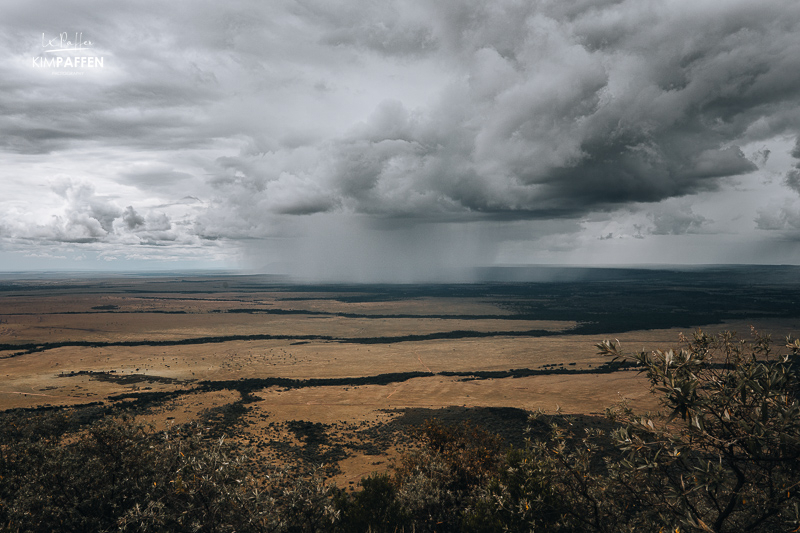 5. Develop valuable skills
In addition to gaining a deeper understanding of African wildlife, a wildlife course will teach you valuable skills such as how to plan and lead safaris in an ethical way, how to navigate and orient yourself in the bush, how to communicate with guests, and conservation management. You will also learn to identify star constellations and planets.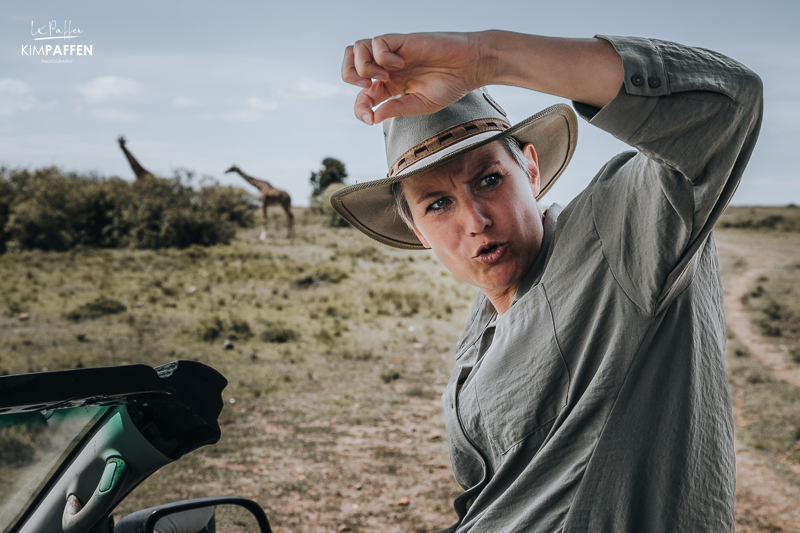 Dreamed of driving a game drive vehicle in the Maasai Mara yourself? Learning to drive a 4X4 is part of the course too, including using a High Lift Jack safely, radio-procedure on safari, and spotlighting techniques for night drives as well as vehicle positioning to give your guests the best possible view.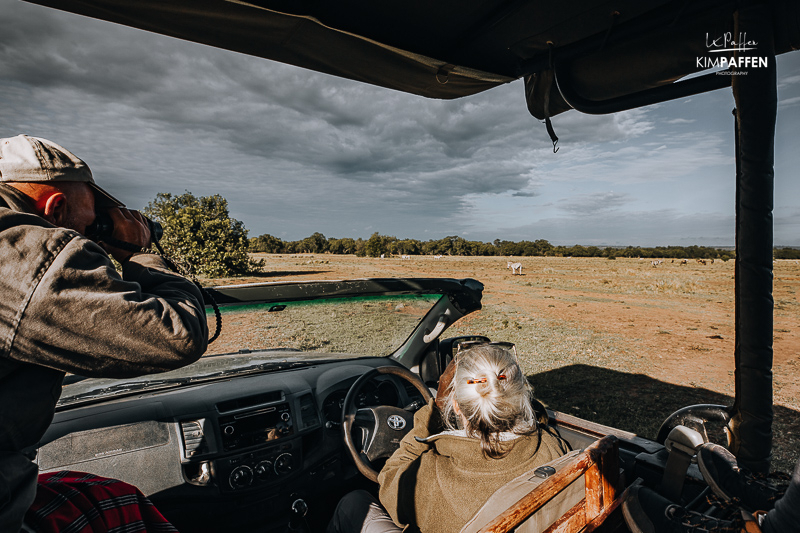 After extensive training and successful completion of the theoretical and practical exam, you are allowed to conduct guided game drives for guests in a limited geographical area (in dangerous and non-dangerous game areas).
6. Extraordinary wildlife sightings
Because you're staying in the Maasai Mara for at least a month, you're able to spend more time at sightings - observing and interpreting what you see. The charm of this kind of 'slow travel' is having the opportunity to follow individual stories of the animals living in the bush.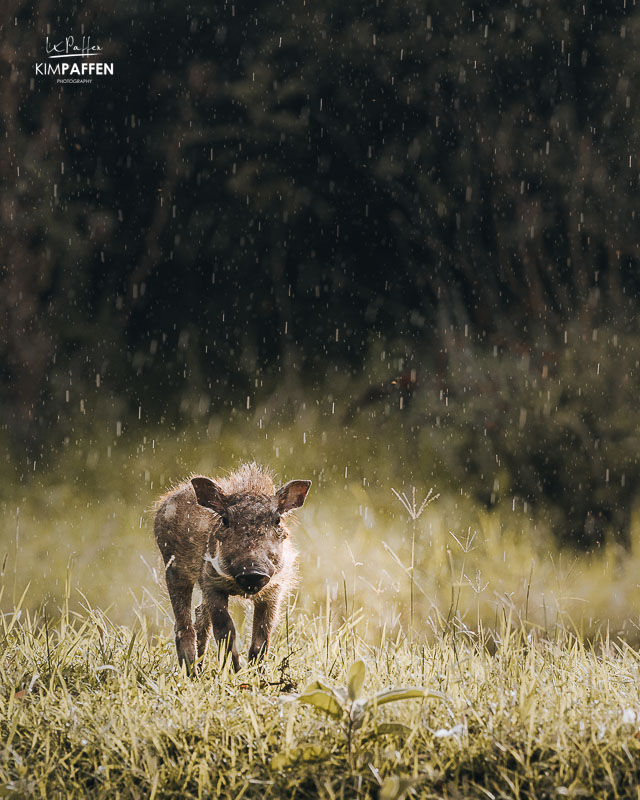 Kisaru, the famous cheetah mom
A few of the most special sightings we had were the ones of Kisaru, a famous cheetah mom that gave birth to 4 cubs on the grounds of Enonkishu Conservancy.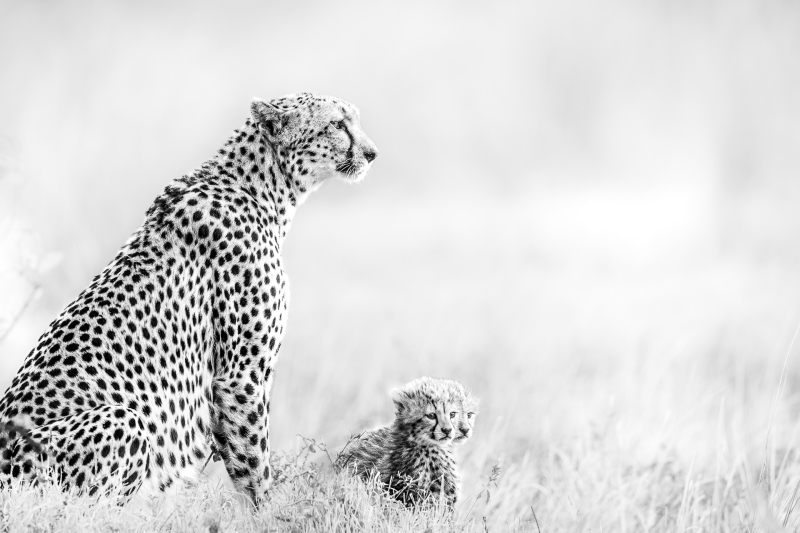 We saw her with 4 cubs when she first showed her newborns to the world. Sadly, we also saw her being chased by hyenas and eventually losing 2 out of 4 cubs. Nature can be brutal sometimes, but that is part of the bush.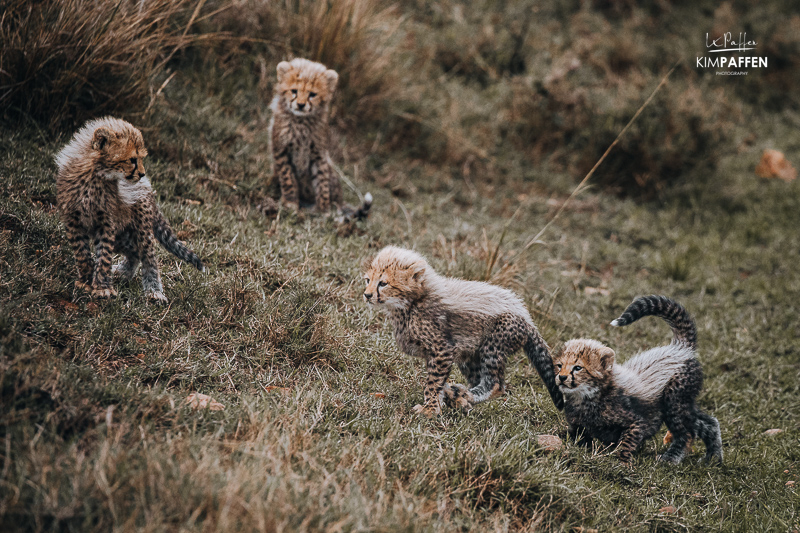 Sankai Lion Pride in Lemek
Another impressive sighting was seeing the 4 dominant male lions of the Sankai pride in Lemek Conservancy, which was absolutely fantastic as they decided to walk in the direction of our game drive vehicle and have a rest in front of the car.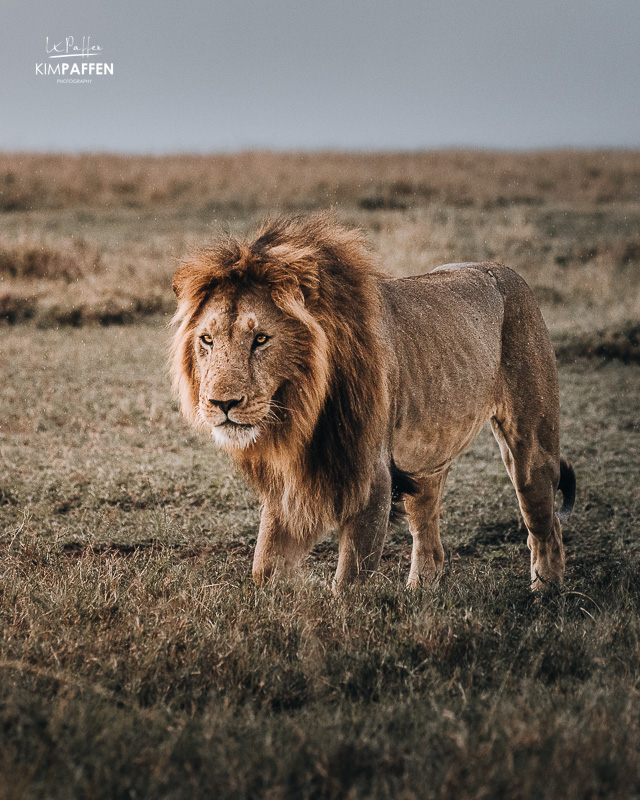 More special sightings in the Mara Conservancies
Other specials were seeing two jackals chasing a newborn warthog and ripping it apart, mating lions, a new born giraffe, playful lion cubs, a mara river crossing in the Masai Mara National Park, baboon spiders coming out of the hole, enjoying hippos at the hippo pool, a leopard in a tree while feeding on a Thomson gazelle, and much more. You just have to experience it for yourself! Every sighting is unique, whether it are big or small animals.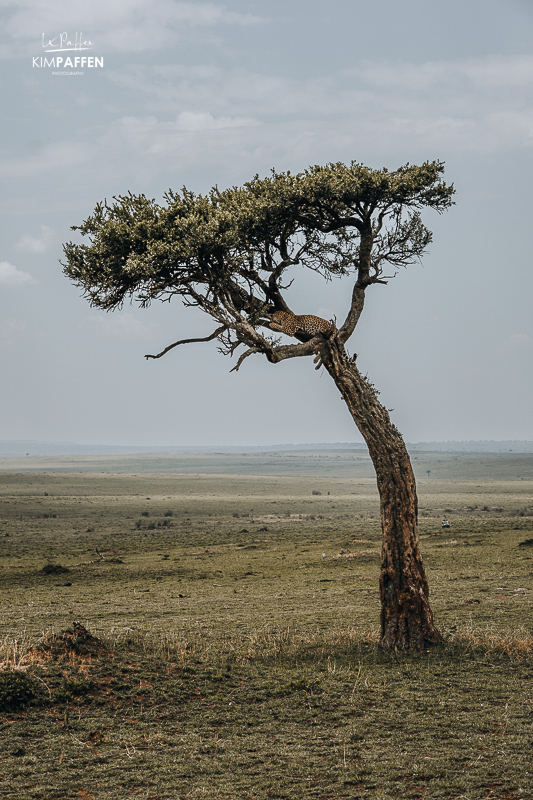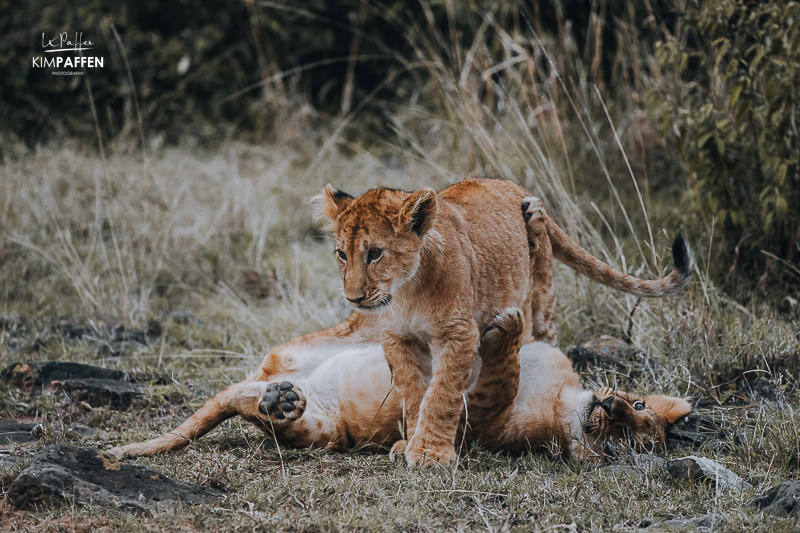 7. Wildlife photography in the heart of the bush
In this busy world, we live in, I use my photography as an anchor to slow down and mindfully connect to nature by observing and capturing our natural world from the heart. I often experience a moment even more deeply through my lens.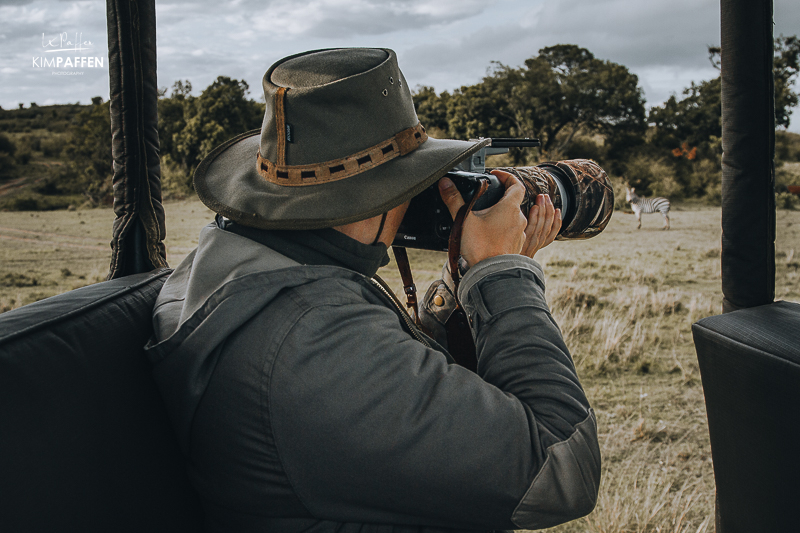 Do you love wildlife photography? On this wildlife course, there's enough time to photograph the flora and fauna around you and I highly recommend bringing your camera gear.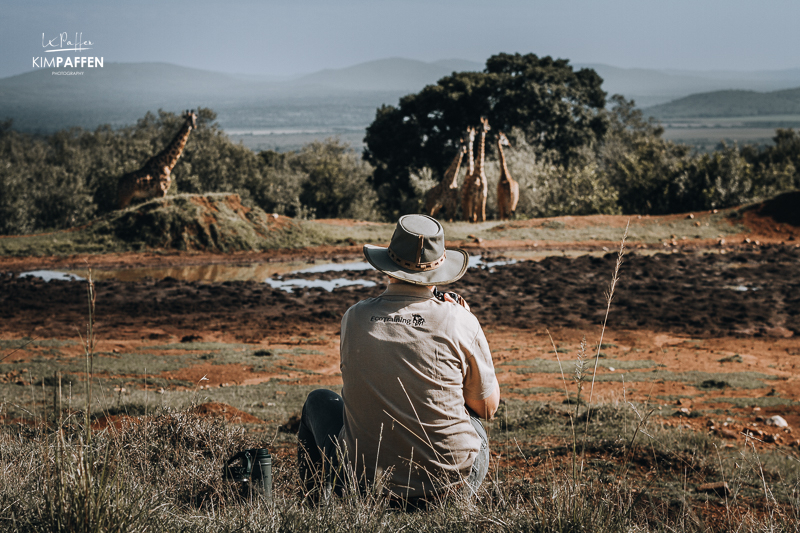 8. Endless savannah plains with iconic trees
The landscape is partly what makes the Maasai Mara so special! You got to love these endless savannah plains with herds of grazing zebra, wildebeest, and other ungulates, while these iconic desert date trees pop up on the horizon.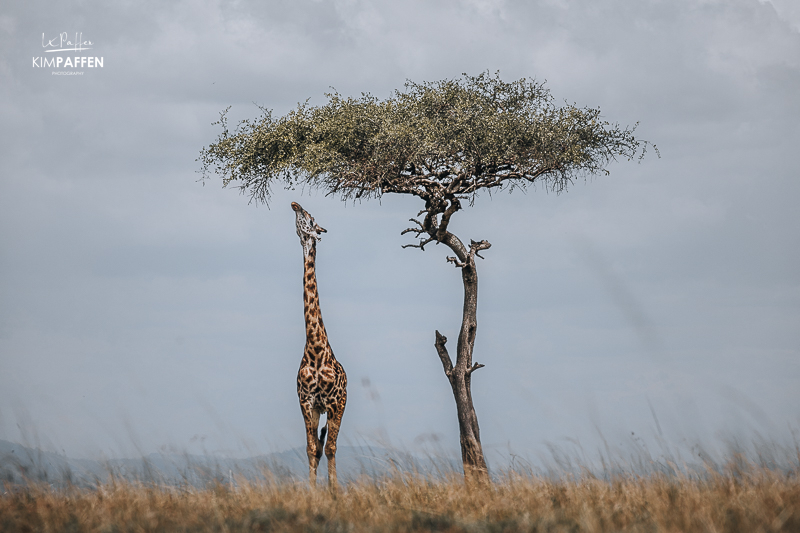 When the sun starts to set, the trees turn into beautiful silhouettes with dramatic clouds building up, while the sky changes in the purple-orange colors of the setting sun. If you're lucky you can even find a giraffe silhouette under the Balanites Aegyptiaca. This is Africa!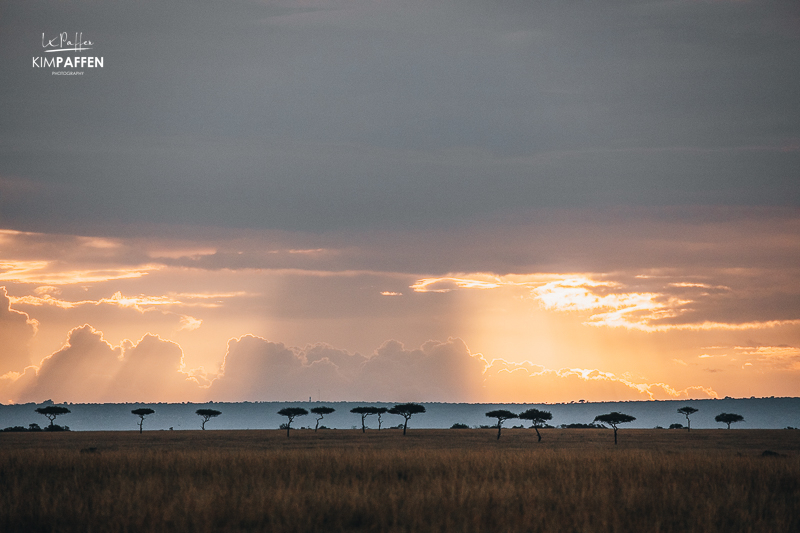 9. Walk with rhinos
On the grounds of the neighboring Ol Choro Oiroua Conservancy, you can find a Rhino Sanctuary. These white rhinos are heavily protected by rangers 24/7. During the course, you have the opportunity to spend time with these endangered animals and observe the rhinos on foot from up-close. Note that these rhinos roam freely and that there's NO padding or whatsoever allowed. It's called a rhino sanctuary because they simply need to be protected by rangers every minute of the day in order to survive. The sad truth!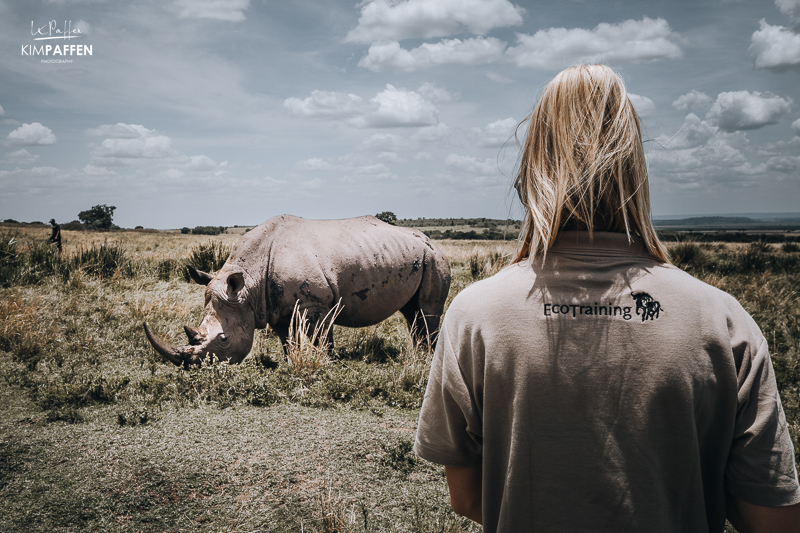 10. Cultural immersion: get to know the Maasai
A safari guide course in Kenya's Maasai Mara is not just about learning about the flora and fauna of the region - it's also an opportunity to learn about the culture and history of the people who call Africa home. You'll have the chance to interact with local Maasai communities and learn about their traditions, customs, and way of life.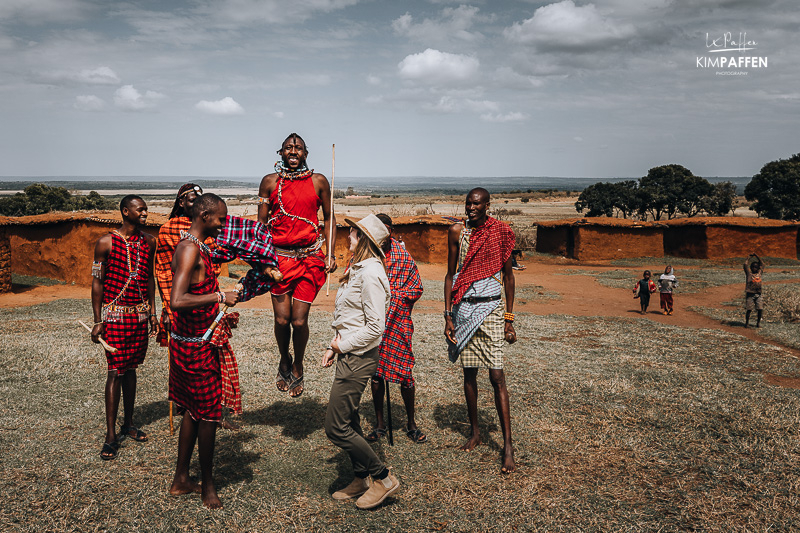 In Enonkishu Conservancy, the Maasai co-exist with the wilderness. On game drives, you often see them with their cattle while other members of the Maasai community are employed in the Mara Training Center or in the neighboring lodges, like House in the Wild. It's a nice chance to get to know them.
You can also visit a maasai village where you can experience how the Maasai tribe lives, how they dance, and make fire! On Sunday, you have the opportunity to visit a local Maasai market in Aitong.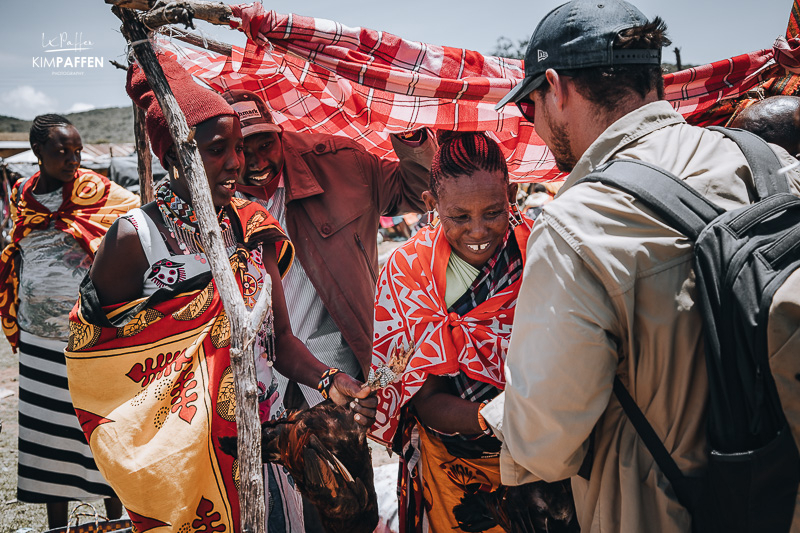 11. Spend free time at the swimming pool
The Mara Training Center is part of the Wild Hub. Apart from the EcoCamp where you will be staying, there's a place near the river where you can find a swimming pool with sun loungers. It's a nice place to relax or to learn for your upcoming tests. It's also a place where you can watch many birds in the surrounding garden or in the trees near the banks of the river.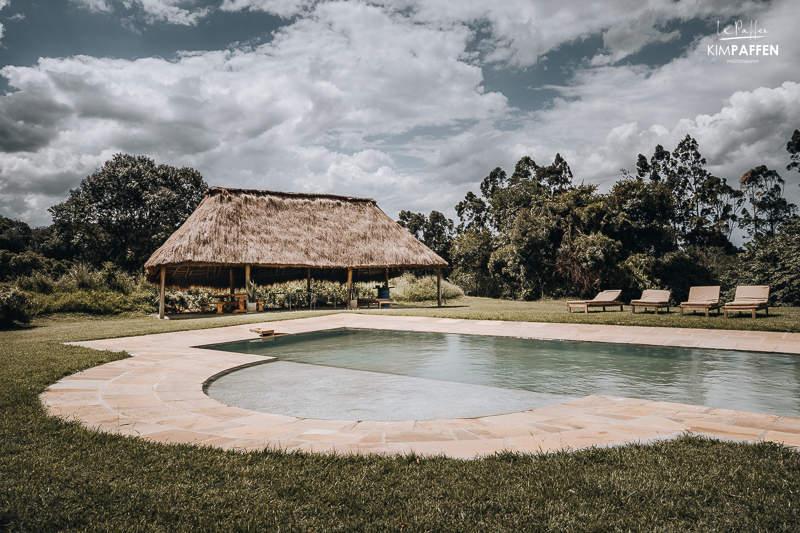 12. Career opportunities in the African tourism industry
Completing a (professional) field guide training or wildlife course can open up a wide range of career opportunities in the tourism industry, both in Africa and beyond. You could work as a safari guide, leading tours and helping guests spot and identify wildlife, or you could work as a conservationist, helping to protect and preserve African wildlife and their habitats.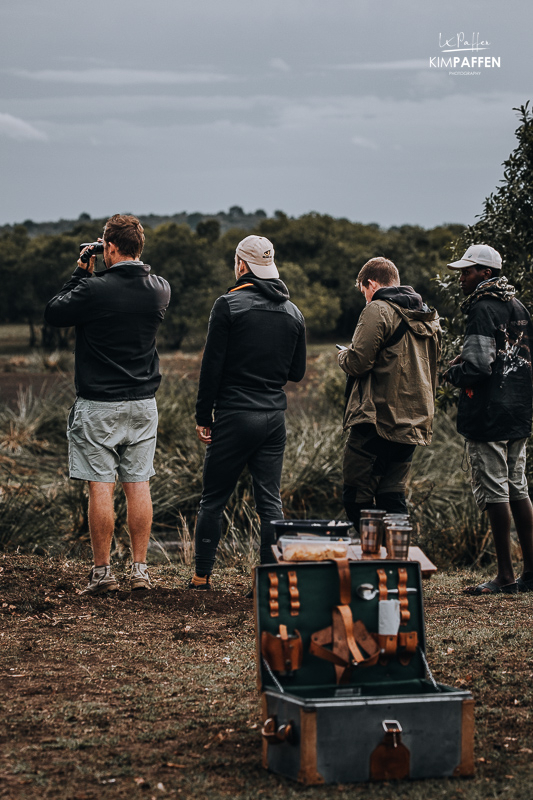 However, safari guide training courses are not only available for people wishing to enter the safari industry, but for anyone who wants to learn more about guiding or increase their knowledge of the African wilderness. For those who do wish to pursue a career as a safari guide, you have the chance of obtaining an official FGASA qualification from the Field Guide Association of Southern Africa. After doing an online exam, and the practical assessments in the bush, I qualified as a so called 'Apprentice Field Guide - NQF2' and received my official FGASA certificate with a pass mark of 97%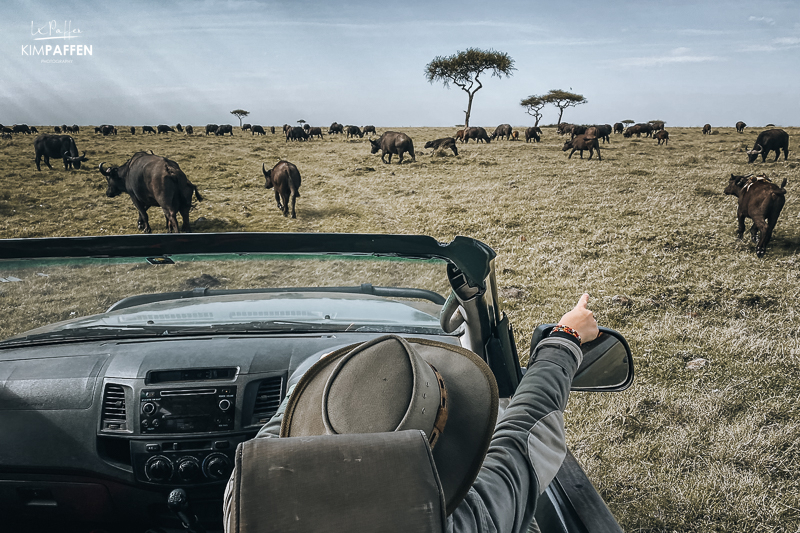 13. EcoTraining is the pioneer and leader in safari guide training
EcoTraining is the only training company that offers a wildlife course in the Maasai Mara. You can't go wrong booking a wildlife training with this training provider as all of their english speaking trainers are highly qualified experts sharing the same strong love for everything nature.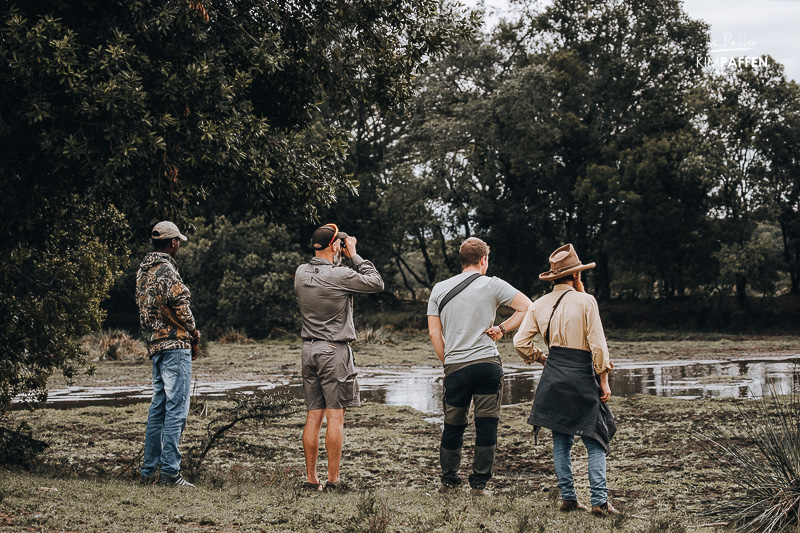 EcoTraining works together with Africa's top game reserves and has trained over 15.000 participants from various countries around the world. Apart from Kenya, they also offer courses in South Africa, Botswana and Zimbabwe.
14. Adventure of a life-time
Getting trained in the African bush offers a sense of adventure and excitement that you simply can't find anywhere else. From tracking big game on foot to spending the night in sleeping bags under the stars, you'll experience the thrill of being in the wilderness and exploring the unknown with like-minded people that share the same love for the African bush. This can be an incredibly rewarding and enriching experience that you'll never forget.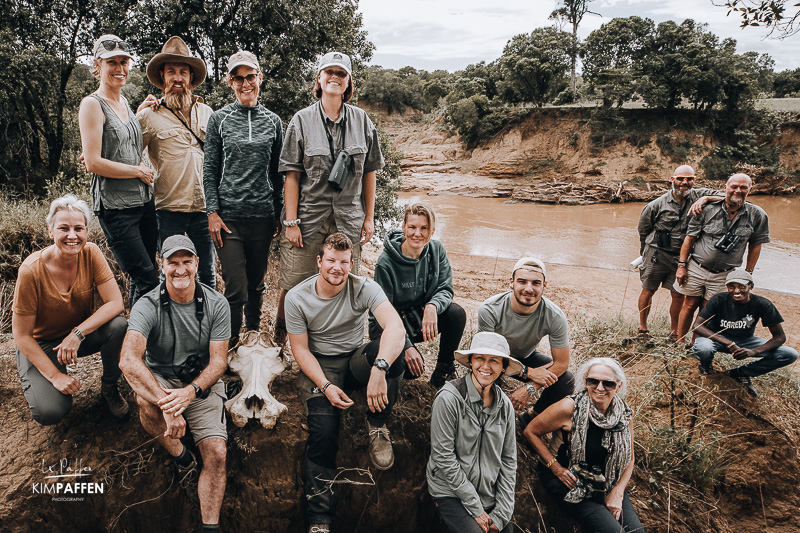 14 reasons to join a safari guide training in Kenya
A wildlife training program in the African bush offers a wealth of opportunities for personal and professional growth, as well as the chance to contribute to conservation efforts in one of the most beautiful and biodiverse regions on the planet - the Maasai Mara in Kenya.
To me, the Field Guide course was a soul-enriching experience that I highly recommend taking. Learn new skills, gain a deeper understanding of the natural world, and contribute and connect to nature in a meaningful way while developing connections with like-minded souls. Soon, I will publish an article on how a day on a field guide course with EcoTraining looks like. Stay tuned!
Enquire for a safari guide course with EcoTraining through me
As an official ambassador and partner of EcoTraining, you can book a course through me. Advantages are that I can help you with all related course questions to be well prepared for the course and I'm able to share my personal experiences with you as I did the 35-day Practical Safari Guide Course in Kenya and the 7-week online Field Guide course.
If you book through me, I can offer you interesting extras - including a zoom meeting - to make studying for your exam much easier.
Instagram story highlights of @ouplanetinmylens
Click on the image below to watch a few story highlights of my Field Guide course with EcoTraining in Kenya. I will add more images and videos in the near future, so make sure to follow me on Instagram @ourplanetinmylens.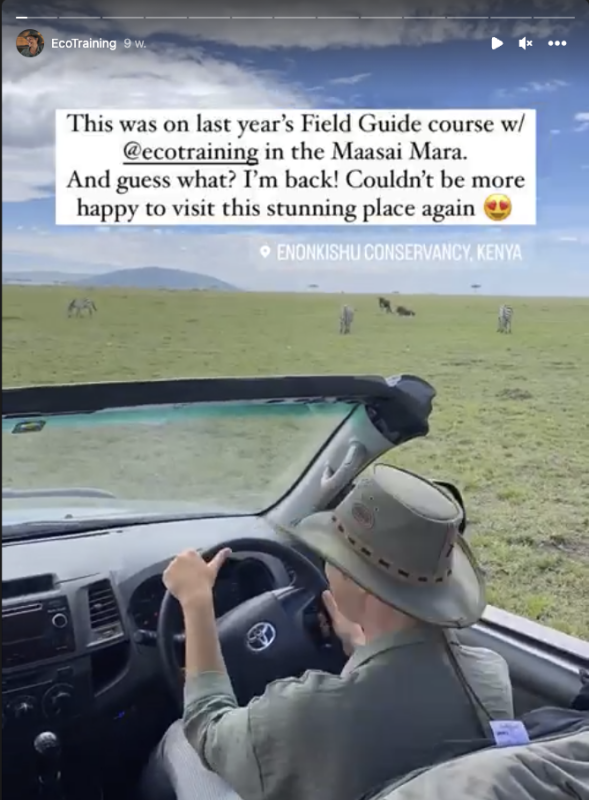 Video safari guide course in Kenya
Watch a short video of becoming a field guide course in Kenya here:
Summary of 14 reasons to join a field guide course
Reconnect to nature
Conscious alternative to a safari trip
Prime location in Maasai Mara
Enhance knowledge of African wildlife
Develop valuable skills
Extraordinary wildlife sightings
Wildlife photography in the heart of the bush
Endless plains with iconic trees
Walk with rhinos
Get to know the Maasai tribe
Spend free time at the swimming pool
Career opportunities in the Safari industry
EcoTraining is leader in Safari Guide Training
Adventure of a life-time
Do you have additional questions about these 14 reasons to join a safari guide training in Kenya or do you want me to assist you with booking a course? Fill in the form below or visit my page with all guide training and wildlife courses. I'm also available for a zoom call to answer all your questions.