Looking for the best place to stay at Lake Naivasha in Kenya? Look no further! On our recent safari in Kenya we found Chui Lodge, a hidden gem in the 18,000-acre Oserengoni Wildlife Sanctuary above the shores of the two lakes: Lake Naivasha and Lake Oloidien.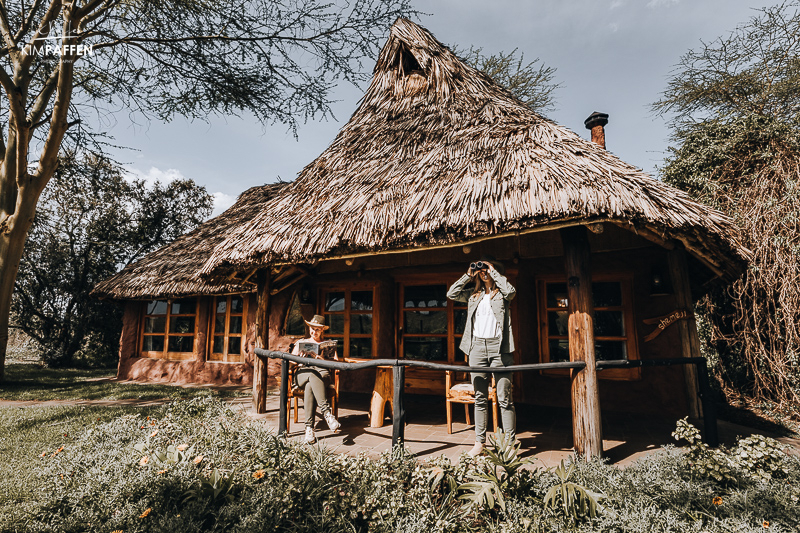 Lake Naivasha is a popular destination for tourists, who come to see the lake's abundant wildlife and enjoy many outdoor activities like a boat safari. The lake is home to over 1500 hippos and 400 species of birds, which makes it a haven for birdwatchers. In addition to its wildlife, Lake Naivasha is also known for its beautiful scenery.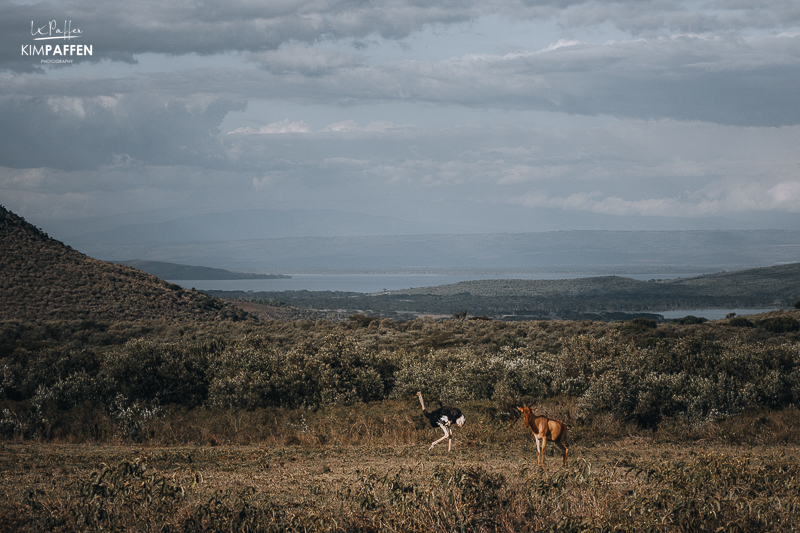 Where to stay at Lake Naivasha?
Chui lodge Oserian is named after the area's healthy leopard population and offers a peaceful getaway above the shores of Lake Naivasha in Kenya!
In this article, we share our experience at this hidden gem within a wildlife sanctuary and why Chui Lodge is the best place to stay in Naivasha.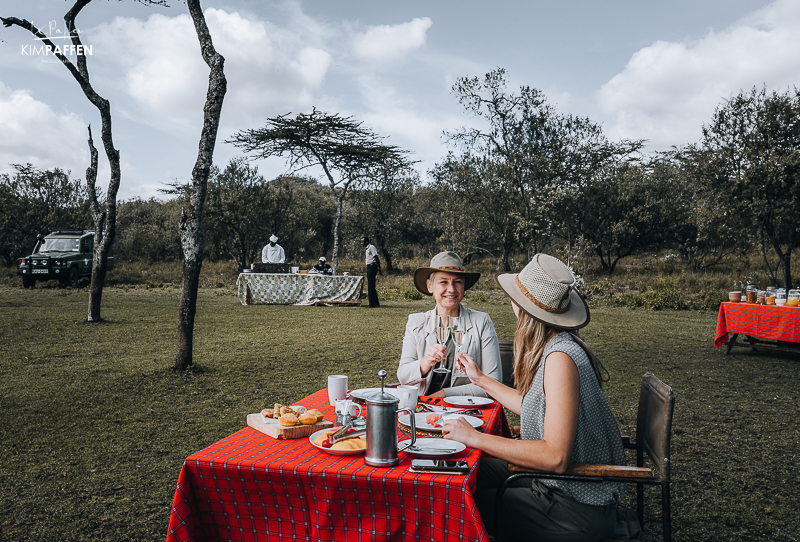 Perfectly located near lake Naivasha
Nestled in the Mau forest in the Rift Valley of Kenya, you can find Chui Lodge, Naivasha's best-kept secret. It's situated in the heart of the Oserengoni Wildlife Sanctuary above the shores of Lake Naivasha.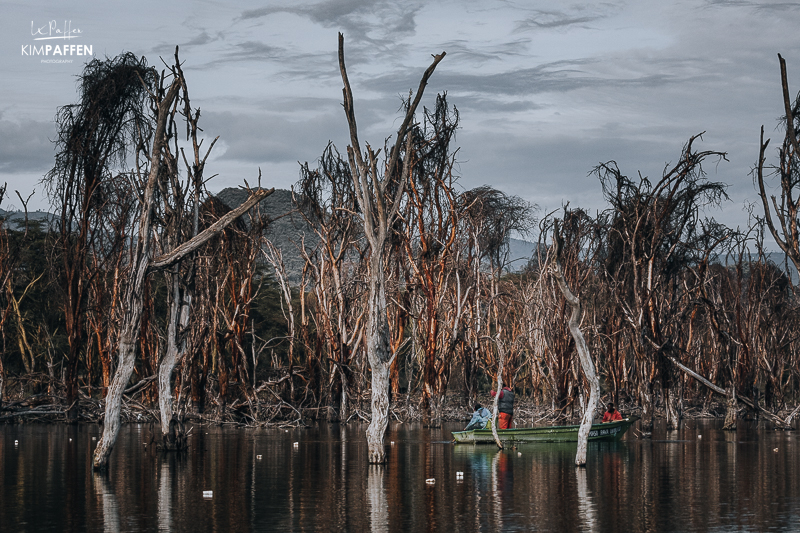 Lake Naivasha is a large freshwater lake located at an altitude of 1884 meters above sea level, which makes it the highest large lake in Kenya. It's popular for its high population of hippos and birdlife. From Chui Lodge, you can reach the lake within 20 minutes and i highly recommend doing a boat safari on Lake Naivasha.
 Chui lodge also offers a two-lake experience, where you not only visit Lake Naivasha, but also the connected volcanic crater lake, named Lake Oloidien.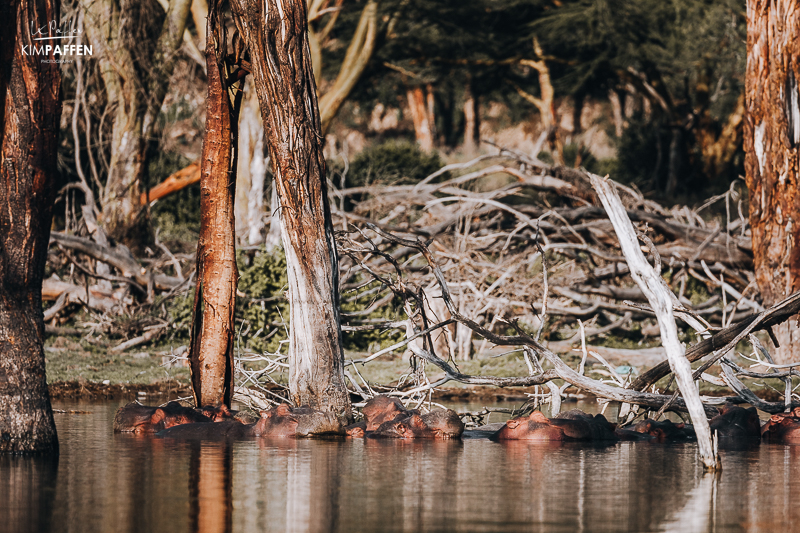 Chui Lodge is a 2.5-hour drive from Nairobi, the capital city of Kenya, or a twenty-minute flight from Nairobi. It's an easy drive from Nairobi and the road conditions are good, although the last stretch is a bit bumpier because of potholes.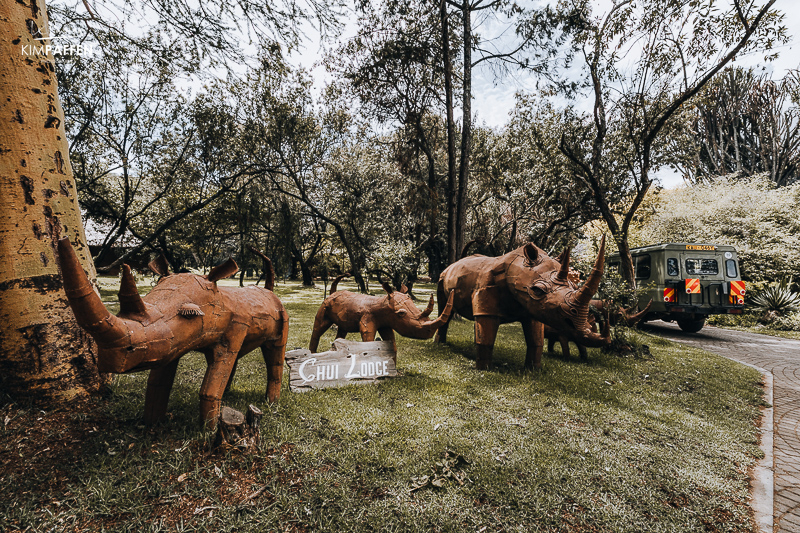 Spot wildlife in the Oserengoni Wildlife Sanctuary
The Oserengoni Wildlife Sanctuary surrounding Chui Lodge was created in the mid-1990s with the sole purpose of giving the resident wildlife a place of safety and refuge. To keep illegal cattle grazers out of the sanctuary and wildlife from straying into the farmlands, the sanctuary is surrounded by electric fences.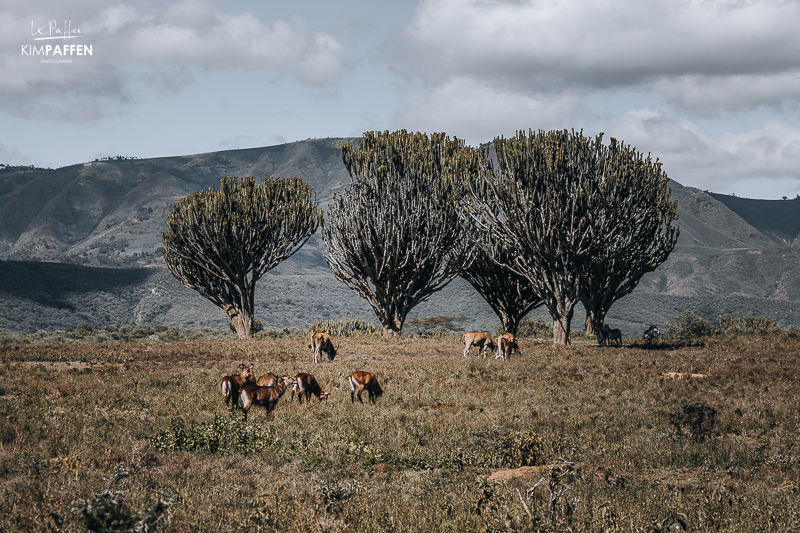 The wildlife is still able to move freely between the neighboring Hell's Gate National Park and the lake shore by way of wildlife corridors, which are areas that act as a safe transition zone for migratory animals. This stimulates constant movement throughout the localized ecosystem.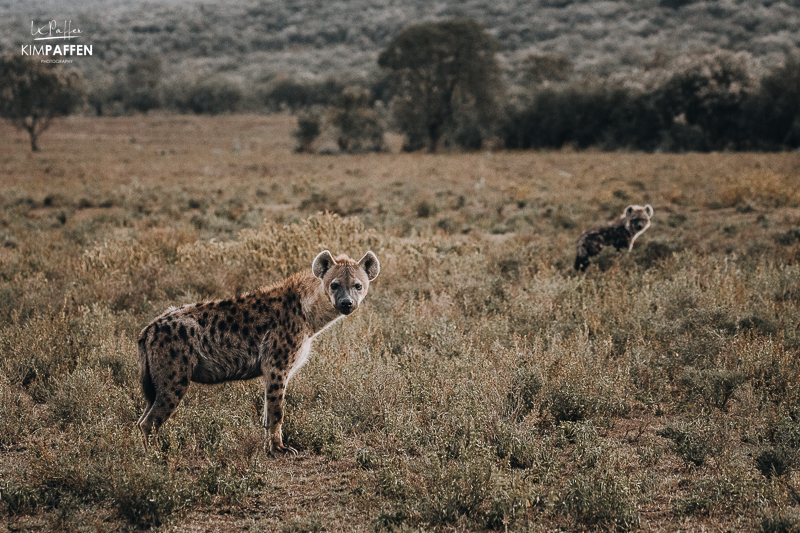 Within the private 18,000-acre Oserengoni Wildlife Sanctuary you can find over 50 mammal species including leopard, hyena, wildebeest, hartebeest, waterbuck, eland, Grevy's zebra, buffalo, Impala, dikdik and giraffes. Lions occasionally use the wildlife corridors but never stay too long in the area. The sanctuary also has various birds! Apart from the smaller birds, we spotted for example the African Fish Eagle, Somali Ostrich, Secretary bird, and vultures.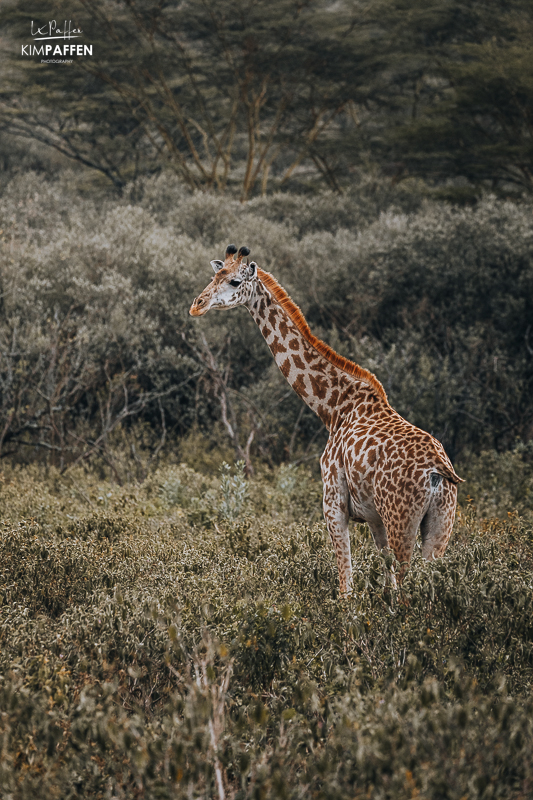 Oserian Two Lakes Experience with Chui Lodge
A lot of tourists traveling to Lake Naivasha don't know there is a second volcanic crater lake next to Lake Naivasha, called Lake Oloidien. For a few years now, the two lakes are connected due to the high water level.
The name 'Oloidien' means salty. Lake Oloidien was originally a freshwater lake connected to Lake Naivasha, but in the late 1990s, it became very salty, probably due to the lack of outlets for the water. This increase in salinity led to the death and migration of many animals and birds.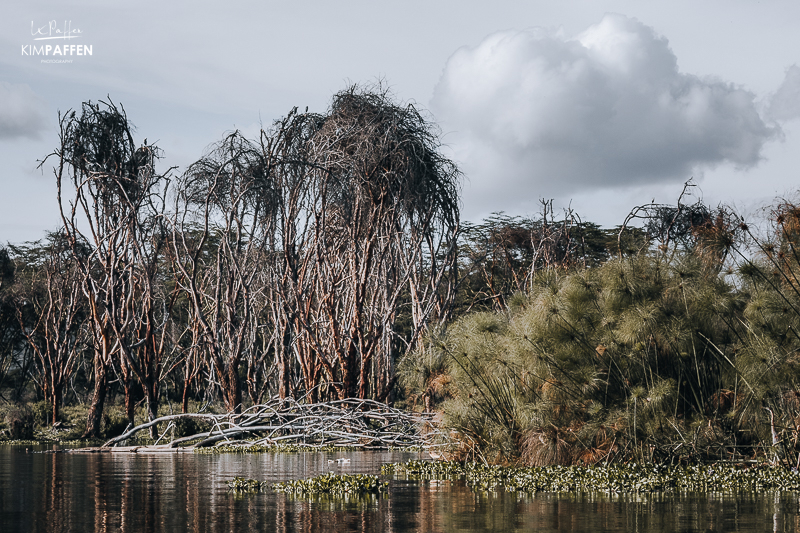 Despite this, the lake's high salt content was suitable for lesser flamingos, which made their home there until climate change caused the waters of Lake Oloidien and Lake Naivasha to mix, reducing the salinity of Oloidien and leading to the flamingos' disappearance.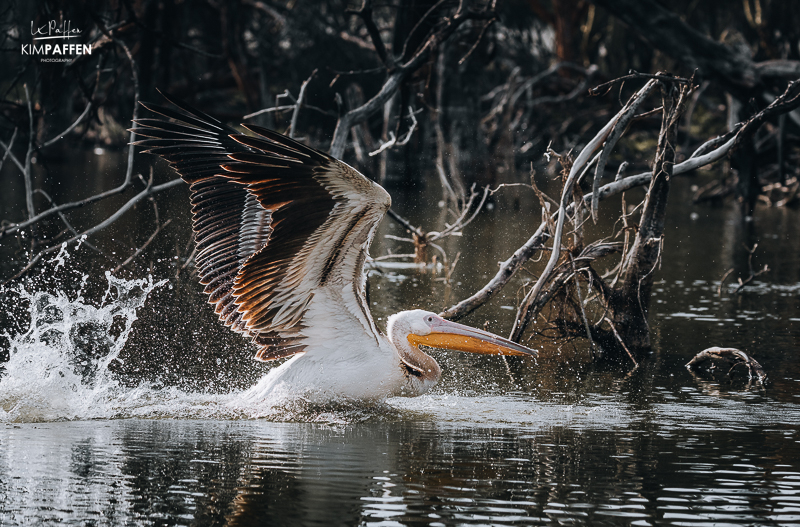 Although Flamingos disappeared, there is still a varied range of birds that can be observed when you visit the two lakes, like African fish eagles, cormorants, kingfishers, herons and pelicans. You will also find many hippos across the lake. The surrounding dead trees make it a picture perfect place to visit.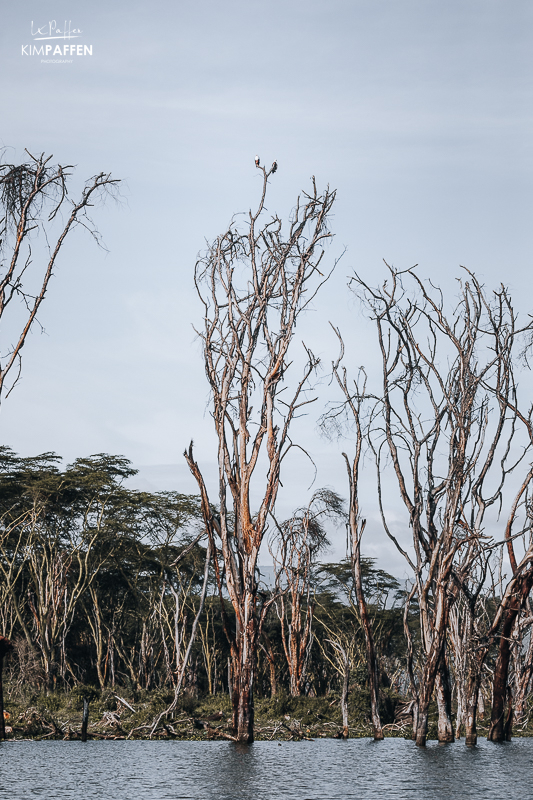 The best time to do a boat tour on the Oserian two lakes is in the early morning. Chui Lodge offers boat tours in a normal wooden boat or a speed boat. We enjoyed a 1.5-hour boat tour starting at Lake Oloidien and ending at Lake Naivasha.
After the boat safari on the two lakes, we were surprised with a lovely bush breakfast; a perfect morning around Chui Lodge.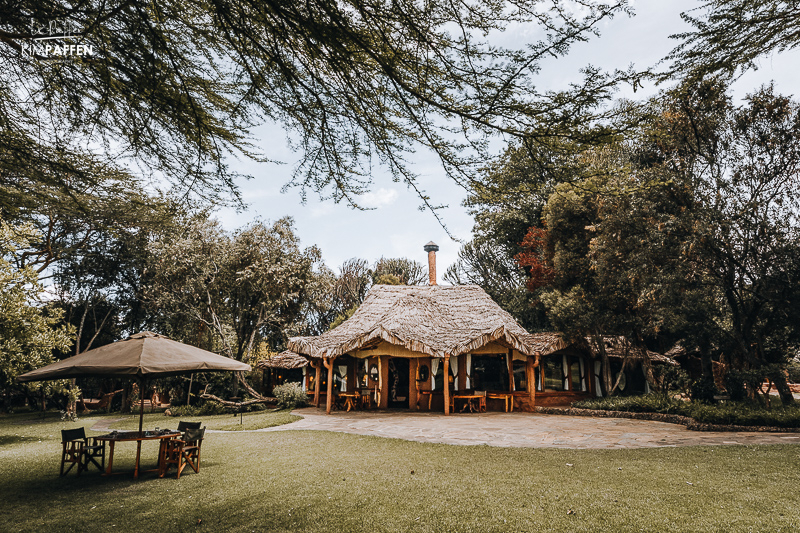 Chui lodge's luxurious cottages to feel at home
Chui Lodge has 8 luxurious, spacious cottages with a private veranda offering views of the Rift Valley escarpment and Wildlife Sanctuary. Each banda has an en-suite bathroom and is decorated with unique furnishings, including a four-poster king-size olive wood bed.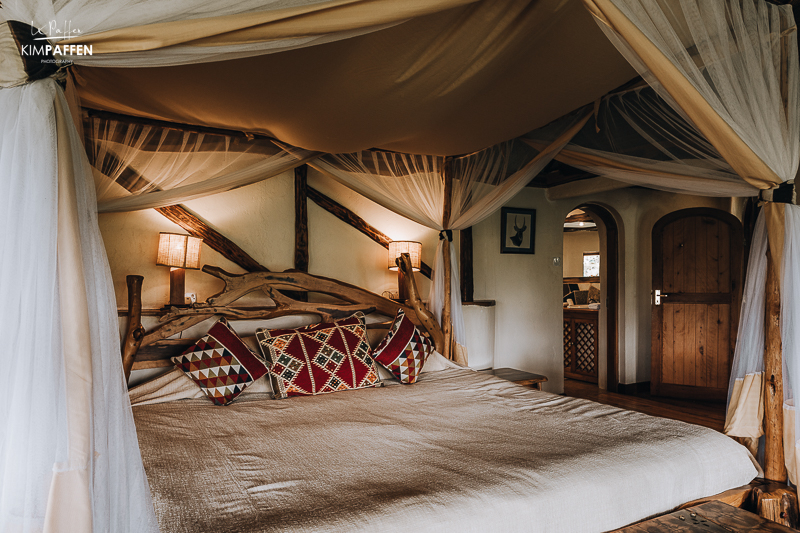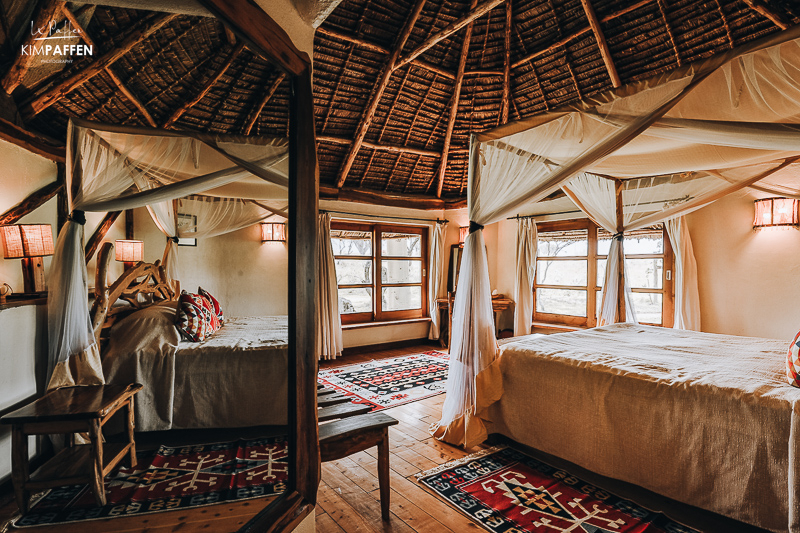 The cottages also have a cozy indoor fireplace and are equipped with a tea/coffee station and mini-bar that are restocked daily.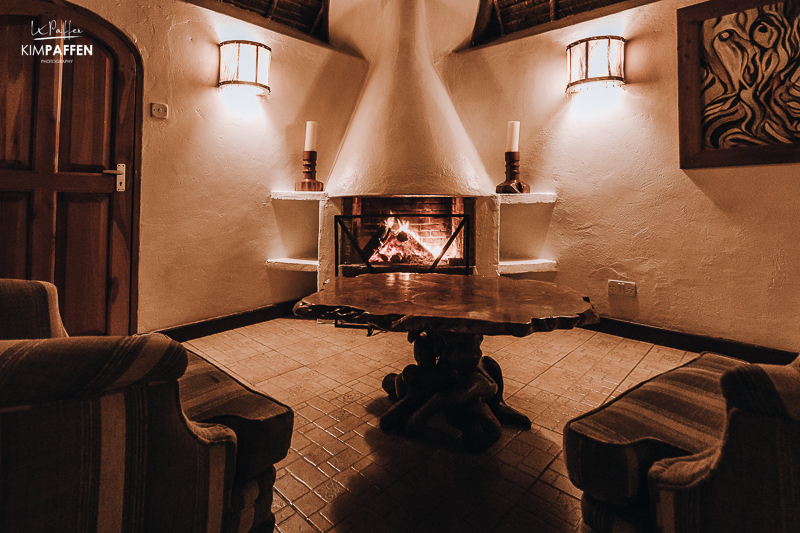 In addition to the standard rooms, Chui lodge has 3 deluxe rooms, which are larger and have their own lounge area. Some deluxe rooms also have an extra sofa bed. The deluxe rooms offer amore private view of the garden or the waterhole and the Rift Valley escarpment, including the Wildlife Sanctuary.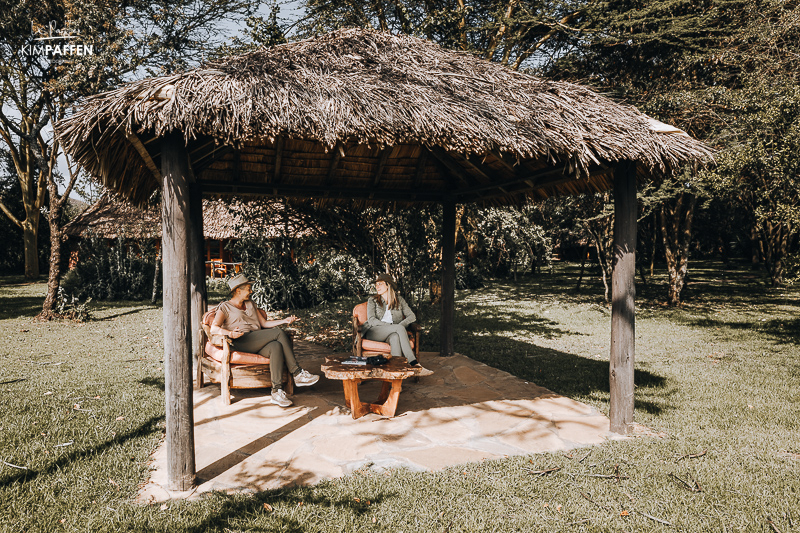 All rooms have a unique decor, making each room completely different from one another. The banda's are named after local families, which all have their own stories.
Serene place to come to rest in Naivasha
Chui Lodge in Naivasha was originally built as guest accommodation by the long-time owners of the neighboring Oserian flower farm. June Zwager built and designed the lodge with the help of local craftsmen using sustainable materials such as bush stone, acacia, olive, and leleshwa wood sourced from within the sanctuary.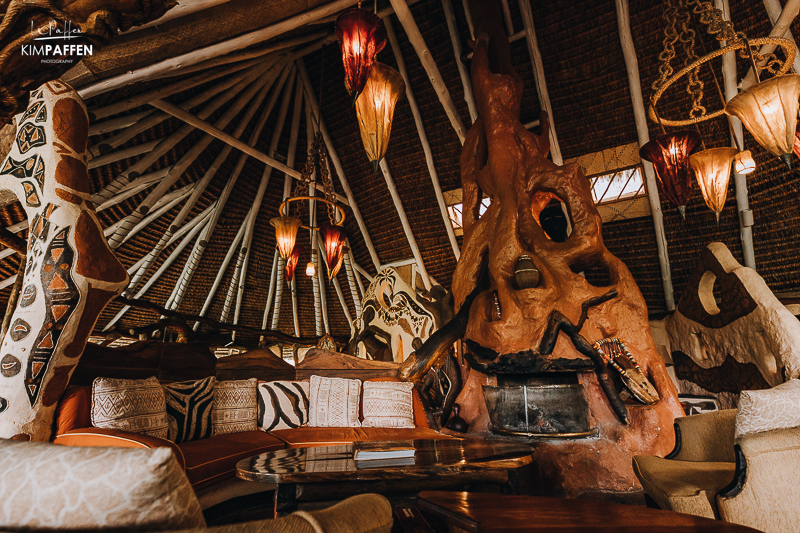 Its unique craftsmanship with curved and bent walls resulted in private dining nooks and cozy areas with a fireplace.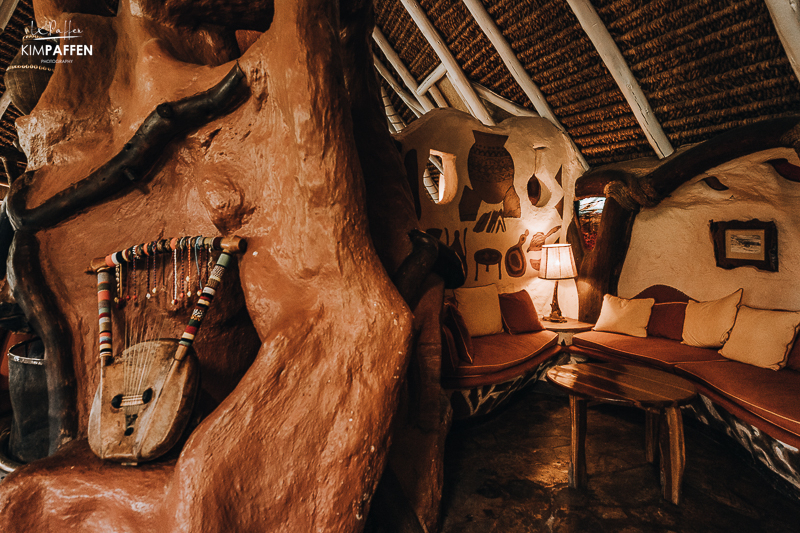 The intricate African carvings and murals, as well as African antiques and ochre-colored walls in the dining room, lounge, and bar, create a gallery-like atmosphere that invites guests of Chui Lodge to enjoy the beauty and culture of the region.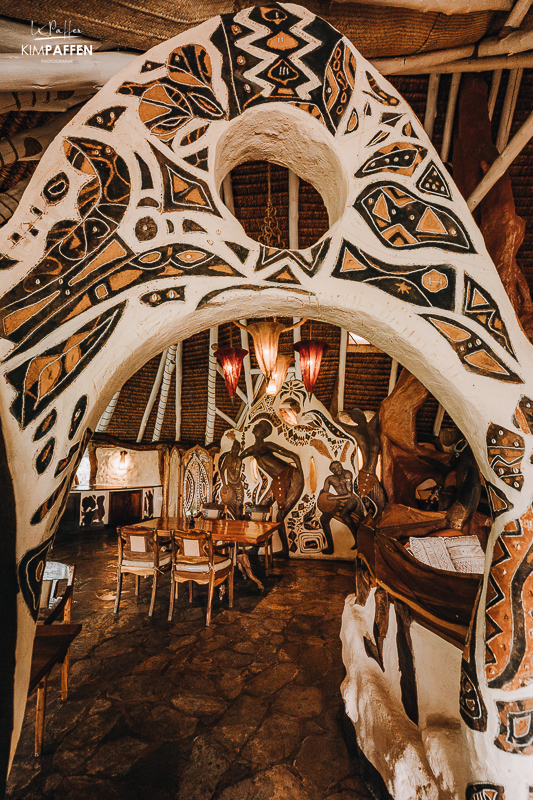 The main area and cottages are surrounded by a beautiful green garden characterized by lush greenery, colorful flowers, well-maintained paths, and lovely views.
Chui Lodge offers a peaceful getaway in the African bush, with plenty of space and privacy for guests.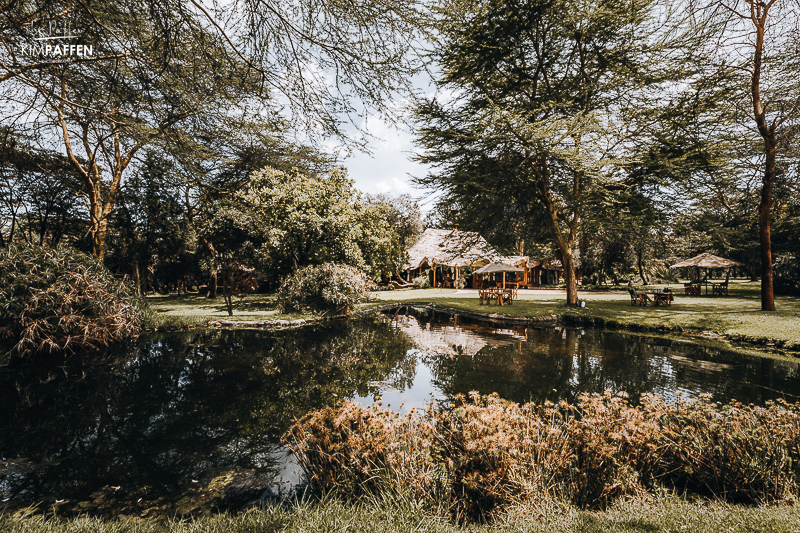 Wildlife viewing from your private patio
At Chui Lodge, wildlife comes very close to the lodge. While having lunch in the beautifully manicured garden or relaxing on our private patio, we had nice sightings of buffalo, giraffes, zebra, and eland drinking at the nearby waterhole.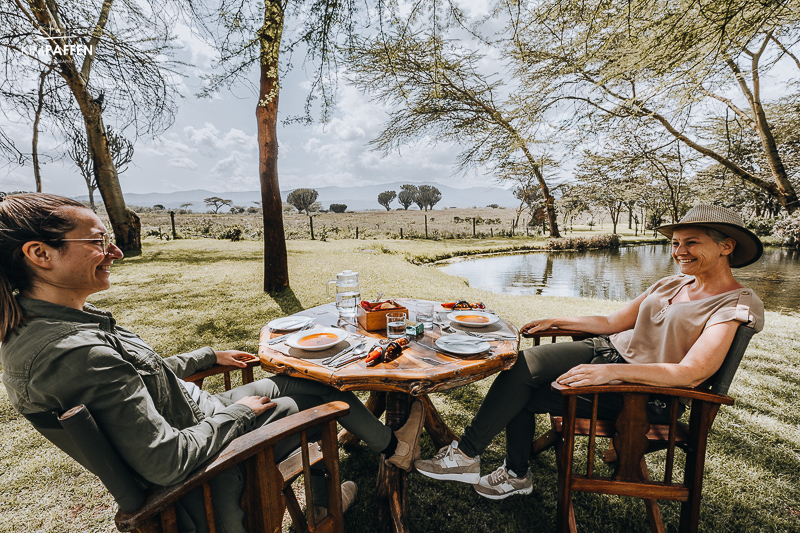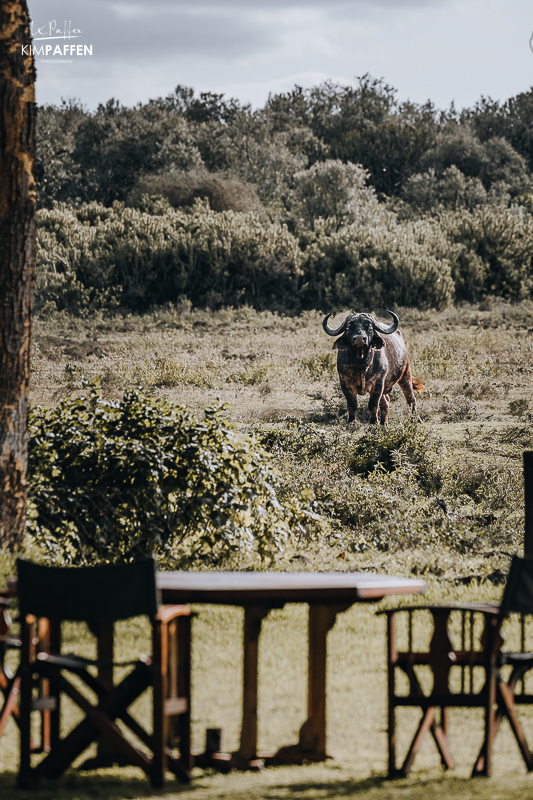 Apart from mammals, there are plenty of birds to spot and we even had a leopard tortoise visiting our patio. The leopard tortoise is part of the little five (or small five).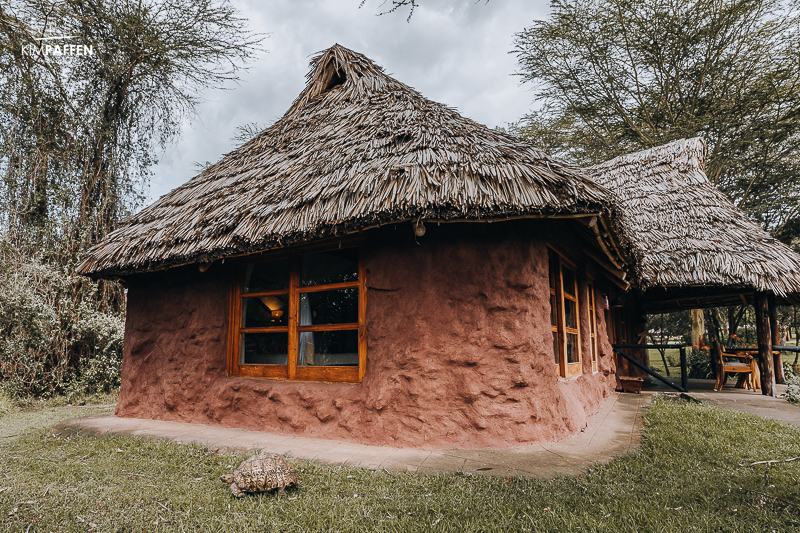 Heated swimming pool with a view
The lodge also has a large (heated) swimming pool with views of the waterhole and wildlife sanctuary.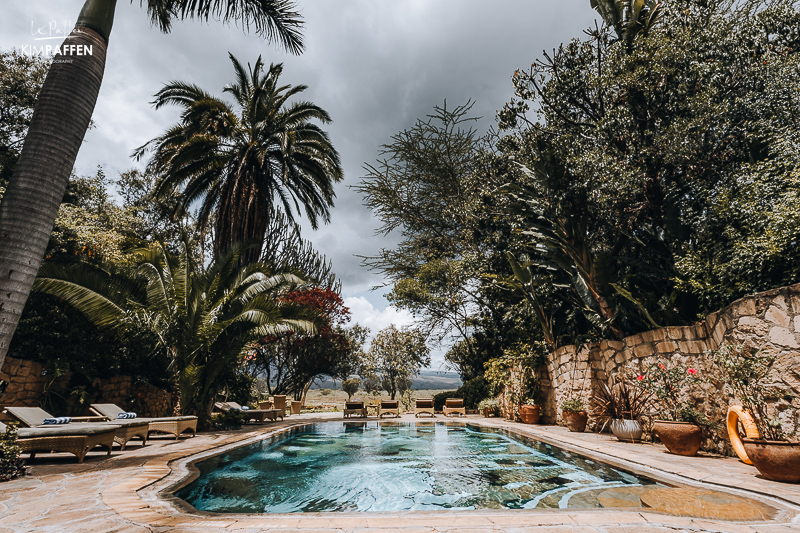 A great place to relax in between your safari game drives and cool off on these hot summer days. For cooler days, the swimming pool has a pleasant temperature because it's heated.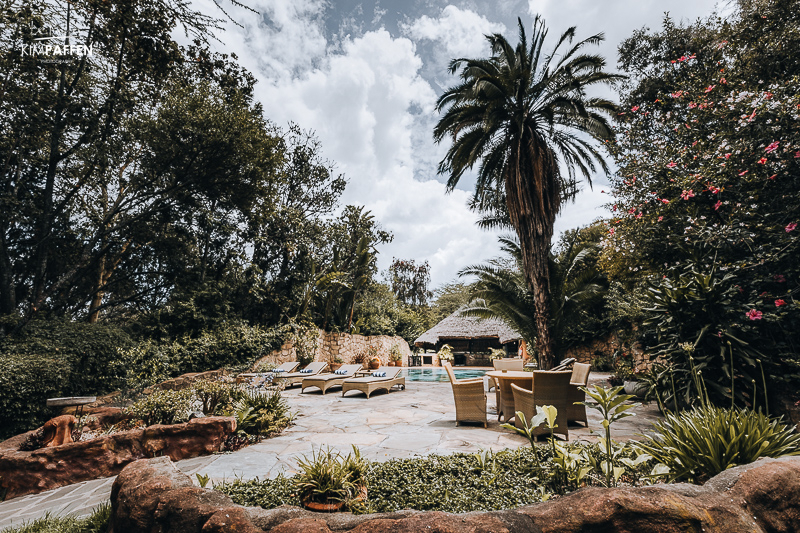 Chui Lodge Naivasha offers amazing outdoor activities
From a boat cruise on Lake Naivasha and guided game drives on the wildlife sanctuary, to bush breakfasts, candlelit dinners, bush walks, hikes up to the hill, and a visit to the local flower farm, Chui lodge offers plenty of things to do during your stay near Lake Naivasha.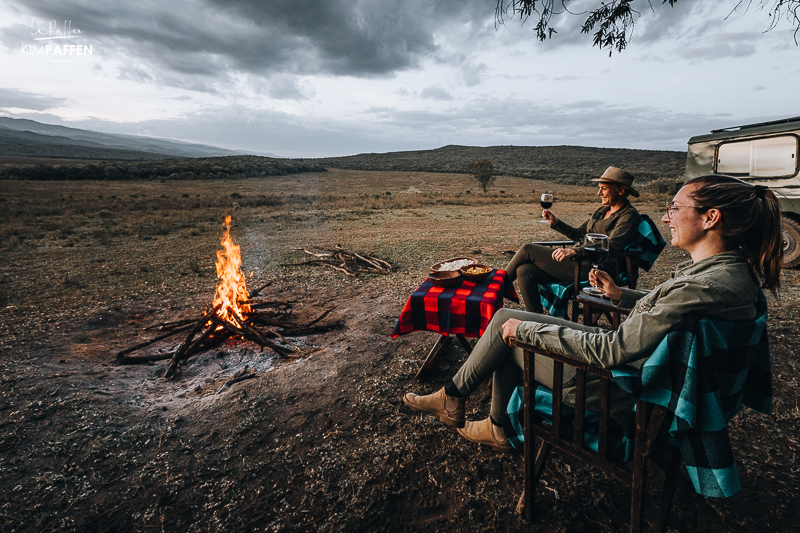 Game drive in the Oserengoni Wildlife Sanctuary
Chui's professional safari guides will tailor morning, afternoon, or night game drives in the Oserengoni Wildlife Sanctuary.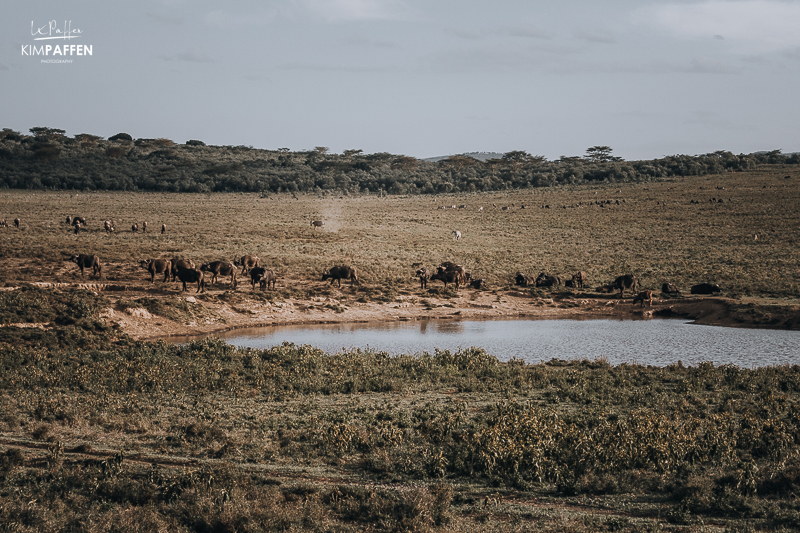 Hartebeest, eland, giraffes, buffalo, wildebeest and zebra are very common animals to see on a game drive. The Oserengoni Wildlife Sanctuary is also home to the endangered Grevy's zebra, known as the imperial zebra, which is the largest of the three zebra species. This species isn't native to this area, but the sanctuary is trying to breed them.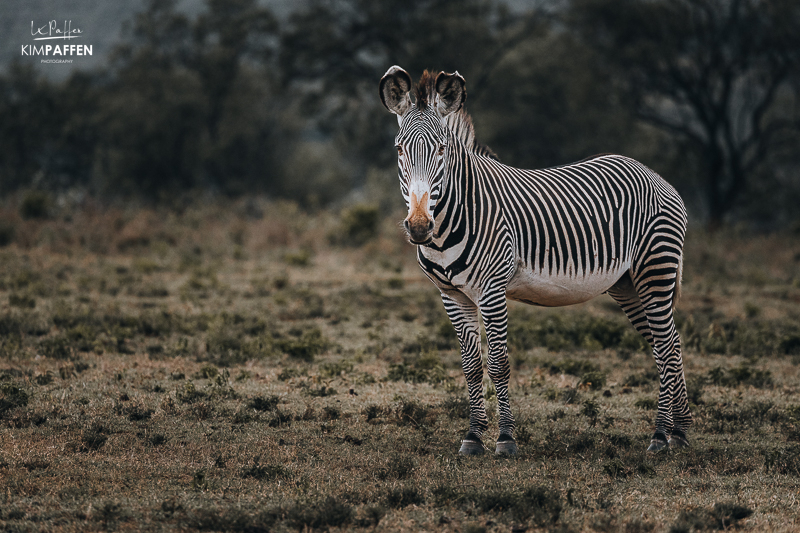 During the game drive, your guide will find a lovely spot to have a sundowner with magical views. Because Chui lodge is located in a privately owned sanctuary, they are able to set up a campfire. These are all perfect ingredients for a memorable sundowner. in the African bush.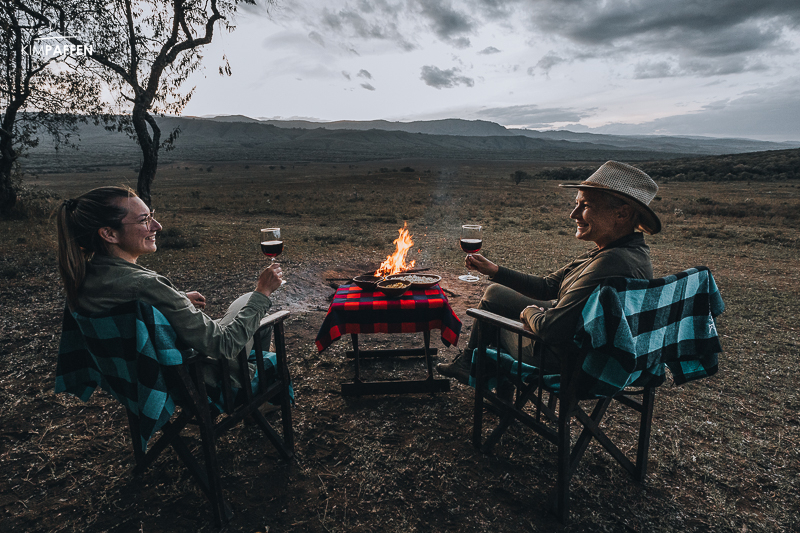 Bush dinner or breakfast in a beautiful outdoor setting
Chui lodge offers lovely outdoor settings to have dinner or breakfast. It's truly a special and memorable experience that allows you to connect with nature while enjoying delicious food and drinks with friends or loved ones. I love these outdoor bush breakfasts or bush dinners.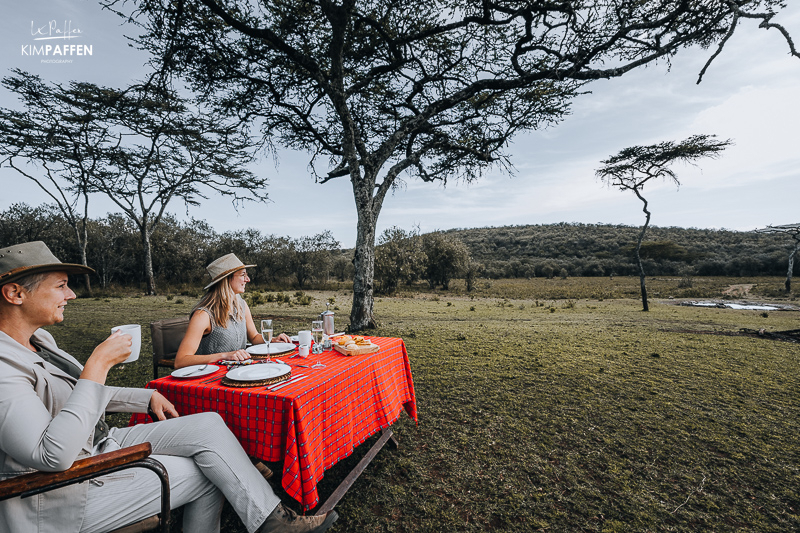 During our bush breakfast, we had the pleasure of watching zebras and warthogs drink at the nearby waterhole.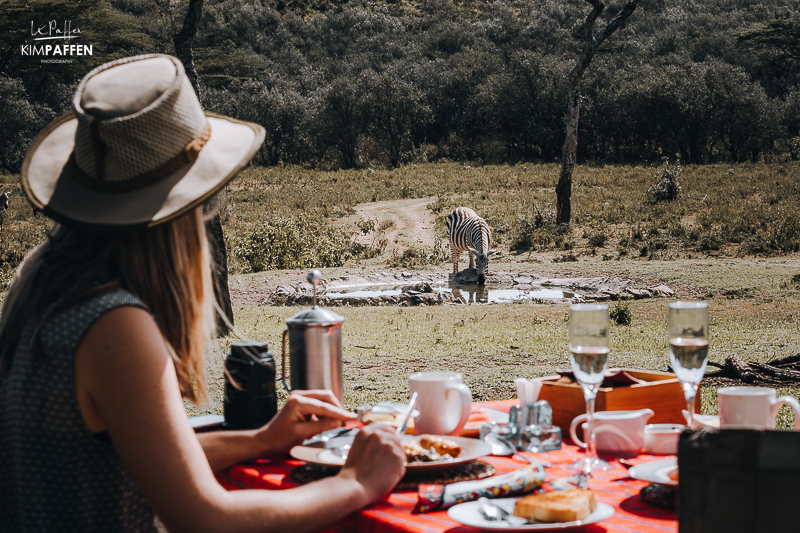 Chui lodge will be happy to assist you with any requests you may have. They offer much more beautiful settings, like breakfast on the shores of Lake Oloidien and Lake Naivasha under the shade of an acacia in the heart of the wildlife sanctuary, and starlit dinners with the sound of the African bush. Definitely one of the reasons why Chui Lodge is the best place to stay at Lake Naivasha.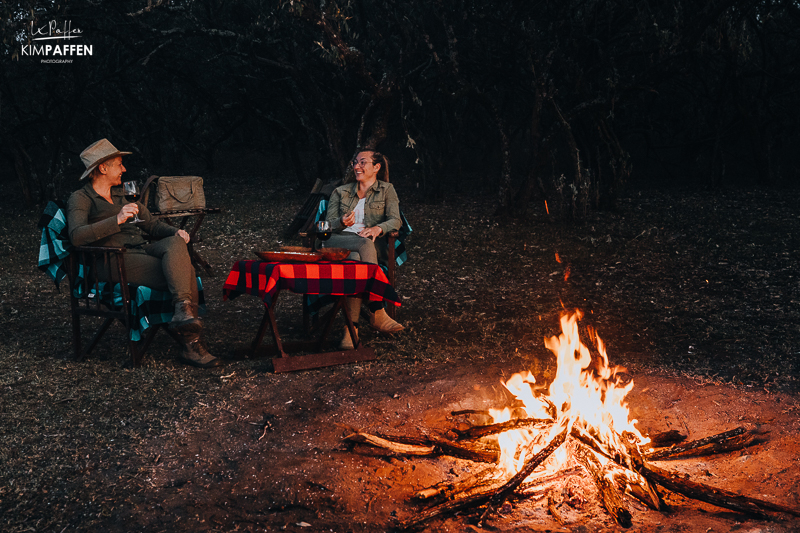 Visit the flower farms around Lake Naivasha
Did you know there are about 220 flower farms in Kenya, and that about 70 of them are located near Lake Naivasha? We visited De Ruiter flower farm, one of Kenya's leading cut flower farms, that exports its products to the European Union and Dutch markets and known for its colorful roses.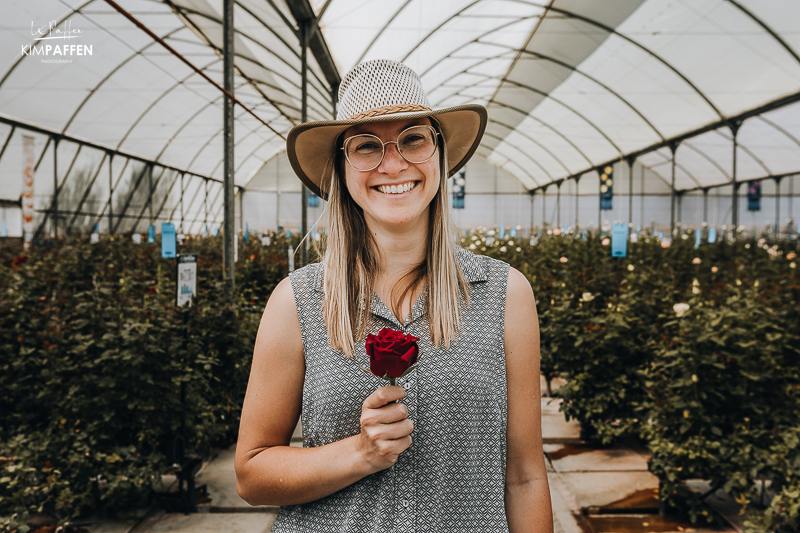 Apart from De Ruiter flower farm, you're able to visit the Oserian flower farm. It was originally a cattle ranch with only 16 employees, but the owner Hans Zwager turned it into a successful flower farm in 1982 that has been Fairtrade certified since 2003. Visiting a flower farm is a great opportunity to learn about the process of growing, harvesting, and exporting flowers.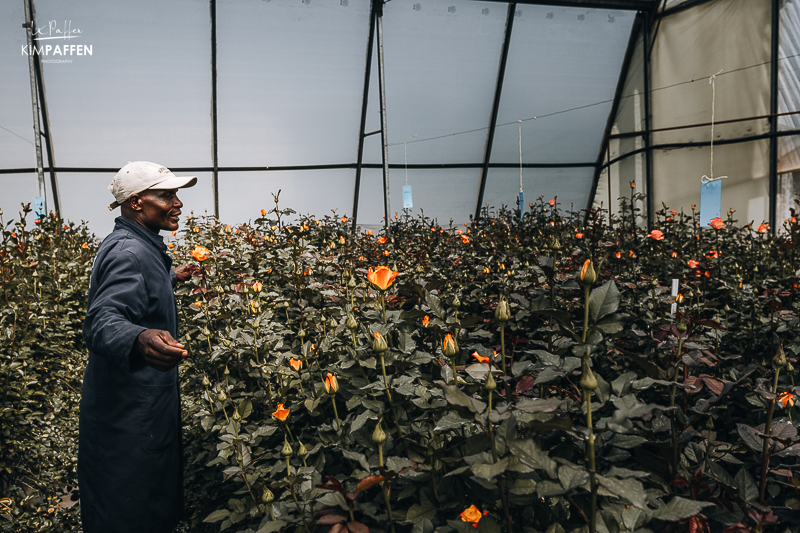 Explore Lake Naivasha on a boat safari
When staying at Chui Lodge in Naivasha, a boat tour on lake Naivasha has to be on your Kenya bucket-list. Lake Naivasha is home to a wide variety of wildlife, including hippopotamuses, birds, and a variety of fish species. It's surrounded by beautiful scenery, including lush forests, rolling hills, and grassy wetlands.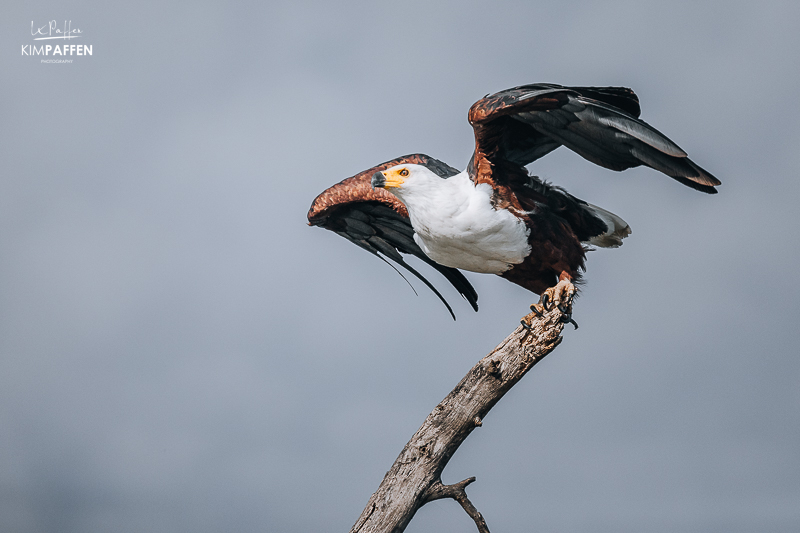 A boat tour is a great way to take in these stunning landscapes and to photograph them from a unique perspective. The calm waters of the lake together with the peaceful surroundings provide a welcoming break from the hustle and bustle of the daily life and can help you to recharge and rejuvenate.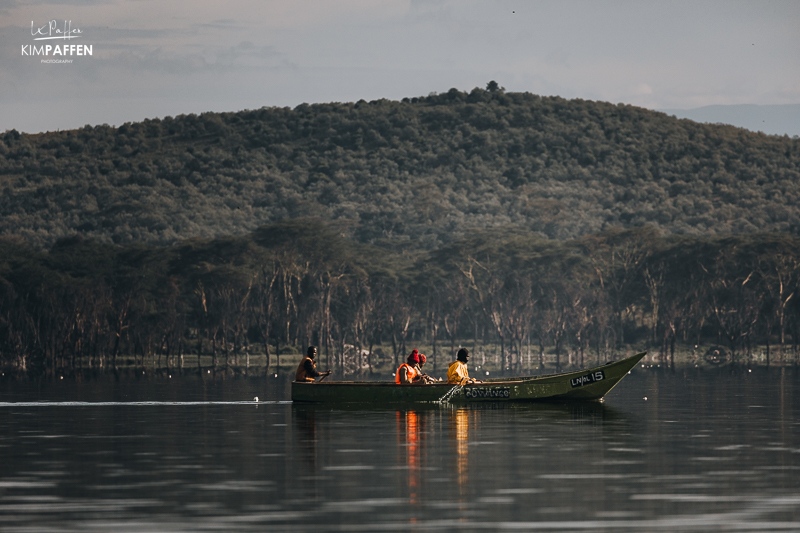 Enjoy a bush walk
One of the best ways to see birds in Naivasha is on a bush walk with an experienced guide from Chui Lodge. Guests can explore the shores of Lake Oloidien or enjoy a bush walk inside the Oserengoni Wildlife Sanctuary.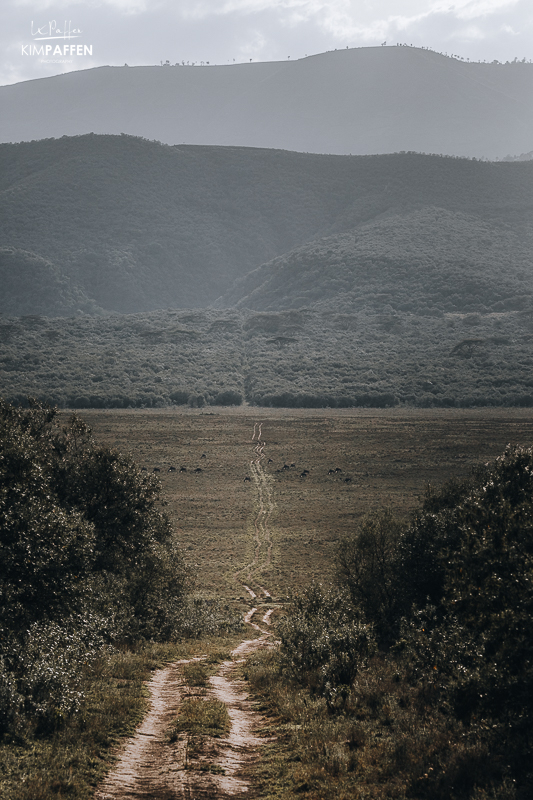 At the shores of the two lakes, you can find Black-winged Stilt, Pied Kingfisher, Hottentot Teal, and Great Cormorant.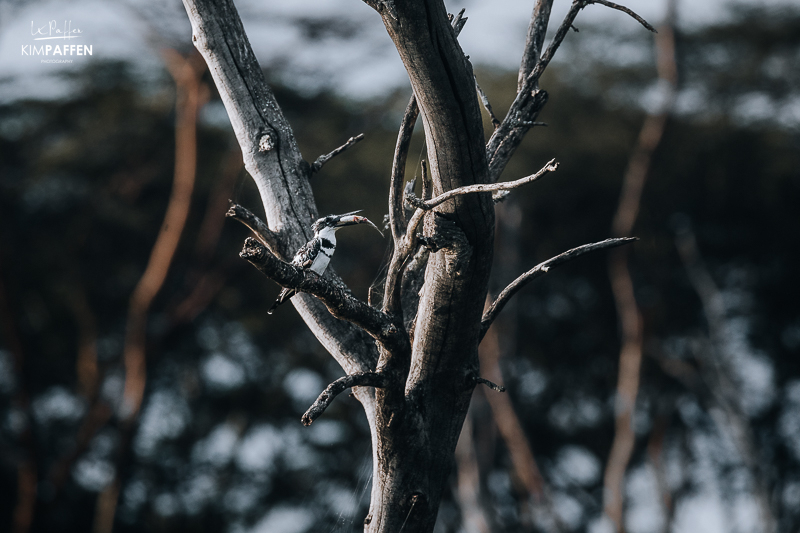 The yellow fever acacia forests that border the lake are frequently visited by leopards, Colobus monkeys, eland, and waterbuck, which makes this Chui Lodge bush walk a remarkable experience.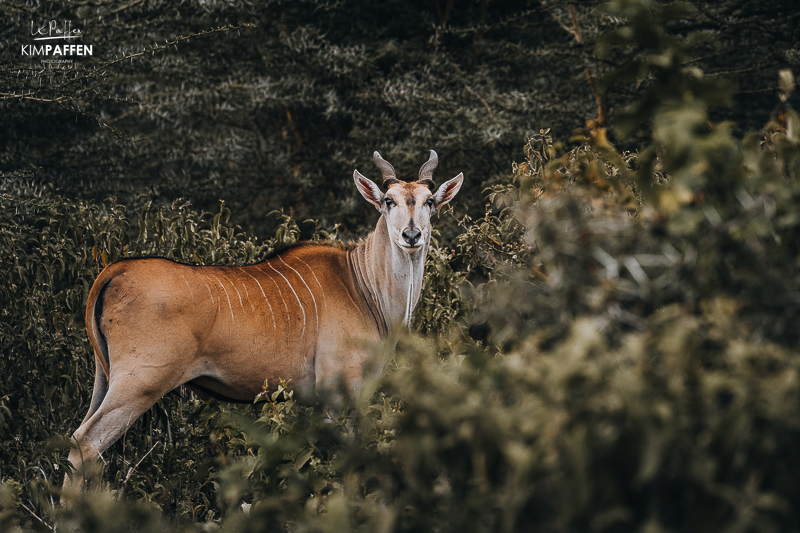 The best of two worlds: bush & lake experience
If you want to experience the best of both worlds - bush & lake experience - I highly recommend booking your stay with Chui Lodge Naivasha.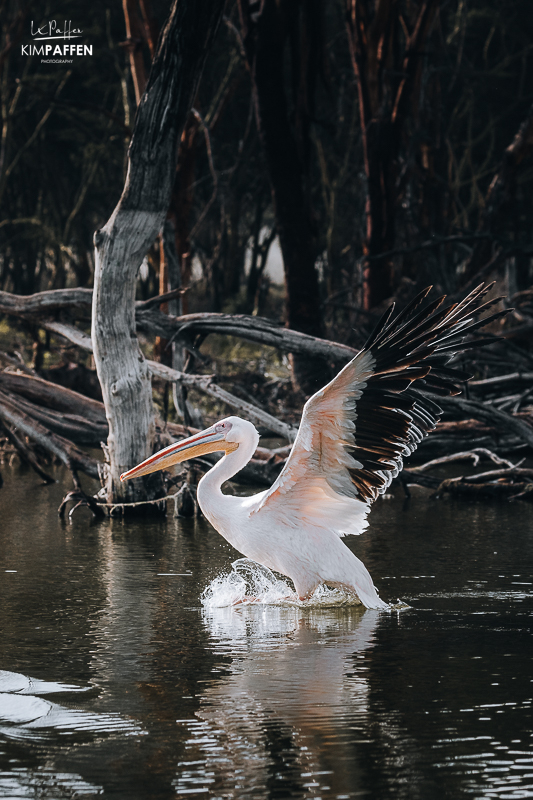 You will not only experience a boat safari on the two lakes spotting the amazing birdlife and hippos, but you will also see plenty of wildlife in the surrounding African bush with a high chance of leopard sightings. Chui is the swahili word for leopard.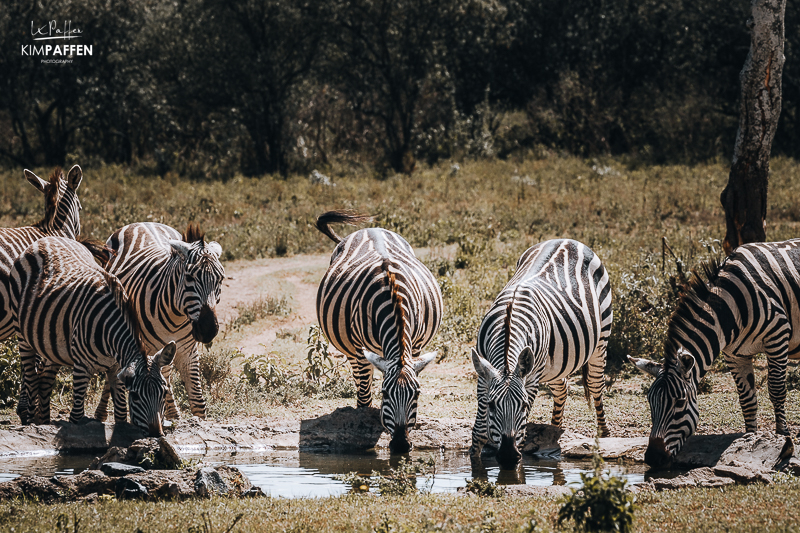 Chui Lodge: best place to stay in Naivasha!
I hope this blog inspired you to visit Lake Naivasha and the Oserengoni Wildlife Sanctuary. In my opinion, Chui Lodge is the best lodge in Naivasha; the perfect getaway for a relaxing and enjoyable safari experience. Its convenient location near the lake, diverse activities, excellent facilities, and friendly staff make it the best choice for your Lake Naivasha safari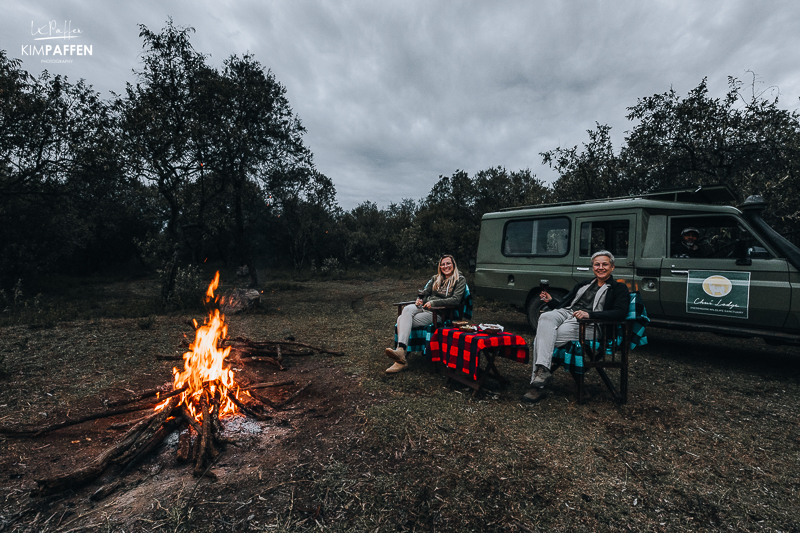 Book your stay with Chui Lodge in Naivasha
If you add Lake Naivasha to your Kenya safari itinerary, I would highly recommend booking your stay with Chui Lodge. Find out the latest rates to stay at Chui Lodge - Lake Naivasha on Booking.
Related Kenya articles: